Since some Black Friday sales have already started, I rounding up my favorite sales along with my picks. All the picks below took me hours and hours…I wanted to pick thing I would buy myself and not just share random things.
This list of sales is not to pressure anyone to buy, nor should you ever feel pressure to buy anything just because it seems like everyone is shopping left and right. This list is to simply give my recommendation and to help you find things easier that might have been on your wish-list, weather you're shopping for yourself or someone else. (List of retailers is based on my favorites as well as on your imput in yesterdays IG stories).
Sales at selects stores end on Wed. which leads me to believe that those retailers might possibly have a slightly better deal Thursday and/or Friday?!?! Maybe! Some might add free shipping or change % off. I think the sale end date could possibly be a good indication of that.
---
While I personally do NOT need anything, there are some things I will get/have already ordered. Like pajamas, loungewear, pajamas….just cozy stuff for the obvious reasons hah. And some home goodies since we will continue to cook more, cozy up on the couch more and notice everything that could use some improvement. And then we'll proceed to ignore all those things that need improvement…for the most part.
I'll be continuously updating the list of sales….
I'll go ahead and say it now…excuse any typos you might encounter. I tend to rush and later discover an abundance of them….so thanks for not judging!
In the pictures below I'm sharing just some of my old favorites that are classic wardrobe staples and everything is on sale. Like the sweater blazer which is 50% off (comes in more colors). Straight leg vintage style jeans (also 50% off), booties old favorite take 30% off w/code CYBER (loving this new style – 40% right now), Whisper tee. Everything runs true to size. Bag is old from Banana Republic – loving this one. Sunglasses are Madewell and on sale as well.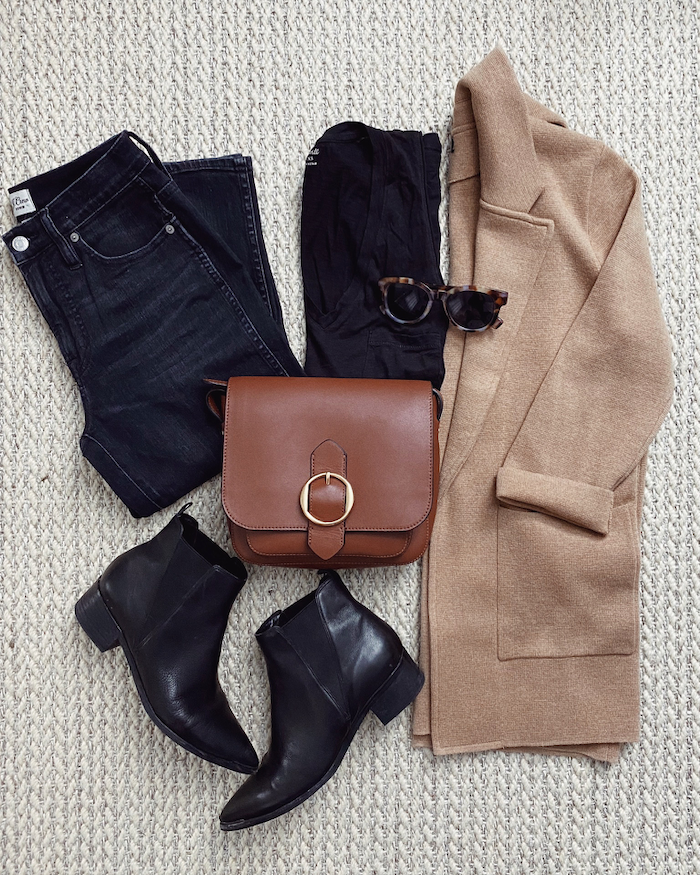 The J. Crew cardigan below has been another wardrobe favorite (it has over 460 reviews). A timeless piece. It comes in multiple colors. I love it belted too, gives it a complete different look. And my belt, which I have in multiple colors is so cheap yet so nice. I've talked about these loafers so much on here…love them still. My jeans are L'AGENCE but here is an option for less – 50% off now.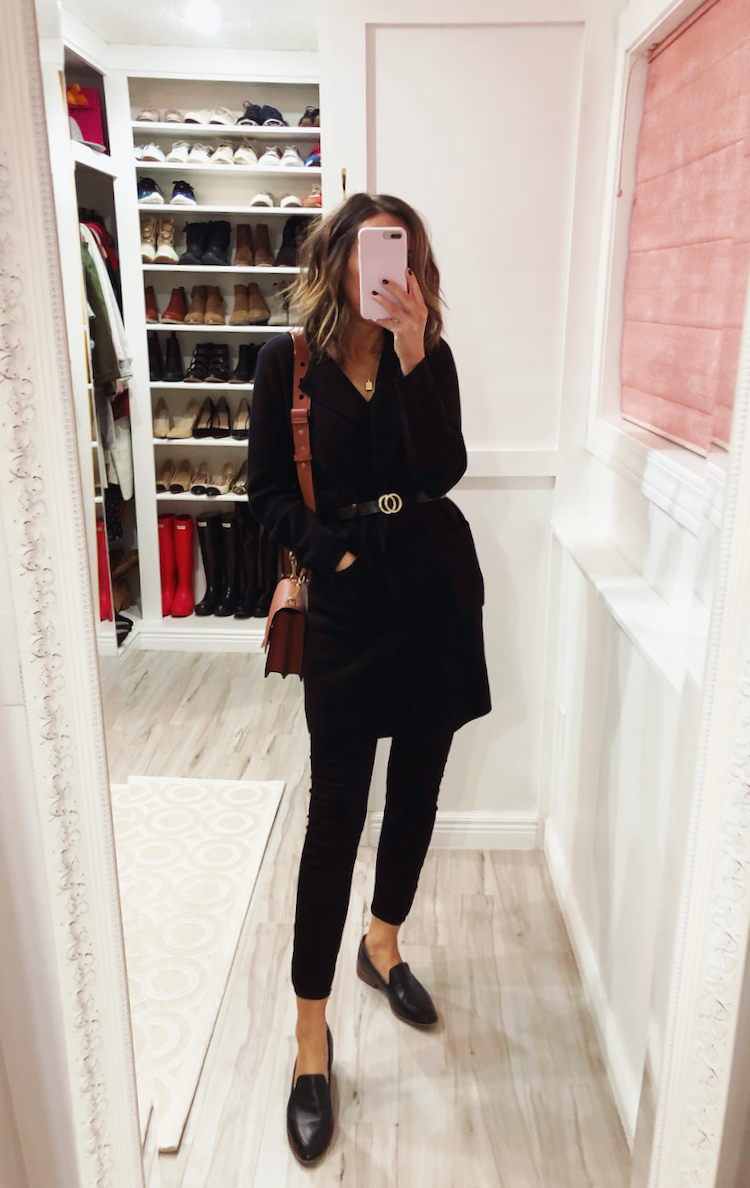 The best long cardigan/coatigan ever, and I don't say that lightly. I'm glad they keep restocking because everyone should own one. It does run big, I sized down to xxs. I'm 5'6 and it hits just below my knees. If you're shorter and don't want something that long, I highly recommend the cardigan above, which also comes in this tan color. You might have noticed that all three of these cardigans are called blazers for some reason 🙂
No secret I have a thing for cardigan of all lengths! This cardigan in 'supersoft yarn' is in size XS. It's a slightly boxy fit but doesn't look bad IMO. I didn't want to size down, because that would have also meant losing on length and I didn't want it shorter. These skinny jeans are amazing and only $22. My rings are form Madewell (30% off w/code VERYMERRY). Loafers are super old.
I got my first 'supersoft yarn' mockneck sweater a couple of years ago. It's warm, soft and cozy. I have it in two solid colors (available in 11 colors) and I couldn't resist this striped one. Since I prefer my sweaters to have a relaxed fit, I sized up to a Small. These dark wash jeans are one of my faves – tts. Chelsea Booties – oldies but goodies and true to size (you might have to size up 1/2 if you have wide feet. Checkout the reviews too). Everything on sale!
This wool coat – one of the best purchases I made last year and it's back. And on MAJOR sale! I love the quality of Club Monaco's coats (I only have two but have tried a few in the past). I'm not even sure what this color is really, but this classic coat is back this year in gray and black – two timeless colors. It is on sale + EXTRA 40% OFF! I'm linking more options below – all on sale! Boots on sale too (code applied at checkout – tts).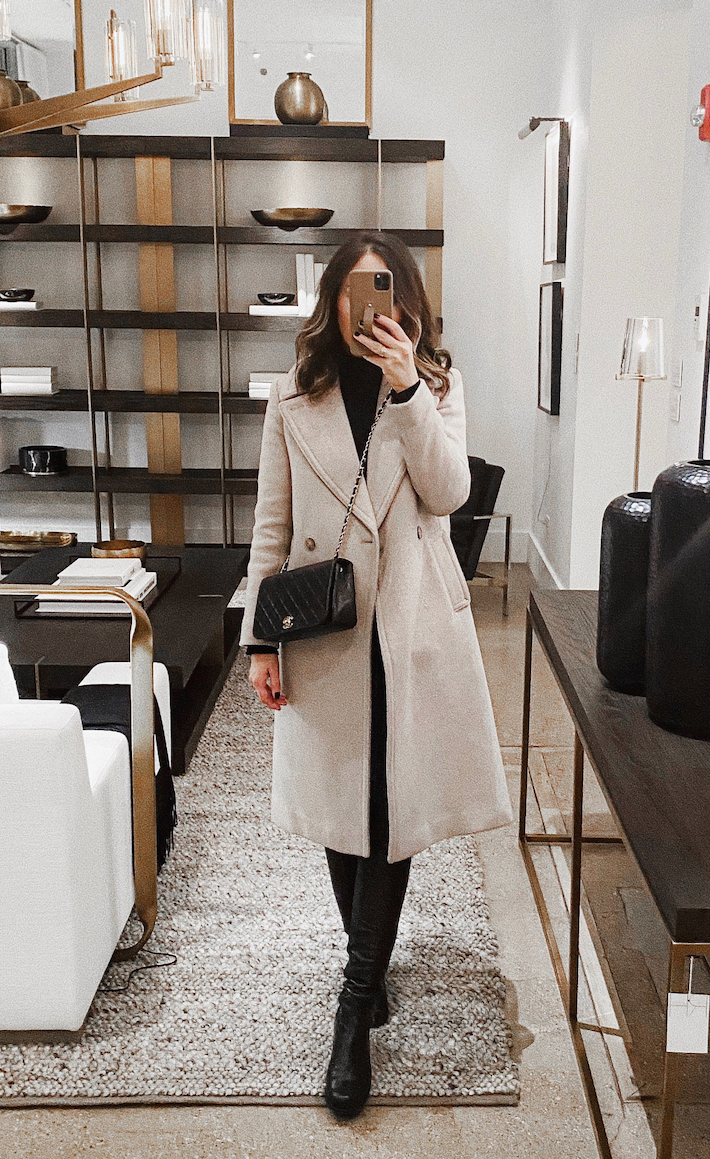 This coat is back in gray and black and it's a timeless one. Such a good deal right now.
I've had this coat for quite a few years. Each time I wore it, I got questions. Sadly, it hasn't been available for years BUT this one is so similar in style and it's the same colors. Great price too at 50% off.
I got this Sherpa lined parka last year and have been loving it. It does come in more colors. It's warm (not down coat warm of course). My boots are from last year (by Sam Edelman)..loving these.
This affordable H&M cardigan in an old favorite (got my first one a few years ago and have it in 3 colors now. Great basic). Shoes are J.Crew (no longer available).
ABERCROMBIE – 40% off everything for members (if not a member, just sign up with email. Also, they might run 50% off on Thursday or Friday, but that's just a guess).
Loungwear:
Shirts & Jeans:
Coats, Jackets & Cardigans:
---
AMERICAN EAGLE – 40% off + Free Shipping
---
ANN TAYLOR – 50% off + Free shipping w/code CYBERY 70% off 1-item w/code WHOA
My picks:
---
ANTHROPOLOGIE – 30% off everything – this mirror…been eyeing the 3′ (large one is goals…but no room for it sadly).
Misc Picks
Home:
---
ATHENA – The best razor I've ever used – closest shave!!! I also use their Daily Multi Vitamin and probiotic – clean, high-quality ingredients. Take 30% off w/code SWEETER Favorite part is that I don't have to worry about running out – you can do a monthly subscription (they even carry clean and organic feminine products).
---
BANANA REPUBLIC – up to 75% off everything + extra 10% off w/code CYBERMONDAY
---
CLUB MONACO – 40% off everything w/code CYBERMONDAY (have never seen such a deal).
Coats:
Misc:
---
EVERLANE –
---
EXPRESS – 50% off + free shipping (way too many great pieces). All Jeans $35. I did a post on Express yesterday since I had some pieces to share and recommend.. Very impressed with the current pieces.
Coats & Blazers:
---
H&M – 30% off (this sale I'm excited about). They have the best, affordable sweaters. Just remember, most relaxed styles run big. If it's loose on the model, chances are it's a relaxed/slightly oversized fit.
Loungewear:
Coats:
Cold Weather Accessories:
Shoes/Bags/Misc:
Home
---
J.CREW – 50% off + extra 10% w/code CYBER
Coats & Jackets:
Sweater:
Loungewear:
Shoes:
Accessories:
---
J.CREW FACTORY – 60-70% off everything. 70% off winter favorites
---
LAND'S END – 60% off w/code FLURRY
---
LOFT – 50% off + Free Shipping w/code CYBER
Lou and Grey Loungewear:
Coats
Sweaters:
Bottoms:
Accessories:
Dresses:
---
MADEWELL – 40% off w/code TNXINTERNET. I've had these booties for a few years and love them still. And these loafers. Madewell shoes tend to run narrow (I reviewed them in the past). They do require breaking if you don't have narrow feet. I'd suggest sizing up in booties. In loafers – if you have wide feet (I personally wouldn't because with the time the heel might slip out. Your call lol ). But check out all the reviews too. I also ordered this necklace (most of mine are from Madewell, great quality for the price).
---
NORDSTORM – shared my picks in this post
---
OLD NAVY – 50% off everything
Coats:
Loungewear Bottoms
Pajamas & Slippers:
---
SHOPBOP – 20% off ordre of $200 + (includes a lot of designers that hardly ever go on sale)
All my favorite jeans:
---
TARGET – a ton of great deals Women's Clothing, Men's Clothing and Kid's
---
VERI SHOP – 25% off Fashion, 15% off Home and Beauty
---
FOR THE HOME
---
---
---
---
---
TARGET – A lot of great deals on anything you might need
---
More home sales coming….