I shared a picture on Instagram of my Friday outfit with this shearling shirt coat. Can't even tell you how much I love it…. It's such a perfect cozy coat.
I've been wanting a not-too-chunky-but-long-teddy-coat in this color. I had pictured in my mind what I wanted but finding that within my price range was impossible. And then I stumbled upon this gem and immediately ordered it (if this was from a different retailer, it would be sold out. How is it not sold out?!?!?!! ). I think it IS that good!
This one is even better than what I had pictured in my mind. While shirt-jackets aka shackets are all over the Instagram these days, I didn't think I would ever find a longer one and shearling for a great price (on sale currently).
Sharing just a few ways to wear it. You'll be seeing a lot more it…styled different ways too.
Faux Shearling Shirt-Coat in XS | Oversized turtleneck (comes in ton of colors) | Skinny Jeans in dark gray/washed out black tts (they might look like you won't fit in them but they have nice stretch) | Lace up boots (size up 1/2 size)
I love how chic the coat looks with an all black outfit. About the slightly oversized sweater I'm wearing – I got XS and it does not fit quite as oversized on me as it does on the model.. and not as long. For that I should have purchased size Small (also, everyone and their dog seem to have this sweater).
I ordered XS in this coat, which is my usual size from this brand. It fits true to size – fits perfectly actually. It did cross my mind to size up to a Small for a slightly oversized fit as this one wouldn't look bad roomier (I think). I would like to compare XS and Small but since my local store doesn't carry this coat I most likely won't be trying size Small… Also, getting it in Tall has crossed my mind since I would like it longer but not patient enough to wait for a new one to arrive. So I will be sticking to this one (I'm 5'6 for reference, and it's a few inches above my knees).
I wanted to try this coat with an all 'off white' outfit and love it! My boots are from last winter, but I found them fully in stock. Recently saw these amazing boots and I'm in love!!!! (wish they were a bit cheaper).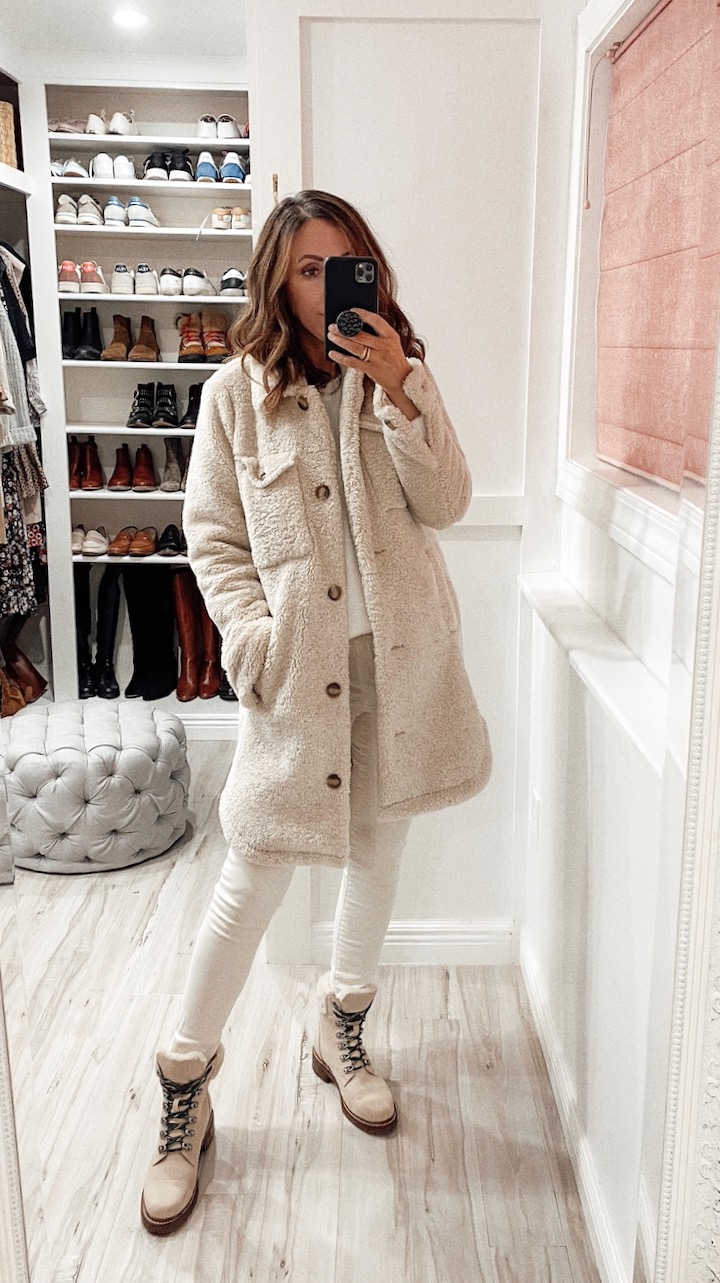 Shearling Coat in XS | Sweater in ivory – XS | Jeans (super old) – similar color and style | Frye Boots – also here from Amazon (Love them in this color too)
This is what I wore on Friday…for part of the day. Other part – sweatpants of course!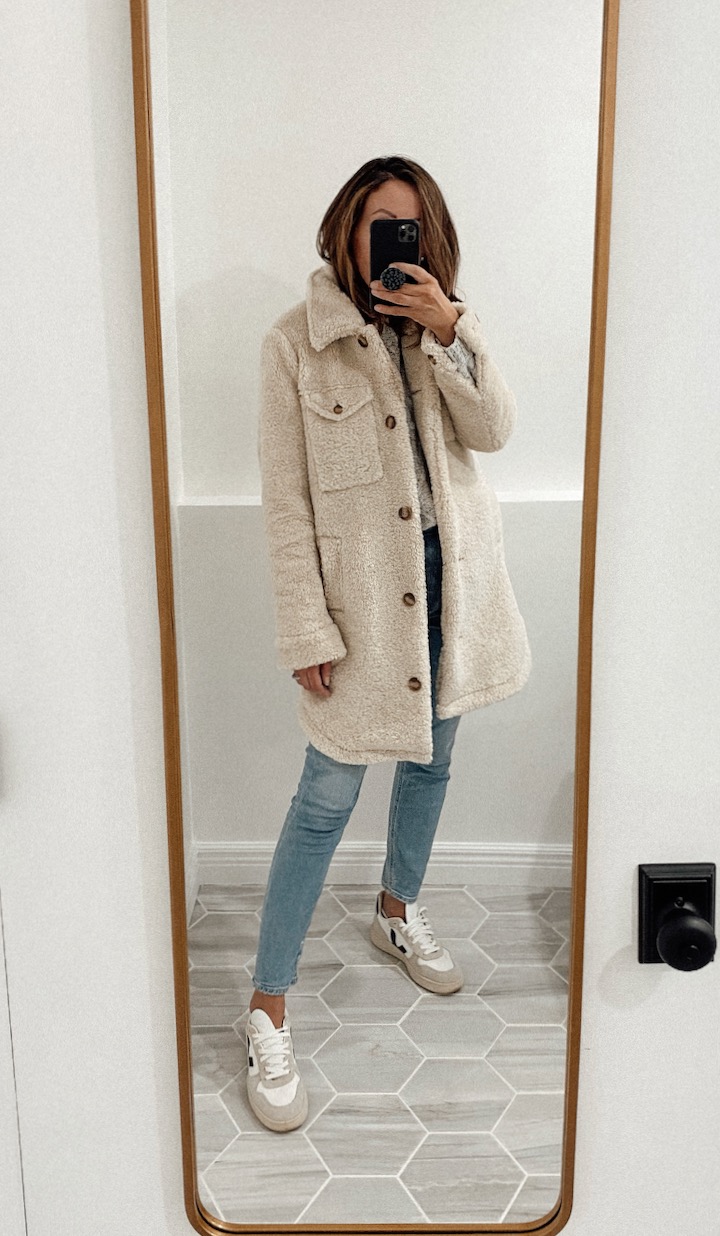 Shearling coat | Sweater only $17 | AGolde jeans tts – same style but cropped | Veja Sneakers – another similar style, love these too
Another way to wear it is with joggers. These are cashmere from a couple of years ago.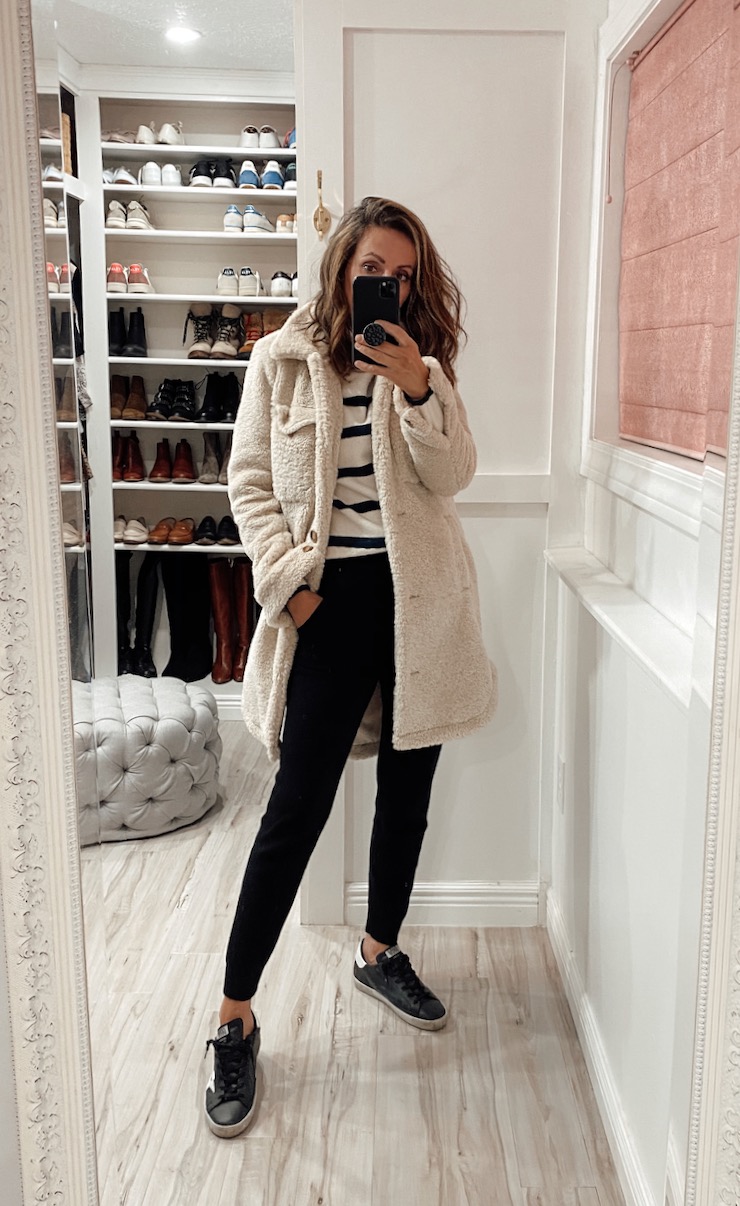 Similar Cashmere joggers – under $100 | Soft yarn sweater tts | Golden Goose sneakers – another fab pair in black – great option under $40 and here under $30
Which look is your favorite?