Hope everyone enjoyed their weekend! The eventful things these days over here are going for walks which I tend to look forward to. The other day it was snowing a tad and I absolutely love going for walks while it snows (it has to be falling down slow with big snowflakes). I took Pippa for a walk and then "made" my husband go with us (except I carried Pippa as I didn't want to paws to get too cold). Anyone else loves going for walks while it snows?
---
I've had this teddy coat for a few years now and sadly this brand has since stopped making them. I found this teddy coat that looks so similar to mine. I know some are afraid of the teddy coats looking too chunky but that's kinda the point. I also find when the teddy coats look a tad chunky and roomy, then they don't look cheap (price has nothing to do with this). Sometimes it just depends on style too.
Still majorly in love with these boots. I've mentioned before that leather is not soft but I don't find them uncomfortable in any way (I'd suggest going up a 1/2 size, they run small. Also, if they seem tight, loosen the laces…it helps tremendously). One of the things that drew me to this pair of boots is that they're not chunky looking at all, mainly the sole, and that is exactly what I was looking for when I purchased these. I also found a very affordable alternative for only $20.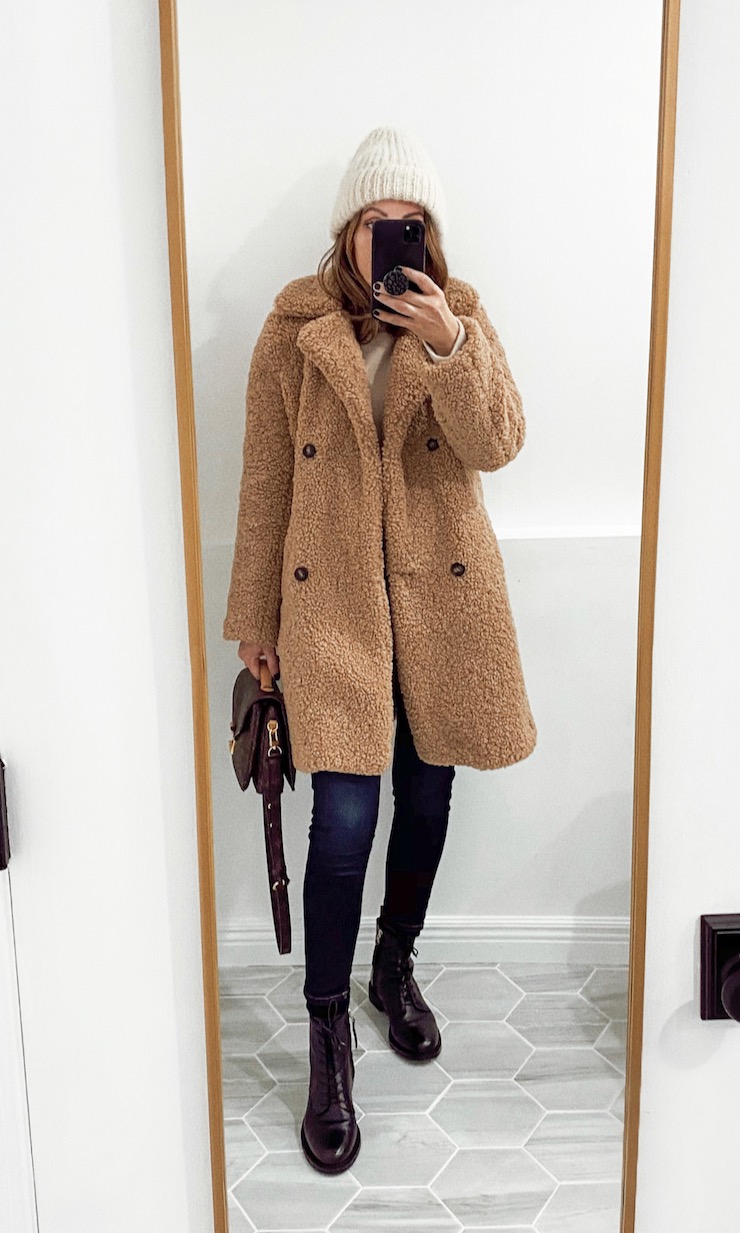 Outfit details:
Coat old – great options here, here and here | Everlane skinny jeans (tts for me) | Lace Up booties | Mockneck sweater (so soft and cozy) – tts (it's a relaxed fit) | Hat old – very similar and on sale! Also love this $25 Cashmere slouchy beanie (can't believe the price), also ribbed cashmere option for $25
I love, love this mock-neck sweater. It's soft and cozy and perfect for lounging too. It comes in multiple colors. I'd definitely recommend this one. And it's on sale too.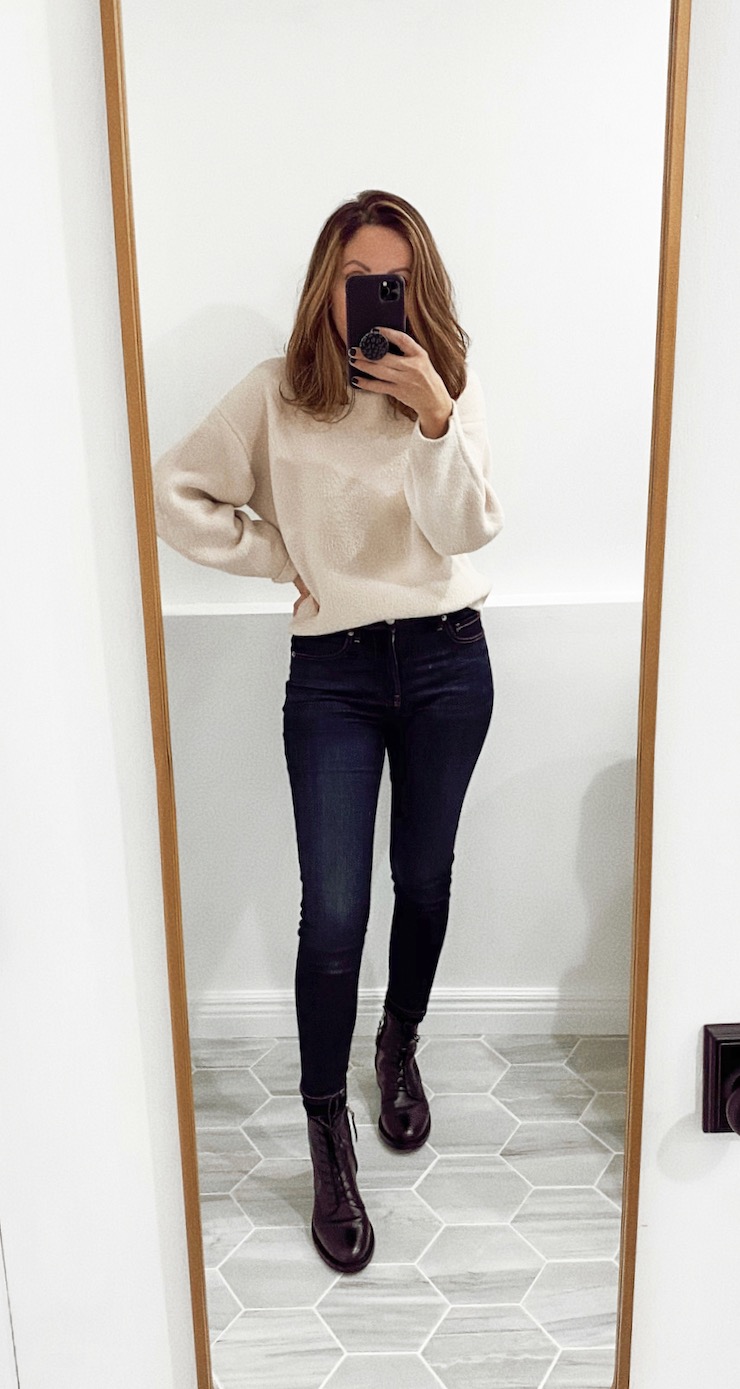 One of the best places for affordable loungewear is H&M (also sweaters). I have quite a few of their sweatshirts and sweatpants/joggers and love them. The quality is better than some pricier joggers. I personally never had any issues with quality all these years.
The joggers below are in size Small, hoodie too, and both come in more colors. Everything is under $20! If you're in-between sizes in shoe, size up in slippers. I'm 8.5 and I got size 9 in these slippers which are great quality for the price. All pieces come in more colors.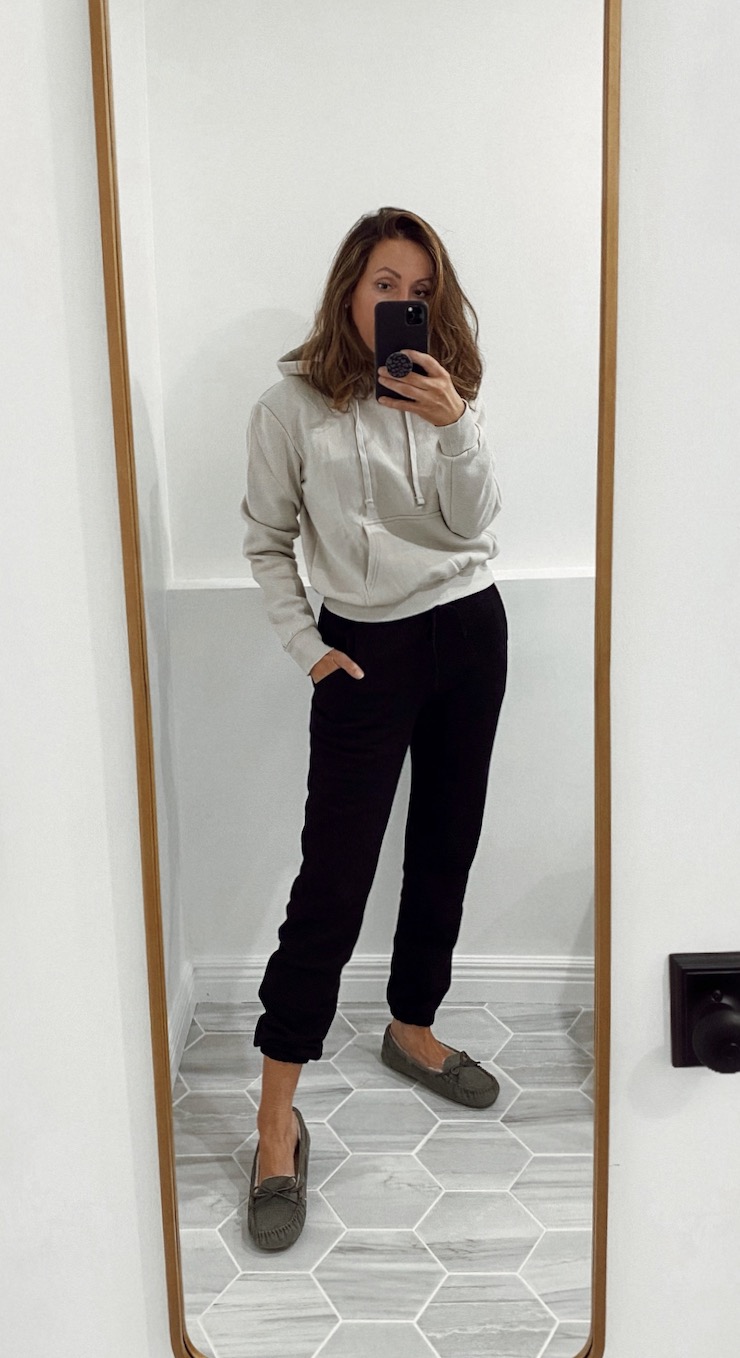 Joggers in size Small | Hoodie in size Small | Slippers
I wore the same joggers (on a different day) for a grocery store run. I should mentioned they wash well (I always wash in cold) and I like to hang dry some of my black items since the dryer tends wash out blacks overtime. I've been loving how chic certain style sweatpants look with lace-up/combat boots (sneakers too) completed with a nice coat – comfy but make it fashion 😉 My joggers are only $18!!!
Joggers in Small | Classic Wool Coat in XS – on major sale (avail in grey and black) | Lace up boots (size up) – similar style for only $20! | Pom Hat – Love this one in Cream color | Mockneck sweater (old) – similar styles here and here
When I left the house, I thought the houndstooth coat would look great too with this look…so naturally I had to try it once I got home (and snap a pic, shocker). I like them both!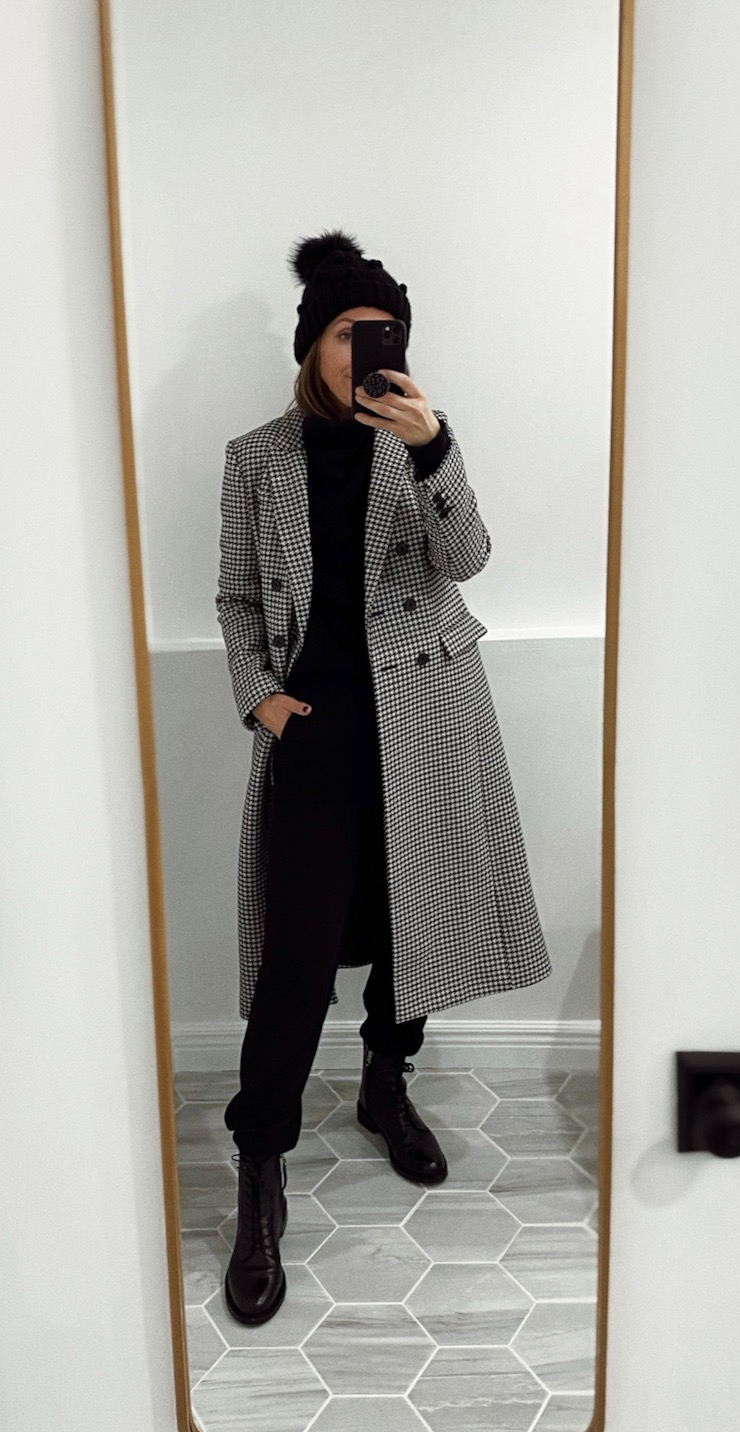 This sherpa jacket is sold out in most sizes. I got size Small as I wanted it to be roomy. Glad I did because I love the fit. It does run true to size though…I just wanted it bigger. Sperry boots are a few years old but still available. Cashmere sweater in not visible but I 100% recommend it and it's ONLY $50!!! I also ordered a V-neck style and this $25 cashmere beanie. I just can't get over their prices especially considering the quality and their transparency. They have pricier stuff too. Their sweaters come in ton of colors. They also carry a lot of other stuff like loungewear, home stuff, men's, etc.
Sherpa Jacket in size Small – more great optons here, here and here | Cashmere Sweater in Small – only $50 for cashmere!!!! | Skinny Jeans (old J.Crew) – similar toothpick jean style | Sperry Saltwater Duck Boots – also love these (the upper part is different)
I have to say how impressed I am with pretty much everything from Stars Above brand at Target. I have accumulated a few things like lounge pants, these super soft pajamas (in small), these print pajamas (also in small. I find that they pj's run small), these stripes flannel pajamas (sharing them below), a cardigan. The latest additions are these super soft fleece lined lounge pants and this robe. I'm so impressed with this robe. It's so soft and cozy and not too thin or thick. I would totally recommend it, you'll love it! It's great and affordable Barefoot Dreams alternative. The lounge bottoms below remind of me Lou and Grey signature soft line.
Lounge bottoms in XS – in more colors | Soft sweater in XS | Tretorn Snekaers tts
As I mentioned already, the Stars Above pj's tend to run small. The two other pairs I own are both in size small (which fit more like XS) and since Flannel doesn't have stretch to it, I decided to order these in Medium and I'm SO glad I did. I washed and dried them immediate so I can't tell you if they shrunk or not. But as you can see, they fit more like size Small. Also, they're warm! I had to take them off in the middle of the night as I got too hot (and that's with heat turned down and bedroom window staying open the entire night). So if you want a pair of warm but affordable pj's, get these. Size up though.
Striped Flannel Pj's in Medium | Suede Slippers only $20 (size up if in-between sizes) – avail. in more colors
Let me know if you have any questions on anything! xo