Sharing four easy and put together every day outfits! Trying to get back to dressing normal regularly…so I can feel normal lol. But kidding aside…once again I'll sound like a broken record…but feeling put together makes me feel better!
I got this cardigan a while back and have worn it multiple times, yet I kept forgetting to snap a picture. Until now. It's only $20 and it's such a nice and versatile piece. It comes in three more colors (I got it in grey too). Like most H&M sweaters, it's a slightly loose fit (not in a bad way at all). It's one of those effortlessly chic pieces. The style of my jeans is still available but not the exact wash (it's close enough). Topshop sizing is a tad different, make sure you size up.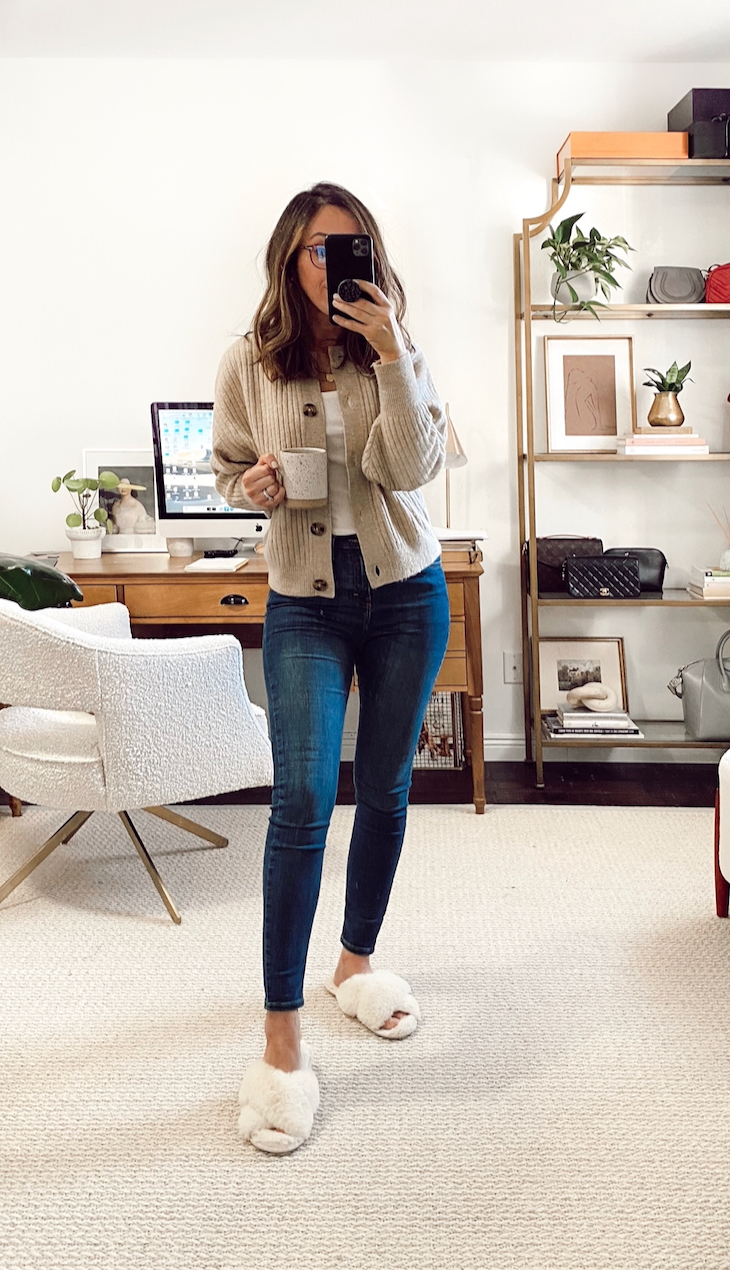 Cardigan in XS | Long Sleeve tee (pack of 2) | Skinny Jeans – another almost identical option | Slippers – avail. in more colors | Mug
I've purchased a few different styles of joggers/sweatpants from H&M in the last couple of years. The last two pairs I got are more sweatpants style, slightly oversized, and I'm mad I waited this long to get this style. Especially since they're under $20. This is one of those sweatpants outfits that I don't feel yucky in/look like I gave up on life/wouldn't be embarrassed to be seen in lol. Shortly after I received my order (which arrived quickly this time), I threw in the joggers and long sleeve tees I got in the wash (I did try them on beforehand to make sure they fit). I washed both on warm and dried on medium heat. Both washed wall and it doesn't look like they shrunk. Both are made from Organic Cotton and are from their Conscious Collection. I'm wearing Small in the joggers below (for reference, I'm size 26 in jeans). I wanted the bottoms to be slightly loose. I got small in the ribbed long sleeve tees (comes in set of two) and they're fitted. Could have probably gotten Medium, but it's ok since I'm mostly going to be wearing them under something, like with these two cardigans (tee above is a tad lighter than the one below). The cardigan is an old favorite that they keep bringing back each year (I've it in 3 colors). It's slightly oversized.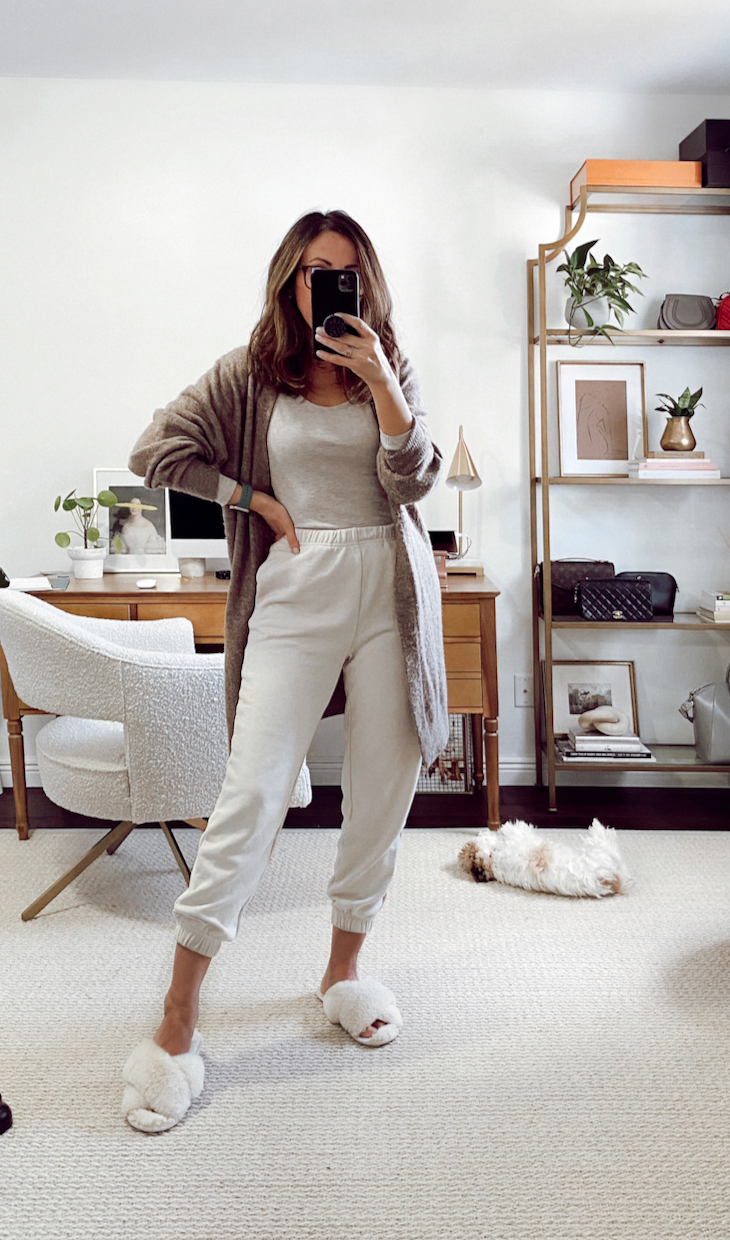 Joggers in size Small (hidden drawstring) | Long Sleeve ribbed tee in small (size up) | Cardigan in XS | Slippers (avail. in more colors) | Blue Light Glasses
Also, Pippa made me laugh in the pic above… She was chewing on her toy clearly in a weird position lol.
I've accumulated a lot of delicate necklaces over the years. Some of my favorites are from Gorjana (like the dainty bar necklace) and Madewell. They all get mixed and matched a lot but lately this stack has been my go-to. I have quite a few sets from Madewell. The dainty bar one I've had for years and wear is 99% of the time (I don't get it wet or sleeve in it).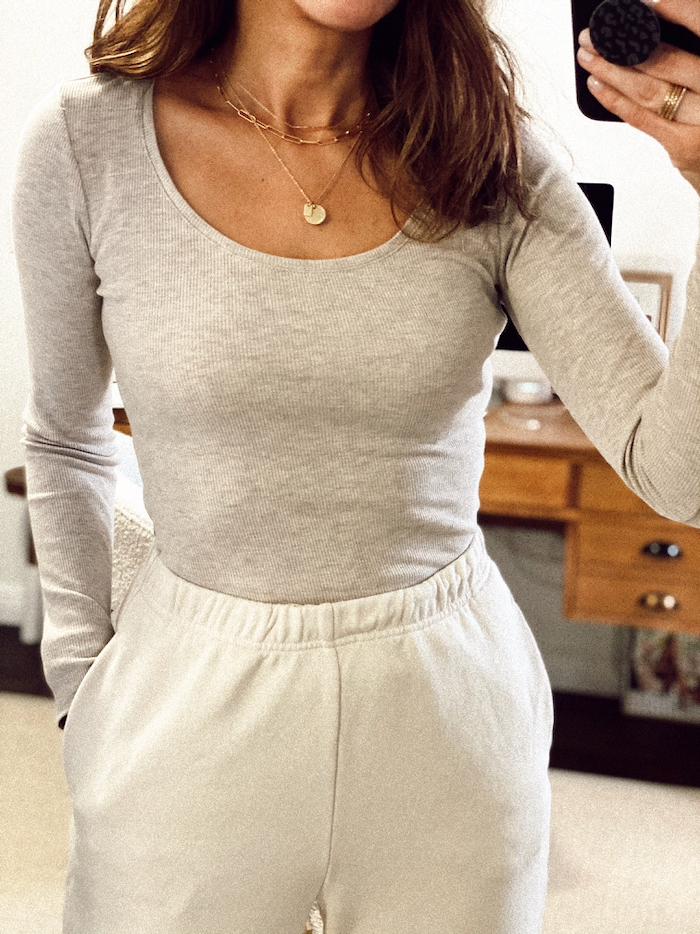 Paperclip Necklace |. Coin Necklace (some as set of 2) | Bar Necklace (adjustable) |
I love me a good pair of Levi's jeans. I love how versatile these are (as seen in this post last year). Initially ordered two sizes as some Levi's styles tend to be small in waist for me. I ended up sizing up in these, must preferred relaxed look. But in this style I took my usual size.
I've raved about the $50 cashmere sweaters…so I won't don't do it again lol. I got this v-neck in Small for a relaxed fit (crewneck style too). They come in ton of colors!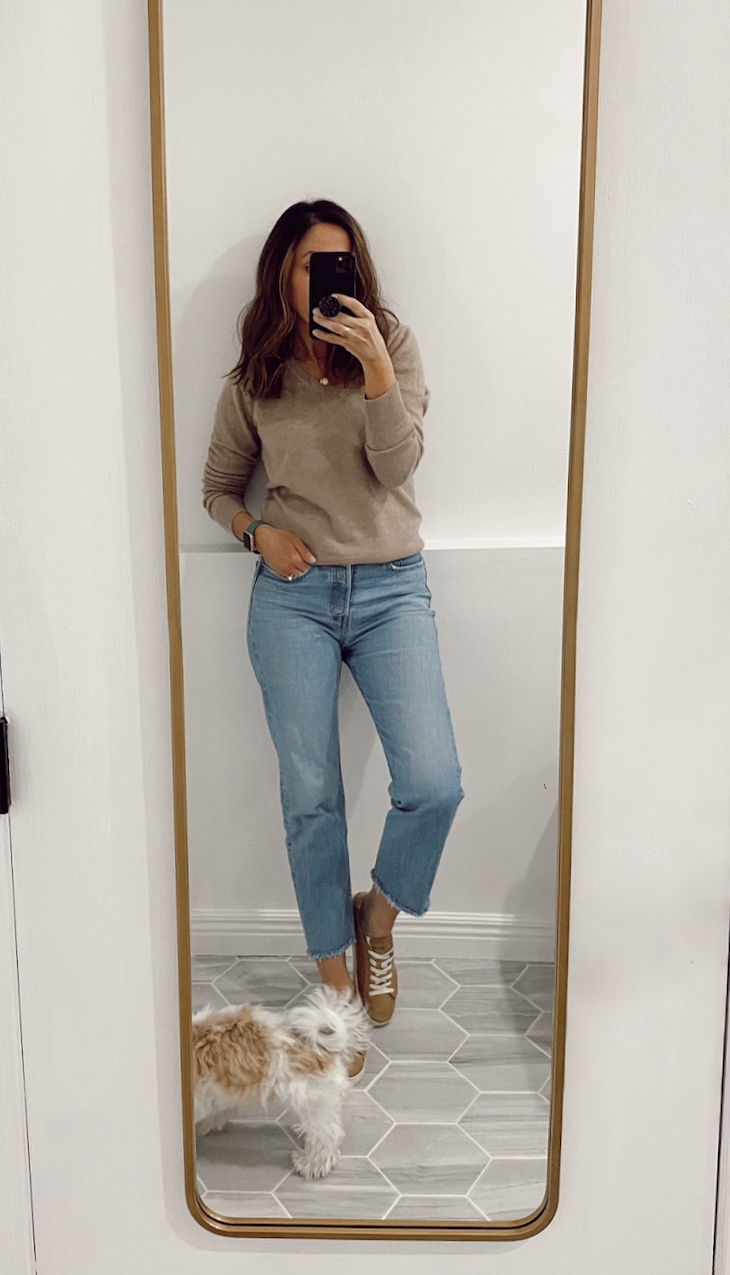 Cashmere sweater in small | Levi's Jeans | Soludos sneakers (clean lol) – I got these sneakers so long ago (have them in white and love them so I got this color too). I was going to return them (they had a weird washed out scratch) but I forgot so here we are almost a year later…so I decided to wear them around the house since they're completely clean. I find them to be super comfortable. TTS for me.
I got this sweater beginning of December. Initially I wasn't sure about it but I'm so happy I kept it because I absolutely love it! I got XS, and as you can see it's just an ever so slightly relaxed fit. I like most of my sweater roomier so I wish I had sized up. Still love it! It's thin, so I have a long sleeve tee underneath, but it will be prefect on its own for spring and summer and early fall. One reviewer described it perfectly "Vintage French vibe." These Everlane jeans are still in heavy rotation – seriously love them so much! TTS (I got the curvy fit).
Striped Sweater in XS | Everlane jeans tts | Same necklace stack as above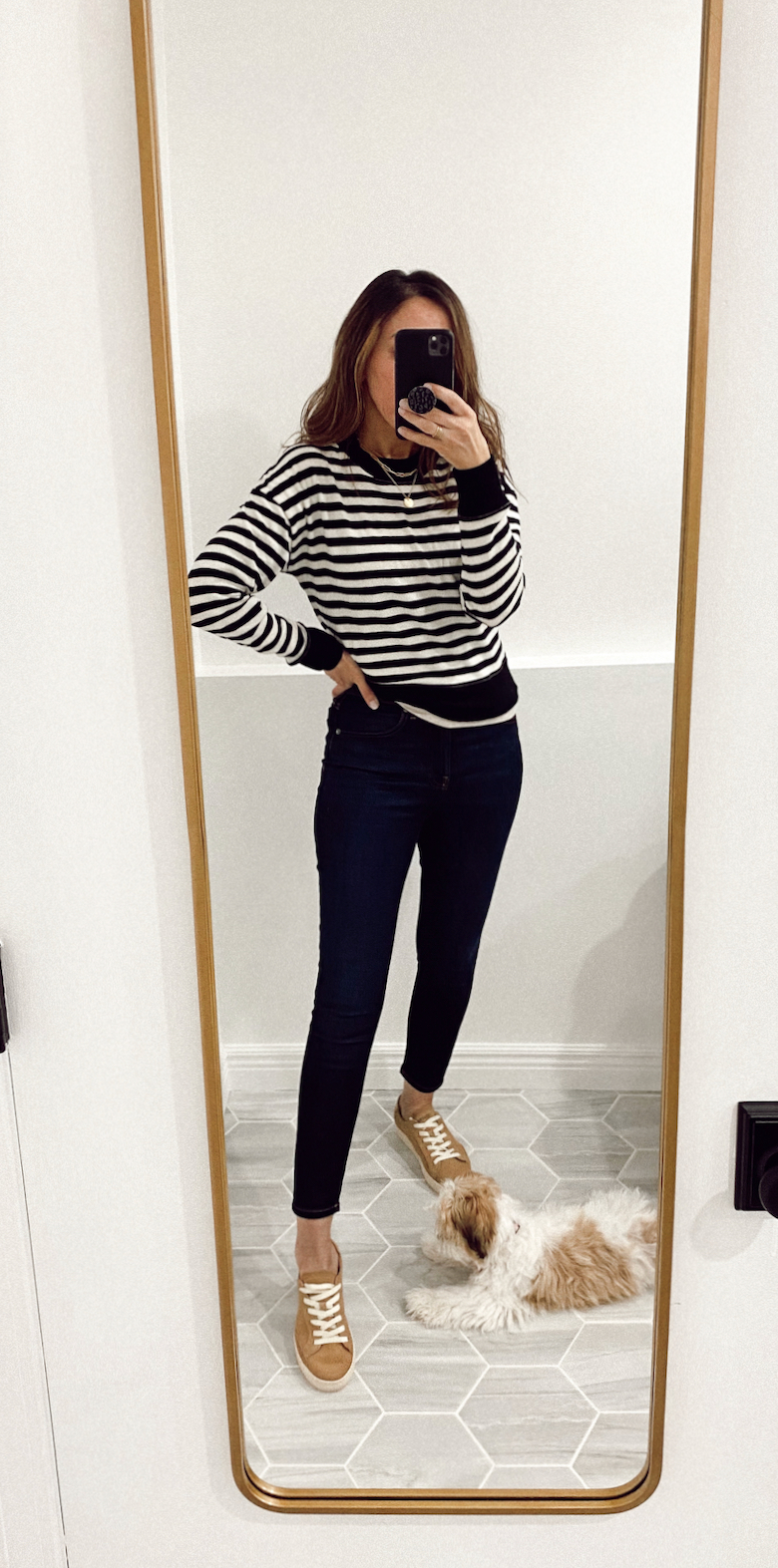 Enjoy your weekend!