I hope 2021 is off to a good start for you!
One of my goals is to blog more regularly this year…so we will see how that goes. I shot some outfits I wore recently so hopefully this week I'll have multiple posts. You'll see a lot of the same items reworn different ways, which is something I do a lot already, but it will hopefully me captured more this year.
I have my favorites and I tend to stick to them. One section of my closet gets a ton of wear and the other section is slightly neglected. Another goal is to cut down on buying clothing. I won't say that I'll go on a shopping ban (I should find my ancient blog post when I did that the first time) because I know I'll-come- across-something-I-like-but-don't-need-but-at-night-shopping-damage-happens. I do have a few classic pieces on my wish-list but nothing I must-have now.
I'll be focusing more on getting certain rooms in our house finally done, like the bedroom and my office.
---
If you follow me on Instagram then you already know how excited I was about this snow fall. How is it even possible not to love a fresh snow fall!?!
Clearly I've been loving these boots as I've been wearing them quite a bit. As I mentioned in this post, I decided to go up a 1/2 size so I can wear them with thicker socks.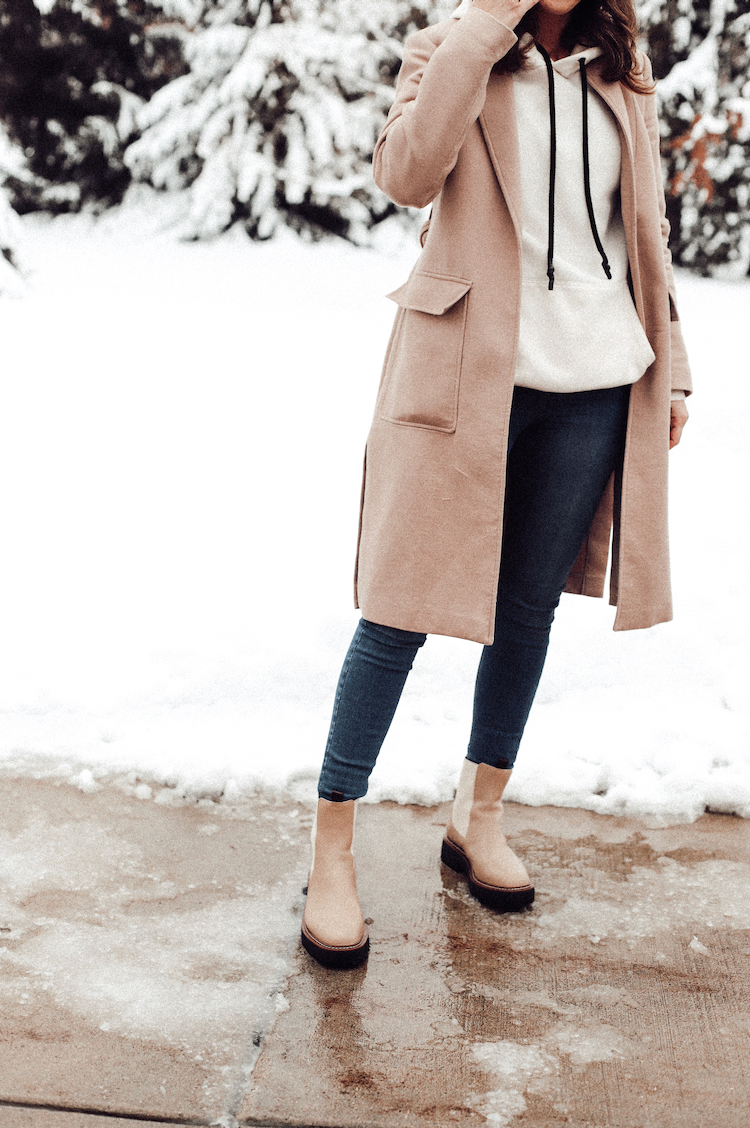 I've been trying to remember where my hat is from but it's a few years old. But there is no shortage of cable knit hats. I have this exact style in three different colors (got my first one years ago). It's warm, cute and affordable. I saw this one recently and love it.
Every time I wear this coat I get questions about it. And I'm said to inform you that it's about 5 years old. Buy classic coats ladies…they never go out of style. Since mine is old, I found some great options that I would consider buying myself if I didn't own a tan/camel coat already. All great styles.
Boots (I went up a 1/2 size) | Hoodie (H&M 2019) – same style here, shorter version | Skinny Jeans – size up | Camel Coat (super old) – great alternatives here, here and here | Hat (old) – love this one ( I have it in three colors) | Sunglasses – similar style for $15
H&M has a great selection of hoodies – long, short and in between…they carry it all and at great price points too. Below are some faves and all come in multiple colors.
Have a great Monday!