Happy Weekend!
Sharing just a few recent looks…. The faux sherpa jacket is from LOFT but sold out. I wish they would restock it as it is such an amazing piece and it's quite warm too.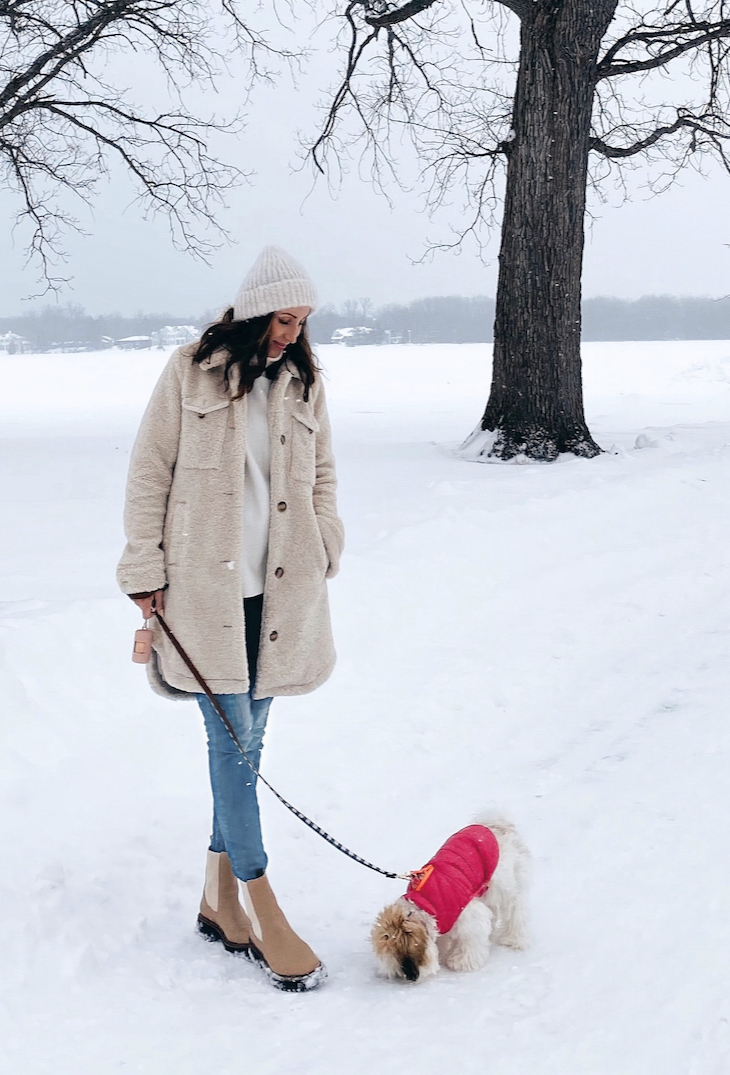 Cozy oversized turtleneck – available in ton of colors | Sam Edelman boots – also here | Jacket (LOFT sold out) – cute option for spring | Jeans Mother (similar fit, mine are old) , (in love with this style) | Pippa's jacket
Quick trip to the post office and stop for some Bubble tea and this is the outfit pic I got lol. These boots have been probably my most worn this winter (especially if there is snow on the ground). And these Sorel the second most worn. A few times I put on the Sorel boots on bare feet to take Pippa potty and she wanted to go for a walk. A few blocks later and my feet never got cold. I was kinda blown away. They almost stay warmer with no socks than semi-thick socks. So strange but amazing. And quick FYI – these Sorel boots run small, size up.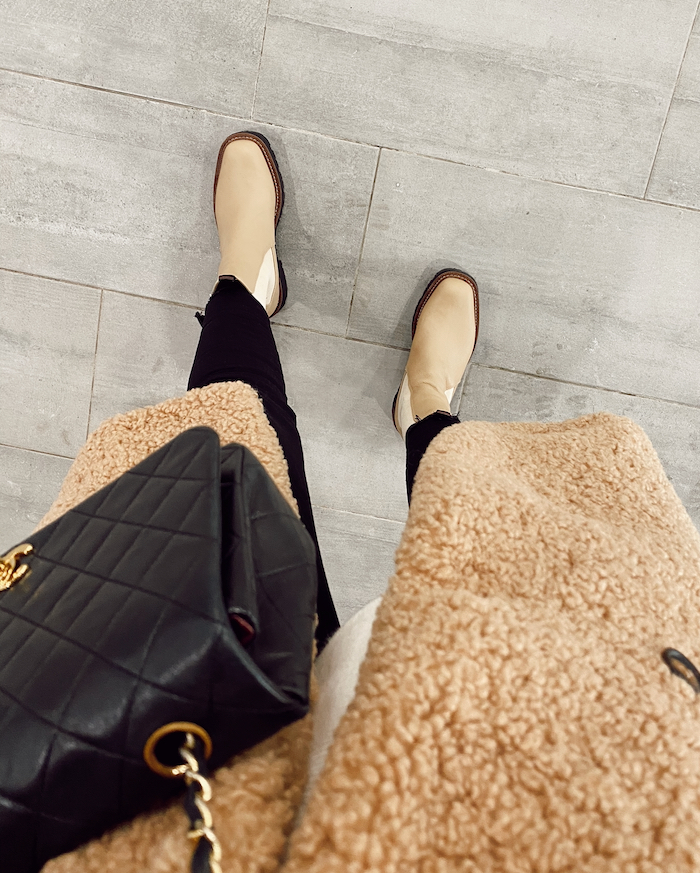 Since the outfit is somewhat a repetition of the one below, which I shared in this post, below is a better look at the cozy turtleneck sweater which I also have in black.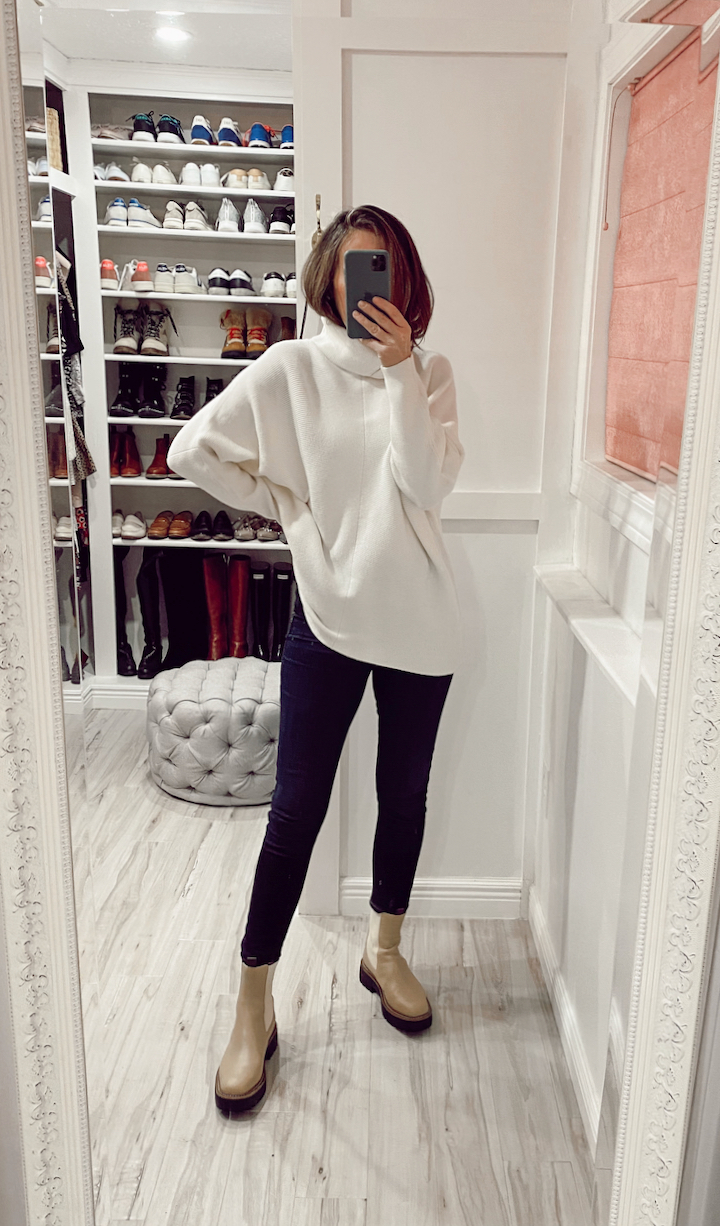 A while back I decided I needed to do some type of workout as my body was aching….most likely from inactivity! So I found an easy YT workout, which is my kinda workout, and I thought to myself 'I'm going to start working out regularly'. With that thought in mind I decided that cute workout outfit would certainly help motivate me to keep up with regularly moving by body. While I do have a lot of workouts leggings, most are dark and I wanted something bright and fun. I decided to ordered two pairs of Fabletics leggings to try. I figured 2 for $24 was an amazing deal (intro offer) and I could always skip a month, or a few, or cancel anytime if I didn't want to purchase more stuff from them (it's kinda like a monthly subscription…you get charged each month and you can get with the credit whatever you want. Or you can skip as many months as you want or cancel anytime). They have such a great variety of different styles depending on the activity or compression you're looking for. Joggers and shorts too. I ordered the pair below in Small and another pair in a different color in XS. Both fit but I prefer small. Oh, and in case you're wondering if I've kept with my regular workouts…the answer is no! Working on it though… 😉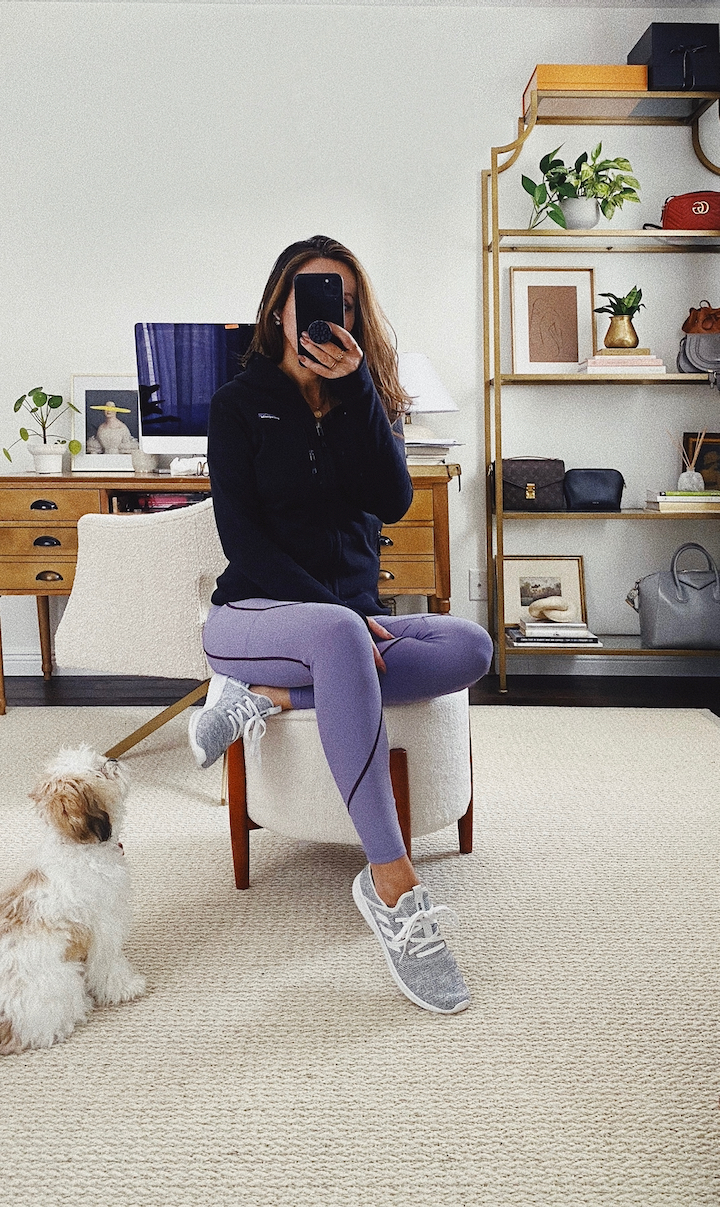 Leggings in Small | Patagonia zip up in Small (runs small) | Adidas Cloud Sneakers (so so comfortable) – also here
.
I've been on the hunt for a lighter wash straight leg pair of jeans. AGOLDE has a few pairs I love but this style looked exactly like what I had pictured in my head. Their sizing has not been consistent for me (I have this pair in my true size and absolutely love them!), but another pair I ordered in my size was too small in waist. So it took me a long time to decide on size…but in the meantime I stumbled upon a pair that looked so similar but was under $50. Old Navy jeans usually don't fit my body type well, at least their skinny jeans don't. I have had luck with their straight leg styles though and have been super impressed. This pair I got is so similar to a Madewell pair I own. So I deiced to give these Old Navy ones a try and they did not disappoint. I got size 2 and they fit well with just the right amount of stretch to them. I will be cutting the hem just a tad for a slightly more cropped look.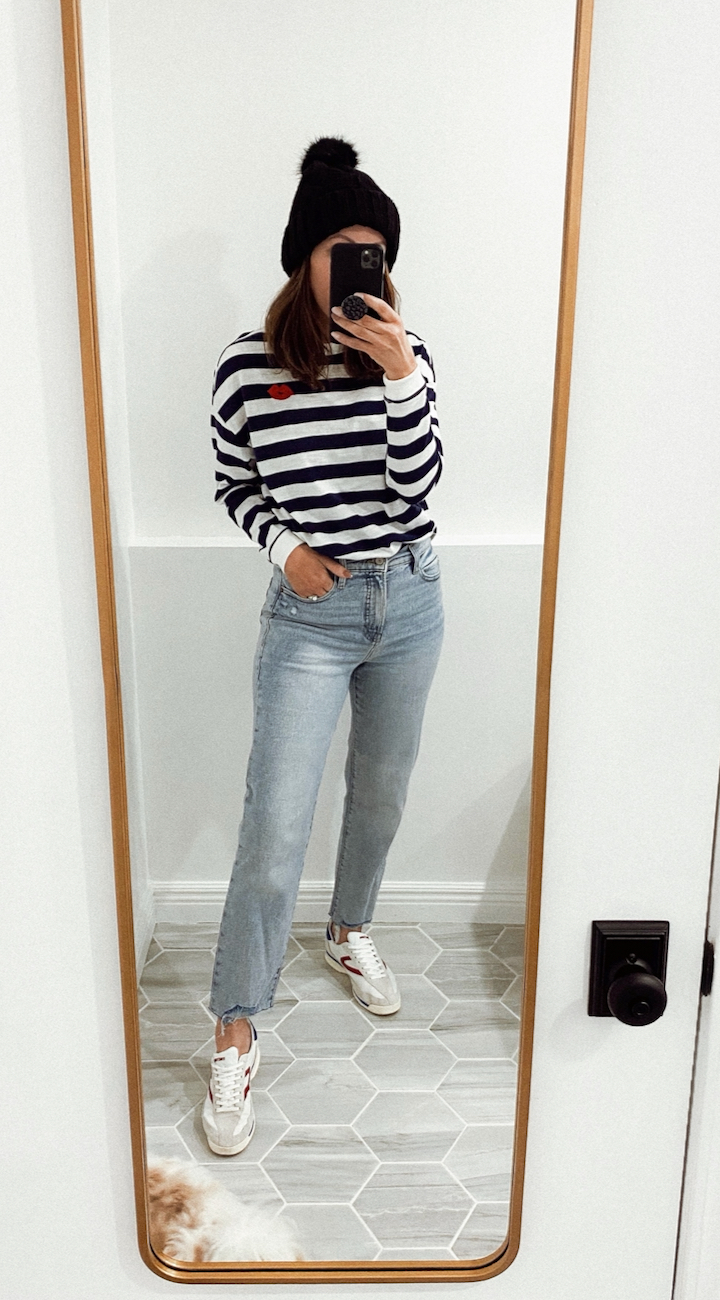 High-waist straight leg jeans (tts for me) | Striped tee in XS | Tretron sneakers tts, loving this style too
I fell in love with these sneakers as soon as I saw them online. I have two pairs of Veja sneakers both in size 39 and they fit perfectly (I'm size 8.5), so I ordered these beauties also in 39. While they're completely different style then my other ones I expected them to fit the same. To my disappointment they fit very small. They felt more like a small size 8. I walked around the house for a bit just to make sure I wasn't mistaking but my toes felt snug. I was disappointed since the next size up is sold out everywhere I looked. I hope they get restocked. I'll link them below from different retailers since select sizes are still available. Net-a-Porter has these in a few different colors (select ones sold out).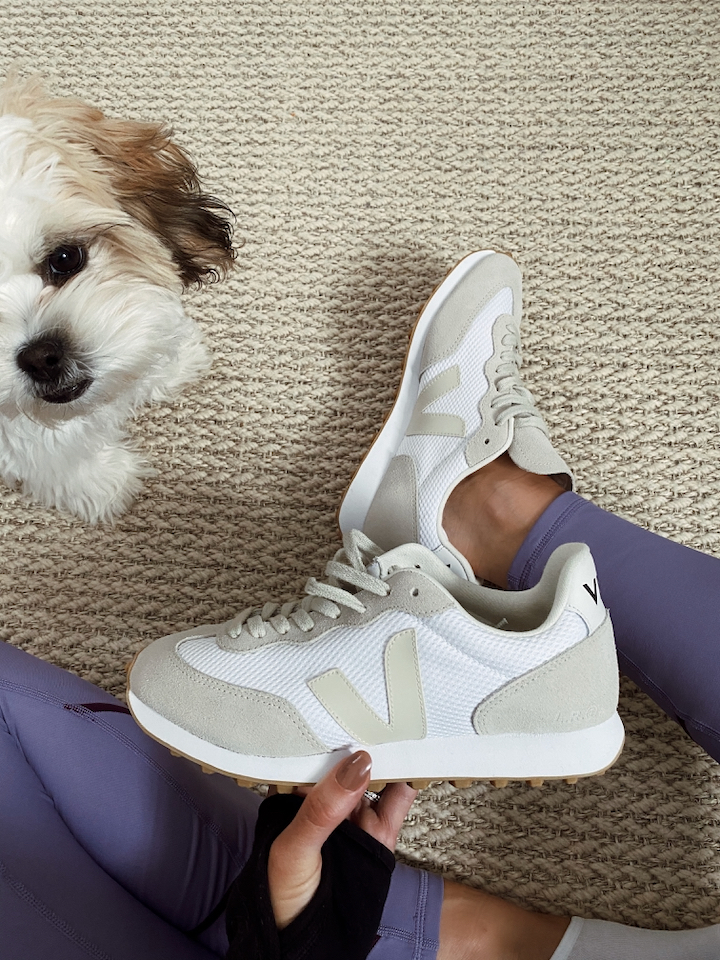 I've been slowly looking for a pair of ballet flats. I know it's still February but at this point I'm getting over winter and very much ready for warmer weather. I find it so much easier to be motivated to dress normally once the snow starts melting even if I have no place to go. I like Felicia Ballet Flats, which I have considered in the past too. But ultimately I was drawn to this nude pair that will pair with everything. I love the look of them. Visualizing a classic look in my head already – Trench Coat, nice pair of jeans and a striped top of course 😉 Which sums up part of my Spring Capsule wardrobe (coming soon…). And speaking of stripes….
I've always loved stripes but the last couple of months I've been "craving" stripes (odd thing to say but true). I recently added a few striped tops to my wardrobe (I like I could talk about stripes for days). While they're great year-round, they make me crave warmer weather. The striped long sleeve tee from Old Navy was the latest addition. I loved the boxy cut, the wide stripes and the extra touch of red lips print. And it was great price point.
Last random thing I'm absolutely loving right now is color Sage! It's everywhere, from home decor to wall colors to fashion. It's apparently the it color for spring and I'm here for it. I don't think I've noticed before how peaceful and calming it is. I got this set of Apple Watch bands last year and one of the four colors is a sage-y one, which is what I've been wearing lately. Below are some pretty pieces in sage color (or sage color family).