Hope everyone had a lovely weekend!
Sharing some recent looks. The first two looks were just indoor outfits, this time. Since our temps have been up and down, I haven't been overly motivated. The few warmer days we had a while back got me all excited and out of my rut, as seen in this post, and then it cooled down again. I'm very much over the cold weather at this point but this weekend was beautiful and hopefully this weather will stick around.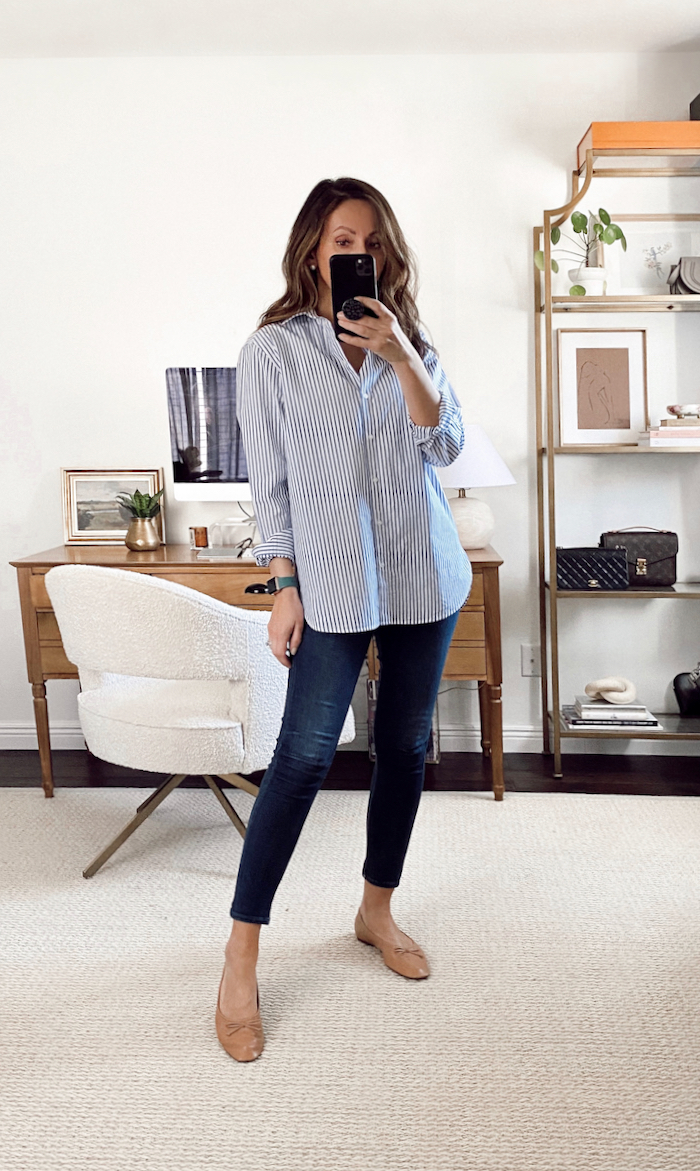 Schutz Nude Flats tts | Citizens of Humanity Skinny Jeans (same style, different fabric) – similar for less | H&M oversized button down in XS – another similar style,
This long cardigan is one of my most worn pieces.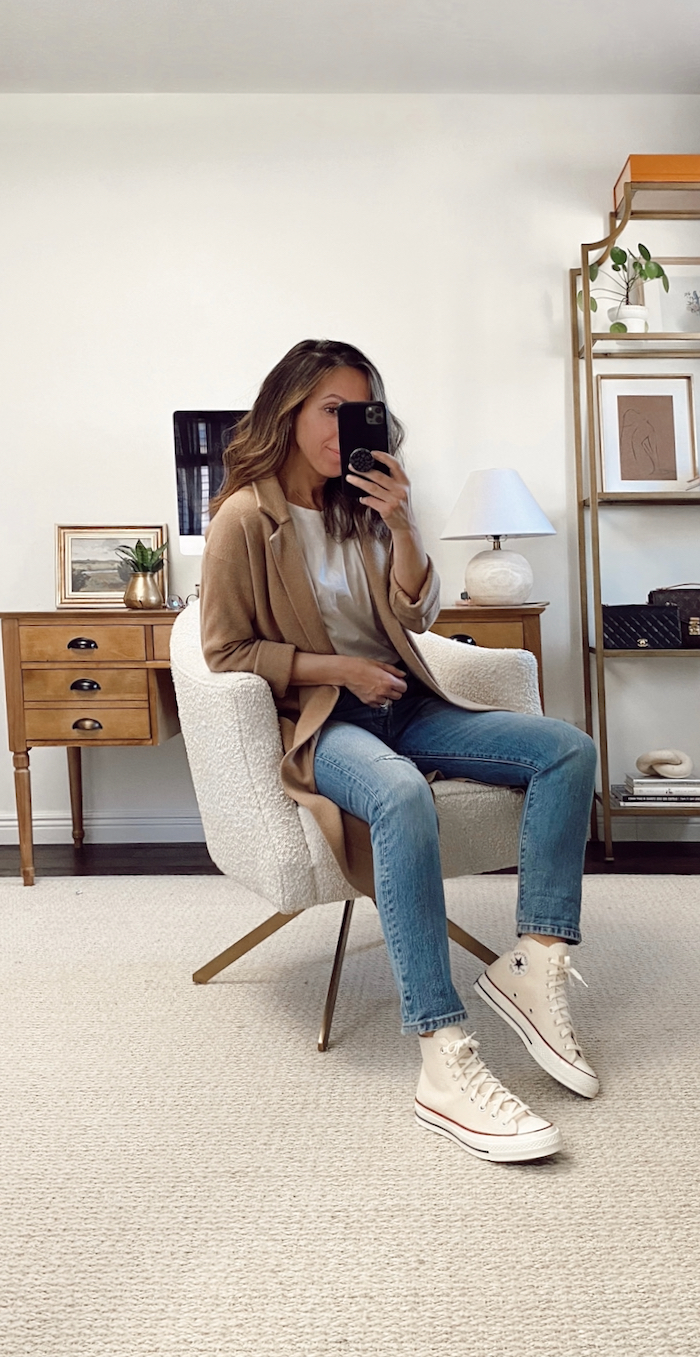 Coatigan in xxs | Cotton Tee (I sized up for a looser fit) | Levi's Jeans (similar but also more comfortable. mine are super old) | Converse high tops tts
I love Converse sneakers. I have them in three different styles and I think everyone, young or old, can pull them off. Everyone looks good in this classic style, which pairs with just about everything (I throw mine in the washer on gentle when they get dirty). They look so cute with skirts and dresses too for a chic casual look. I've been wanting these high top ones in this off white color (Parchment) for a while and figured now that spring is here…why not. I have't worn them outside yet, but now that weather is getting nicer it will happen soon. I'm size 8.5/39.5 in shoes and these run true to size for me (I ordered 8.5/39.5 in these and that's exactly what I got. I realize that a lot of retailers don't always convert the EU sizing correctly. I'm always 39.5 and if in between sizes I usually size down to 39. I don't own even one single pair of shoes in size 38 which many say is 8 or 8.5. Everyones foot is different though…so like with everything else, you just have to find out what works for you. I think with Converse, if they're Unisex then you usually have to size down which retailers will usually say, like with these from Nordstrom.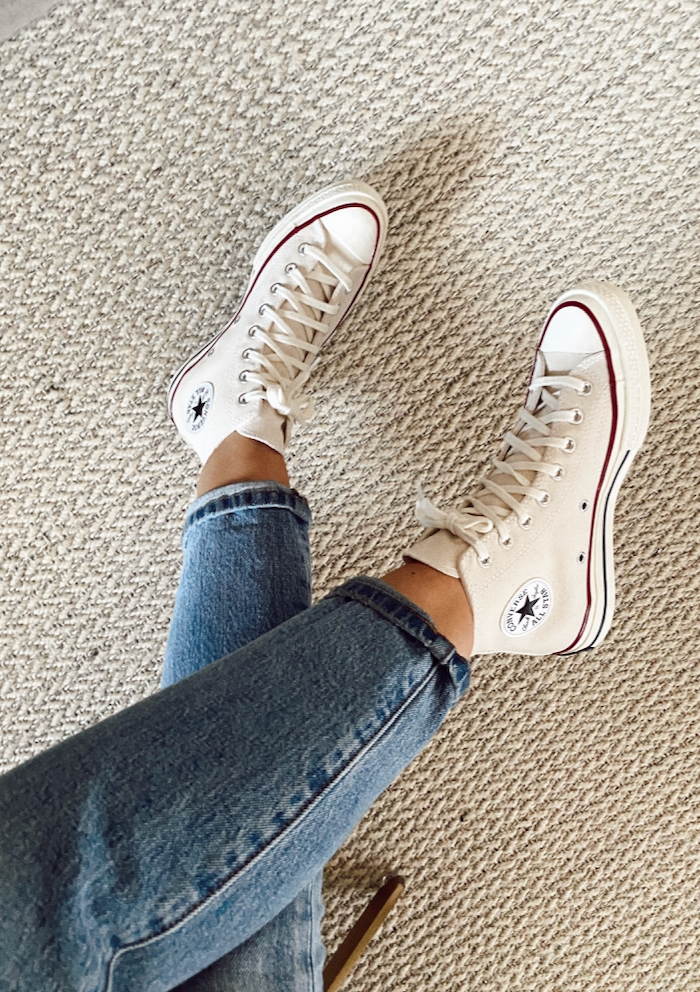 I've mentioned several times before how impressed I'm with these super affordable jeans. They fit so well and are under $23. I have them in a lighter wash too. Many of you have told me how much you love them too. Definitely would recommend giving these a try.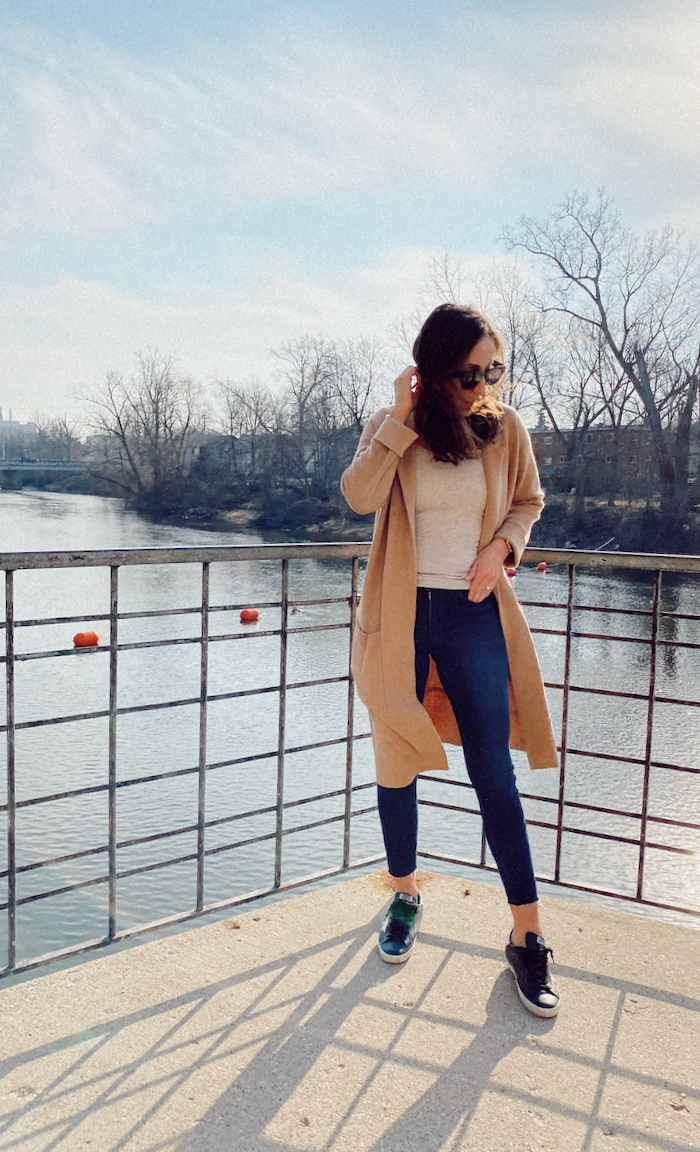 Coatigan in xxs | Long sleeve tee size up – (comes as set of 2) | Skinny Jeans under $23 | Golden Goose – love these under $100 | Sunglasses (these are my other faves). Both a very light!
Saturday's "hiking" outfit. My sneakers are from 2014 and while these exact colors are no longer available (I think these were J.Crew exclusive), they do come in other very pretty color combos. Also, this picture is more about the beautiful nature than my outfit 😉
Patagonia Jacket in Small (Packable) – similar option for only $20 | H&M Hoodies | COH jeans (exact old)- similar for less | Nike sneakers (super old) | Water bottle
For Sunday's walk I wore these joggers (in XS. They stretched out just a bit), an H&M hoodie in light gray (H&M has the best affordable hoodies) and these very comfortable sneakers. Didn't snap a pic but it was a comfy outfit.
Have a wonderful day!