This is a pretty small try-on haul from a few different retailers…
Every single piece of clothing I've ordered recently has been at night! A few things I'm glad I ordered, like jeans, but some things like joggers I realized I don't need more of right now. Some things didn't work out due to sizing indues.
This classic coat was such a good price so I decided to order it and see if this one will be the right shade of camel for me (so many camel shades wash me out). It's actually a well made coat but it runs small (wearing XS). While it seems like the perfect fit, it's tight in the shoulders and I really don't like that. It's the cut. It feels like I'm wearing a straight jacket. In such cases I prefer to have something bigger than not have full range of motion. Mangos sizing in coats has been so off. I never know what to except…I guess that's the case with any brand. But sometimes with Mango a small has been Medium (hate when it says US Medium, EU small. ummm…wrong!). This coat is XS in US and in EU. Another coat I got was US Small and EU Medium. See the confusion?! Good things their shipping and returns are free because I will love Mango lol.
Coat | Jeans tts
I'd suggest sizing up if you want to wear sweaters with this coat. With this thin ribbed sweater it wasn't overly tight but I don't like to be limited what type of tops I can wear with coats like this one. It comes in more colors and it's not a heavy wool coat but it's warm.
I love square-necks in tops and dresses. I ordered XS in this top and it's a tad tighter than expected, especially under arms. It's a personal fit preference. I do love it but will be returning XS and getting small…which I hope won't be too loose.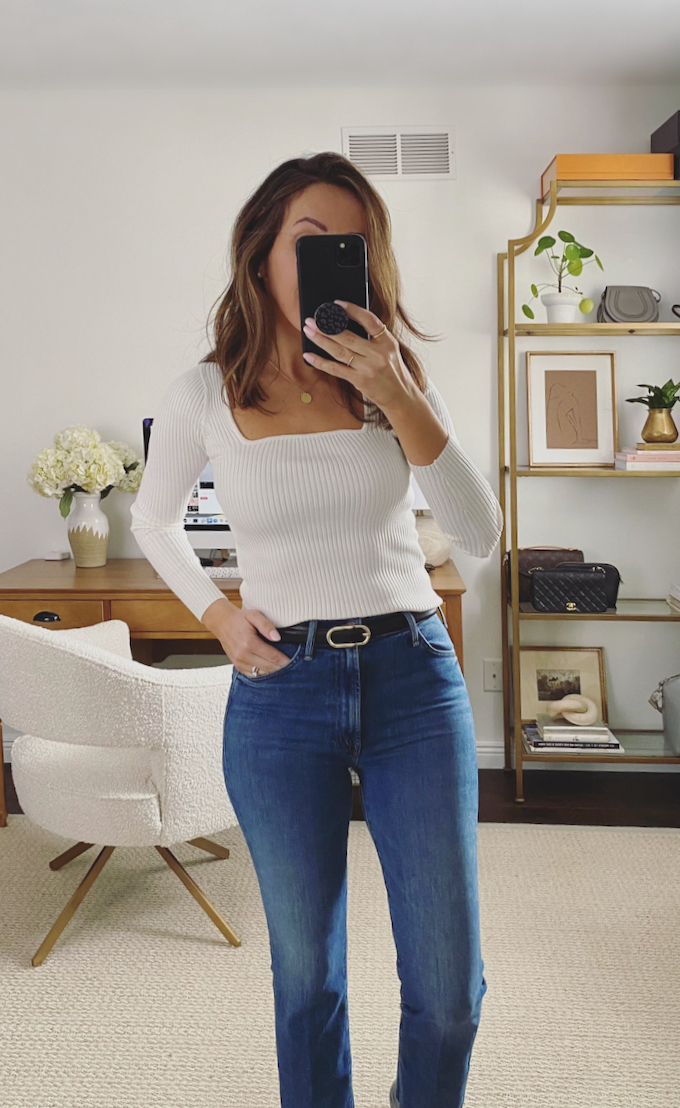 Ribbed knit Sweater | Belt in small | Jeans tts
I ordered these "fancy joggers" or as they'd say in UK "smart joggers" in XS and small. Below I'm wearing XS and like the fit that I didn't even open small. Last year I ordered a similar pair in a lighter color but I noticed the fabric on these below is a tad thinner. While these are not really thin, dark undies will snow. What I like about these is that they can easily be dressed up just as much as they can be dressed down. And also that they're more tapered around ankles. Since I already have a similar pair in a lighter shade, I'll be sending these back. I really like the look of these.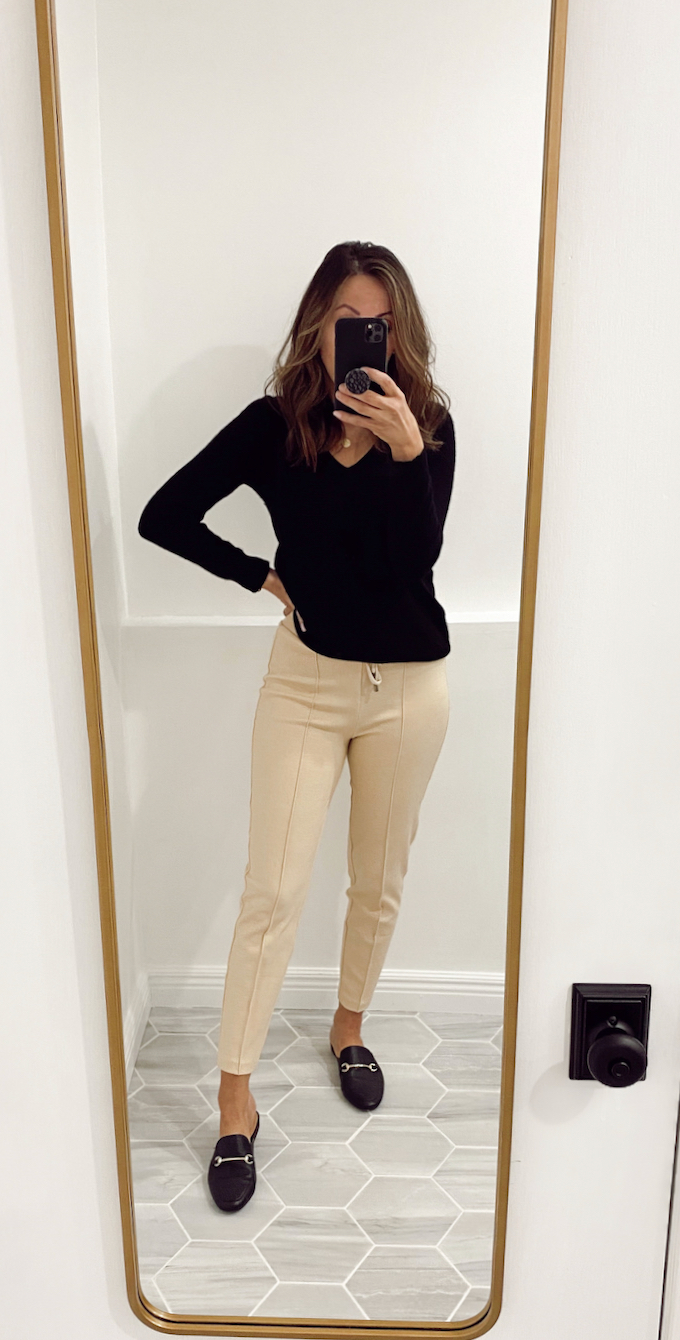 Drawstring Jogger Trousers | Cashmere sweater (similar) | Slides (old) – almost exact style
I've been eyeing this striped sweater blazer since it arrived a while back. The XS sold-out fairly quickly (I'm sure they'll restock this again fully) so I decided to try small, which fits like a small. It's roomy, tad boxy but it doesn't necessarily look bad. I wish it was just a tad longer. Sleeves are pretty long though. It's soft and cute but I don't love it on me. Maybe XS would fit better but I'm not overly in love to justify the full price I paid for it. On sale – maybe. But since it's big in not a flattering way, it's going back.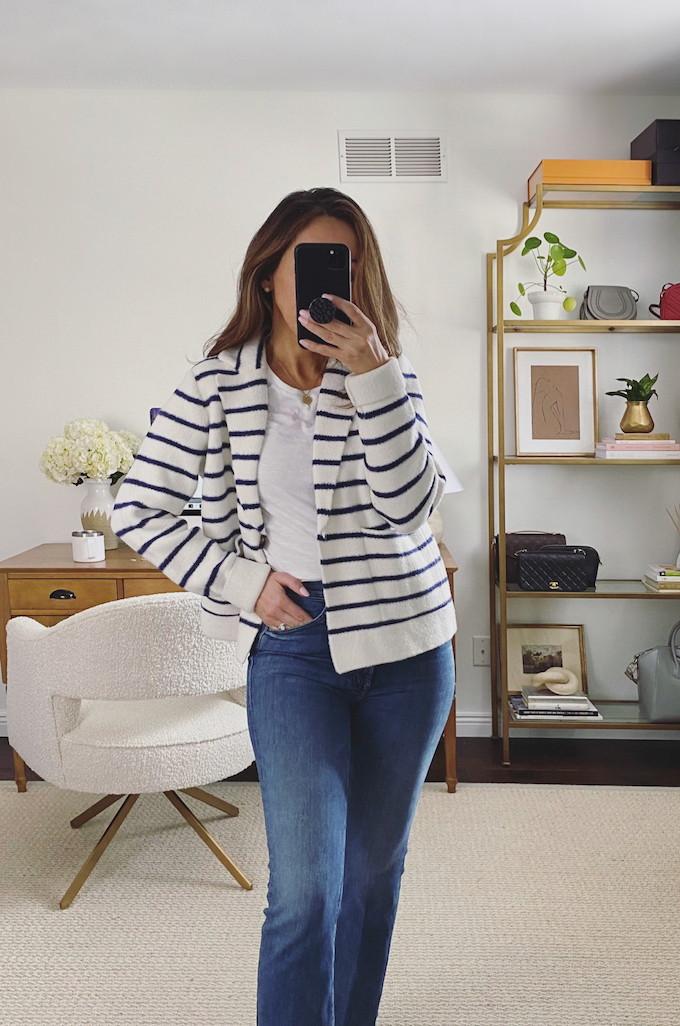 Striped sweater blazer | Vintage Tee in small | Mother jeans tts
I ordered these on a whim. Love the straight leg and a fact that they're just slightly relaxed. I was going to send them back but tried them on again and realized that I actually love them. They don't show any imperfections, have a nice amount of stretch to them and are super comfortable. I ordered my usual size and they fit great.
Straight Leg Jeans tts | Loafers (tts for me) | Cashmere sweater in small – almost exact here for $50
I've been wanting this cardigan aka collarless sweater blazer in gray (have had it for years in black) and finally ordered it. I ordered XS and I'd say it fits tts. However, not everyone seems to like the relaxed fit and you might have heard that "it runs big". Just like their other "sweater blazers" it all depends how YOU want it to fit. I like the relaxed fit. It does not run big like the long version which does run big. But, if you prefer this one a tad more fitted – size down.
J.Crew sweater blazer/cardigan in XS | Mother Jeans tts | Madewell loafers (tts for me) | Cami (Loft old) – similar here and here on sale
Thanks for reading!