Hard to believe it's already March! This year is flying by…but on the bright side, warmer weather is coming. I've been in such a rut and haven't felt inspired over winter. Once it started warming up and sun started shining every day, I started feeling more motivated to put some cute outfits together. The pieces in all these outfits I'm sharing today are wardrobe staples for me year after year. And I'll linking all my necklaces at the end of this post.
I wanted to try different shoes with the outfit below. Love each for different occasions…like I wouldn't go grocery shopping in heels but would in sneakers or loafers. And I'll share more about these amazing off white jeans below.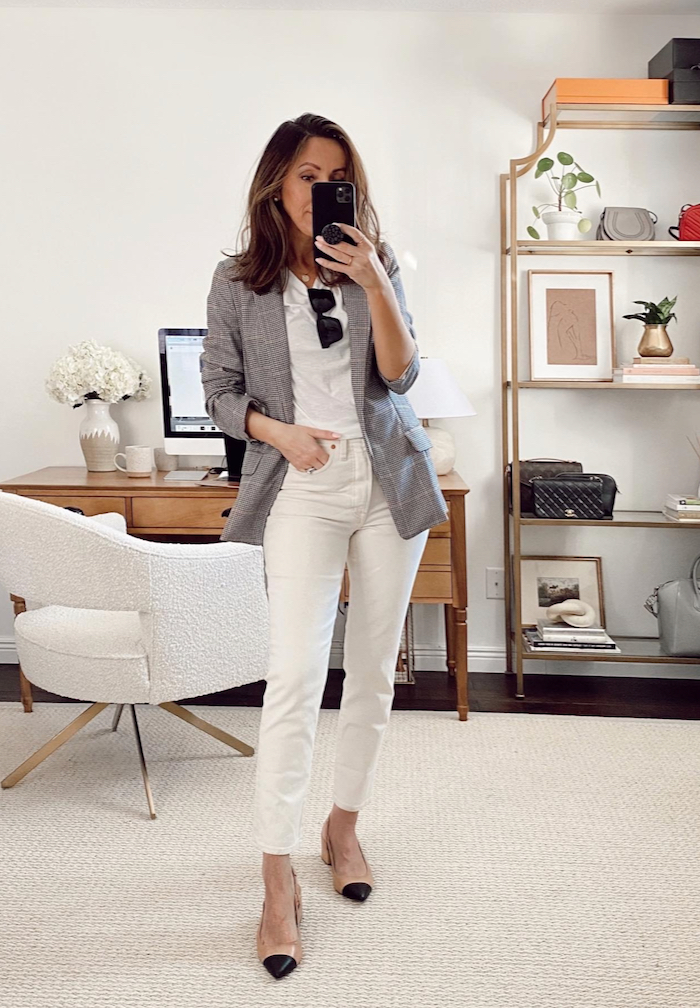 Jeans | White tee | Shoes – another similar styles | Blazer (old) – great options here, here and here | Sunglasses
Below with Veja sneakers (I'm size 8.5 and got these in 39).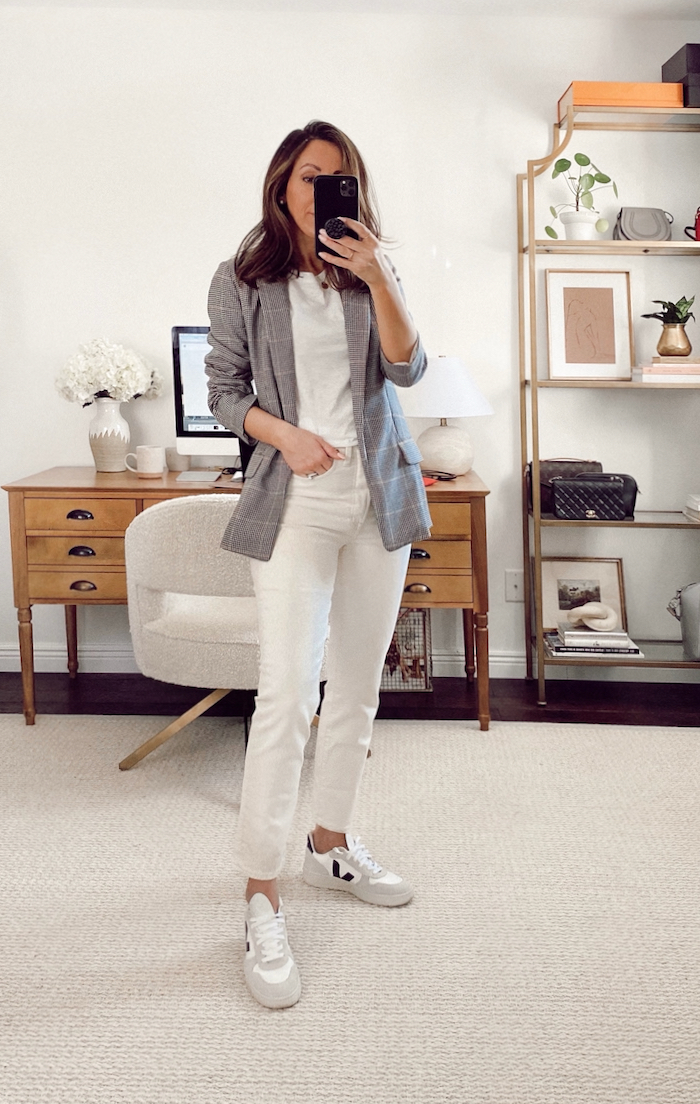 And with my favorite loafers – exact ones (some have different hardware).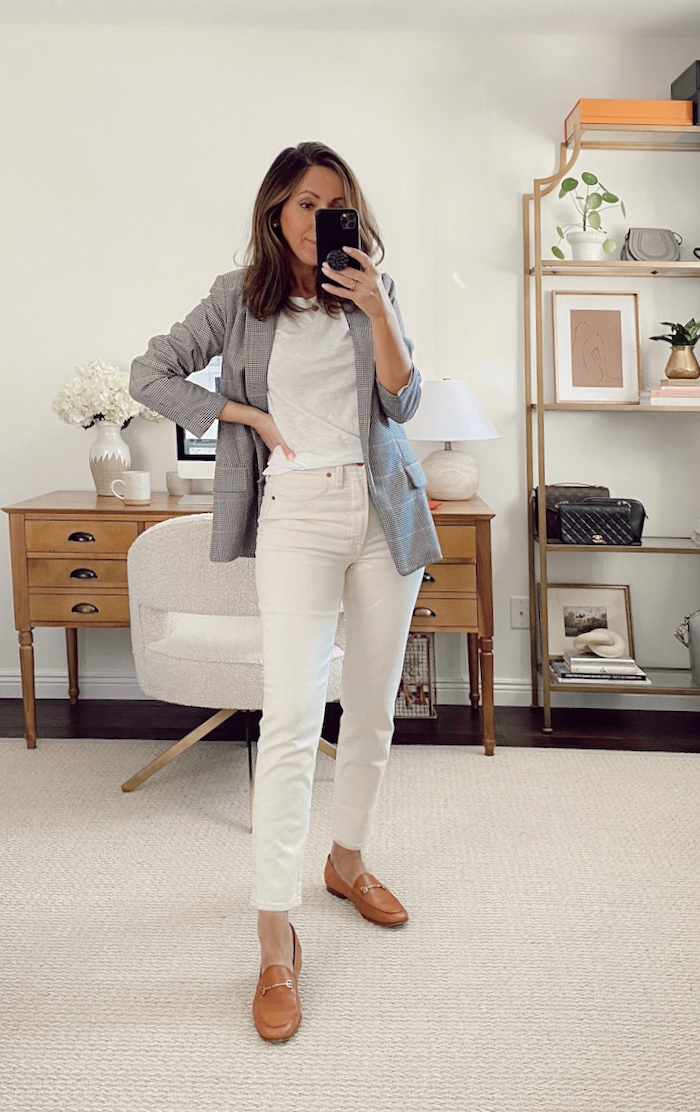 Don't shoes make such a big difference? Which of the three is your favorite?
Let me talk briefly about these Madewell straight leg jeans in off white/creamy/Ecru (whatever you want to call the color). I've been on the hunt for probably a year for a nice pair of straight leg jeans specifically in off white/Ecru. I've ordered and returned a few (still have a pair I need to return from Mango). None of them ever fit right. Then I saw these ones figured it's worth a try. I didn't have high hopes as most Madewell jeans don't fit my body type right for some reason. The reviews on sizing were so confusing but I decided to size up. And I'm so glad I did. They definitely run small (I'm 26 in jeans and ordered 27 and for me these fit like 26). I love the style and fit. These are exactly what I was looking for – high waist, straight leg and not tight but fitted just right. I find jeans in Ecru so much easier to wear than just plain white. Much easier to keep clean.
I think this outfit will be repeated many times. It's so simple but put together. This blazer is old unfortunately, but I'm linking some great options below this picture. And at the end of this post I'm talking about my necklaces…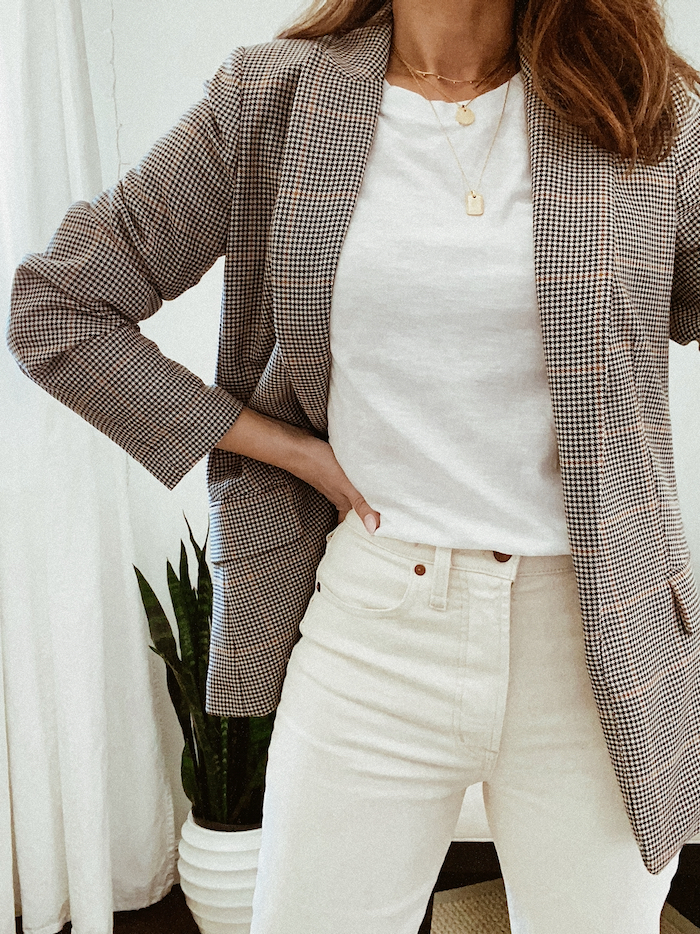 This sweater blazer has been a favorite for years. This Factory style is more fitted than the original J.Crew version (as seen in this post) but both are amazing wardrobe staples (I think sizing down in the original version would somewhat be a similar fit to this one). I have size XS in both versions. For me they both run tts but it comes down to how you want each to fit. My sister is a size small and both of these versions fit her…just more fitted than on me.
This straight leg pair looked so nice and after eyeing them I thought I'd give them a try. When I first took them out of package and looked at them I thought "there is no way these will fit, they look tiny". I tried them on and they fit great. They have a nice amount of stretch to them but haven't stretched out. The high waist holds in everything without being uncomfortable. I initially thought I might have to cut the hem maybe an inch for a cropped look but the length is perfect (it hits just above my ankle bone. I'm 5'6).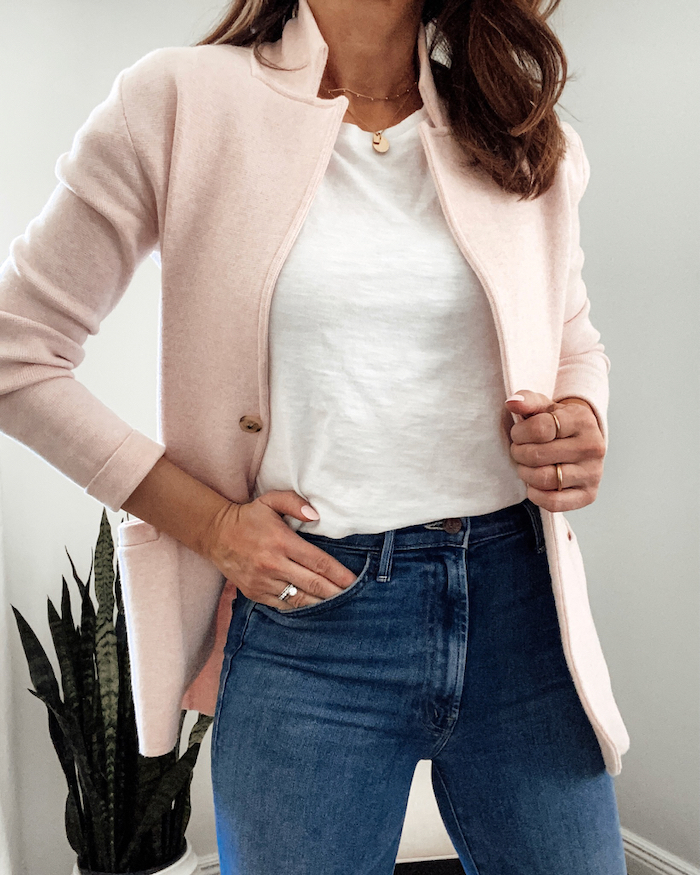 J.Crew Factory Blazer in XS | J.Crew Vintage Tee in small (for a relaxed fit) | Mother jeans tts |
I've been loving this light-weight sweater so much! It's a hidden gem at J.Crew. This outfit is giving me French chic vibes. This exact trench coat is no longer available but I'll link some great options. I also have this one from Banana Republic (mine is over 5 years old but the color and style look the same still).
Trench coat suggestions: here from J.Crew, from Mango, here from Express, this color is very similar to mine (also in Petites)
Sunday weather was so beautiful, it got up to 57 degrees. Home Depot run outfit below. Utility jacket is a spring (and fall) staple in my wardrobe. There are so many great options out there. I'll link some of my favorites below this picture.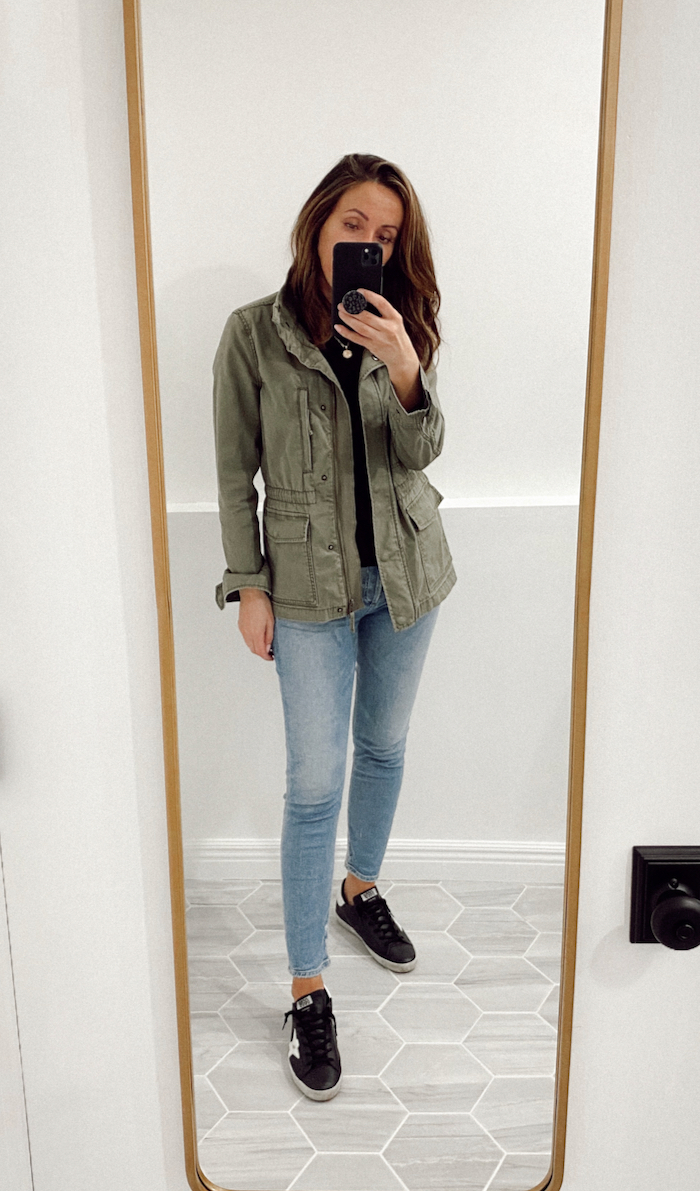 AGOLDE jeans (tts for me) here from Shopbop | Cashmere Sweater here for $50 and here for $75 (both are great. I get small in both brands for a relaxed fit) | Utility Jacket (in small) new version. More great options here and here, here | Golden Goose Sneakers | Love this option under $100 |
I've gotten a number of questions about my necklaces. You might see me wear same few ones over and over again. Some of them came as a set of two or three so I mixed and match them all. This set is my oldest (from a few years ago) and this one is more recent (recent as in probably close to two years). This bar necklace is also a few years old and I wear it pretty much daily (except the last ten days or so because I can't find it!). The latest addition is this affordable set from Amazon.