Hope everyone had a great weekend!
Rounding up some cute spring outfits. The first one was worn a couple of weeks ago and again today (with a different bag).
I meant to return this oversized Zara coatigan but kinda forgot (got it back in February). It felt a tad itchy and it's quite oversized (even though I do like the look of oversized coatigans) I wasn't feeling it initially. I'm glad I kept it though as I ended up loving it (seems to be a trend with me when I give some pieces a second chance). It reminded me of the popular J.Crew Ella coatigan but a very oversized version of it and longer. My sister is already trying to borrow it which really means I'll never see it again lol.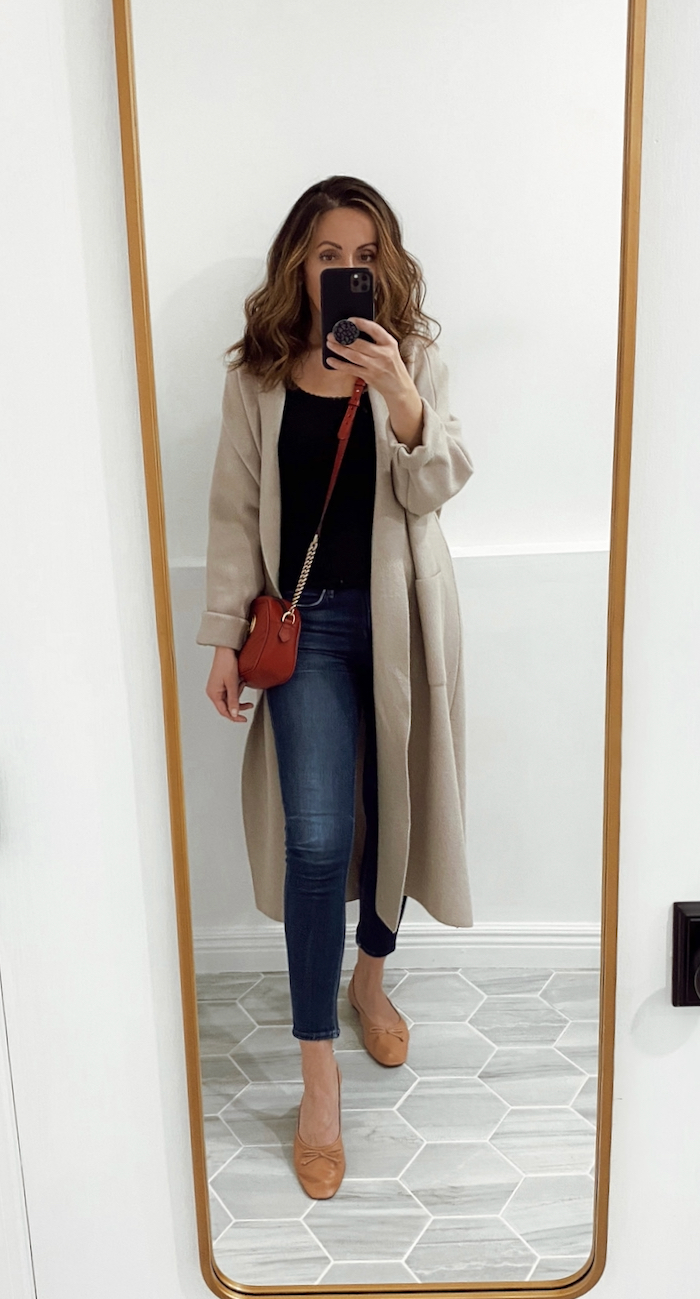 Schutz Nude Flats – here at Nordstrom, here at Bloomingdales | Lace Trim Cotton Tank | Citizens of Humanity Jeans (some style, mine are super old)- another similar style, also here, here for under $25 | Gucci Bag | Zara coatigan – can't seem to find it, maybe sold out – great options here, here, here
Let's talk about these nude flats briefly which I realized I've worn a lot already. One thing that drew me to them is the toe area – it's not pointy nor very square. They look nice and dainty. Once I got them and tried them on I immediately loved the soft and buttery leather. It's also thinner leather which made my big toe kinda noticeable (if that makes sense) and I didn't know how I felt about that part. I put them back in the box to return but after a few days I tried them again and was SO happy that I didn't send them back. I LOVE them. I find them very comfortable (it will different for everyone depending on your foot) and they look nice on. If you do get them, give them a chance. There are available in limited sizes at this point but I linked them from a few different retailers.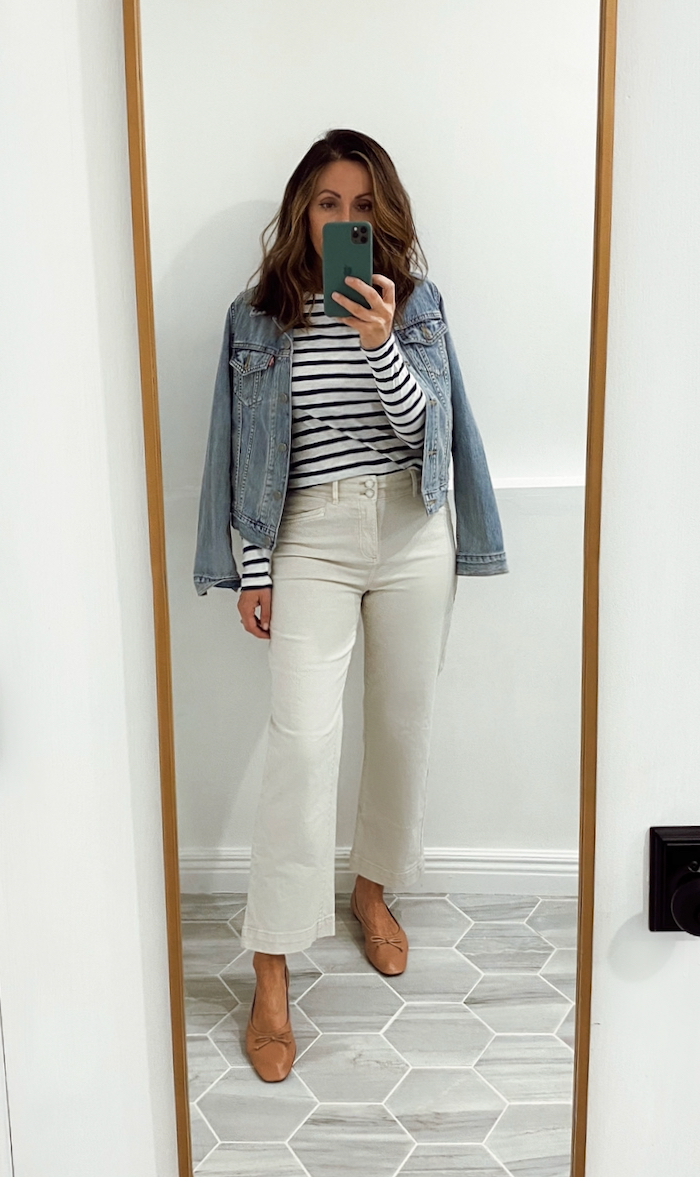 Levi's Denim Jacket – on sale! (I got small) | Wide Leg jeans (this years version), similar style from LOFT, also love these from Mango | Nude Flats, also here from Saks, and from Shopbop | Striped tee (J.Crew super old) – current version, great options here from Everlane and here, love the wide stripes
These wide leg jeans are from a year ago but the current version looks almost identical. I love the high waist which I noticed in reviews some didn't like. With wide leg jeans/pants a higher waist looks way more flattering IMO.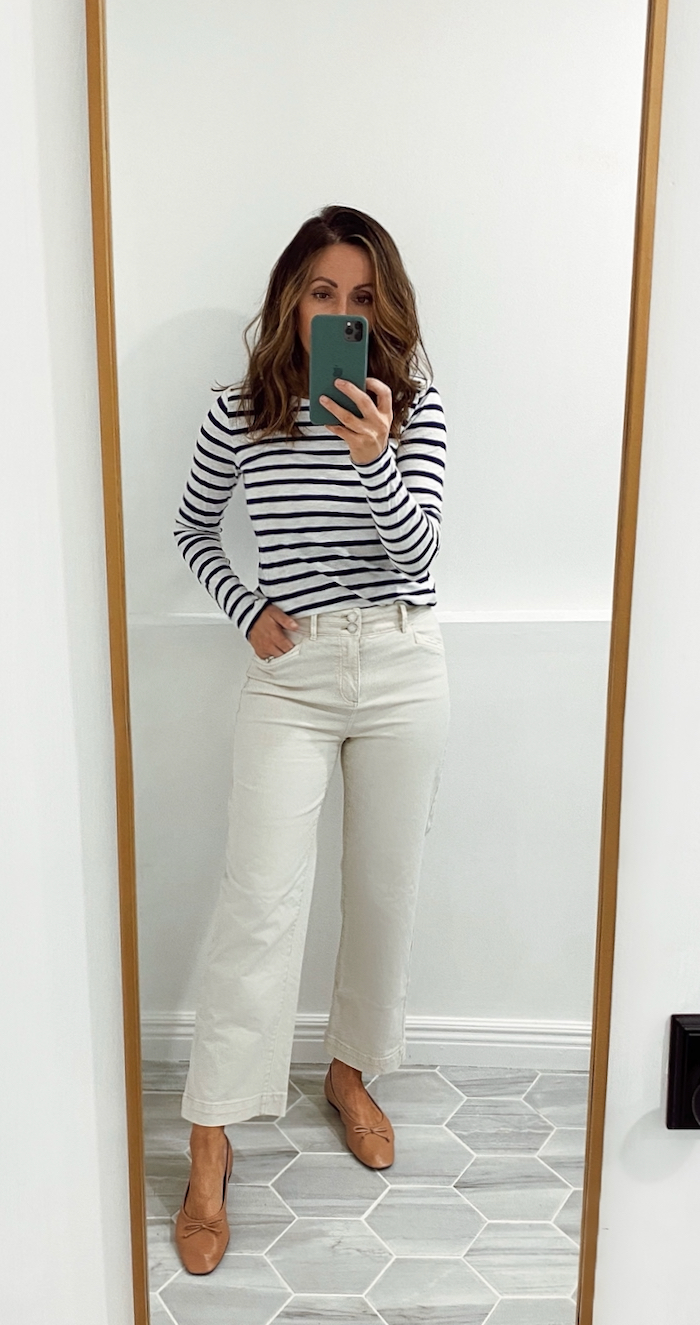 Can't even tell you how much I love a linen button down. This one is old from Mango (I sized up for a slightly oversized fit). This Everlane one looks very similar to mine and this J.Crew one is a tad more fitted.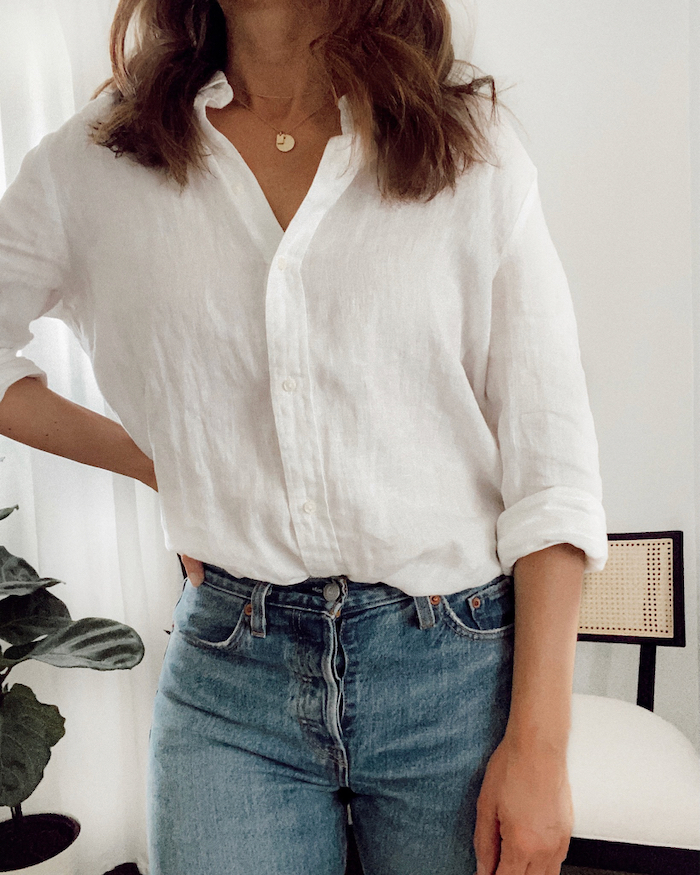 Levi's Jeans tts | Linen button down – almost exact here (more of a relaxed fit like mine) and here (a tad more fitted) | Coin Necklace (comes as set of 2), Bar Necklace
My cardigan below is sold out in most sizes but it does come in different colors too. If you want a less roomy option, I really like this one. But I'm also linking a couple of similar options below this pic.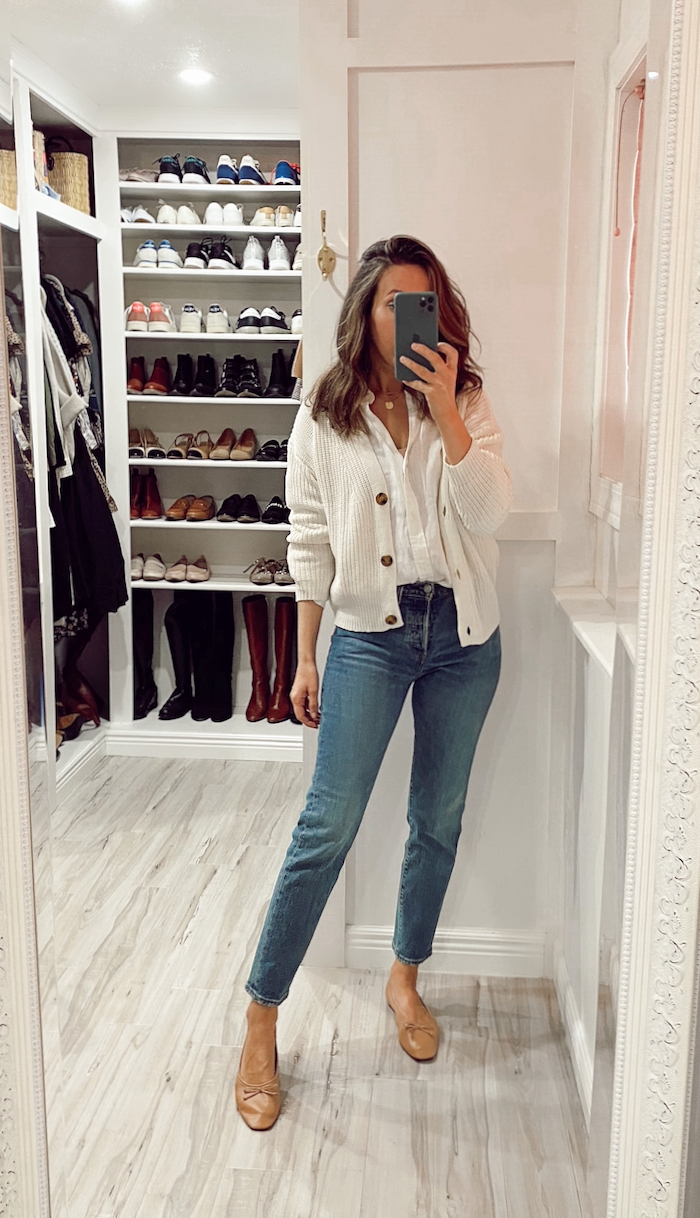 Cardigan in XS – similar style in more sizes here (love it!) and here | Flats same as above
I've shared this sweater a few times but in case you missed it… I have it in two colors, that's how much I liked it. It's slightly oversized (I'm wearing XS) and it's cozy. I'm wearing this short sleeve tee underneath.
Crew Neck sweater | Vintage tee | Skinny jeans tts – only $22 | Tretorn Sneakers tts
As always, thank you for reading!