I went on a small shopping spree. Sometimes you just need a little pick-me-up and retail therapy helps. In this post I'll share just the LOFT pieces and tomorrow or next day I'll share some finds from Old Navy and a couple from Walmart.
Loft is having so many cute pieces right now.
There are pieces below I'm 100% sure about keeping and a couple of others I'm keeping for a few days to make sure I truly love and it's not just the excitement of new stuff.
First up – pull on wide leg pants. Two years ago I purchased my first pair of pull on wide leg pants from LOFT (which I have worn so much lately. They are similar to these). Last year I got another pair in olive color. When they're more comfortable than joggers/sweatpants and cute at the same times, I'm all for it! The ones I'm wearing below are different fabric and a bit wider than the other two pairs I have. I absolutely love them! They're pull on with a stretchy waist, very chic and most importantly comfortable. I got size XS and they fit perfectly (I'm size 26 in jeans for ref.). They're perfect for those days when you want to year pants but not jeans and something a little more put together than joggers/sweatpants. They also come this color and black as well.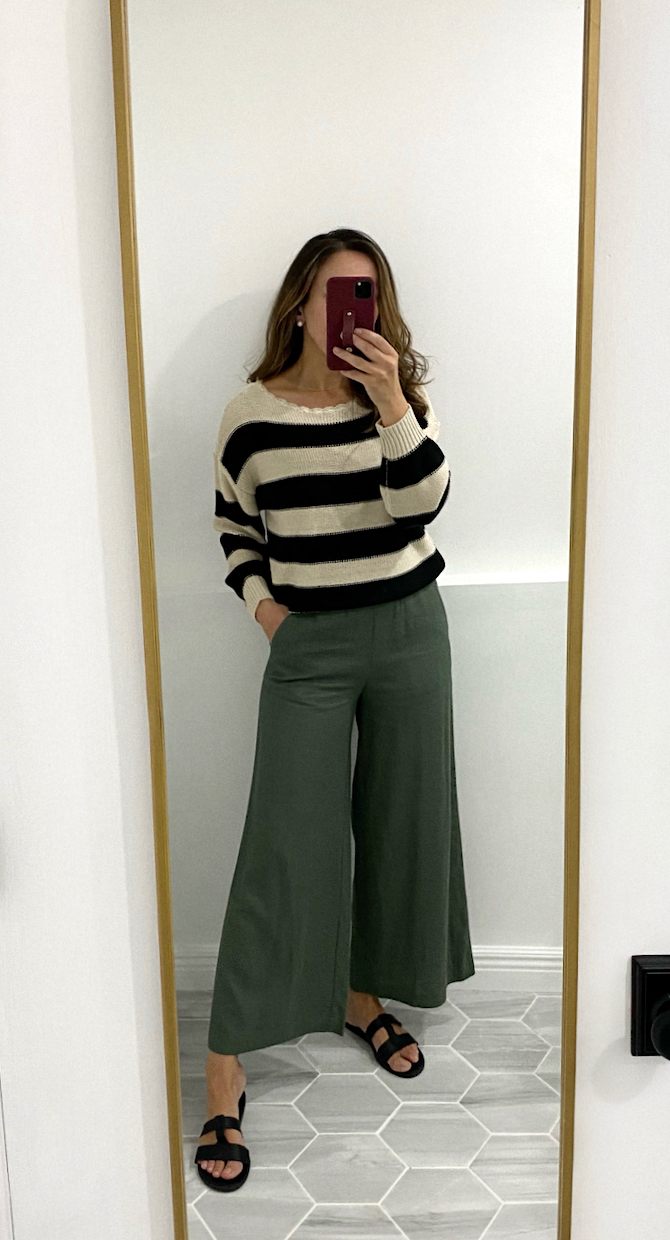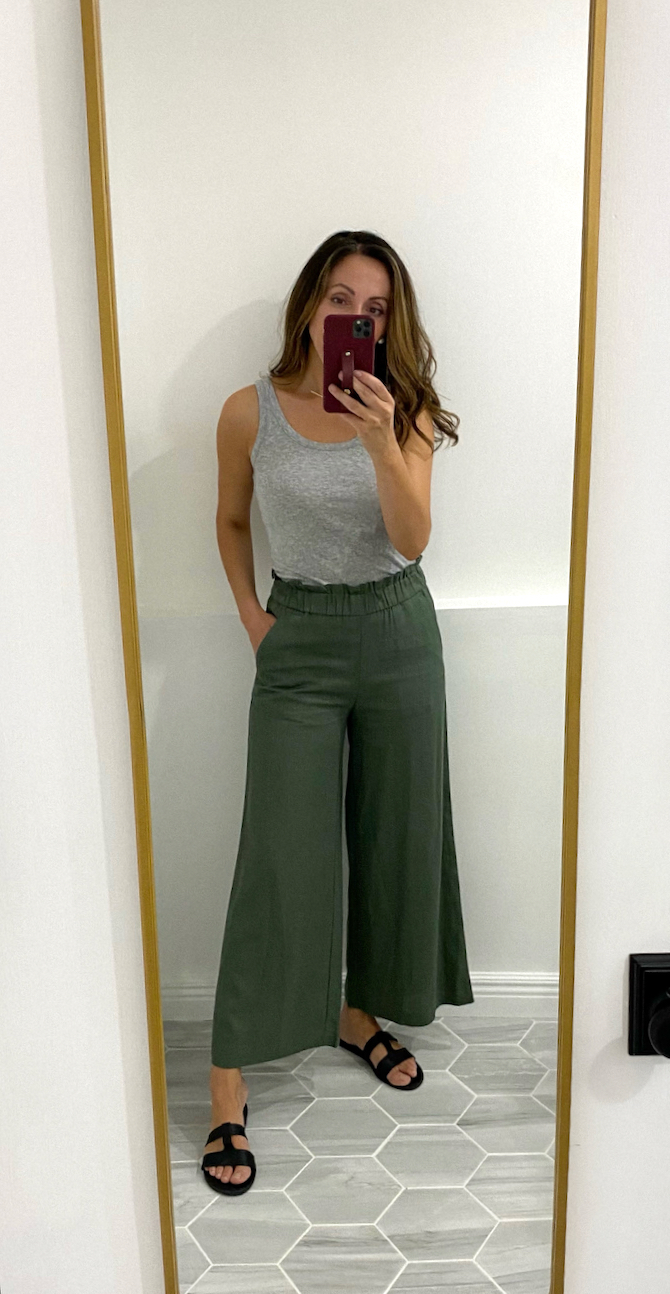 Pants in XS | Tank in XS | Slides tts – these slides are so comfortable. The right one was a little more stretched out but it's too wide for my feet. I feel like these would stretch out but not sure if they would work for really narrow feet (but each pair could also be different). Anyway, they're super comfy and come in more colors.
Let's chat about this striped sweater, which is on sale + extra % off… I love, love it and the boat-neckline with the scallop details. So pretty. It's slightly boxy and a relaxed fit. You can easily size down if you prefer it less roomy (I personally love my sweaters roomier 90% off the time). I think this one will get a lot of use…perfect for chilly summer evenings. Onto jeans – I don't remember the last time I purchased a pair with a rip in them. And while for the most part I'm not info ripped jeans, one rip on the knees I still really like. This straight leg high-rise is the same style but without any distressing or rips and with raw hem…but I'm not seeing the pair I'm wearing below. This is another similar style.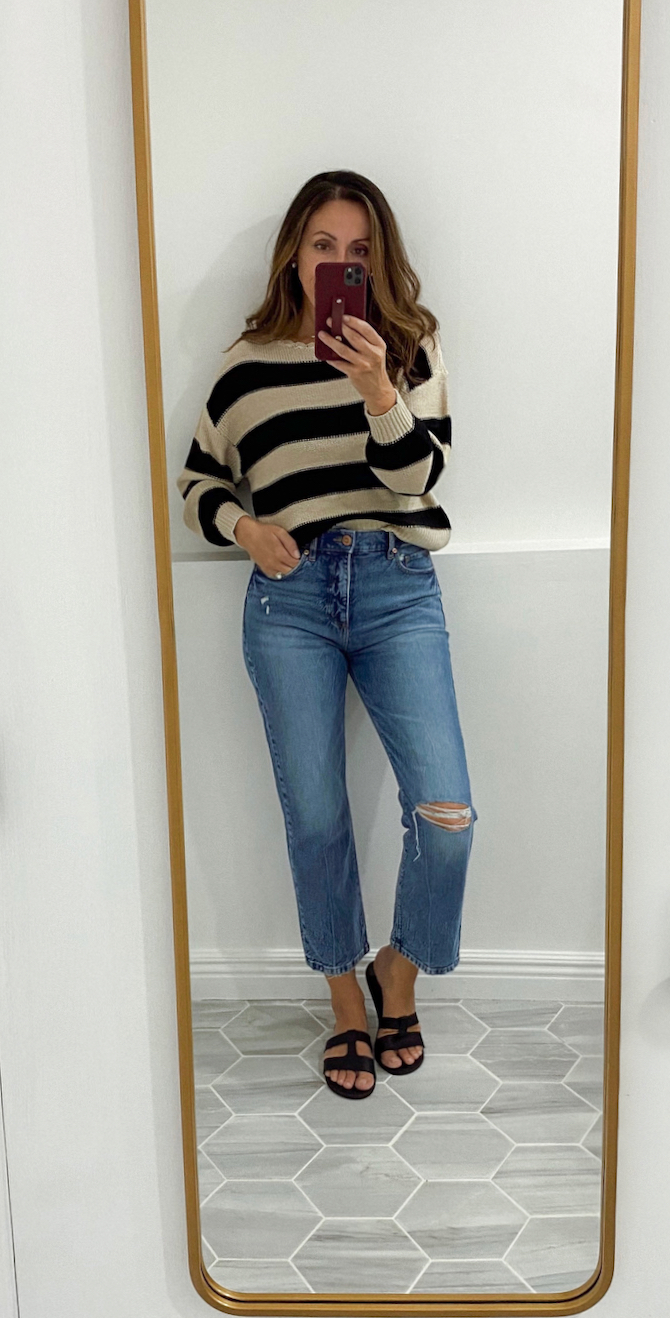 Sweater in XS | Slides tts |
I really liked these poplin pants below, even though I might have to go through my closet because I think I already have a pair that's almost identical. I love the comfort and style of these. Easy to throw and a great alternative for your lounge joggers 😉 I'm wearing XS below and they fit tts without being tight. If you're in between sizes, I think you can size down. And they're easily cuffed if too long. They come in three more colors.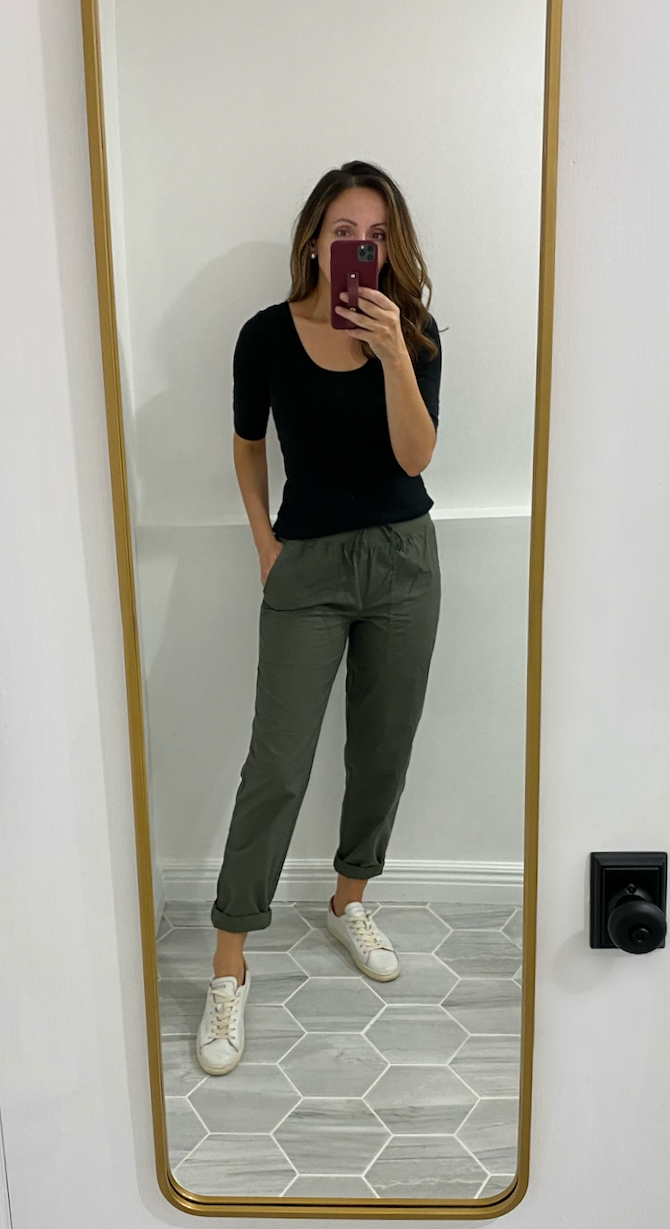 Pants in XS | Sneakers tts | Tee old
Another way I'd wear these…paired with slides and denim jacket (only $15 today).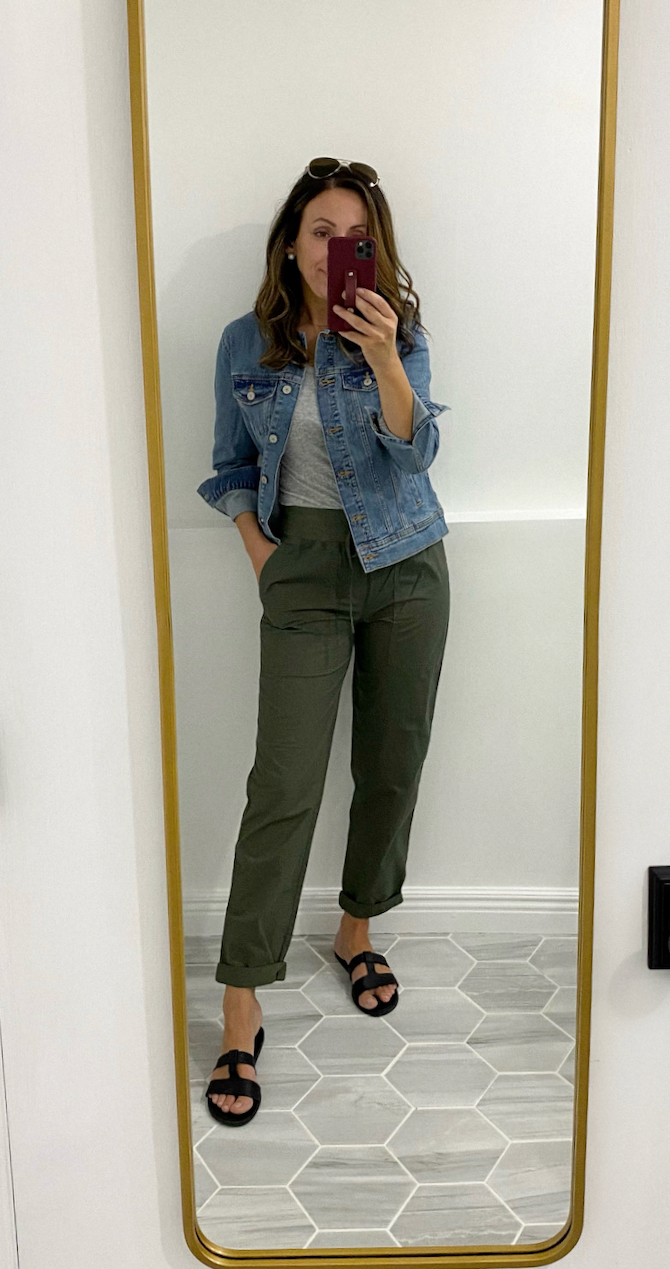 This gingham top is so adorable and comfortable too. I'm wearing XS below and it fits tts. Plenty stretchy on top.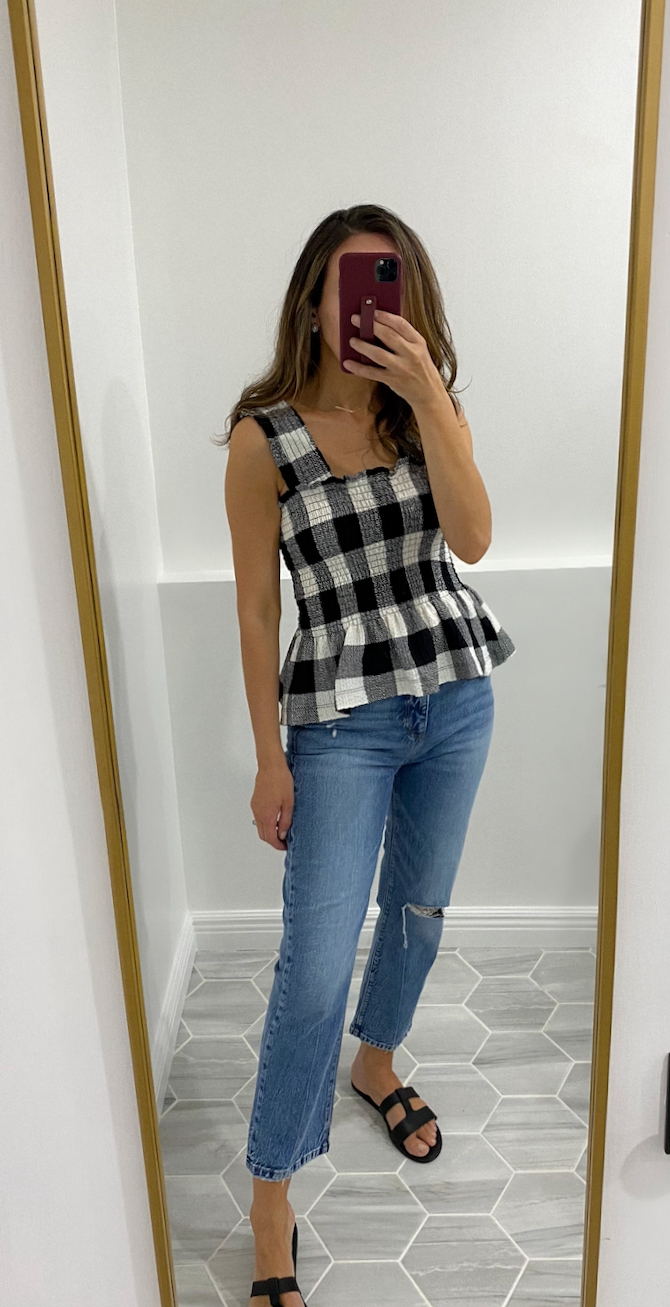 You might have seen this knit tank in sage on my Instagram the other day. I absolutely love it. I picked it up in this color but I'll be returning it. While it is a nice color I know that I would reaching for the other one a lot more. I'm wearing XS below and the other color on my IG in Small. I don't see much of a difference really. The reason I sized up in the other one is because I didn't want it to be tight and have the buttons pull.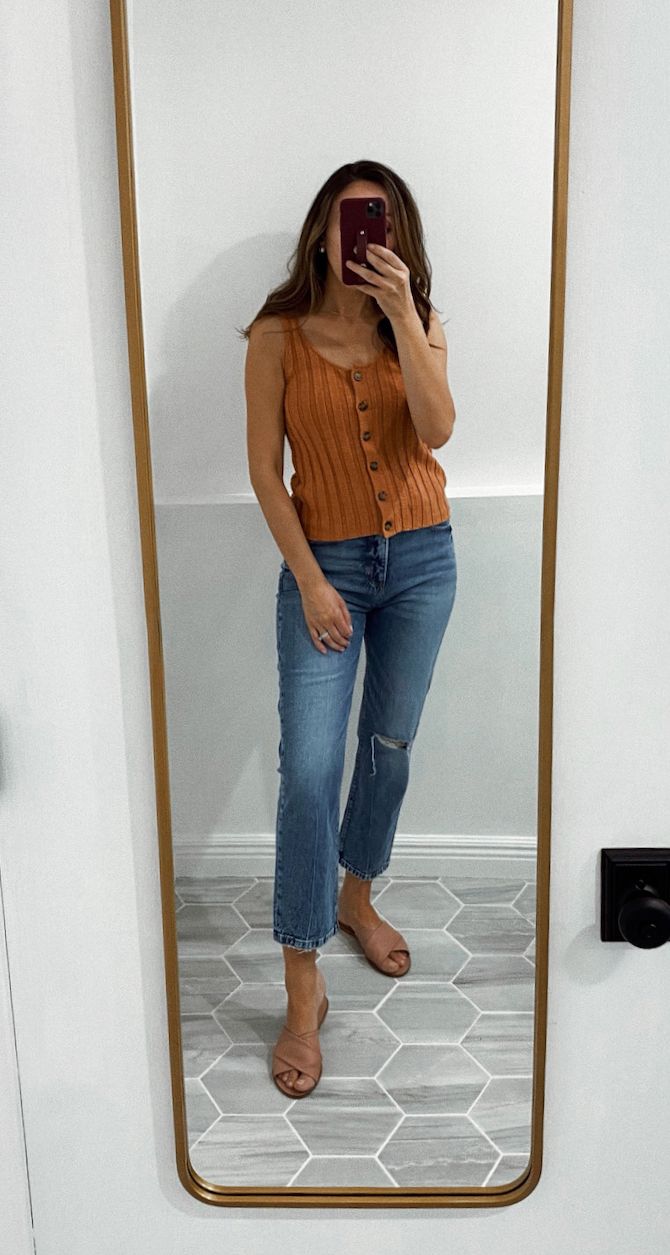 Update: Since I've been getting a lot a questions in my IG DM's about these sandals, I'm sad to say they're old from Everlane but I found an almost identical pair for a great price.
If you're on the hunt for a very comfortable pair of shorts, these soft will pull on shorts are amazing!