I think I should call the next few blog posts 'the wind edition'…starting with the previous post. It was so windy when I took picture that I either have the hair in my face or I'm holding my hair back. It's a lewk 😉
After I shared the amazing deal on these loafers a couple of weeks ago in my Instagram stories, so many of you purchased them and I'm so happy you all got the amazing deal too. I still can't get over the price for these chic and timeless loafers (still on sale but only a few sizes left). If you have wide feet, I suggest going up a 1/2 size. I have average width feet and got my usual size. The day I got them I put slightly thicker socks on and wore them around the house. Just after a couple of hours they stretched out a bit and felt 100% more comfortable. I think the reason for such a great price is because they came out with an updated version and these won't be back. But the update version is beautiful!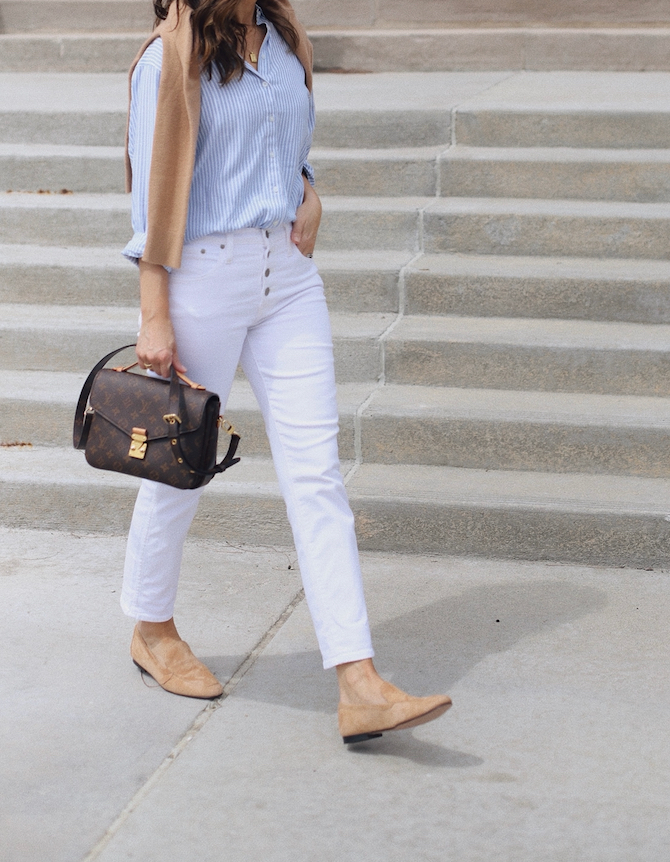 I've been casually looking into getting a white non-skinny pair of jeans. While I love my skinny jeans, sometimes I just don't want skinny jeans. A couple of months ago I stumbled upon this pair which had great reviews. Ordered on a whim and ended up loving them. They're so comfortable!!! They have a nice amount of stretch to them and are not the thin, unflattering fabric. These run true to size for me. If you're on the hunt for a white pair of jeans, I'd suggest giving these a try. (update: took me a hot minute to realize that I already have a pair of these Vintage jeans in a different color. And I've raved about them before).
If you don't like the exposed buttons, there is also the regular zip fly option. They come in more colors.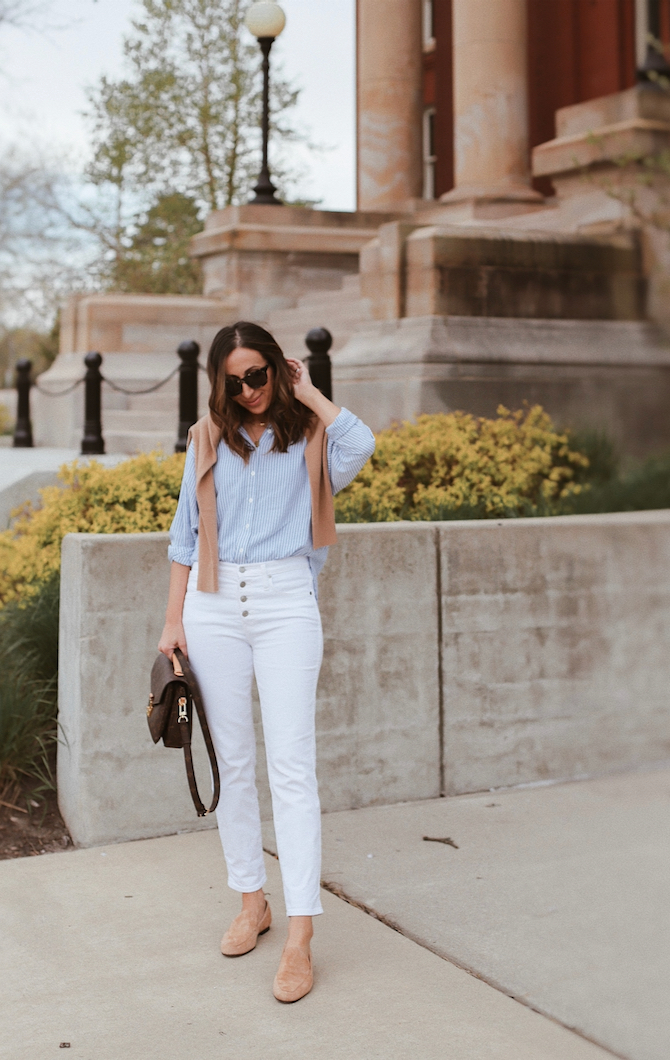 J.Crew Straight Leg Jeans (tts for me) | Cashmere Sweater in S | Relaxed Fit Button Down in XS – also love this classic one – such a great price! | Suede Loafers tts for me – new version | Madewell Sunglasses | Pendant necklace (old) – similar (I have this set as well and love it), paper-clip necklace (pretty much identical to mine)
In case you missed it, LOFT is running a flash sale…40% – 50% off with free shipping (ends tonight, 5/10). Below are a few of my favorites. I also had a small LOFT try on in this post.
Thanks for shopping by!