Who doesn't love breathable fabric!?!?!
Linen is hands down my favorite fabric for summer. I used to have quite a few linen tees and outgrew most over the years. One thing about linen tees is that most of the time they're thin (perfect for hot days) but some lighter color require a nice nude bra.
Rounding up some versatile linen and cotton pieces below (mostly linen). In LOVE with the Pj's set below…couldn't resist it, had to get it (UPDATE: I received the pj set and absolutely love it. I decided to size up to Small and they run very big…so you can easily size down. I'm keeping the small as I do love the set to be extra roomy). Tempted to get the other color too. Currently on sale! Also got this short sleeve linen shirt (timeless. And late not browsing is dangerous lol).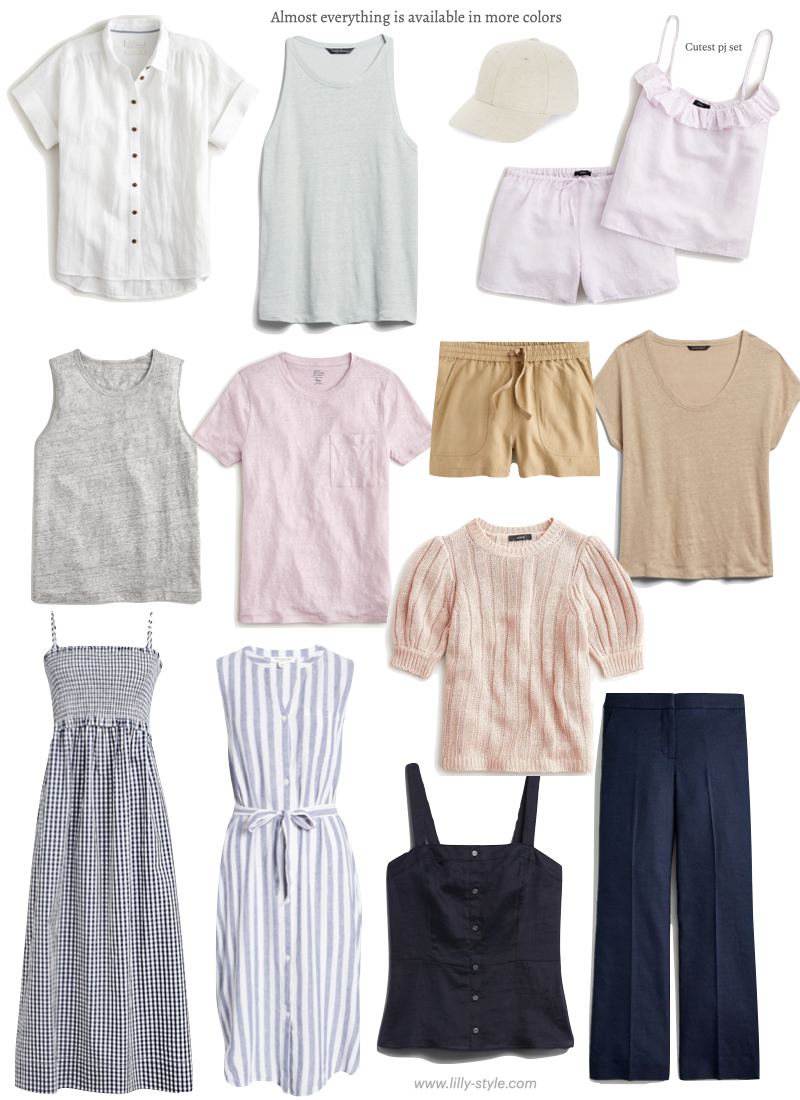 Speaking of linen…..a few years ago I purchased a linen duvet cover and it's still my favorite to use (the other one is cotton and it's ok but it's ready to retire). One thing I love about linen is that it gets better and better with each wash but it doesn't lose durability and it's breathable! I've been meaning to buy a linen bedding set for ages and each time I remember to look I can't either decide on color, or when I finally do that color is sold out (at least from the retailers I'm looking to purchase from. Loving the Sand/Oatmeal-y color. King size is in stock, so I ordered it). I love that undone look of linen bedding…it just looks so cozy and inviting! I got my sister linen bedding for their wedding anniversary last year and she loves it!
There is such an overwhelming amount of linen bedding out there, but know that high prices don't always mean better quality. Something interesting I noticed when looking for linen bedding….a popular bedding brand that's on the pricier side has the exact description on their linen bedding as the ones I'm linking below but they charge over $100 more…. Crazy!
I've had my eye on this linen duvet cover with the border and recently I found they also have this one with the edge embroidery. They carry solid colors too, but color Sand (which I love) seems to be always sold out in King. One of the reasons I'm liking this company is because their stuff is ethically made yet they don't charge as nearly as much as so many other brands do. I also love that they offer 365 day return policy (what is that even like lol). I should mention that they do have other bedding fabrics too.
As I've gotten older, for some odd and unknown reason, I've become very picky about bedding and how it feels. I can't stand anything other than cotton and linen (I get hot and irritated otherwise lol). I'm so so excited that they had the Sand color in stock and can't wait to use it! Once I'm ready to retire our cotton sheets, I'll order their Luxe Italian Cotton Sheet set. UPDATE 6/18 – I received the linen sheet set today and omg I love love them. I threw them in the wash right away so I can use them asap.
What are you picky about? (picky is a good thing 😉 We like what we like!