Rounding up some recent outfits and comparing the new Coach bag to the Pochette Metis (scroll all the way down for that).
It has been raining here so much lately and I'm missing the perfect sunny weather we had (finally seeing some sun today). When it's sunny out with the perfect temps, I have a very hard time being indoors and productive. I always say I need a rainy day to catch up on things…lol! Well, it has been rainy and all I want to do it curl up on the sofa with my blanket and read a book or watch tv. Can't win haha.
I'm so excited to share the new bag which arrived a couple of days ago (fast shipping). Some of you have seen me talk about on my IG stories the other day.
This dress…let me just warn you that you should steam it before you decide that it's huge (especially around hips) and you don't love it. When I tried it on initially, my hips looked double the size. Steaming it made such a big difference. It's quite roomy on the bottom still but I don't think it's bad. It comes quite a few pretty colors and I've been trying to decide between lilac and light blue. It can also be worn off shoulder. It's probably one of my favorites.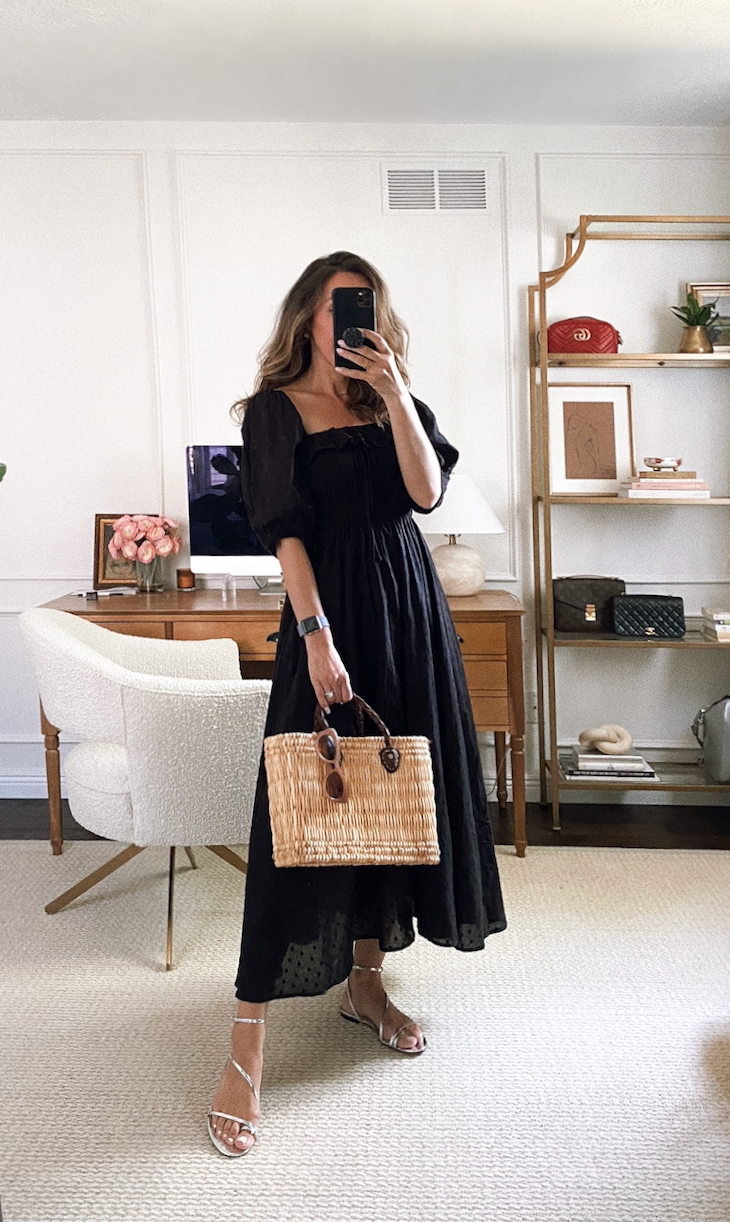 SHOP THIS LOOK: Dress in XS | Metallic Strappy Sandals tts | Bag (a few years old) – loving this one
---
The 'Nap dress' – you either love or hate it lol. A few months ago I stumbled upon a brand that has almost identical dresses for half the price and from the reviews it says they're not see-through like Hill House dresses (I didn't notice mine being see-through though. Maybe it's just select colors). But these are selling fast…if you see your size don't hesitate because I missed out on a couple of prints I wanted (the only thing that's a tad odd is their membership…but I guess if you're planning buying more than one dress, or other goodies they have, it's worth it).
All my favorites…so many pretty options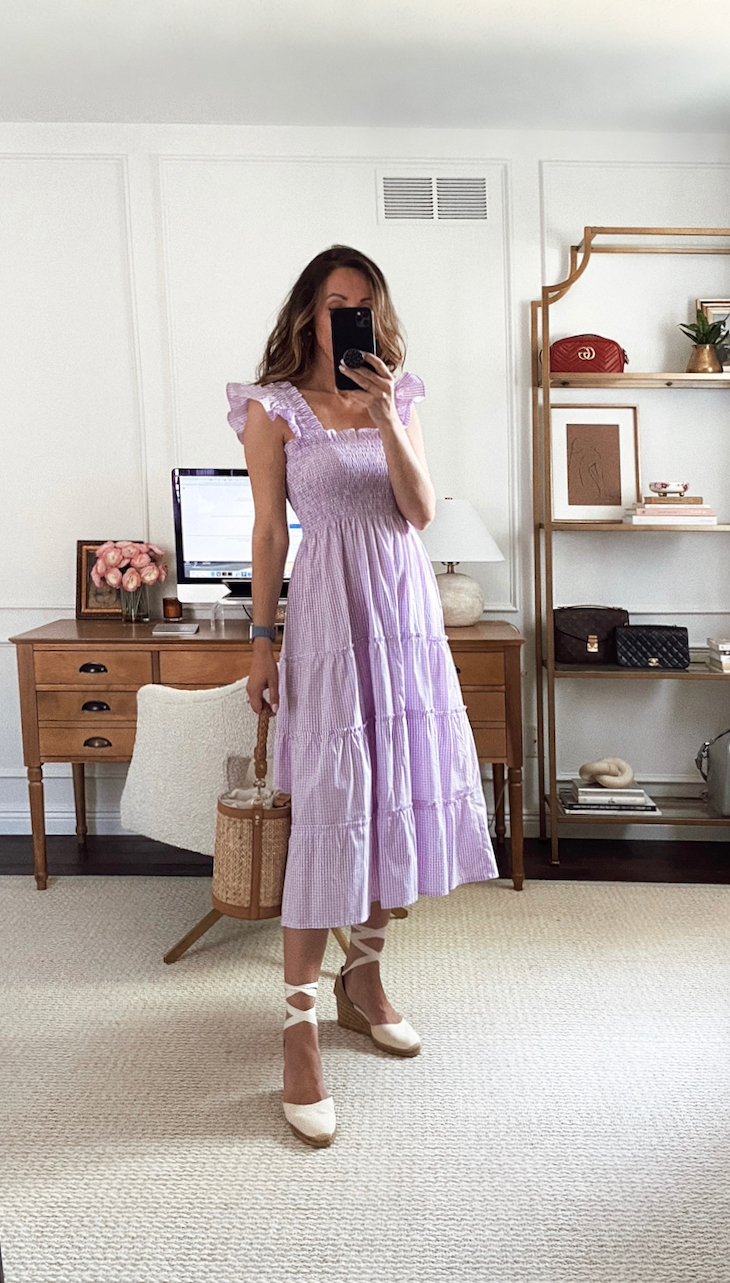 Dress in
other colors/prints
(you can easily size down) –
very similar
|
Castaner wedges
| Bag (old) – pretty alternatives
here
and
here
---
I love love this soft and light gauze top! When I ordered mine, a while back, they only had this color and black but now they have it in two more colors and this print. This is one of those tops I would buy in another color because it's light and breathable which makes it perfect for summer. I'm wearing XS and it is cut wide. I'd say you can size down unless very busty. And I already talked about these wide leg pants and how ridiculously comfortable they are (yet chic).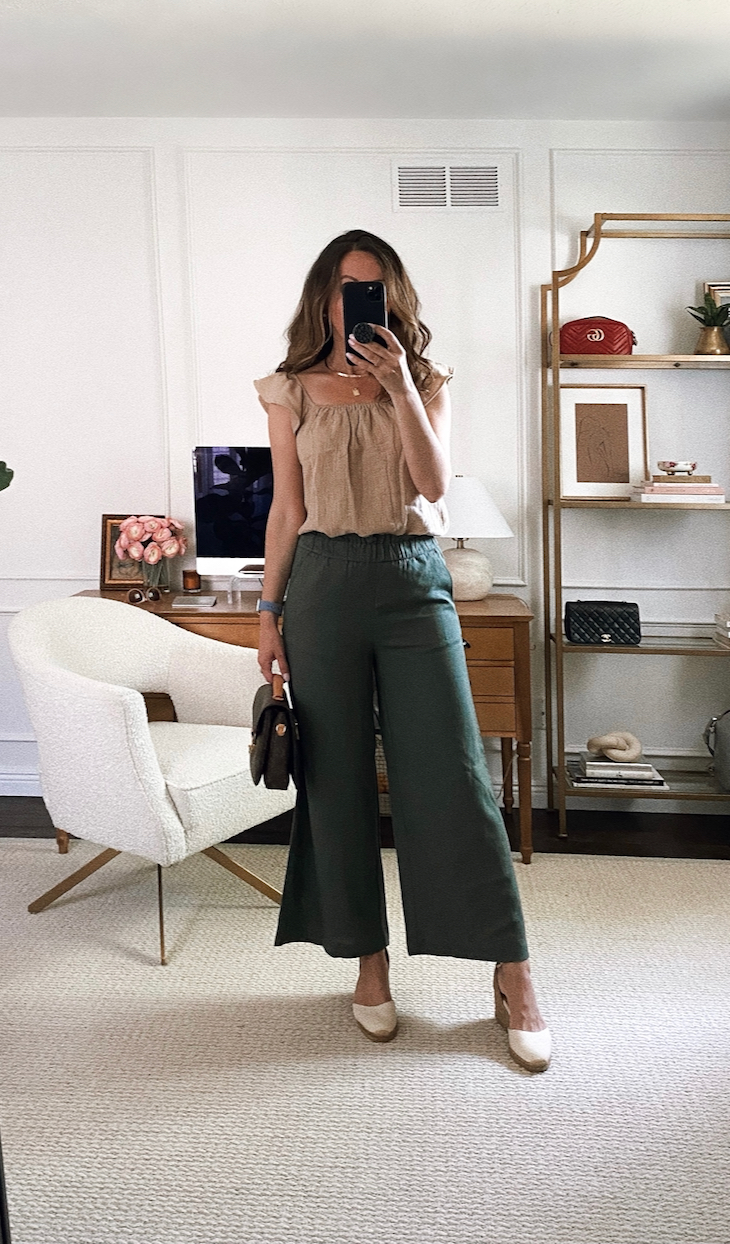 Gauze Top in XS | Wide leg pants in XS | Castaner wedges in 60mm – also in 80mm | LV bag
---
I got this dress in white last year and back in spring got this color too (it comes in eight colors). It's affordable and easy to throw on. I wear these a ton around the house in the summer. It's not lined. I'm wearing small (if they carried XS I would have purchased it instead). It's a generous fit. It's also bump friendly if you're expecting and are in need for affordable dresses.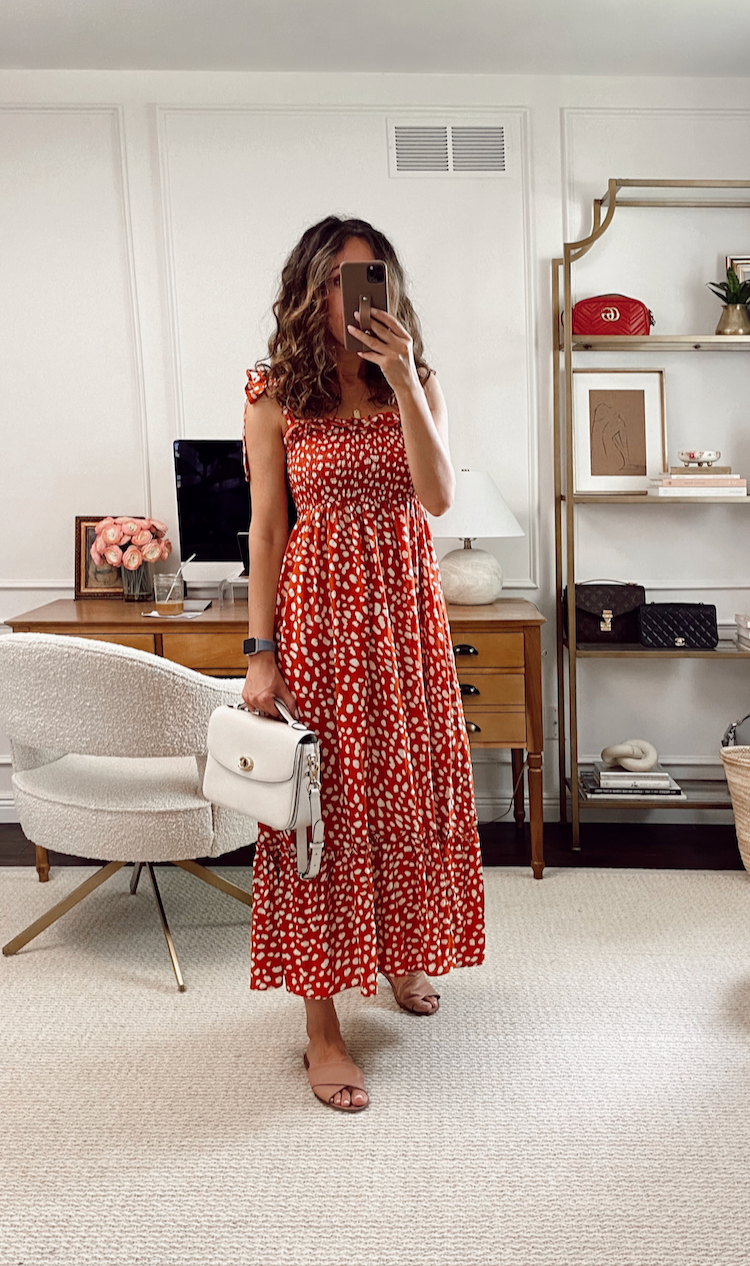 Dress in small | Slides (old) – almost exact in style and color | Bag
---
Ordered this dress recently to give it a try…even though I have one like it but just longer. It was $40! I got size small and it's fitted but it has a lot of stretch to it. It is partially lined which helps with smoothing things out a bit more. It's very comfortable and super versatile. I was trying it on with different pieces in my closet – blazer and block heels, converse and denim jacket, sweater blazer (this one is more fitted) and flats (fully restocked). Possibilities are endless but because I have something too similar it should go back really. I just saw this slip dress…which I'm tempted to try. A cute semi-cropped cardigan is what I'm picturing with it…(in that case I could get a skirt lol).
Dress in small | Slides (old) – almost exact, also these
---
The similarities of this Coach (in black and orange and here in off white) bag and the Louis Vuitton Pochette Metis are…interesting. Almost identical in style. The Coach one is pebbled leather while the LV is…not (other than the trim and handle) and I find the Coach to feel a lot nicer to touch. I think we all know that Coach bags are very well made. While I can't say that I'm a huge Coach fan, I do love a lot of their timeless bag (and still have two from over 10 years ago). I've been wanting a crossbody in a lighter color and almost pulled the trigger on a YSL bag but I'm so glad I didn't. This Coach bag is timeless and goes with pretty much everything.
It was gloomy outside so these pictures don't look great without the natural light. But you get the idea. They're very similar in size. It has a detachable (and adjustable) strap. Since they give all the bag specs, I don't need to share those. Just wanted to show you the size and style in comparison to the LV.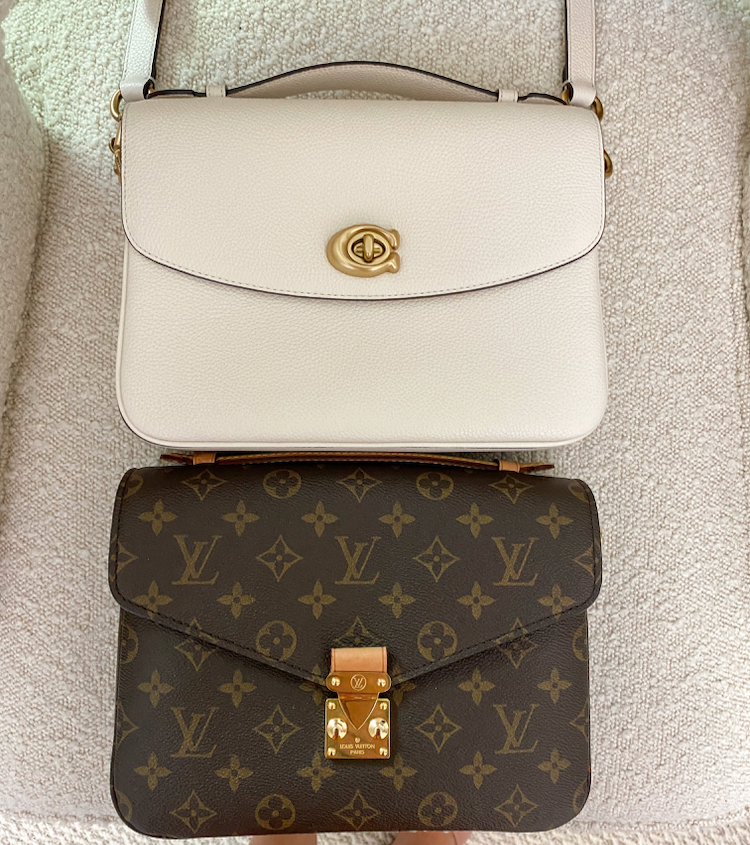 It has the same amount of compartments as the LV plus the extra pocket in the middle. The pocket on the back of the bag doesn't have a zipper (whereas LV does). update: The Coach one is SO much easier to close (LV can be so annoying at time. Any bag with that type of closure is. I forgot to mention this important detail earlier until I was chatting with follower on IG about the bags and she mentioned it. ). Bottom line – amazing quality, timeless style and you can't beat the price.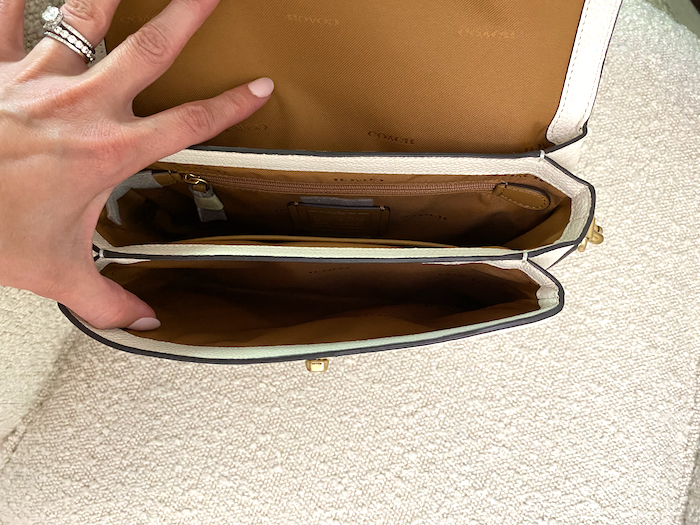 UPDATE – July 7th, 2022: I'm SO happy that they have brought this style back and it's part of the Nordstrom Anniversary sale ($150 off !!!). It comes in this pretty two tone, black and orange.
Thanks for reading!