Happy Friday!
Now that things are getting somewhat back to normal for many, still be cautious please, I've been feeling more inspired…and very much ready for a vacation. I'm a firm believer that you don't need an occasion to look put together though. I've said it for years and I'll keep saying it – waking up every morning is reason/occasion enough!
I think summer is becoming my favorite season…or at least it might be a tie between fall and summer. Since I've been feeling more inspired lately, I tend to take advantage of it and create outfit ideas collages, which I truly enjoy doing. It also helps me get inspiration by looking back at these looks and recreating them when I feel in a rut (at this point I wouldn't mind seeing every single piece below in my wardrobe. Loving everything). Imagination is running high and I'm thinking how everything can be mixed and matched easily.
I've been on the hunt for a nice satin skirt. I found two I love and the pretty little number below is one of them. This is the other one. I just want one but a GOOD one! I love, love cardigan and find them necessary even in summer (actually wearing one right now as our house is freezing. I do go outside to warm up lol).
SHOP THESE LOOKS: Pink Cardigan (comes in more colors) | Silk Cami | Dainty Necklace | Light Blue Cardigan (avail. in more colors | Straw Tote (I have this one, it's larger) | Knotted Slides (also avail. in ivory) | Satin Skirt | Cuff | Earrings | Wedge Espadrilles (my favorite) | Crossbody bag | Sunglasses
---
The most talked about denim shorts – AGOLDE! I love the longer length below and earlier I saw these Bermuda style ones (love both of these styles). These sunglasses below were made very popular by Megan Markle. I love the style and recently decided to get them. I've been loving Le Specs sunnies (these are also another fave, love the style and have them in black too).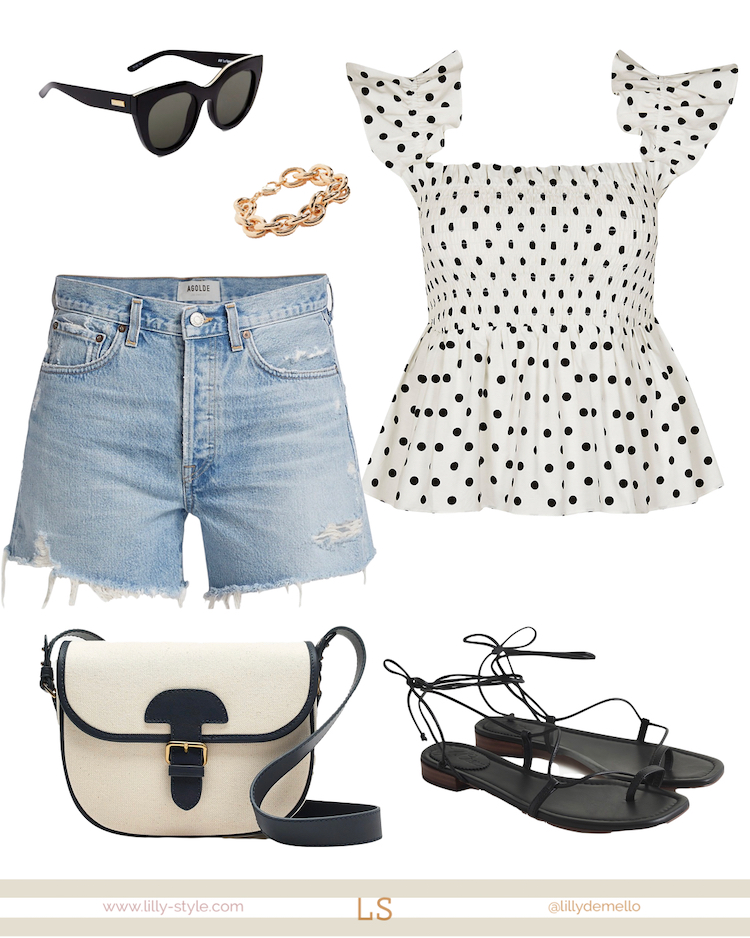 SHOP THIS LOOK: Denim Shorts – finally fully restocked | Sunglasses | Gold Bracelet | Smoked dot top | Crossbody Bag – love this one too | Lace up Sandals (also love them in white – on major sale!)
---
Loving this color palette. The straight leg jeans below are most favorite – seriously the best (they get great reviews too).
Puff Sleeve Top | Raffia Drop Earrings | Slides | Sunglasses | Leather Bag (also in smaller size) | Lace up Sandals – on major sale! | White Jeans (my favorite) | Straw Tote | Tank Top
---
Tiered Sundress – also love this linen option | Sunglasses | Drop Earrings | Hat | One Shoulder Swimsuit (avail. in more colors) | Sandals | EltaMD – Favorite SPF | Straw Tote
LOFT is running a great promo right now 50% off off (exclusions apply). Some of my picks
Have a great weekend!