Happy almost Friday!
Pippa is making an appearance in today post (three to be exact). I have to say that she's turning into such a good girl! For a second there I really thought we would have our hands full with this girl, but she sure surprised us (still has a sassy personality). But she's 90% normal now, 10% crazy lol. It was the opposite a couple of months ago.
In this post I shared what I got from 'sale on top sale' from J.Crew and I'm so happy that everything fits…since it was all final sale. I ordered pieces I've been eyeing and will actually reach for regularly. I ordered these pants in my usual size and they fit perfectly. They're SO comfortable and not too thick or thin so they can transition between seasons. Super happy with this purchase as I know I'll be reaching for these pants a lot. You can style these for the office but they also look great with a pair of sneakers – very versatile. And the price – it's too good!
Let's talk about this eyelet top…. I haven't purchased too many summer tops but from all the ones I did, this one is hands down my favorite one. I hope they restock as I've noticed it's sold out in black (UPDATE: finally fully restocked). It also comes in a vibrant red, very pretty. They have a similar style that's also really cute (without the eyelet details) – this one in floral print and this gingham print which is on sale (and I have in my cart). It's light and airy, perfect for hot days. I'm wearing XS and it fits true to size for me. If you're busty you might have to size up.
SHOP THIS OUTFIT: J.Crew Pinstripe Pants tts | Madewell Eyelet Top – also here in beautiful red (with great reviews) | Bag on sale | Slides (old Everlane) – current version, another very similar styles
I ordered this relaxed linen button down about a month ago. I tried it on and didn't love it on me and planned to return it. But then I tried it on again and loved it! Does this happen to anyone else? I love the relaxed/slightly oversized fit. You can size down but I think it is great the way it is…it drapes nicely. Jeans are probably my favorite white jeans – very comfortable and they don't show imperfections like so many do. True to size for me but they also have helpful reviews.
White jeans tts (my fave) | Linen shirt in XS | Bag – on sale | Slides (old Everlane) current version – more similar styles here and here
This was the third outfit on this day…just one of those days (can't remember rest of the outfits). It cooled down in the evening which was perfect for this relaxed button down and jeans. And a walk of course.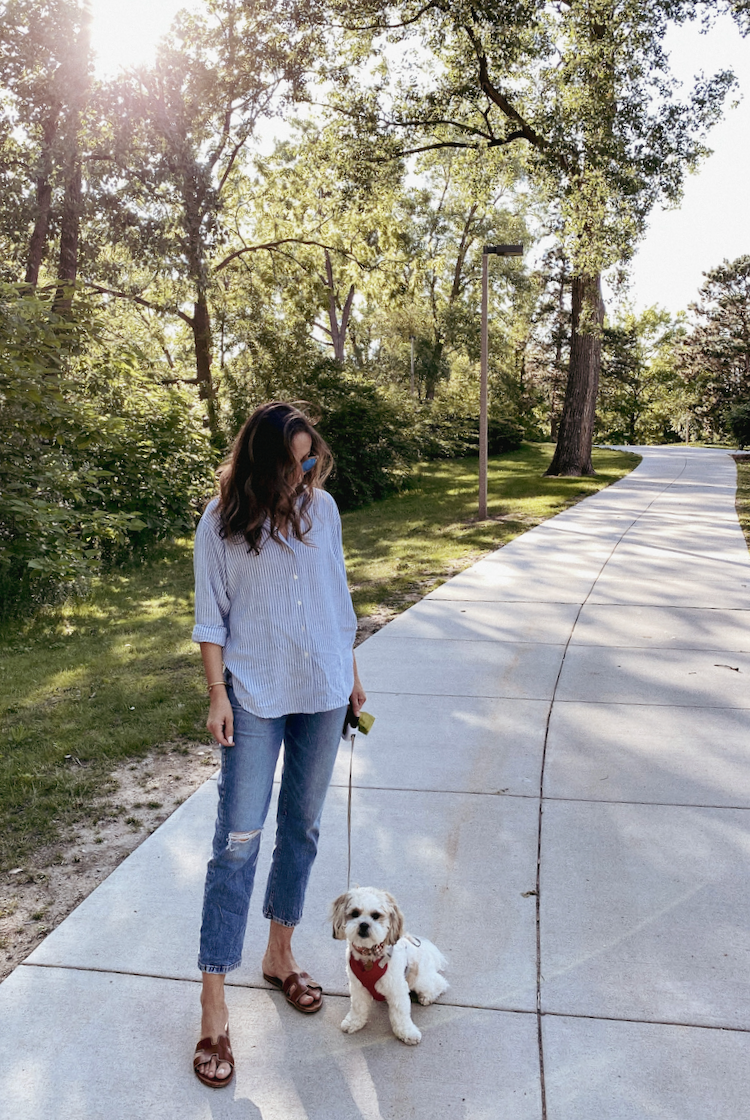 Relaxed Button Down in XS | Jeans (not online) – same cut w/out distressing | Slides (old) – loving these and these
Well, this dress is now fully restocked and on great sale! I'm wearing size 0 and it's tts for me. I'm small on top so there is a smallest gap under arms but not bad or noticeable. Really love this dress and the timeless style.
SHOP THIS OUTFIT: Ann Taylor Dress – on sale! | Sunglasses | Slides (old) – similar, love these and these
Based on all the reviews I ended up getting this stripe cottage dress in XS. I figured I'd rather have it a rad roomier than too small, especially since it can be belted. Since it's a button dress and fabric is not stretchy, sitting in it was also something to consider. The XS fits great! It's very lightweight, can also be worn off shoulder and belt is removable. The only downside – it's not lined (a little slip can fix that). And pockets would have been nice. It comes in solid colors too. These slides are a few years old but these are the new version.
SHOP THIS LOOK: Stripe Dress in XS | Bow Slides – mine are a few years old but few sizes still avail. – new version | Straw tote (old) – similar option
I'll be sharing a few of my favorites from the Nordstrom Anniversary Sale next week. I usually get a couple of same things each year – like the body lotion that works the best for my dry skin, eyelash serum…and whatever else I might need to stock up on that are use regularly. During the last sale I got a pair of joggers that I love and wear a ton but I realized I actually never shared them with you all! I clearly do not shop for my blog/IG. But the joggers are back on sale this year and I'll share them with you because they're amazing. The fabric is much nicer and they're a pair I'd actually wear out in public (I usually don't do that lol). And they're beyond comfortable.
Thanks for reading! xo