I had something to return to Banana Republic Factory and decided to try on a few pieces that caught my eye since the store was practically empty. I've come to the conclusion that trying on clothing in store has become very tiring lol. And it made me realize, again, just how much more I love shopping online. But maybe it was extra tiring on this day because I did try on some cute pieces at J.Crew Factory too (those try-ons are coming soon).
I feel like both Banana Republic and Factory have stepped up their game. Love seeing that both have mostly classic and timeless pieces. There are some great deals going on at BR Factory at the moment – 50% off everything + extra 15% off for a limited time. I'll link more pieces, at the end of this post, that caught my eye online (which I sadly didn't see in store).
I absolutely love this light and comfy gauze dress. It's perfect for the humid days we've been having lately. The style is very roomy. I accidentally grabbed XS petite but I actually like the length. It's not quite a maxi (I'm actually wearing the dress as I type this. Second time this week. I kinda want to live in it lol). I love that it can transition into fall easily. It comes in three more colors. Tempted to get it in white too.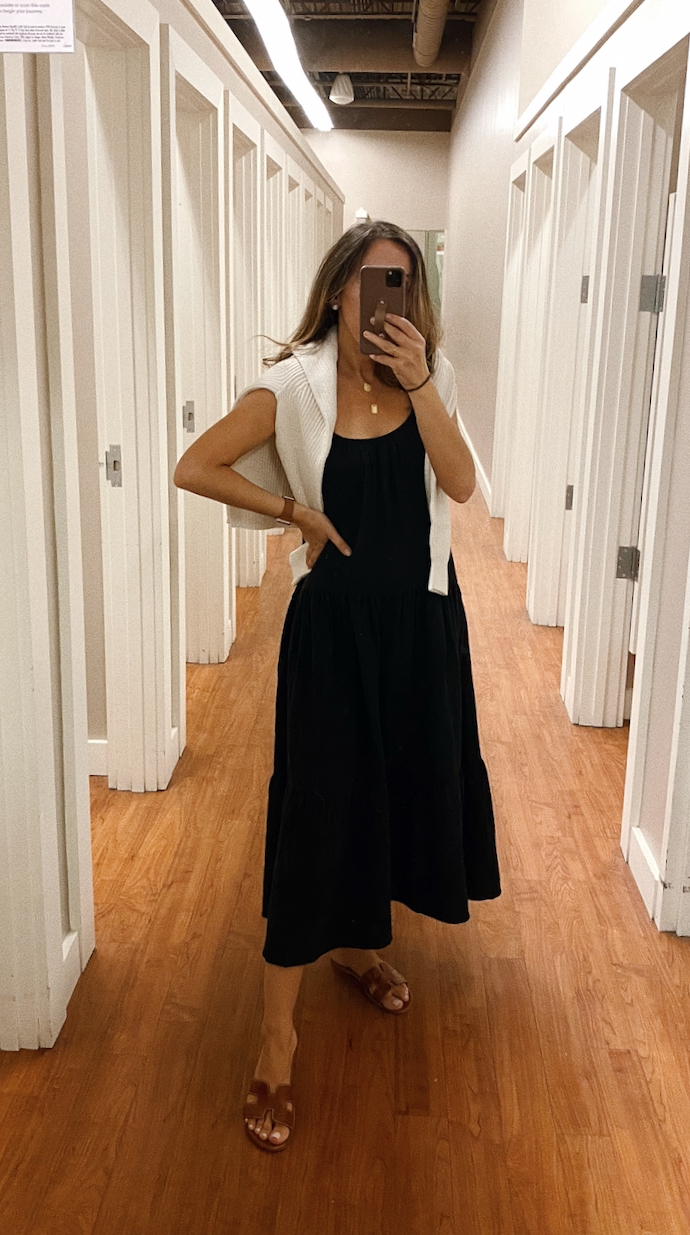 This sweater was not available in XS and the small was very boxy (while I'm a fan of boxy, it was a tad much). But other than the size this ribbed sweater is a nice closet staple (comes in ton of colors). Might be ordering my size online as it's also perfect for an over-the-shoulder-look like above but throw on once it gets cool.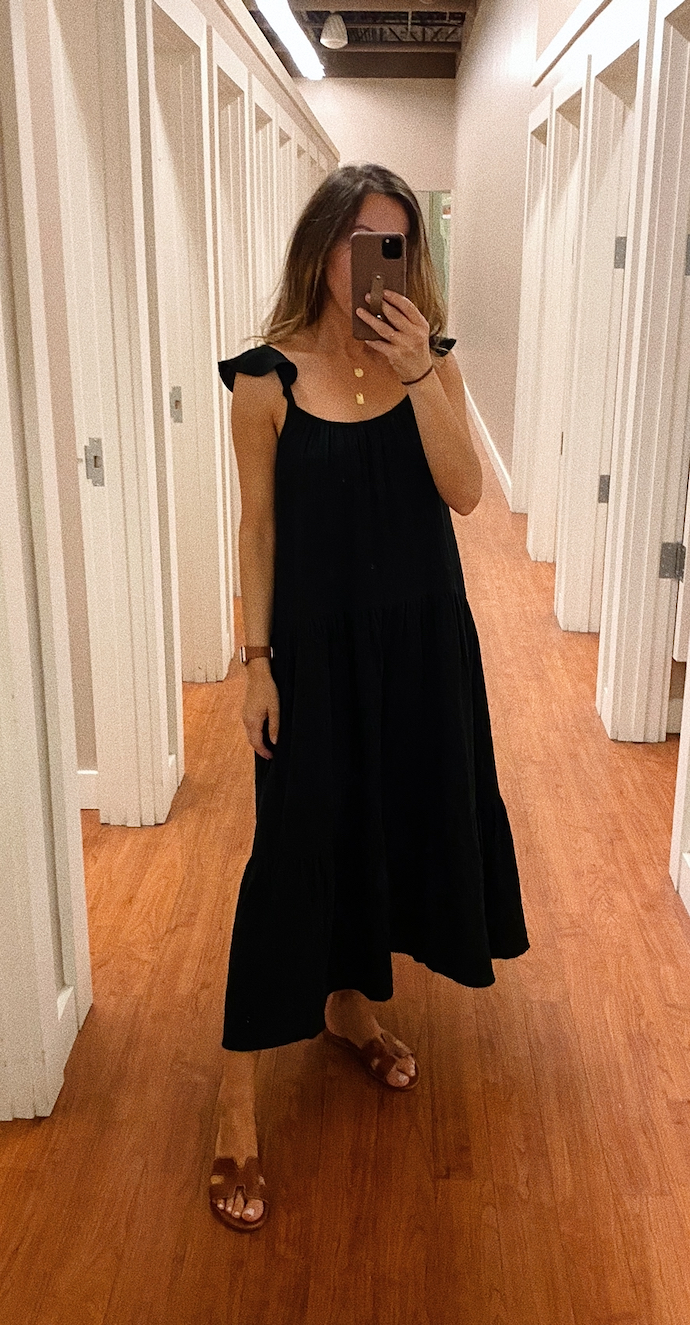 Dress | Knit Sweater | Leather Slides (go up 1/2 size) | Necklace set
If you're looking for a nice pants for the office, these navy plaid ankle pants are great (the lighting is terrible but they're navy plaid lol)! I tried size 2 in these and they fit nicely (I'm size 26 in jeans for reference). The silky cami is a great wardrobe staple that pairs with a lot. Great under blazers and cardigans or on it's own in the summer. Wearing XS below, fits tts for me. Loved this cardigan which came home with me. It's super soft. I got XS.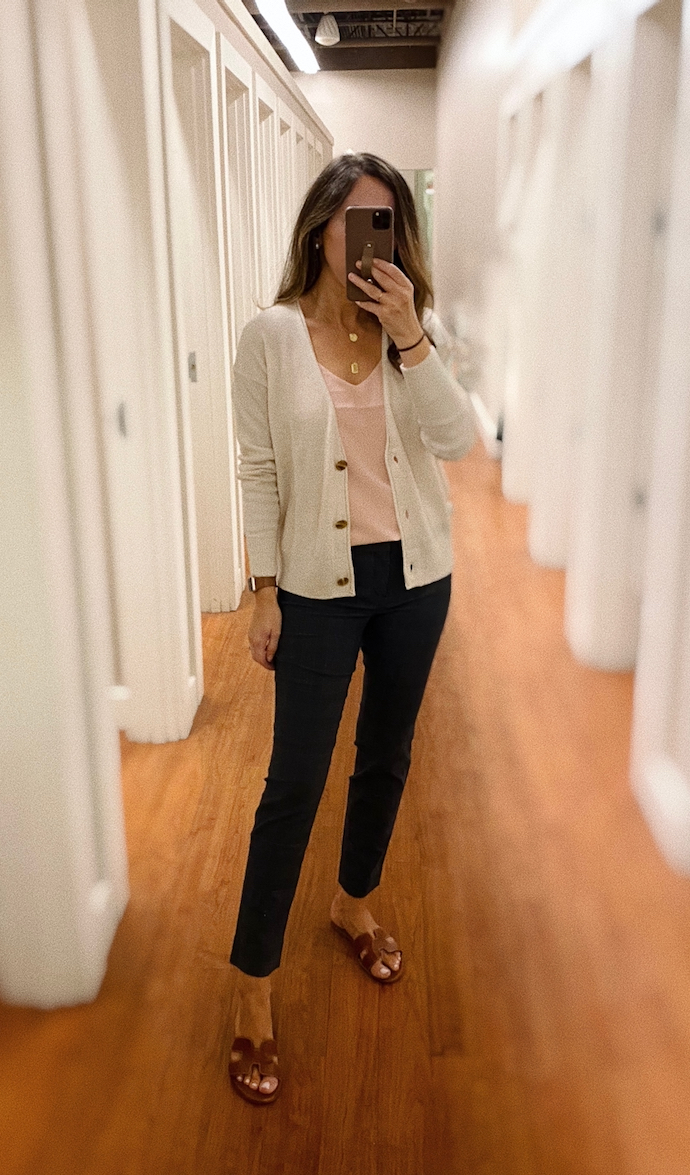 Ankle Pants | Blush Cami in XS | Soft Cardigan in XS
I loved, loved this trench midi dress. It's one of those timeless dresses that will look good now and in the next 10-20 years (definitely not one of those piece that would make you ask yourself "what was I thinking" lol). If I didn't have two very similar to this one, I would have purchased it. Wearing XS below and it fit great. If you're on the busty side, I'd suggest sizing up so there is no gapping between the buttons.
Midi Dress in XS
A nice, simple knit fit and flare dress. Wearing XS below and it fit tts for me. I'd wearing something smoothing underneath.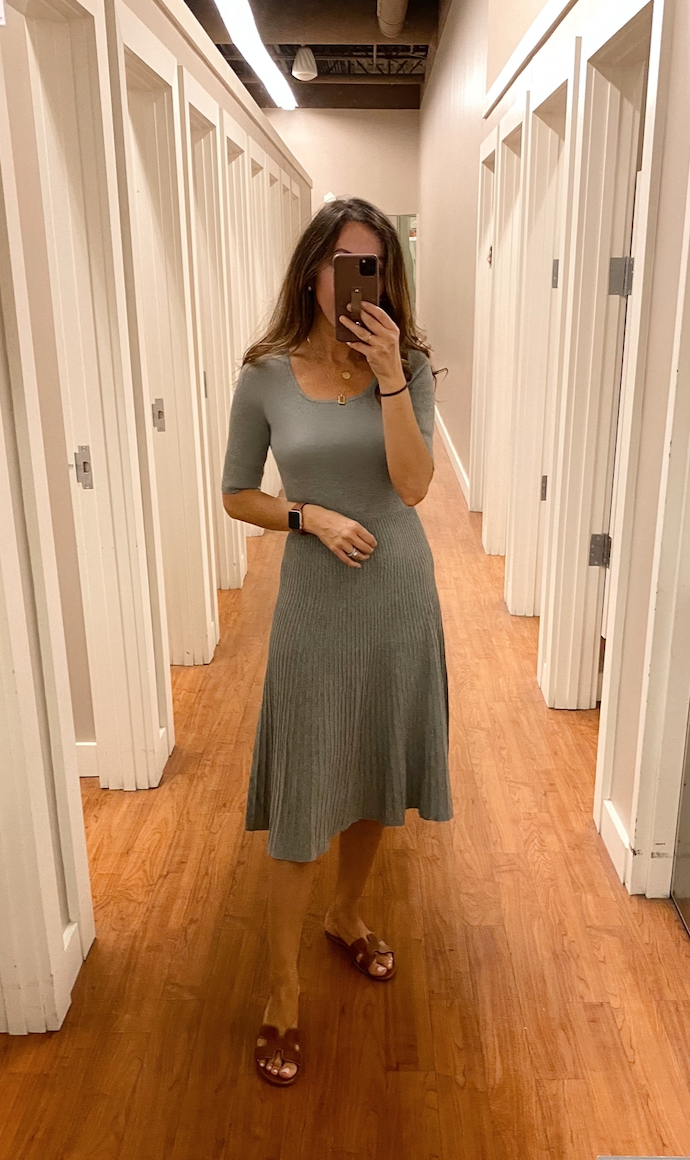 Loved this cardigan with the button detail on the sleeves. The quality seemed nice. Wearing XS below. The sleeves are a tad roomy but. not really big. Not something that would bother me. Gets great reviews too. It comes in three more colors.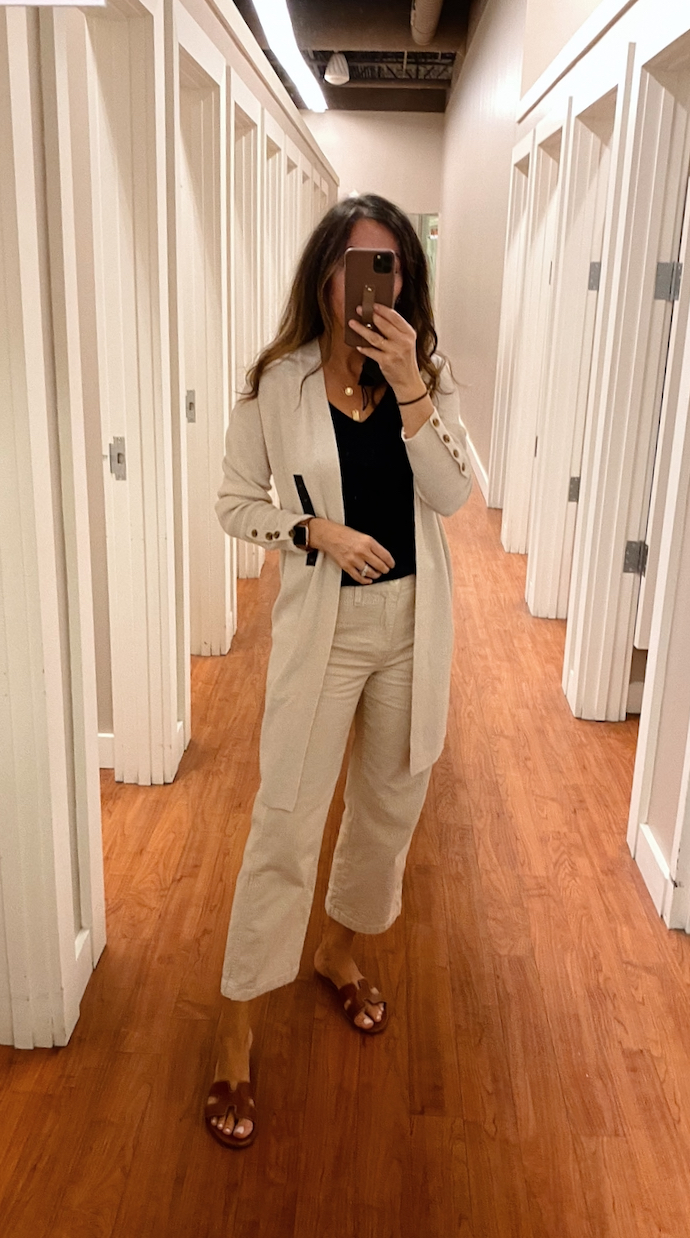 Cardigan in XS | Pants from J.Crew no longer available
I loved these joggers. They are super light-weight, comfortable and clearly nice looking. This is color Beech which is the only one I noticed in store. Online they come in four more colors. I'm wearing XS below and they fit great.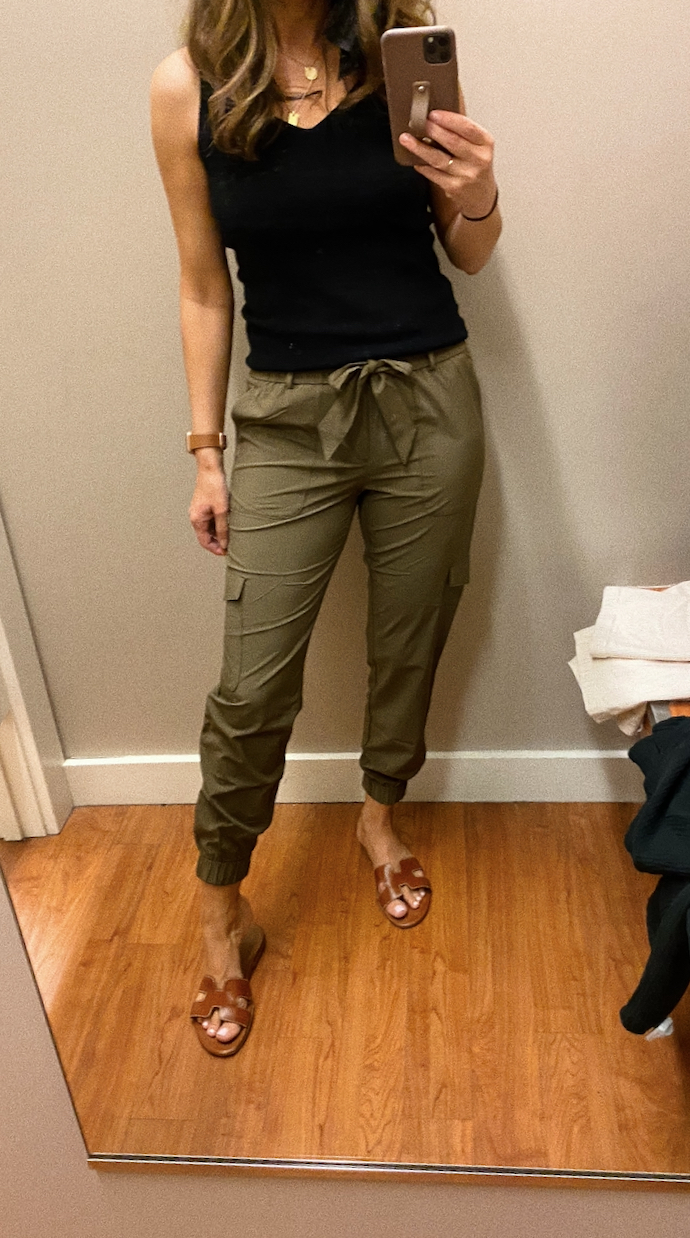 Joggers in XS
Another beautiful dress (which comes in more colors). I ordered XS Tall and love the extra length. Belt is removable and can be replaced with a different one or as seen below this pic..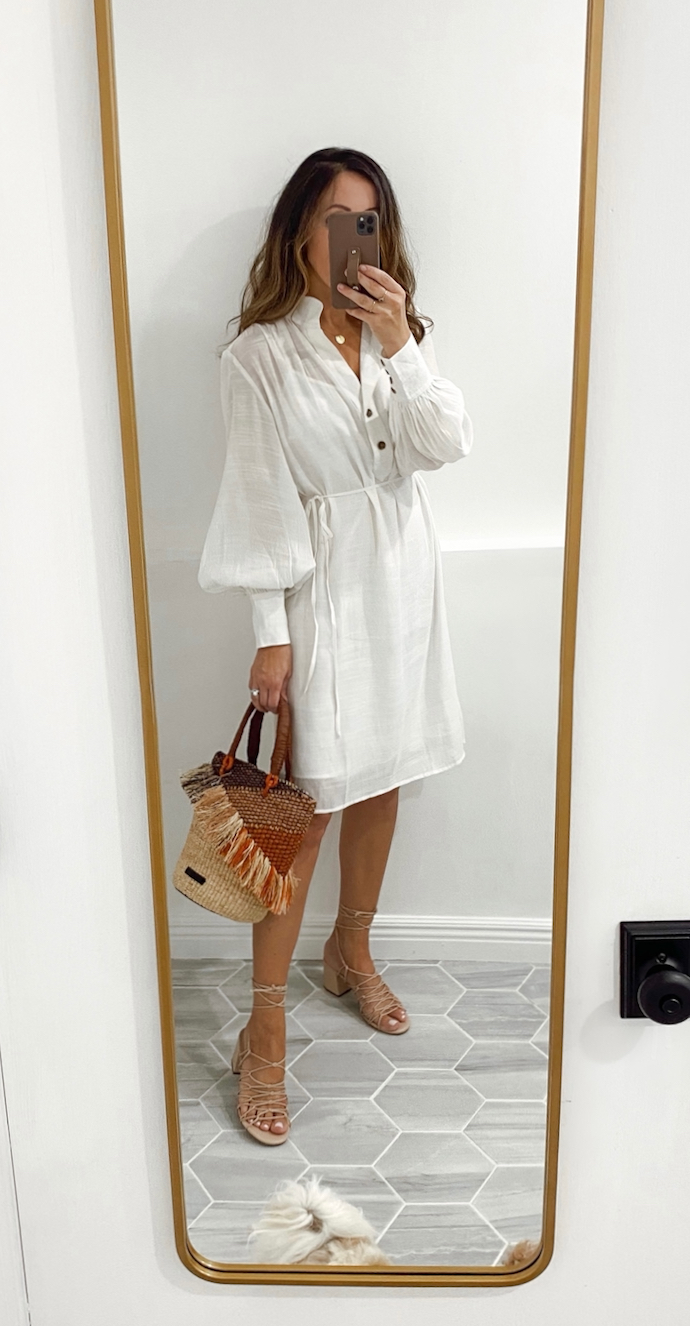 Dress in XS Tall | Raffia Bag | Sandals (a few years old from Mango)
It looks cute without the belt too. The sleeves are very balloon-y. Very light and beautiful white dress!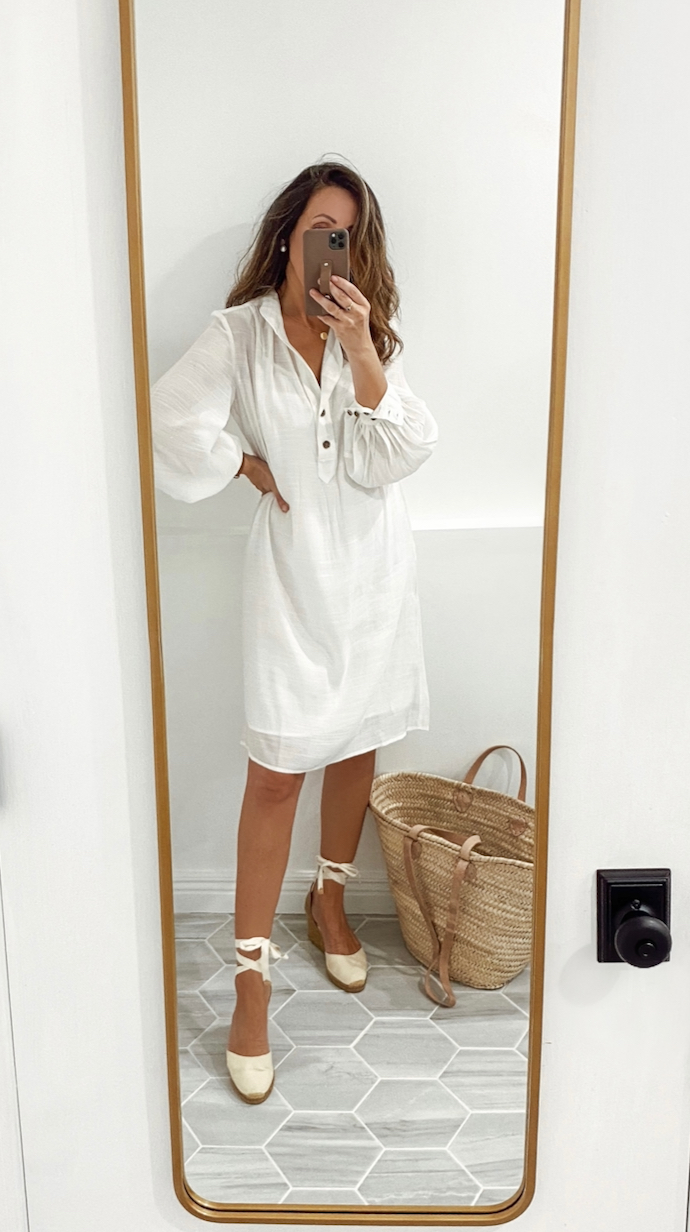 Wedge Espadrilles | Basket Tote
I thought I had orderd a different silky tank but I must have not because I received this tie-neck tank (they did send me what I ordered lol). It is very pretty but I didn't keep it as I wanted the another one (I had my heart set on it) which is fully sold out.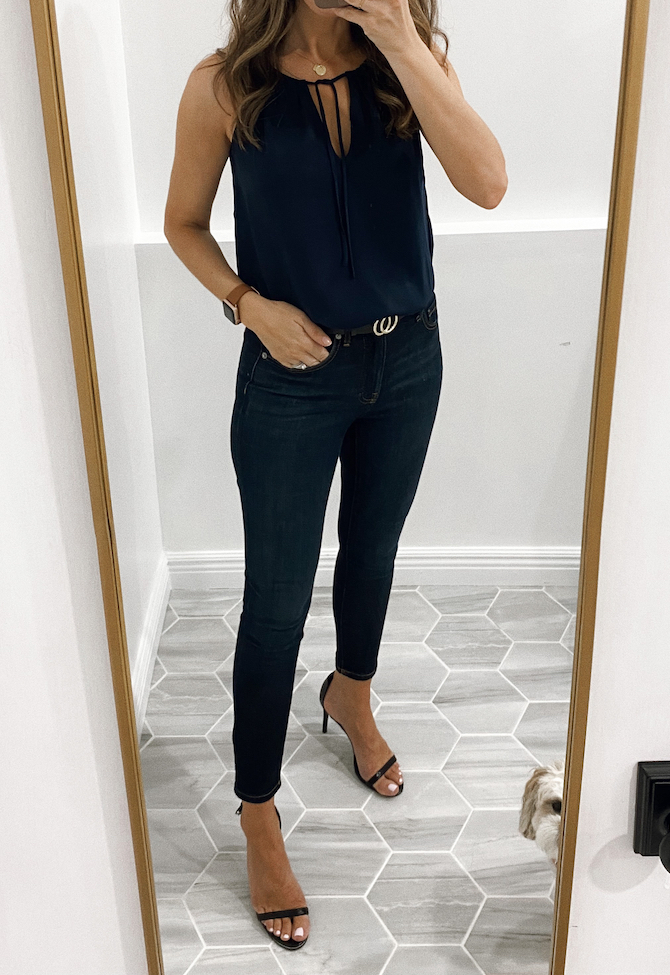 | Skinny Jeans tts for me | Sandals (a few years old from Banana Republic)
Other favorite pieces: