Whether Autumn is your favorite season or not boots are kinda a seasonal necessity, especially if you live in a colder climate. Boot season lasts quite a while here in Michigan. My favorite style is Chelsea…which I own in a few different styles. They're effortless and pair with a lot. I've accumulated a few over the years but many are still available in the same or updated version.
I have a feeling this post is going to be longer than I anticipated…
A lot of these booties below are just as great for winter season as well. I pretty much wear mine fall through early spring…and which ones get to see daylight depends on the weather.
These lace up boots have been a favorite pair since I got them last year. The leather is not as soft as some might expect but I still find them comfortable though. I sized up a 1/2 size to wear slightly thicker socks in winter but I also think these ran small for me. When I was searching for a pair of lace-up boots, I was looking for a simple pair without a chunky/thick lug sole. These fit the bill and I have been happy with them.
This was last fall (and I'm itching to cut my hair again). Never thought I'd miss shorter hair!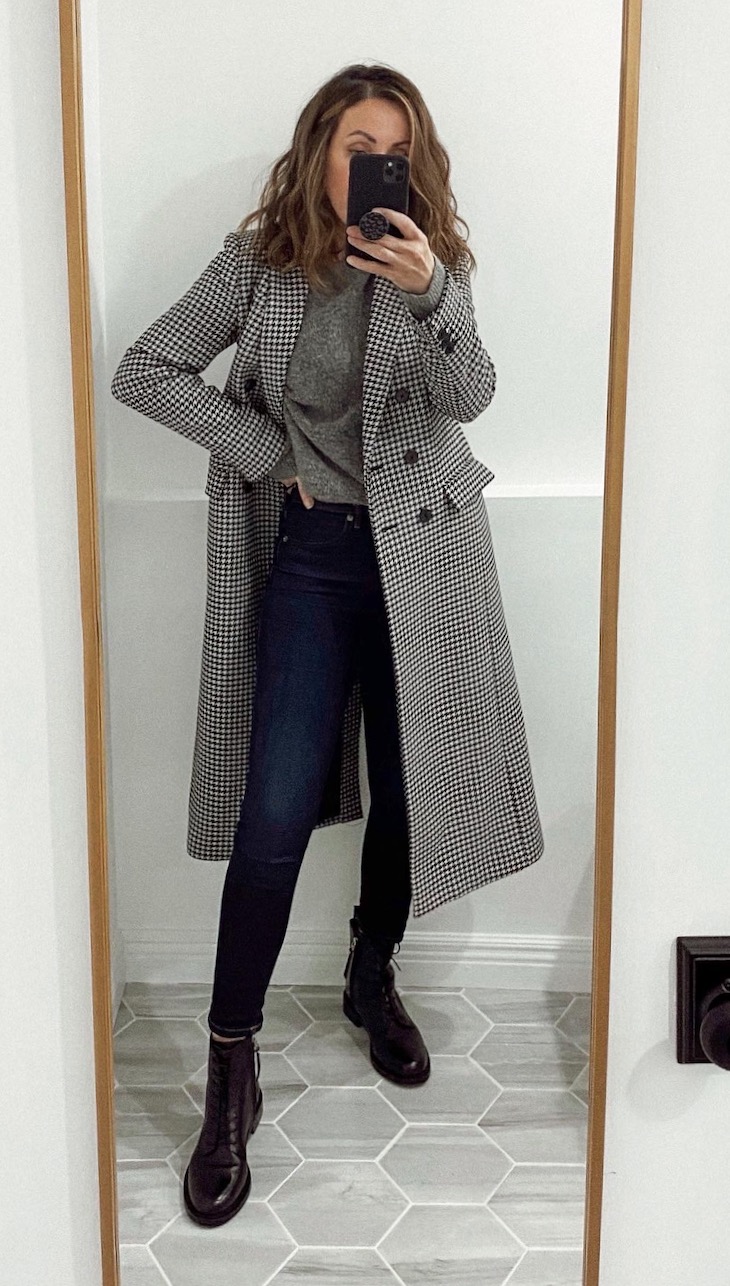 Lace up boots | Skinny Jeans (in Indigo wash) | Coat (old from Banana Republic) – similar option | Sweater old
I saw these Vince lace-up boots (water resistant) the other day and loved the simple style. The leather felt a lot nicer than Sam Edelman ones but they're also double the price. If you're looking to invest in a pair, these are great. I love that the sole is not chunky but still has grip to it (especially great for snow).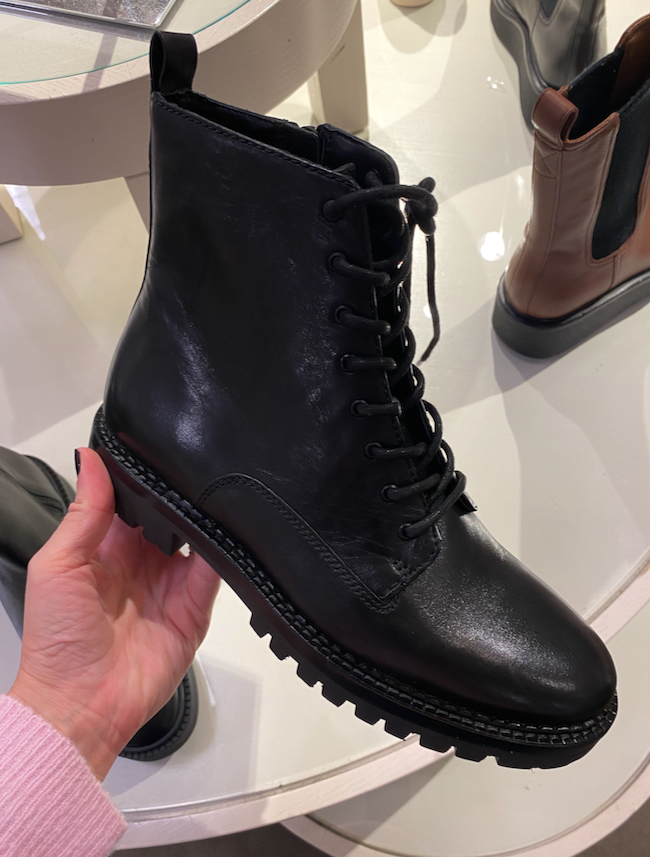 I shared these lug sole Madewell lace-up boots a while back. I wish these were available last year when I was looking for a pair. I really love the look of these. The stitching if my favorite! I initially got my regular size but ended up going up a 1/2 size (have you noticed by now that I tend to size up in boots lol). BUT, they were too similar to the Sam Edelman ones above plus I have another lace-up pair from Sam Edelman (ones with studs). I couldn't justify them at the end so I ended up returning and ordering this pair in black. I wanted the black pair in the Sam Edelman Laguna boots (scroll down) but realized that I'd rather have a slightly different style in the black pair. Once they arrive I'll share my thoughts on them. I ordered my usual size in these.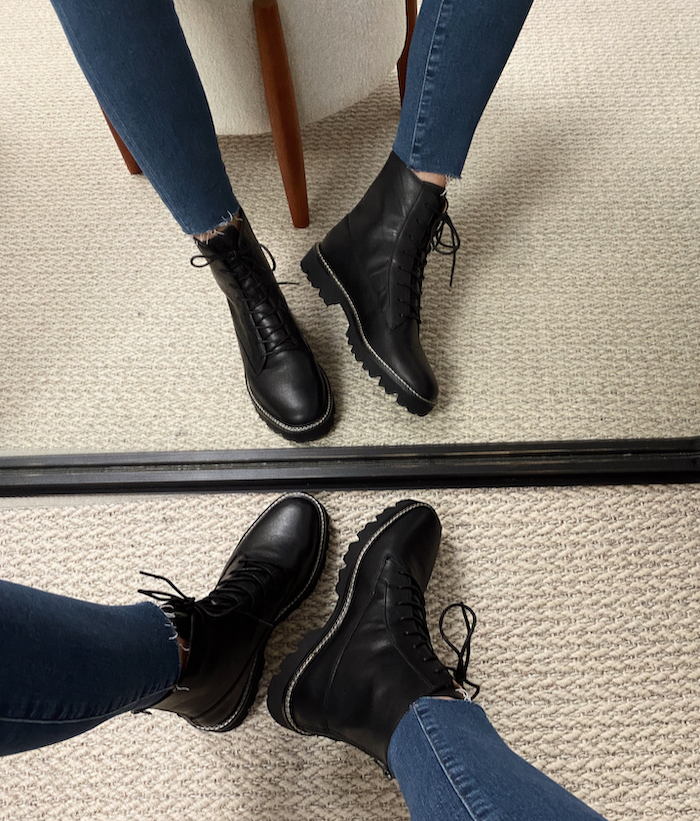 I love, love these Sam Edelman Laguna boots. This color, Sesame, sold out quite fast last year but I'm happy they brought them back and in even more great colors. These run true to size but once again I decided to go up a 1/2 size to wear thicker socks in the winter (these were my most worn boots last winter actually).
My faux leather leggings are old from Ann Taylor but these Zella ones look very similar to mine – they're fabric in the back and faux leather in the front. The very popular Spanx faux leather leggings looked awful on me (no joke). There are a LOT of options right now, and I'll link all the popular ones below.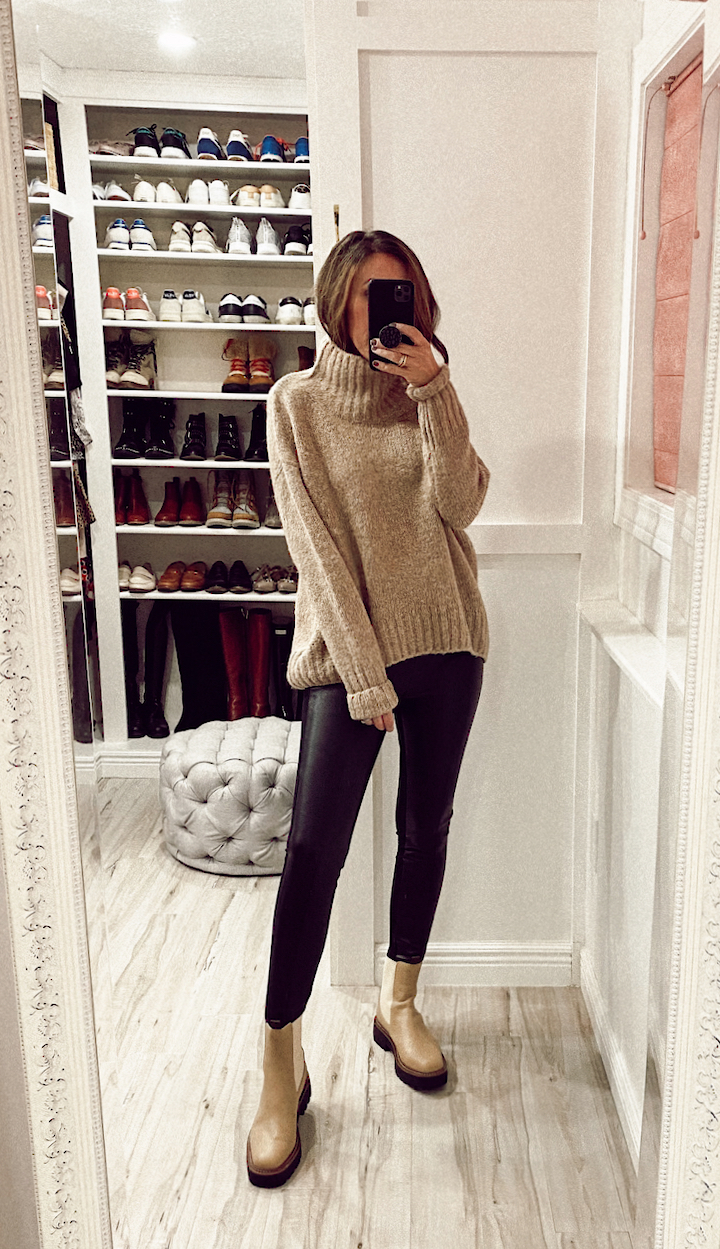 Sam Edelman boots | Faux Leather Leggings (old) – great options here, here, here and here | Sweater (old) – great alternatives here, here $$
I got these Aquatalia boots a couple of years ago. I scored mine on sale as they came out with an updated version – the heel is now wrapped in suede leather. I love how good they look with just about everything – skirts/dresses/jeans/slacks. Very flattering! The heel height is prefect where they're comfortable for all day wear. They're also water and stain resistant! If you're looking for invest in a pair, give these a try as they go with everything and are comfy!
Aquatalia Booties | Madewell Vintage Style Jeans – similar (also darker in person) | Club Monaco coat (old) – similar |
These Marc Fisher booties are the pair I've had the longest. I first got a suede pair and wore them so much. I wanted a leather pair for wet days too (I think I got my first pair in 2015). These have a ton of reviews and they do come in more colors. I find these very comfortable and they run true to size for me. I think Marc Fisher has quite nice looking selection of shoes.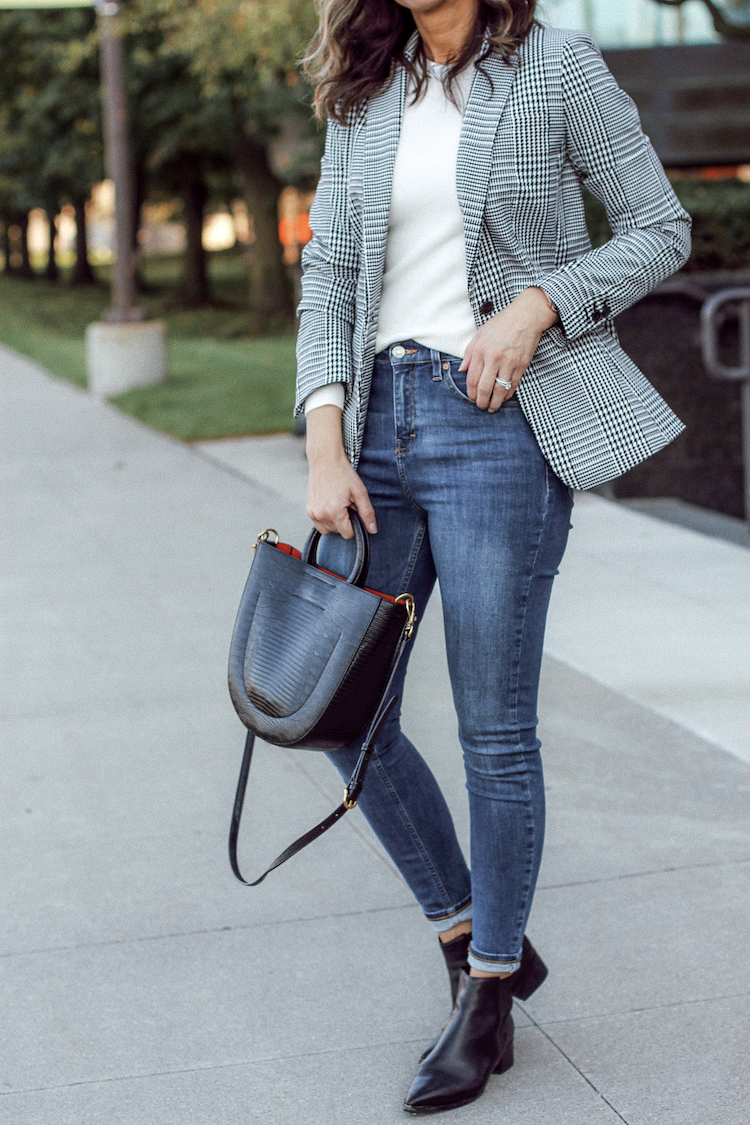 Blazer and Bag old from Banana Republic
This is a pair of booties I always get questions about. This exact pair is a number of years old BUT Steve Madden has a similar option(ships in November).(Nordstrom had them in three colors and two are completely sold out already). They looked almost identical until the new updated versions…which I'm liking better because of the sole has grip to it. Zappos has then in light tan and black (love love the light tan).
Burberry Jacket (old) –similar for less, LOVE this one from Barbour | Bag old from Banana Republic – love this option | Jeans (old from Citizens of Humanity) – almost identical style (mine are almost the same color in person), also these look very similar
Two pairs that I wore non-stop were the Madewell Chelsea boots, which I got in 2017. In my opinion, Madewell boots tend to run narrow. Both my black and brown pair I had to break in…which is not end of the world, but at the same time I feel like at that price point we shouldn't have to break them in. Clearly, that hasn't stopped me from purchasing boots that might need a tad breaking in (this also depends on each individuals feet). I think I got the brown pair first and then the black pair…which I like more. They run true to size for me but both need a tad breaking in because they're narrow. I probably could have sized up.

Madewell Chelsea Boots | Mother Jeans tts for me | Naadam Cashmere Sweater – I also love their $75 cashmere sweaters (I get size Small) | Everlane anorak (updated version. Mine is like five years old. Love the new version)
Naturally I found a picture from 2017. The updated version of the brown is lighter than mine.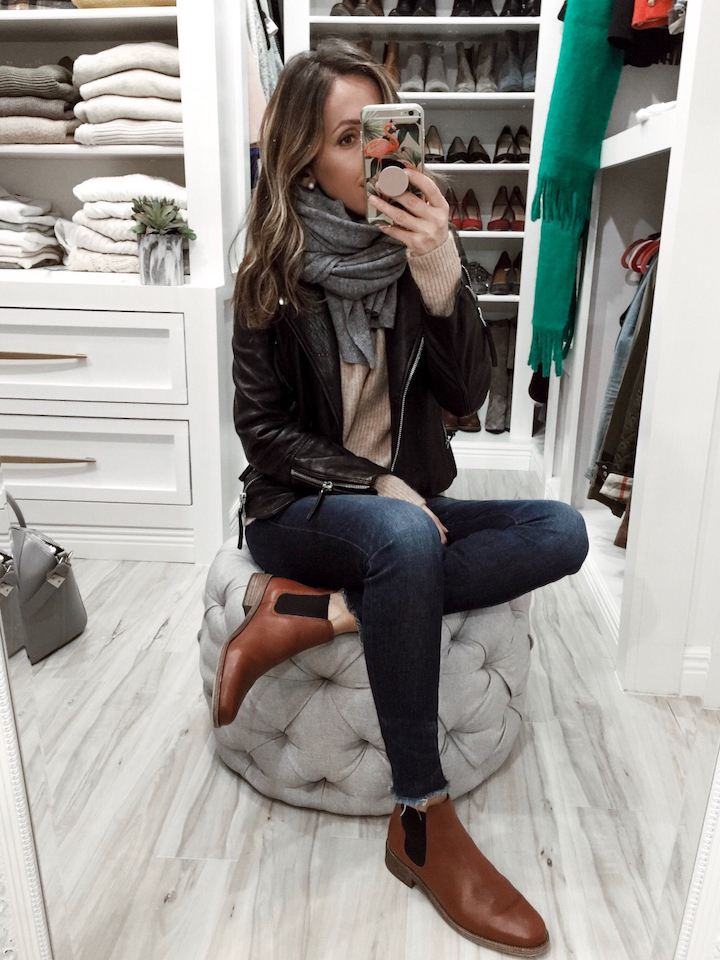 Leather Moto Jacket (old) – similar here and here | Cashmere scarf (old) – almost identical for $100 and smaller version for $50
I will share my favorite winter boots and knee/over the knee boots next…