This was one of my favorite sweaters…because..waffle knit! This is one of those pieces I might have not paid any attention to online but loved it in person. Wearing XS below, it's a relaxed fit. Jeans – I actually purchased these jeans either last year or earlier this year. The wash on the model was light and that's what I wanted. The pair I got was even darker than these so I returned them. I've tried three pairs so far and each pair has been different wash (but it's technically the same wash to them). Each wash is nice though, it just depends which one you want. I liked this wash below but they had something on the leg (as you can see). I'm going to order a pair and hopefully it will be the wash I want. I'm also planning on cutting the fringe on the raw hem…it's a tad much for me. Madewell jeans tend to run small for me but these fit great. Check out the reviews on these though. But I think they're fab!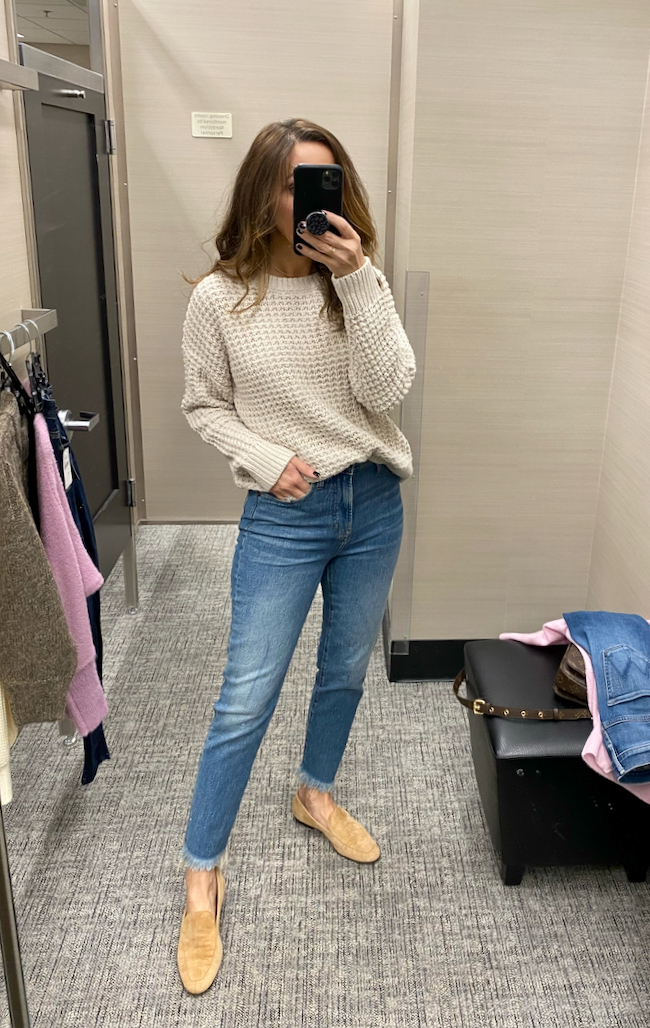 Waffle Knit Sweater in XS | Madewell Vintage Straight Jeans tts | Loafers J.Crew old
I don't think I've ever tried a pair of jeans by this brand but I really loved the fit of these. These jeans are soft and have a nice amount of stretch to them. They kinda reminded of a Citizens of Humanity pair I have. Just at a way better price. They fit true to size for me. They come in more washes. Definitely a fan of these. This soft dolman sleeve sweater is great length if you want to cover your front and back. It comes in more colors. I tired XS below anti runs true to size.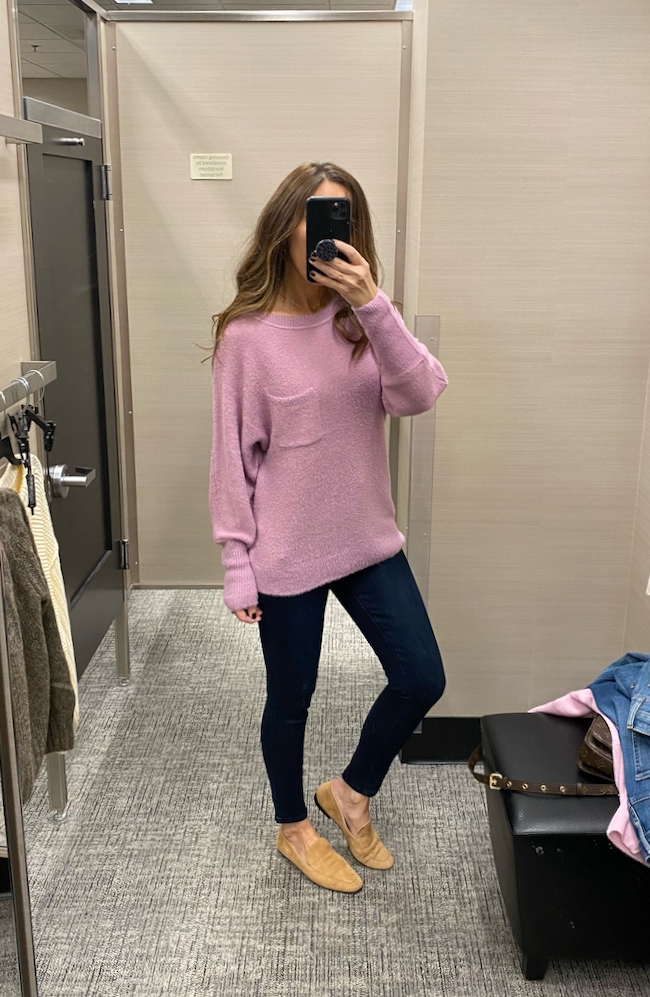 Dark Wash Jeans tts | Dolman sleeve sweater tts | Loafers (J.Crew no longer available)
As with any other Free People sweater, this one was roomy but I liked the fit. You can easily size down though. It has nice weight to it and comes in two more colors. I'm wearing XS.
Sweater in XS | Dark Wash Jeans
My love for half-zip sweaters continues. I liked the color of this one and it felt soft. I'm wearing XS and the fit is relaxed.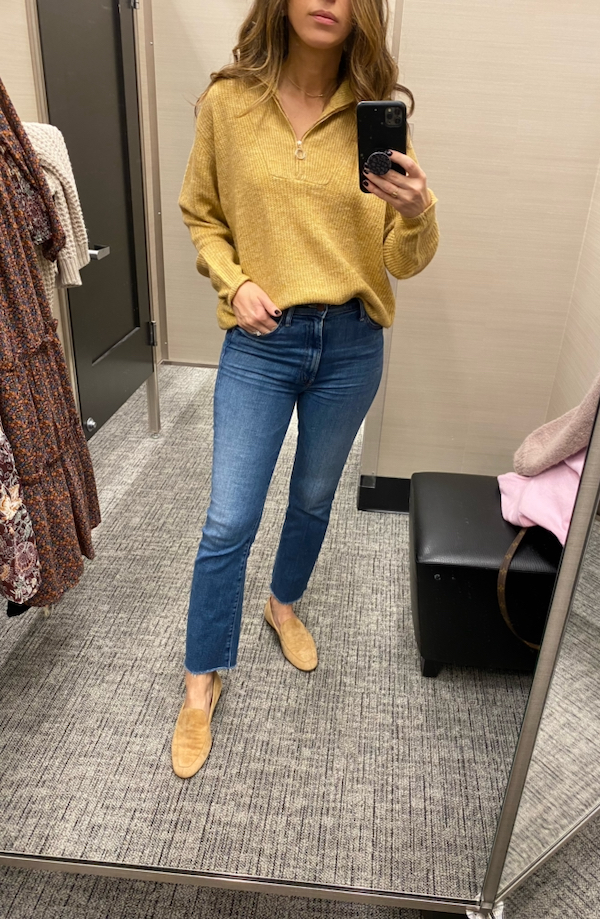 Half Zip Sweater in XS | Mother Jeans tts
I loved the color of this polo sweater and the rhinestone buttons were such a pretty touch. I will say that you have to be careful when unbuttoning as it stretches out the button holes. The sweater is light and felt soft. Not sure if I think it's worth the price though…still on the fence about that.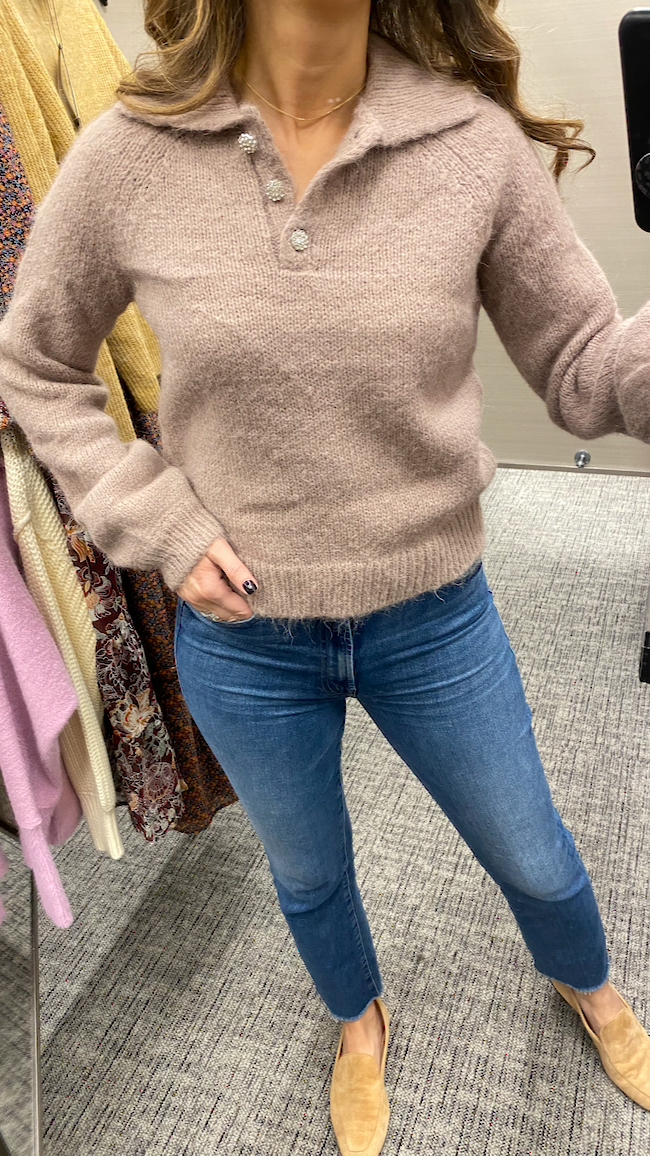 Polo Sweater in XS | Mother jeans tts for me (even though in my pictures these bother jeans look straight leg, they're not. They're also not flare… to me they're more like a straight flare which is probably not even a thing…but I hope it makes sense).
I absolutely loved, loved this jacket! It was so cozy and seems like it would be warm too. I tried on XS below and it fits tts. I was able to zip it too. I almost got it but noticed two large makeup spots on the arm sleeve (bugs me so bad when people are so careless and leave their makeup on clothing they try on). Anywho, I am not finding this jacket on Nordstrom's site right now but found it here and 40% off! It's wind and water resistant! It looks like a $$ designer piece… Much nicer in person.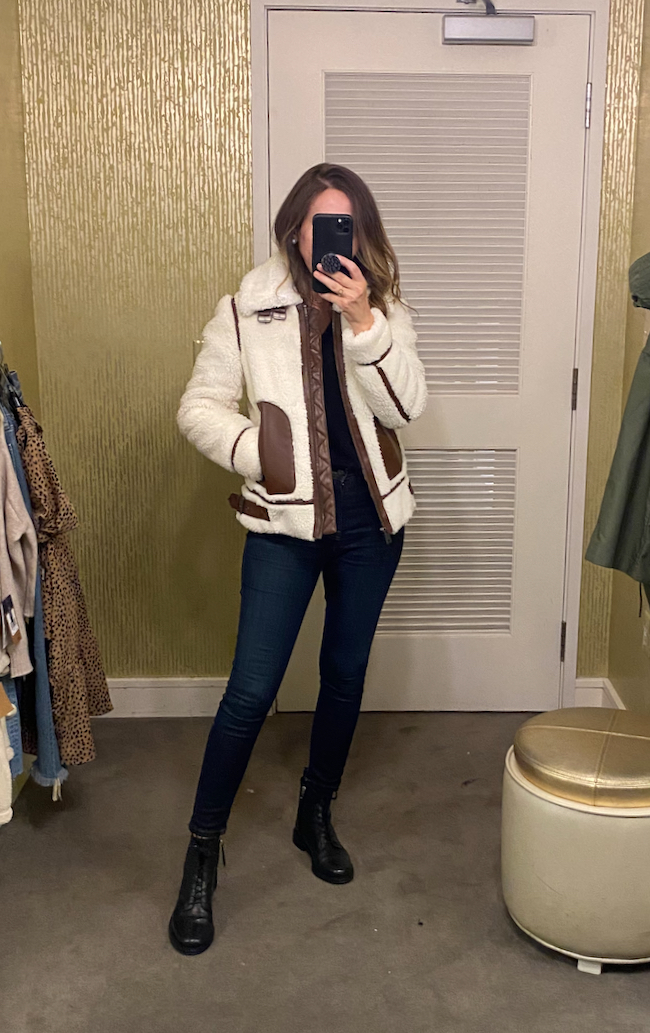 Jacket | Everlane Jeans in Indigo wash tts | Booties (I sized up 1/2 size)
It's the cozy season and anything fleece calls my name. A few months ago I got this North Face jacket in greenish color. I wanted to try the one below as I loved the light color. I tried size small but I'd stick to XS in this one. Even though my other one is in Small, this one didn't fit as nice in the same size. I actually like the one I have better than this new version. I think if you're looking for a fleece jacket with a hood, I'm really loving this one. A LOT.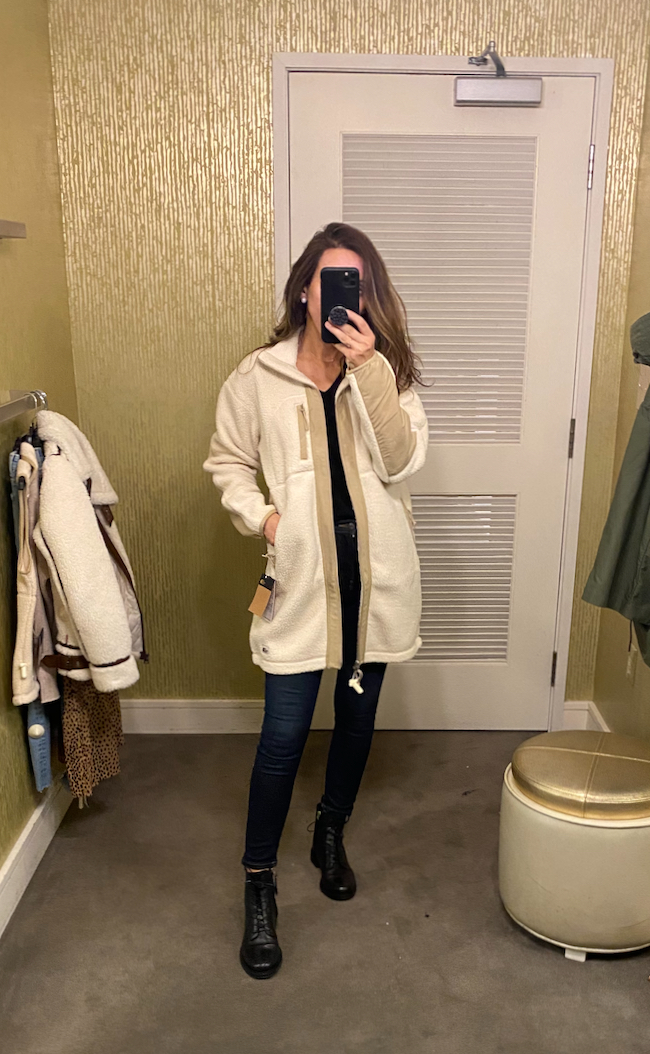 Loved the softness of this vest. Runs true to size.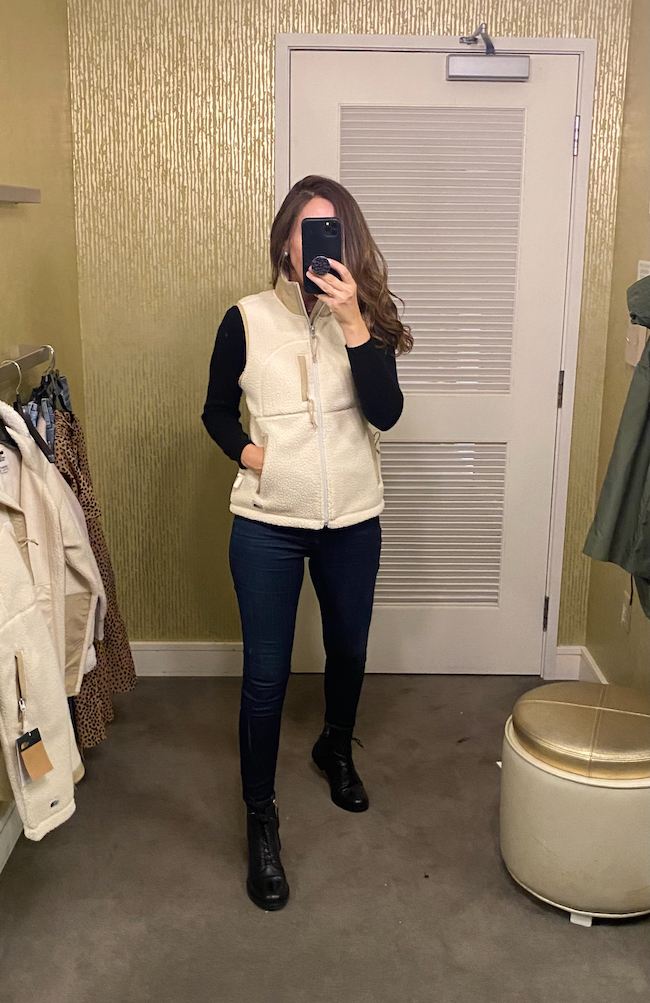 I love that this dress can be easily dressed up or down. It ties at the neck for a dressier look. I like it paired with the lace-up boots. I'd need size XS (wearing small below)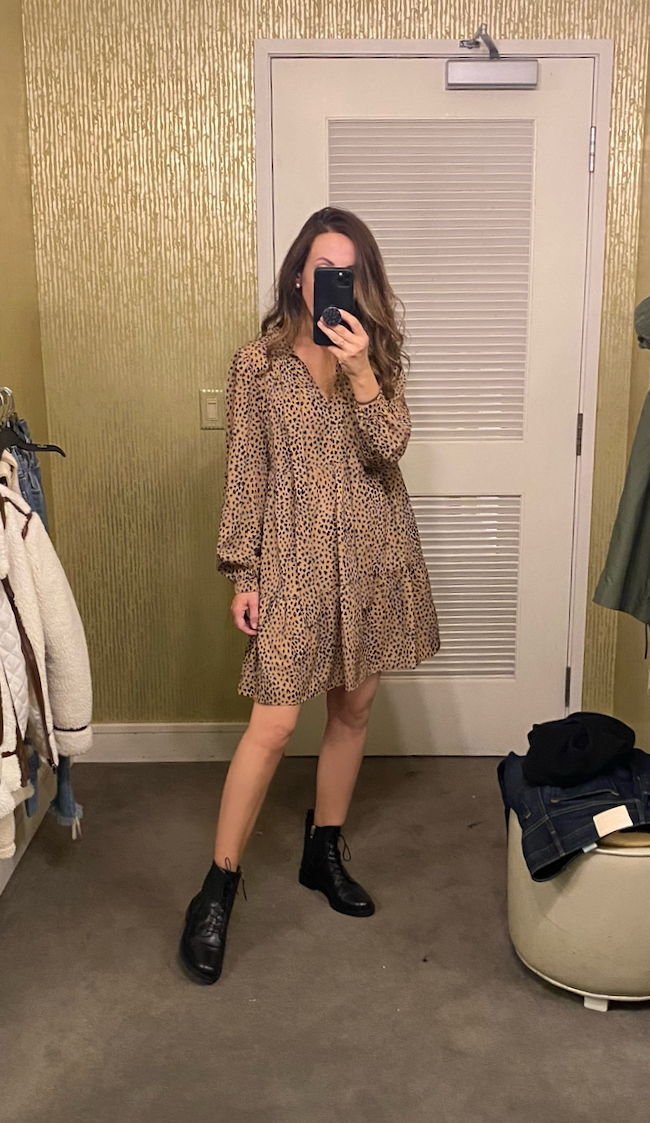 Dress | Boots
Loved the color and the style of these booties. These would look great with skirts and dresses too.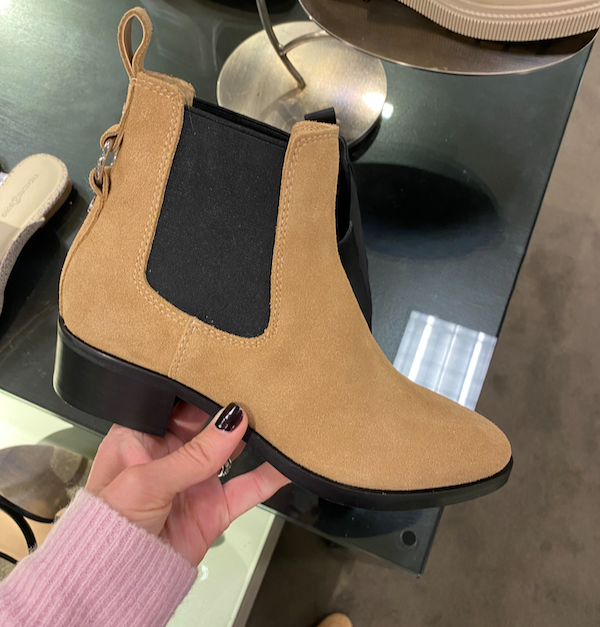 At this point I was still on the hunt for a pair of black lug sole boots. These boots were SO lightweight and I loved the look of them. I actually have never heard of this brand and there was no price on them but looked them up when I got home. On the pricier side but quality seems great and they get great reviews. If I was looking to invest in a pair, these would be it. Still love how lightweight they felt for this type of boot.
Vince Lug Sole Lace-up boots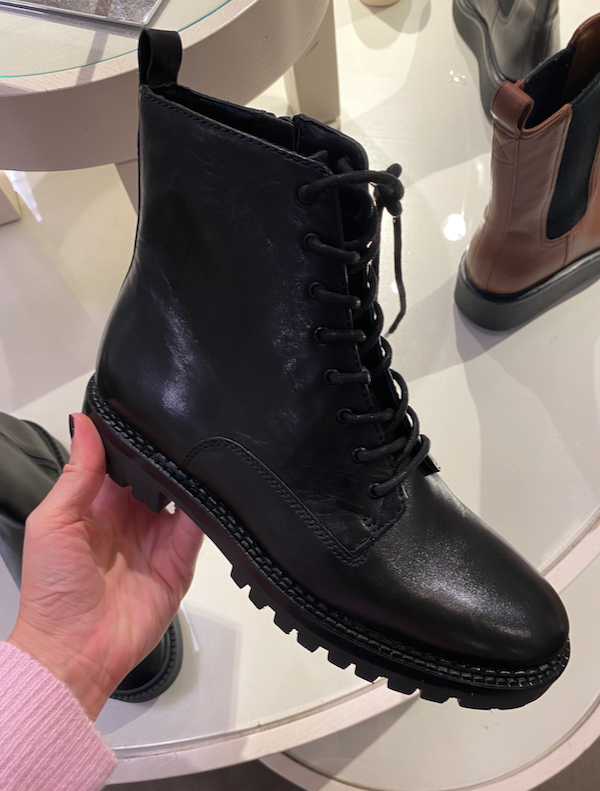 Thanks for stopping by!