Hope everyone had a great weekend!
We reached a big milestone at our casa over the weekend… Pippa did not run away when Luna snuggled up to her! (In case you missed it, we got another pup a little over two weeks ago. Same breed as Pippa – Shichon. It kinda just happened lol). I'll add a couple of pictures at the end.
I talked about this coat in this post if you want to check it out. It does come in three more colors and it's a nice Fall/Winter coat (not for super freezing days of course). I got XS but you can size down if you're not planning on wearing thick sweaters with underneath.
I mentioned these booties in my 'Favorite Fall Booties' post the other day. I've had these the longest and they're still one of my favorite pairs. Definitely got my $$ worth out of these babies. They come in more colors.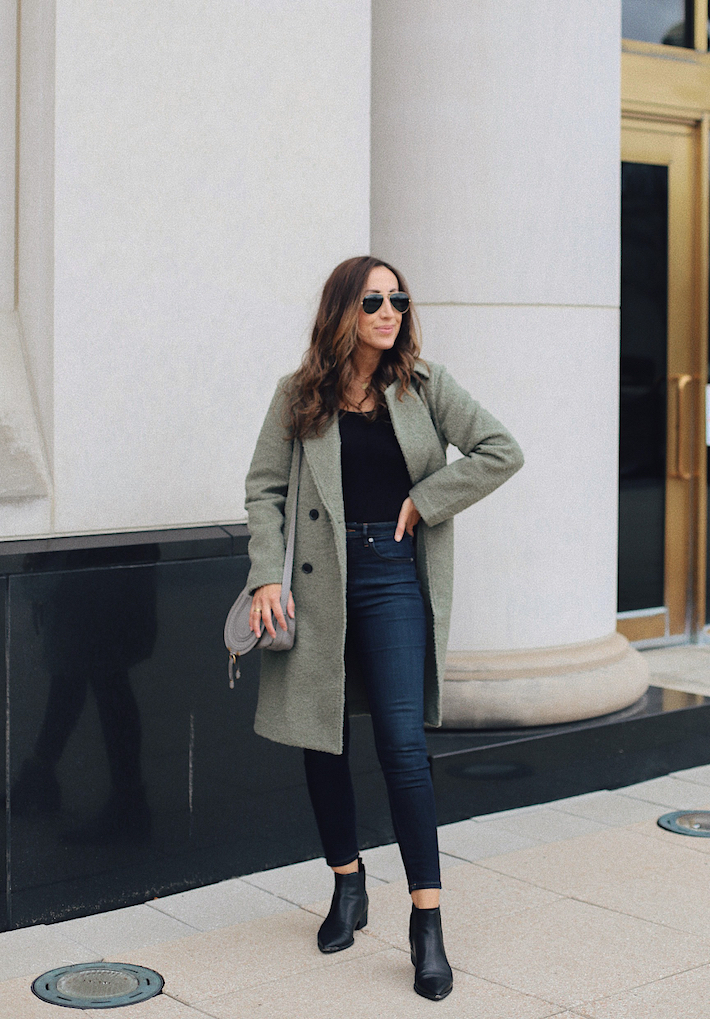 Another thing that has been my favorite for years is this Chloe crossbody bag. It is my everyday bag (I do switch up but this one is my most worn). Cost per wear is in pennies at this point. On a day to day basis I usually don't carry a lot with me – just my card holder, key fob, sanitizer, iPhone, lip product and sunglasses once in a while (if I forget to leave them in the car)…that's pretty much it (but it can fit more than that). It does not fit a large wallet fyi. I used to have it in a different color years ago, which I ended up selling and purchasing this one.
SHOP THIS LOOK: Coat in XS | Dark Wash Skinny Jeans tts | Scoop Neck Long Sleeve Tee tts | Marc Fisher Booties tts | Chloe Crossbody Bag
A while back I misplaced one of my favorite/everyday necklaces and I finally reordered a new one. The bar necklace has been a favorite for years (which you might have noticed in most of my pictures. It started all with a bar necklace back in 2015). I've had this set and this set for a few years now and I tend to mix and match them.
Love that they're getting along.
As always, thank you for reading!