Well hello there!
Rounding up some of my favorite Black Friday Sales for those who are shopping. I will be updating this list….
I think some sales are great and a few are a tad disappointing compared to previous years. In the past years, some retailers had better deals on Cyber Monday so I'm curious to see if that will be the case this year.
So far, I have ordered this classic bag in Deep Toffee and that was literary less than 24h after I said I need to stop buying bags lol. BUT, I have been wanting this bag for ages and not only is there a promo code there is also NO sales tax (it's a UK brand. Megan Markle and Kate Middleton are fans too). I also ordered these straight leg jeans and if you spend $150 you get a $75 gift card to use later! I hope the jeans fit as I have been on the hunt for straight leg pair in Ecru and those look fab. I also placed a small H&M order.
I've already shared some of my top picks from different retailers in collages on my LTK profile but you can also find it on Insta Shop (just click on the picture and details to each item will come up).
ALSO, I'm sharing some of my outfits below and everything is linked either above or under each picture (or both).
---
Ann Taylor – 50% off + Free Shipping – check out my picks in this post
---
Anthropologie – 30% off – These are my favorite dishcloths (I have two sets and would highly recommend). Trying to decide on one of these Inlay End Tables…love the size and unique designs + easily moved around the house where needed (all back ordered but it is what it is).. Also, the overly popular mirrors are part of the sale (available in four sizes)
---
Banana Republic – 50% off –
---
Banana Republic Factory – 60% off everything + extra 15% off –
---
Club Monaco – 30% off everything w/code CYBERMONDAY. I love their coats! This one is almost identical to my houndstooth one (mine has three buttons but the style in general looks very very similar).
DeMellier – 20% off w/code BF20. I ordered this bag the other day. No sales tax!! Their bags are Kate Middleton and Megan Markle approved lol
Express 50% off + free shipping
---
H&M – 30% off everything (prices as marked) – I have the following pieces and would recommend – this Bubble Plant Pot, also this Velvet Cushion Cover in Light Brown (cheap enough to switch up for seasonal colors), these stone salt and pepper bowls, this laundry basket/bag, I got one of these jackets last year (there is also a shorter version and longer version. Might "need" the long one).
Some of my top picks:
HOME:
---
J.Crew – 40% off and Cyber Deals starting at $14.50 – this coat in on my wishlist (100% do not need it but…it's fab). –
---
J.Crew Factory – 50% off site wide + take extra 10% off – I got these slippers a recently and love them (size up if in-between sizes)
---
LOFT – up to 60% off your purchase + extra 15% off w/free shipping w/code CYBER. Special deals starting at $20. Love this Fair Isle Sweater, this turtleneck poncho sweater, this mixed stitch turtleneck, this V-neck sweater, Waffle Cowl-neck tunic sweater. Shared a small try-on in this post.
---
Lulu and Georgia – take 25% off your purchase (exclusions apply) code THANKFUL –
---
Madewell – take 30% off your purchase w/code CLICKCLICK – their jeans are usually excluded from sales but not this time. I got these straight leg jeans a while back (unfortunately, paid full price) and LOVE them! I cut off the fringe hem as I loved the fit of the jeans but didn't care for the heavy fringe. These run tts for me (Madewell jeans usually run small for me) but there are a lot of reviews on them too.
---
Mango – up to 50% off –
---
Naadam – 40% off (exclusions apply). I'm a fan of their cashmere sweaters (they always have the $75 Cashmere Sweaters and I think they're wonderful. I've been super happy with them).
---
Nordstrom – up to 50% off – shared some of my picks in this post
---
Old Navy – 50% off –
---
Sorel – 25% off select styles + free shipping –
---
Shopbop – up to 50% off. Take 15% – 30% off storewide w/code HOLIDAY. The promo also works on the Sale Items. The promo applies to select colors of my favorite loafers.
---
I have already raved a lot about these Straight Leg Vintage jeans (never seen them on sale before). In case you missed it – I cut off the fringe hem and they run tts for me (most Madewell jeans run small for me). Suede Slippers are fab and come in more colors. If in between sizes, size up.
SHOP THIS OUTFIT:
---
I've had these booties for years (got the suede about 6 years ago) and then the leather shorty after. They are 30% off (a deal I haven't seen in a long time). Available in more colors. Been eyeing them in taupe suede….love! Everything below runs tts (I did go with Small in the cashmere sweater).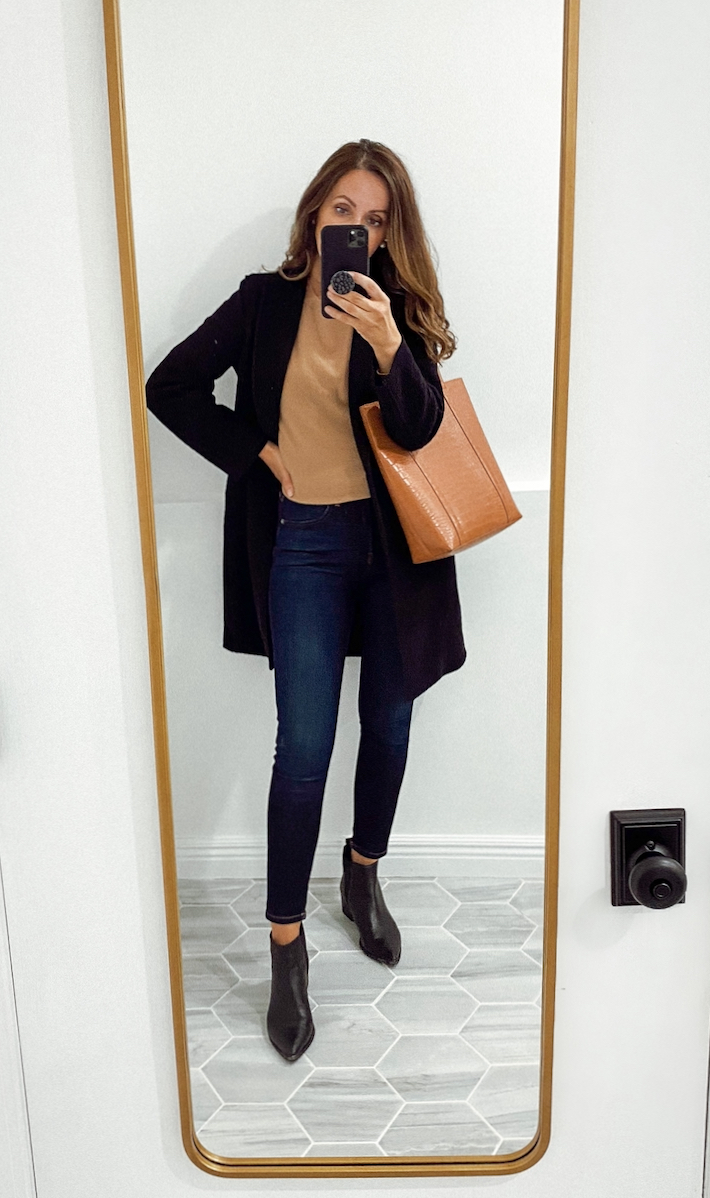 SHOP THIS OUTFIT:
---
I purchased this coat back in 2019 and it is still one of my favorites (this coat was a best seller last year during Black Friday). It is well made, warm and timeless. It runs true to size (I'm wearing XS). I don't even know what color mine technically is but this coat is available in gray and black, both classic colors. Gray is almost sold out and black is selling out fast too.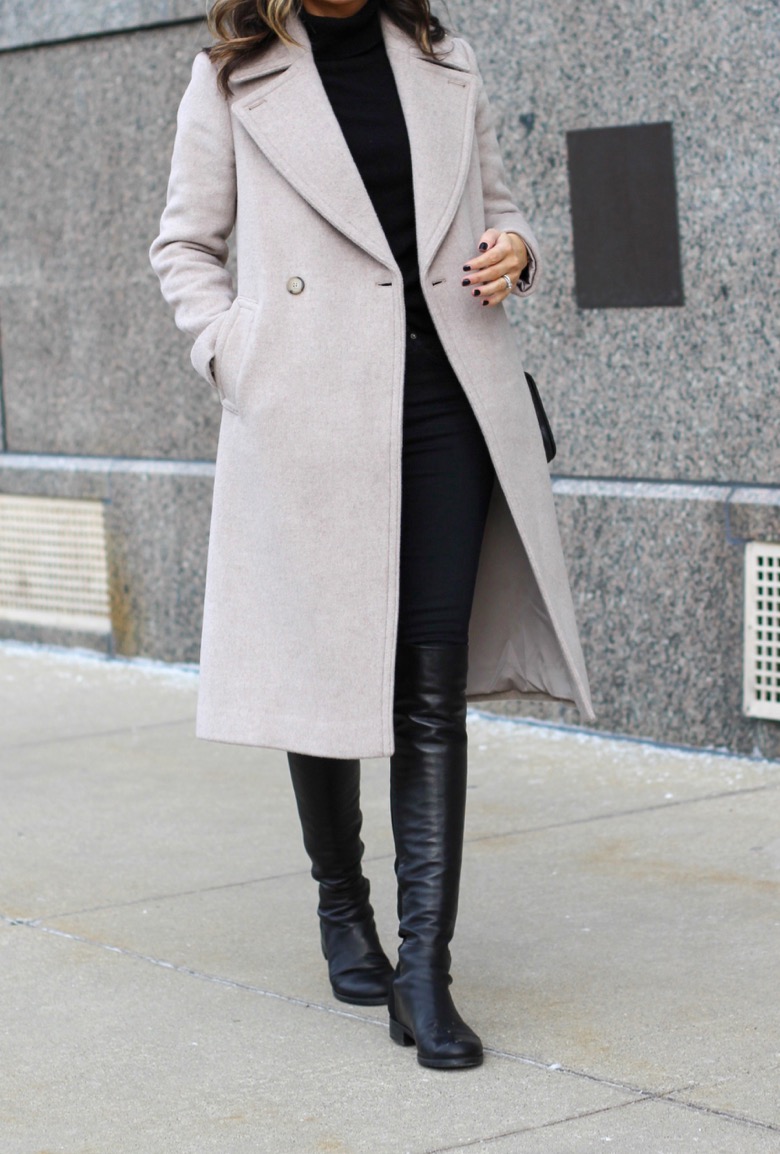 Boots are Stuart Weitzman 25% off (tts)
I tried this tan coat back in 2019 (and I'm back to the same hair cut now lol). It is another amazing coat. I tired small below but I would get xs for a nice fitted look. With these coat I do light layers vs chunky sweaters. I will usually start with a HeatTech base layer (my favorite) and then add a cashmere sweater (I do wear a tank top too in the winter). With that said, I think this coat runs true to size. It does come in houndstooth (very similar to my houndstooth coat)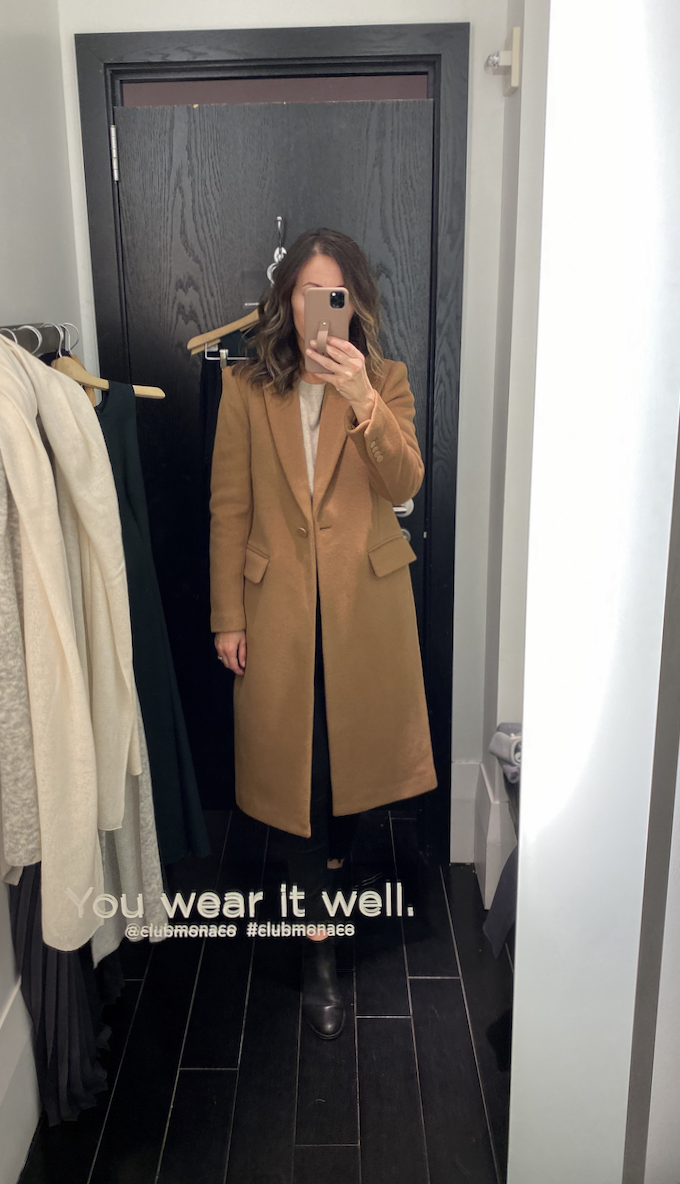 ---
These boots have been excluded from sales in the past but I found them for 25% off... such a great deal. They come in ten colors!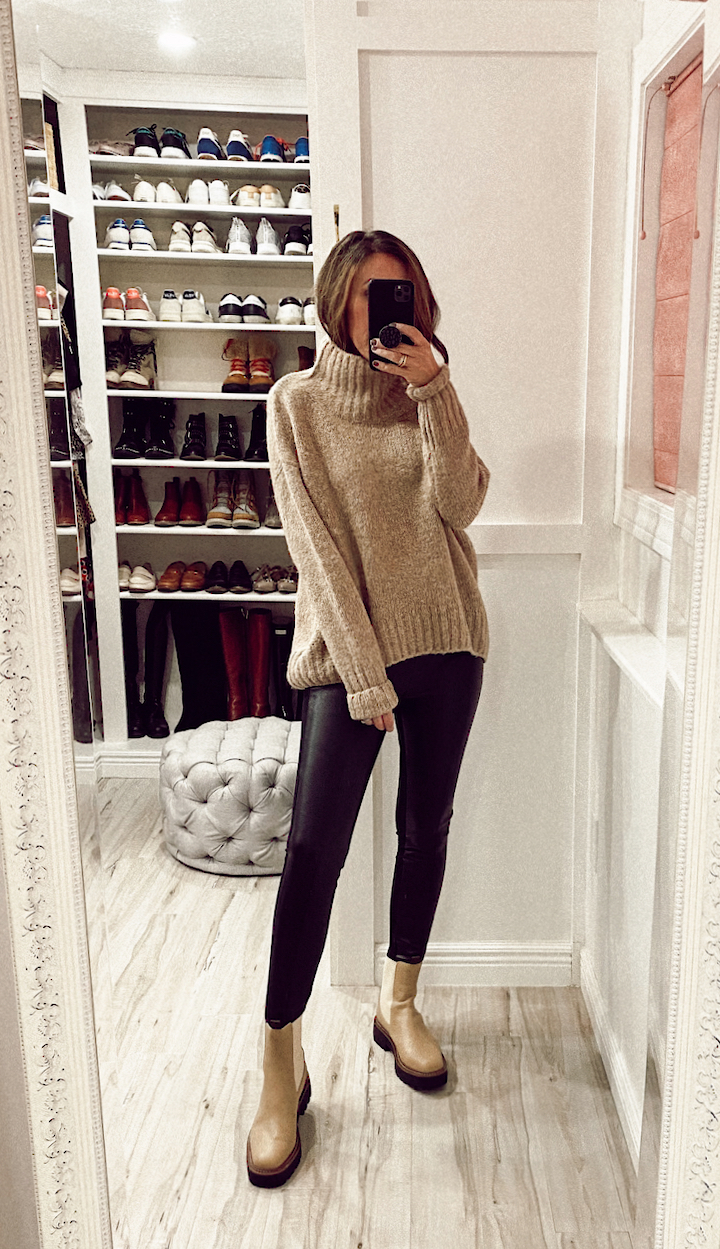 ---
Another pair of boots I love are these Sorel boots which come in more colors. They ran small for me so I ended up going up 1/2 size. Absolutely love them (original blog post).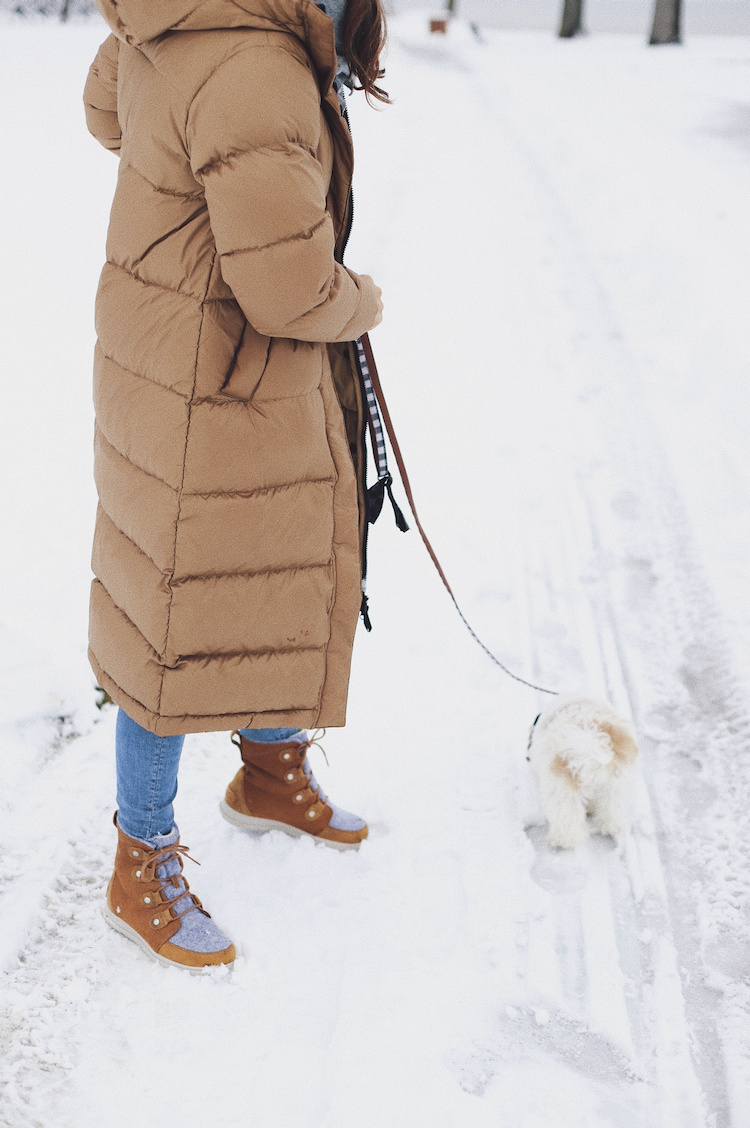 ---
These boots are 50% off right now. True to size for me. Also, shared a small Ann Taylor and LOFT try-on in this post.
---
These lace up boots are so good and 30% off. The only reason I ended up returning these is because I have two pairs of black lace-up boots already (ended up getting these instead). Another pair that looks SO nice are these with gold hardware.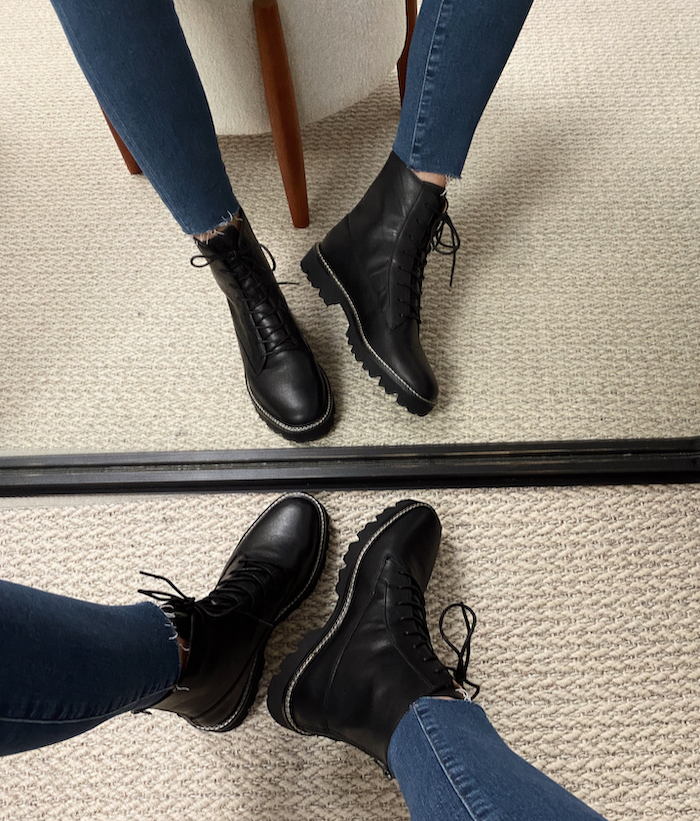 ---
My favorite joggers are on SALE! I wear these more than any other ones. They're super comfortable I sized down to XS (I'm usually Small in Zella leggings). They also had over 1K reviews and I don't see any right now, strange. My favorite Adidas sneakers are also on sale (they run true to size for me).
SHOP THIS OUTFIT:
Happy Shopping!