I had placed an online order at Loft on Saturday night for in-store pick up on Sunday (I got this pretty poncho sweater in 'perfect sky' color for my mom). Of course, once in store I couldn't help myself and had to try some of the pieces that caught my eye.
Before I start, I should mention that my loafers are 'old' from J.Crew but these are the updated version are they're on MAJOR SALE right now (eyeing them in Adobe Clay color. The camel color is pretty much identical to mine).
This coat...(insert heart eyes). It felt really nice on and comfortable. If you have ever purchased or tried on Loft coats, then you might know that most tend to run big, which is the case with this one. I tried on this beauty in XS with a somewhat thick sweater and it still felt roomy. I think you can size down in this one. If you don't like coats that don't have much shape to them, then this one might not be for you. If you don't mind the shape, I think you'll love it. This is one of those coats that I'd compliment someone on and then ask where they got it.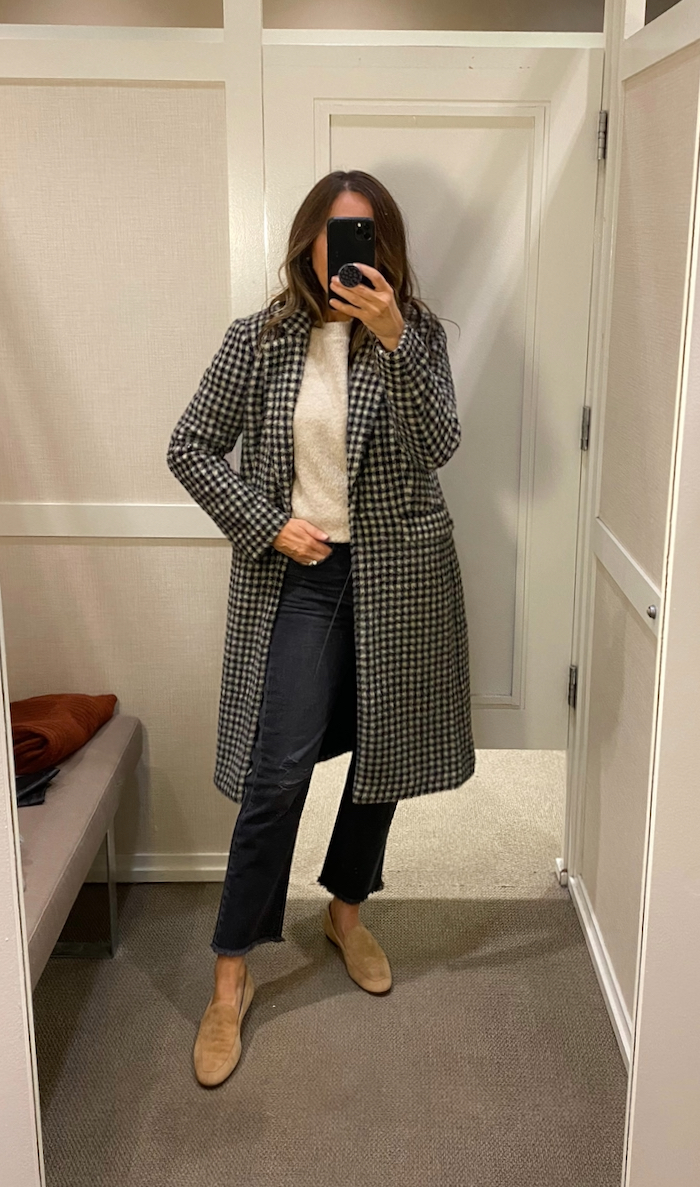 Check Coat in XS but runs big | Jeans – see below.
I loved the color of this cozy turtleneck poncho sweater. You could size down, it might be just more fitted in arms but it's soft. It does come in more colors. Overall it felt nice and cozy. These kick crop jeans have somewhat mixed reviews but I loved them. I tried my usual size, 26, and they fit true to size for me (unless their sizing is not consistent). I'm a big fan of this style… I find them flattering and chic! I have an almost identical pair from Gap (no longer available) but they run a tad on the smaller side (have to suck it in too much to zip them)…so I might sell them and get these instead as they felt 100% more comfortable.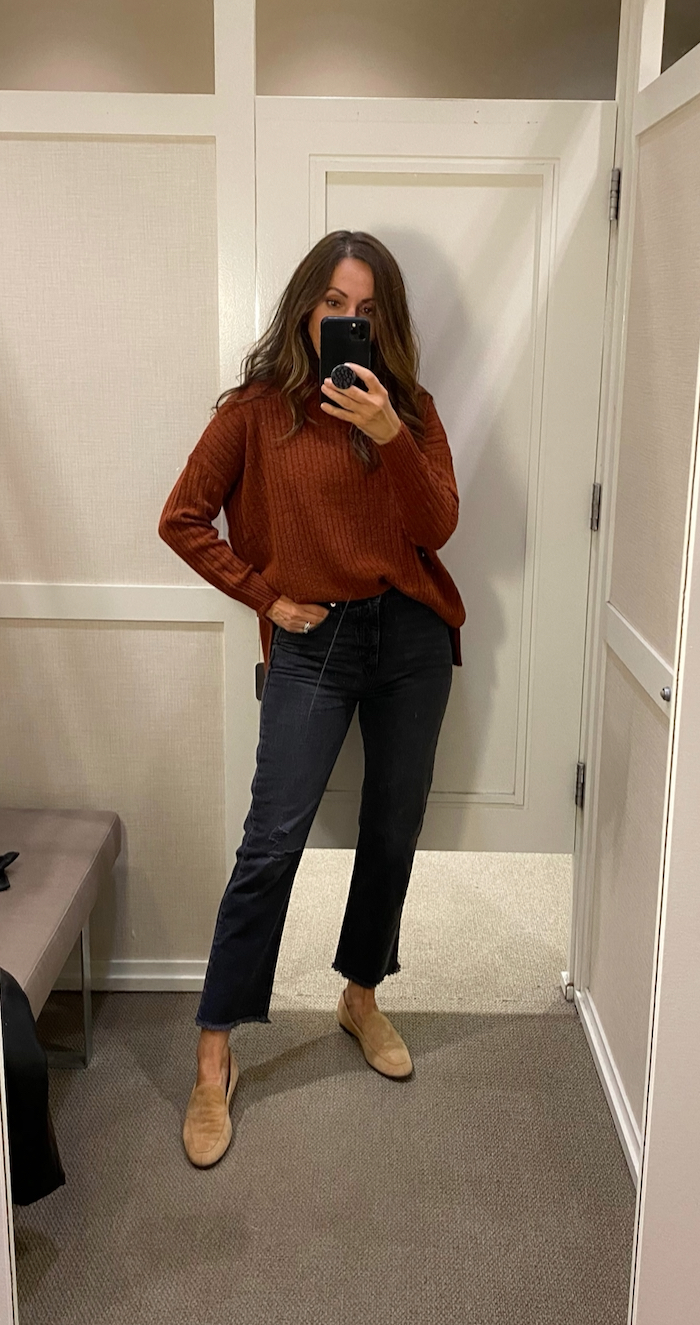 Turtleneck Poncho Sweater in XS | Jeans tts for me
It took me a second to realize that this striped sweater was also a poncho sweater which explained the roominess. Do I like it? Yes! It's striped, what's not to like 😉 I'm wearing XS below.
About a week ago I noticed these faux leather pull on pants online and…kinda liked them! I think they're the perfect alternative to when you want the faux leather bottoms but don't want the leggings or tight pants. While they look cute with loafers/flats, they would also pair nicely with booties and sneakers too. I'm wearing XS below and they fit tts. Also available in more colors and they are selling out fast. Ann Taylor has a similar pair…except they're not pull-on.
Pull on Slim pants in Faux Leather | Striped Poncho Sweater in XS
I've been eying this jeweled button cardigan in lilac for a while and even had it in my cart (I thought I had checked out but apparently never did). Anywho, lilac was not available in XS or Small in store but gray was in Small. It it really soft but the small it's too roomy. I would wear it buttoned…because of the pretty buttons. I'd stick to my size in this cardigan.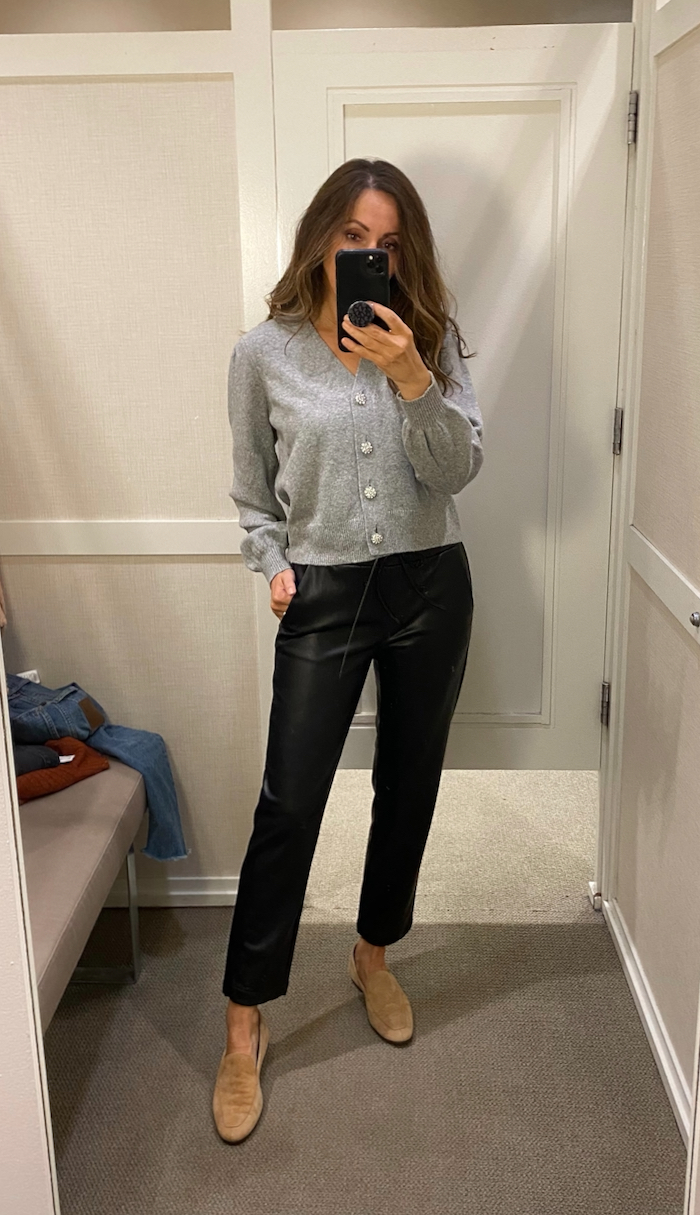 Jeweled button cardigan in XS | Pull on faux leather pants
Clearly I have a thing for jeweled buttons so I immediately reached for this pretty polo sweater. You can't really see the jeweled buttons in the picture but they look beautiful in person. If you are on the hunt for cute sweaters, give this one a try. It looks polished! I'm wearing XS below and the fit is relaxed.
Jeweled polo sweater in XS | Pull on faux leather pants
I can't seem to find this boucle sweater online…but it is very soft and has just the right amount of weight to it. I'm wearing XS below and it fits tts. BUT while searching for it I stumbled upon this half-zip tunic in Driftwood Heater (love the gold zipper) and now it's on my wishlist.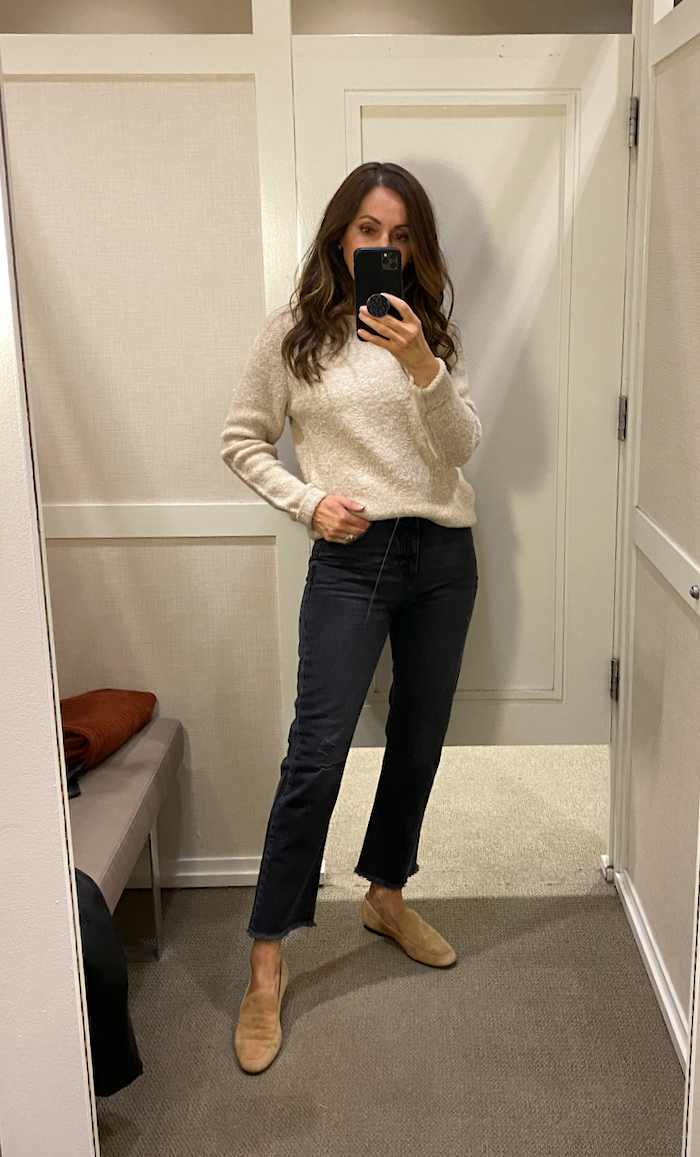 As you might know, Lou and Grey tops tend to run roomy. This warm and cozy sherpa half-zip top was no exception. I am wearing XS below and could easily size down but at the same time it feels super cozy oversized too. It almost came home with me…but now I just have it siting in my cart. I have accumulated one too many sherpa tops so I'll see if this one can be justified. It does come in a couple of other colors, but I love the color combo below.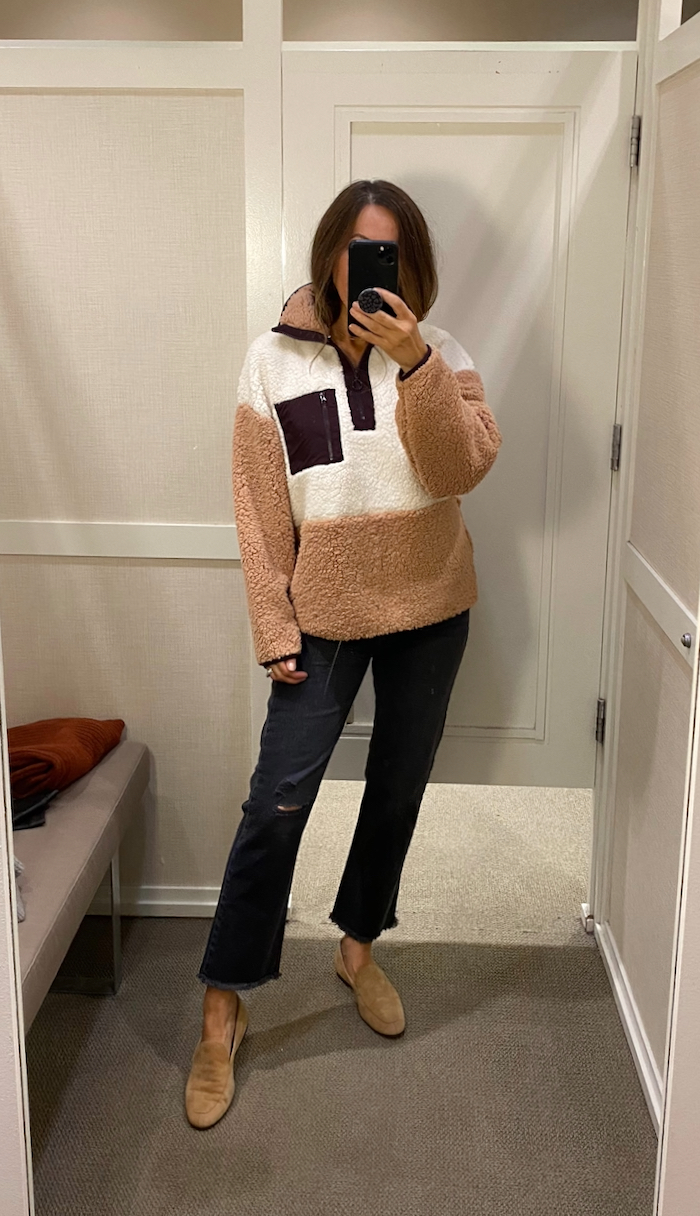 Sherpa Half-zip in XS | Jeans tts for me
---
Ann Taylor – I made a quick stop but check out this sweater blazer in person (which they didn't have) but saw a lot of other cute stuff…
These boot leg pants... I absolutely LOVED them! I walked pass them and did a double take as they immediately stood out. I just looked them up online and they have 1 very negative review. For me personally this is proof, once again, that if I like the look of something I see online, and it has negative reviews, I will STILL ordered it and find out for myself if I like it or not. For a couple of years now I'll usually check the reviews for sizing only if I'm looking to order something online (even that can be super confusing). Obviously, we all have different expectations. There are PLENTY of clothing pieces influencers rave about and naturally I get influenced as well…and end up hating the item. There are items I rave about and I'm sure some of you end up hating. We all have different expectations, body types and carry weight in different places. While I absolutely love these pants, I can see that these will NOT work for every body type. I personally loved the fabric…. You might love them, or you might hate them. My size was not available but I had to try them on regardless. Wearing size 4 below but would need size 2. Also, heels are needed with these. Sweater – scroll below the pic to read about it.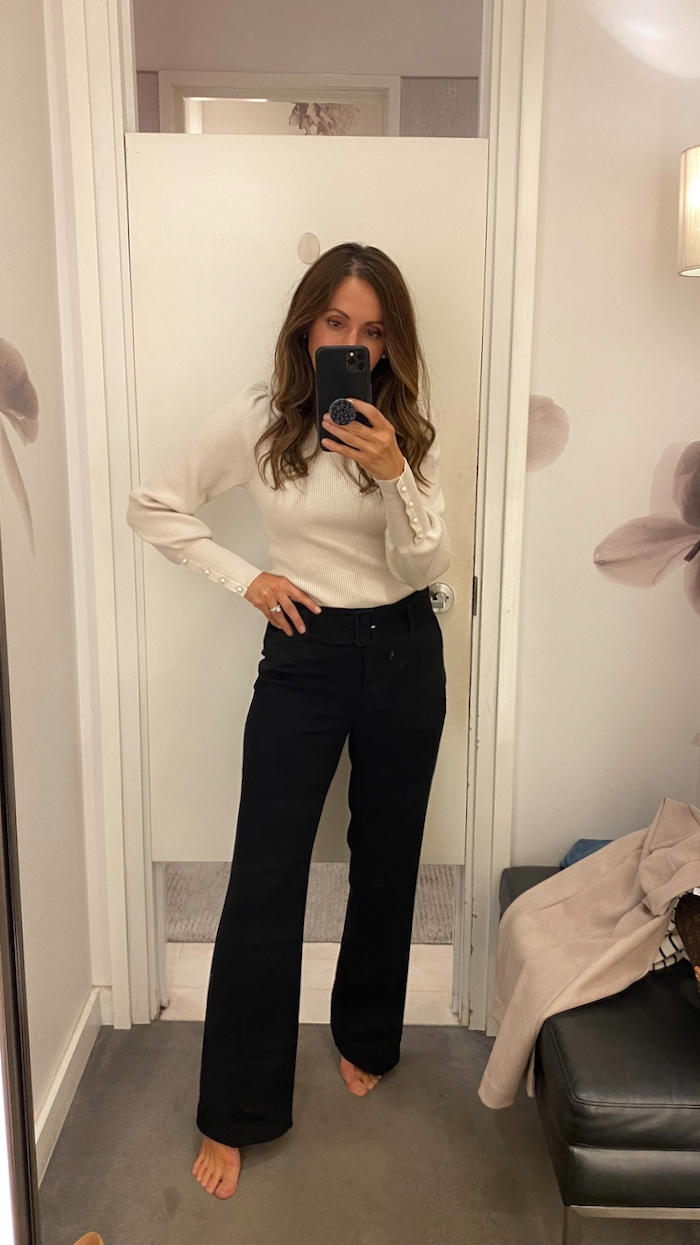 I am somewhat a sucker for button details on sweater cuffs and this sweater did not disappoint. LOVE! I have a few with cuff button details I got years ago in darker colors but I loved this color so much (it does come in two other pretty colors). In my opinion, the pearl buttons on sleeves make this sweater look a lot more luxe and the balloon sleeves are such nice touch too. It's ribbed, stretchy but I'd say it runs a size too small. I am usually XS in Ann Taylor tops but I'm wearing size Small above. It's fitted but it doesn't feel tight like XS would. Perhaps the sizing on this sweater comes down to how you like it to fit – tight or fitted (there is a difference).
I touched these suede pants and after feeling the softness I had to try them on. I did love the color and style too though. They feel luxe. This is something I would wear to the office (other occasion too). I tried size 0 as I didn't see size 2. I was able to zip them up (they have a side zipper) but not comfortably. The problem is that they did fit nice through legs but the waist was a tad small for me. With that said, I don't know how much bigger in leg area size 2 would be. I can see that sizing could be a tad off for certain body types/where you carry your weight (my tummy is my problem area). I noticed some of the reviewers had the same issue with the waist being a tad small but it worked out for others. Overall these are beautiful and classy looking pants which seem to be selling out fast.
Faux suede Pants | Sweater in small
This fair isle cardigan looks so much nicer in person (better view on the model). I was trying to decide if I loved it or just liked it…as I wanted to bring it home with me. And it did come home with me. I am wearing XS below and it fits tts. It's only available in XS and Small but it might get restocked.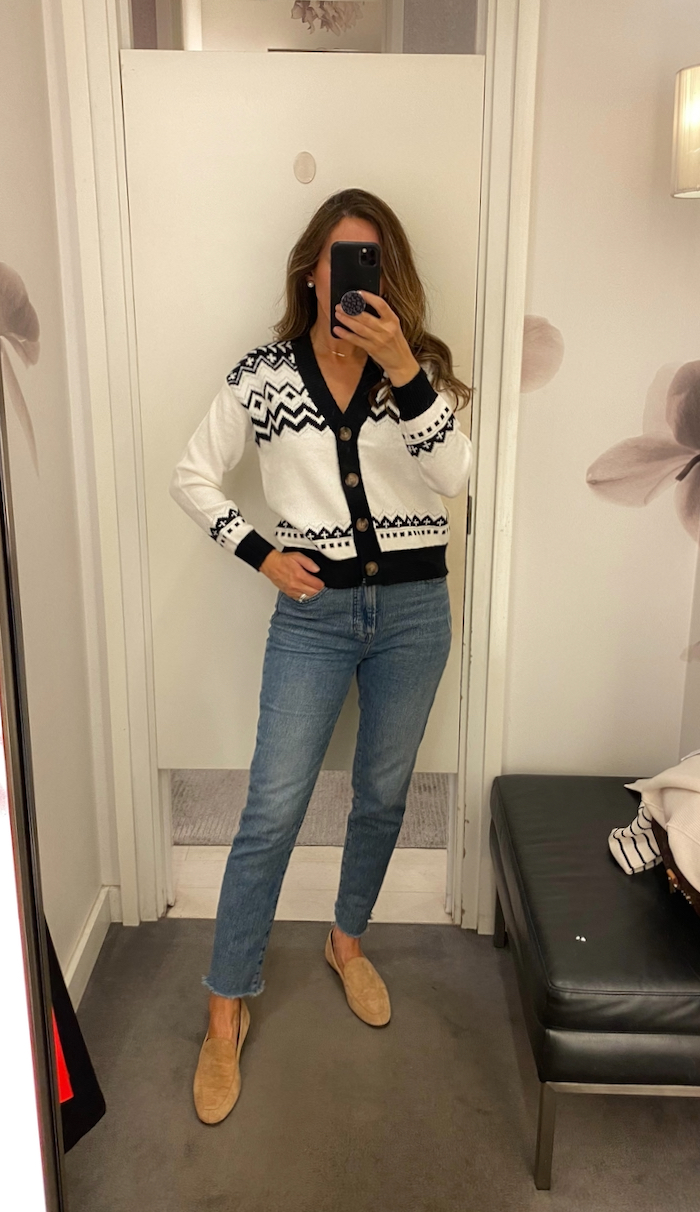 Fair Isle Cardigan in XS | Madewell jeans (tts for me. I cut off the fringe-y raw hem. You can read more about them in this post)
This turtleneck sweater had nice weight to it. I'm wearing XS below it and fits tts.
Turtleneck sweater in XS | jeans same as above
I love pleated skirts. Love! I have pretty much the identical style in a different colors from a few years ago (as seen in this post). I tried size 0 below as this belted pleated skirt is high-waisted and it fits comfortably but I could get away with size 2 without it being big. I clearly should have grabbed a pair of heels… One of the reasons I stand on tippy-toes is because you see the true length of the skirt/dress better this way (or if pants are long like the two pairs above). I took a couple of pictures just standing normally and the angle is all wrong and it doesn't show the true length (btw I'm 5'6 for length reference).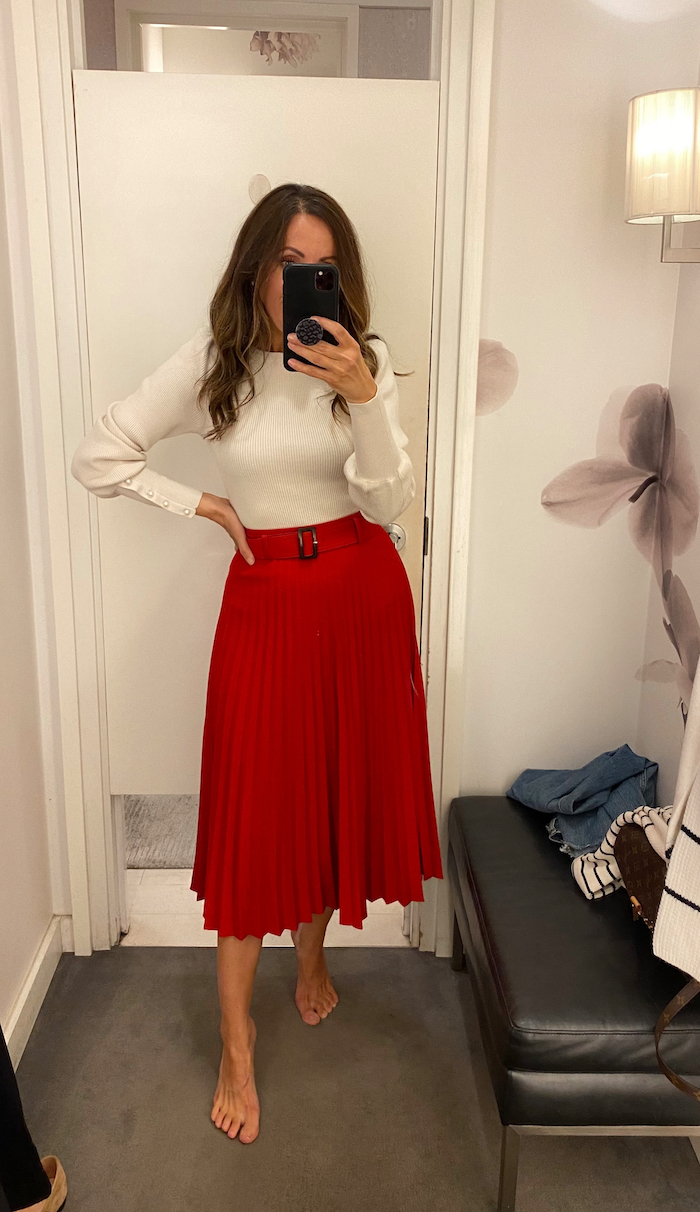 I tried this cute tartan dress in size 0 (which is my true size in this style of dresses at Ann Taylor). This one, however, runs big. The waist is elastic and it was a tad loose. The ballon sleeves are semi-sheer. This dress would look great with a nice belt too. As of right now it is still in 'Preview' (promo codes do not apply to Preview items but it will under new arrivals soon).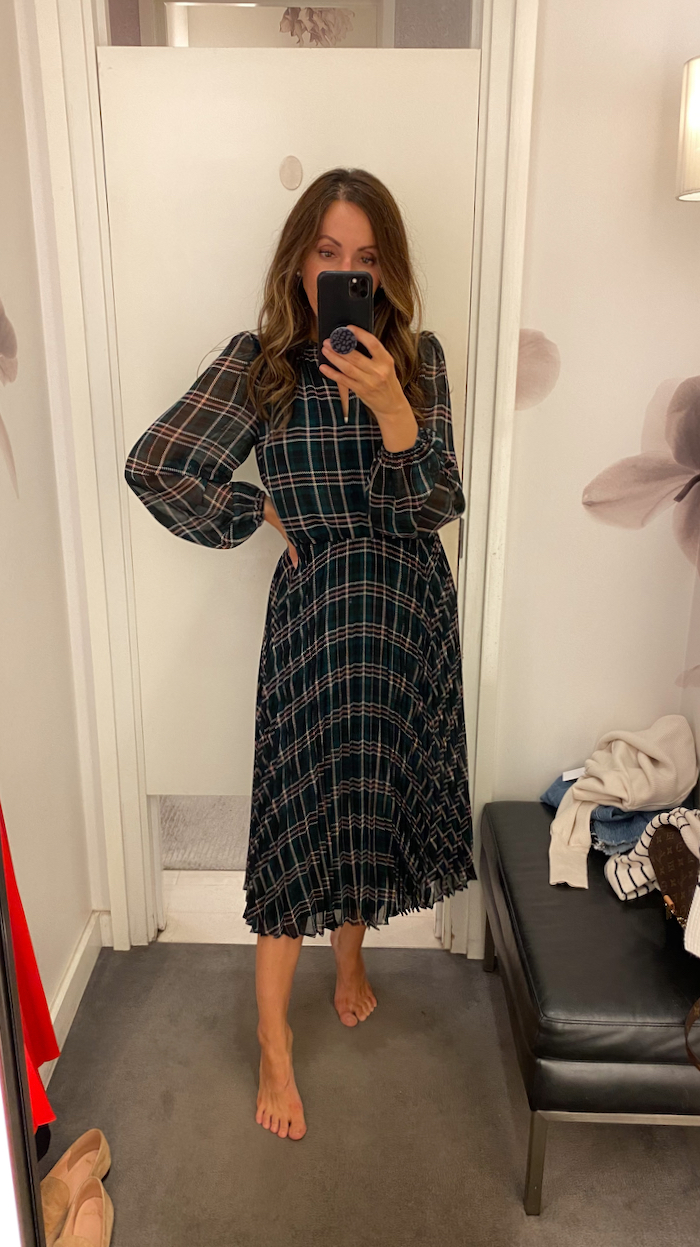 Tartan dress (size down)
Which pieces are your favorite?