Happy Tuesday!
Sharing some gorgeous pieces today and the best part – they're 50% off right now with code FRIDAY50. There are SO many gorgeous new arrivals (a lot of pieces are selling out fast, like the dress below…which I'm hoping will get restocked soon). Sharing some of my picks at the end of this post (I will try to narrow it down as there are way too many beautiful pieces).
I shared a peek of this dress on my IG stories yesterday and from the amount of DM's I got, you ladies loved it. One of the things I love about this dress is that it is not overly shimmery and it drapes beautifully!
This dress is perfect for multiple occasions – party, weddings and even the office. This gorgeous velvet clutch bag is the prefect addition to this dress and it is 50% off right now.
While you can wear the dress on its own to the office, it would look great paired with a blazer and a pair of nice knee high boots. For an extra touch of chic add a leather belt over the blazer (remove the dress belt).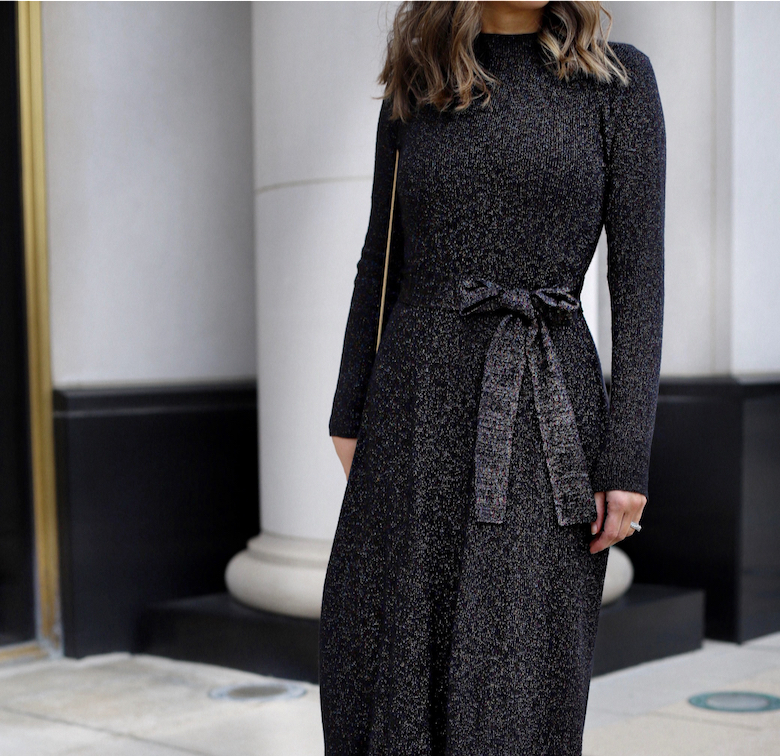 The red pumps add a nice touch of color (these are a few years old from Ann Taylor) but these red ones are fabulous too. Black pumps would be perfect as well and I'm loving these pumps (I have them in two colors and they're fab! They run true to size for me).
Shimmer Dress in XS (gifted) | Pumps (old from Ann Taylor) – loving these red ones and these. Great black option | Velvet Clutch
And an extra outfit…
While I was going to share this outfit in a different post, I don't want you ladies to miss out on this gorgeous sweater, especially since it is 50% off right now (it comes in black as well). I've already worn it twice and it is absolutely beautiful. I am always a fan of extra details on sweaters (as you might have noticed in my last Ann Taylor fitting room snapshots how much I love button details on sweater cuffs). For some reason every time I tried to upload this picture where the jewel buttons really pop, it reduces the quality. But you can get the idea – the jewel buttons are a beautiful touch.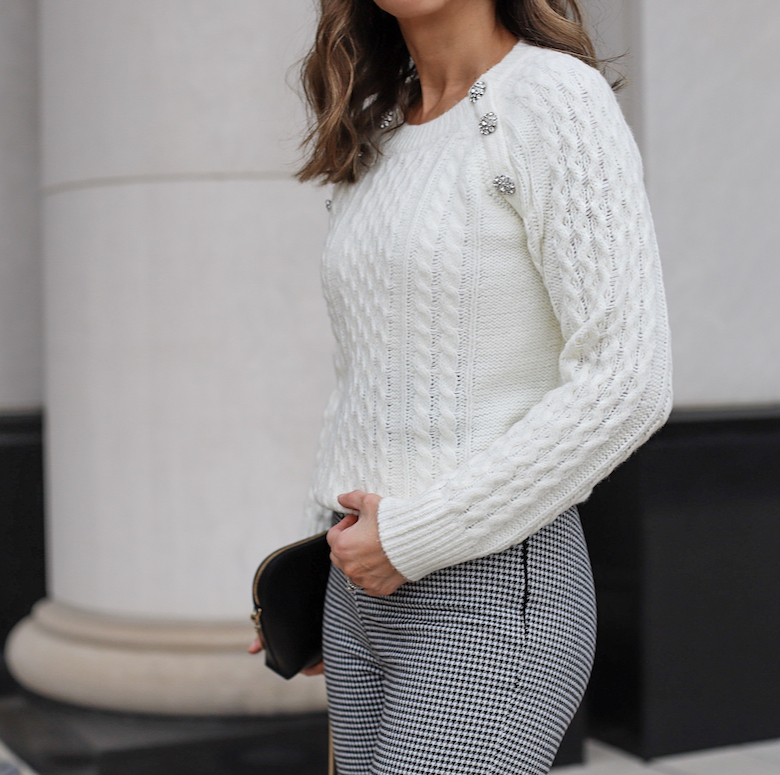 The side-zip pants (actually description says leggings but they remind me more of Ponte pants) run true to size for me. I'm wearing size 2.
Jeweled Sweater in XS (gifted) | Houndstooth Side-zip Pants in size 2 (gifted) | Black Pumps tts
Some of my favorite pieces:
Accessories:
ALSO, check out these 'Festive Finds' which are over 50% off (between $20 – $45).
I will be sharing some great Black Friday sales along with timeless picks…so stayed tuned for that.
As always, thanks for reading!