I've been on the hunt for a classic pair of ballet flats and the ones below were love at first sight. They were more than I wanted to spend but figured if the quality and comfort are there, I'd be all set until they fall apart. I decided to order my usual size, even though the site suggested going down a 1/2 size. I just received them the other day and they're beautiful. But sadly, they feel snug. Perhaps they would stretch out since they're leather and usually I'm willing to wear shoes around the house until they do, but these hit the "funny" bone on my right foot and when that happens with shoes, there is no stretching them out. It doesn't do anything. I'm so so bummed as they're gorgeous. Perhaps I will try to exchange them for a 1/2 bigger. A few of you purchased these when I shared them on my IG and if you read this, I'd love to know how the fit was.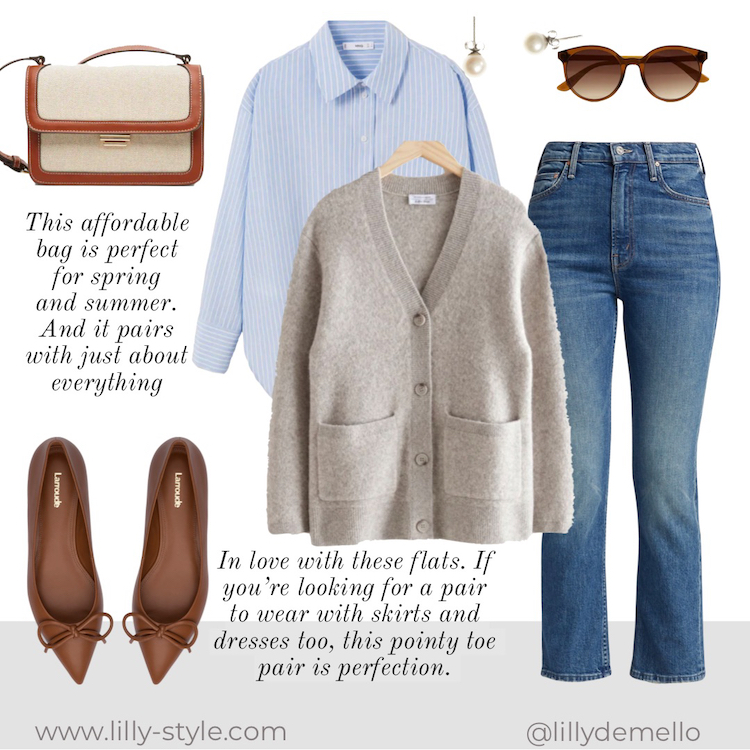 Crossbody Bag (have it and love it) | Pointy Toe Flats | Button Down – also love this linen option | Cardigan | Small Pearl Earrings | Sunglasses | Straight Leg Jeans
Even though I didn't need another bags, I did order the crossbody above. It looked perfect for spring and summer (even fall) and more luxe than it actually costs. It arrived and I love it! It will also be so easy to pair it with pretty much any dress once the weather warms up. I also ordered the sunglasses above, loved the color, and I'm pleasantly surprised how nice they are. Excited to add a few new pieces.
Is spring wardrobe even complete without a stripe sweater?! I know not everyone is a fan. You do have to feel like yourself and comfortable in whatever you're wearing, so no judging here. I, however, should not be allowed to buy any more striped tops. Of any kind. At all. Even though they're all different haha.
Mother Jeans | Stripe Sweater | Classic Flats | Classic Tote | Sunglasses (have them and love them)
Thanks for shopping by!