I placed a LOFT order yesterday and as soon as I hit 'place order' I realized I should have done the in-store pickup. There were a couple of pieces I didn't want to miss out on so I decided to make my way to the store and try them on to make sure the sizing is right. But then I just came home with more pieces. They really have some great pieces right now.
I'm wearing my sneakers with everything as I didn't want to be barefoot but at the end I gave up lol. And on a different note…I always seem to get the same dressing room…one that has been missing the overhead light for a very very long time. I feel like the lighting doesn't do justice to some of these pieces. I lightened up all pics but it can only get so good…
For sizing reference I'm size xs in Loft tops, size 26 in jeans and 0/xs in most of their dresses. 5'6 and somewhere between 125lbs – 130lbs for dress length ref.
I ordered this Floral Smocked Midi dress in my usual size. I wanted to try it on to make sure it fits tts (even though most of their dresses are pretty consistent in sizing for me). I feel like this one will sell out fast. It beautiful and looks pricier than it is. It's linked and it has pockets – two very important things. I would wear it with slides, high heel sandals and even just plain white sneakers and denim jacket for a casual look. I would have loved it even a bit longer on me. This dress is definitely a winner.
This Seersucker Midi dress is another one I ordered but wanted to try it on to see how it fits. It's a classic! It has pockets, it's fully lined and fits true to size. Love that this dress can also be easily dressed up or down.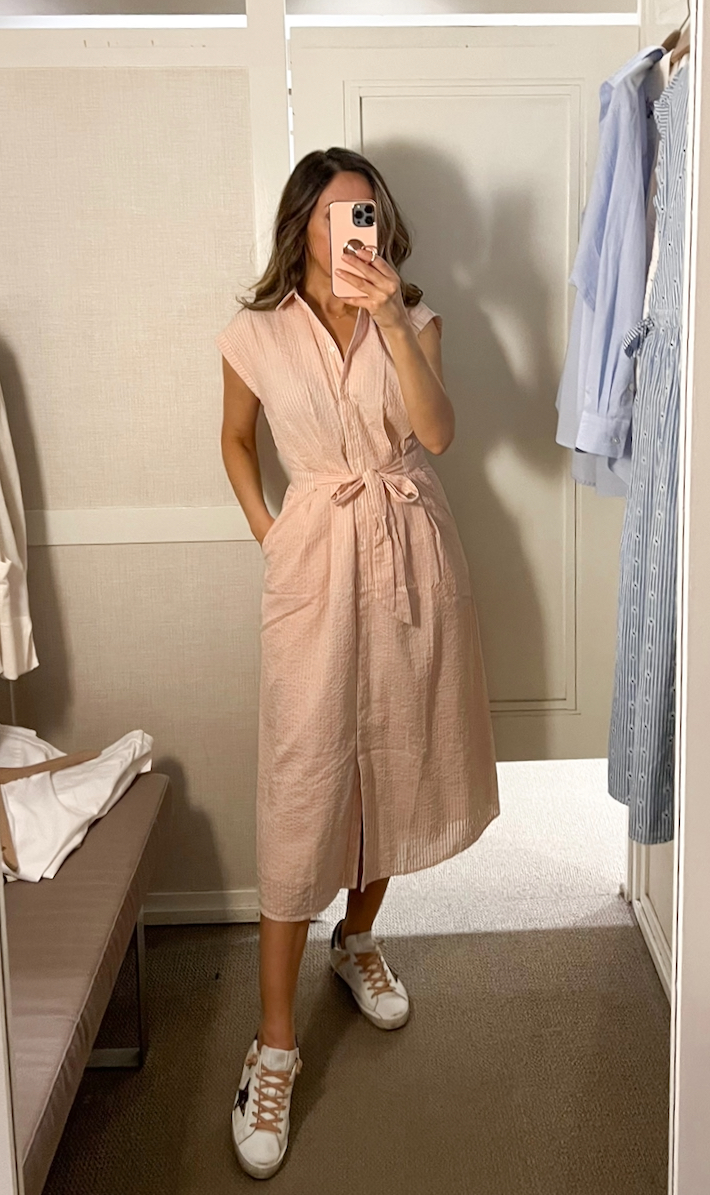 I almost didn't try this floral midi dress on but SO glad I did. It fits so well, drapes nicely and it's very flattering. It fits true to size. The print is more muted in person. All of the three dresses so far I would wear dressed up or down. Love how versatile they are.
This short sleeve midi dress would have been great if it was lined. The fabric is on the thin side and it definitely requires a nude bra and a slip. I had a slightly dark bra and it was visible. It has a side slit above the knees. But it does look very nice on and it is flattering. TTS for me.
This ruffle sleeve wrap dress is such a cute one for spring/summer. It's fully lined. Would look great with slides or high heel sandals. It runs true to size.

I saw this stripe v-neck cardigan online yesterday but for some reason didn't order it. Glad my local store had my size. I have a healthy obsession with stripes and this one is a winner. Classic deep navy/white combo. I noticed some reviewers made comments on the color of the strips. On my sweater they look a true deep navy. Wearing xs and it fits tts. Just the right amount of relaxed.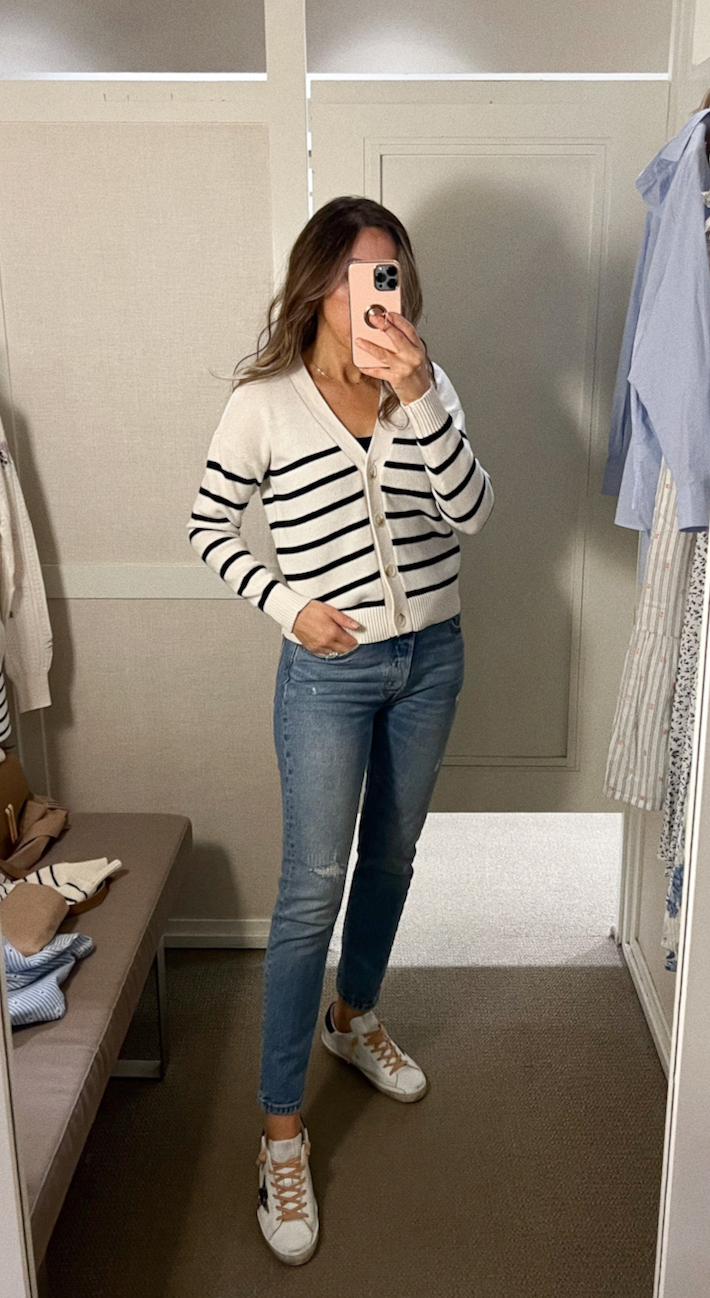 My jeans are Levi's 501 (this exact wash is old)
Another stripe sweater! I have one almost identical one but grabbed this one to try. Tried size small below as it looked on the smaller side. I would say this one runs a tad small. Definitely prefer the fit of size small. Xs would have been too fitted imo.
Love the style of these pants but the fabric was a tad thin for me. Borderline see-through. They do come in other colors and run tts. Not seeing them online for some reason.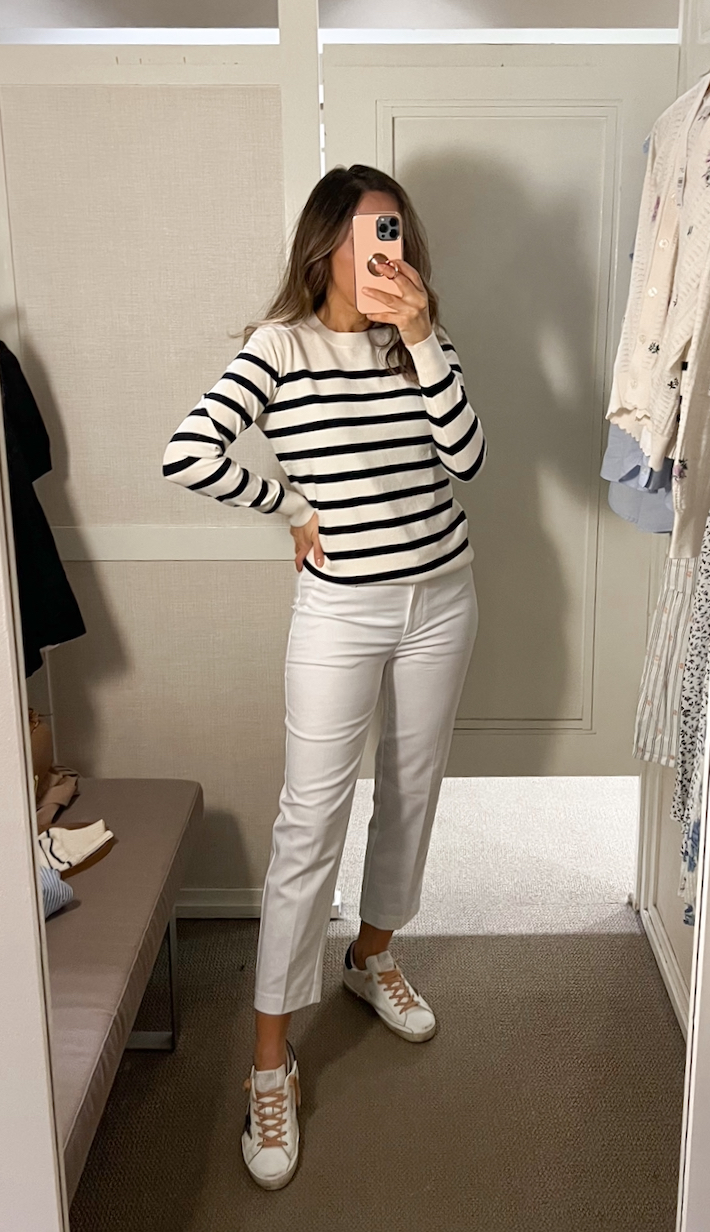 As soon as I saw this floral cardigan I knew it was coming home with me. It's not something I'd usually go for but I think it's the spring/summer mood kicking in. I immediately knew what my husband was going to say once he saw it. I was right! "My grandma has one just like that" lol. But he likes it actually. I've been wanting a cardigan with a mild floral print but each time I came across one they were already sold out in my size. This one was cute and at 50% off a no brainer (I know, it's not for everyone). Wearing xs below and it runs tts.
If you're looking for a nice striped blazer this one is very comfortable. It has stretch to it and the fabric is soft. It runs tts but at the same time it feels roomy. The sleeves are on the longer side. I'm wearing size 0 below.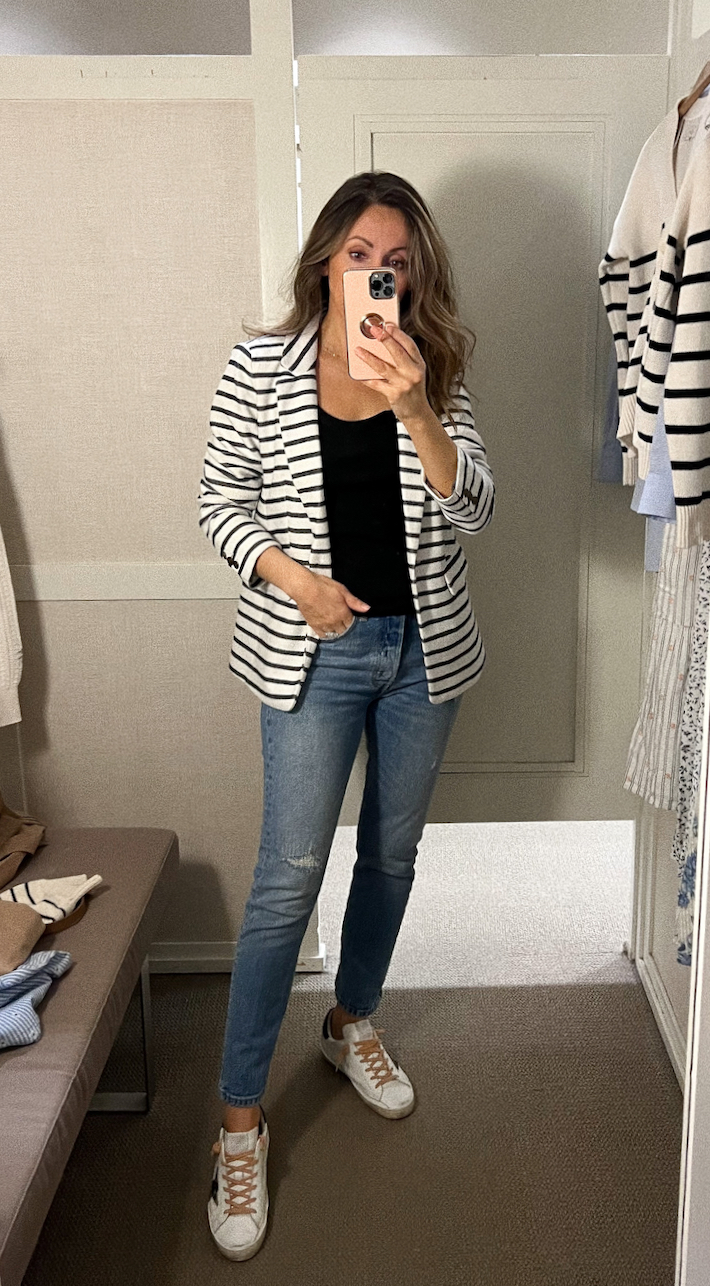 Just a nice basic tank top. Great under cardigans, blazers or on its own for summer. Wearing xs below. tts.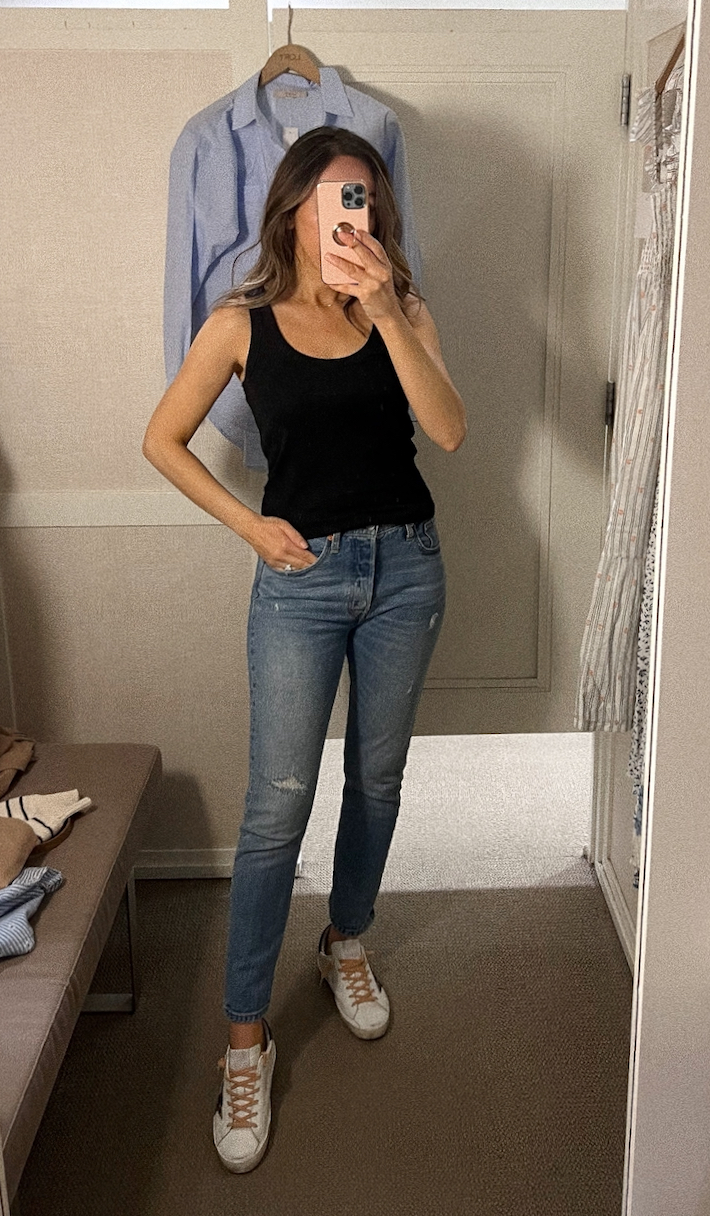 Tried this lacy tiered top in xs and it's a very very generous fit. I know this is the style but it was just a tad too roomy on the bottom. You can easily size down in this one.