Rounding up a few spring outfits outfits with links to everything. As always, as something I'm wearing is no longer available I will link a couple of similar items.
This cardigan has a beautiful neckline. One of the main reasons I purchased it is to wear over dressed thin strap/sleeveless dresses when necessary. It works with bottoms too but they have to be high-waist otherwise since the cardigan is on the shorter side (that is if you are wearing it buttoned). While it runs tts, I wish I had sized up just to add a tiny bit more length. It also gapes between the two top buttons fyi. But I'm still loving it. The cardigan has been a best seller. It is sold out at Nordstrom (I'm happy they carry some Mango items now). But last I checked Mango website had it fully stocked in this color (I got mine directly from Mango).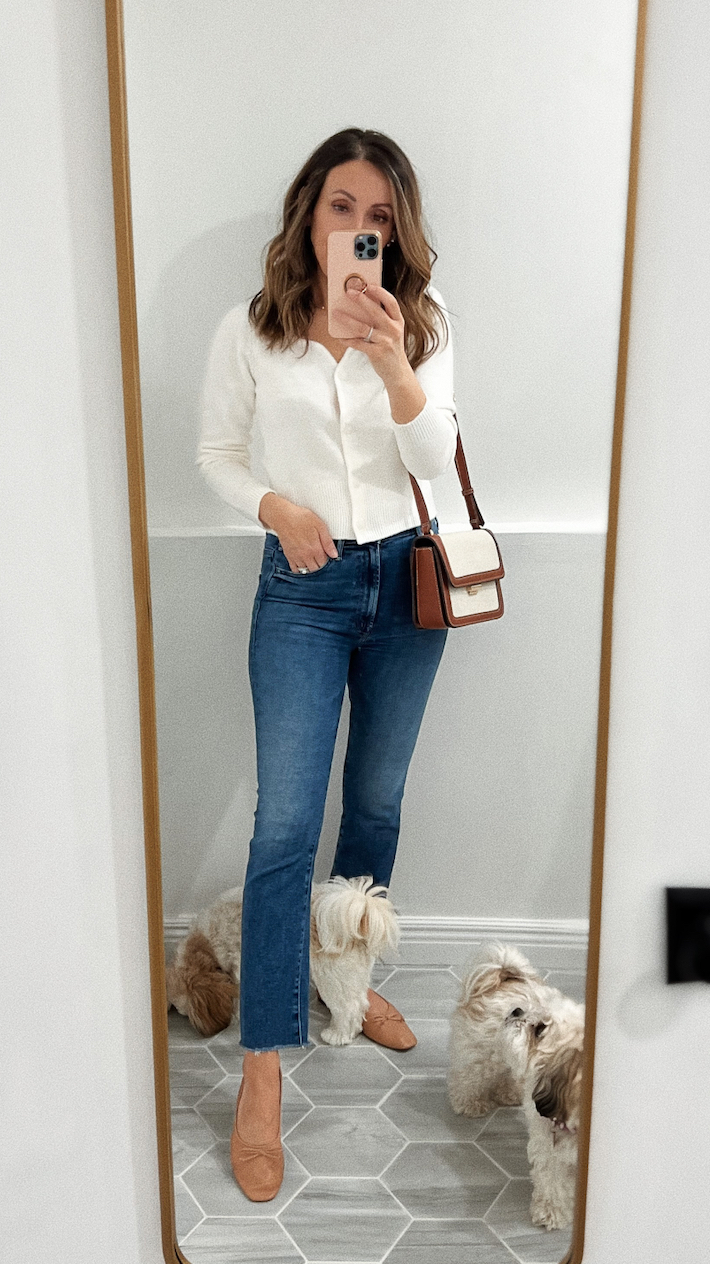 This is an outfit that I would repeat during spring as often as possible but also during fall. Timeless wardrobe staples!
Old Trench Coat – similar here and here | Cardigan | Mother Jeans | Nude Flats (tts for me) – another great option | Bag
Another repeat outfit. These jeans are only $25 and are surprisingly amazing.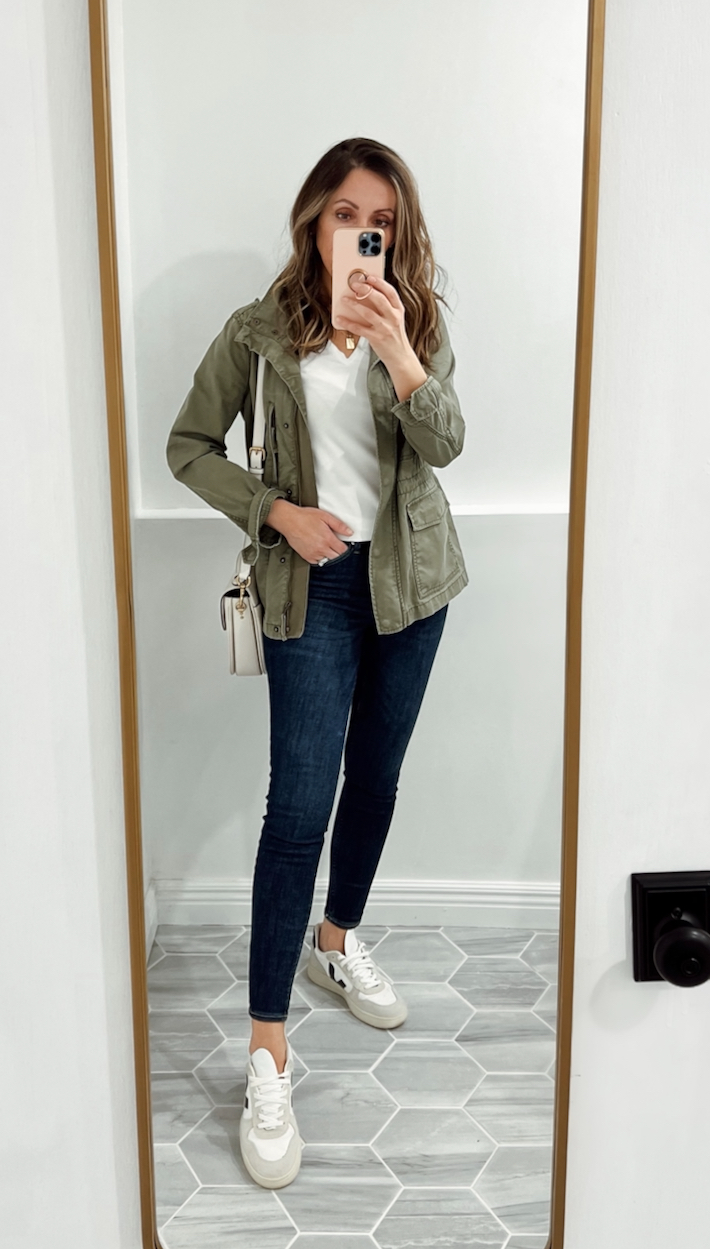 Utility Jacket in small – very similar in all sizes and also here for only $40 | Skinny Jeans tts | Veja Sneakers – also love these | V-neck tee (old) – similar here and here | Bag (old Coach) | Necklace
Love the color combo in this outfit. The stripe v-neck sweater has a nice relaxed collar and it's such a great piece that pairs with just about everything. I am wearing xs and it's a relaxed fit (you can size down if you want it less roomy). The only thing I don't love about this sweater is the split sleeve. Not a big deal when rolled up. Just a personal annoyance.
In a previous post I mentioned that these gorgeous flats felt snug. I did end up ordering 1/2 up because I absolutely love the color and style (and they look great with skirts and dresses too). A 1/2 up was a better fit BUT the back of the right shoes was hitting the "funny bone" which unfortunately is not something that can be fixed with a different size or anything else. That's why a good amount of shoes don't work out for me…it's was too painful. With that said – everyone's foot is different and hopefully these will work for you. I do 100% disagree with their suggestion to go down a 1/2 size. If anything stick to your size.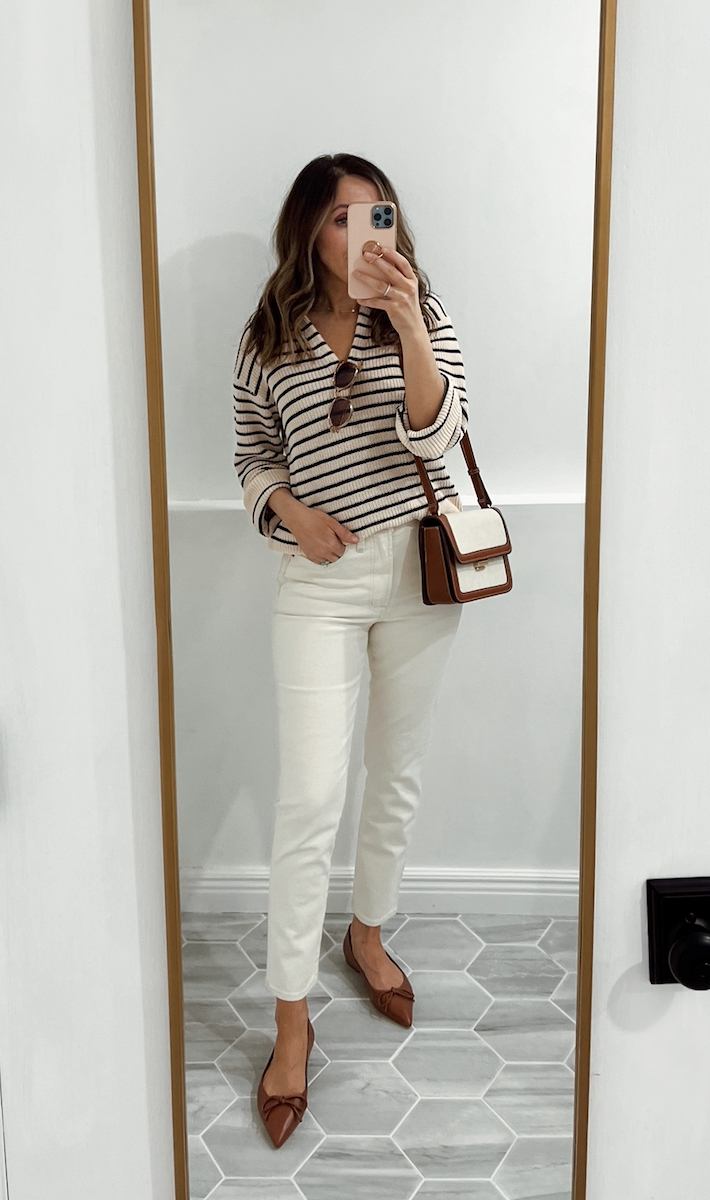 Madewell Jeans (tts for me) – similar for $40 | Stripe Sweater in xs | Pointy Toe Flats (tts but size up for wide feet) | Bag | Sunglasses
Simple outfit for some errands. I find that Patagonia jackets runs small. I have to jackets and two zip ups and they're all in size small. One of the things I loved about this jacket is that it is packable – it fits into its own pocket. Great for traveling too. This is also a great affordable option that comes in ton of colors.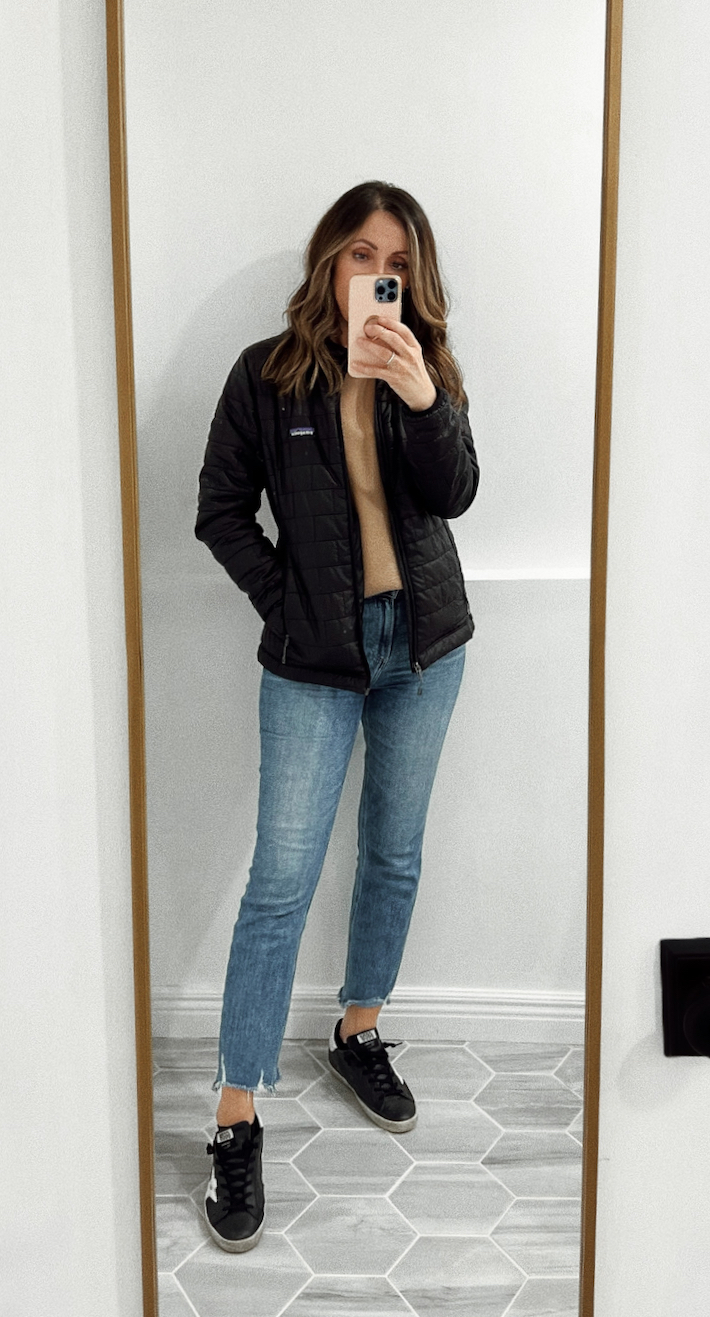 Patagonia Jacket in small | Paige Jeans tts (I'm 5'6 for length ref.) – here from Saks, here from Shopbop | Cashmere sweater in small | Golden Goose – here too
J.Crew has brought this cardigan back but in two other colors (not sure why not in this one since it has sold out so many times). But I found this almost identical option (I tried it a few years ago and it fit like a roomy small. Not sure if they have changed anything since). It unfortunately doesn't come in xs.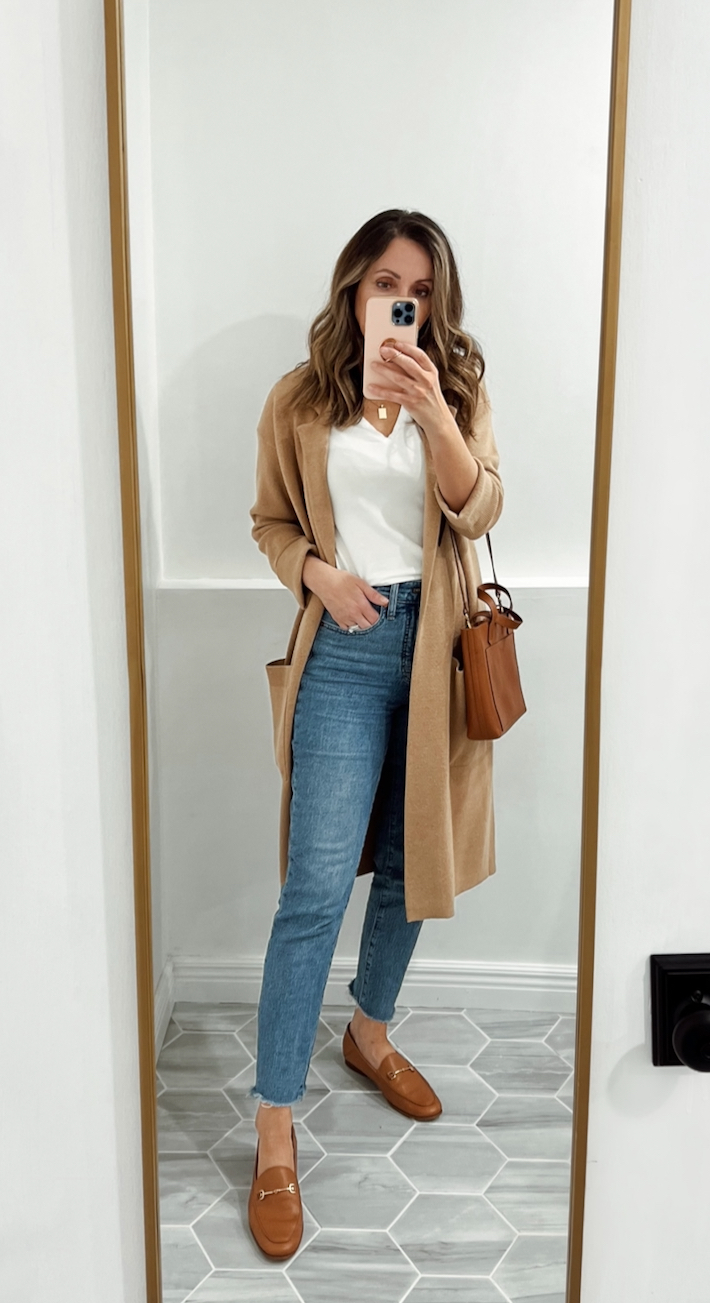 Madewell Perfect Vintage Jeans (tts for me) | Sam Edelman loafers tts – also here | Cardigan in xxs (in two other colors) – similar | Leather Tote | Necklace
Grabbed this stripe cardigan recently in xs. I noticed some reviewers commenting on color… This is my take on the colors – the cardigan is white with very deep navy stripes. In dingy lighting it looks black but in bright light is a deep navy. Either way it is a fantastic cardigan.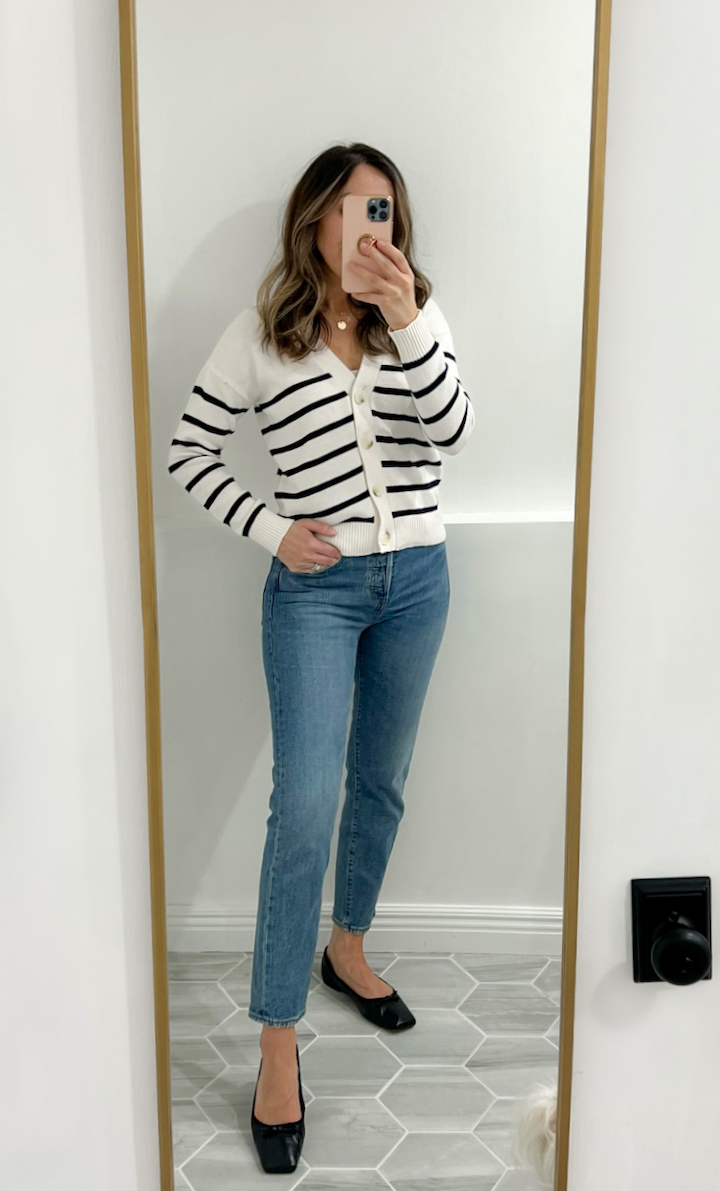 Levi's Wedgie Jeans tts for me | Stripe Cardigan in xs | Black Flats tts
If you have any questions on sizing or anything else, feel free to leave a comment below.
Thank you for stopping by!