Sharing LOFT and H&M try-ons. Make sure you scroll down for H&M try-ons because there are some great pieces.
This gingham skirt was one of those pieces that I almost didn't try on but I'm SO glad I did – I love it!!! It's such a great skirt for summer…and it makes me want to book a vacation lol. I'm wearing size 2 below. It has a bit room in the waist but I don't think I would size down. I love it paired with this sleeveless sweater tank, which runs tts (wearing xs).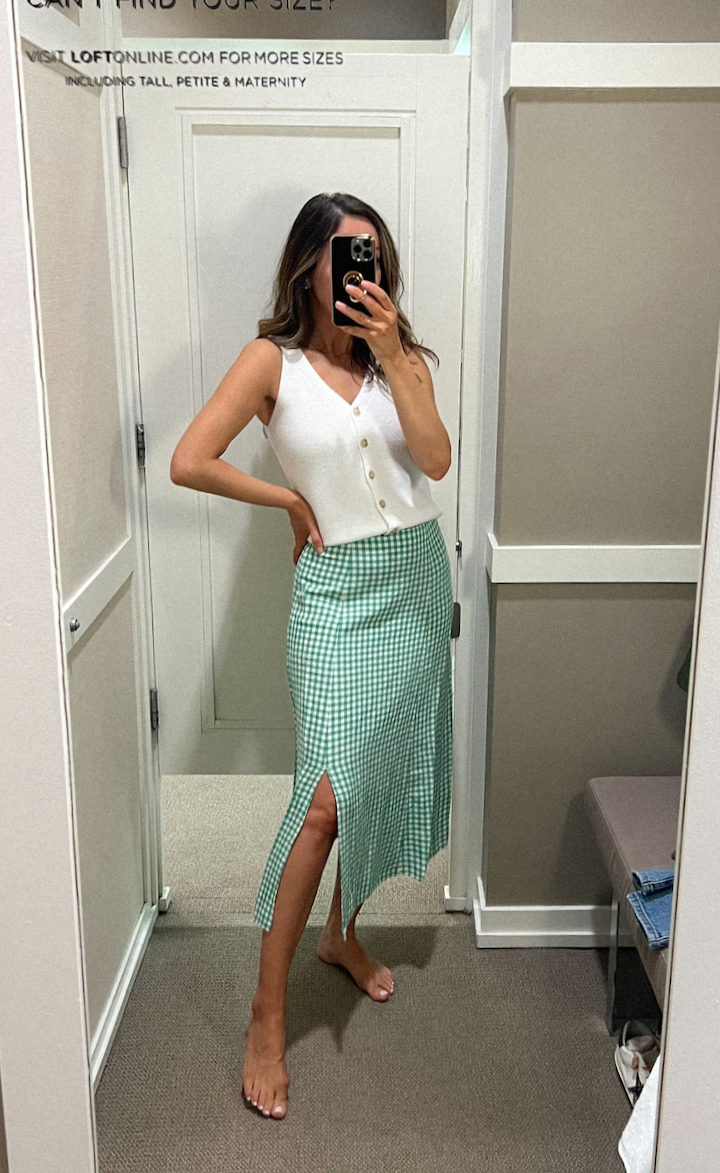 Gingham Skirt tts | Sleeveless sweater tank in xs
Another look at this pretty button sweater tank which looks great paired with jeans too (comes in two more colors). Such a cute piece!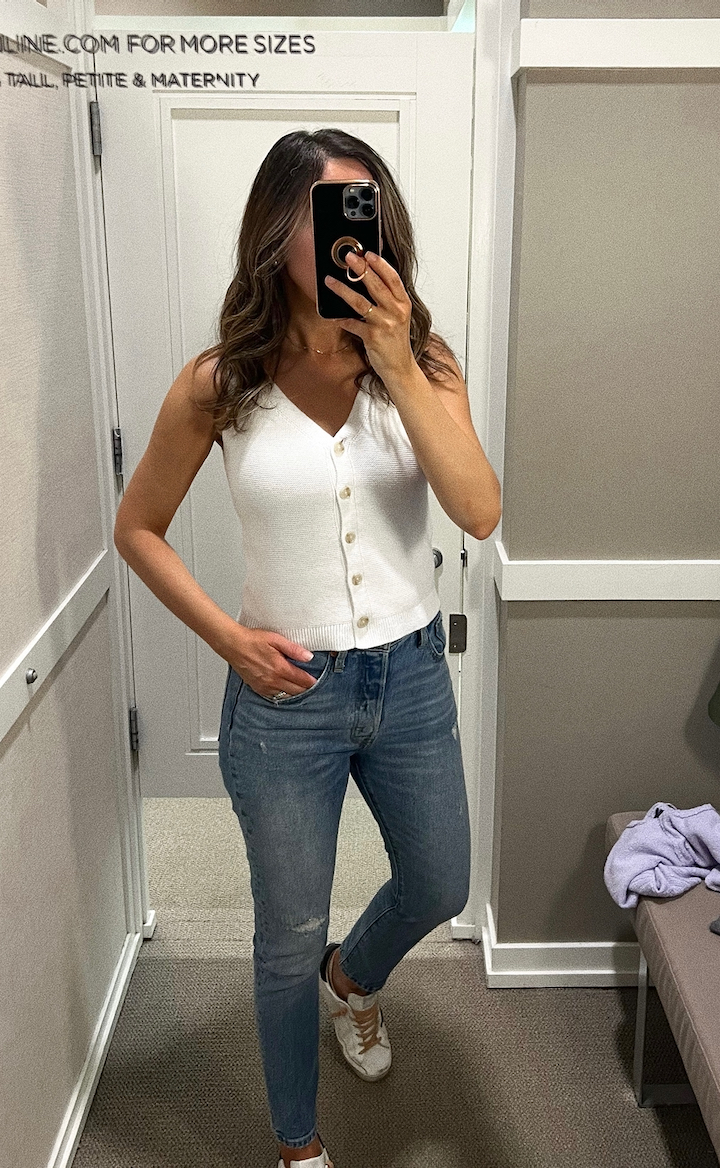 Levi's 501, another great option (exact style is old. I sized up)
Another top I loved – this striped sleeveless polo knit top (looks even better in person). Such a nice summer piece that would look great paired with white jeans or shorts. Wearing xs below but ended up getting small as the xs felt tight (even though it has stretch to it I just didn't like the way it felt). Much happier with size small.
I love wide leg pull up pants. I have a few pairs and they're my go-to during warmer months when I want to wear pants but it's too hot for jeans. These are great and run tts.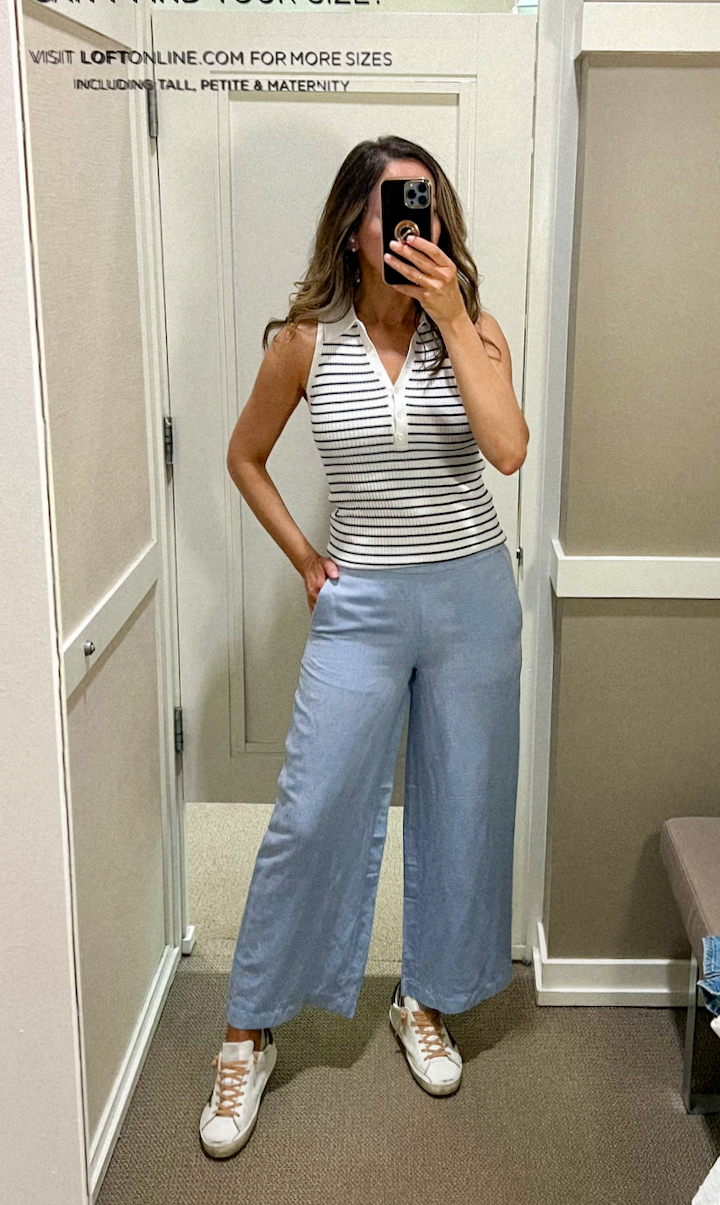 Striped Polo Knit Top | Wide Leg Pants
Another look at the top with jeans.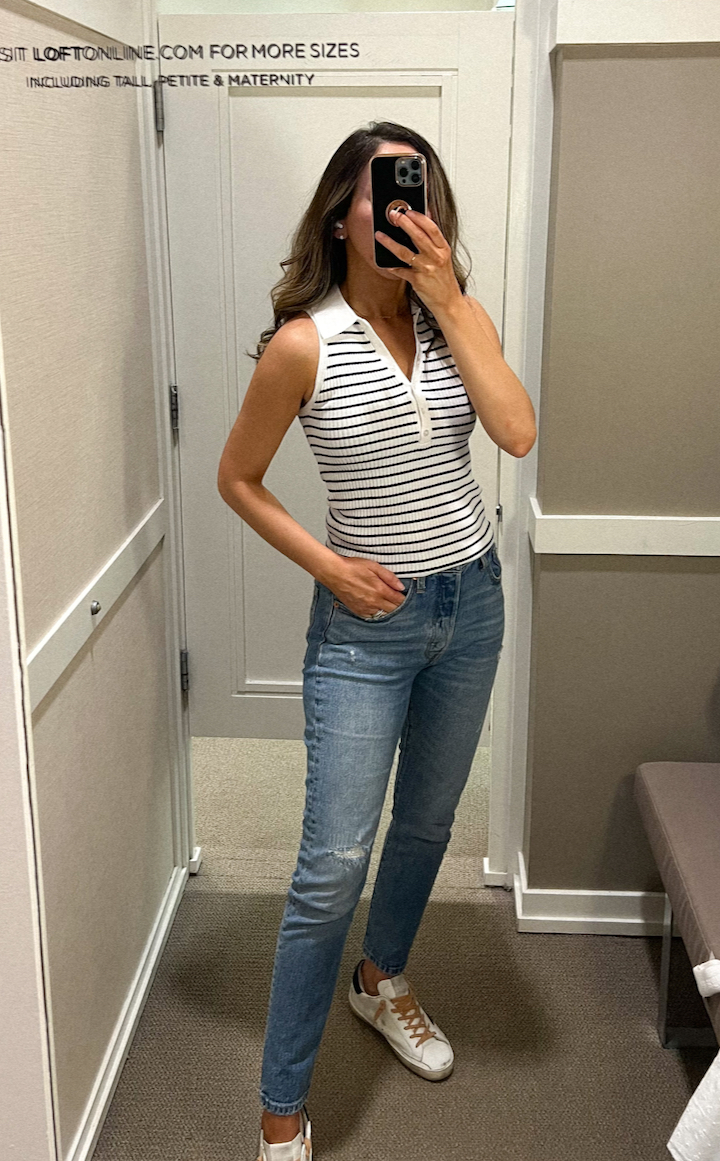 Another piece I didn't think I would like but ended up loving is this gorgeous dress. I saw this print as I was walking out but they didn't have my size. I love it even more so will order this one. I love the style and fit – so feminine. Wearing 0 and it fits me tts. This dress also comes in black floral print. The dress is thin, which will be wonderful for summer months. Not sure if it's sheer in the sun though but I would just add a slip.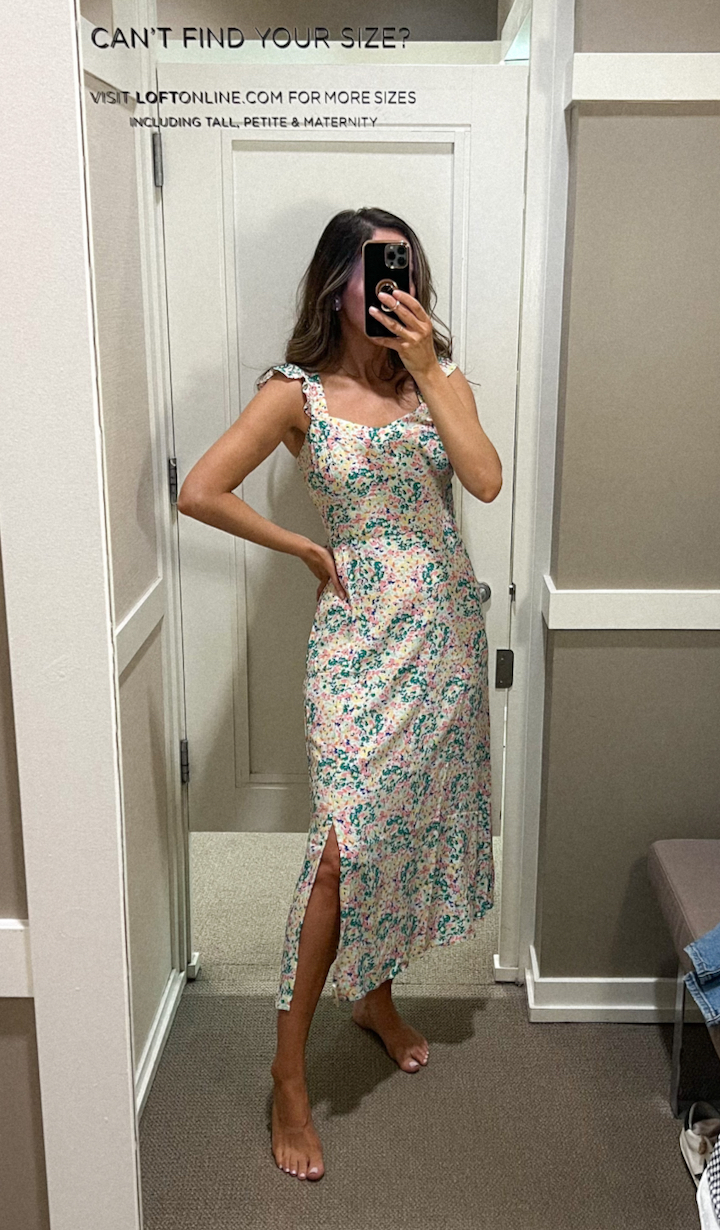 Floral Midi Dress tts
I thought this was a nice classic gingham dress….until I saw the back cut-out. I just personally am not a fan of cut-outs like that on myself. Other than the cut-out this dress is lovely. It drapes nicely and it has pockets! Runs tts.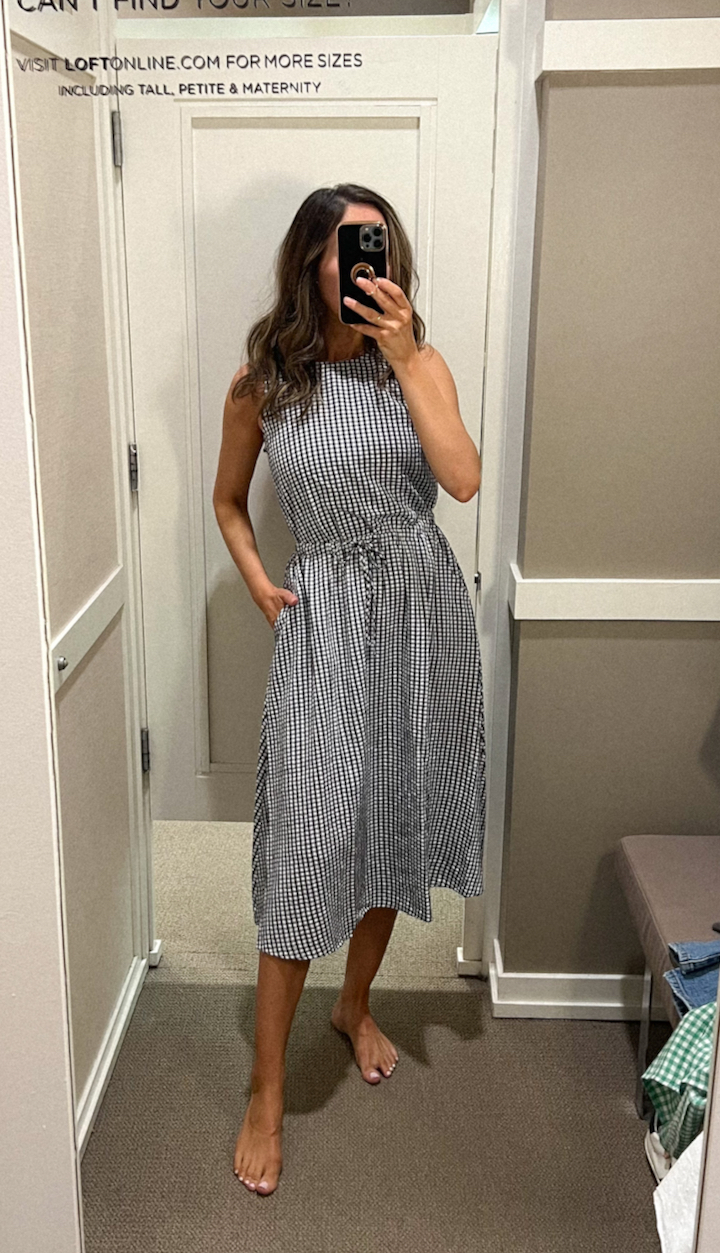 Gingham Back-Crossover Midi Dress tts
This midi wrap dress has a big design flaw. The front bottom part of the dress is not lined leaving a see-through section on the side of entire right leg… where it overlaps.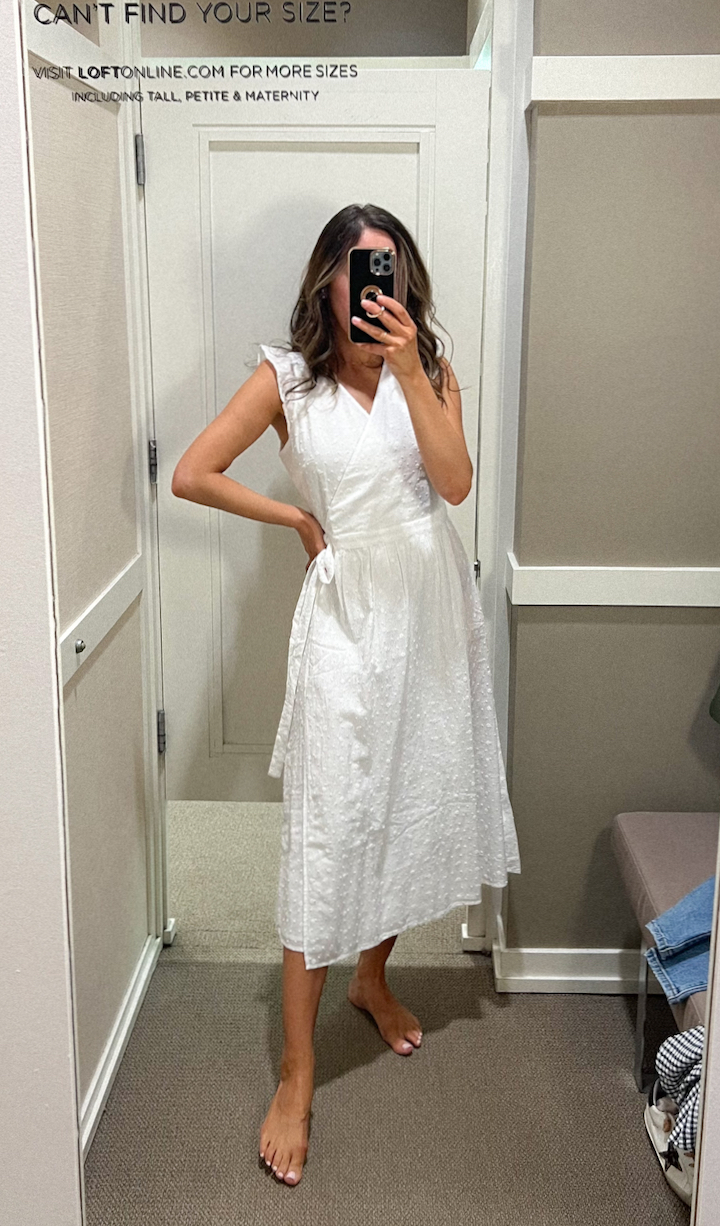 White midi wrap dress tts
I have a few linen button down shirts but had to try this one… Wearing xs below and it's a relaxed fit. Comes in white too.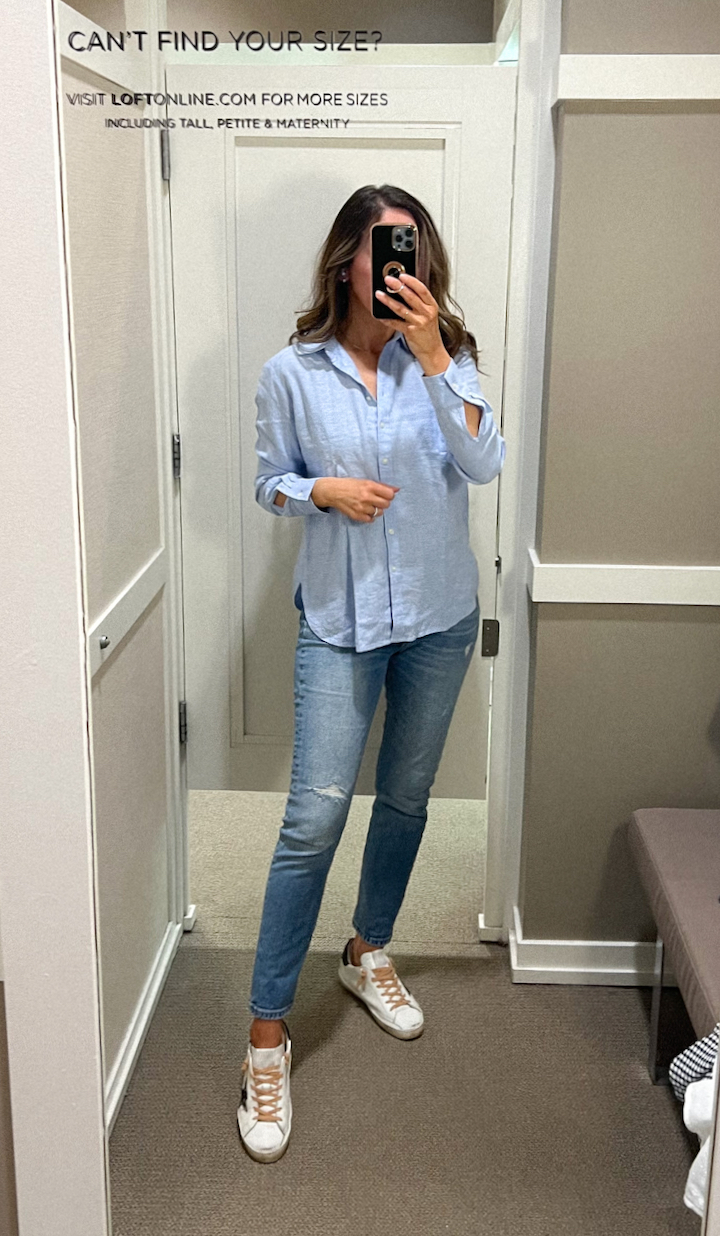 Linen Blend Button Down in xs | Levi's 501 (exact style is old). I sized up | Golden Goose
---
This classic dress is a winner! And it's affordable, light, drapes nicely (it's missing pockets sadly). It comes in black and leopard print as well. This one will sell out fast. I'm wearing xs and it runs tts. The sandals are another piece I fell in love (I guess today I've been falling in love with a lot of pieces). But the color and style are perfect. Low heel, perfect neutrals that will pair with everything. Can't wait to wear this outfit next week (warm temps are headed our way).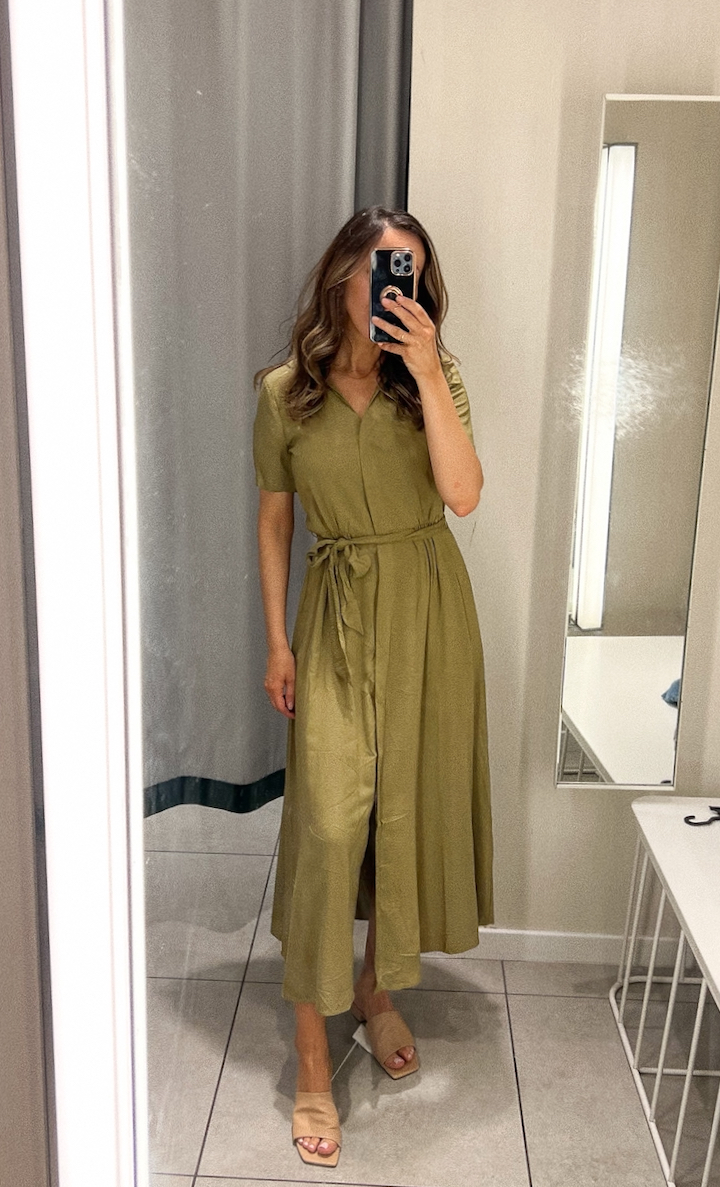 Button Midi Dress in xs | Nude Sandals
This linen blend blazer is is a relaxed fit but for me personally it felt a bit tight in the shoulders when I moved my arms forward (fine with my arms down). Great style otherwise.
This smocked dress is such a steal! I have it in a different print from last year and it's a great light-weight summer dress. It looks pricier than $18! Runs tts.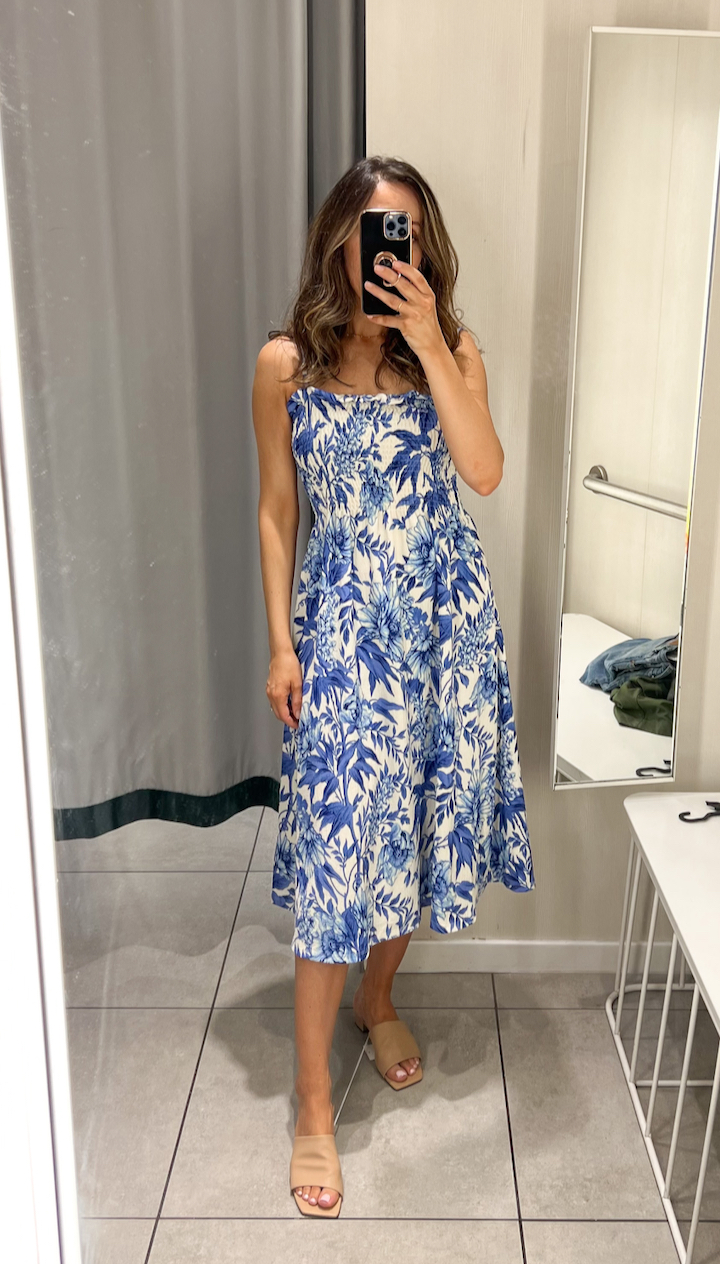 Smocked Dress comes in black and solid light blue
I am a little bummed that this sweater was a tad loose in certain places. I tried xs below. Some might not mind the fit but I'm very particular about square neck tops. Can't seem to find it online, guessing it's sold out, but here is a similar one.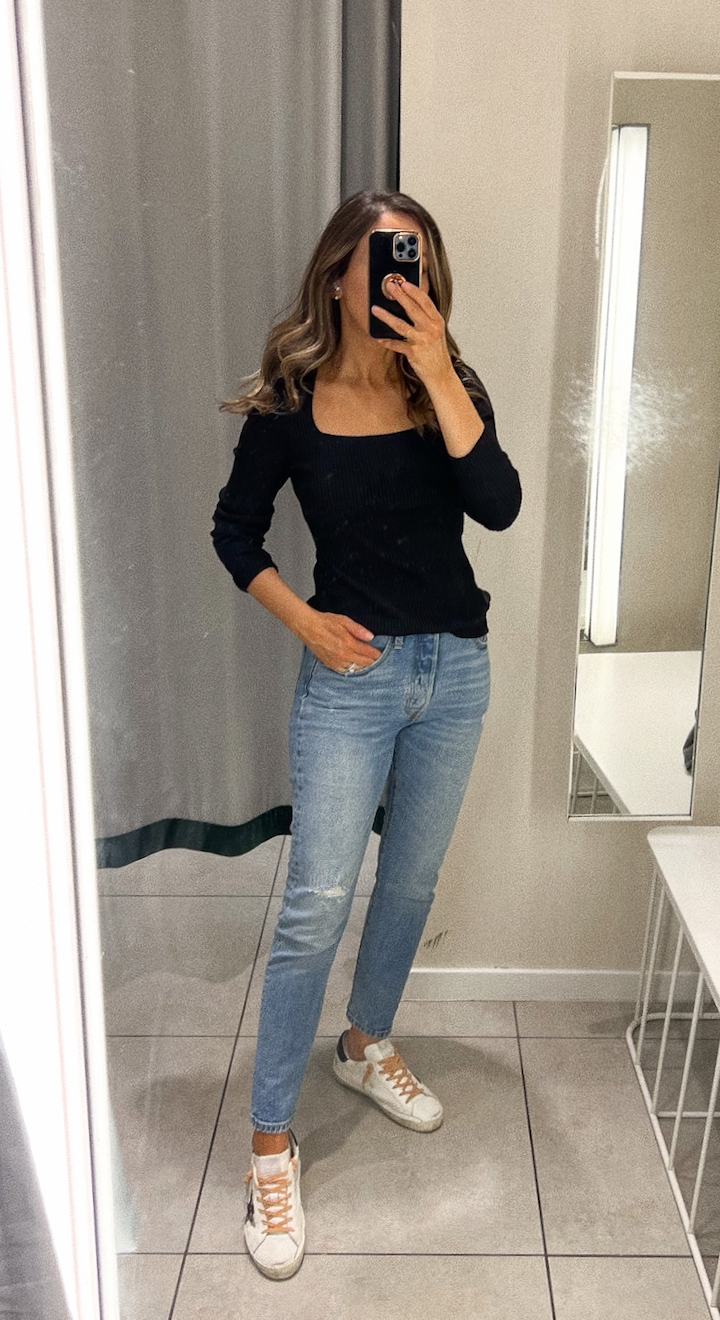 Which pieces are your favorite?