Madewell is running an amazing sale – 30% off your purchase with code HEATWAVE. I rounded up some favorites from new arrivals favorites here.
Just above the 4th picture I'm talking a bit more about 'Perfect Vintage Jeans' sizing.
This embroidered dress…so pretty. I tried xs below and it fits tts. The straps just seem a smidge long for me but that is an easy fix. It's lined and has pockets!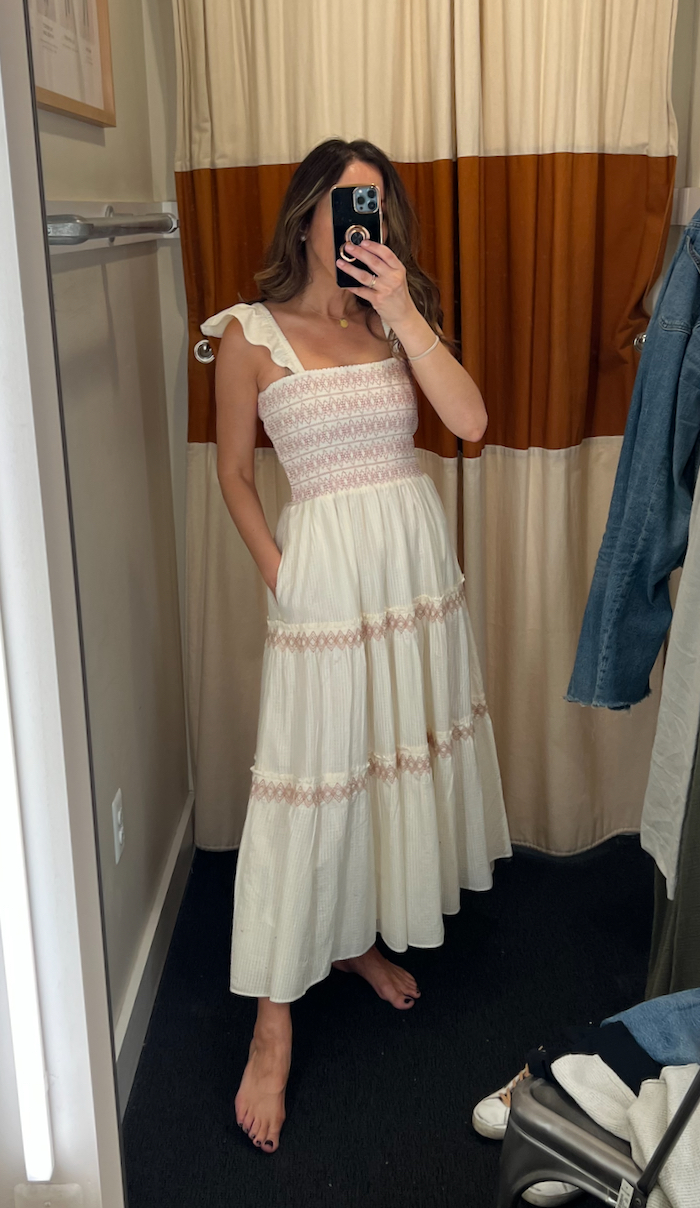 Embroidered Dress in xs
The store had this dress only in xxs. I decided to try it on as sometimes Madewell dresses run big. It fits! Xs would have been fine too I think, maybe just not as fitted in the waist. Perhaps it also works because I'm smaller on top. It's on sale + extra 30% off. It also comes in black.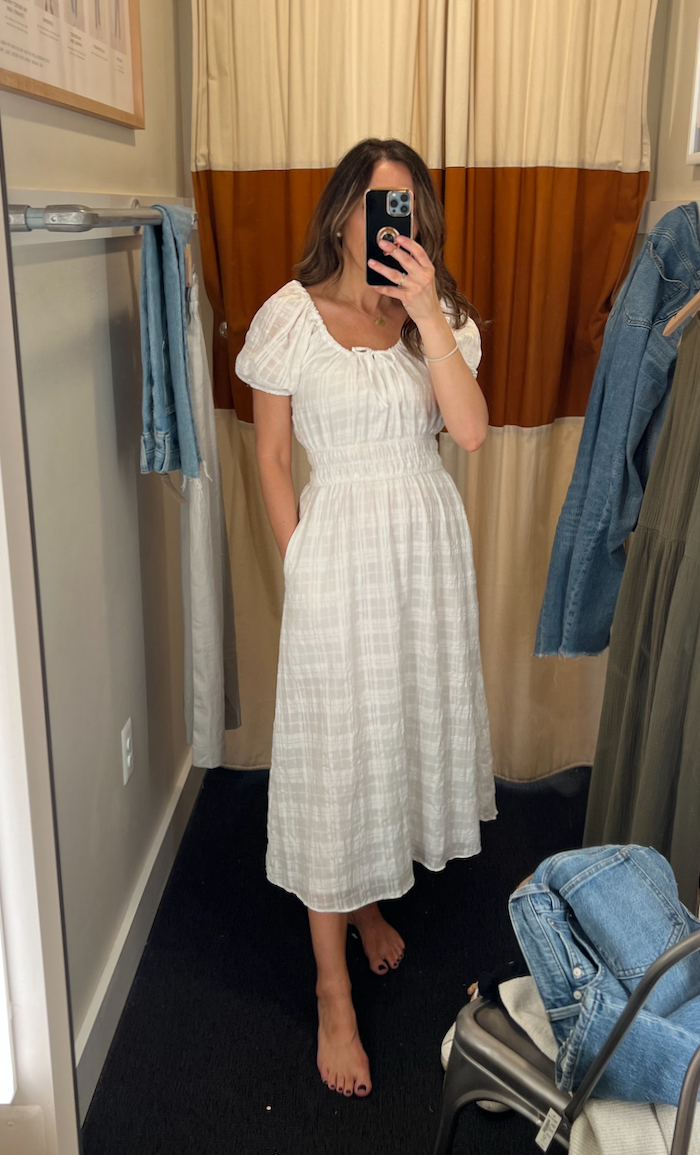 White Midi Dress
This cotton dress is perfection for summer…soft, lightweight and breezy. It's one of those dresses you'd want to live in because it's so comfortable. The store didn't have xs so I tried small, hence why I'm holding it in the back. Definitely way too big. Might need to add this dress to my wardrobe. Based on reviews I would order my size and a size down to see which fits better. It's such an effortless and timeless dress.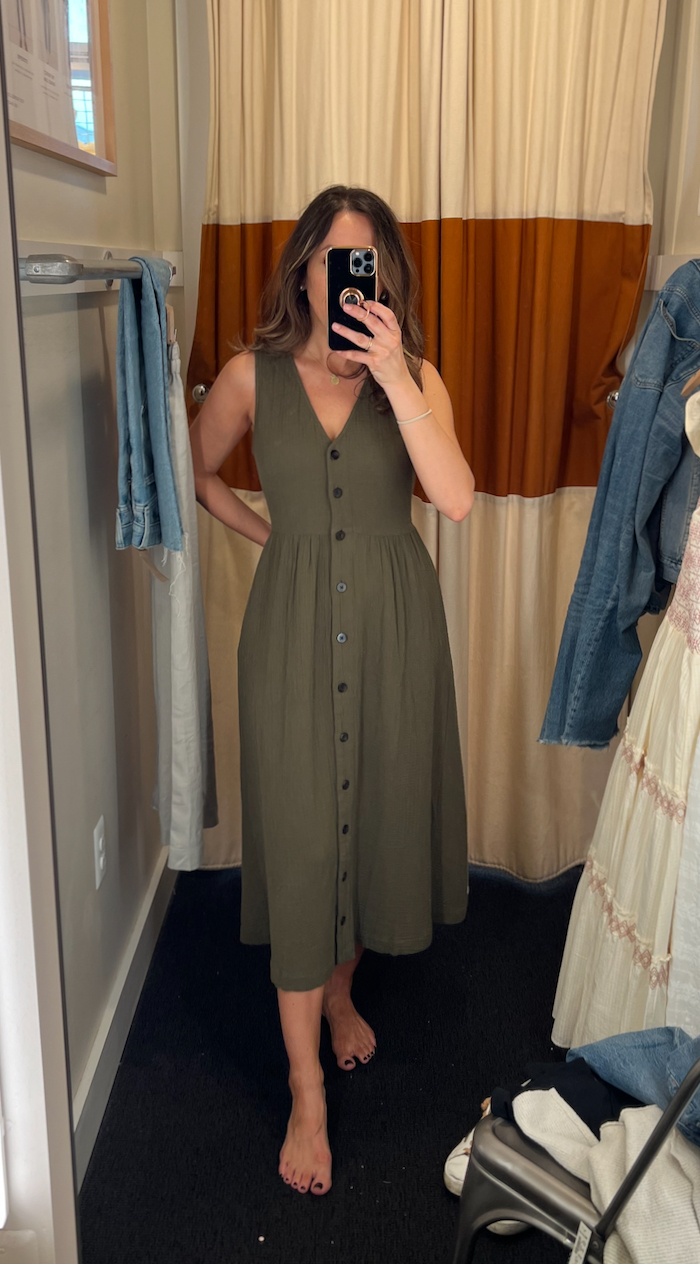 Cotton Button Front Dress
SIZING OF 'PERFECT VINTAGE JEANS' – this is my favorite style of jeans at Madewell. As I've mentioned in a few other posts, I have a few pairs, all in same size. While they all fit tts for me the fits are not the same. Some seem to be more fitted, some a bit more relaxed (straight leg). Let's talk about this pair below. I already have this pair in my regular size, 26. They get mixed reviews on sizing so I wanted to try 25. They fit but tighter and suck me more in. Size 26 is way more comfortable with room in the waist. I do like the more fitted look of the 25, but there is no room in the waist (I like the 'suck-in' part of the mid section though). Because my sister wore my size 26 and fell in love I gave them to her. I decided to get this pair in size 25 only because I have this raw hem pair (which is pretty similar) in size 26. For me the sizing in these comes down to how I want them to fit. A bit more fitted or relaxed (and they're way more comfortable in my regular size). Even my sister made a comment how comfortable they are. With that said – if you're in between sizes definitely size down. Otherwise, stick to your size if you want a bit more relaxed fit and size down for a more fitted fit. But also, check out the reviews on the two styles jeans mentioned here.
Both of the jeans mentioned above are high-rise. If you prefer mid-rise try this pair which are just as fabulous.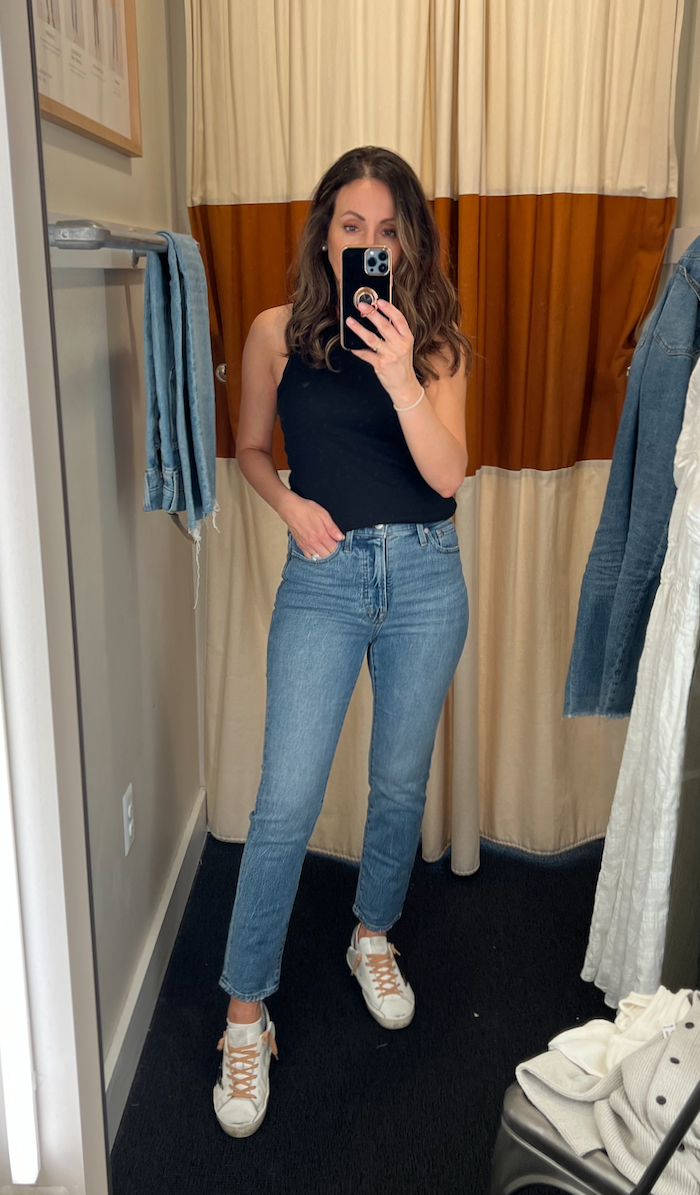 Black Tank Top (avail. in more colors) tts | Jeans
These jeans I tried in my usual size 26 and they fit tts.
Blank Tank Top | Distressed Jeans tts – on sale + extra 30% off
I loved this tee (comes in several colors). They didn't have xs in store, tried Small below. Roomy which is not bad but the arm holes were to big making the bra way too visible. I'd probably wear a bralette like this one though but still size down to xs (love these bralettes).
Linen Blend tee | Jeans (same as above)
Looks flattering tucked in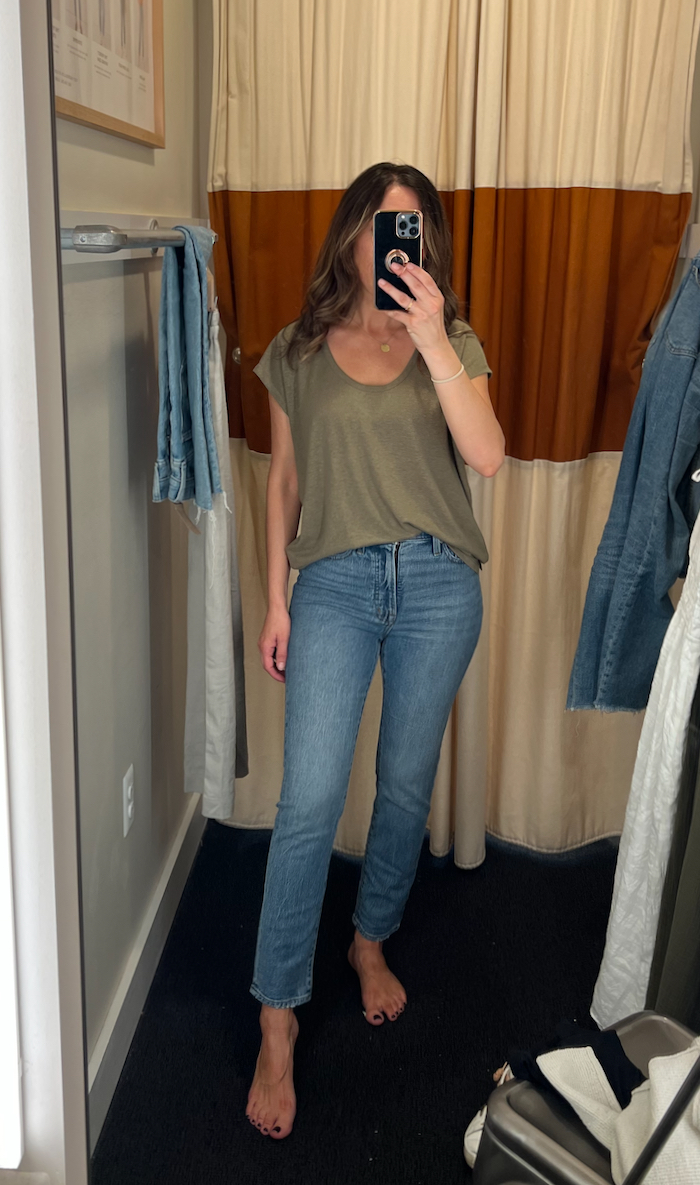 Linen Blend Scoop Neck Tee in small | Jeans
I tried this top in size small and it fits great. I would say this one runs a bit small only because there would be button gapping with size xs. It's on the shorter side but works just fine with high waist bottoms. Pants are a linen blend and very comfortable. TTS.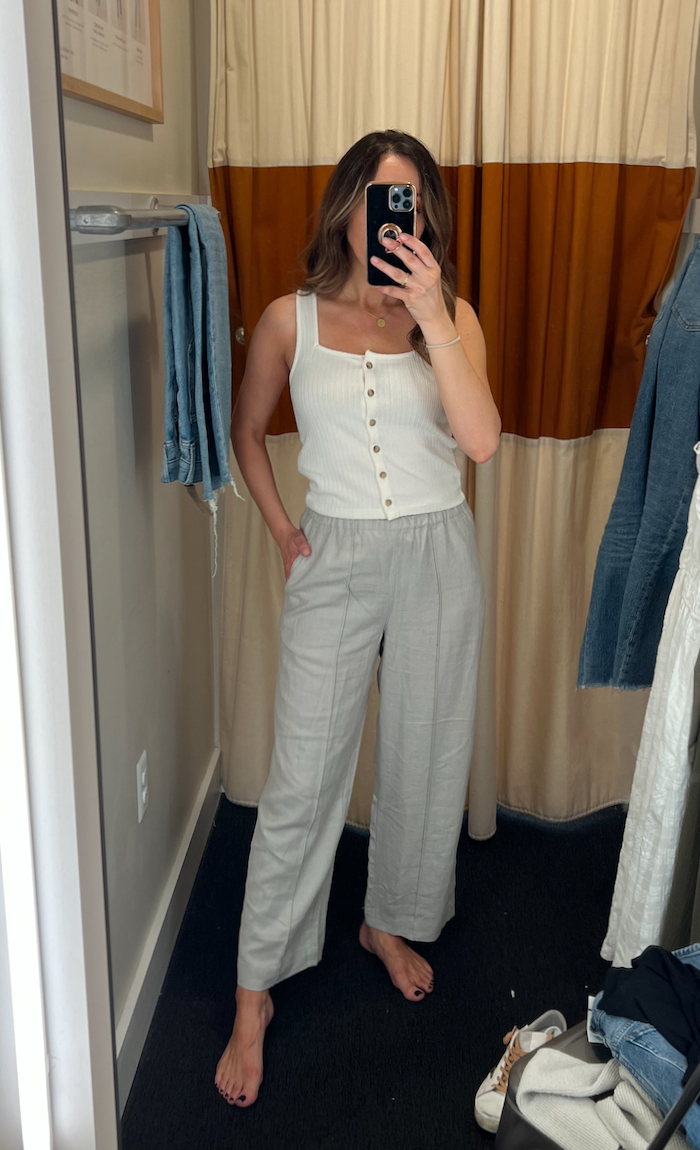 The top look great with jeans too.
Ribbed Button-Front Top | Jeans
Loved the cut of this cardigan…so flattering. Also the black buttons against this color was a good call (the cardigan comes in two more colors). Wearing xs below but wish I would have tried small just to compare. I would pair a white tank with this and shorts for summer (cooler summer evenings). Perfect for over dresses too. Love this one!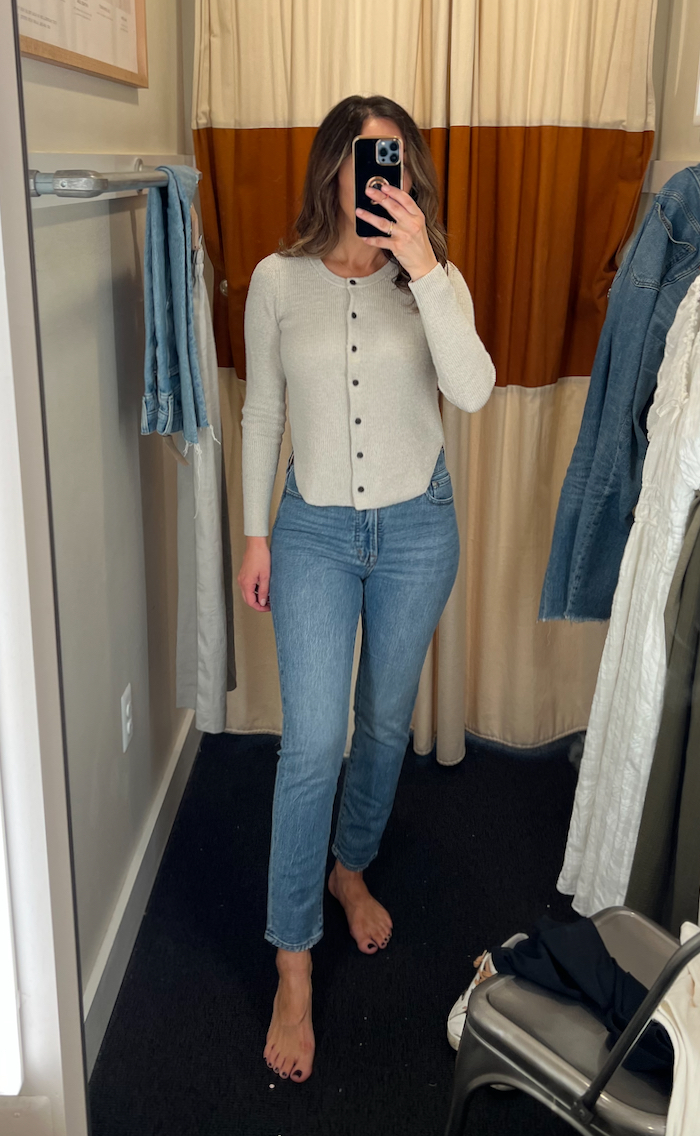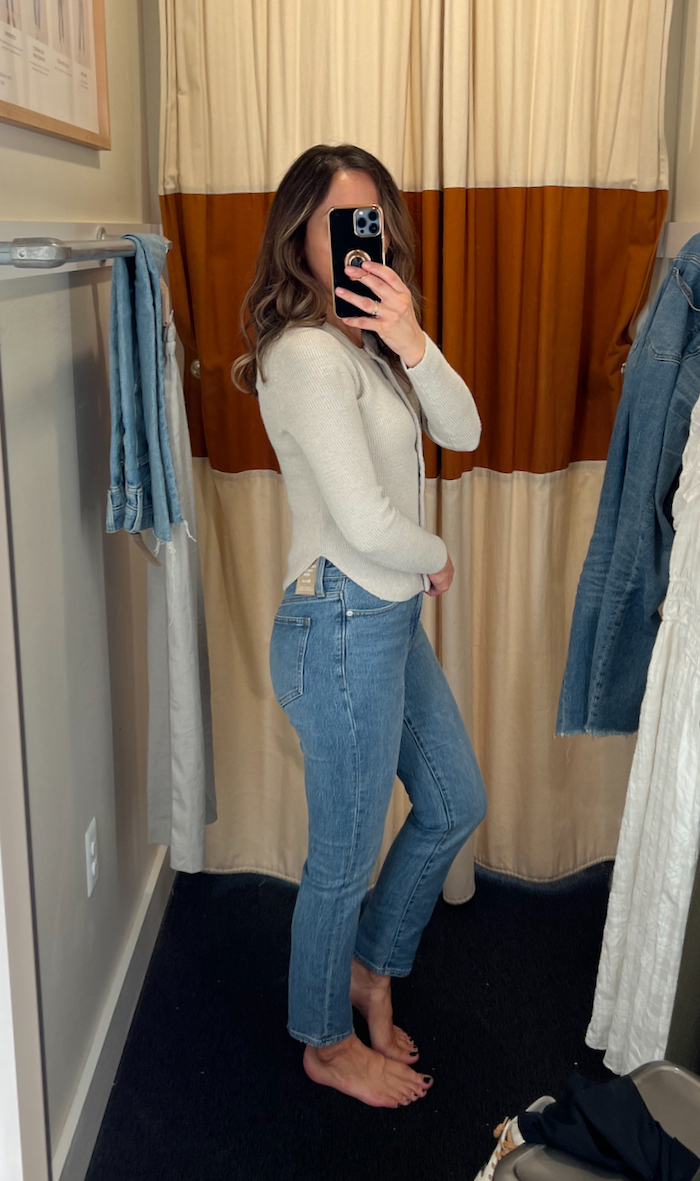 Cardigan |
Dresses:
Jeans:
Misc:
I will be rounding up Memorial Day Weekend Sales so stayed tuned for that…