Sharing five outfits below with some wardrobe staples, actually mostly wardrobe staples, that can very easily be mixed and matched. Almost all the pieces below are the pieces I would pack for a vacation.
Easy, effortless outfits will always be my favorite. They are the type of outfits I feel the most comfortable in and me. And you can never go wrong with simple, timeless pieces.
I've talked about the jeans below on many occasions and they're one of my favorite pairs and very comfortable. The Birkenstocks are a new favorite addition. Love the look of them SO much! The black/gold combo is major chic. This cognac/gold pair is a second favorite. I was scrolling through this page and the colors they have are beautiful. The black bag below has been on my wishlist for quite some times and it's still sitting in my cart lol. I just need to stop buying bags…even though the black one is timeless.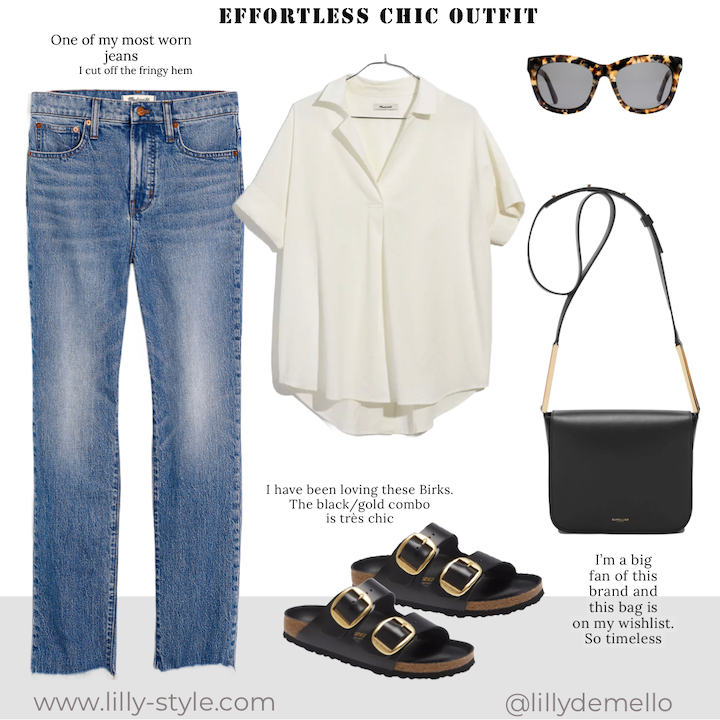 STRAIGHT LEG JEANS | COURIER SHIRT – another great option | BIRKENSTOCKS – fully stocked! | SUNGLASSES | BLACK CLASSIC BAG – also here from SAKS
Absolutely love the linen pants below! They're such a timeless staple…very easily be dressed up or down. The outfit with the sneakers makes me want to book a vacation to France lol. Actually both outfits below are very French-chic. The pants would look amazing paired with espadrilles as well (the linked pair is my favorite. Very comfortable!).
WHITE TEE | STRAW TOTE | SNEAKERS | LINEN PANTS | SUNGLASSES | RIBBED SILK/CASHMERE TOP | CAP TOE SLINGBACK SHOES | RAFFIA BASKET TOTE
The AGOLDE denim shorts are probably the most popular denim shorts. I originally purchased this Parker Vintage pair a few years ago and they're fab. I wore them mostly on vacation and while at home. I found them to be a tad too short for my liking (will be selling them). I purchased the Parker Long pair below. I sized up in both pairs for a looser fit as I don't like my denim shorts tight (even though some reviews say they run big. I think this depends on ones body type too as 26, my usual size, fits tts). This pair is half the price and without any distressing. Not sure how they fit, but they do look quite nice.
BLACK TANK | AGOLDE SHORTS – also here from SAKS, here from NORDSTROM | J.CREW SLIDES | WHITE TEE | SUNGLASSES | CROSSBODY BAG | MINI BASKET TOTE | WIDE LEG JEANS | SNEAKERS
Have a great day!