Hello! It has been a minute…
I don't believe I shared that I ordered these Birkenstocks "just to compare" to these black ones I got a while back. I will say that once I received these brown leather ones I tried just one on and put it right back. I planned to return them (not sure why I didn't try both to begin with). Days later I finally decided to try both on. Love at first full try-on! But I did have a hard time justifying another pair of Birkenstocks in such a short period of time. Once my husband said "those are the nicest looking Birkenstocks I've seen" I replied "fine…I guess I will keep them" haha. And I will say that I'm SO happy that I did decide to keep them. I absolutely LOVE them. The color and the big gold buckle make them so chic. They look so great on and I've been wearing them a lot. One great thing about Birkenstocks is that they're very well made and last for years and years. With regular wear, cost-per-wear will be in pennies. Both my black pair and this brown pair did get more comfortable over time. And when I say comfortable I mean the leather is softening. I have heard others say that Birks have a break-in period. I think I especially noticed this with my black Birks as the strap was rubbing against one of my toes at first (which made me question in the beginning if I should have kept them). Well, glad to report that the strap no longer rubs against my toe. So I guess with certain styles there is indeed a break in period.
Now you might be wondering – but which pair do you like better….black Arizona big buckle or Milan big buckle style? Don't ask me that question lol. Impossible to answer. The styles are so different and both are SO nice looking. One major difference is that the Arizona big buckle look chunkier on feet. Not in a bad way. Both are truly fabulous looking.
SHOP THIS OUTFIT: Madewell Jeans (no longer available) – same style in white | Madeweell Tee | Birkenstocks – also here from Saks, here from Shopbop | Mango straw bag
This dress is old! But it is still one of my favorites. I did find an almost identical dress which I would say is even a bit better because it has pockets. I ordered it in Dark Olive . eOnce I receive it I will share my thoughts on it. I also ordered this dress in black.
If you have not ordered from Quince before, use this link to get $20 off your first purchase.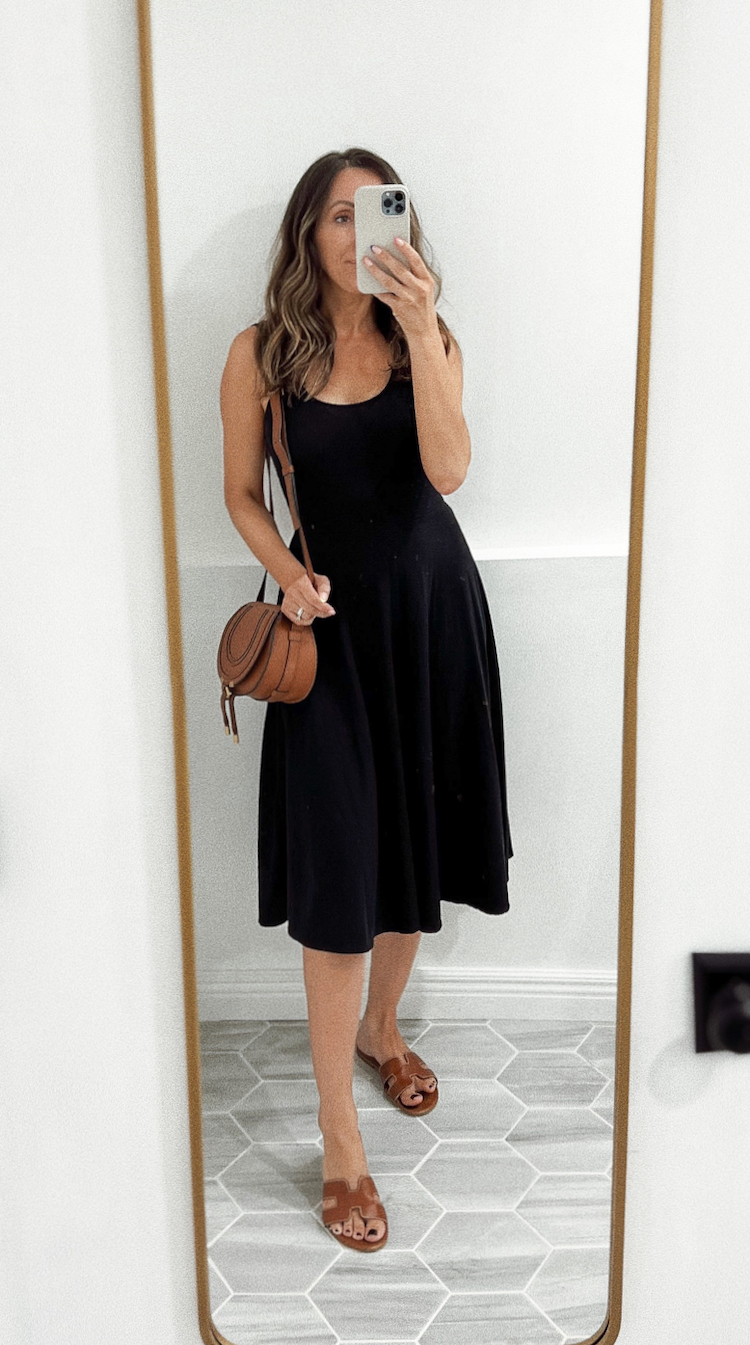 SHOP THIS OUTFIT: Dress (old) – here almost identical | Slides (go up a 1/2 size) | Chloe Bag
I did not wear this outfit… But I will sans the earrings. I actually took this picture to send to my sister 1) tell her I'm ready for vacation and 2) and partially make fun of myself because dangly earrings look hilarious on both my sister and me. Maybe not in this picture because my head it turned. I don't look good in them despite buying many pairs over the years and never actually wearing them. I think only people that have the same issue will understand.
Let's move on… This dress is also years old but I did find an almost identical one. If I didn't tell that it is not the same dress you might not even notice the difference. I've worn it with sneakers too and love how versatile it is. Throw a blazer over it for a dressier look. Easily dressed up or down.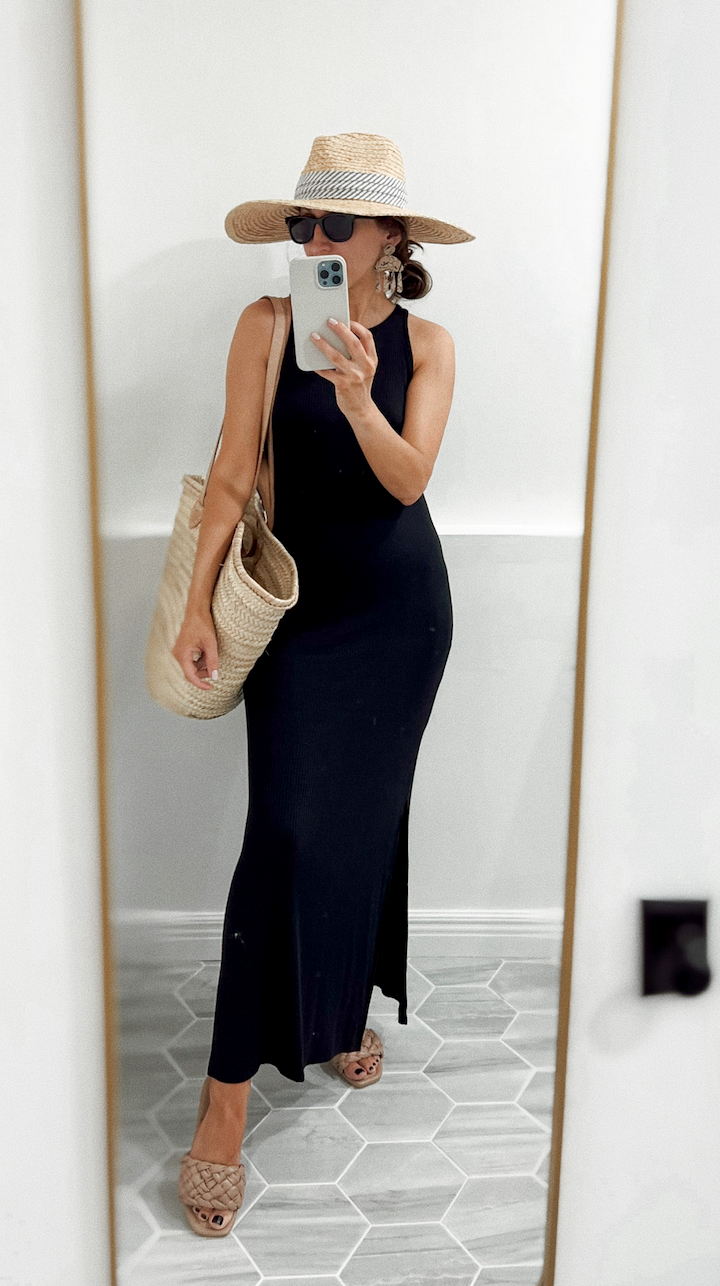 SHOP THIS OUTFIT: Dress (old) – almost identical here | Target Slides | Large Straw Tote | Wide Brim Hat (old) – love this one, this one and this one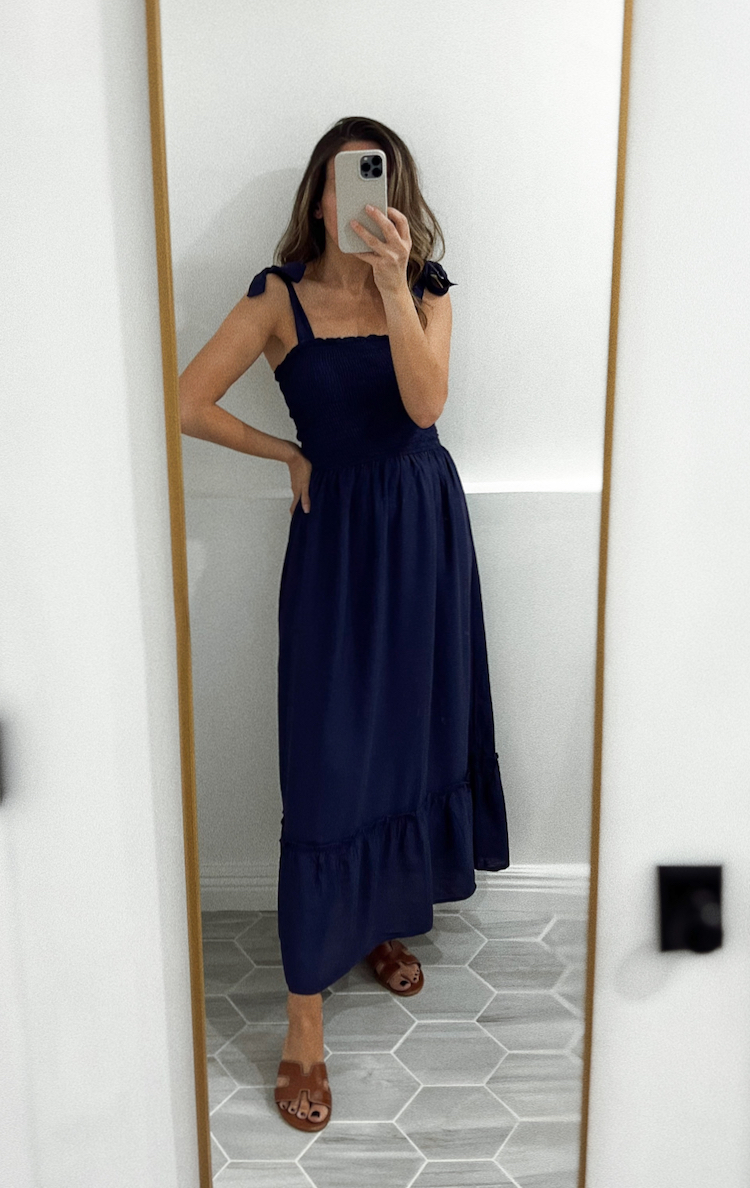 Dress comes in ton of colors | Slides
A few favorite Amazon finds:
JEWELRY BOX (I got it recently and love it)

FRINGE OUTDOOR UMBRELLA (have it and love it. Comes in more colors)
Have a great weekend!