Rounding up some recent outfits. A couple of new pieces and the rest my favorite repeat pieces.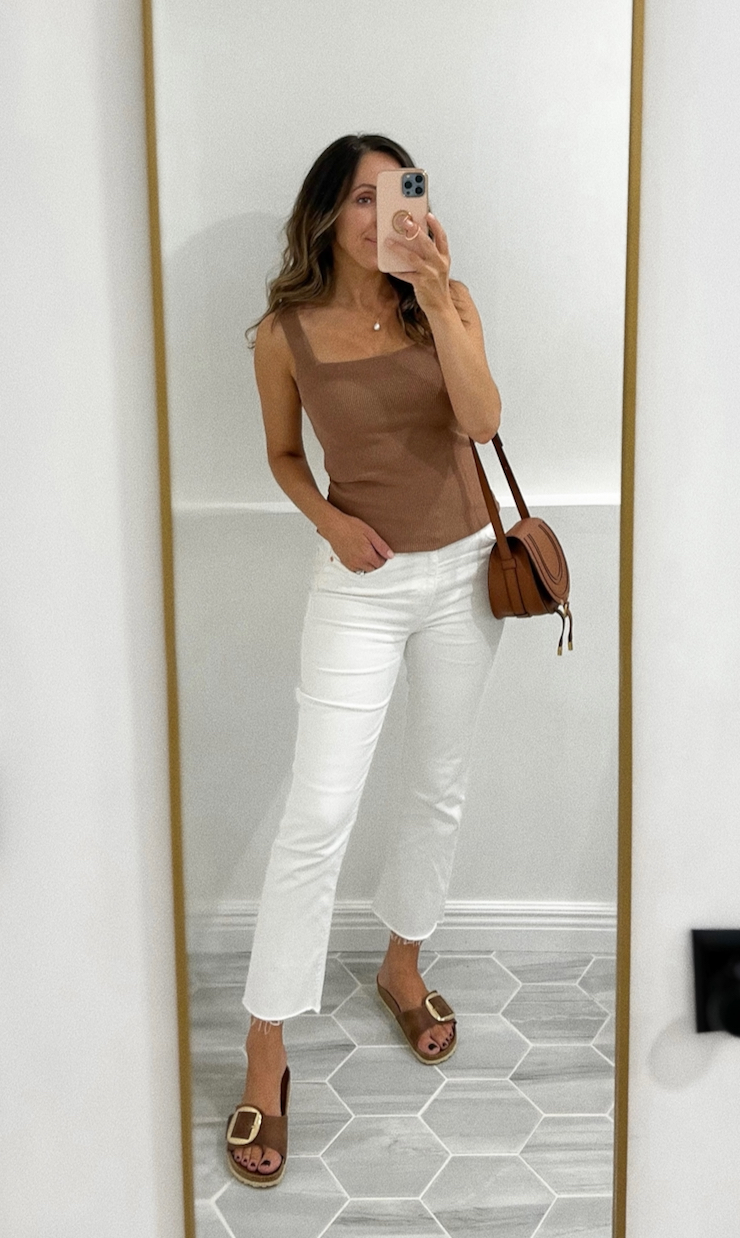 SHOP THIS OUTFIT: White jeans tts | Sweater tank in xs | Birkenstocks also here from Nordstrom | Chloe bag
I've had this shirt for a few years and it is such a great wardrobe staple. It finally got restocked in all sizes. While it doesn't look slightly oversized in the picture, it is a roomier fit…which is the style. I still went with xs but you can size down if you would prefer it a tad less roomy. Jeans are one of my most worn. I went with my regular size.
SHOP THIS OUTFIT: Madewell Vintage Straight Leg Jeans tts for me | White short sleeve button down in xs | Birkenstocks– also here from Nordstorm | Tote
Can you tell I've been loving this woven straw bag? I've been reaching for it a lot. The size is perfect and it has a zipper to keep everything secure…if that is something you like in these style of bags. Definitely a chic summer staple I would recommend.
SHOP THIS OUTFIT: J.Crew jeans tts (very comfy) | Tank Top in xs | Stripe Sweater tts – also here from Bloomingdales | Leather slides size up 1/2 size | Woven straw tote
I have a similar dress in black from years ago and love the comfort and fit. I decided to try this one, which is only $40. It is available in three other colors. I love the length, pockets and it is very comfortable. The bottom half is a tad heavier than the top and in my opinion the top should have been the same thickness. While the top part is a tad thin it is not sheer at all. The dress is pretty low cut and I did find myself pulling it up on a few occasions…even though I am smaller on top. This is just a personal preference though. Overall I love this dress, find it flattering and I feel put together in it. It will transition nicely into fall season. Cute with a denim jacket and sneakers too. Thinking about ordering it in brown now that it is restocked again. I would give it 4.5/5.
I don't wear a regular bra with this dress but use these nippies instead. Mine are the smaller size and in color cream. They're pretty much all I wear with my tank tops and most dresses. If you're like me and hate bras these are for you. They're my favorite ones yet and they are no-show whatsoever because they're not as thick as some other ones. They definitely passed the test on our hottest and high humidity days. They didn't budge at all. Cheaper version might slide off in hot/humid days, not kidding (been there lol). I would 100% recommend these! I got mine from Anthropologie and they currently have all colors. Shopbop has them in 3 colors and here from Nordstrom too.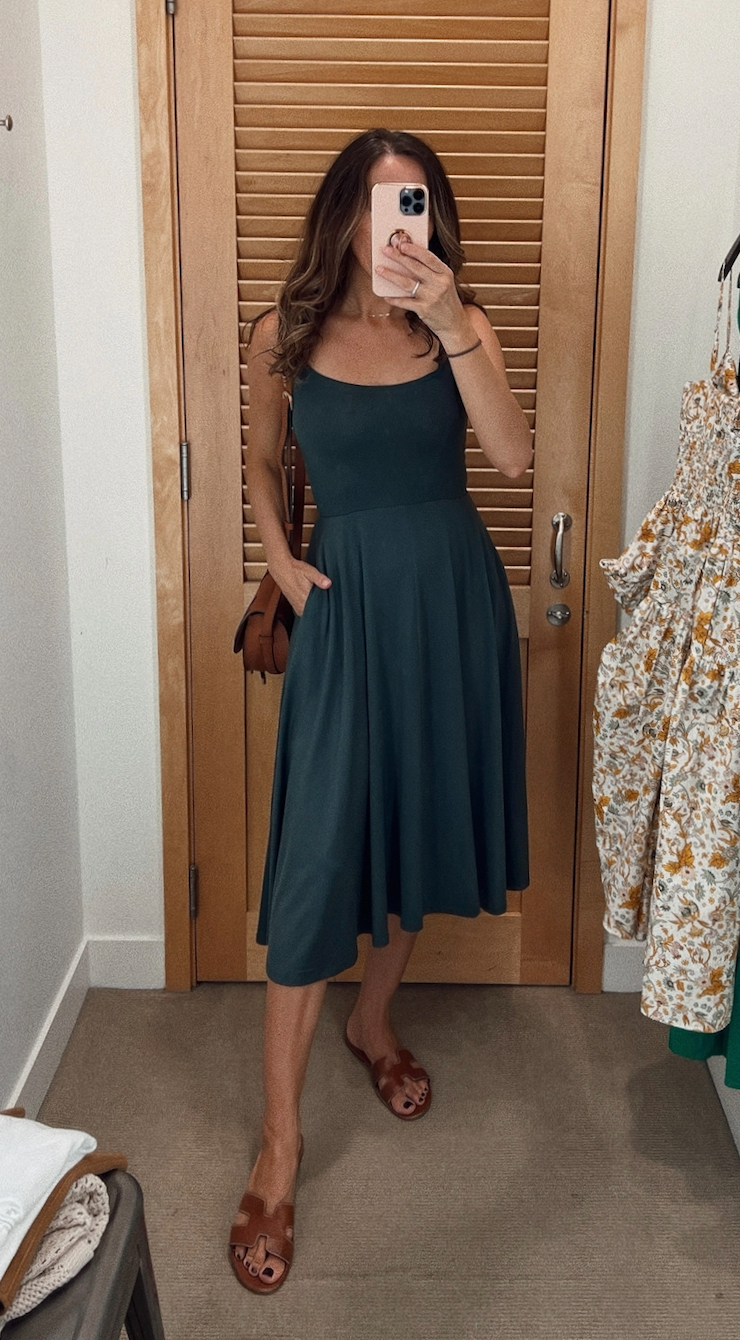 SHOP THIS OUTFIT: Jersey Dress in xs – avail. in three other colors | Slides – size up | Chloe Bag also here from Nordstrom | Bar Necklace (old) – similar option
While it was a humid day I carried my linen button down with me as every single indoor place was freezing. Linen button down are the perfect summer layer.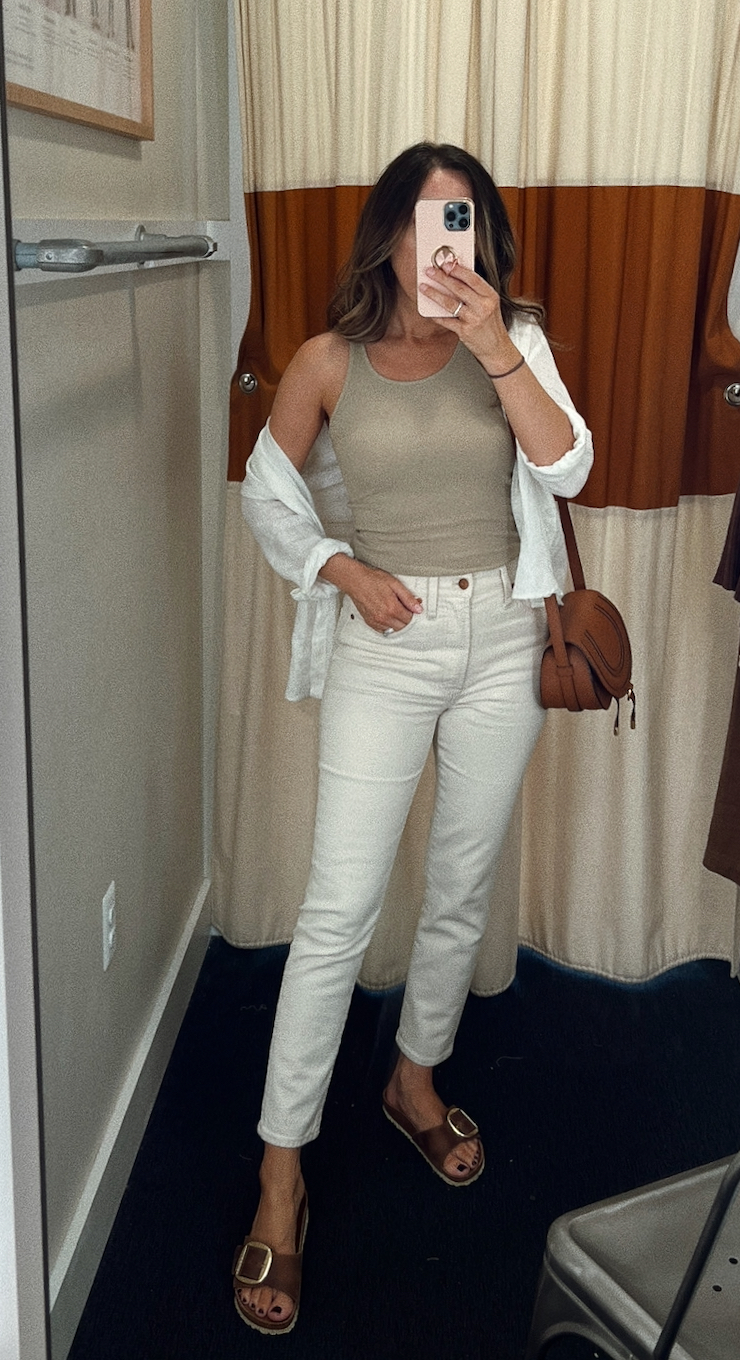 SHOP THIS OUTFIT: Madewell jeans | Tank Top in xs – avail. in several colors | Birkenstocks in most sizes – here from Nordys in a few sizes | Linen button down (0ld) – almost exact only $40 | Crossbody bag
As always, thank you for visiting!