Did you have a great weekend? Our Saturday was a bit more eventful than Sunday, but I like a chill Sunday.
I have been trying to post this for days now (so many great fall staples) and something distracted me each time and then I never got back to it. But sitting down now with my favorite cup of jasmine tea and not getting up until I link everything for you all. Because I'm loving everything below…including pieces that have already been in my wardrobe for years and I'm excited to wear again.
The best coatigan ever has returned! And it is on major sale…the lowest price I've ever seen on this coatigan. Both at J.Crew (it's not back in camel but it is three other gorgeous colors). If you want in other colors, Mango has it in camel, this light tan in the collage and gray. I don't think you can go wrong with any of the color options available. The Mango coatigan is VERY similar to J.Crew one. Also a tad on the oversized and this year they finally have it in xs (they didn't in the past). My coatigan is one of my favorite Fall and Spring pieces. A staple in my wardrobe for years. I sized down in mine (mine is a few years old but guessing they haven't changed the sizing).
Mango Coatigan | J.Crew Coatigan | Top Handle Bag | Jeans | Tank | Earrings | Veja Sneakers
Coatigan | Racerback sweater tank | Earrings | Jeans | Bucket Bag | Sunglasses | Mules
Coatigan | Squareneck top | Mother Jeans | Sunglasses | Black Bag | Veja Sneakers – also here in all sizes | Earrings
If you have been following me for a while you might know how much I love these loafers, which come in ton of colors. Buttery soft leather and they're so comfortable.
Also, in case you missed it I did a little review on the classic bag below.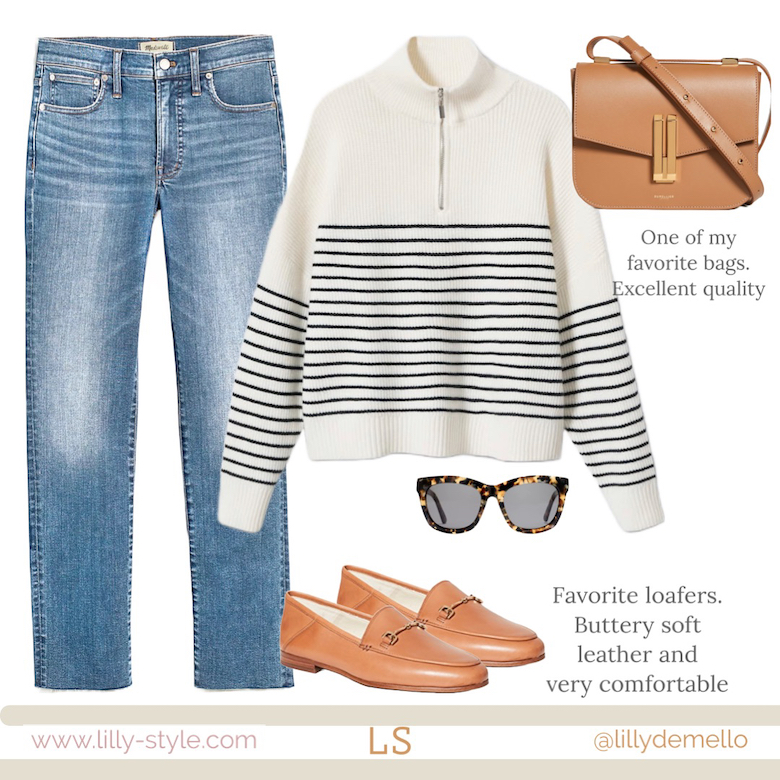 Jeans | Stripe Half Zip Sweater | DeMellier Bag also here from Saks | Leather Loafers | Sunglasses
Oversized Stripe Sweater | Sunglasses | Leather Crossbody | Veja Sneakers, here from Farfetch – same style in more colors | Jeans – love these high-rise, very comfy
Below are last weeks most loved (best sellers) by you ladies. And they're my favorite pieces too (I don't own the v-neck stripe sweater, yet). But a version of it is already in my wardrobe as I can't resist a good stripe sweater.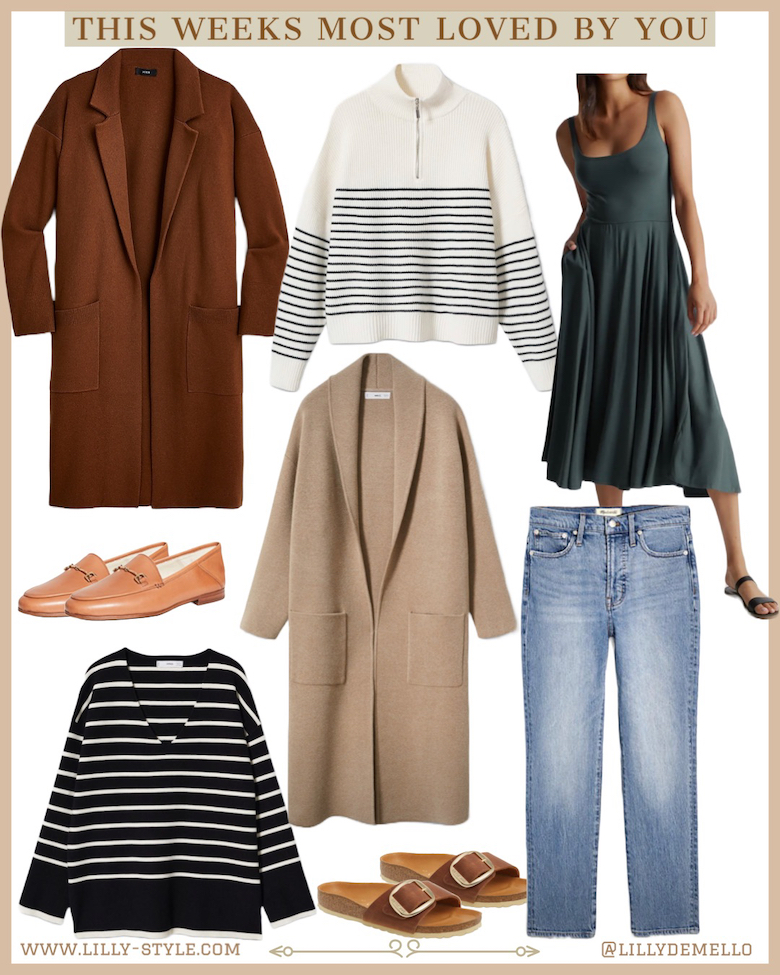 Have a great Monday!