I love a good Madewell sale! Insiders take 25% off your purchase (it's free to sign up) or 30% off for Stars and Icons . There are so many amazing wardrobe basics and everything is part of the sale!
I have this crossbody bag in my cart (been eyeing it for so long), these wide leg jeans, this stripe sweater (which I really shouldn't buy because I have SO many striped sweaters. But it's so pretty!), this square neck top (also have multiple in almost the same style and wear them a ton…but it's such a great basic. Also not really cropped) and this ribbed long sleeve tee. I'm loving the boots below. All of them, so good!
I rounded up my top favorites below and that was with narrowing it down. So many great pieces! All the boots…drooling!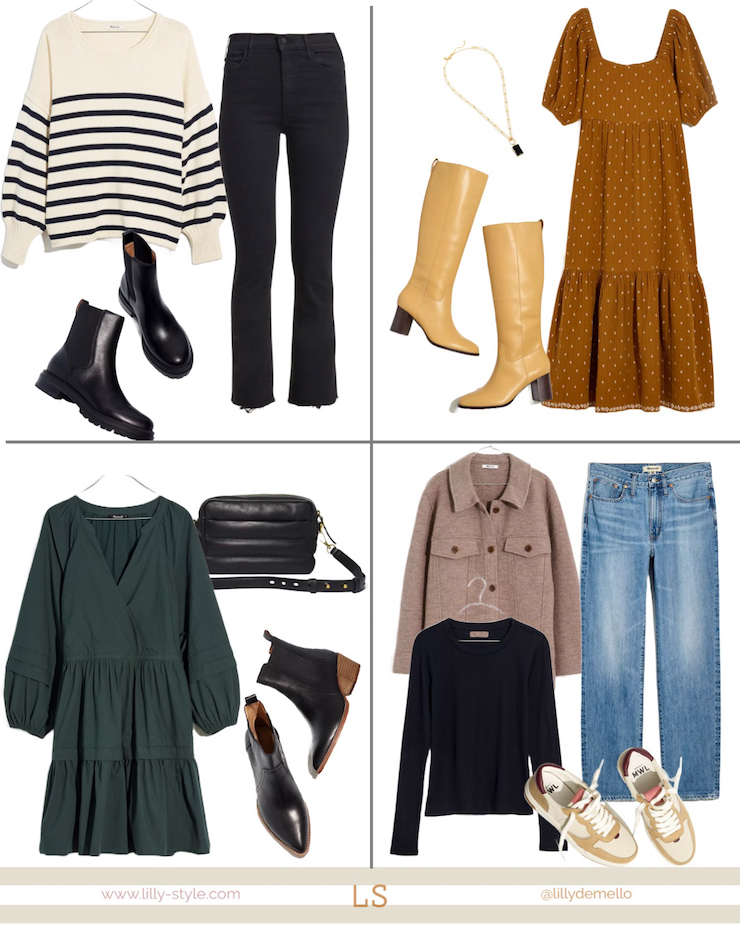 STRIPE SWEATER | BLACK JEANS | CHELSEA LUGSOLE BOOTS | DARK -STONE STATEMENT NECKLACE | KNEE HIGH BOOTS | TIERD MIDI DRESS | POPLIN WRAP DRESS | CROSSBODY BAG | WESTER ANKLE BOOTIES | SWEATER JACKET | BLACK RIBBED TEE | BOYFRIEND JEANS | SNEAKERS
These very loved white jeans are also on sale. They sold out a few times, no surprise there, but are currently fully stocked. I got my usual size 26 and they fit great!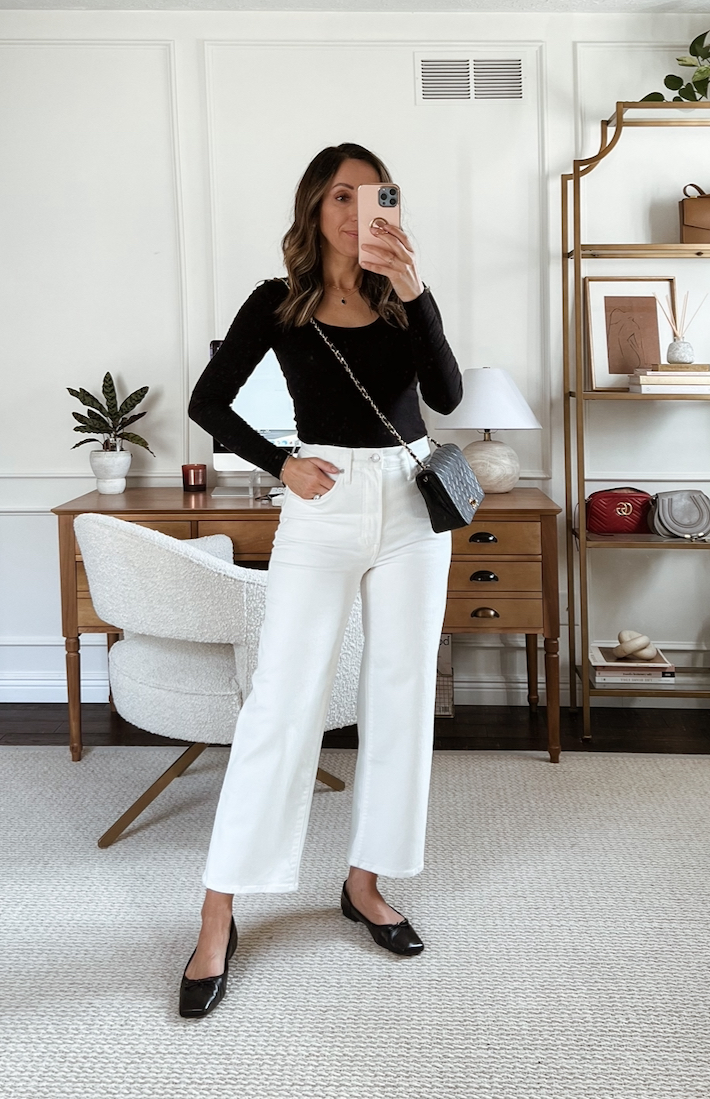 White Wide Leg Jeans | Flats tts for me | Tee (old) – great alternative
Another favorite outfit with these jeans (there are a lot more).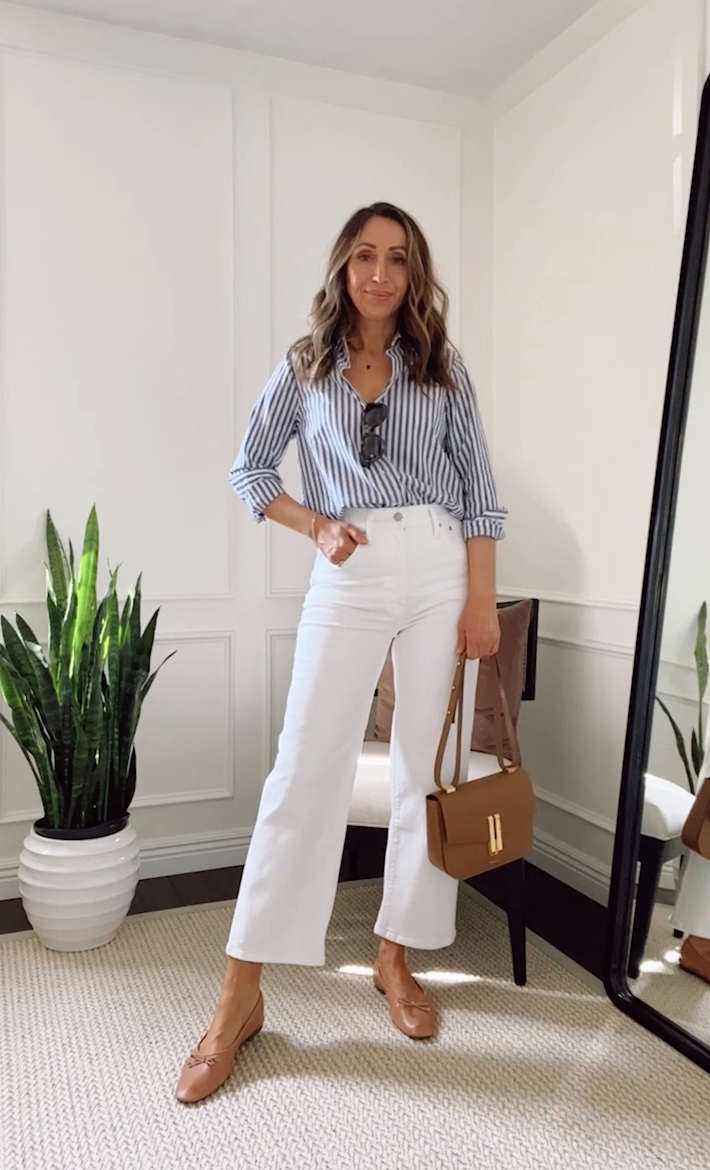 Jeans | BR Button Down tts (new version, stripes just not as blue) | Nude Flats tts for me | DeMellier Bag
One of my favorite jeans! The wash looks lighter on the model than they're in real life. I took my usual size in these. Comfy!
Jeans tts | Button Down in xs (it's a slightly oversized fit) | Birkenstocks | Straw Tote (has been a summer fave)
Another pair of very loved jeans! This is the 2nd time I purchased the same pair. They're on sale online + extra % current promo (they are full priced in store for some reason). I had them in my usual size 26 and they fit great…a tad loose but not in a frumpy way (they stretched out just a bit with wear). My sister loved them so much I ended up giving them to her. I decided to try a size down, 25 which I'm like…never, and they fit great. Sucked me in a bit more than my usual sizes. So sizing on these can go both ways…if you wanted them a bit more fitted like below go a size down and for a bit looser also comfier fit, take your usual size. I do think these run just a tad big but I loved how both sizes fit me.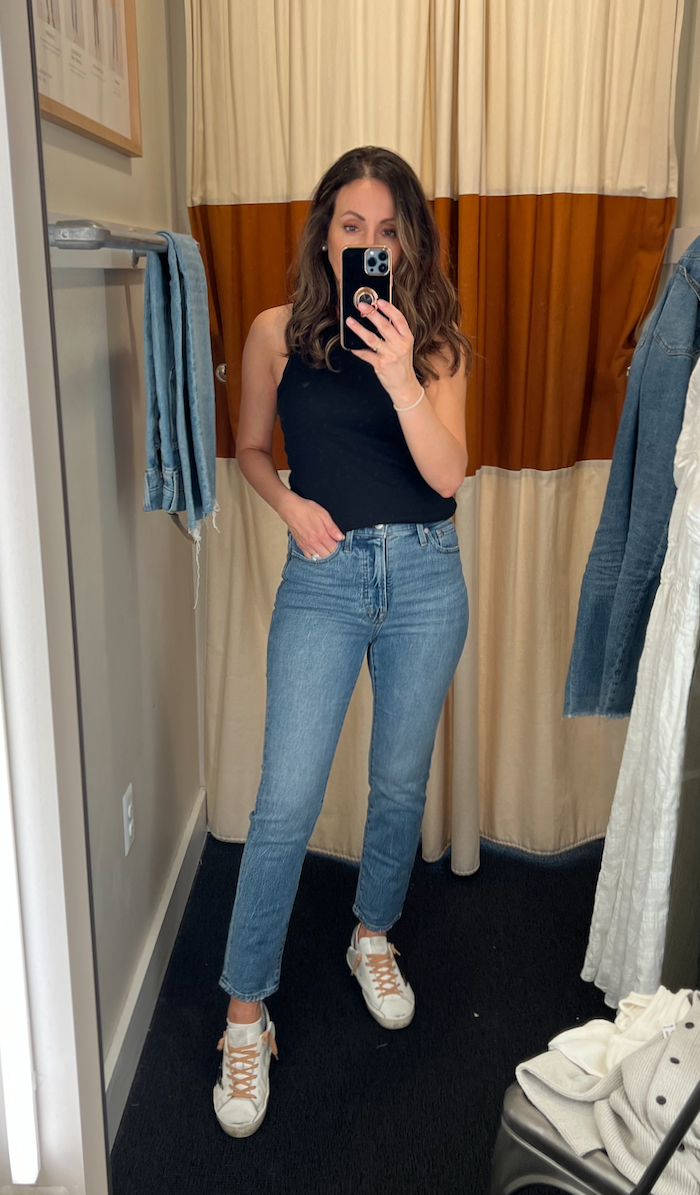 Jeans | Tank tts |
Happy Shopping!