I took some fitting room pictures recently and thought I'd share since everything is on sale!
J.Crew is having their "early" Black Friday – 50% off select items, which ends 11/24. Now, does that mean they'll actually have a slightly better sale on actual Black Friday? Only they know. They might offer an extra 10% off or they might just stick to 50% off..we'll find out. That's what stinks about these sales. If you're not in a rush to get anything you could wait. If you need something asap…you know what to do 😉
I was not planning on taking any pictures otherwise I would have brought some paper towel with me for the dirty mirrors (just had to return a couple of pieces that didn't fit). I was actually very disappointed how dirty J.Crew dressing rooms were. Not only the mirrors but the floor was so filthy that I wanted to ask for a vacuum and vacuum it myself (this was about 30min after the store opened. On a Wednesday. So no excuses). Ok, rant over.
My jeans are Mother Denim which run tts and New Balance sneakers which are also tts and super comfortable.
Loved this green sweater! I tried size small below for a slightly more relaxed fit. I should have tried Medium to compare. I love these types of sweaters more oversized.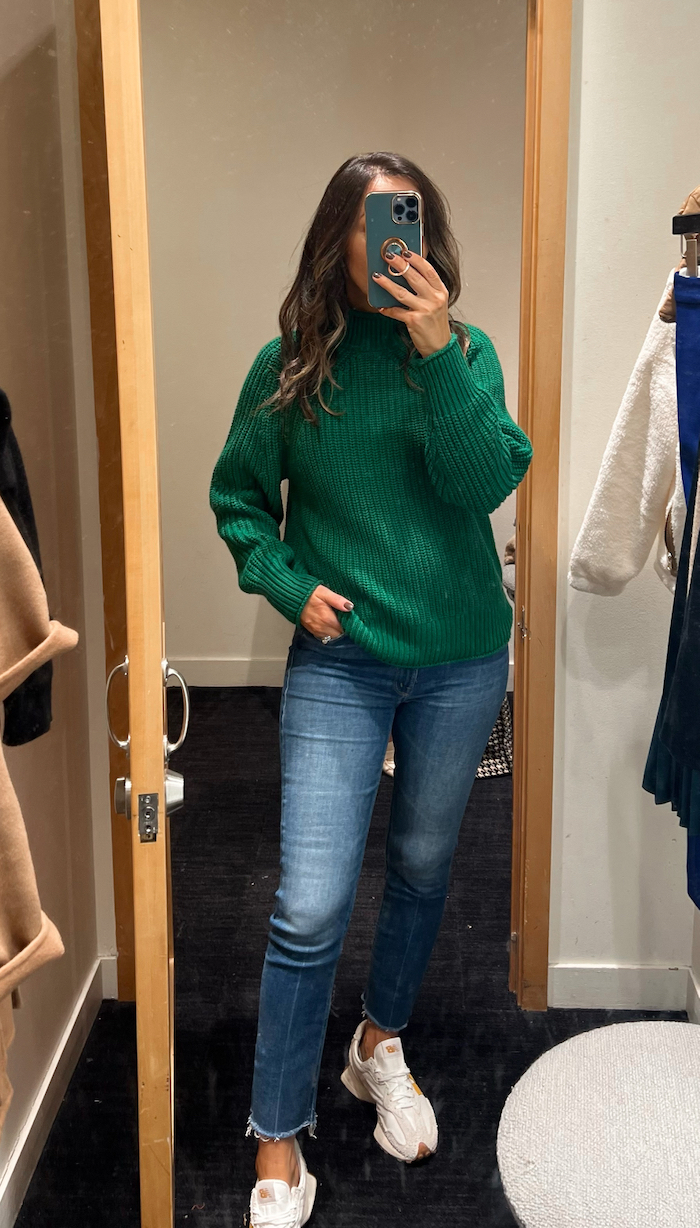 Relaxed Roll-neck sweater in small
I have this half-zip sweater in a different color from last season but I loved this gray! Not sure if the sizing is always consistent but this one seems a tad roomier than the one I own. But are a nice relaxed fit, but this one is just a tad more relaxed. But I wouldn't size down.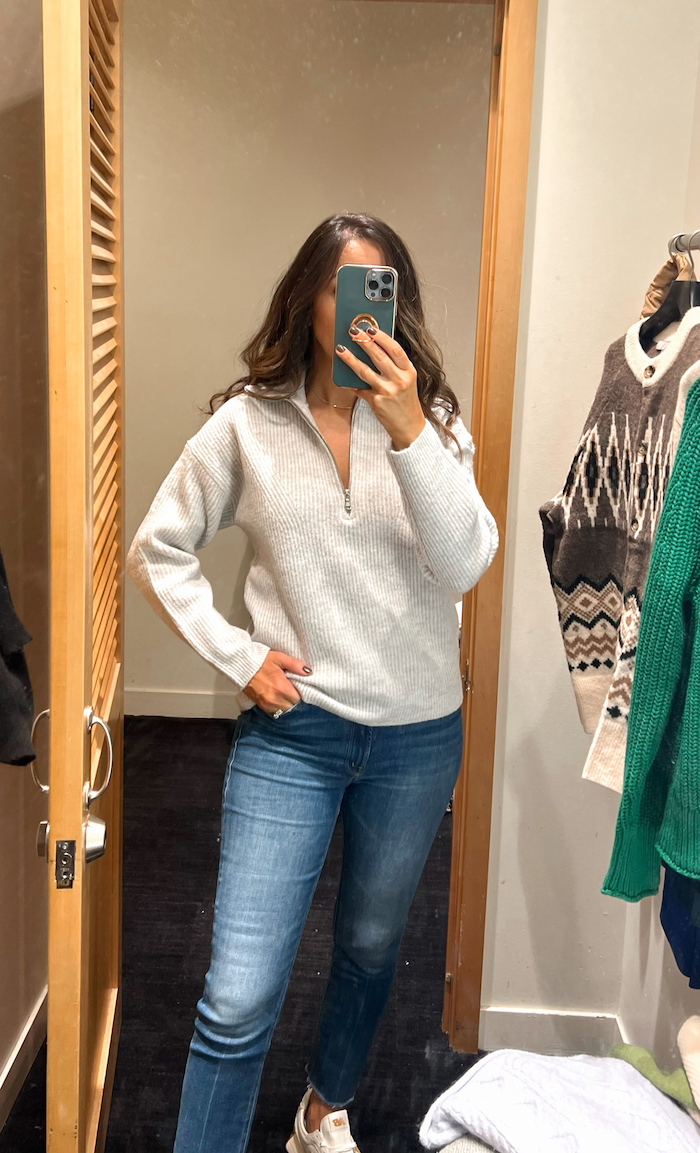 Half Zip sweater in xs
Such an adorable sweater which comes in two more colors! The details are so pretty. I tried xs below. While it seems to run tts I think I would like it a tad roomier. Small probably would be a better fit for me/my liking. This would be a great sweater to pair with skirt or trousers.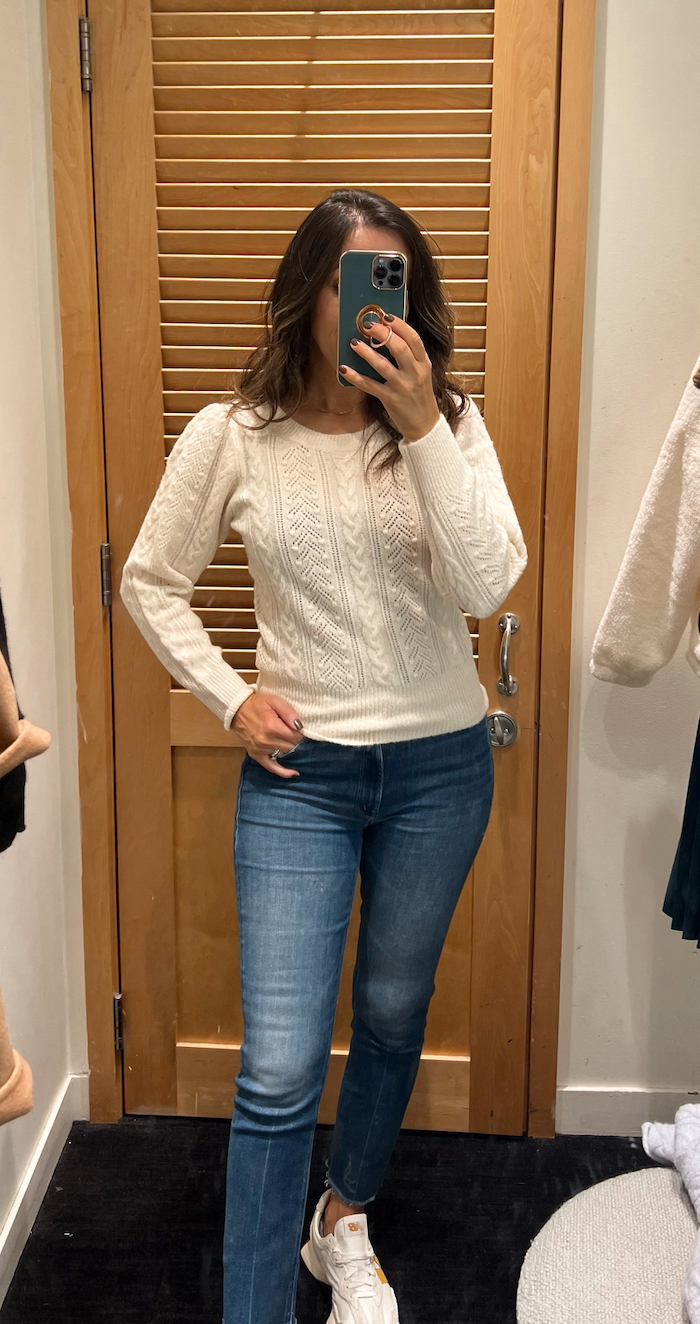 Pointelle Cable Knit sweater in xs
I have quite a few pleated skirts and love them. This deep green is absolutely beautiful. Runs tts. Cashmere sweater is 'cropped' style. I have a similar one from years and I do wear it a lot with skirts because there is no need to tuck in or if I tuck in just the front, there is no extra bulk.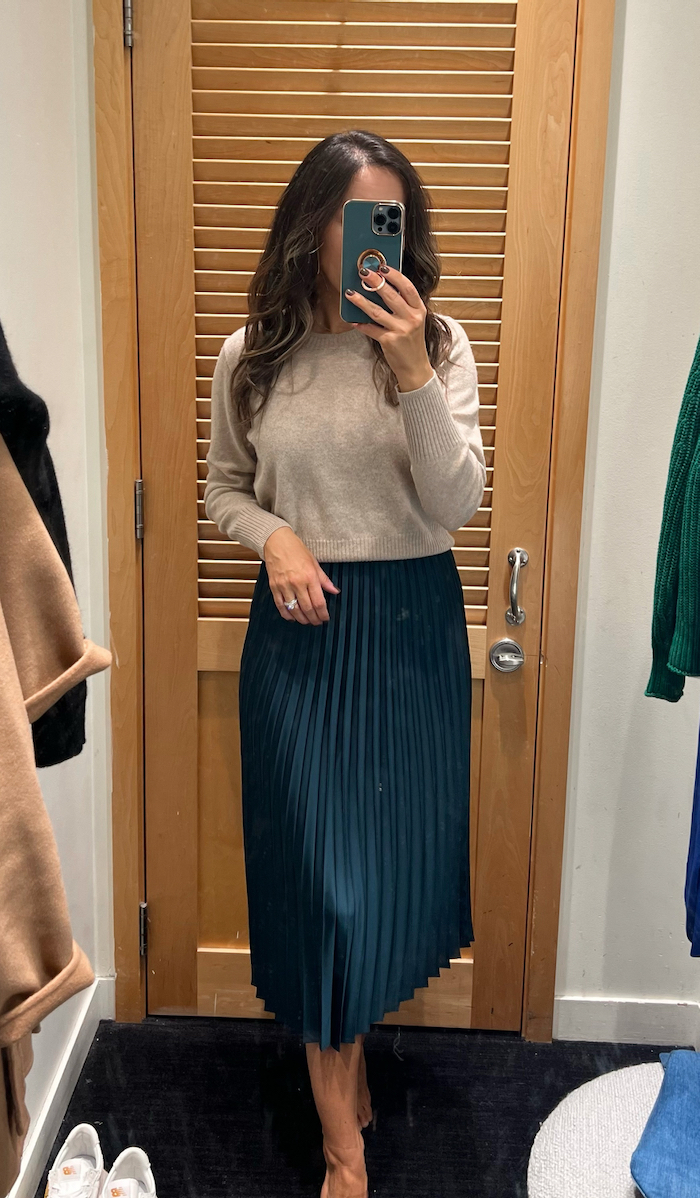 Pleated pull-on midi skirt tts | Cropped cashmere sweater in xs
Another pretty sweater which comes in two more colors. I find the red very pretty which I wish I had tried. I'm wearing xs below and it fits tts. As you can tell, I have a black tank top underneath but for regular wear I'd opt for a more flesh colored tank top.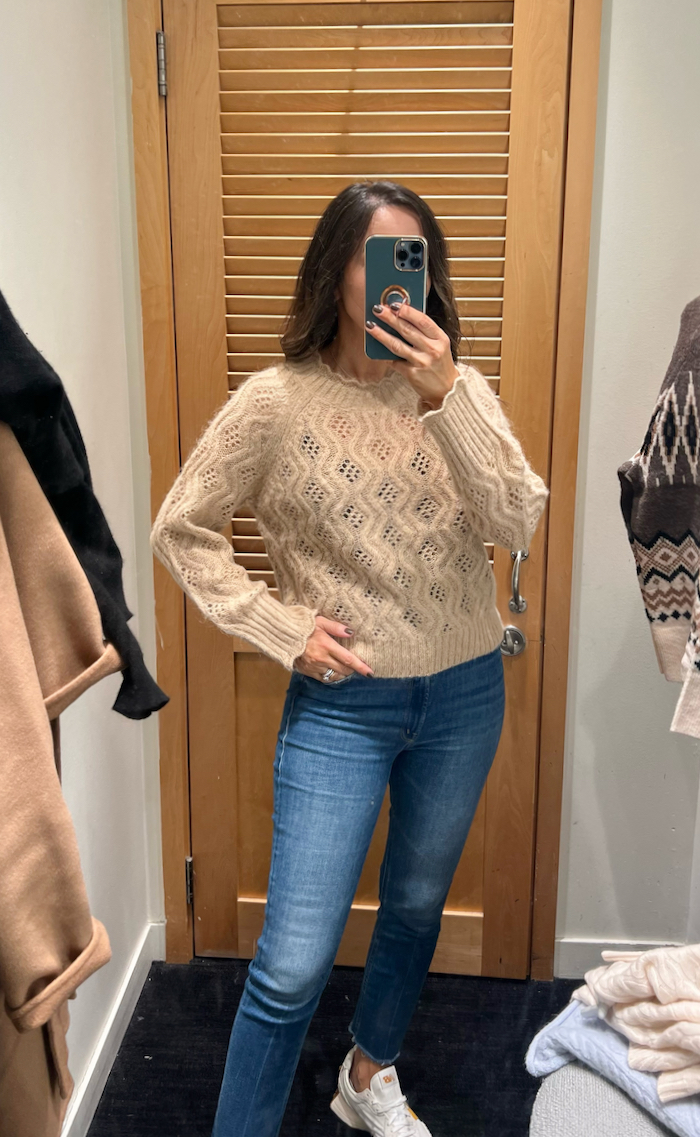 Pointelle Scallop Trim Sweater in xs
Loved this sherpa pullover! This color combo is perfect and this was one of my favorite pieces. I tried small for a roomier fit. I prefer sherpa tops or sweatshirts roomier for comfort.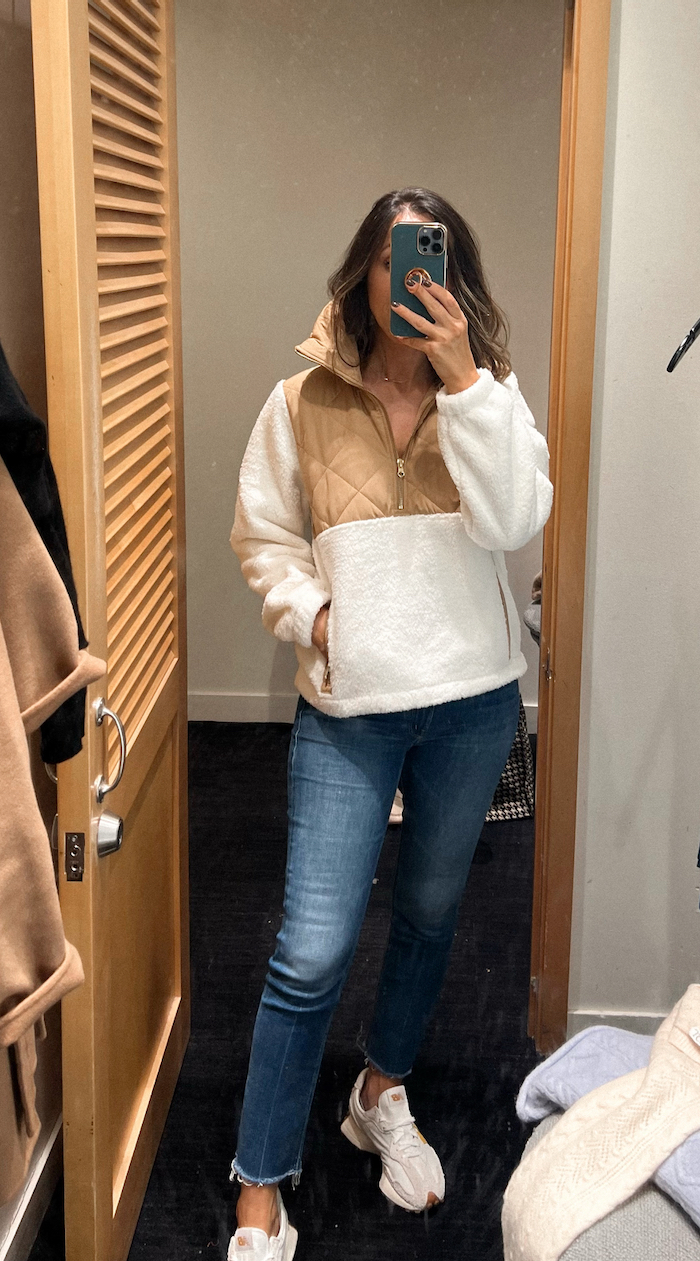 Quilted Sherpa Half zip pullover in small
This velvet blazer (insert heart eyes). Hard to tell in pictures but it is very pretty. I am a fan of velvet, so naturally I loved this blazer which comes in a gorgeous 'Cafe Latte' as well (now I want an actual latte). I tried size 0 in this one and loved the fit. It was comfortable in shoulders as it has slight stretch to it.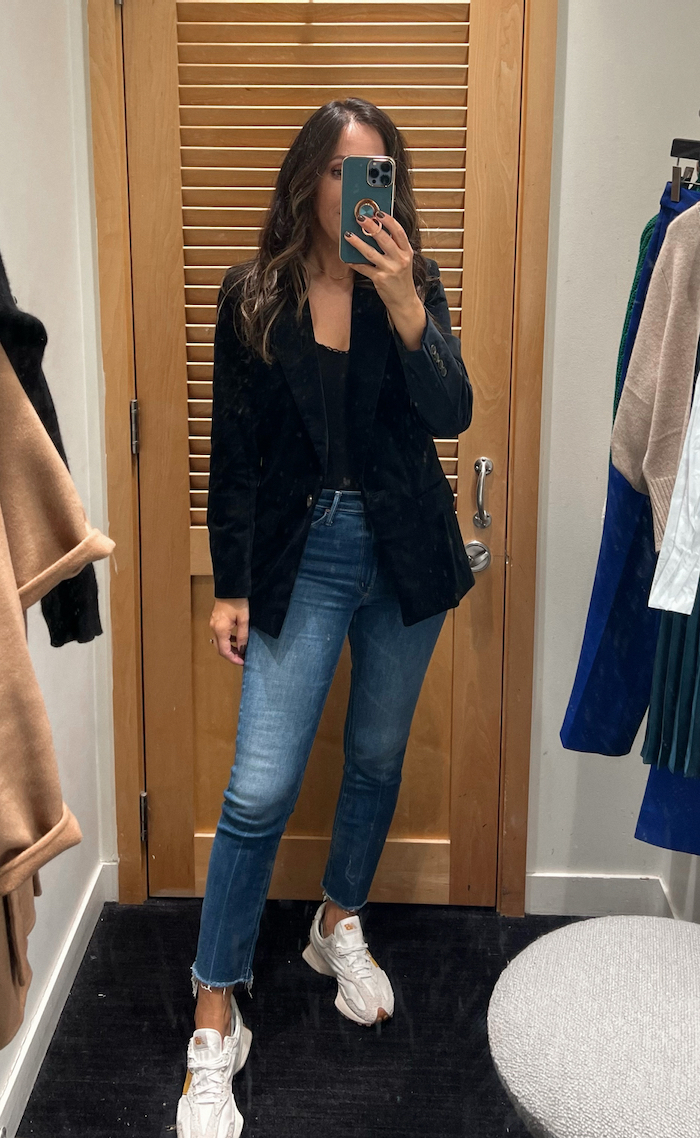 Velvet Blazer in size 0
This wool blazer is another classic! Prettier in person. And on the model lol. I also tried size 0 in this one and it fit well. I tend to be between size 0 and 2 in J.Crew blazers. I usually prefer them roomier over the 'I can't stretch my arms comfortably' fit.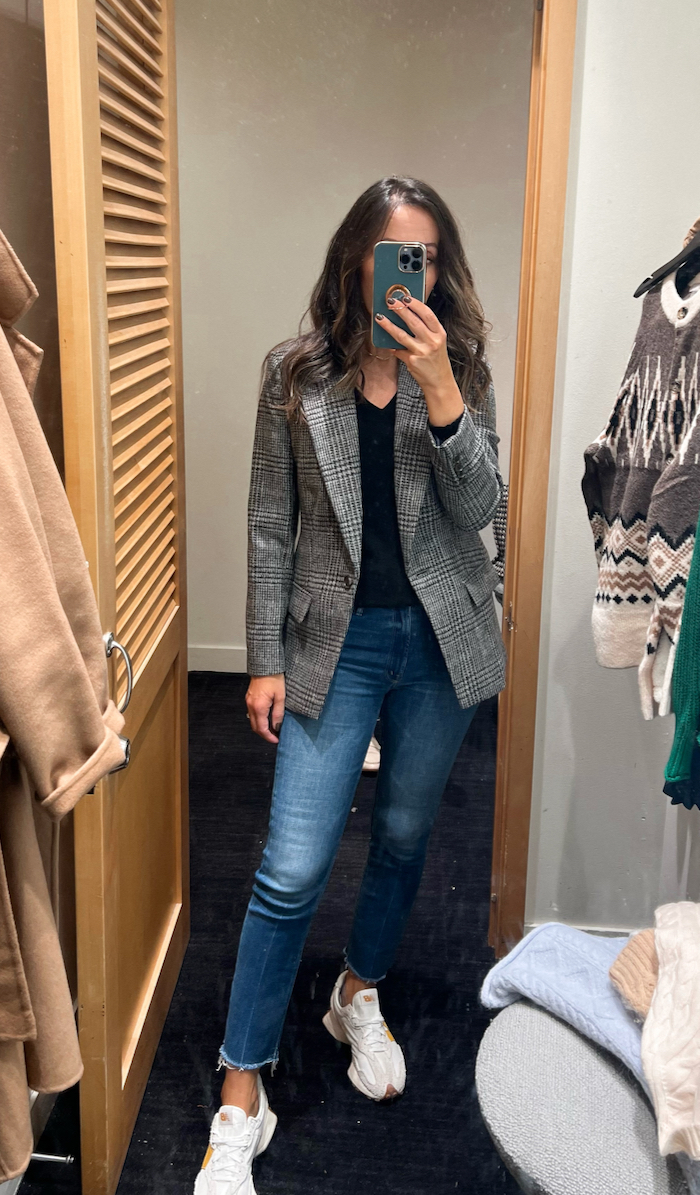 Houndstooth wool blazer in size 0
I've had this coat in black for years and been eyeing this color too. But because I have a few coats in camel I passed on this color. I'm wearing 0/xs and it fits tts.
Italian wool-boiled top coat in xs
This cardigan looked so cozy but I didn't like it on me. Perhaps it might look better unbuttoned or in a bigger size. Tried xs below and while it fits tts buttoning the last button just was tight around the hips and it didn't look right. I would imagine with black jeans or legging it would look better.
Fair Isle Cardigan in xs
The next to pictures are from a month ago, forgot to share sooner. I've been eyeing this gorgeous sherpa jackets. It was excluded from most sales but it is 50% off right now. And of course my size is sold out online..which makes a tad sad as it is so nice looking (despite the fact that I have a few already). Love sherpa jackets.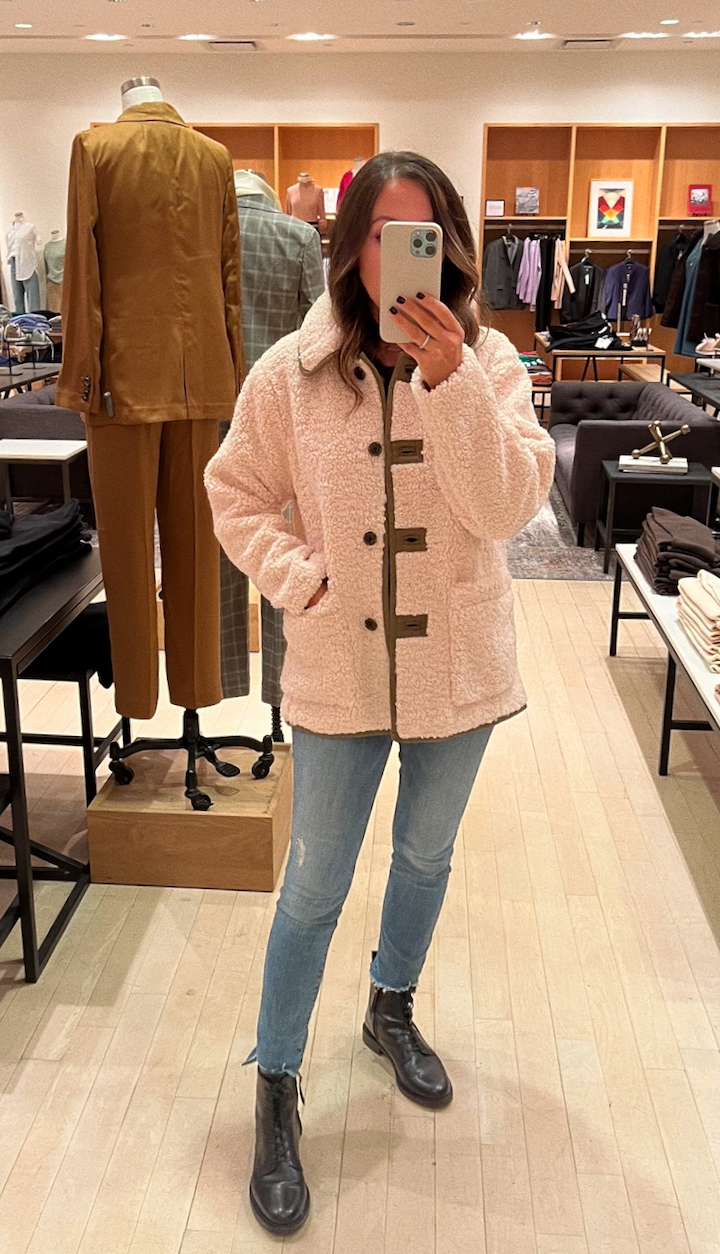 Sherpa Jacket
This 'lady sweater jacket' is such a pretty classic piece. Pair it with skirt or trousers for the office, or with jeans for an elevated look. Great for over dresses too. I tried xs below and it fits tts. Sleeve are ballon-ish. Comes in several colors.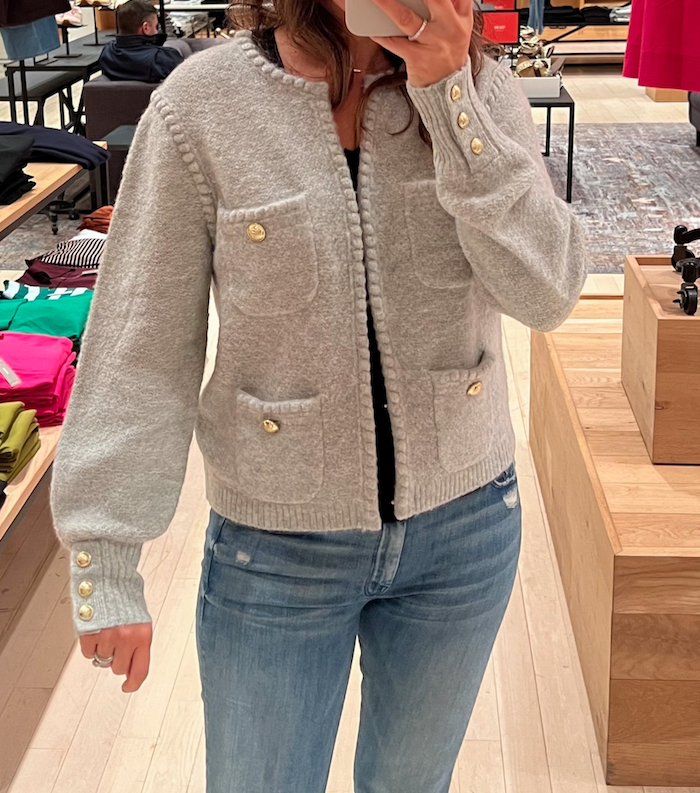 Sweater Jacket in xs
I got this teddy coat last year and it's back again. I sized up to size small so I could wear thick sweaters comfortably. Love how warm and cozy it is. It comes in three more colors.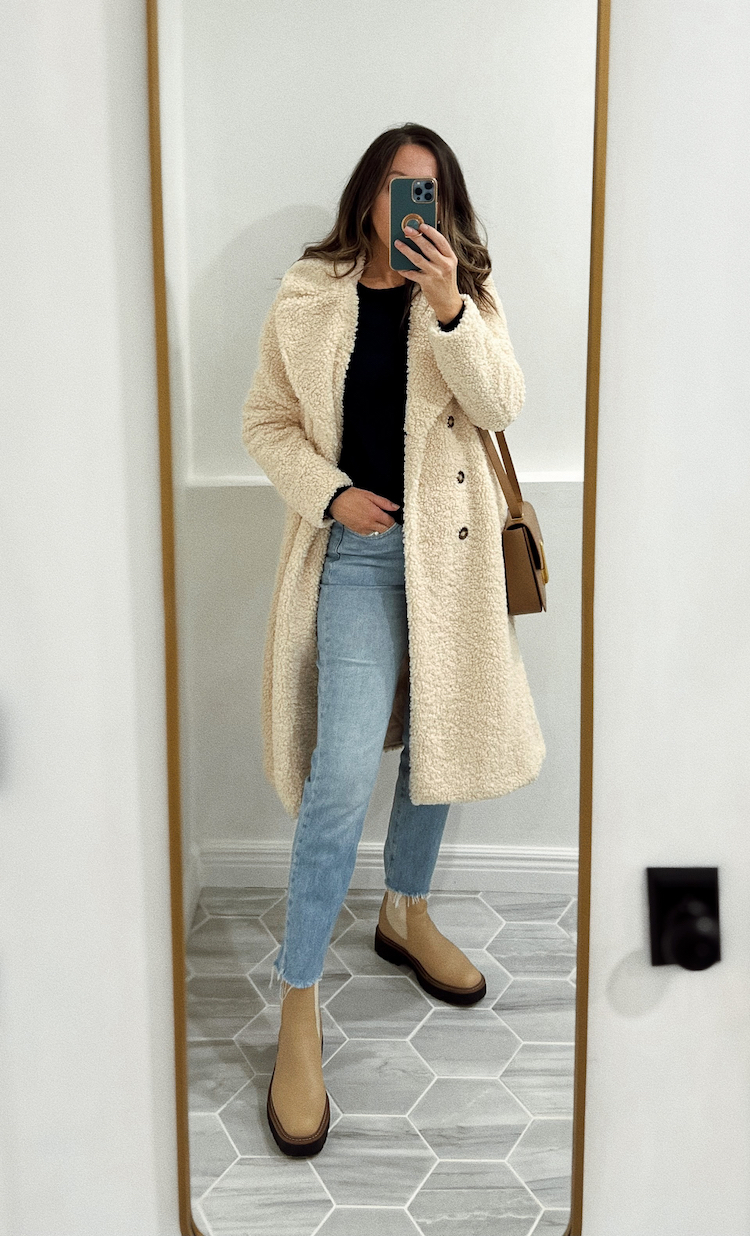 Teddy Coat in small | Lugsole Boots on sale finally! Available in several colors
Happy Shopping!