I haven't been to LOFT in ages but I also haven't done fitting room snapshots in a while! I had a coupon that was expiring and decided to go in and get something. They had a ton of new arrivals in store. Very tempting! I told myself I'll buy just one sweater. Just one. But somehow I came home with three. Two cardigans and a cozy sweater.
The fitting room had terrible lighting and the mirror was SO dusty…hence not so clear pictures. But despite that, you'll be able to tell how pretty these pieces are.
I also tried on a blazer at Banana Republic and they're having 40% off which is rare for BR these days. Mr. went to try on a suit and he actually said I should try on the blazer. Even though I have had my eye on it for a while I tried to good. But he was enabling…so I tried it lol. While once again I tried to be good and not buy it, I ended up ordering is as it is such a great classic blazer that will elevate any outfit. Sharing the try-on picture at the end of this post. I did share it on Instagram yesterday and so many of you already bought it. You'll love it! It looks really well made and at 40% off I think it's a pretty good deal.
And these are the jeans I'm wearing (which I haven't been able to shop wearing. They're comfy and love the shade and style. TTS)
This pretty buffalo plaid cardigan is SO soft. I tried xs below and it runs tts. It's fitted in arms as you can tell but since it is soft it doesn't feel uncomfortable at all. I think I would have been ok with size Small too for just a tad slightly roomier fit. But I think I'll stick to xs. Love how cozy it is and this one came home with me.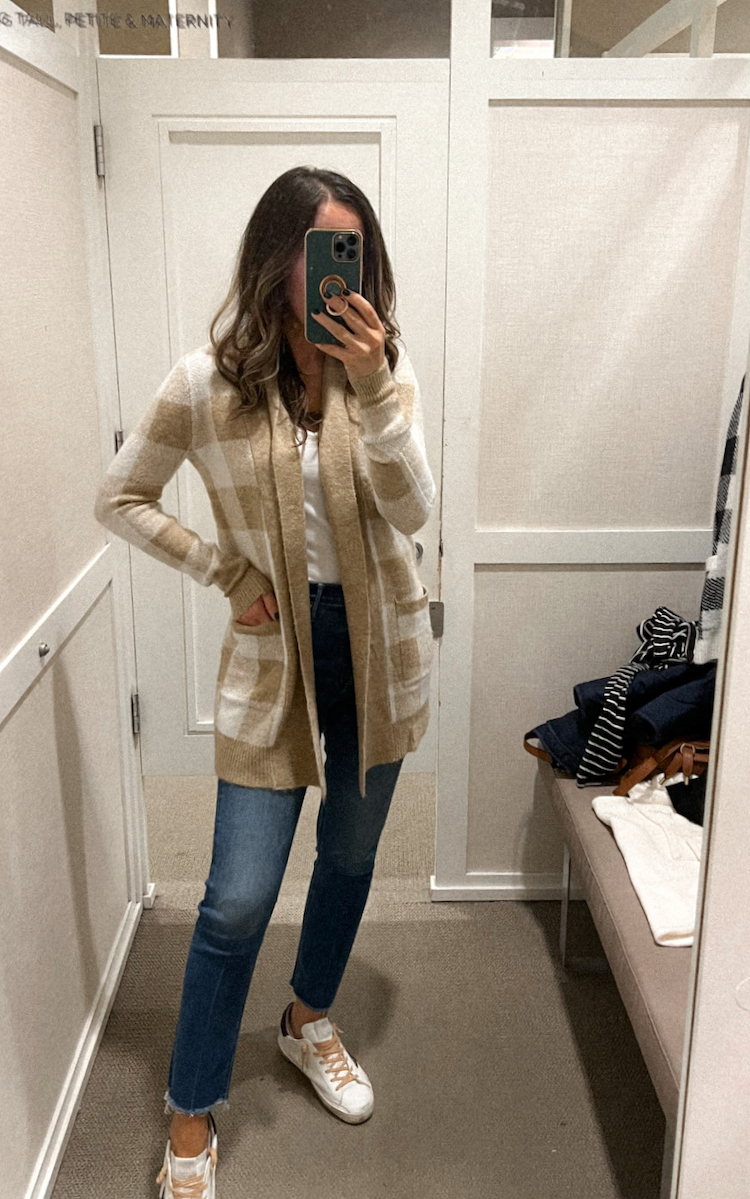 BUFFALO PLAID OPEN CARDIGAN in xs
Another cardigan I absolutely loved. I was trying to decided between this one and the cardi above. It was a tough choice leaving this one behind. It's also very soft and cozy. I tried xs in this one as well and it runs tts.
BUFFALO PLAID V NECK CARDIGAN in xs
I thought this chic houndstooth sweater was the only one I was going to buy. As you might now, Lou and Grey pieces are usually very soft…which is the case with this pretty sweater. It looks even nicer in person. Definitely super happy with this buy. Wearing xs below and it's a nice relaxed fit.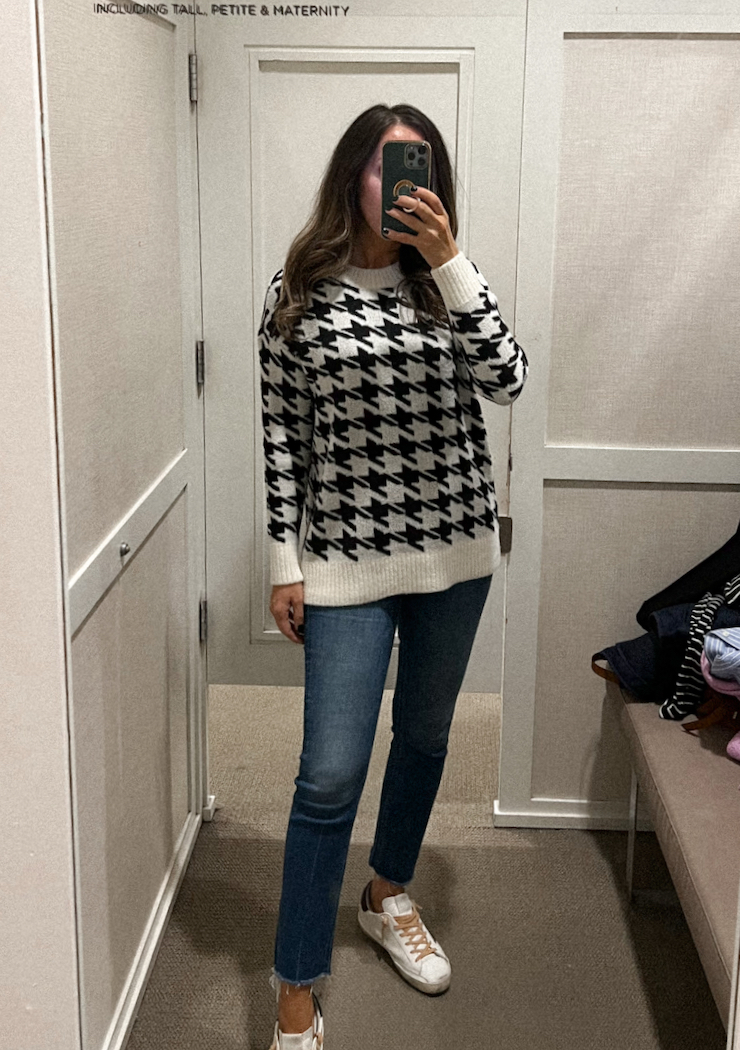 HOUNDSTOOTH TUNIC SWEATER in xs
I don't even need to say much about this stripe cardigan. It's striped! What's not to love. And the pink heart is such a cute little touch. Wearing xs below and it runs tts.
HEART STIRPE V-NECK CARDIGAN in xs
I noticed there is one more color online in this pretty pearl detail sweater. The pearls are such a nice touch to an otherwise plain sweater. Loved this one! I really had a hard time narrowing down what to buy as I loved almost everything I tried on. I think this might have been size small… can't quite remember.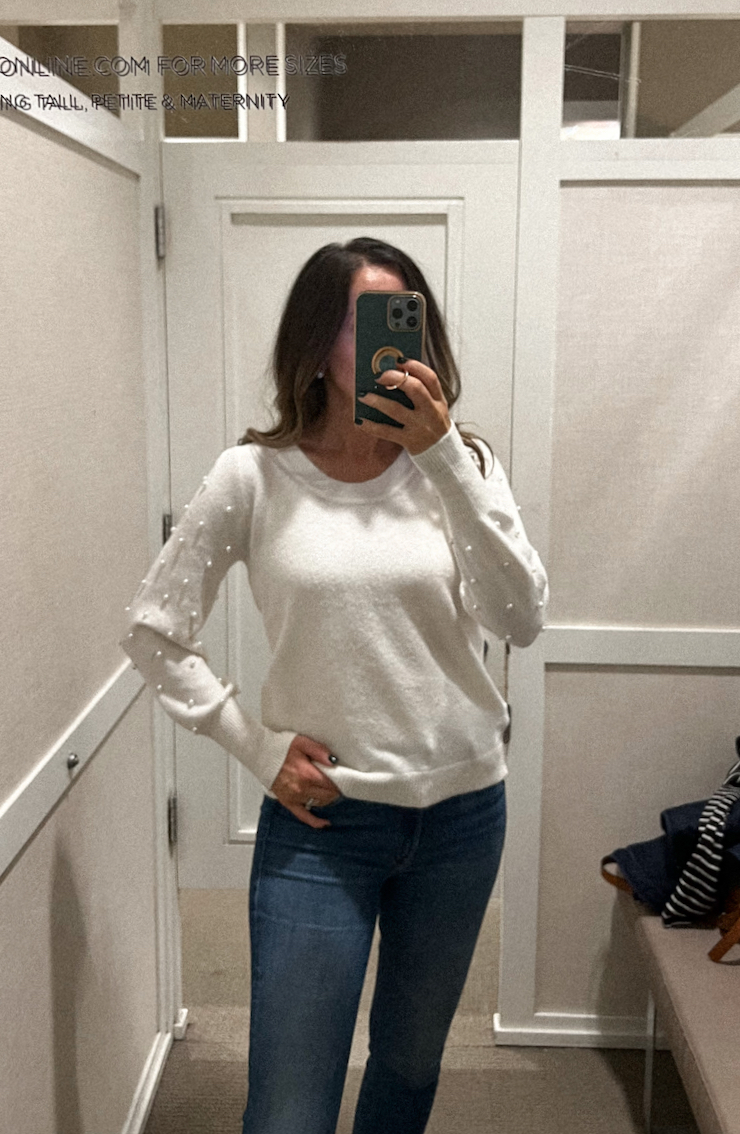 Great basic ribbed cardigan that can be paired with a lot of pieces in the wardrobe. The fit is more relaxed.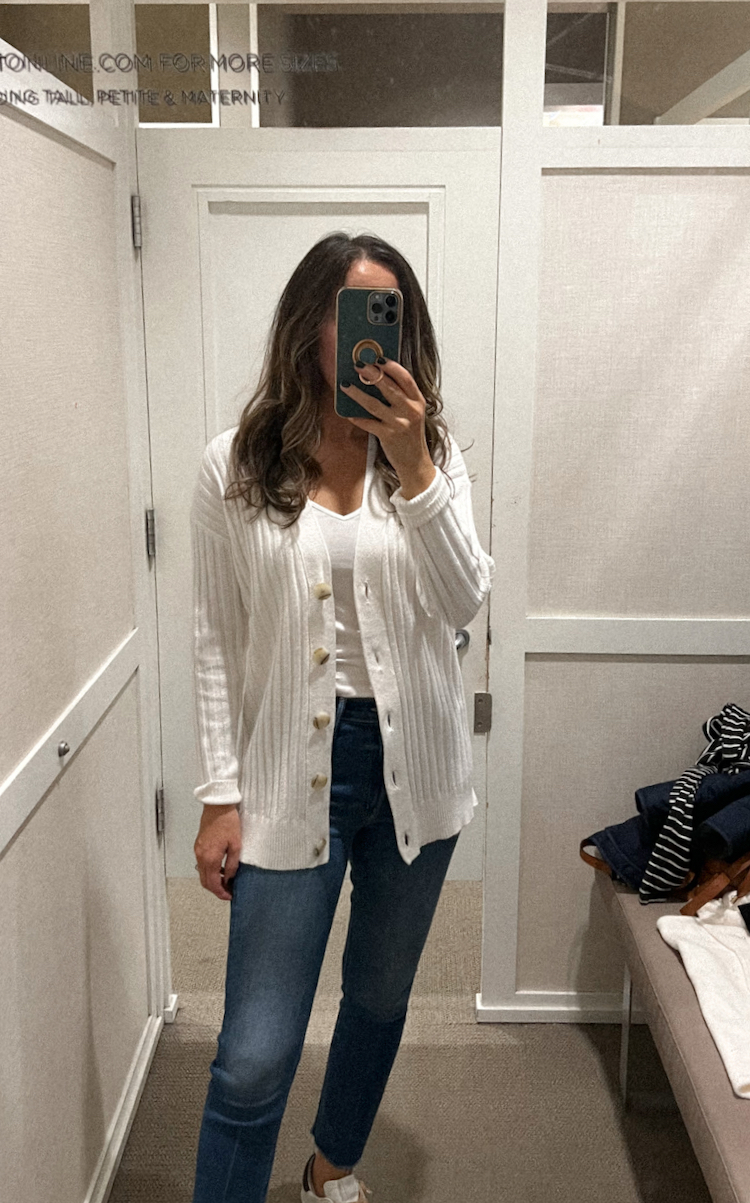 RELAXED FIT RIBBED CARDIGAN tts
Loved it paired with the button down.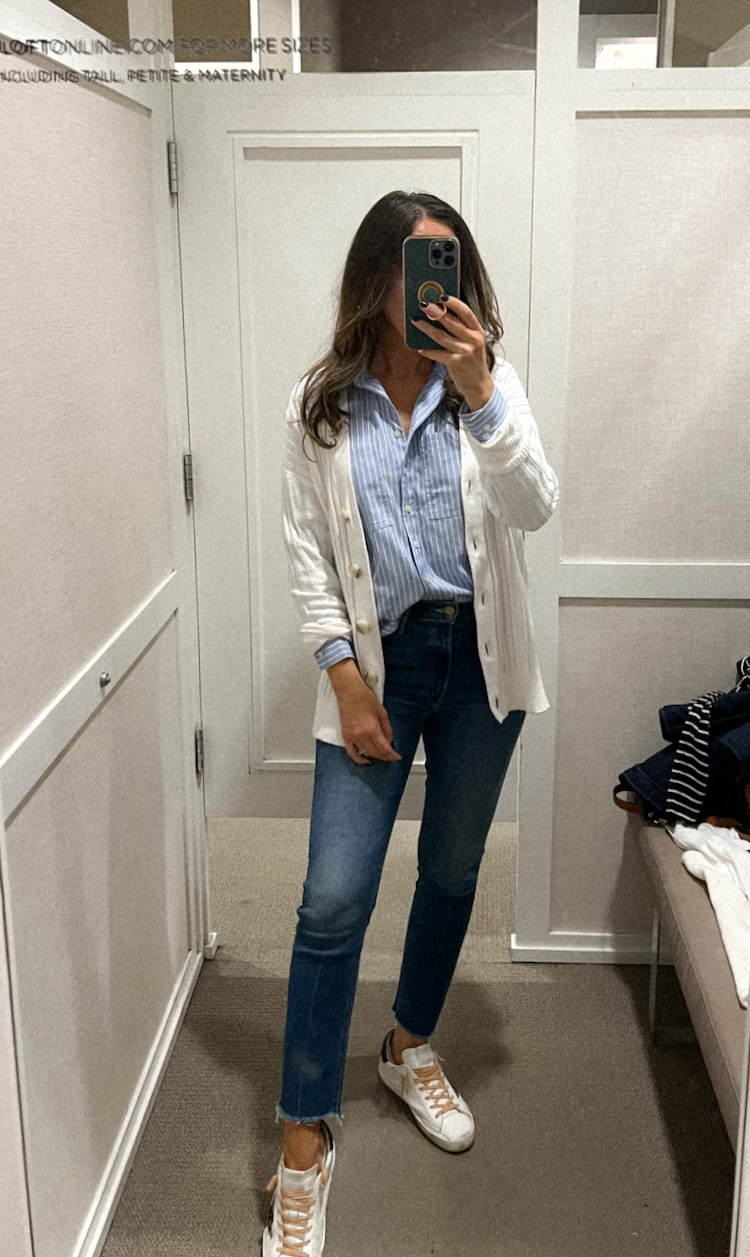 The button down is in xs below. It is a slightly oversized fit.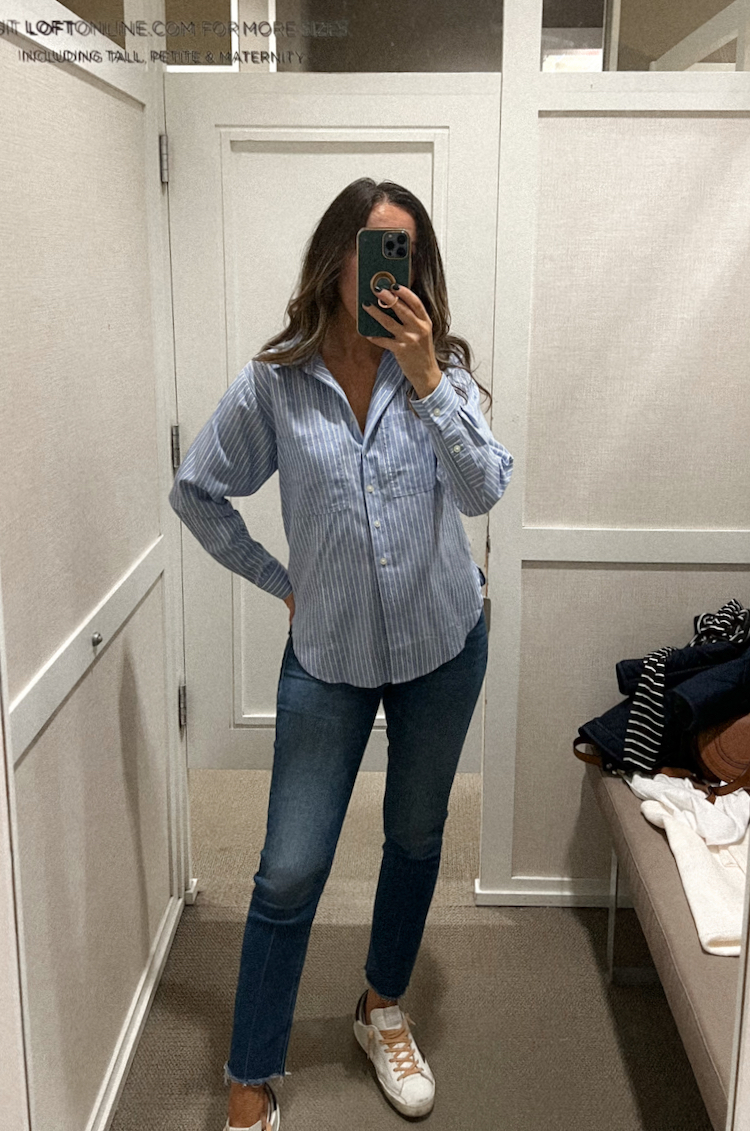 STRIPE POCKET TUNIC SHIRT in xs
This textured tie neck sweater is much cuter in person. Great little details. It comes in two more colors. Runs tts (wearing xs below).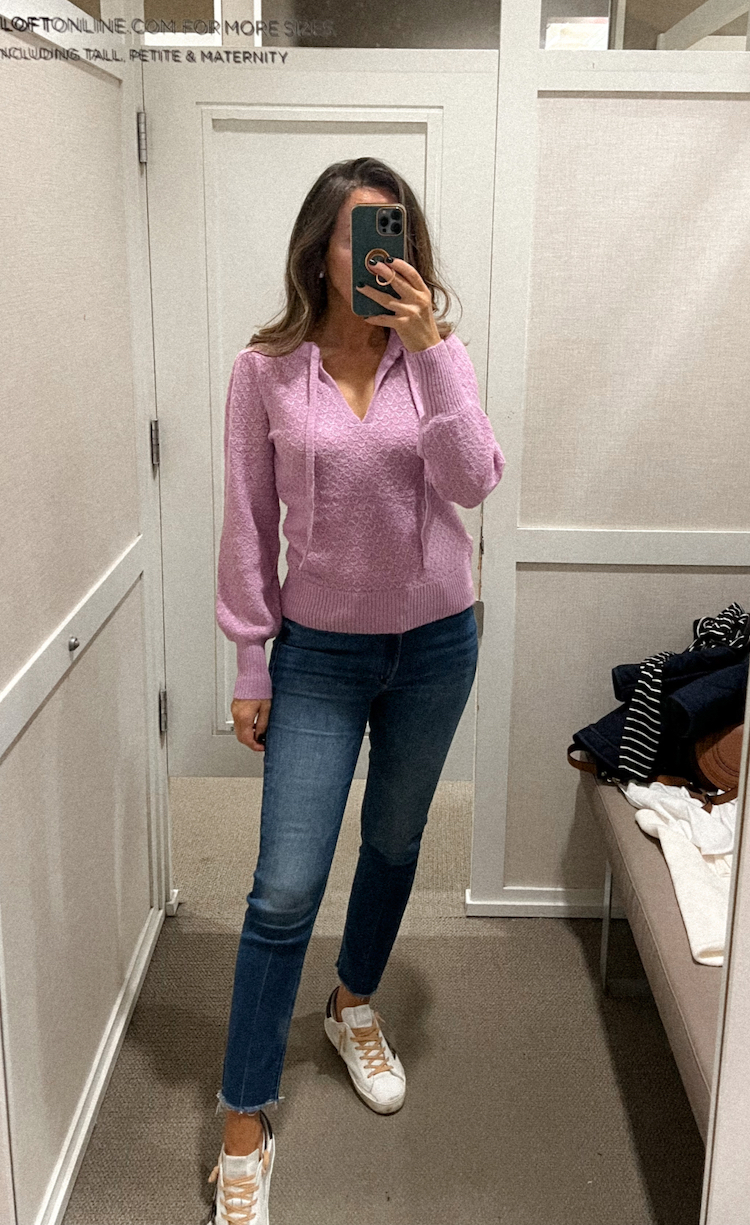 TEXTURED TIE NECK SWEATER in xs
Had to try this cute tie neck heart blouse. Wearing xs below and it runs tts. I noticed the sleeves are a tad short. Not a deal breaker necessarily but something to keep in mind.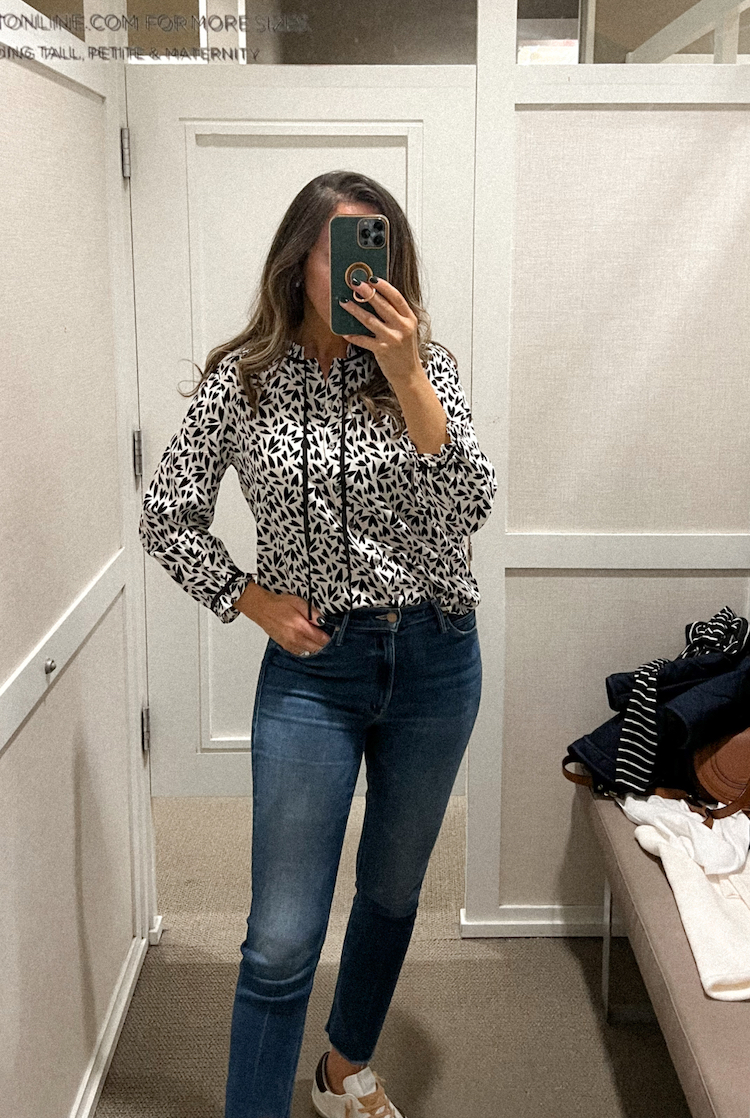 TIE NECK HEART BLOUSE in xs
Tried size 0 in this chic plaid blazer. Loved the velvet detail on the collar (which I realize you can't see here lol). It's on the thinner side. I don't think it's worth the full price but at 40% or 50% off it's not bad. Looks nicer in person.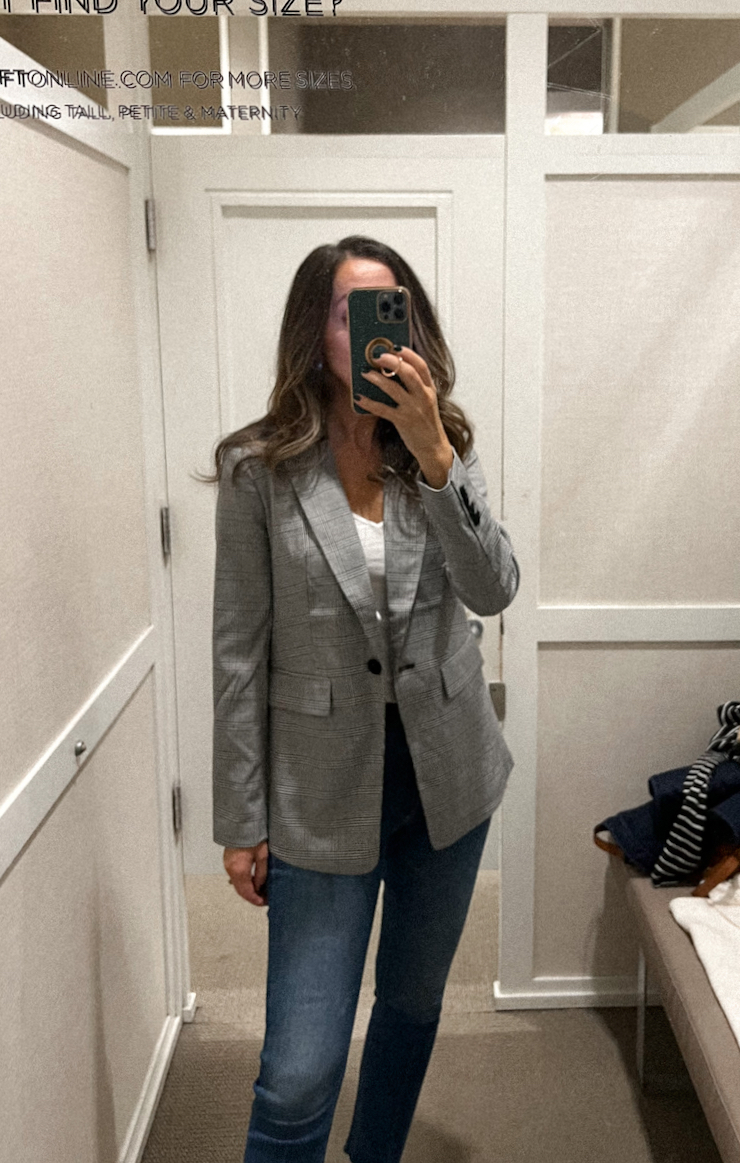 PLAID BLAZER in size 0 tts
This pretty tweed cosmetic case is currently in my card. I saw it under preview and waited until they had a sale. I mean, how cute is it?! It would make such a great gift to. Some more gorgeous pieces.
---
I think the look of this blazer speaks for itself. It's so stunning! It comes in black and camel as well. I tried size 4 first as it was on top. It fit well surprisingly. Hubby handed me size 2 and it didn't feel much smaller but he noticed it looked better. Still could move my arms up and down (always a must-have with blazers. Hate the feeling like I'm in a straight jacket when I can't fully move my arms). I'm usually size 0 or 2 in blazers depending on the brand and cut. I always tend to be size 0 in Ann Taylor blazers. Lately size 2 in J.Crew (at least the last two wool blazers in got).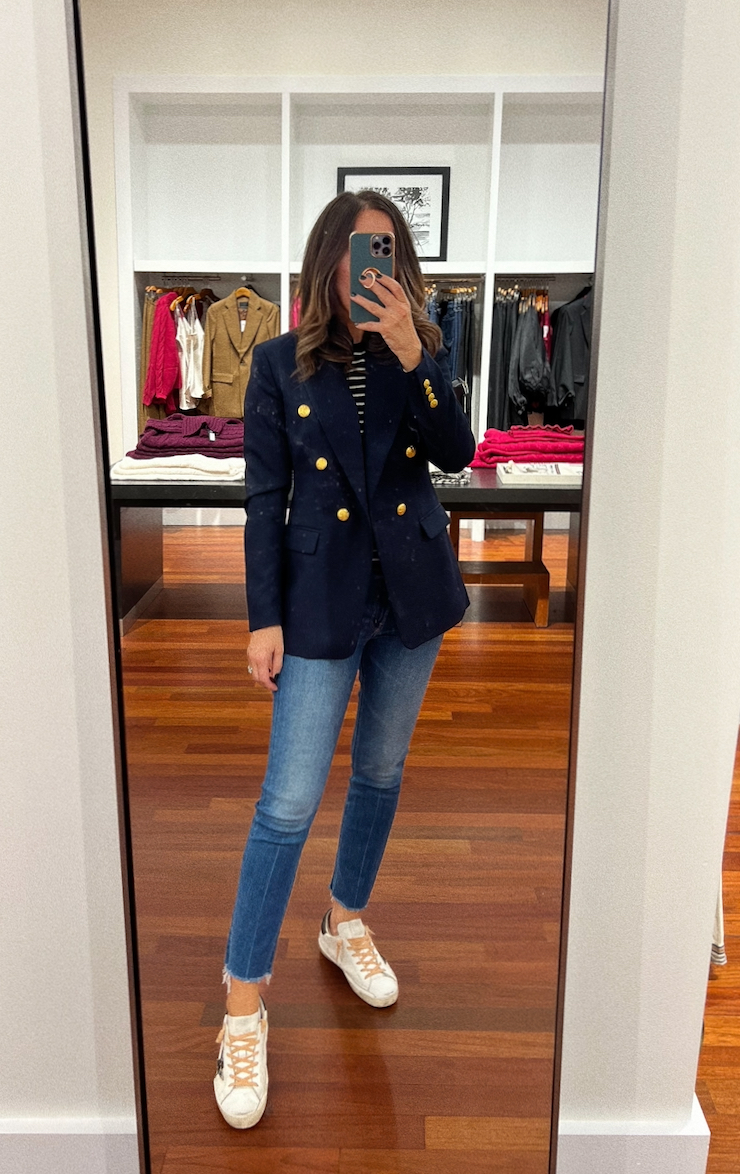 Blazer in size 2
Let me know in the comments below if you have any questions. I was in a rush to post this before I had to leave and also while they're still having a sale.
Hope you had a great weekend!