Well hello there!
It has been a while. I don't think I've ever gone this long without posting on my blog! Mid-December I started posting less and less, including on my Instagram. The "need" for constant posting can get overwhelming so taking a step back to enjoy life is oh-so-necessary and refreshing.
Rounding a few outfits from earlier this month. I got more coming but didn't want to overwhelm with too many outfits in one post…
This coat keeps popping in and out of stock. Currently, it's stocked in most sizes. I got size 4 and it fits like a regular small. With that said, I think the sizing does run small (I'm usually xs/s in coats). I've been wanting a long black coat for some time and this is the longest one I could find that wasn't overly $$ (I did get mine on sale). For length reference I'm 5'6.
Our January has been more like March, not overly cold. So I took the opportunity on warmer and dry days to wear sneakers to switch it up. But I've worn the exact outfits with boots too. Works either way. It did get a bit colder and it snowed yesterday so perhaps real winter is here.
SHOP THIS OUTFIT: Mother Dazzler Jeans tts (super comfy and most worn jeans lately ) | Coat in size 4 – similar here and here | Everlane Sweater in xs | New Balance Sneakers (tts for me) | Chloe Bag – here from Nordstrom
Other than my puffer coats, I've been reaching for this old Club Monaco coat the most this winter. I wish they would bring it back as it is such a great classic coat.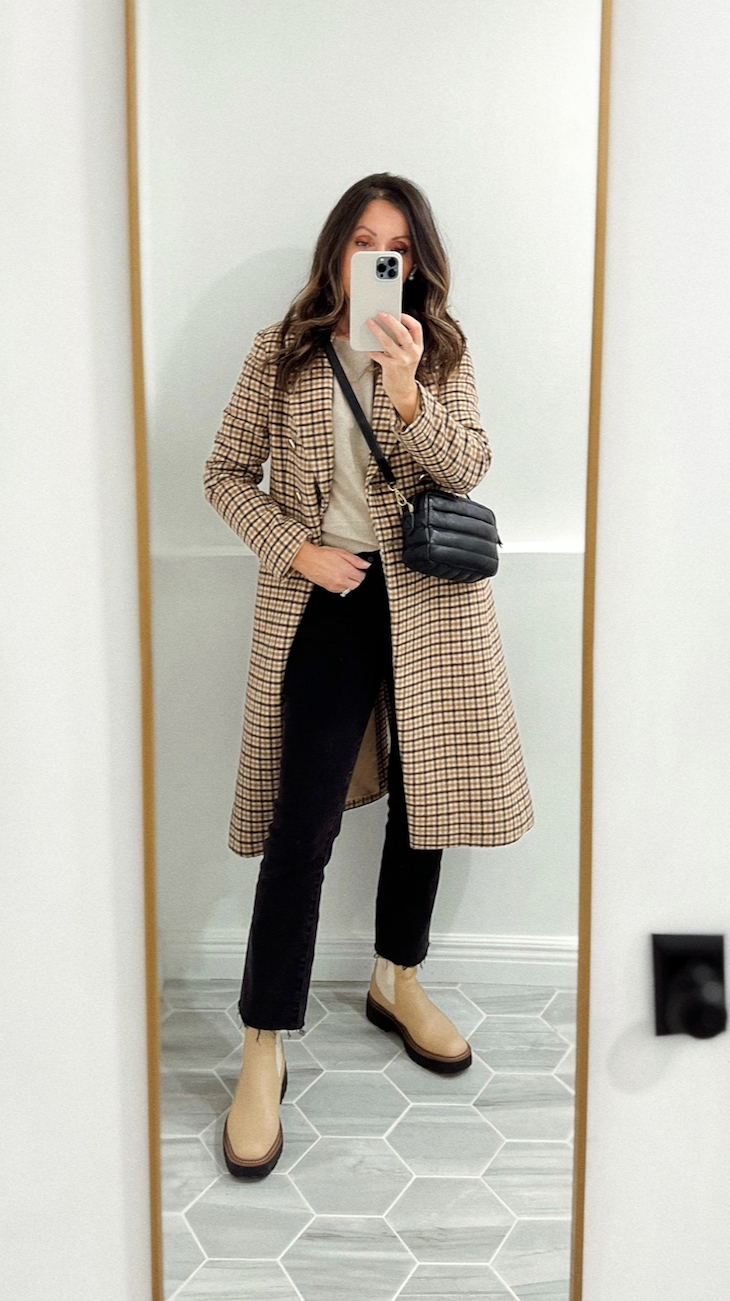 SHOP THIS OUTFIT: Mother Hustler Jeans (tts for me) – here from Saks | Lugsole Boots on sale! – I sized up | Cashmere Sweater (old Naadam) – similar here and here | Madewell Bag | Club Monaco coat (old)
This coat and bag are one of the best sellers! The coat chic and versatile. The style is oversized but not in a frumpy way. It is more of a spring and fall coat but works in winter on not so cold days with layers. I got it in size Small only because xs was always sold out.
The bag – probably the most purchased bag. You all love it and for good reasons. The quality is exceptional and the style look a lot more $$ than it is. I wrote a review on this gorgeous bag in this post.
SHOP THIS OUTFIT: Oversized Wrap Coat (tts) | Mother Hustler Jeans | DeMellier Bag | Oversized sweater – comes in ton of colors | Booties Ann Taylor (old) – new version, also very similar here and here
I've had these Veja sneakers for a few years and noticed recently that they raised the price. I suppose no surprise there! I'm size 8.5 and wear 39 in Veja's.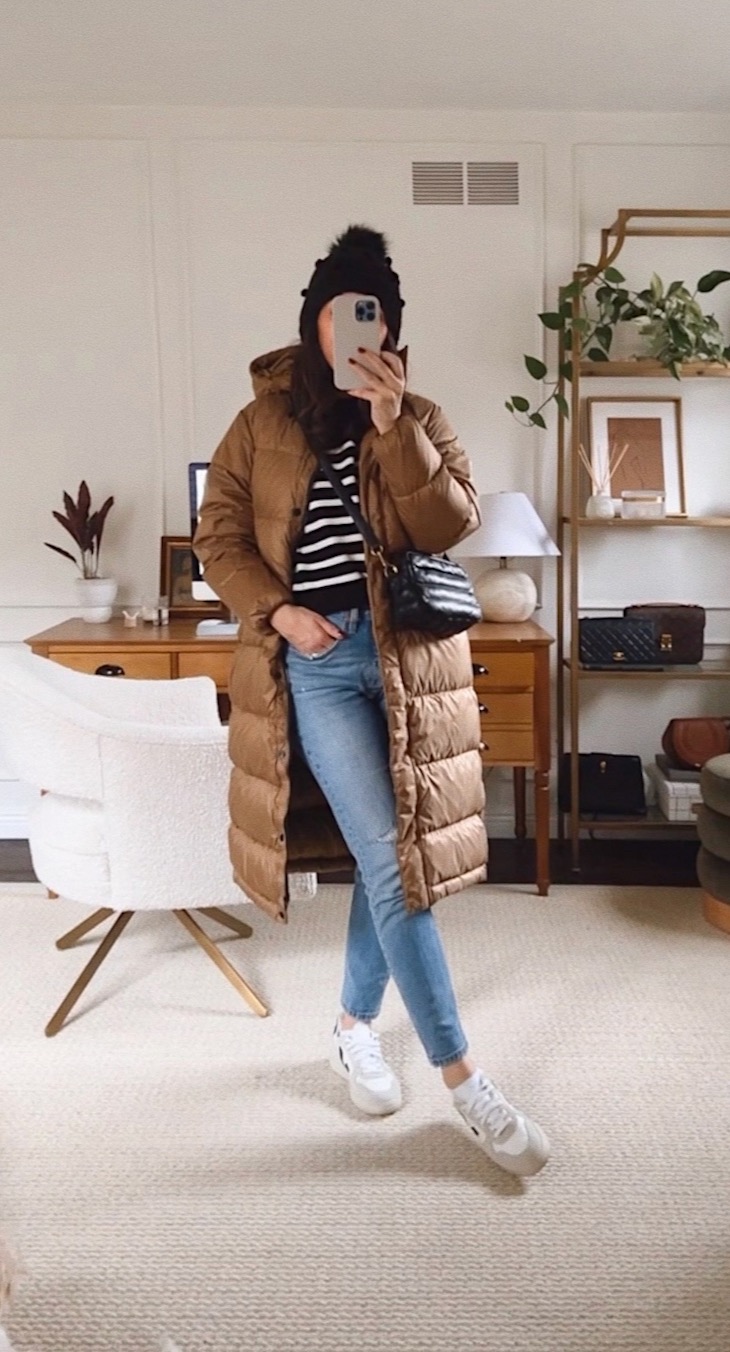 SHOP THIS OUTFIT: Veja Sneakers | Madewell Bag | Old Everlane puffer – similar here, here and here $$, love this one | Levi's 501 (exact wash old) | Stripe Sweater old – similar, this one looks exactly the same but $$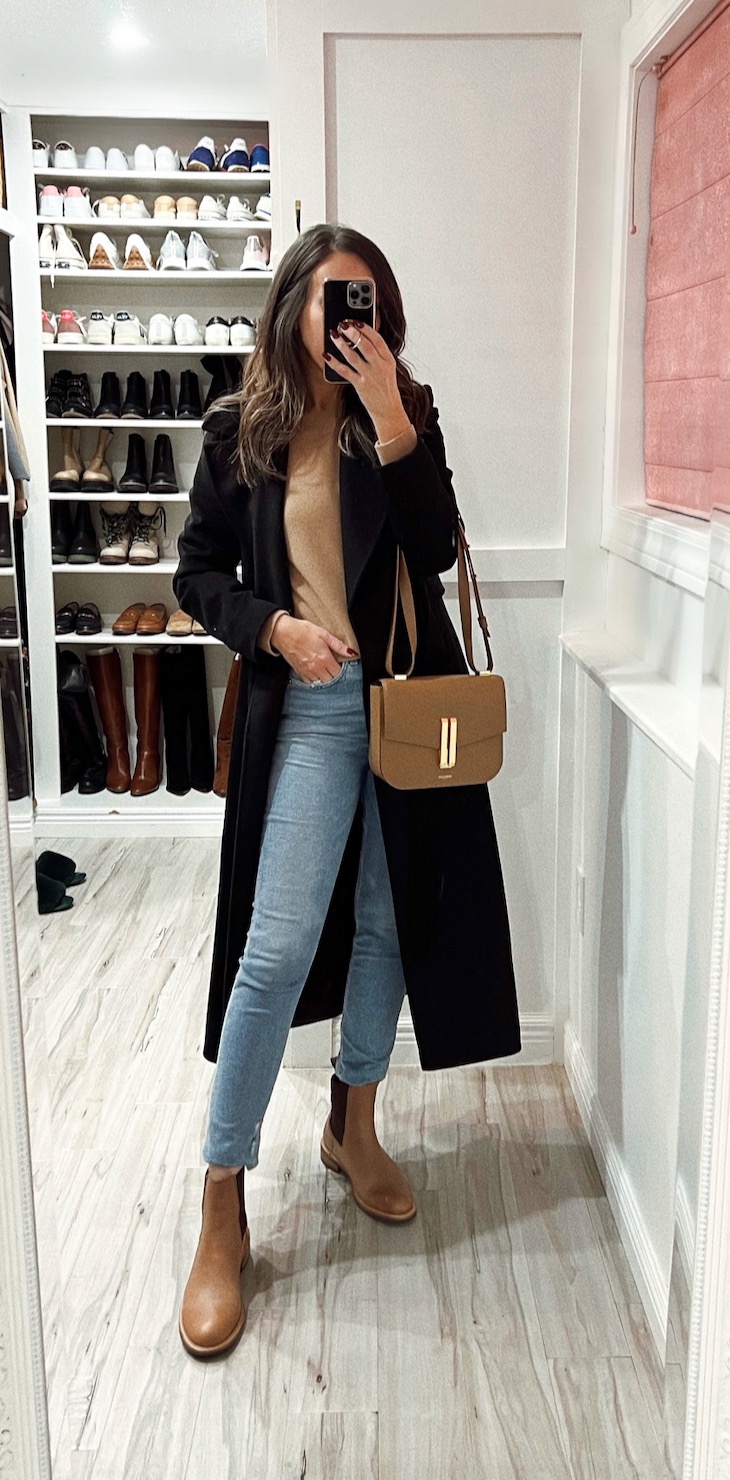 SHOP THIS OUTFIT: AGOLDE jeans tts for me | Cashmere sweater in small | Chelsea booties (size up a 1/2 size) – use code lillydemello for a discount | DeMellier Bag | Black Wrap coat in size 4 – similar here and here
Thanks for stopping by! x