Mango is one of my favorite retailers and has been for many many years. They have such a great selection of classic and trendy pieces.
The current sale promo is 30% off orders of $220+ with code EXTRA30. They don't adjust the price if you return certain pieces. Shipping and returns are free.
I realized that I forgot to include the pieces I ordered the other day. It is so hard to narrow it down as they have such a great selection. THIS BAG was an immediate 'add to the bag'… Such a perfect summer bag (update: I ended up returning it as it was smaller than I expected but it is cute). Two straw totes in the collage below also fall in the 'perfect summer bags' category. I've said it for years and still stand by it that Mango has some of the best affordable bags. This Celine bucket bag look-alike is stunning (I did order it since it is a great deal with the 30% off. UPDATE: ended up returning it. Couldn't justify it since I already have a couple of bucket bags). Last year I purchased a small straw tote from Mango and it has been a favorite. This year they have this version and this version which in personal is a bit smaller than it looks on the model (I ordered it but it looked too similar in sizes to my Mango one from last year). Both are perfect for summer. And I LOVE that they can be worn crossbody as it comes with the removable straps. Mango bags can easily get their own post as there are quite a few stunning options.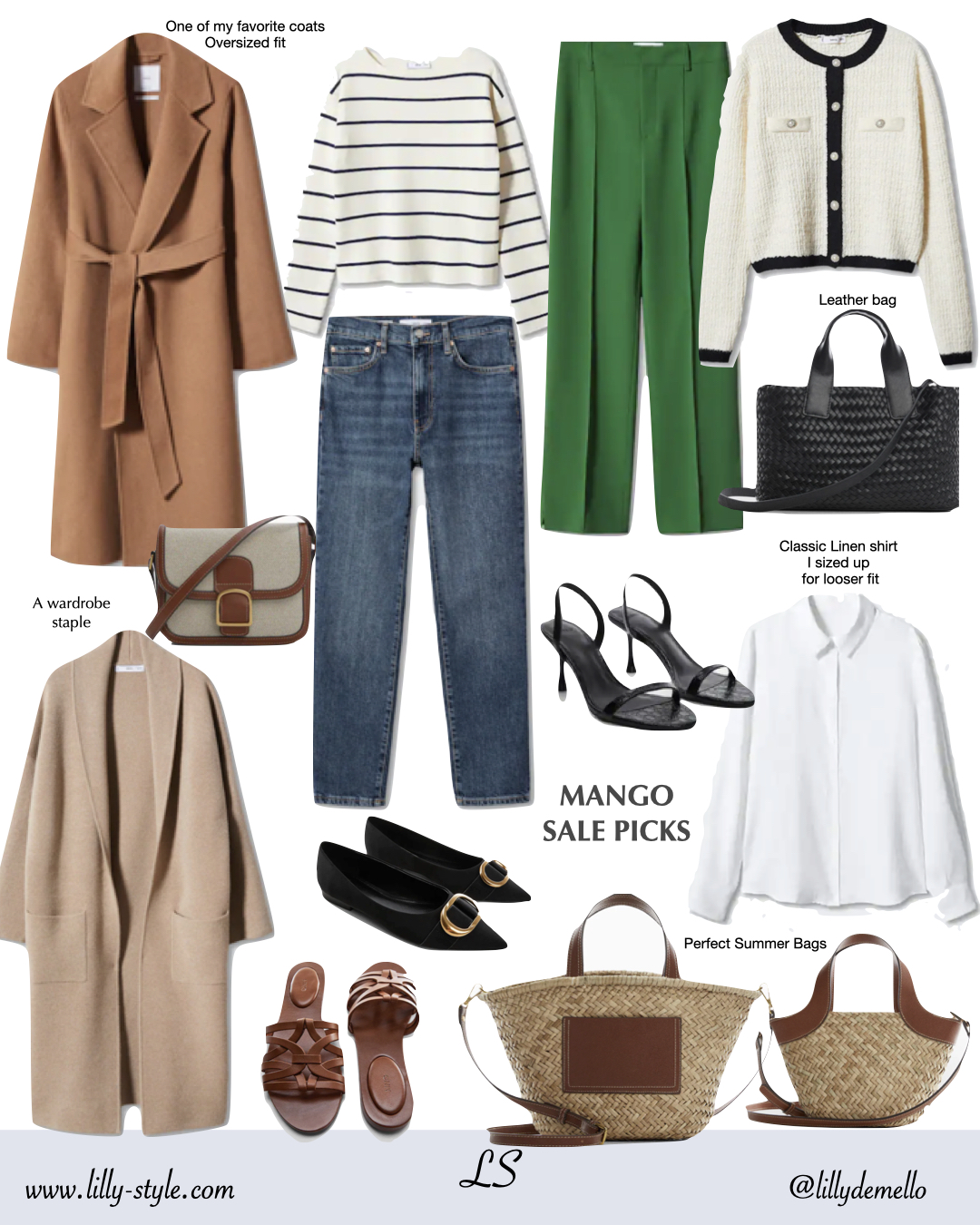 OVERSIZED CAMEL COAT (one of my favorites in my closet. tts) | TEXTURED CROSSBODY | STRIPE SWEATER | STRAIGHT LEG JEANS | GREEN TROUSERS | TWEED CARDIGAN | LEATHER WOVEN TOTE – love!!! | BLACK SANDALS | LINEN SHIRT – I got mine a few years ago in size 4 for a slightly oversized fit | COATIGAN – a wardrobe staple | BLACK FLATS | LEATHER SLIDES – avail. in two more colors | STRAW TOTE | SMALL STRAW BAG
I have had a few pieces above for some time now – like the oversized camel coat, linen shirt, the fab coatigan (in gray) and the quality of everything has not disappointed. I did ordered this pleated knit dress in pink (of course I wanted black but trying to add color to my wardrobe. Plus it is easier to recreate this look in black).
The most asked about coat. It's lightweight, oversized but in a chic way (you can size down or stick to your size), and it goes with everything.
Happy Shopping!