Rounding up a few spring outfits!
Blazer and jeans will forever be one of my favorite combos. It is such an easy way look put together and polished without trying hard. You can pair this outfit with any type of shoes…depending on the occasion. Flats and sneakers are my favorite for everyday wear. Heeled sandals or pumps for dinner would look great with this outfit (still flats for me lol).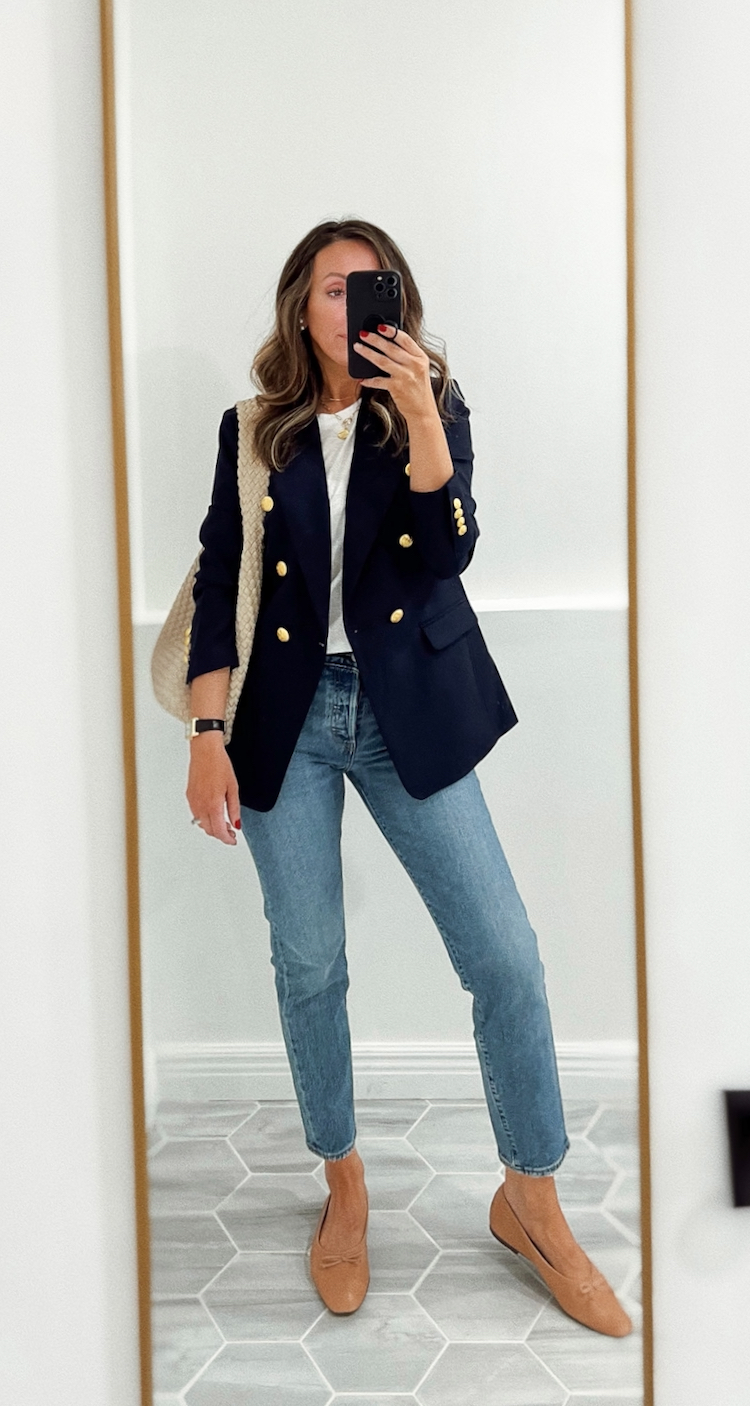 SHOP THIS OUTFIT: Navy Blazer in size 2 | Levi's Jeans – love this similar style | J.Crew White Tee in Small | Schutz Nude Flats tts for me | Naghedi Hobo Tote in Ecru – similar for less (comes in ton of colors) | Necklace (old) – great options here, here and this one is gorgeous | Watch
The white tee I'm wearing is an old favorite. But it is thin, just consider yourself warned if you don't like really thin shirts! I personally love it for layering and specially in the summer on its own when it is hot. With a good nude bra it looks fine IMO. I've repurchased this tee as my first one got holes in it from doing the front tuck and not being careful (actually this is my 3rd. My first one I got many many years ago). I also have and love this one which is a bit thicker
These Levi's wedgie jeans are one of my favorite! They don't have a lot of stretch to them but they're decently comfortable if you get the right size. I got my usual size but I can't wear these when I'm bloated. If you're in between sizes, try a size up. Or order two sizes since shipping and returns are free. I also accidentally put them in the dryer once and they did shrink a bit. The other day I tried the 'stretch out' trick where you wet the jeans with warm water, put them on and then do squats or whatever you need to do to stretch them out (I actually put them on dry and then went into shower and drenched them in water. Putting on wet jeans on dry skin just didn't appeal to me lol). Follow by air drying them. I haven't tried them on yet and since I'm currently sick I'll wait. I just needed stretch in the waist really so I am not being overly hopeful that it will work.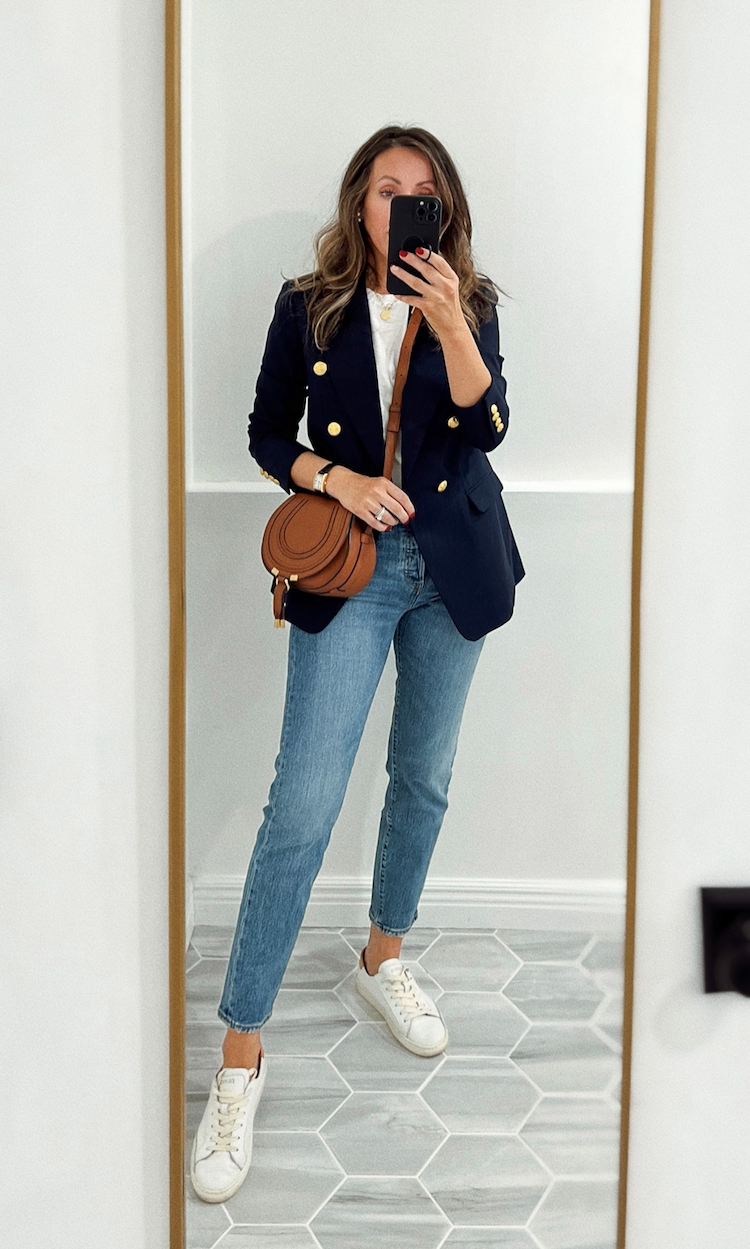 SHOP THIS OUTFIT: Navy Blazer in size 2 | White Tee in S | Levi's Jeans – love this similar style | Soludos Leather Sneakers tts – here from Shopbop in more sizes | Chloe Bag | Watch
These loafers remain one of the best classic loafers. Over 1,200 5 star reviews and for great reasons. The leather is so soft and they get better with each wear. Highly recommend these timeless loafers which come in quite a few colors.
SHOP THIS OUTFIT: Mango Oversized Camel Coat | Madewell Wide Leg Jeans | Loraine Loafers tts – here from Zappos | Cashmere sweater (old) – identical here for $50 (I size up in these) and here | Toteme T-Lock Bag – bigger size | Watch | Bracelet | Necklace one – on major sale and two (comes as set of two) |
Same Outfit as above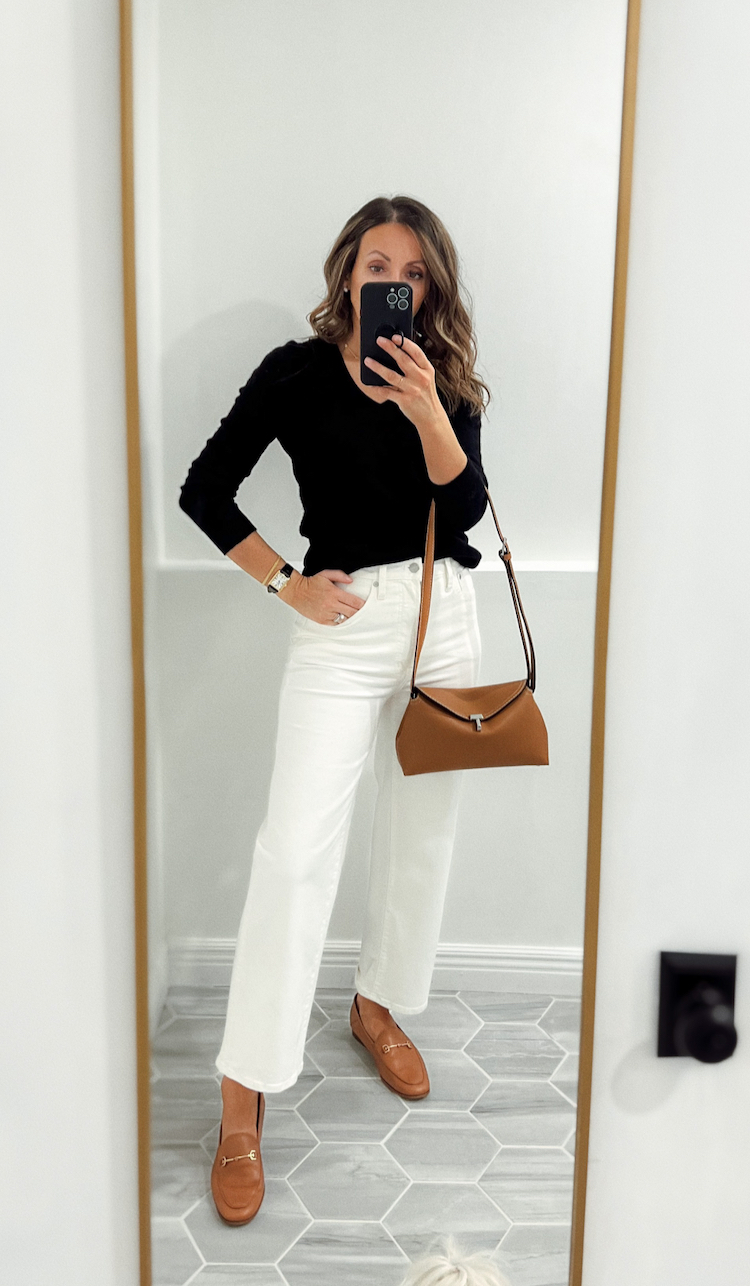 Outfit linked above
I've talked many times about this 'sweater blazer' from J.Crew. It is so versatile that I purchased it in gray as well. Perfect layer for traveling too. Definitely a wardrobe staple. I got my usual size and it's a relaxed fit. You can size down if you'd prefer it less roomy.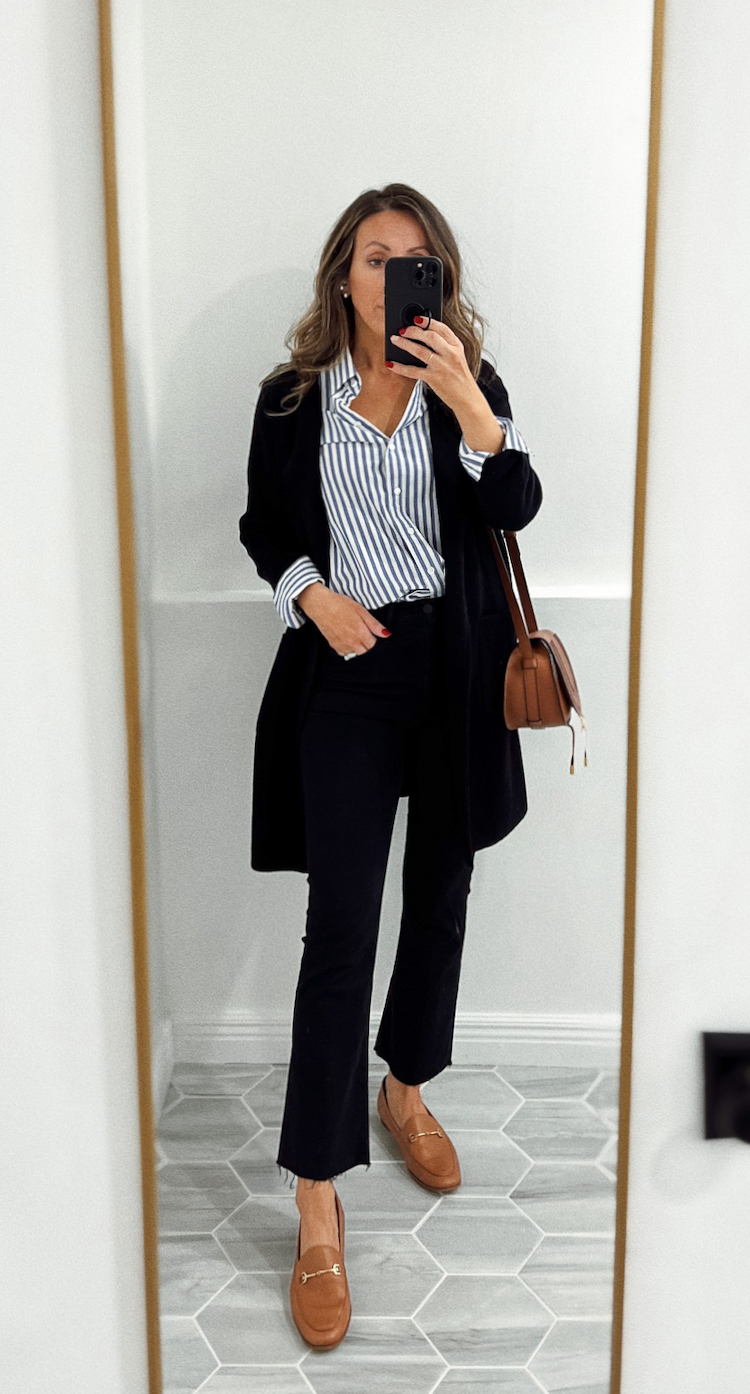 SHOP THIS OUTFIT: J.Crew coatigan in xs (runs roomy) | Mother Hustler Jeans tts – also here from Nordy's and here from Saks | BR Classic Button down tts | Loafters – here from Shopbop | Chloe bag
As always, thank you for reading!