Rounding up some recent Fall outfits. There is also a "small" rant in this post haha.
I've been loving deep green and sage green for years but other than my makeup bag I didn't have much of sage green in my wardrobe (I realized my iPad and AirPods Max are both in green, so there is a pattern here hah) . When I saw these Adidas Samba sneakers I "had" to get them (even though I did say that I will not be buying a pair as everyone has them. Hah). They're the perfect fall sneakers…and all other seasons really. I did try several pairs while in Europe and noticed they run a 1/2 size big (I'm talking specifically about women's sizing). I sized down to size 8 (my normal size is 8.5).
This alpaca-wool cardigan comes in several colors. I'm wearing size small here and I always size up in their sweaters. I will say that so far I've been super happy with almost everything I purchased from them (actually I did returned a maxi silk skirt the other day as I didn't love the fit on me). I'll have a little rant at the end of this post about something I came across this morning.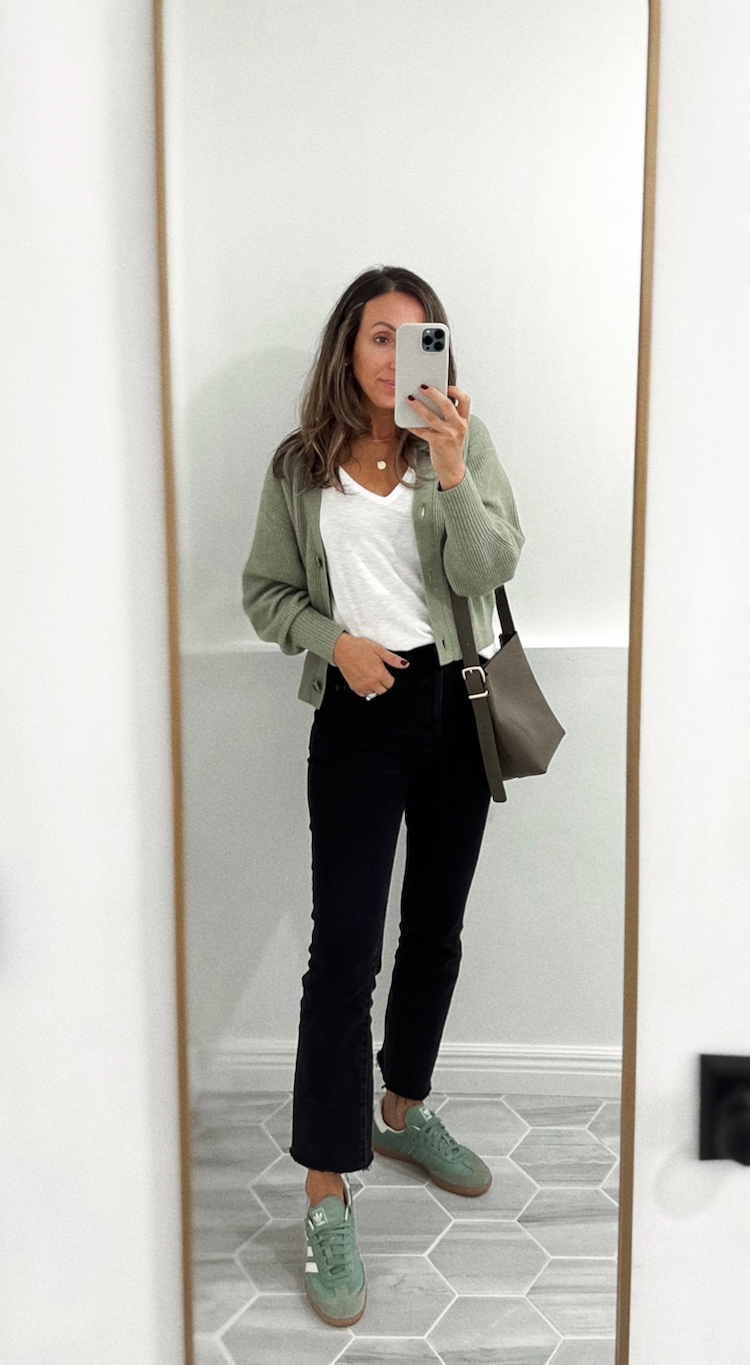 Alpaca Cardigan in xs – available in 7 colors | Sezane Tee in xs – similar for less | Madewell Jeans – this years version | Adidas Samba| Madewell Mini Bucket Tote
---
I've talked about these sneakers and how much I love them. I find the cushioning on these a bit better than on Sambas. But I do love them both.
This long cardigan coat is quite a few years old, from Madewell. Love the deep olive color. I found some great alternatives which I'm linking below this photo.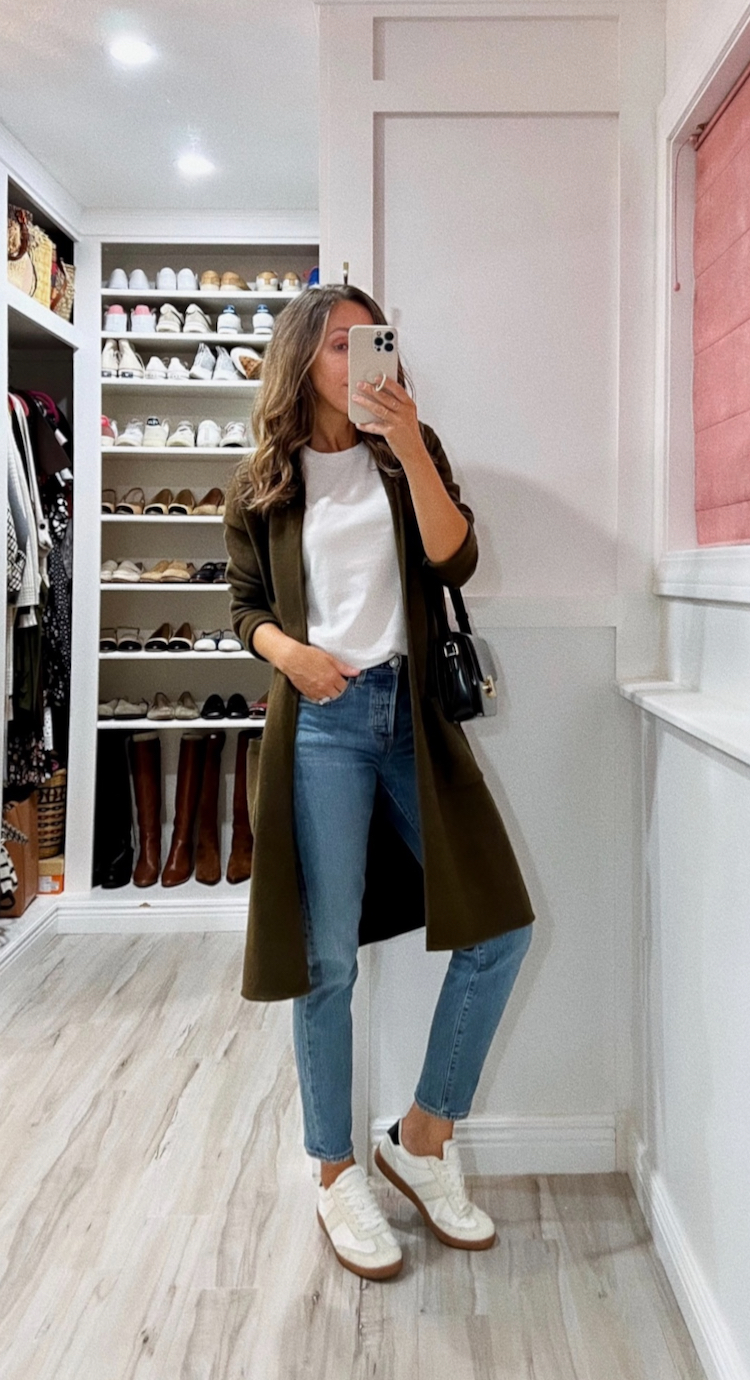 SHOP THIS OUTFIT: Levi's Wedgie Jeans tts | Madewell tee tts | Sneakers tts | Old Madewell coatigan – similar here and here
This striped sweater jacket, which comes in quite a few colors, is a decent dupe for the J.Crew one. It does not come in so I got small which fits a bit roomier (but fits like a size Small). I don't mind it at all but I might have liked xs perhaps a tad better. If comes in several colors. In the J.Crew one I took xs and it's shorter than this one but it runs tts. Overall, very happy this one considering the price. I might get another color.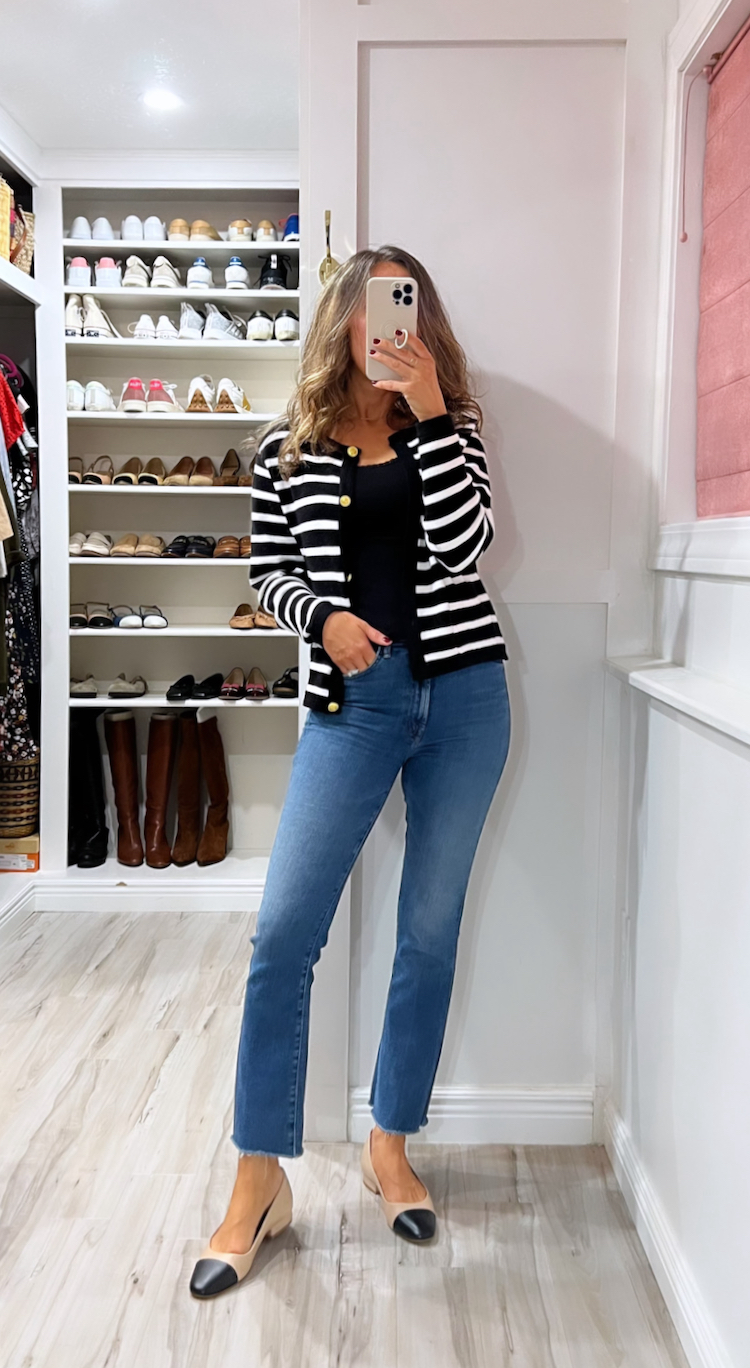 SHOP THIS OUTFIT: Stripe Sweater Jacket in Small | Jeans tts – exact wash old – very similar style for less (they run tts for me) | Cap toe shoes – size up a 1/2 size
---
I've had this coat for a few years and it's the perfect weight for fall and spring. It is wool and not lined so keep that in mind as it might be itchy for some. I recently ended up getting it also in camel (it was on sale + I had some rewards to use). It runs tts…but I did size down in the camel color. They call this years version NEW Daphne so not sure if they changed something. For me the smaller size and my size in the old version almost fit the same. I would say you can size down as the fabric has stretch to it.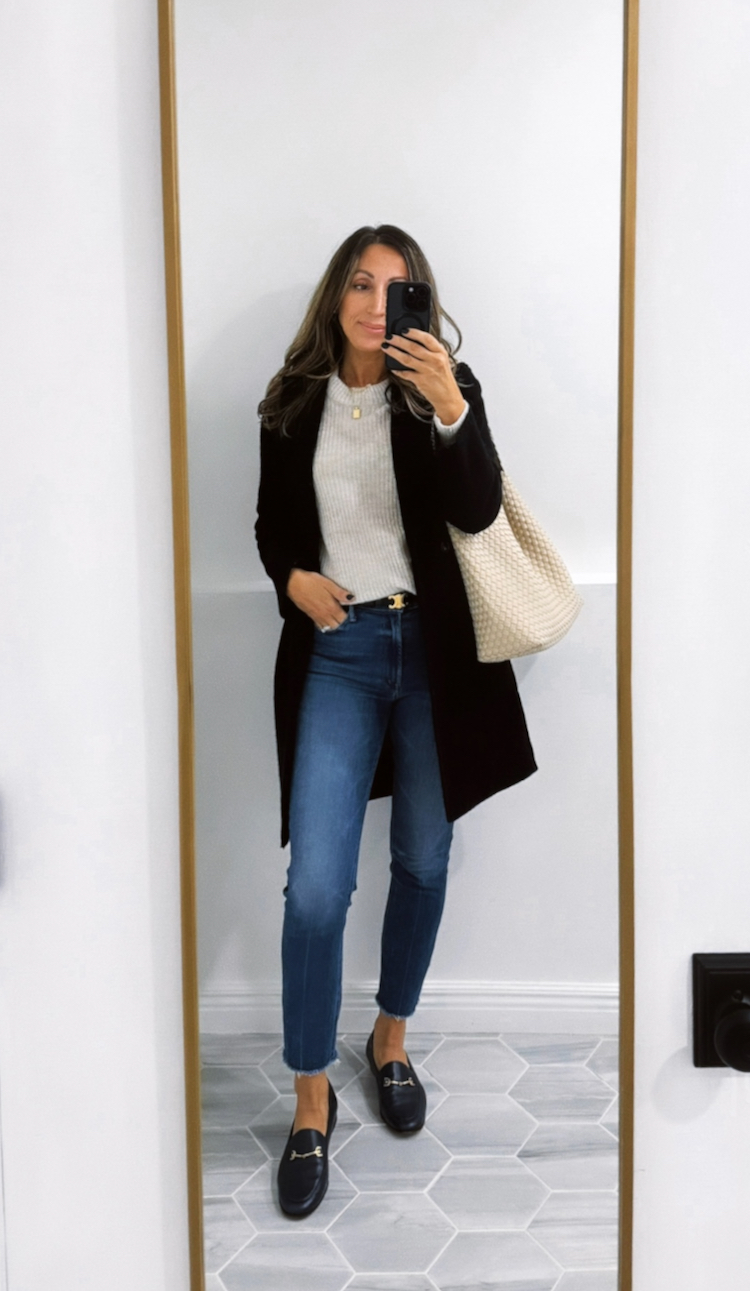 SHOP THIS OUTFIT: Topcoat in xs | Everlane sweater in xs | Jeans – same style, different wash | Loafers tts | Naghedi Hobo bag – similar for less
---
This Barn jacket is old (from J.Crew) and I feel like I love it this year a lot more than when I originally purchased it. Since it is old I'm linking alternatives below. I love these jeans!!! They're so comfortable and I love the laid back cool vibe of them.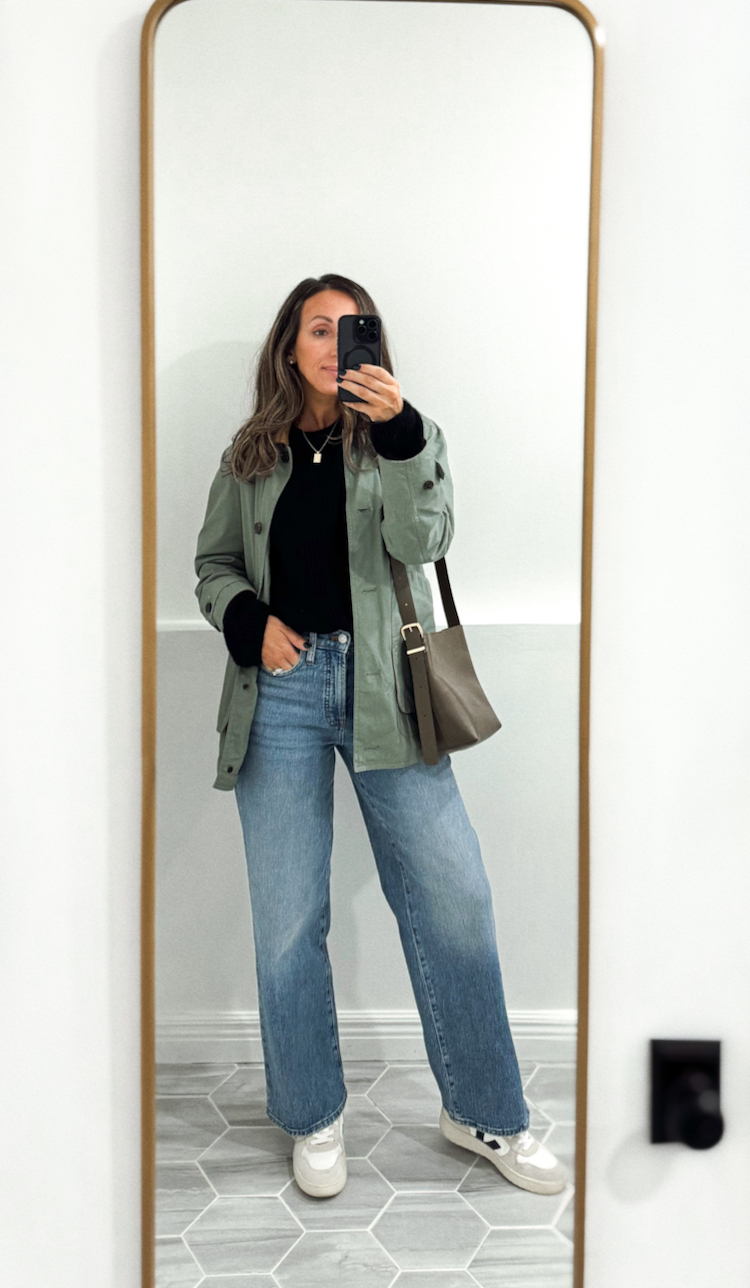 SHOP THIS OUTFIT: Jeans tts for me | Cashmere sweater in small – only $50 | Veja Sneakers | Mini Bucket Tote | Barn Jacket (old J.Crew) – new version, love this one and also love this quilted one (I have it in brown)
---
Ready for my rant lol I haven't typed this much on my blog in years haha.
The other I come across a reel of an influencer who shares her thoughts on certain brands and their quality. I liked her thoughts on some brands where she actually was in a store and compared the price tag to the quality of an item – fabric and stitching. Like a $150 polyester top or blazer. In some cases even pricier for terrible materials and craftsmanship. In one of her reels she bashed Quince based on a picture of a cashmere sweater on a model online (she admitted she has never ordered anything from them) and all the positive reviews which she thinks are bots. She said "if it's too good to be true, it probably is". She was referring to their affordable $50 cashmere sweaters and all the positive reviews. My personal guess is that people do reviews because they actually get points for each review and additional points if they upload a photo which in turn they can redeem towards a purchase. Or maybe some people are just be happy that a brand actually has affordable cashmere sweaters and they want to share that in a review. But my issue with her "opinion" is that is solely based on a picture she saw online where she thought 'the crewneck should be closer to the neck and not slightly stretched out…it should have "snapped back in place" after the model put it on. And that it is all too good to be true based on the price and positive reviews!' Those were her red flags!!!
I mean…really??? I immediately thought of a $250 cashmere sweater I own that has a stretched out neck lol. Also, my J.Crew cashmere sweaters don't sit close to my neck but are rather a "stretch out" neck look (which I prefer). How can you judge an item or a brand when you have never tried one single thing from them?! It just really bugged me because some of the comments said "I've been wanting to try their stuff but now I won't". Why are people so easily influenced by a strangers opinion? However, many others shared that they've been super happy with clothing and home items they have purchased from them. Let's remember that no single brand will ever have items where everything will be prefect quality, materials or that everyone will love. Every single retailer/brand is a hit or miss. There have been so many cases where I have purchased something despite bad reviews 1) because I liked the way it looked and 2) I wanted to form my own opinion and decide for myself if I love it or not. In many cases, I ended up loving the items. And in other cases I have disliked pieces that got pretty great reviews. Moral of this rant – if you see something that appeals to you and you can afford it, buy it and form your own opinion about it. I know there have been/are a ton of items I absolutely LOVE and have recommended but I know that it is not for everyone. Not everyone that sees it and purchases the items based on my opinion will love it.
I have never worked with Quince (but I'd be happy to lol). Every single item I own I've purchased with my own money. Have I returned some of the items because I didn't love them? Absolutely. Do I love their $50 cashmere sweaters? Yes I do (only one was a bit itchy). They're even a bit better quality than some $150 cashmere sweaters I own. But also, not everyone has a budget to buy $150+ sweaters so I think their affordable ones are absolutely wonderful option. And half of the time we just pay for the name of a brand, not necessarily better quality. Ok, this was more than I planned to say but I had to say it. It bugged me! This is not to defend Quince, it could have been any other brand. Obviously, everyone is entitled to their opinion even when that opinion is based on…nothing in this case (IMHO lol).
Enjoy rest of your week!