New Arrivals Favorites below (quite a few amazing pieces)
Dresses/Skirts (really want the leopard and mock neck dresses)

Other fab pieces

One of the tops so many of us loved is this cute and comfy wrap top. It's one of my fave recent purchases. This blouse is another new favorite. I definitely recommend both (pictures below).
Jeans 40% off w/code wear now. Pumps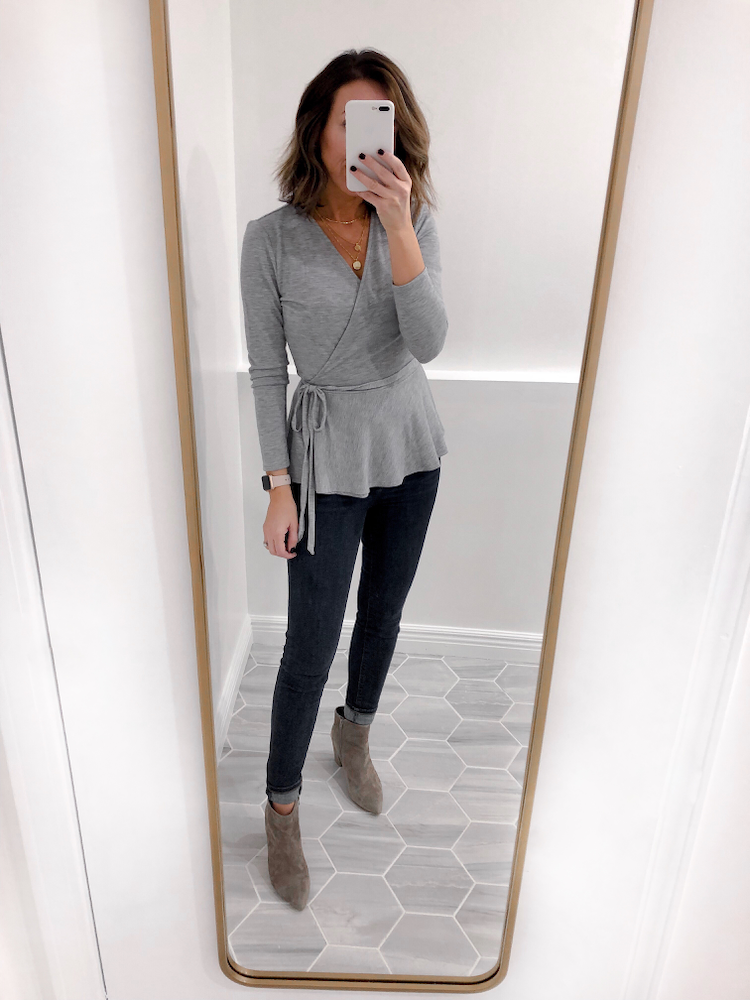 I was dying to try this pretty wrap top even though I knew that this color dislikes me…but I wanted to be in denial. It wasn't as bad on me as I thought it would be since it has other colors in it.  But at the same time I didn't feel myself in it (or anything else that day really). It does have a clasp to keep it in place. Glad they started adding that to most of their wrap tops.
I tried my usual size, xs and it fits tts.
Floral Wrap Blouse
I'm definitely loving this current wrap top craze. I tried xs in this striped wrap top and it fit tts. This one also has a clasp to keep it in place.
Striped Wrap Blouse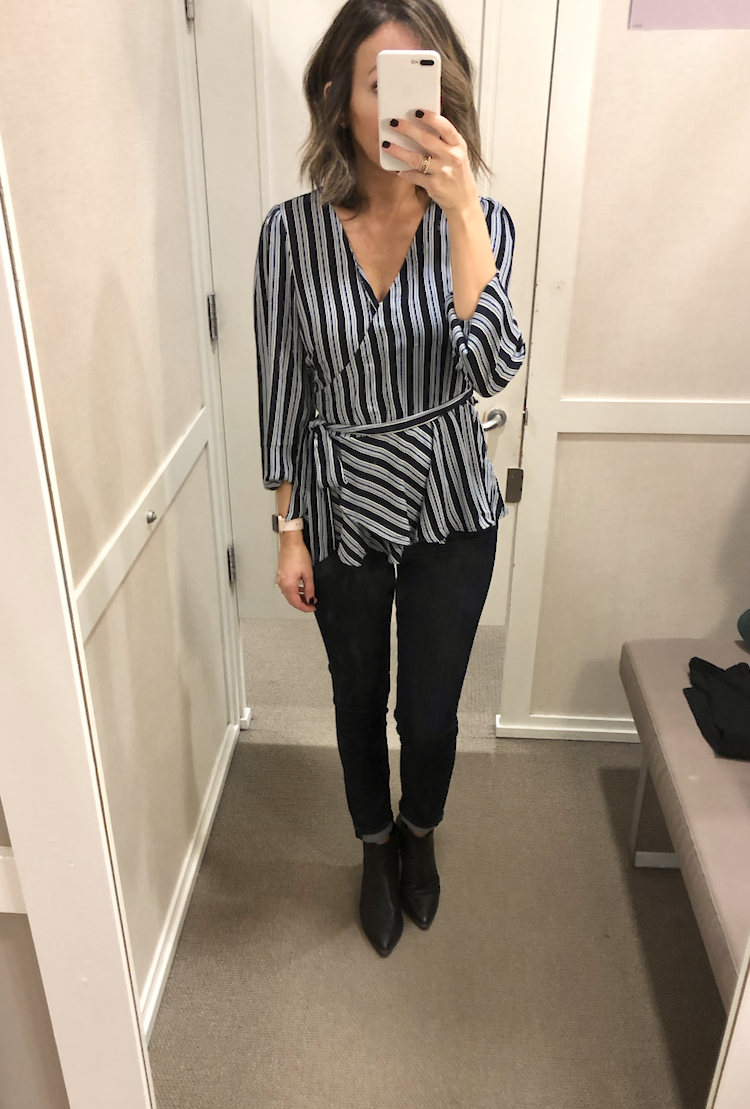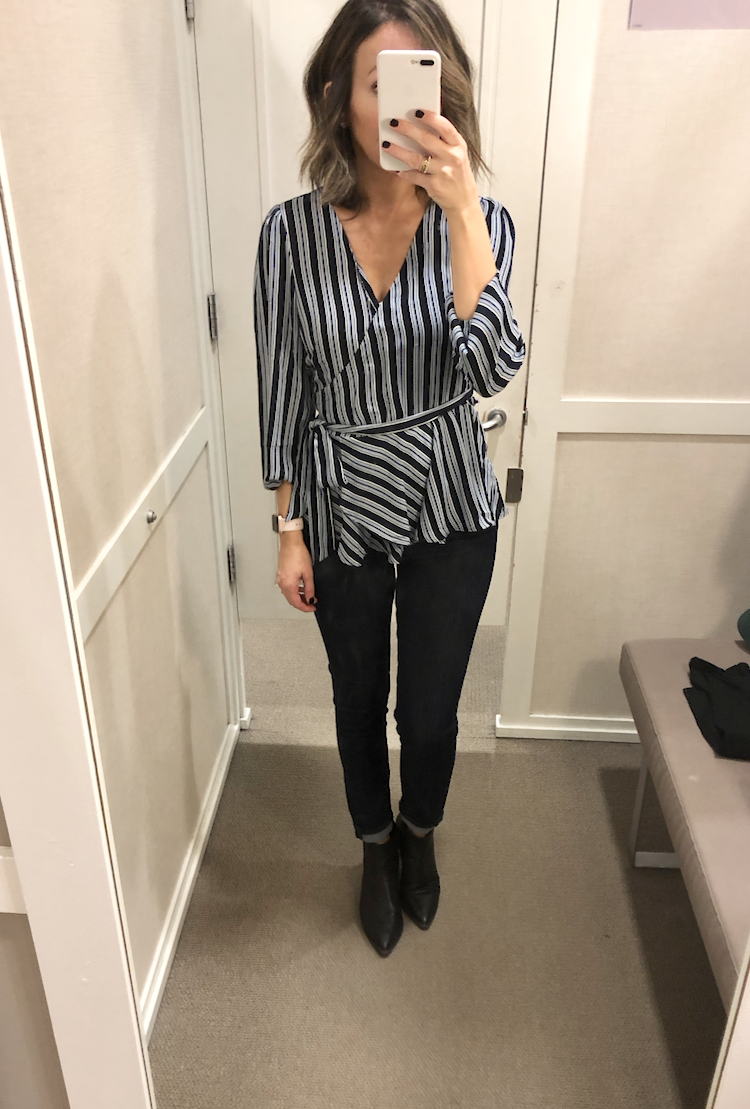 I tend to navigate towards this top each time it comes out…because I already have it in two colors. It's a great closet staple, classic and easy dressed up or down. My usual size xs fit great.
Striped Utility Blouse in xs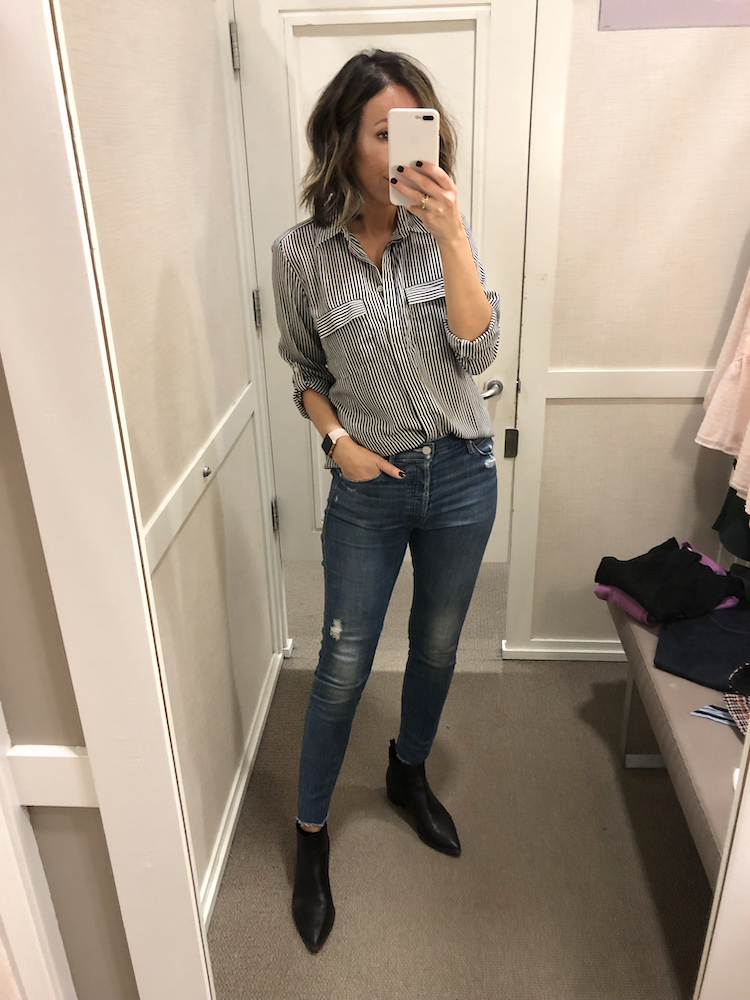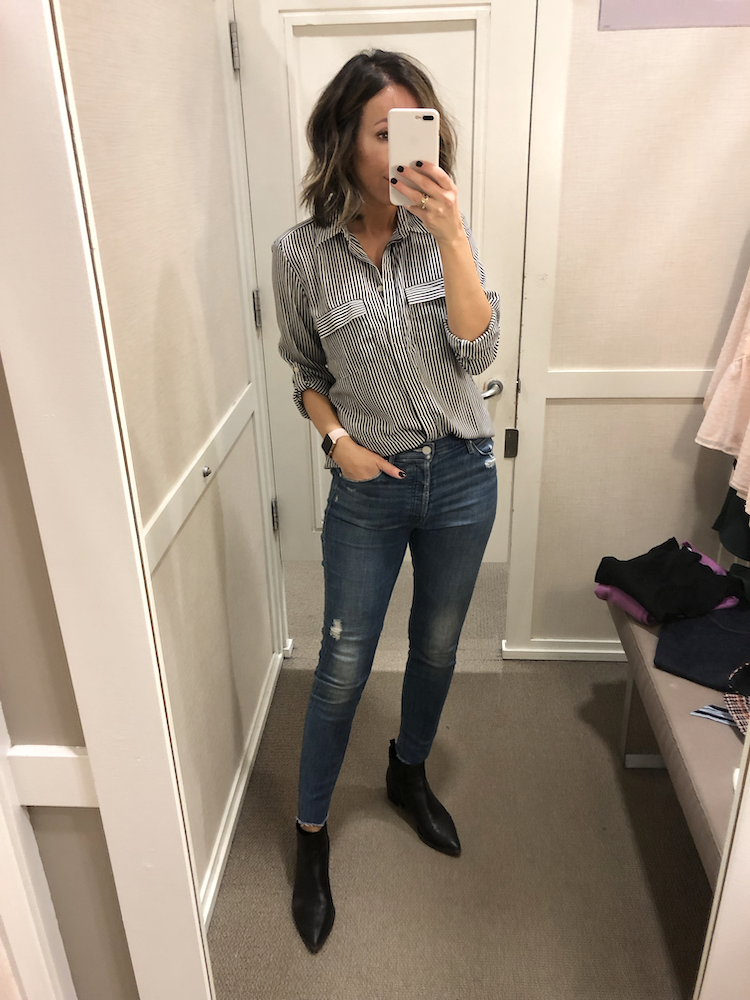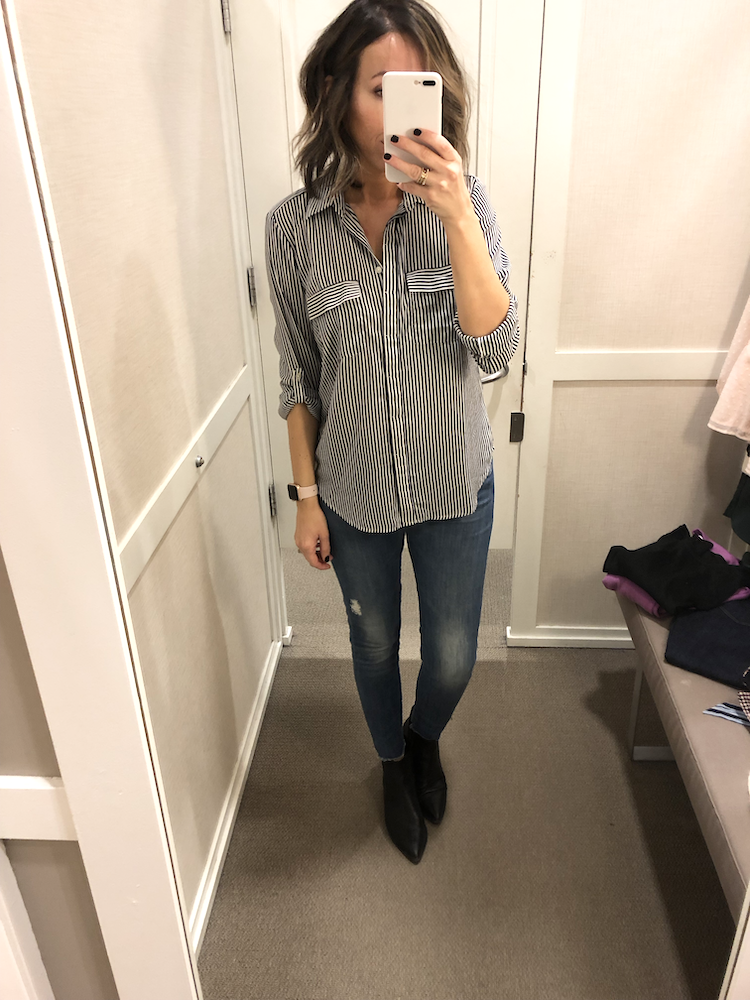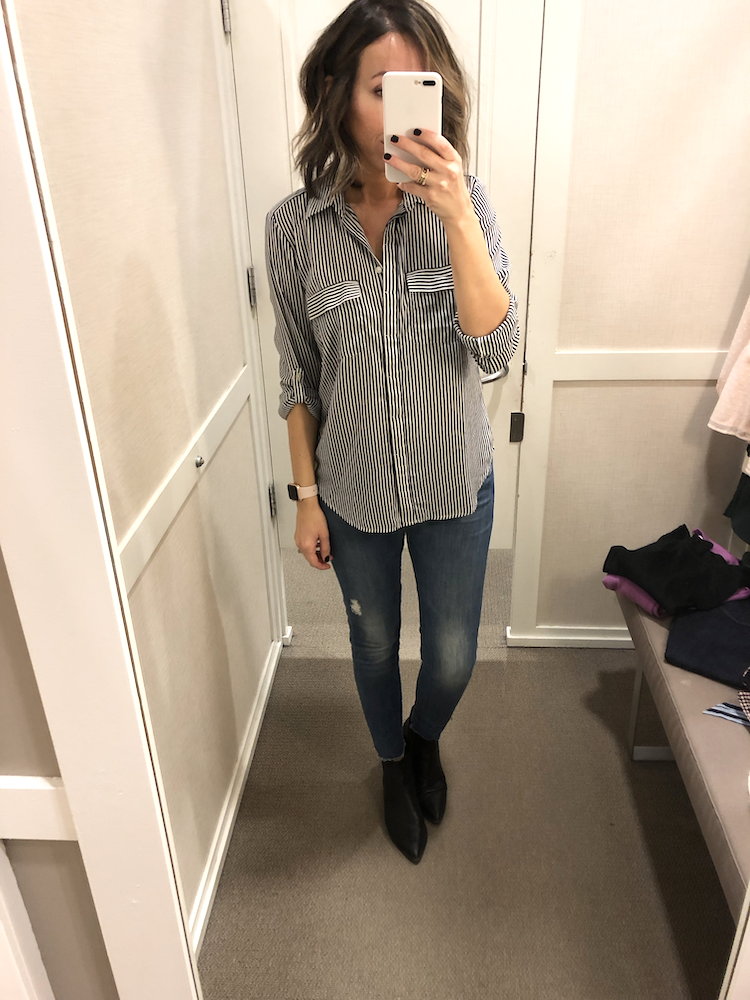 Adorable top and great if you want to hide the tummy… With that being said it runs a tad big around the waist. It says it's peplum but I wouldn't say it is. Just randomly roomy in the tummy area.  Wearing xs below.
Dot top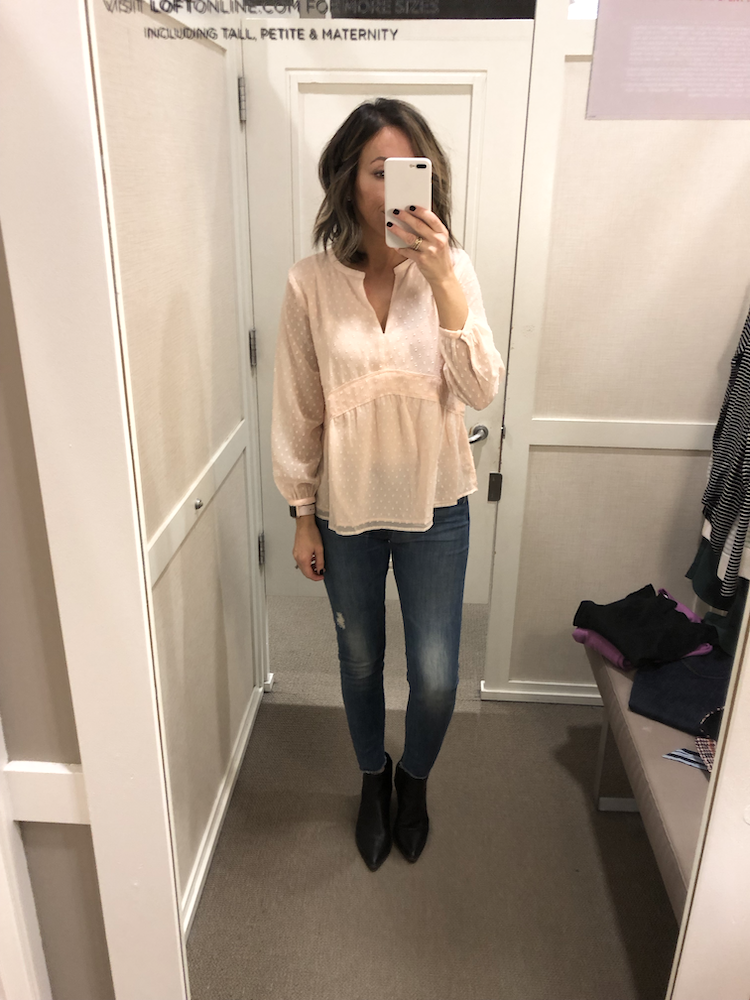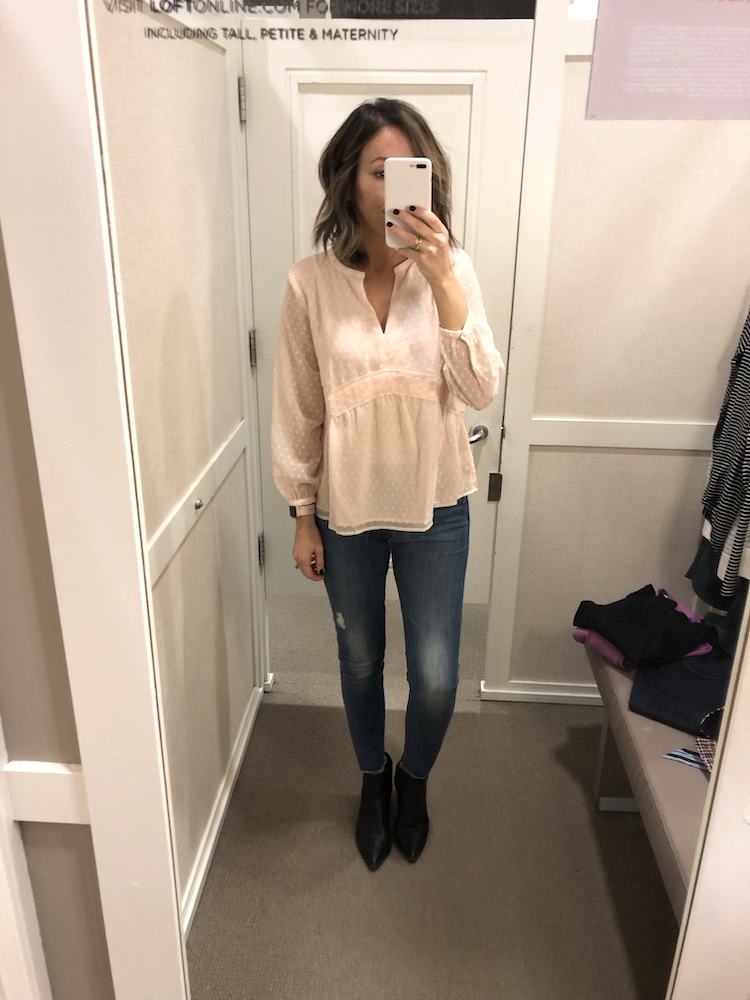 Nice, simple blouse which can be easily dressed up or down.  Tried on xs and it fits tts.
Striped Tie neck Blouson top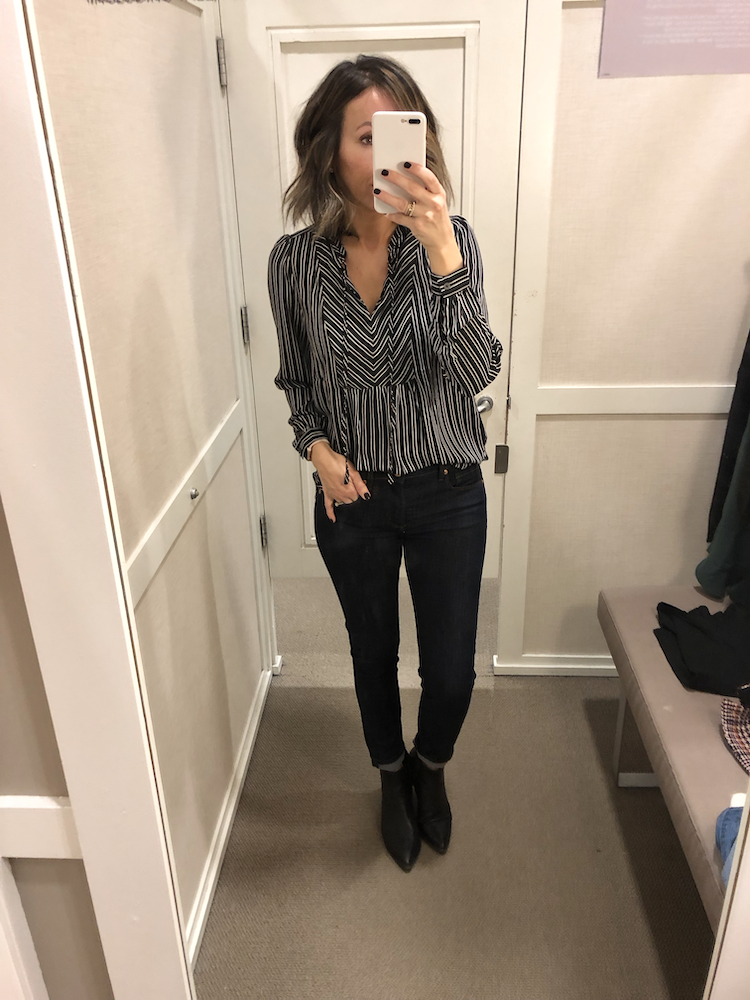 Nice, comfy top. Looks even cuter tucked in. Wearing xs below, fits tts.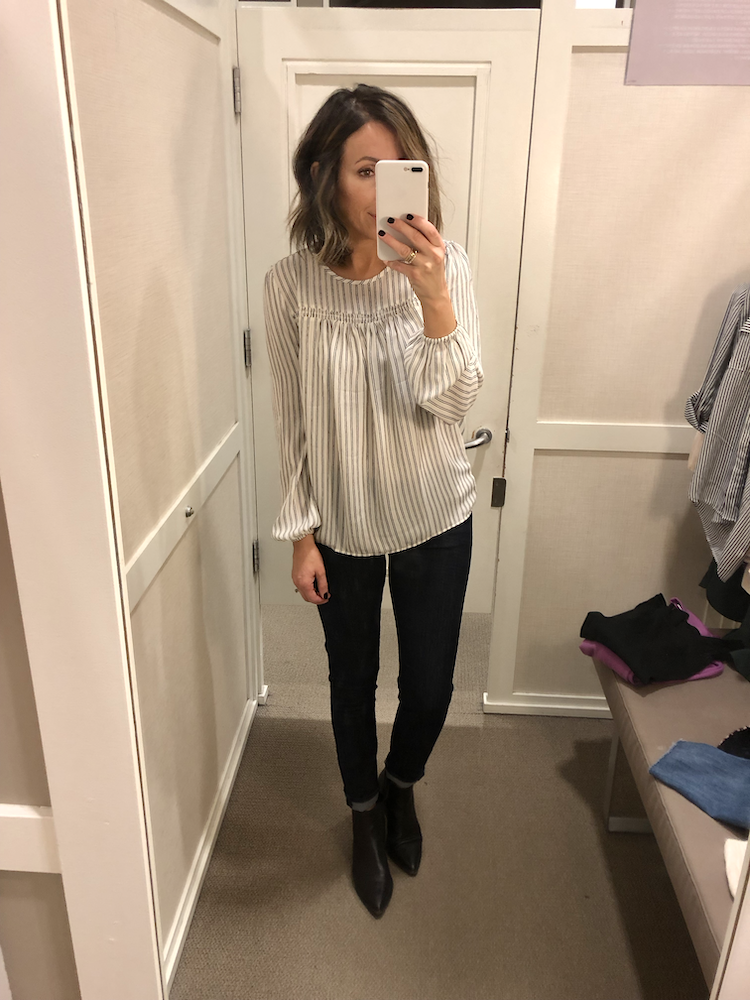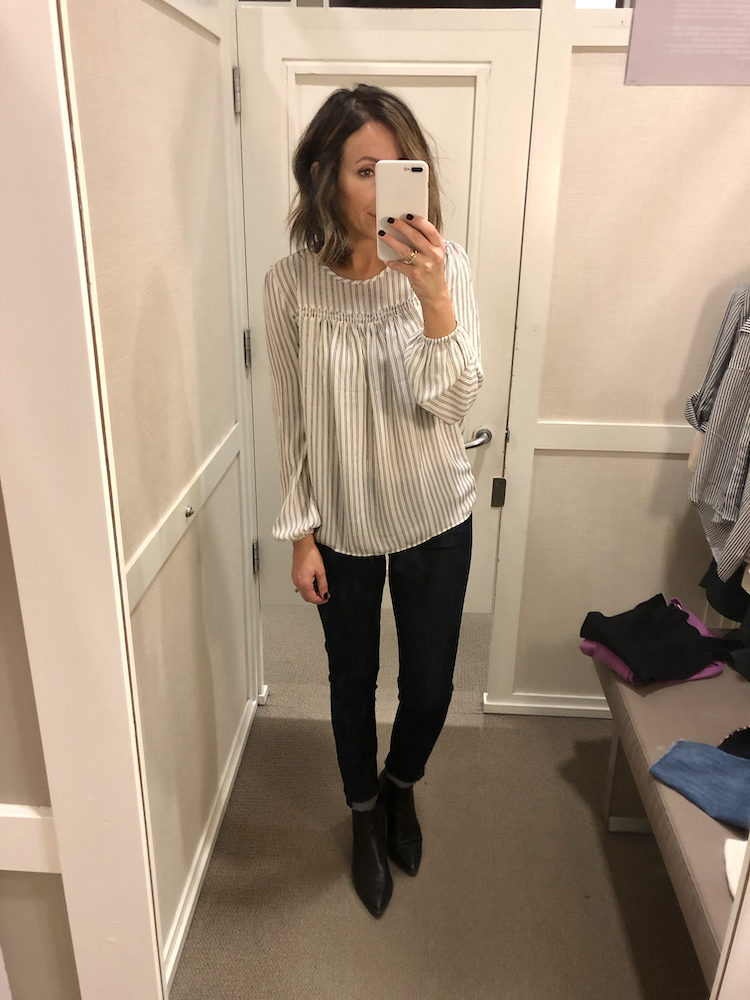 Quite a nice basic tee. It was soft and it falls nicely. Wearing xs below and it fits tts. Comes in two other colors.
Long Sleeve Stripe Tee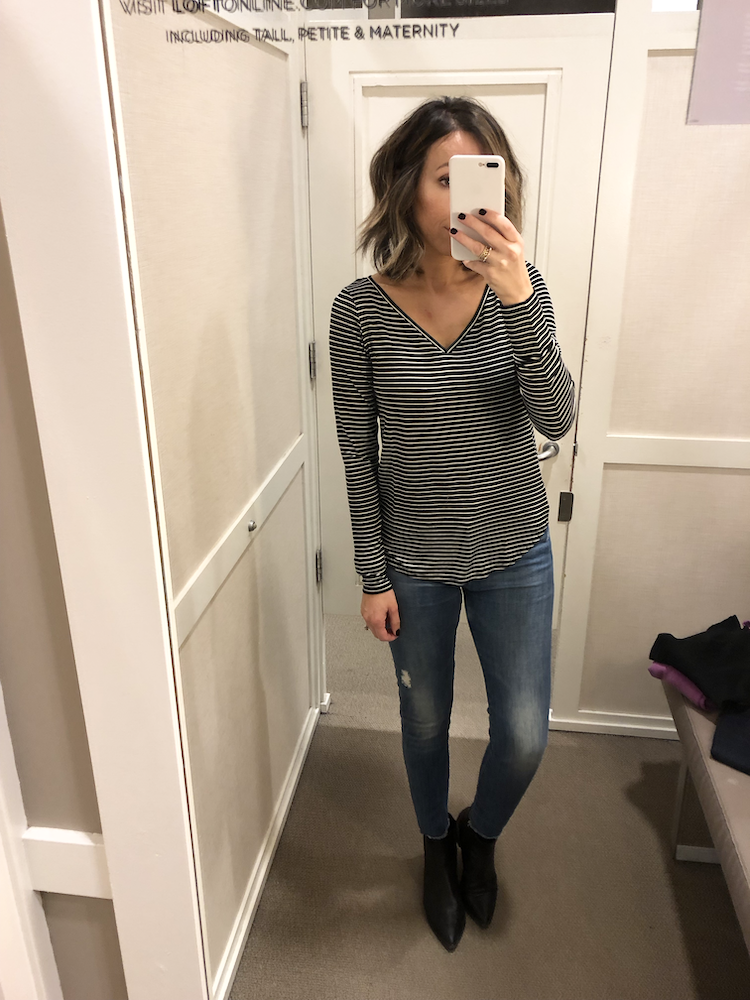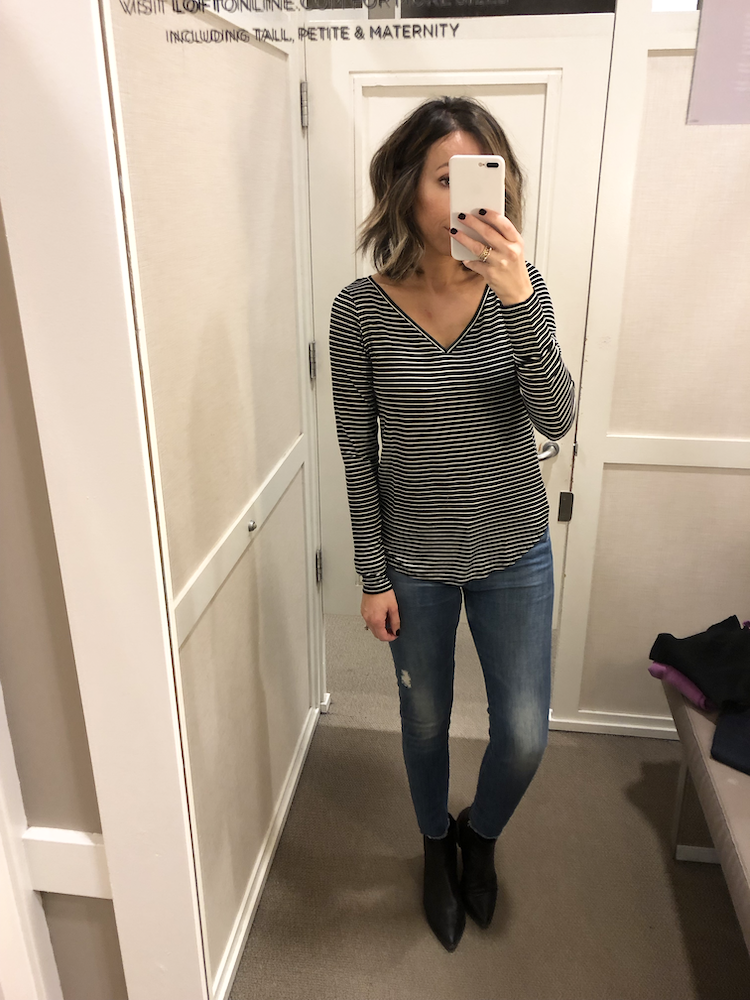 I wish the fabric in this black tee was the same as the striped one above.  It's not bad but I like how the striped one feels, it was softer.  I love curved hems in tees which both of these have. A nice little detail.  Wearing xs below, fits tts. Between the two, I'd recommend the one above just because it's softer.
Scoop Neck Tee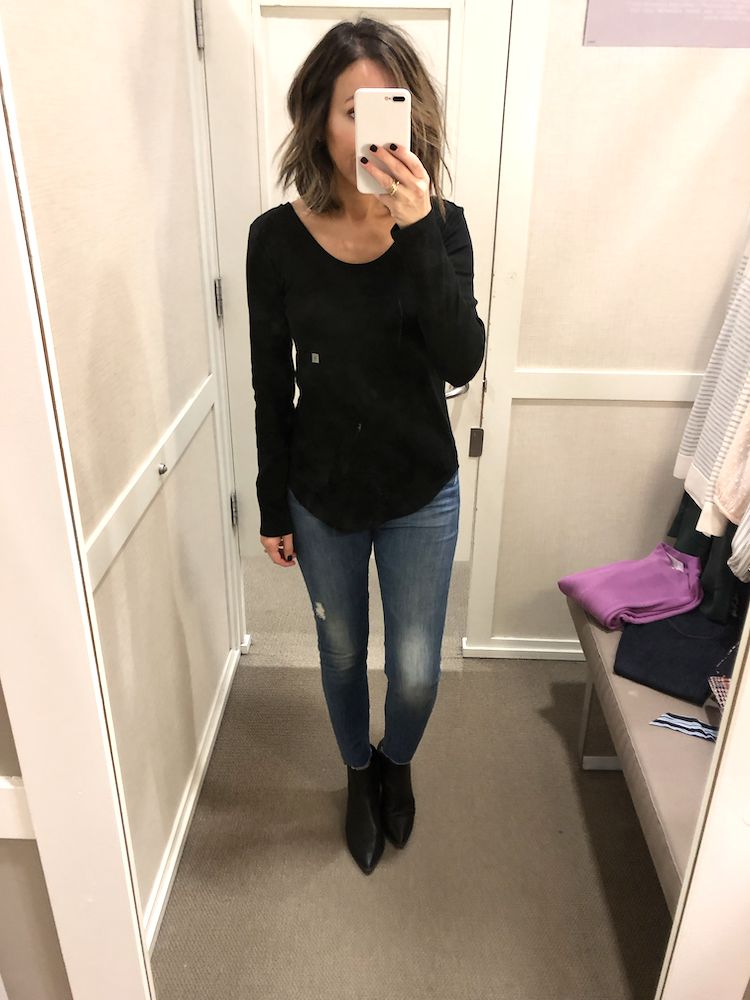 I actually liked this sweater better on that I thought I would. Loved the side slit. Great to wear over leggings or skinny jeans.
Striped Sweater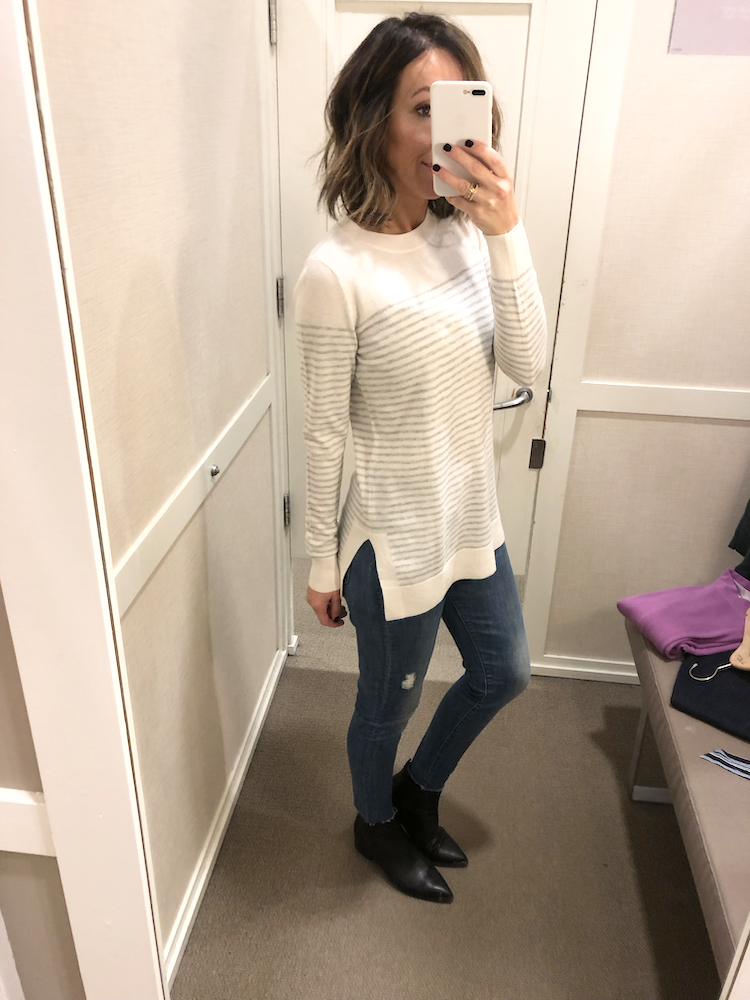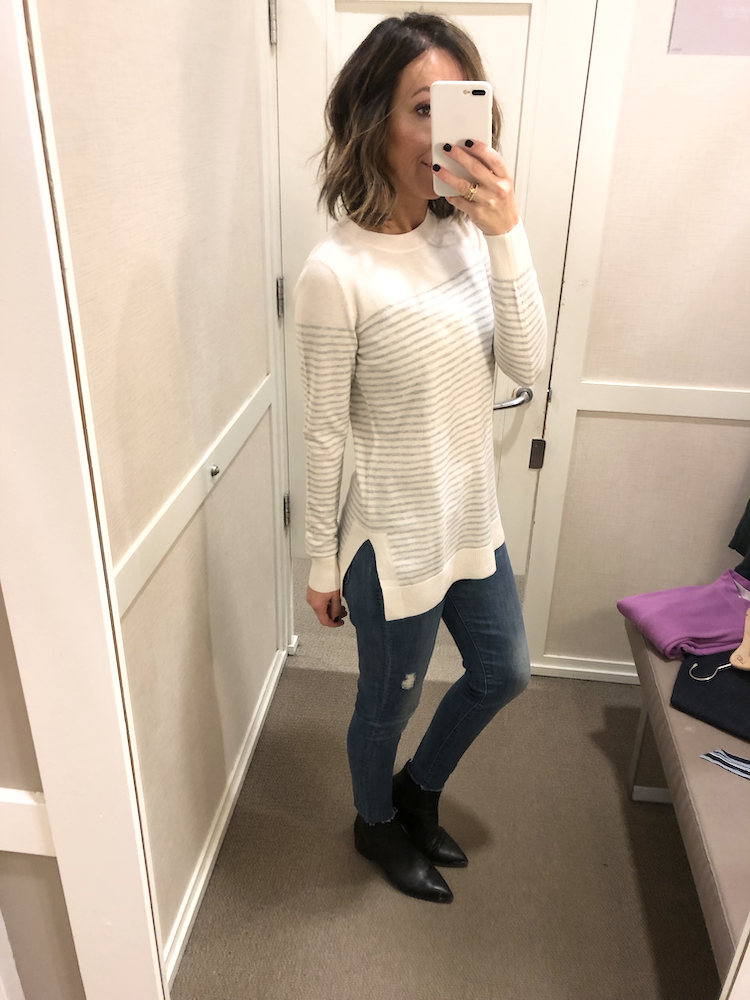 This one looked nice and the deep green is what made me try it on. Wearing xs below and it fits tts.
Lace Split Neck Blouse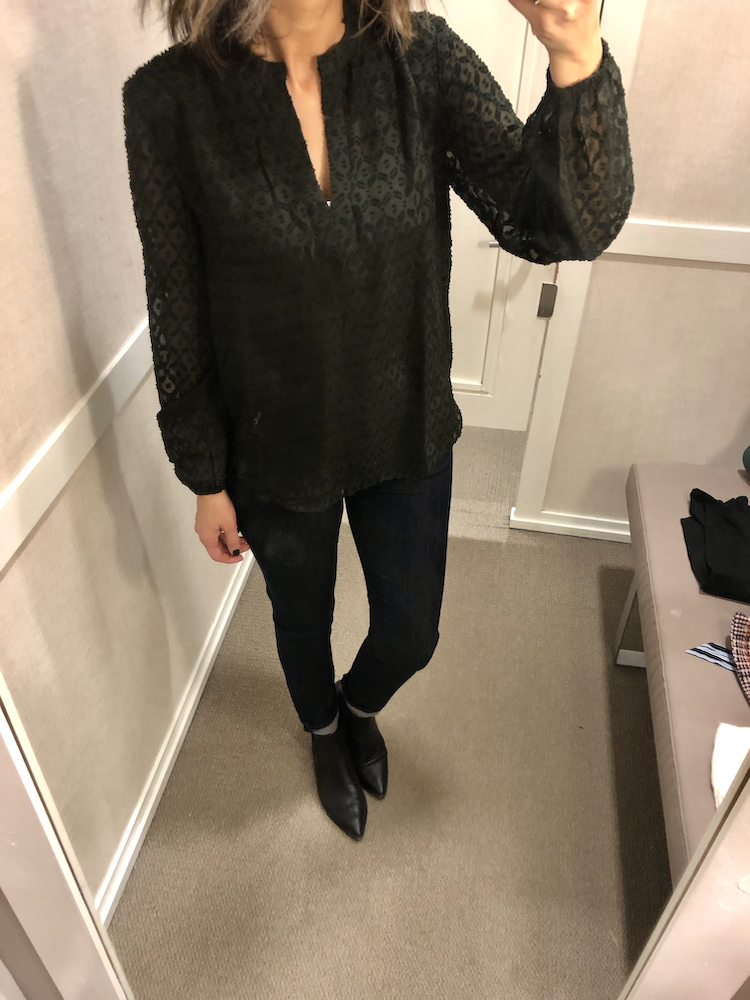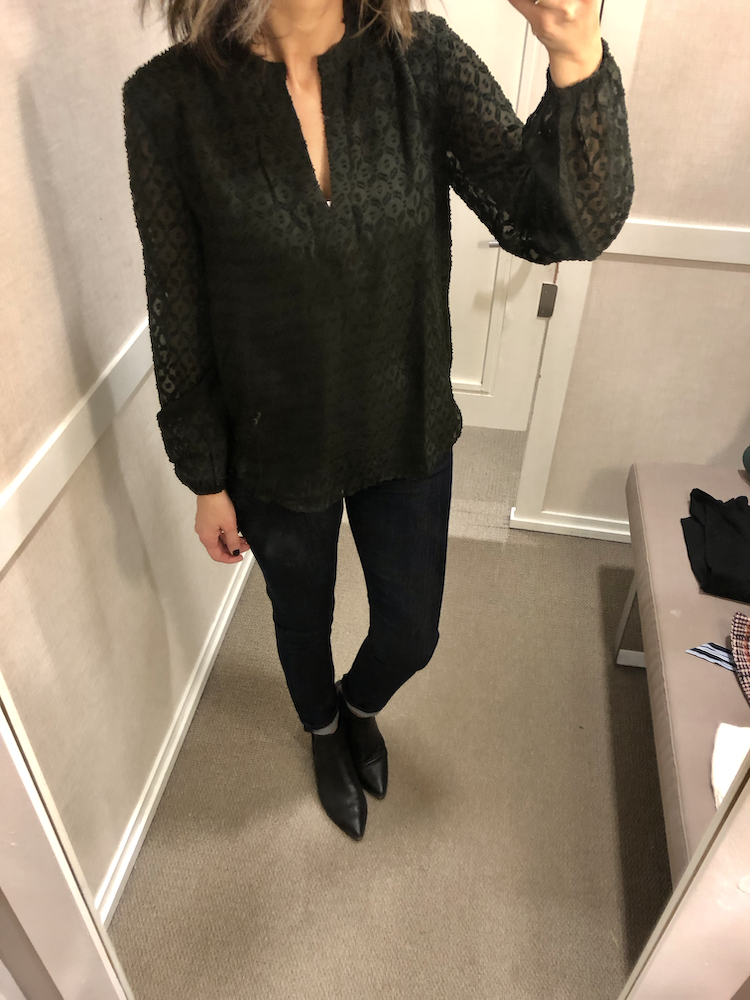 Absolutely loved this poncho.   I wasn't feeling much of what I tried on that day but loved this. Great over a long sleeve tee. Would look sharp over a white button down too. Just a simple classic piece.  It came home with me.  Like pretty much all ponchos it's roomy. If you're up to a size medium you could go with xs/s.
Side Tie poncho in xs/s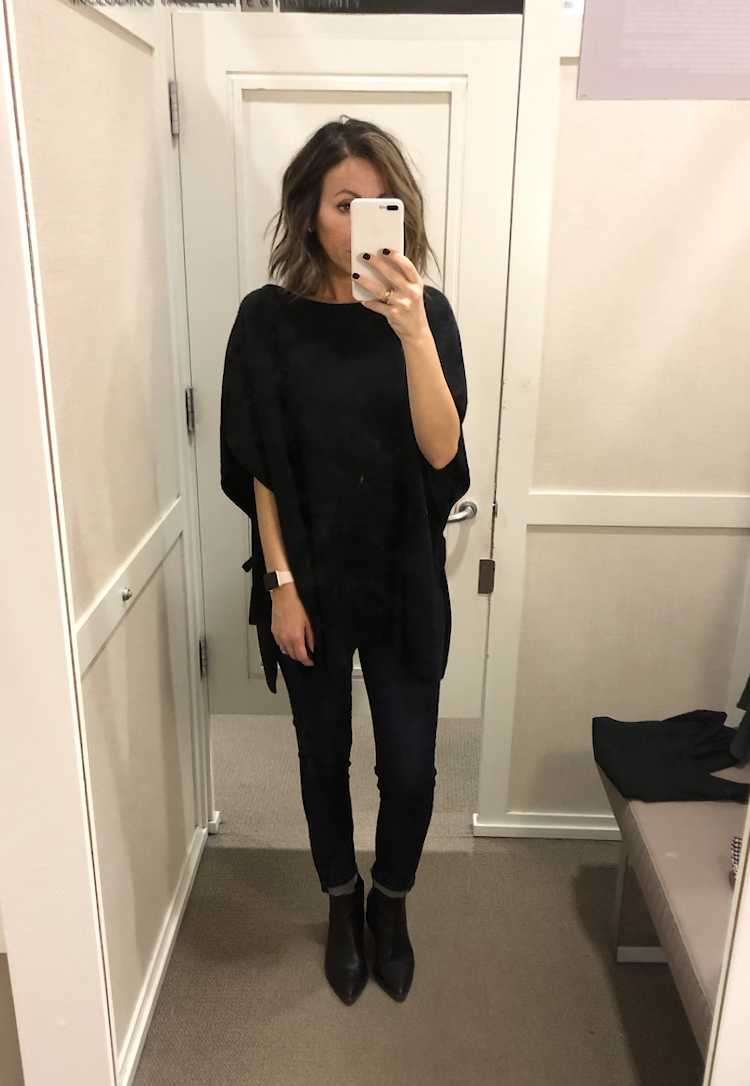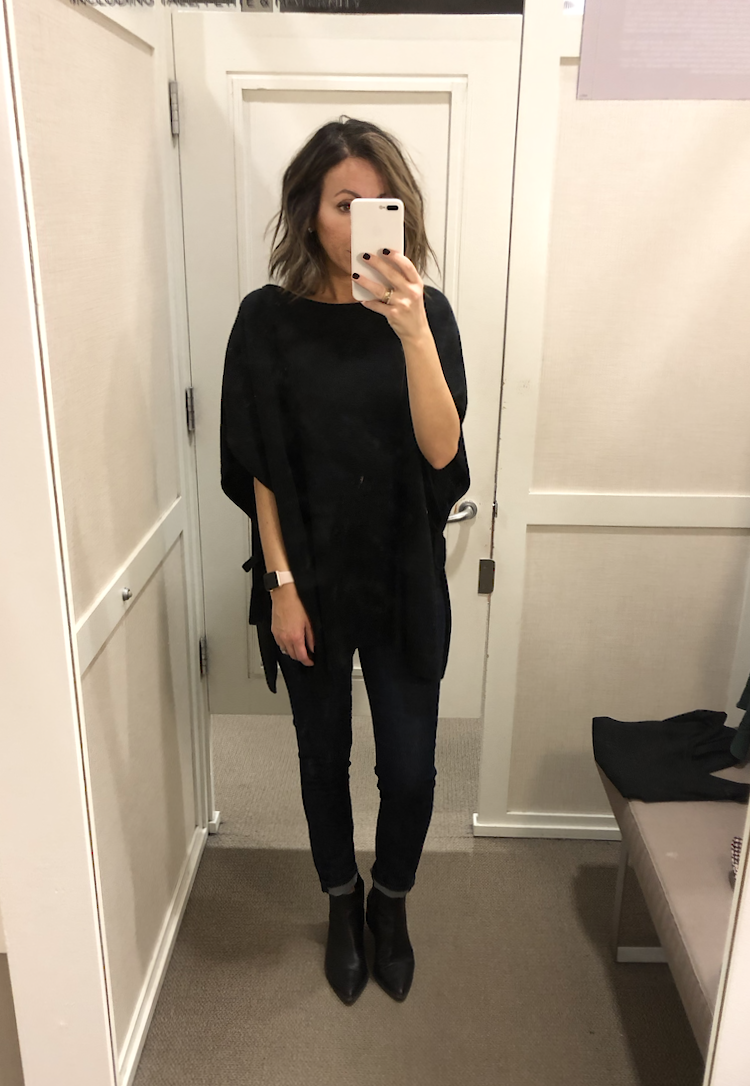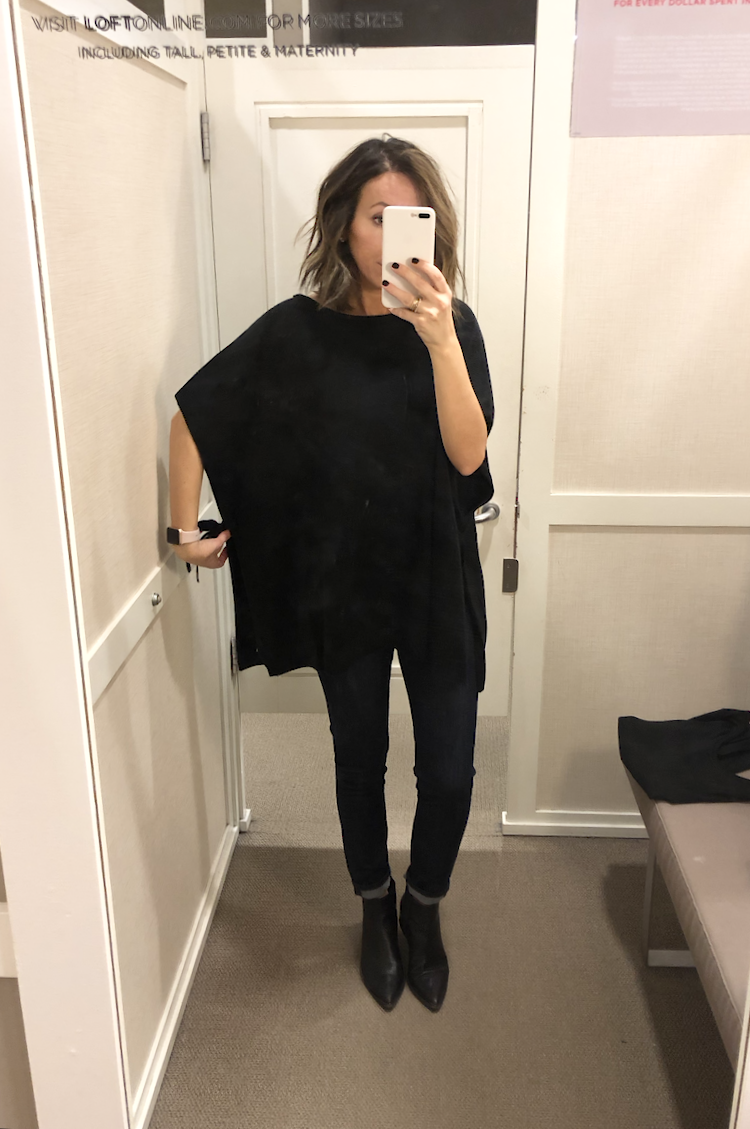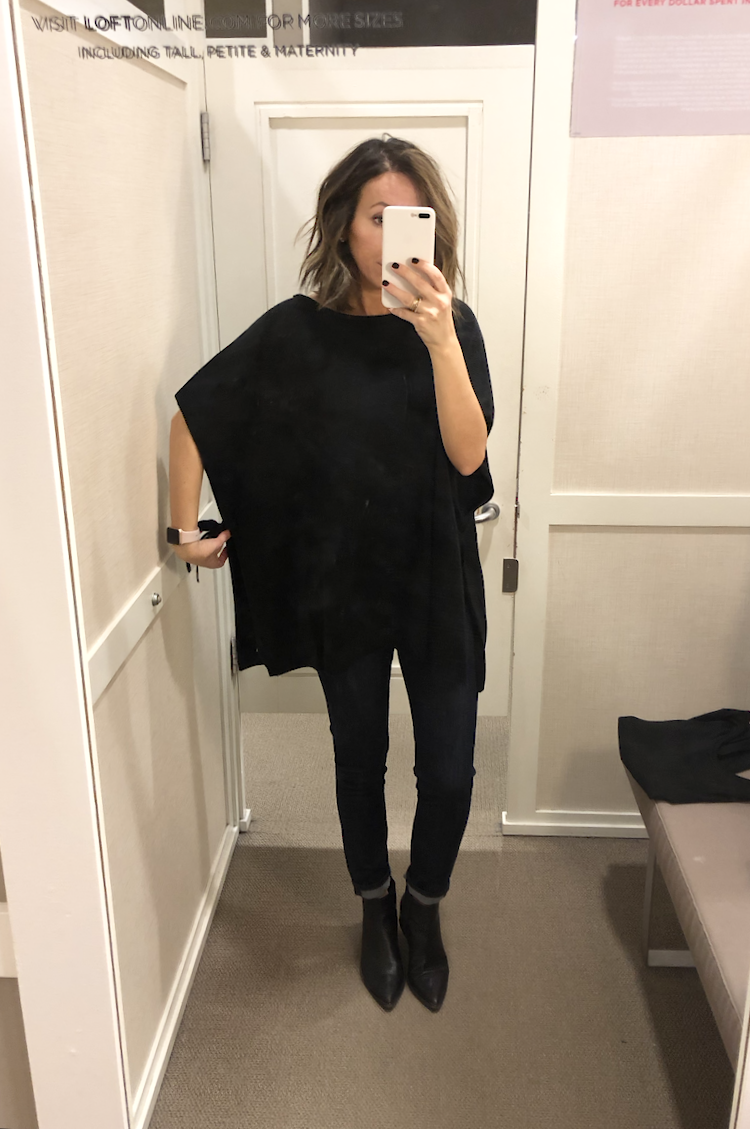 When I saw this online I thought I was going to love it but I didn't. The color is nice but I thought It would be lighter. Maybe I was thinking of this one which I like a tad better.
Mock Neck Tunic Sweater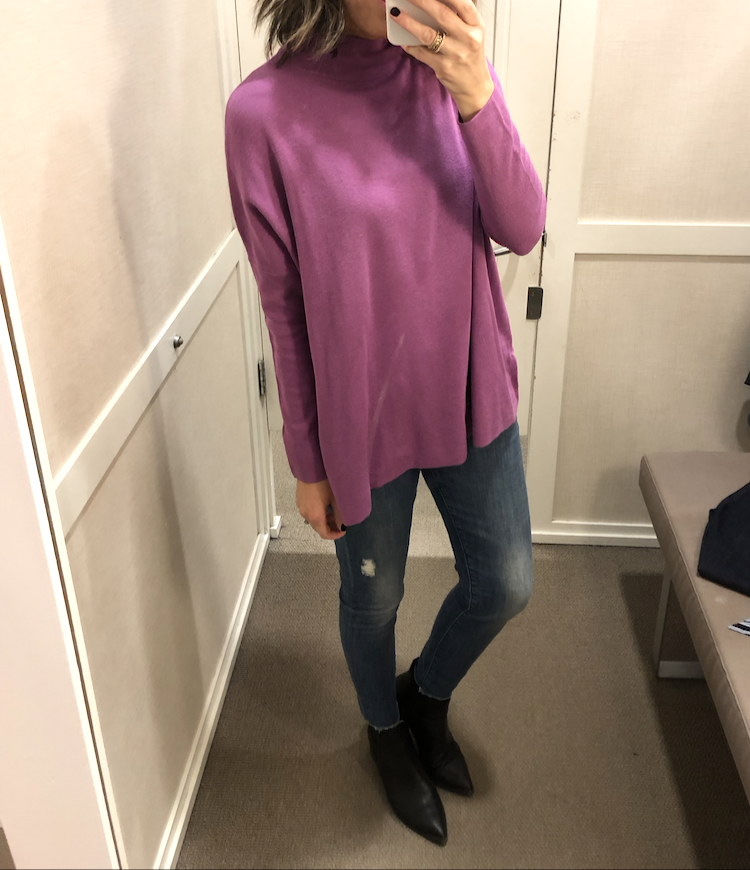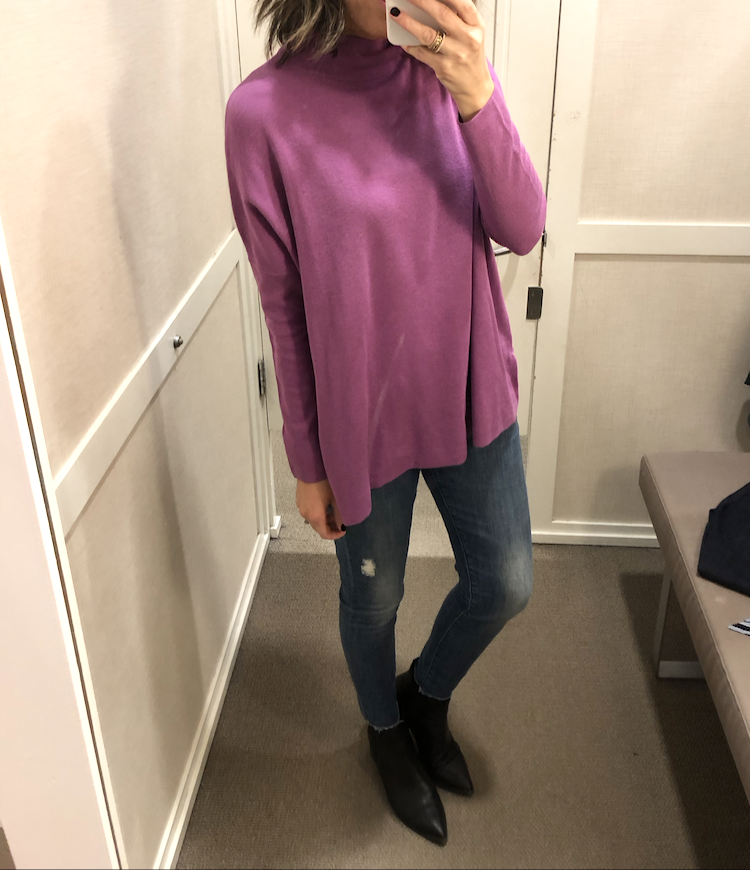 Smallest size avail. in store was Small which fit more like a Medium. It was very roomy. Such a cute dress though…just wish it came in tall as xs would be way too short for me (I'm 5'6″). You almost can size down two sizes in this dress.
Another cute dress but short for me. It does some in Tall as well which is great news.  Tried on size 0 and I thought it was going to be snug as I was pulling it on but it wasn't.
Flutter Flounce Dress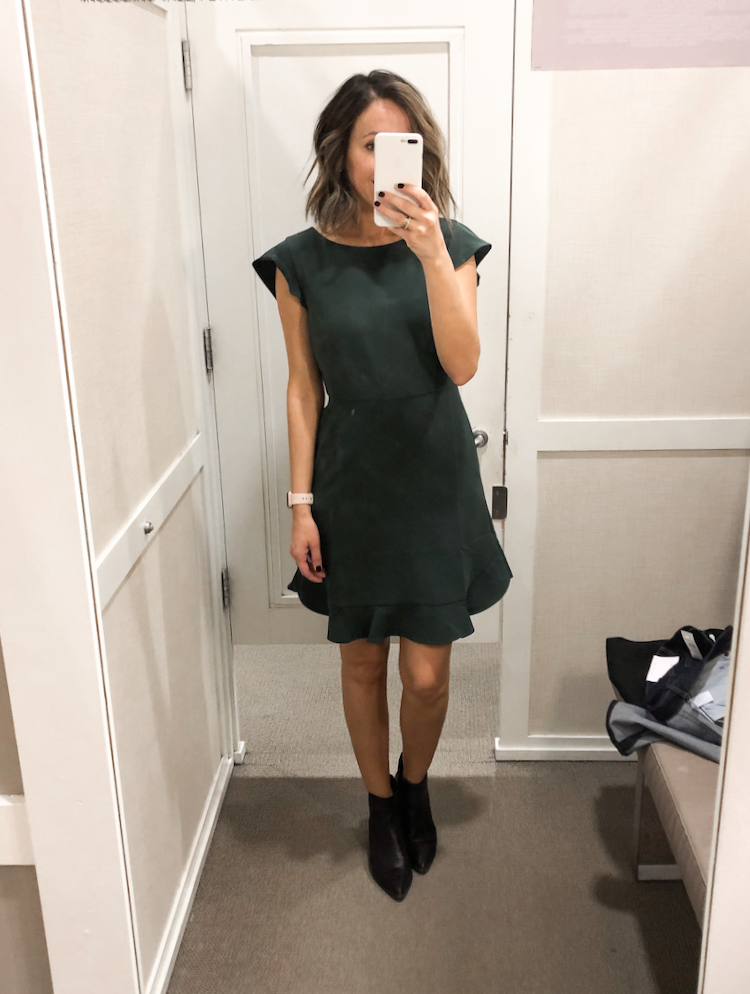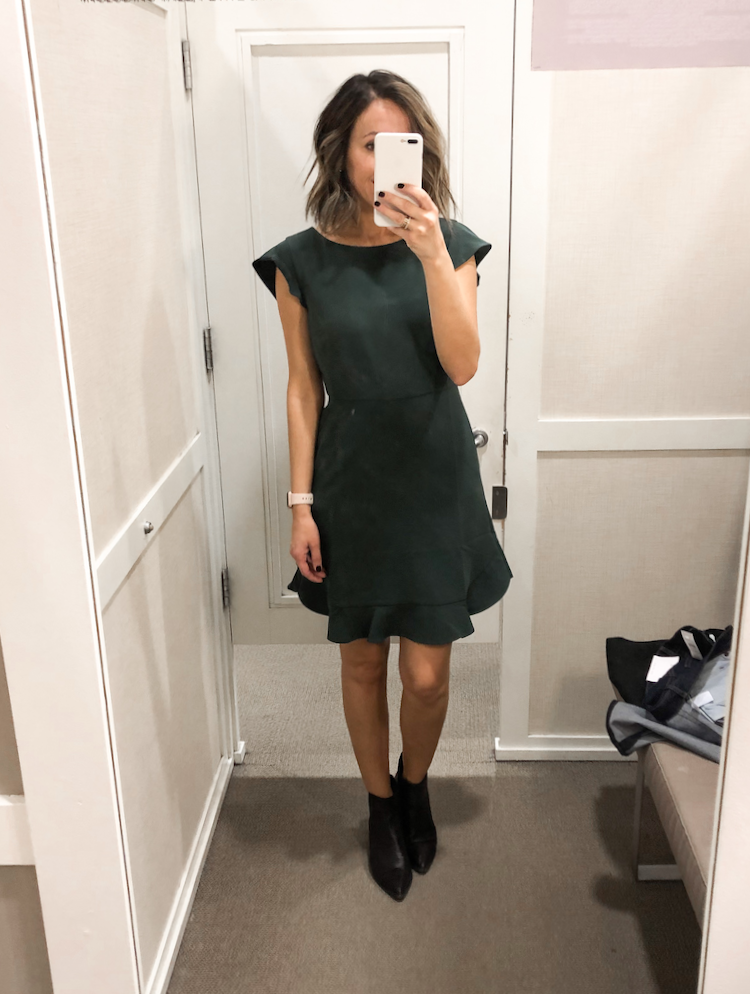 Most LOFT dresses are just too short for me. This one though looks amazing and I totally want it.  It could be worn now with tights and blazer, in Spring with a denim jacket…so it can work year-around.
I forgot to add this top to the previous post like I said I would, so here it is…. It actually a lot nicer in person. It fits great, love the style and looks nice on.  I almost kept it but I just don't think this color looks nice on me (or at least I don't feel great in it). Wearing xs below and it fits tts.
Leaf Dot Ruffle Blouse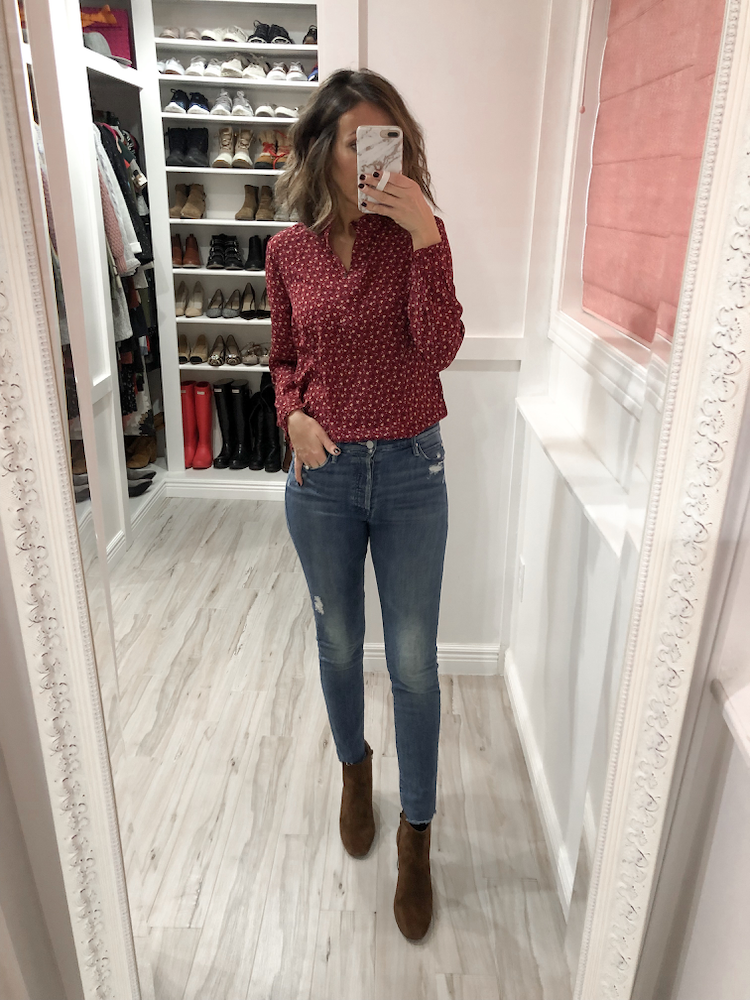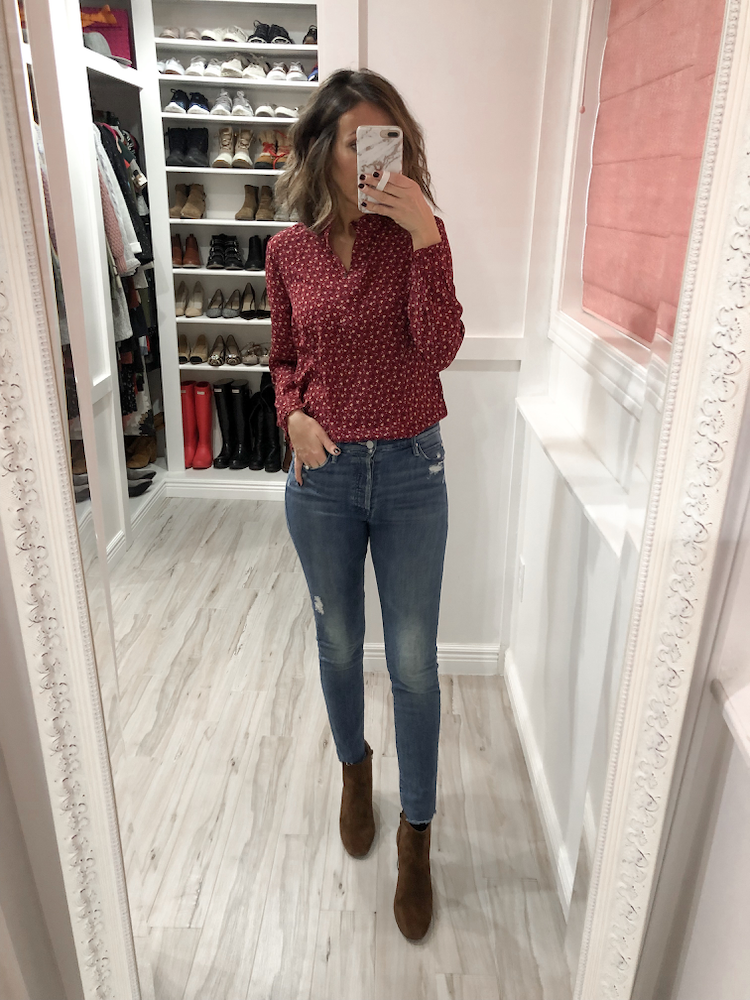 I didn't see this sweater in store but it's so adorable. I actually have a sweatshirt just like it (old).
---
Ann Taylor – 40% off your purchase w/code LOVETOSHOP
My store didn't have many new arrivals in yet…so I just tried a few pieces that caught my eye.
Loved this skirt (I'm having a major thing for pleated skirts lately. Have for years, but especially now which you might have noticed in some outfits I shared). It's prettier in person.  I'm usually size 0 in this style as it sits on the waist. Wearing 0 below.
The cute sweater fit a tad snug, which actually works well with skirt if you want to tuck it in. Otherwise you can easily sizes up for a comfier fit. Wearing xs below.
Plaid Tie Waist Skirt  |   Sweater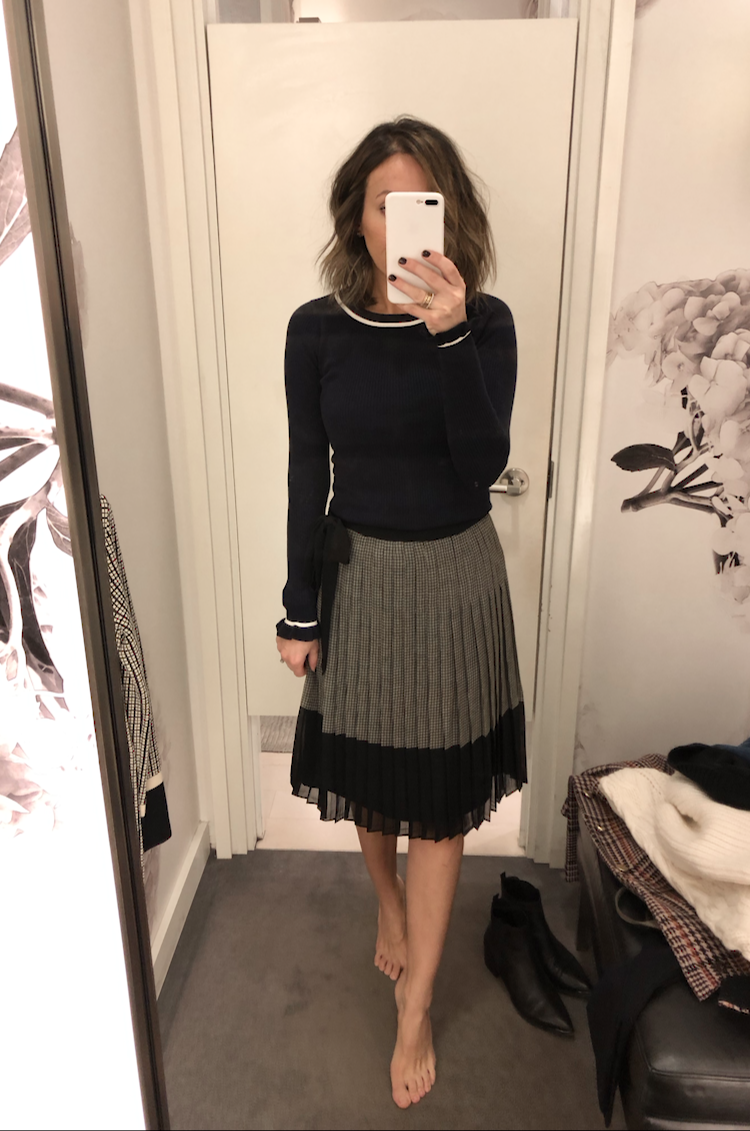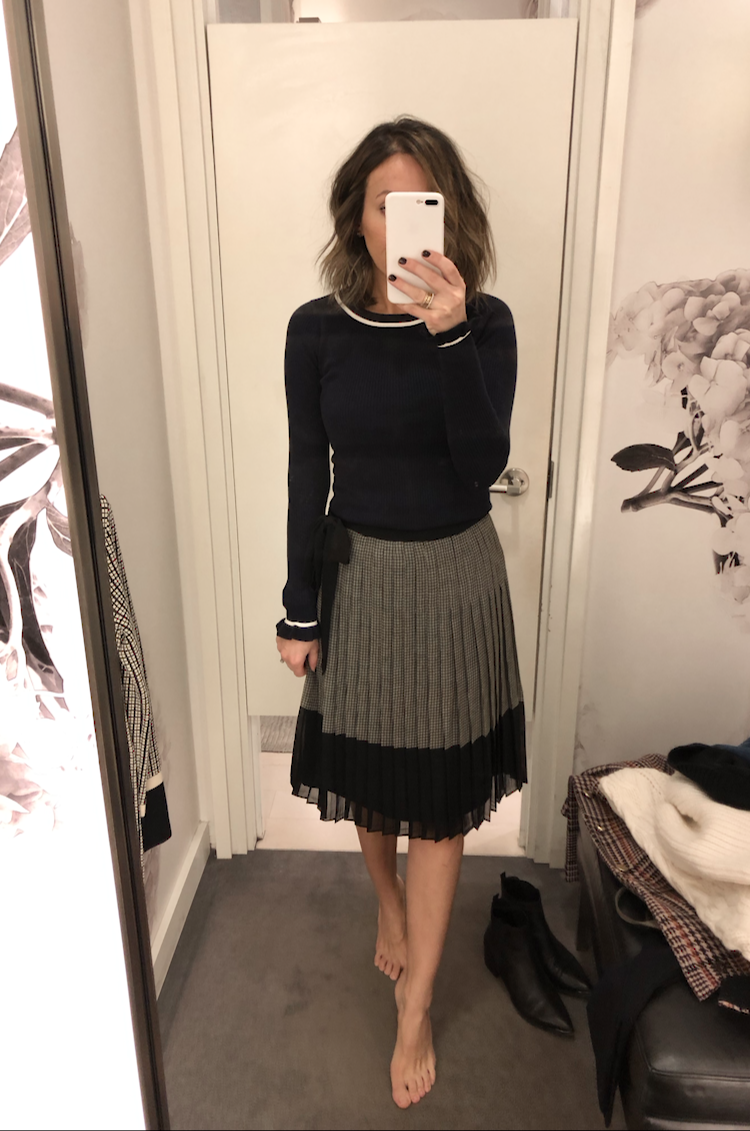 I think I might need this skirt. I almost got it but ended up putting it back last minute.  Tried on size 0 and it fit great.I love that this skirt can be worn year around.  It would look so cute with a denim jacket and flats for a more casual chic look. The adorable sweater is in xs and it fits tts for the style, semi-fitted. I love the little details on the shoulder, such a nice touch.
Pleated Skirt in size 0  |  Sweater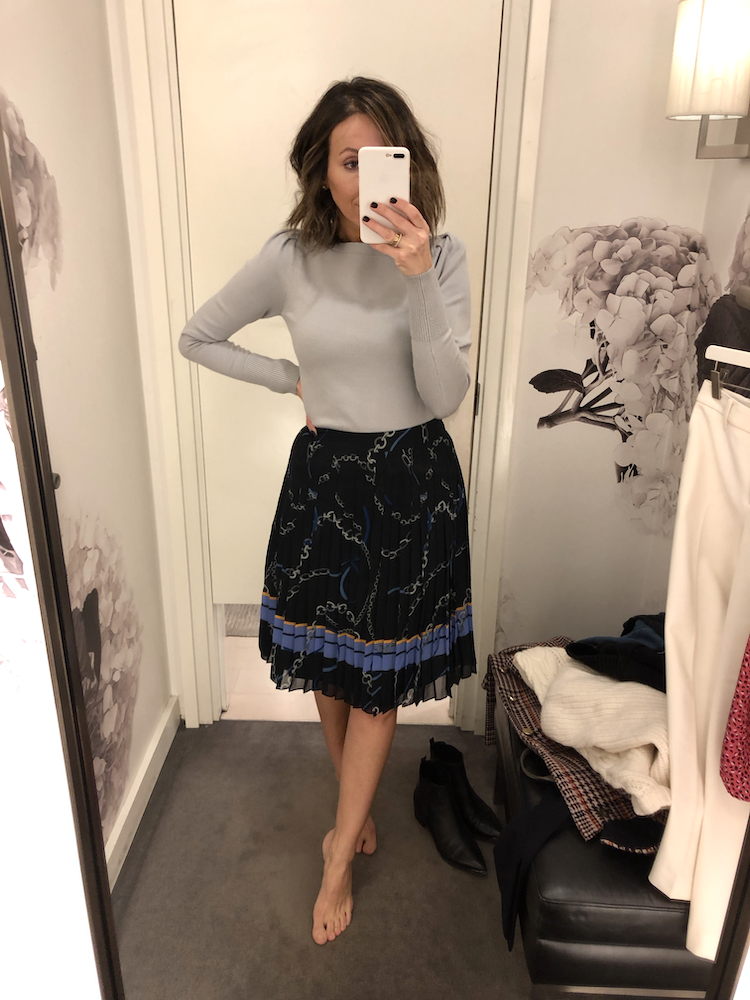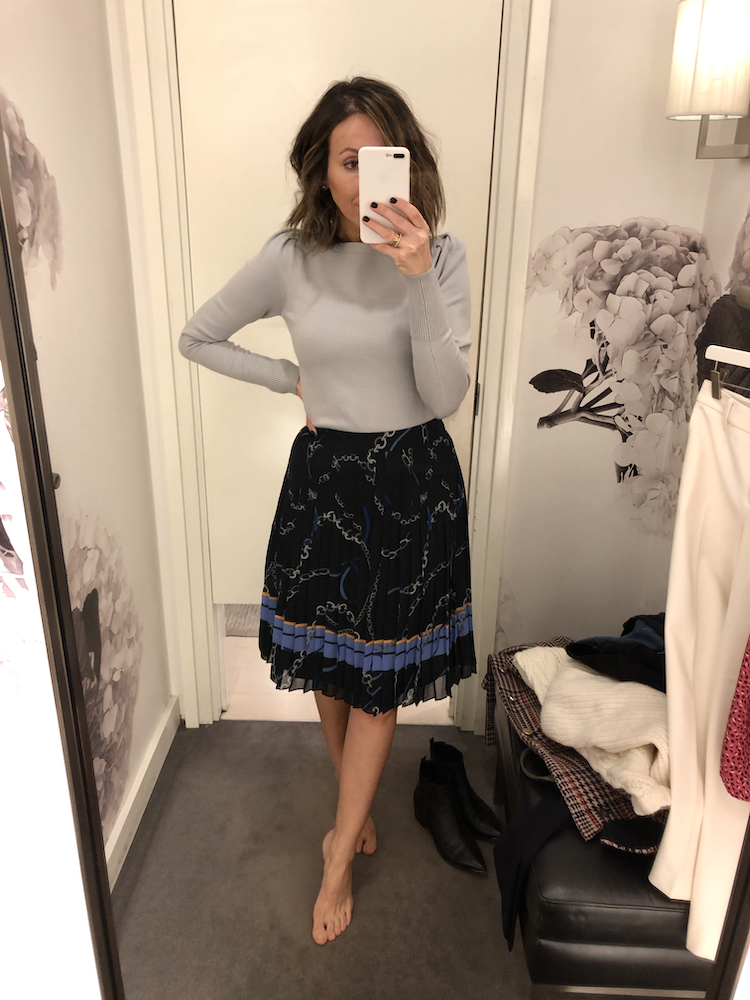 I'm actually wearing Large in the sweater below. XS looked sooo tiny and it looks like it's supposed to be fitted. Which I don't like with this style of sweater.
Colorblock Sweater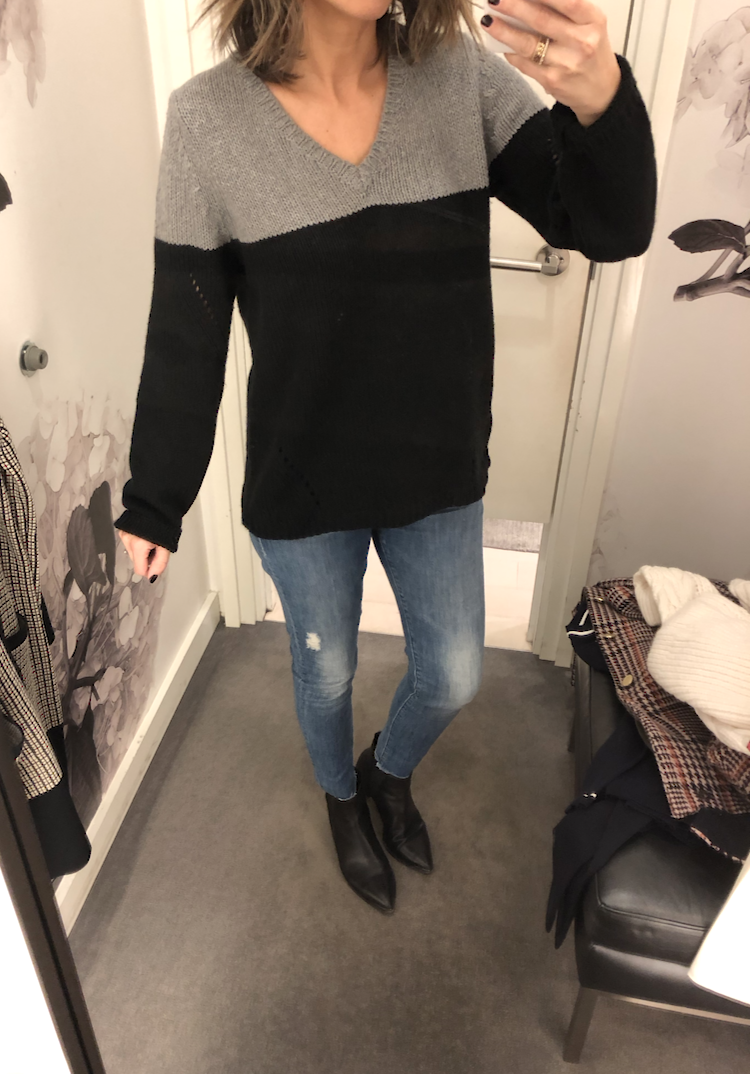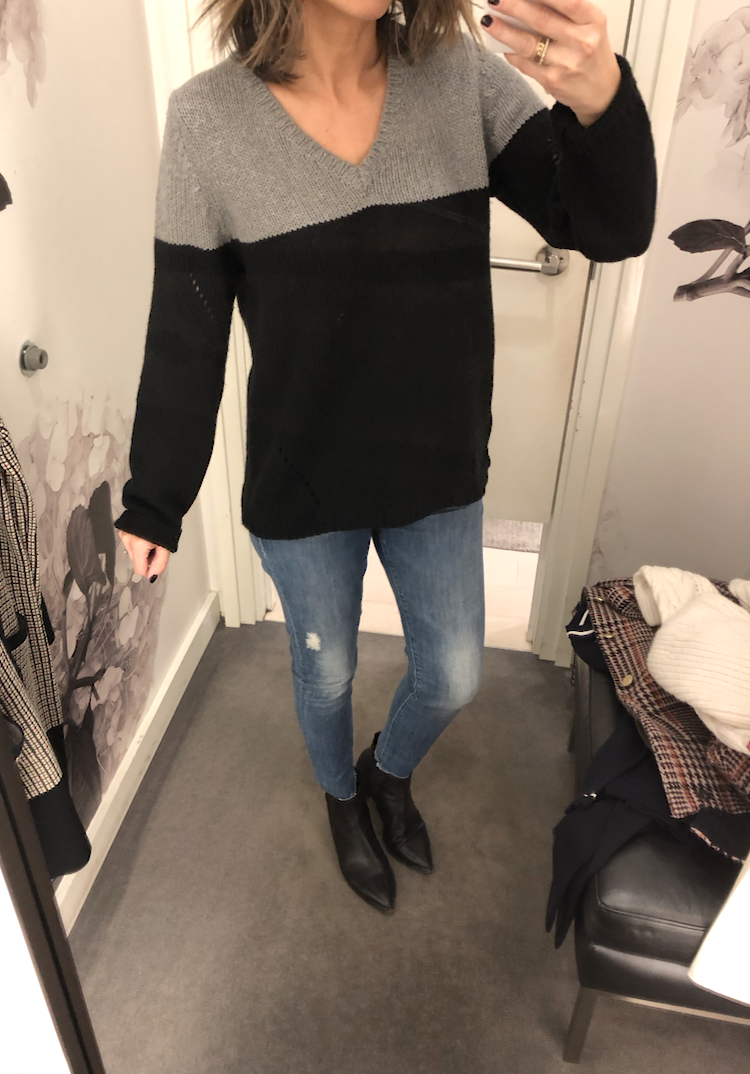 This coatigan…hmmmm…  Had it not been on the mannequin I would have really paid much attention to it.  Once I looked at it properly it totally reminded me of a high-end designer piece. It is well made (hence the price tag) but at 50% off I think it's a decent deal. It looks very classy and elegant, specially worn with all black.  Nicer looking in person.
Coatigan in xs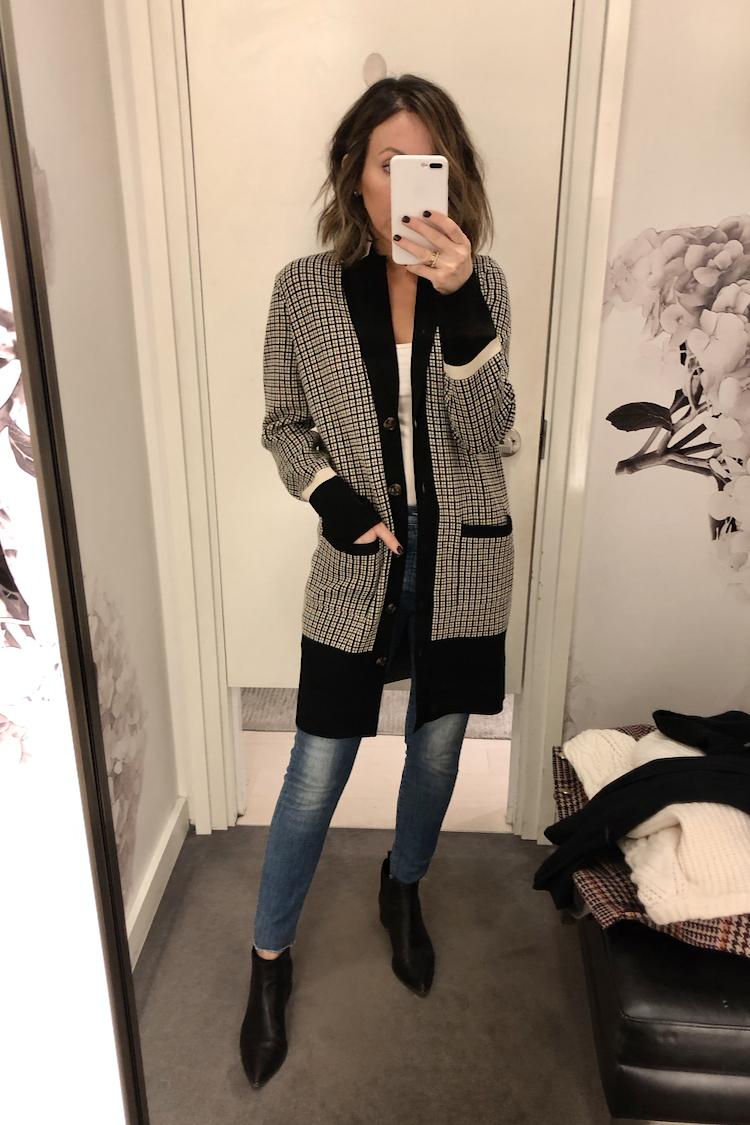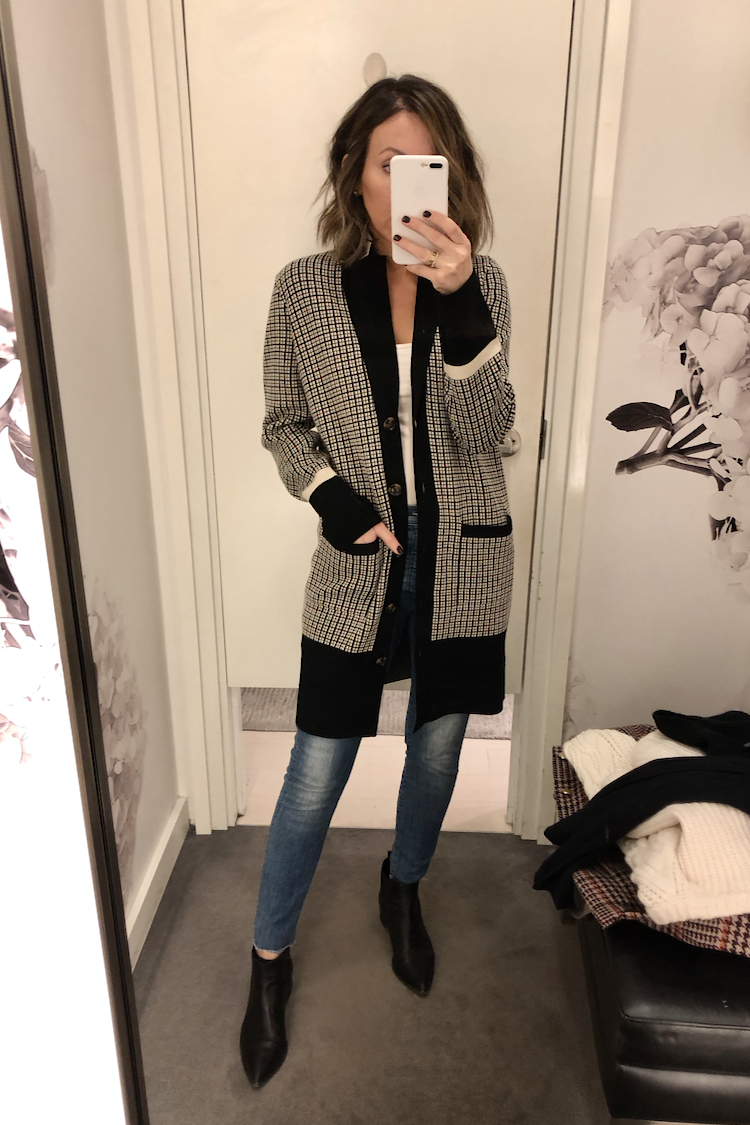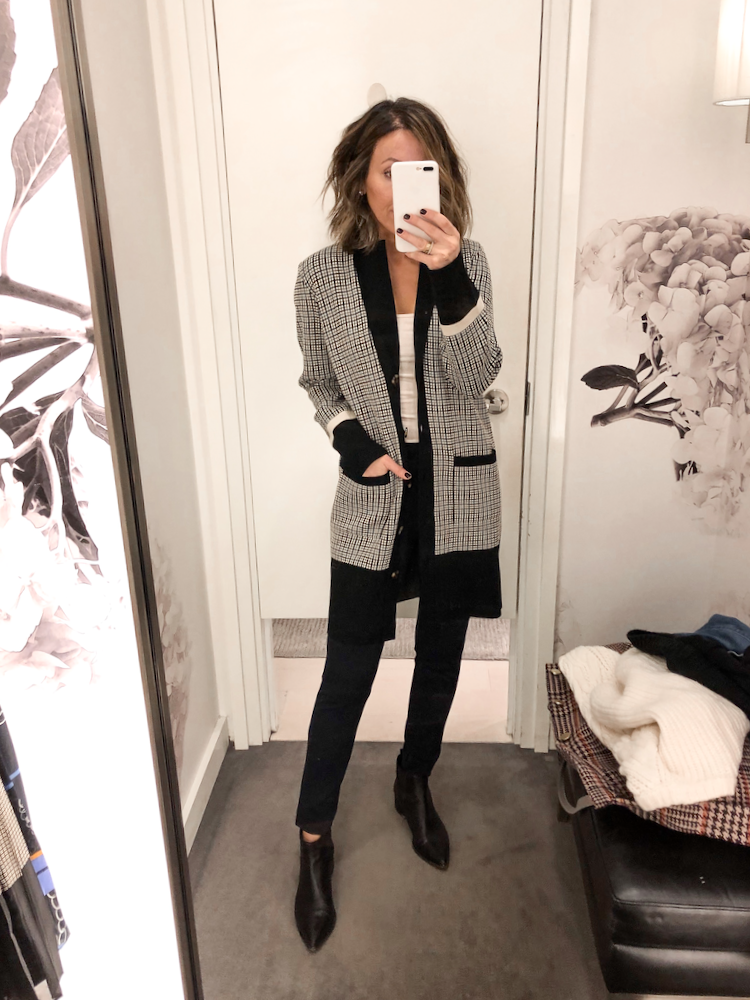 I would have not tried these pants had the SA not pointed them out saying she liked them better than last years version.  Touching them I thought they were going to look awful on me but I was pleasantly surprised how nice they fit. Tried on size 2 below and they fit great.  Zipper on the side.  (Sweater same as above. Looked great with these navy pants).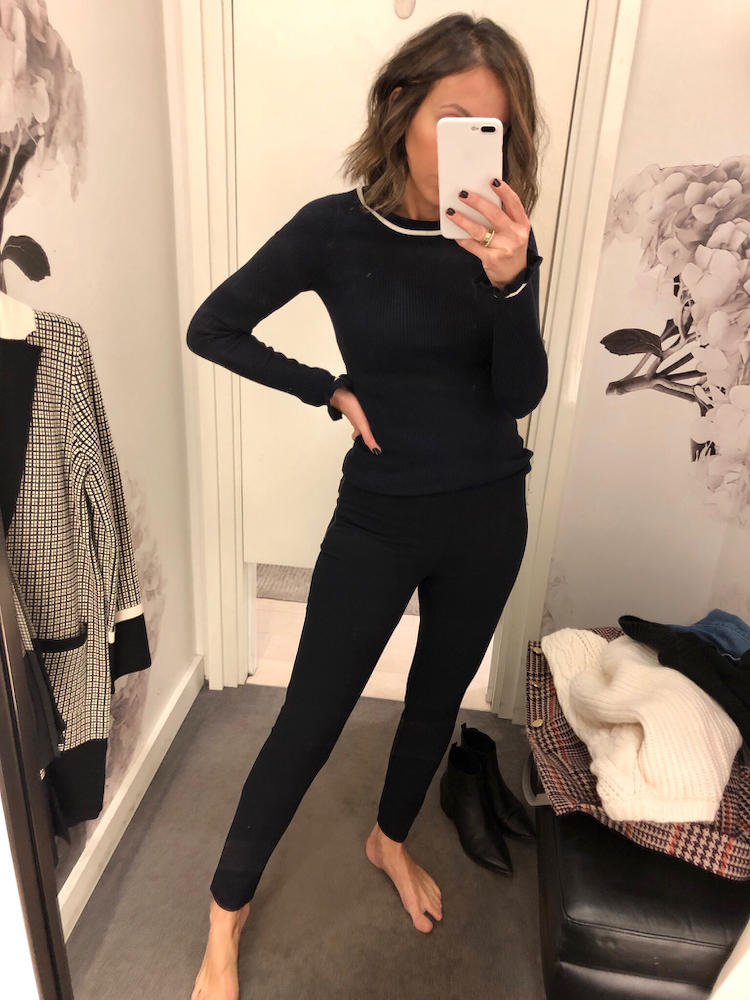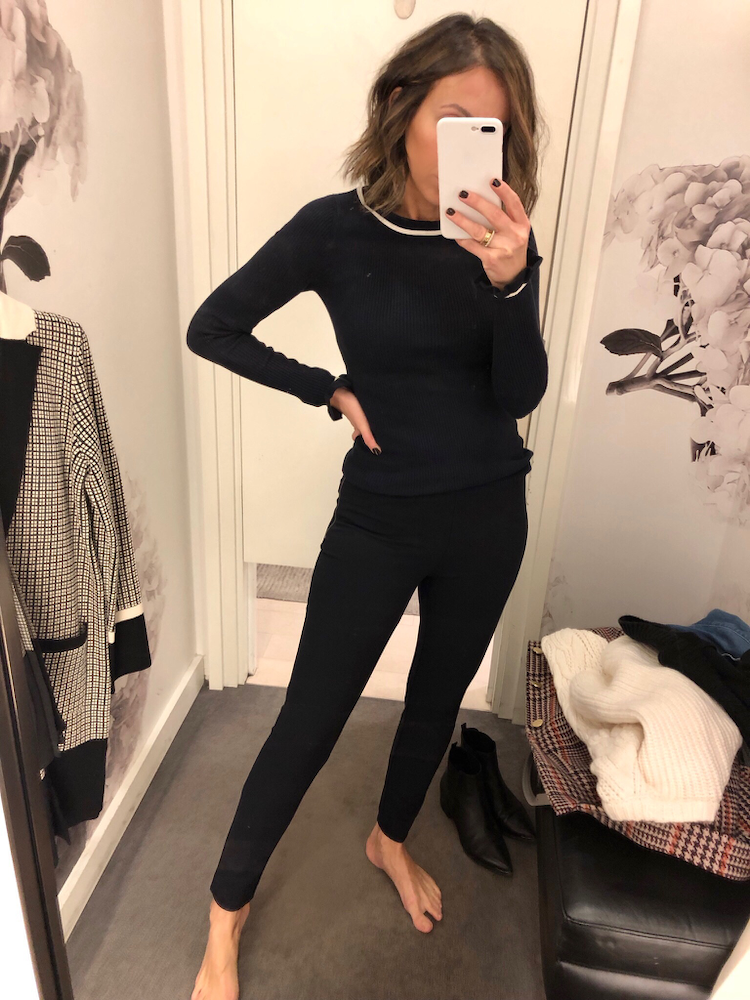 My black booties in the pictures above.
Let me know if you have any questions about any pieces.