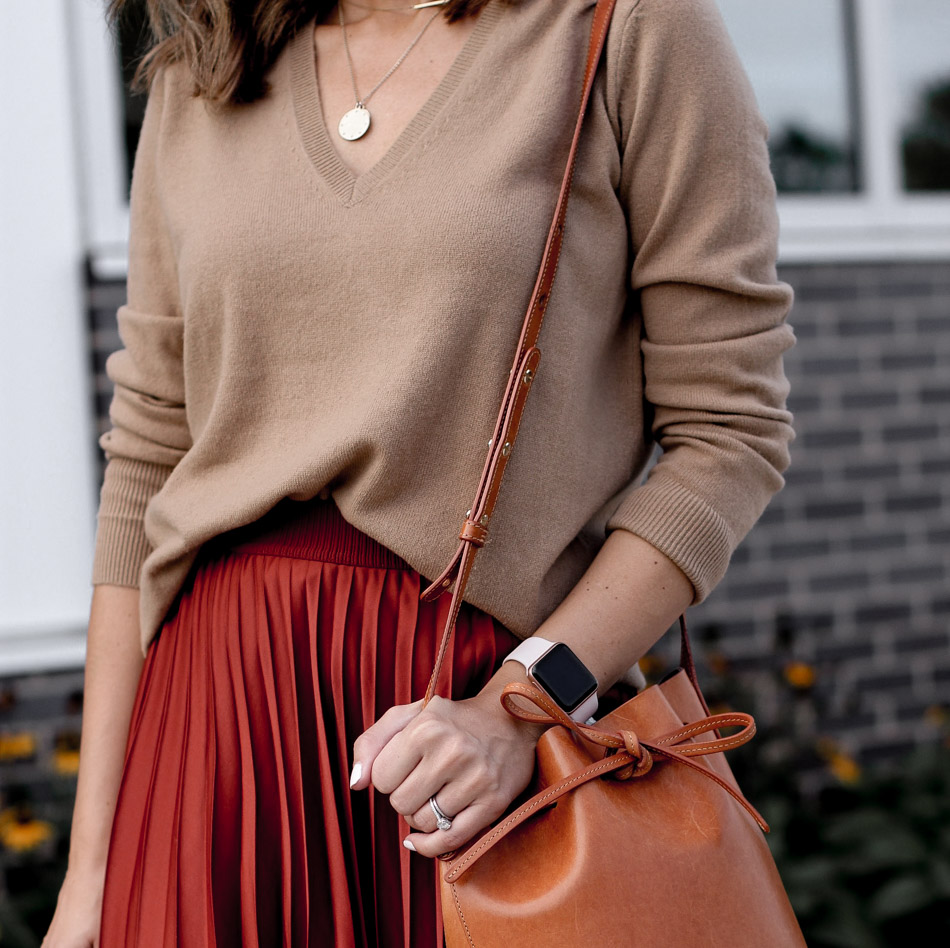 I've been meaning to do this post for sooo long and after ton of requests it's finally here. Clearly I'm not an expert but this is how I have been taking care of my sweaters for years and it works.
I love sweaters of all kinds and have accumulated quite a few over the years. And some of my favorite ones are years old.
One of the biggest complains I hear about sweaters is "it pills" which somehow makes it a terrible sweater. Which makes me really shake my head when I read reviews like this. Things rub against the sweater which will create those slightly-annoying-fuzzballs-thanks-to-the-short-fibers-of-your-sweater. Which are so easy to remove. Put on your favorite Netflix show and removing those fuzz balls will be your new favorite relaxing activity.
Whether we like it or not, most sweaters will pill. And those annoying pills do make the sweaters look old. One of my cashmere sweaters showed major pilling after only a few hours of wear, which surprised me a little as my other cashmere sweaters don't pill much or it takes a long time for them to show any pills. But it's so easy to remove pills mess free. I say mess free because there are multiple options to remove pills but the easiest, fastest way is to use a battery operated shaver. I love this pill remover (I've been using these for years). This little gadget works like a charm. It removes pill fast and easy. Make sure you lay your sweater nice a flat as some pill removers can be a tad aggressive and make a hole in the sweater (I used to have one years ago that did that but most have improved to prevent accident like that. But still be careful).
I hand wash many of my sweaters, especially cashmere and wool.* While it is not my favorite thing to do, it makes them last longer and keeps the fabric in tact. I love Laundress Products and use this detergent for most of my sweaters. If I'm washing multiple sweaters at once, that are similar in color, I'll fill a small plastic bin or bathtub with water and detergent, swirl the sweaters around a few times and then let them soak for about 20-30 min. Otherwise sink will do if it's just one sweater. Rinse them and gently squeeze out the water. You can also roll the sweater into a towel to absorb the water. Then I dry them on this Laundry Drying Rack (you can put a large towel under the sweaters). I love the drying rack and use it even more for my other items of clothing that I don't want to give a chance of getting ruined in the dryer.
Always check the label for washing though. Usually any sweaters that require dry-cleaning I'll end up hand washing. The only thing I dry clean are coats and some dresses.
Other sweaters I wash on gentle cycle. Some that might have any jewels on them I'll throw in one of these mash bags (which come in handy for other delicate pieces too or anything you don't want to get caught on a zipper in the wash…like your favorite tees!).
Unless you've been sweating or have a stain, there is no need to wash your sweater after just one wear. Even if it's a small stain, it's a good idea to spot treat instead. It's ok to wear it a few times especially if you wear a tee underneath. I think that's much easier done during cold months. But a thin tee will protect the sweater from sweating, body oil etc. and extend the life of your knits.
Easy as that. And when you're ready to store your sweaters make sure they're clean and preferably in a breathable box. These cedar storage boxes already has month protection. At least use these to store your favorite sweaters. Some of my random sweaters, that I wouldn't be overly sad about, I store in a plastic bins and they are fine. I do throw in a moth repellant in there just in case.

Share some of your tips with me in the comments below.