Happy Friday!
Sharing some Loft and Ann Taylor fitting room try-ons.
Before I start with my black loafers below are from Madewell and I'm in love (because I know you guys would want to know 😉
LOFT sale – 50% off + FREE Shipping w/code CYBER
Ann Taylor – 60% off Select Full Priced Styles & extra 60% off Sale styles w/code SURPRISE
Wearing XS in the blazer. It's very soft and comfy, more on the casual size. Great for Spring and Summer. Loved the raw them on these jeans. They're pretty nice actually, not too thin like so many.
 White jeans  |   Blazer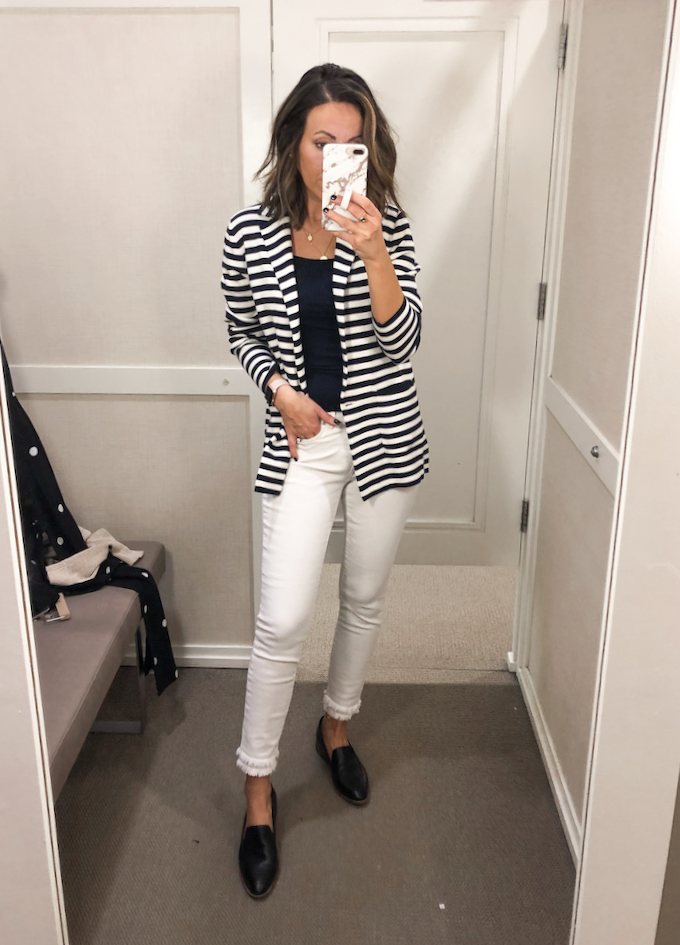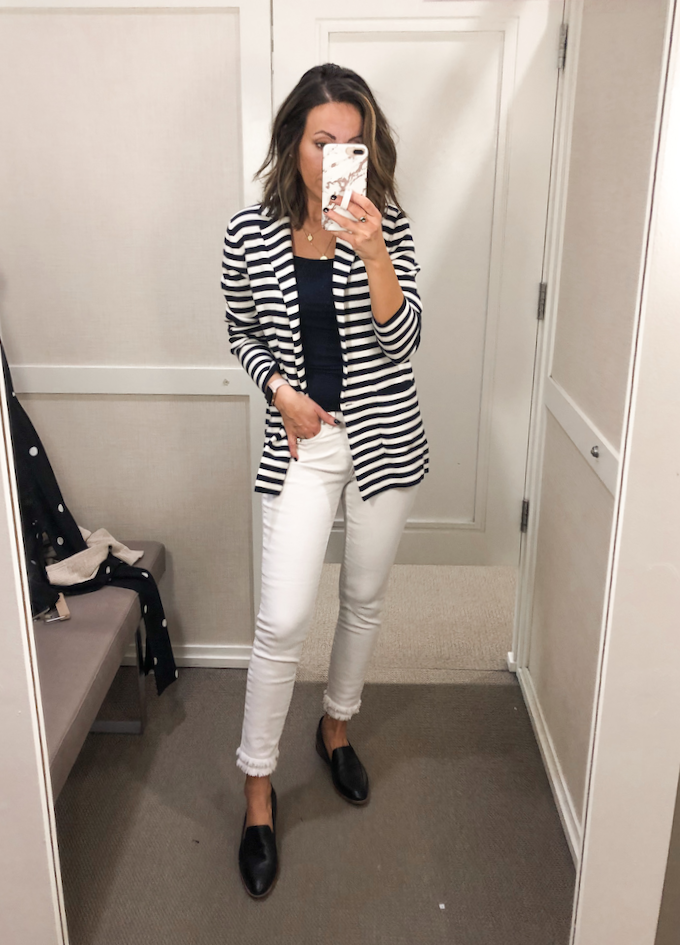 Loved this blouse and it would have come home with me if I already didn't have one almost identical to it from a few years ago (also from LOFT).  Fits tts.  Print Blouse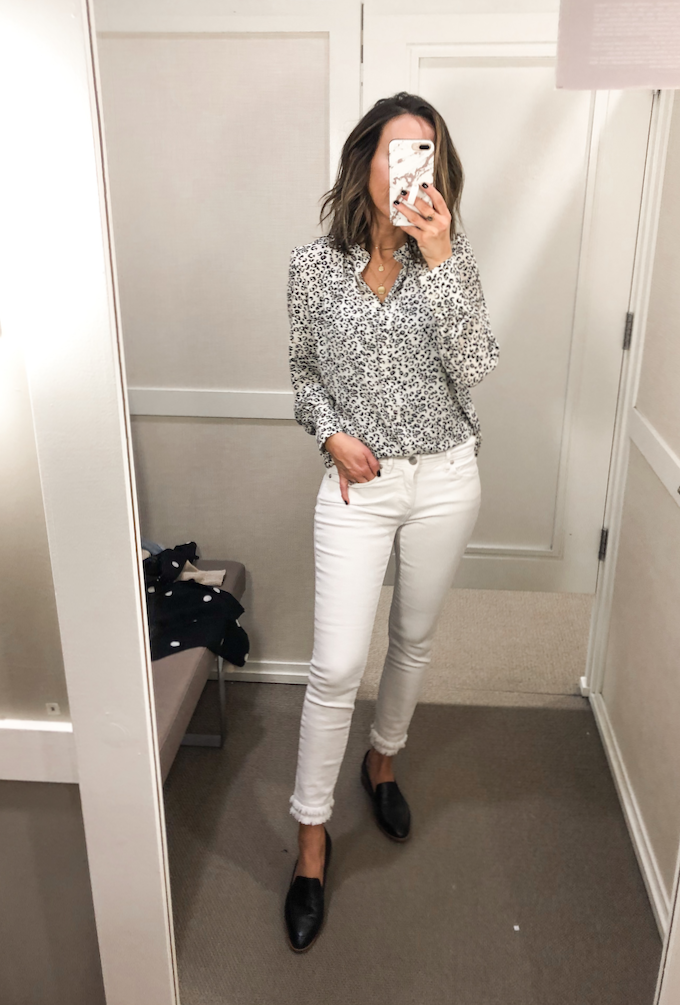 Great basic sweater! It's long enough to wear over leggings (I just tucked in the front).  Wearing xs below. Comes in gray too.   Relaxed V-Neck Sweater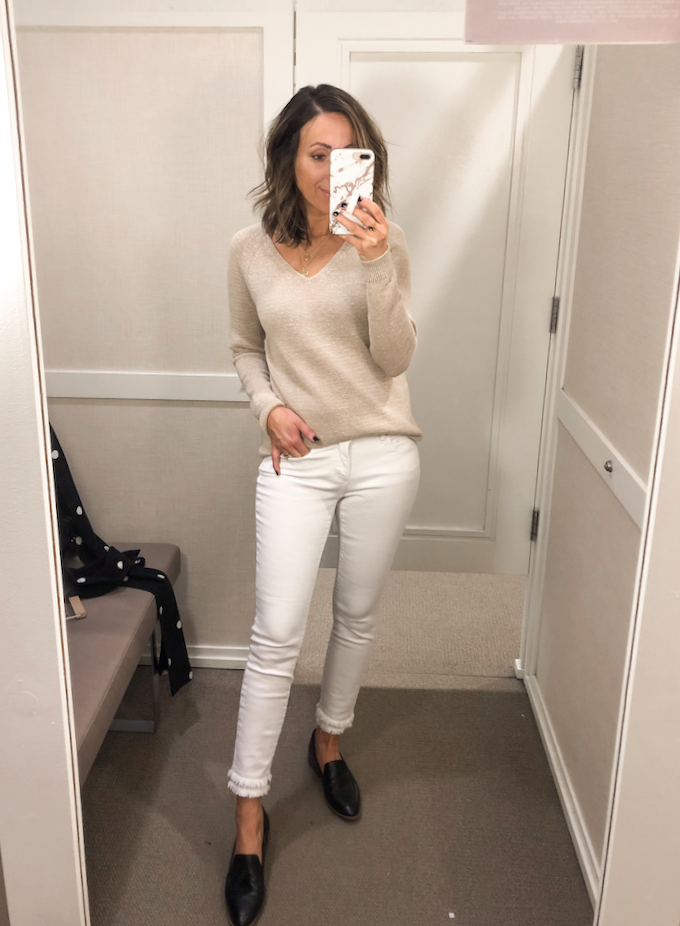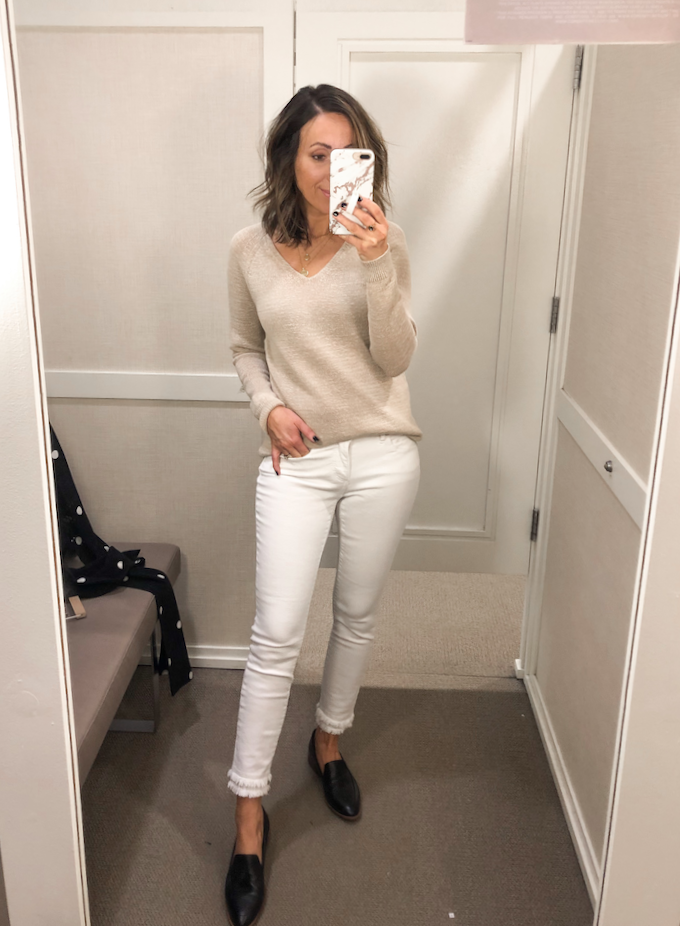 I actually quite liked these jeans. I didn't see my regular size, 26 so I tried 25 which fit but it was a tad tight on the tush…didn't seem to have much stretch to it, kinda flattened it…the uncomfortable kind. But they fit fine otherwise.  I think my regular size might actually be a tad big.  I also liked the length on these. Bummed they didn't work out.
 Jeans  |  Striped Every day Sweater in xs 
How cute are these wide leg polka dots pants?!  I ended up purchasing these in black as I know I'll get more wear out of the plain black ones.  Can't wait to wear them. They're light and comfy.   Wide Leg Pants tts  |   Sweater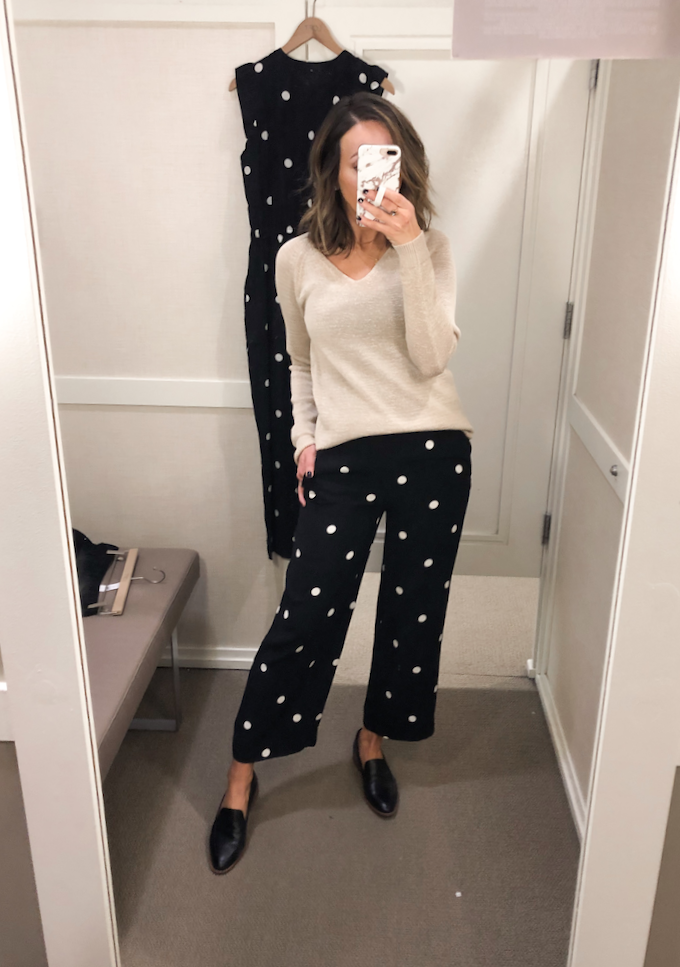 Loved these chic joggers! So cute and comfy and the length is perfect (I'm 5'6″ but they do come in Petite as well)!  I would totally recommend these or the wide leg pants above.  You can't go wrong with either option. Both are very comfortable and oh-so-chic.  Refined joggers tts  |  Sweater in xs – so cute! 
How adorable are these lilac pants?  I have the exact pair in black (from last year). They have a belt but I liked this look better without it for some reason.  And of course more polka dots.  Love this navy blouse. Wearing xs and it fits tts.  It gets great reviews too. Can't go wrong with this one.
 Lilac Pants  |   Polka Dot Blouse 
This sweatshirt is cuter in person!  Wearing xs below 
Striped Split Neck blouse in xs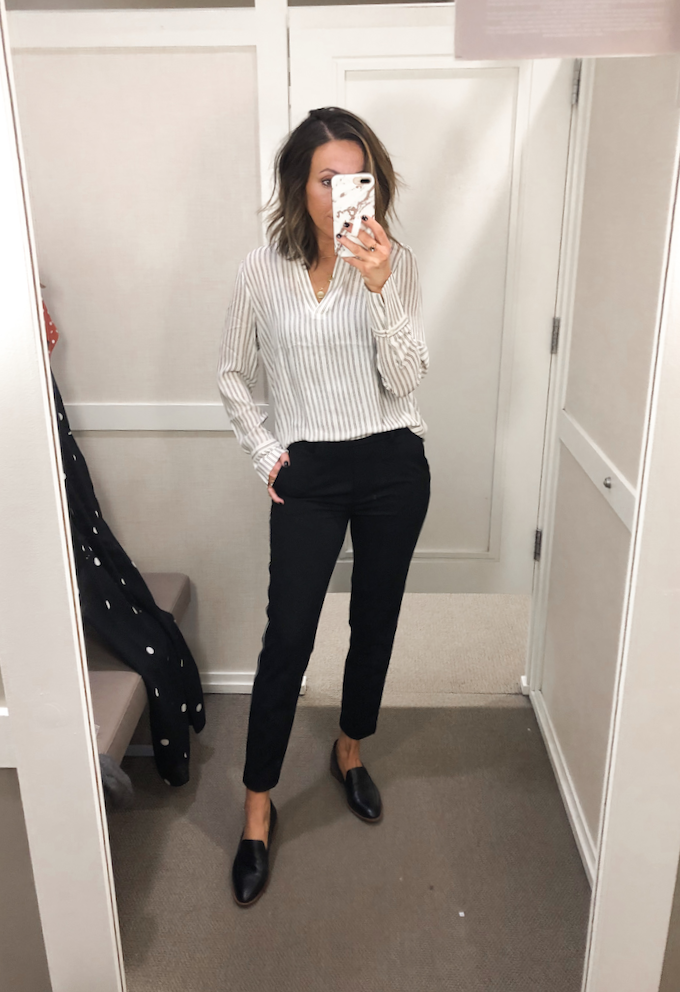 If Summer up here wasn't so far away, I might have gotten this cute jumpsuit. It actually fits great and it's not short in torso like most have been last year. Wearing in xs and it fits tts.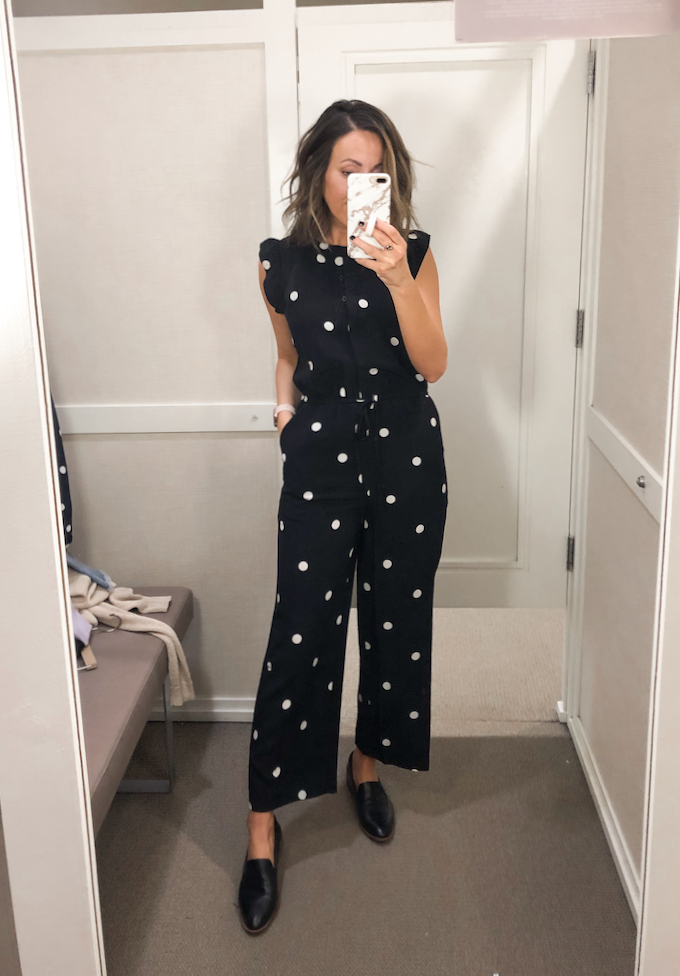 Quite sad this dress isn't longer.  Once belted, the pockets have to be adjusted as it will add extra width to the hips otherwise. Wearing xs. It's sooo cute though.  I hope they will start making longer dresses one of these days.  Polka dot shirtdress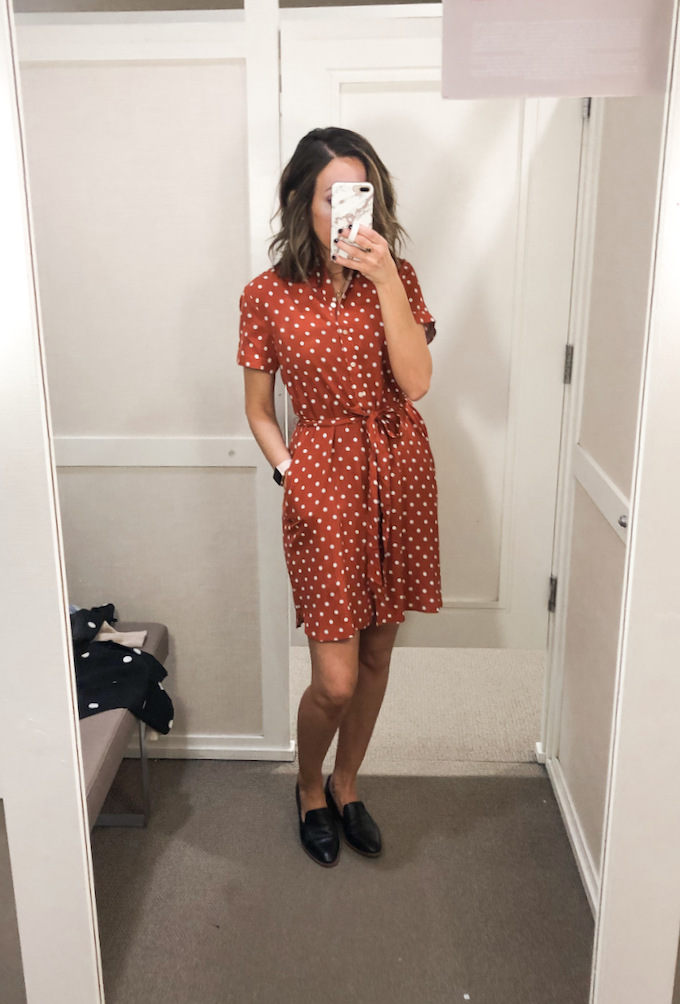 True wrap skirt. One of those you got to watch on a windy day lol  
---
Ann Taylor – 60% off select full priced styles
I'm glad I got to see this polka dot skirt in person as it's much nicer in person than online. Wearing size 0 below which was a tad small, especially with the tucked in sweater, which is thin but still….  I got size 2 instead. Fits and flows much better.   Sweater is in size Small. It's one of those very fitted ribbed sweaters but it has nice stretch to it. Depending how you want it to fit, you can stick to your size or go up one size.
LOVE these nude pumps. Maybe more so because of the currently tanned legs (tan from the bottle). I have these in black and they remind me a nice designer pair. She shade of these is perfect
Sweater – 60% off  |  Skirt – 60% off  |  Pumps
Below I'm wearing size 2 in the dot skirt which I liked better on me.  Blazer in size 0
Another look at the blazer
I love that this combo looks like a dress. The short sleeve sweater is super nice. It's has just a tad stretch to it. I love pieces like this…ones that can be worn dressier and more casual with jeans and look amazing either way .  Wearing xs below. Fits tts for me.   Dot Sweater   |  Skirt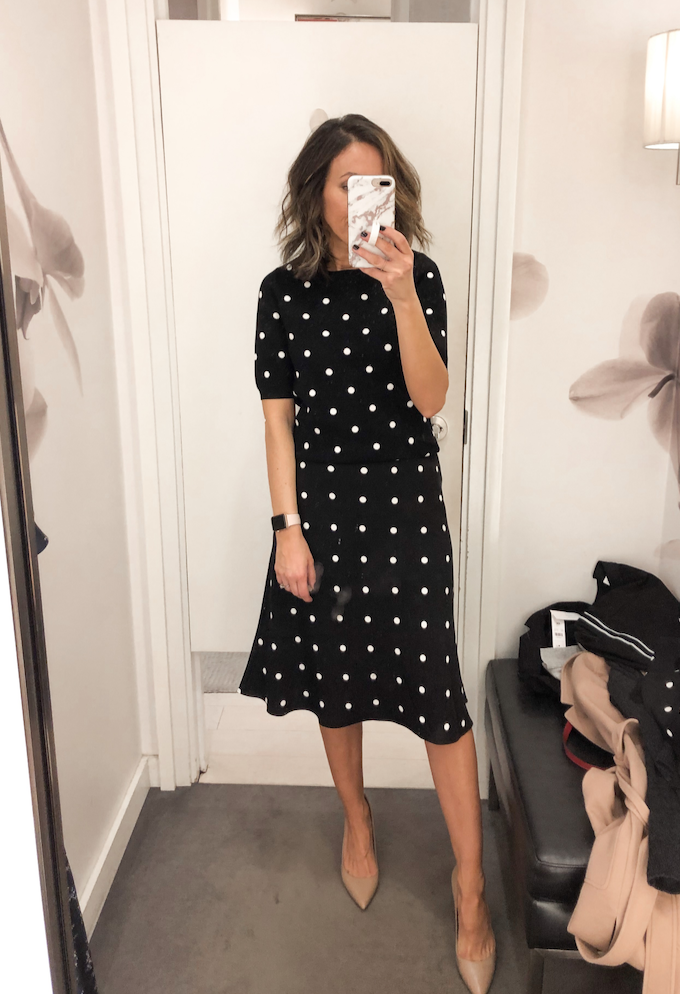 In love with this faux wrap dress which reminds me of this dress that was my most worn dress last year.  Every time I didn't know what to wear, I threw on that dress. I hope they bring this style in more colors. It's so comfy and flattering. Wearing sizes 0 below.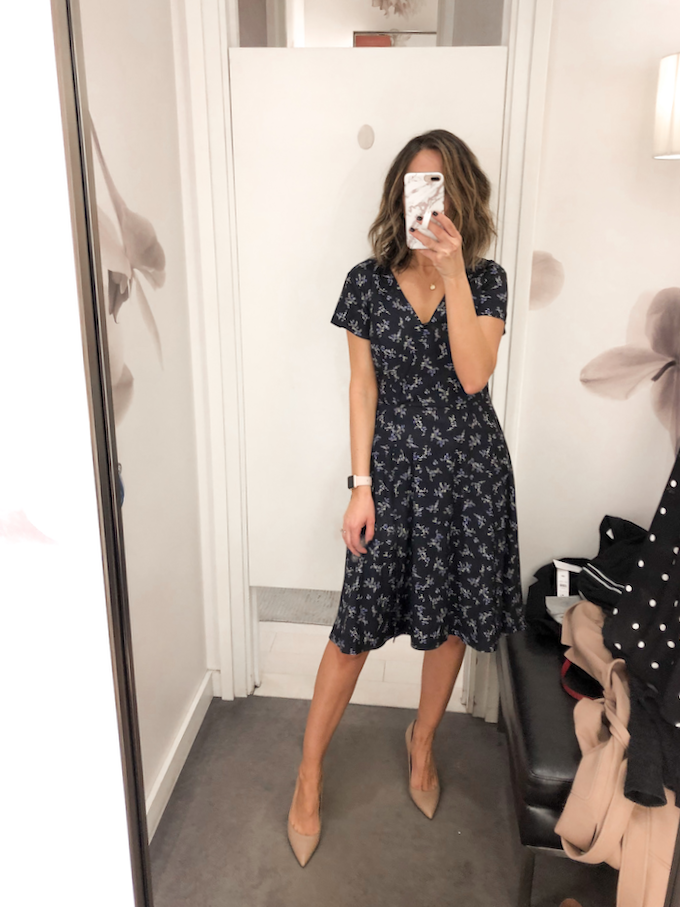 Such a pretty dress!  Another piece that's prettier in person.  Wish it was a tad longer.
 Geo Chiffon Wrap Dress– 60% off
This cardigan was super nice (60% off right now). It has nice weight to it and it seems well made.  XS was a good comfortable fit.  Love the white contrast.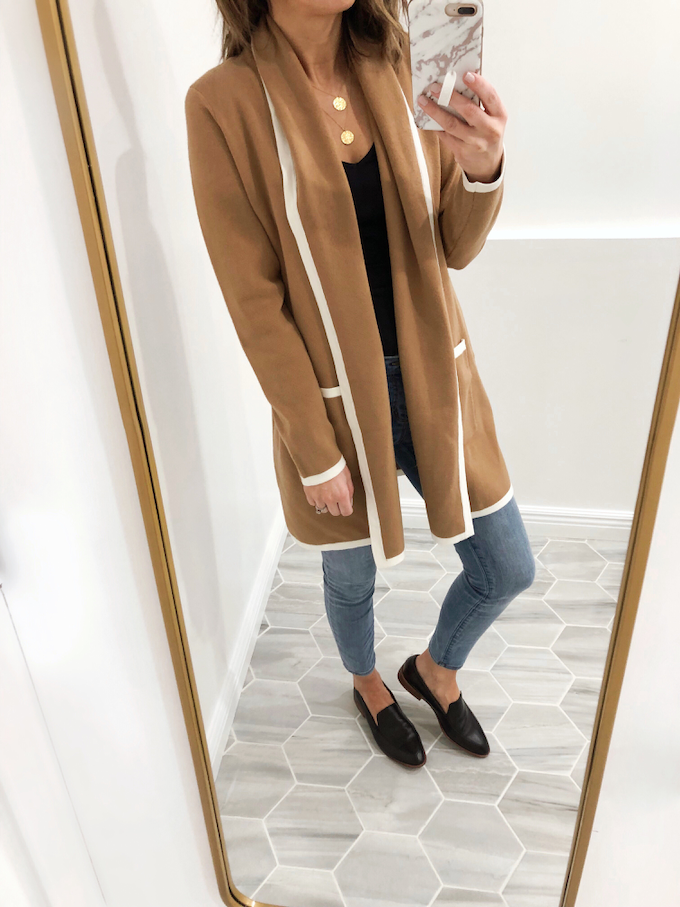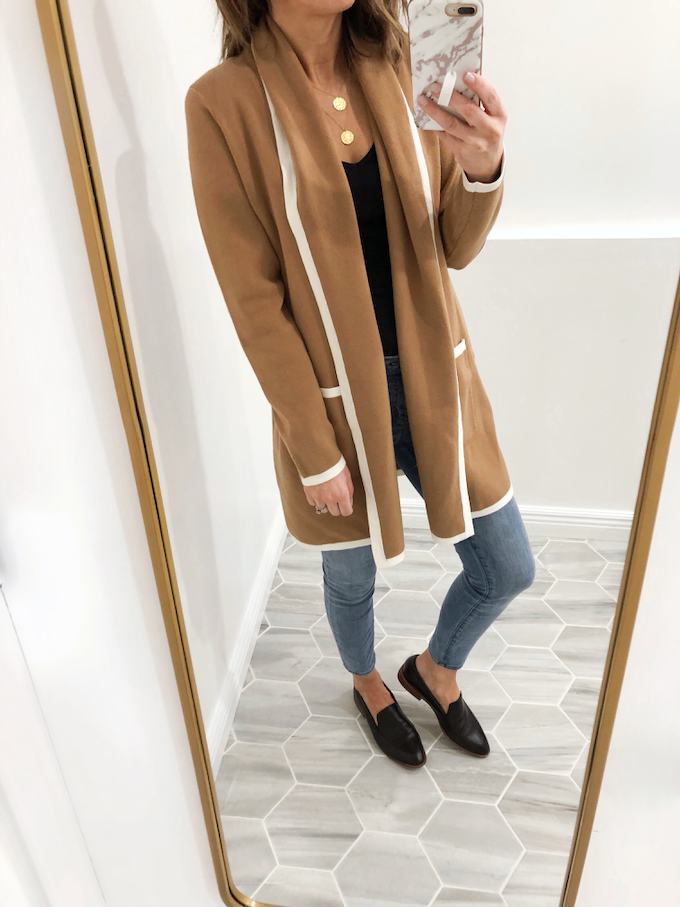 Cashmere Wrap Sweater in xxs  I had mixed feeling about this sweater.  XS was a tad baggier but looked kinda nice with a lace cami underneath. See pic below this one..
below is the same sweater in xs. I think overall I liked xs better with a nice cami underneath. But didn't keep it.   Loafer Slides tts
I liked this cashmere sweater much better on me. wearing xs below.  It comes in a pretty lilac color which is almost sold out. 
My black ankle pants in the last picture are from H&M and are SO nice. I'm kinda surprised how nice they are for $25.   They are pull on but are actually very flattering. Love the side stripe detail. They do come in more colors/prints. I'm wearing size 4
Which pieces are your favorite?