Happy Friday!
Sharing some outfits I actually wore…
Sometimes I don't know if I've actually posted about something before or if I just had it in my head, making a mental note that I need to share something
But this time I do remember telling you guys that these loafers run a tad narrow but here I go again in case you missed it. They stretched out within an hour for me but for a ALL day wear they needed a tad more stretching (I mean, the foot does swell up by end of the day and I don't wear any type of socks with them…so at some point I expect my feet needing some air lol). I have average width foot so the level of comfort might be different for everyone.
If you do get these loafers and they seem uncomfortable, I recommend wearing them around the house with thick sock (try using a blow dryer and blowing hot air on them too and then wear thick sock with them. That's what I did). These Everlane loafers are almost identical to mine below and come in a ton of colors…in case you prefer a different color. You really can't go wrong with these loafers. And I can't stop wearing mine (I actually feel and maybe look like I put some effort into my appearance when I wear them. But real effort is not required with these).
Moving on…
These types of outfits make me the happiest! I think this was my favorite outfit during the month of March. Or we might have a tie (other one coming up). Simple, chic, effortless. Or maybe it's just the black loafers (clearly love them!). Tired of hearing about them? Hope not…because I'm pretty sure this won't be the last time. But I'll try my best. ;)~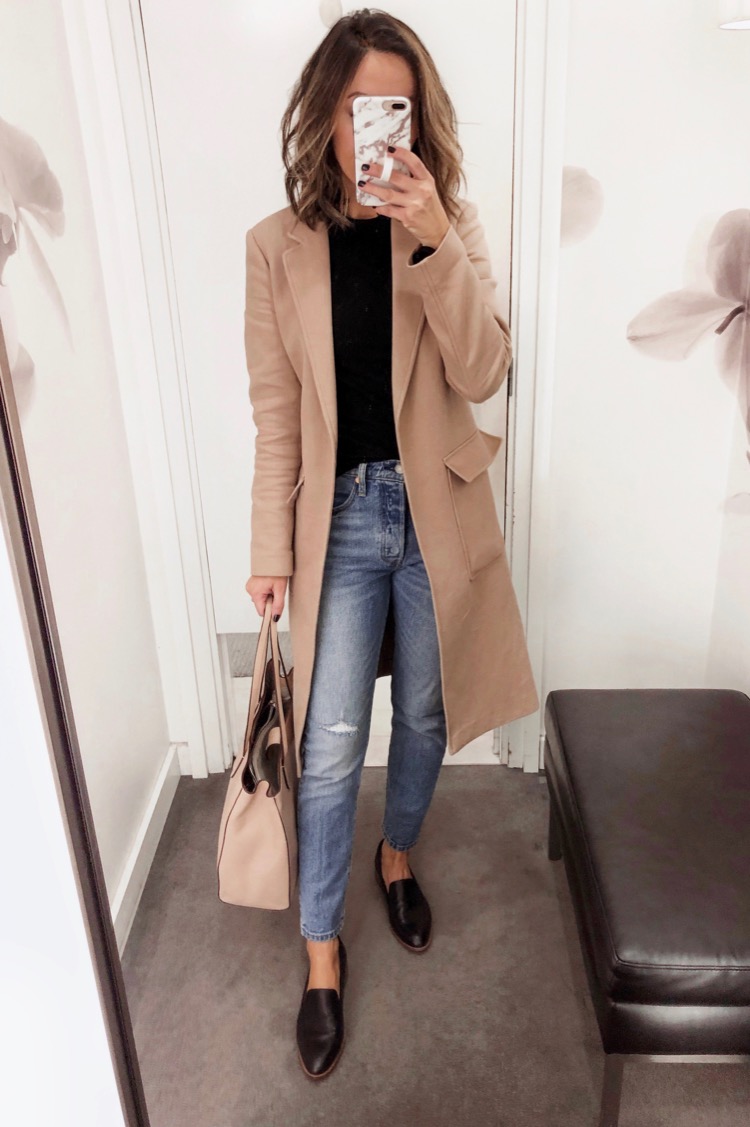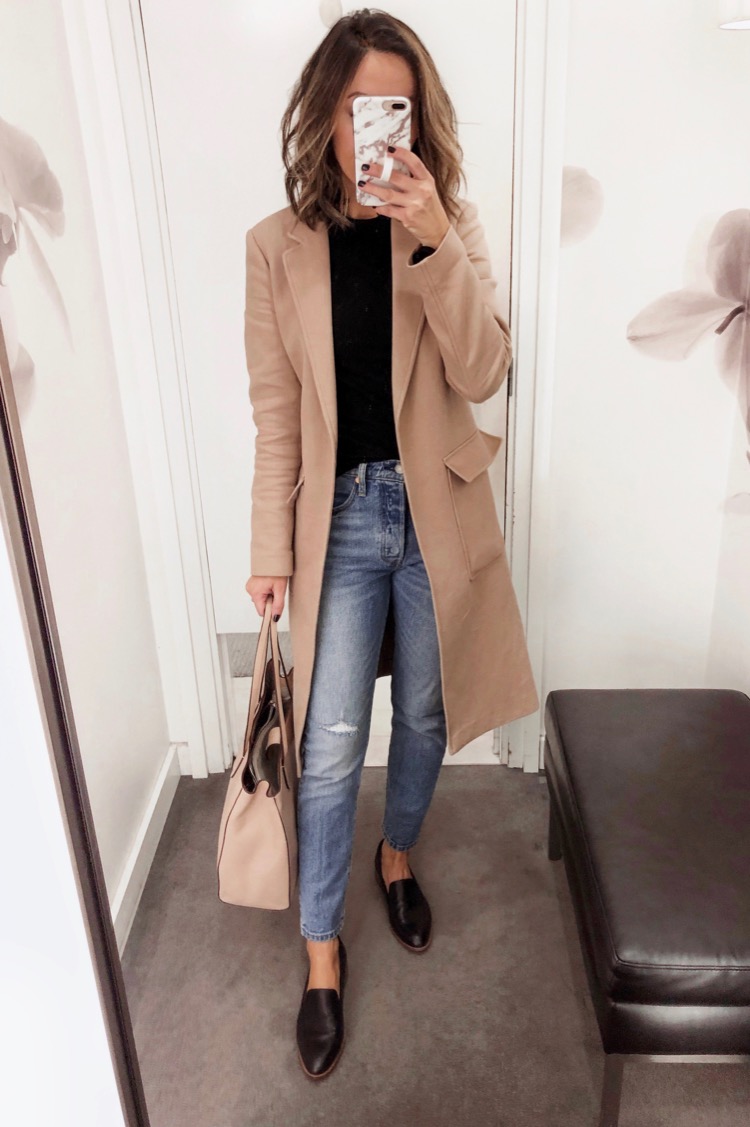 Coat (old) – great options here, here, here and here | Levi's 501 here and another fave Levi's pair | Crew Neck Sweater (old) – similar here and here, also in cashmere | Madewell Loafers | Exact tote no longer available – similar styles here (I've been wanting one of these),v nice option for only $10 | Nail color OPI Lincoln Park After Dark
Tuesday evening outfit. Loved this all black outfit with the brown bag. And belting one of my favorite sweater blazer/coatigans just made me feel extra chic 😉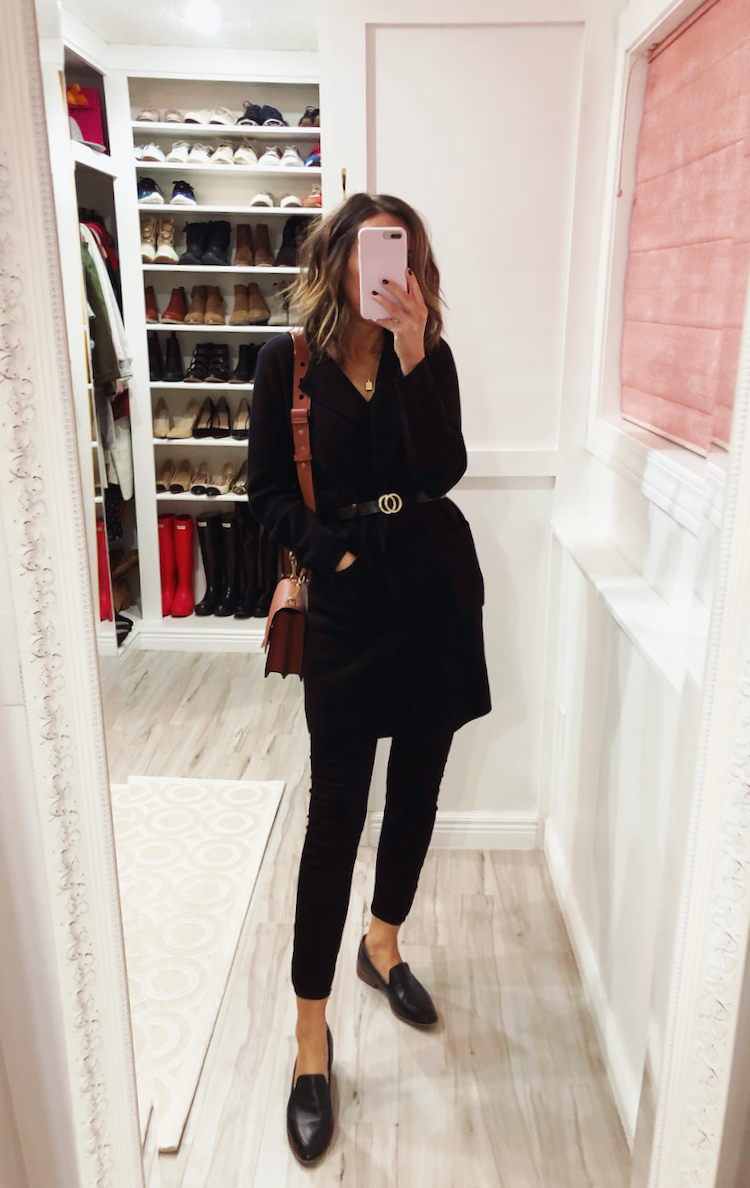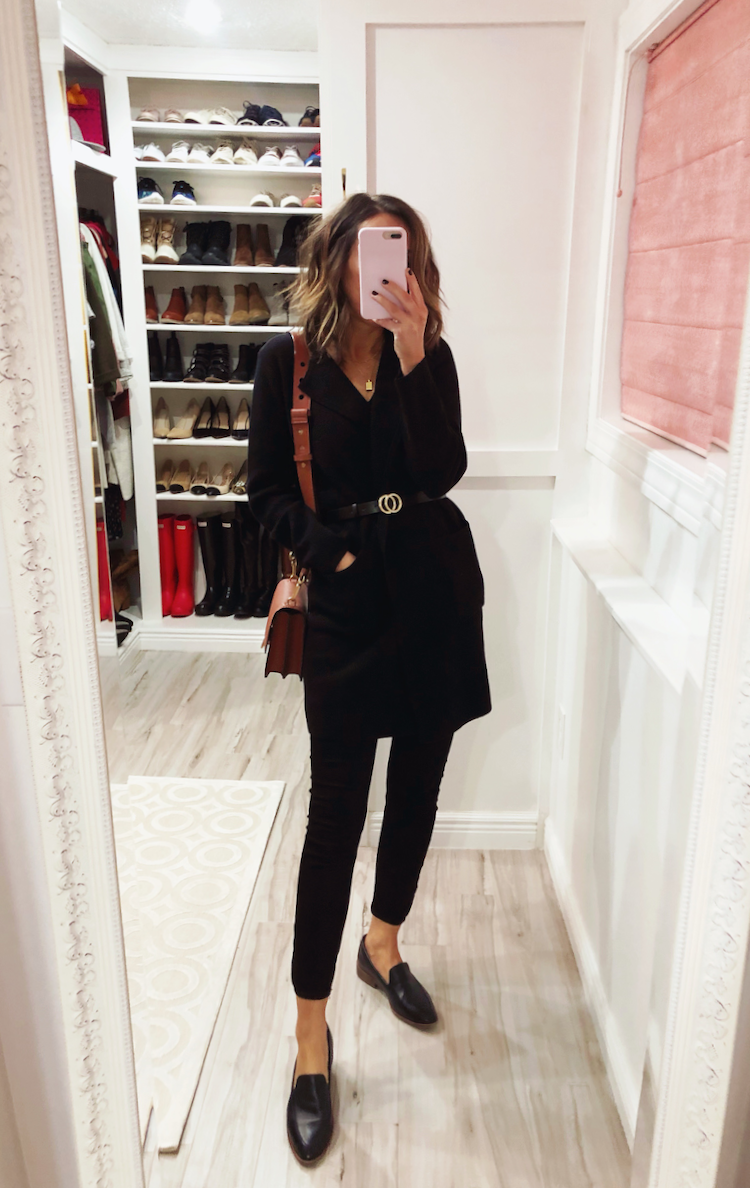 Coatigan: J.Crew in xs | Jeans: L'Agence – these are very similar for less (I had to size up) | Loafers: Madewell | Brown Bag: Charles & Keith | Belt: H&M (in xs) | Necklace: Madewell –
Told you I can't stay away from these loafers and now this amazing coatigan (so in love!). I could totally live on a minimalistic wardrobe (I keep saying that…need to make it happen). I wear same items over and over and over again SO much…which is easy to do when the pieces are classic. And natural colors help too.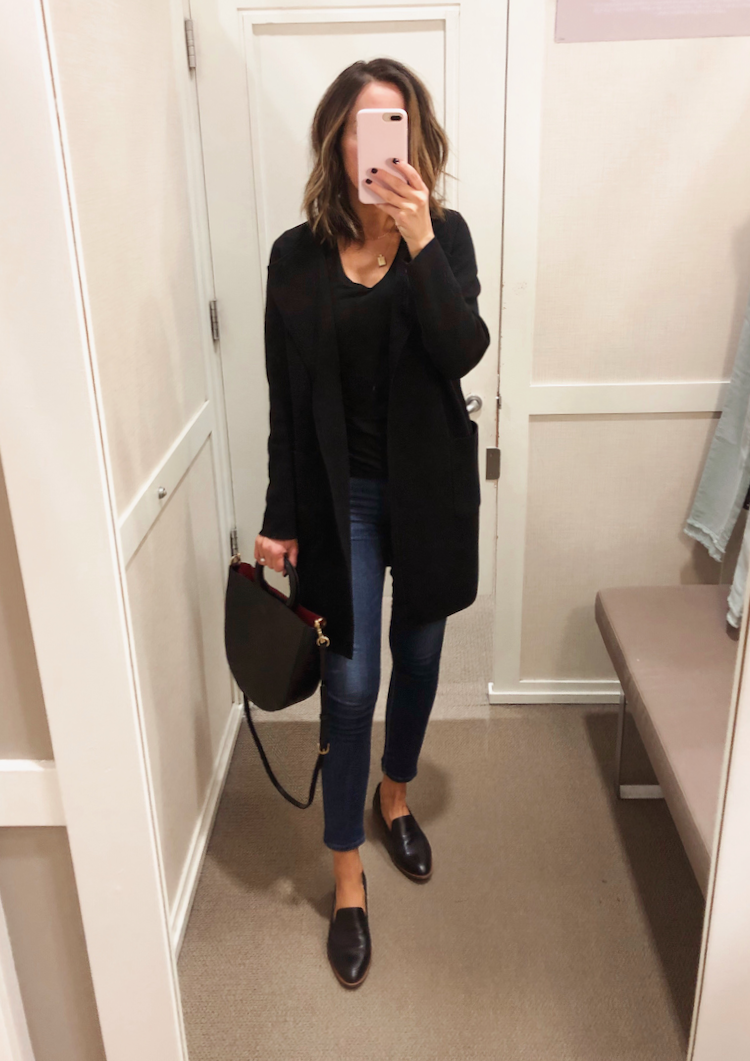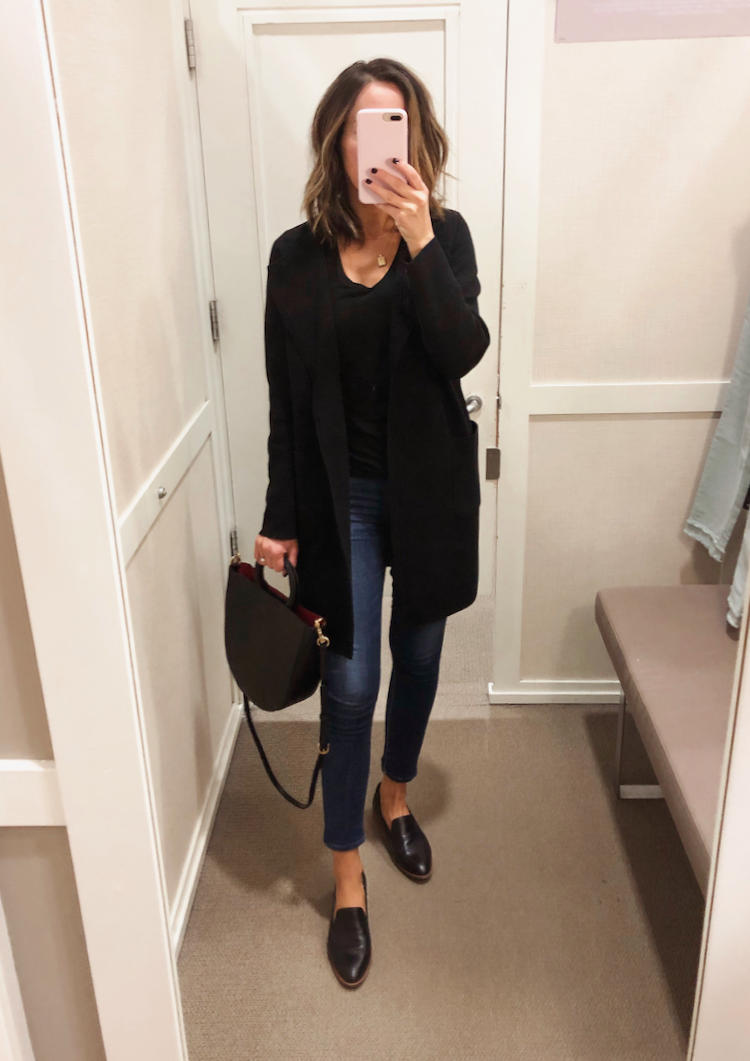 Coatigan: J.Crew in xs | Jeans: COH (one of my faves), these are super similar for a bit less | Bag: Banana Republic (so in love) | Loafers: Madewell | Tee old – similar | Necklaces: Madewell -one from this set and one from this set)
Another outfit from sometimes in March. Can't keep track when I wore it, but I did share this one on my Instagram the day I wore it.
Trench coat (old from Banana Republic): Similar here, here and here for $79 | Sweater: Everlane | Jeans: Mother, here too tts | Booties: Marc Fisher tts | Bag: Banana Republic | Coin Necklaces: Madewell, Bar necklace old – similar and here for $14
Sunday Best
Skirt: Ann Taylor in size 4 c/o | Sweater: Ann Taylor (old) – similar | Pumps: Ann Taylor (2018) – they're back in a light pink – almost sold out | Bag: Banana Republic
Don't let Zoey distract you from this outfit lol. But she's definitely a lot cuter than the outfit.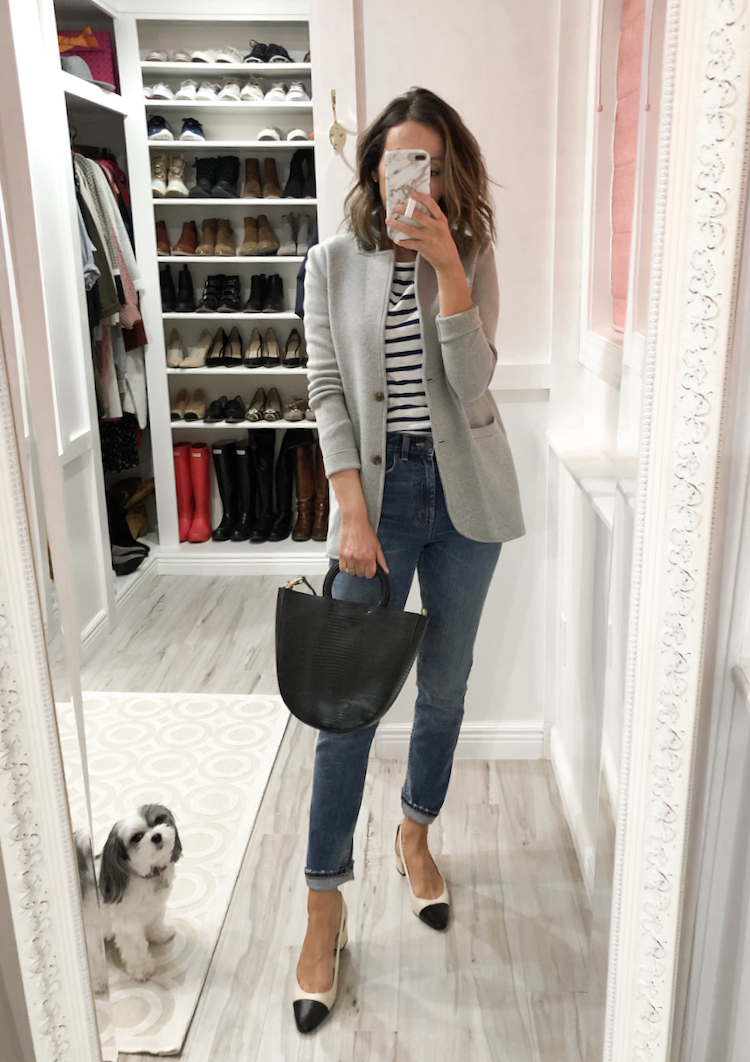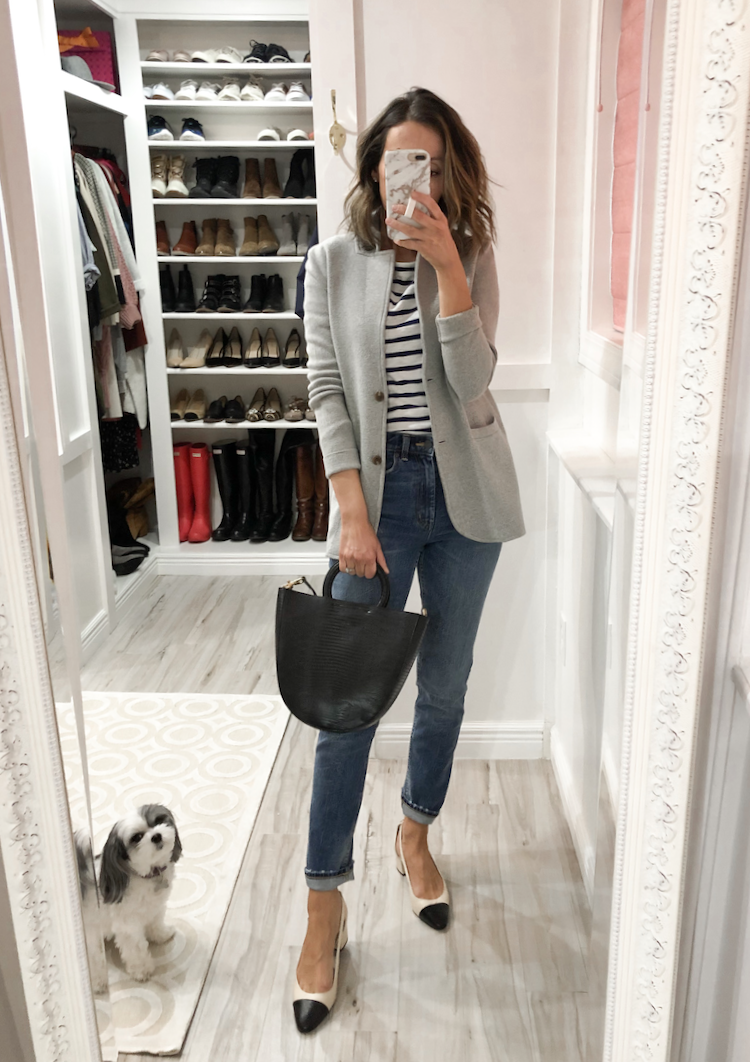 Sweater Blazer: J.Crew Factory or here is the real thing from J.Crew | Striped Tee: J.Crew in xs , another option for $10 | Jeans: La Vie Rebecca Taylor – similar style for less | Cap toe Shoes: Sam Edelman | Bag: Banana Republic (I should start wearing a different bag lol)
---
I haven't worn the outfit below with heels, just wanted to style these fab pants with a few different shoes and since I snapped pics I'm sharing for inspo. I did wear them with flats (at seen in this post) and with sneakers (below this pic).
Leather Jacket 40% off highly recommend this one | Pumps – 40% off | Pants | Asos Bodysuit – in size US6
I love them with sneakers and I've been wearing these below quite a bit lately.
Cardigan: Ann Taylor in xs – on major sale | White Sneakers tts | Pants: LOFT in xs |
As always, thank you for reading!
Have a great weekend!