Happy Friday!
A lot of retailers are running great Memorial Day Sale. Today I'm sharing some fitting room snapshots (from two stores) and some of my favorite sales.
Let's get to the good stuff…
Ann Taylor Factory – everything between 40% – 60% off + extra 15% off w/code HELLOFACTORY
I have such a hard time finding jumpsuits that don't give me a wedgie (I'm 5'6″ for ref.). This jumpsuit fit SO well. No wedgie lol I tried size 0 below and it fits tts.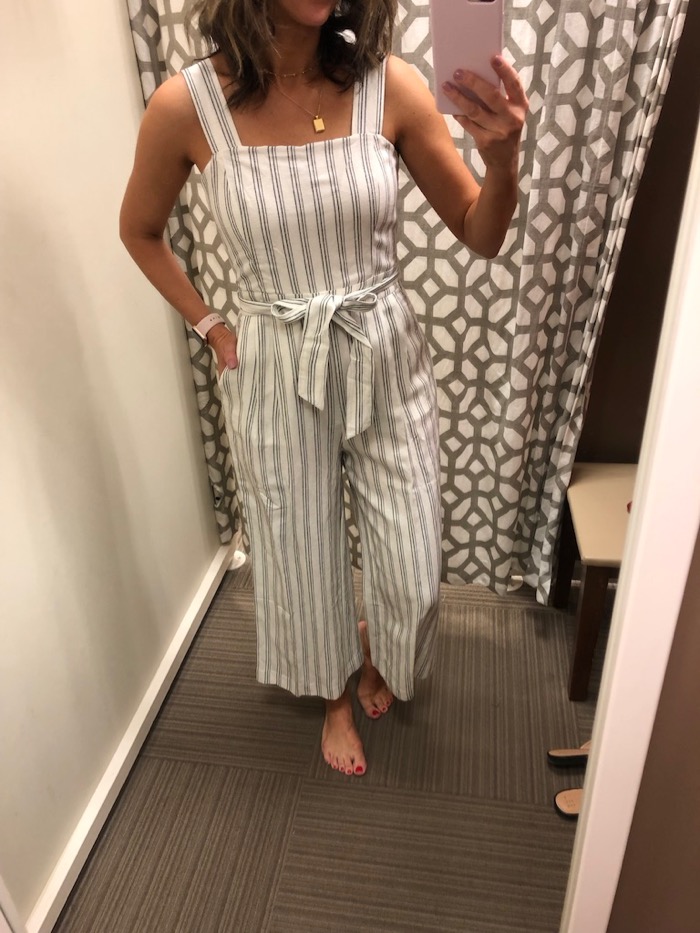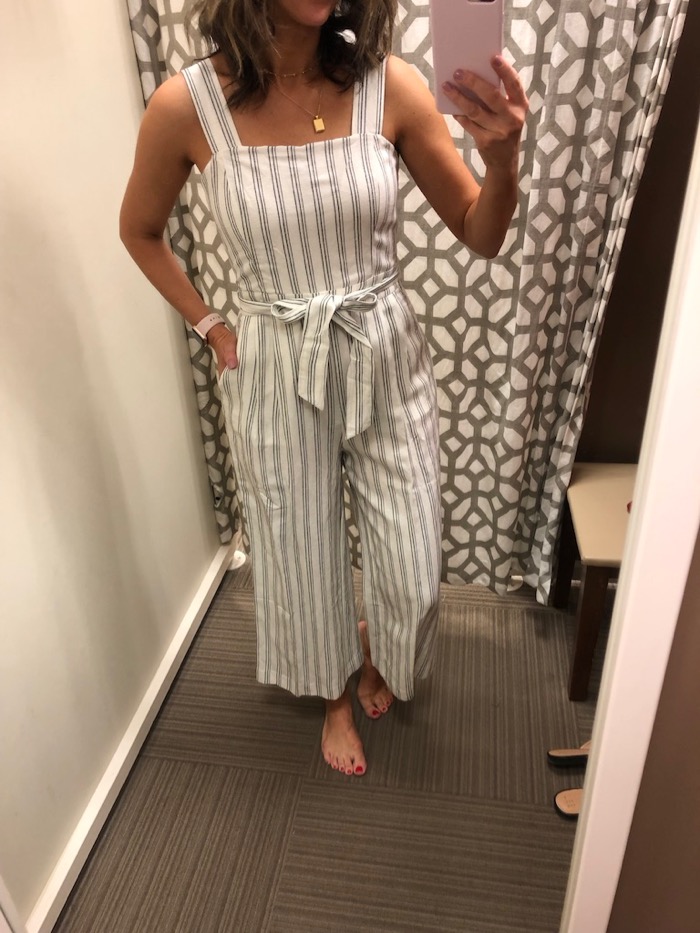 Absolutely loved this dress!!! The style and fit are perfect. When I was at the store it wasn't that great of a deal, so I thought I'd wait and order online, and now it's cheaper 🙂 It's such a classic and timeless style. And the side buttons are a perfect touch. Tried size 0 below and it fits me tts. Button Trim Wrap Dress (faux wrap)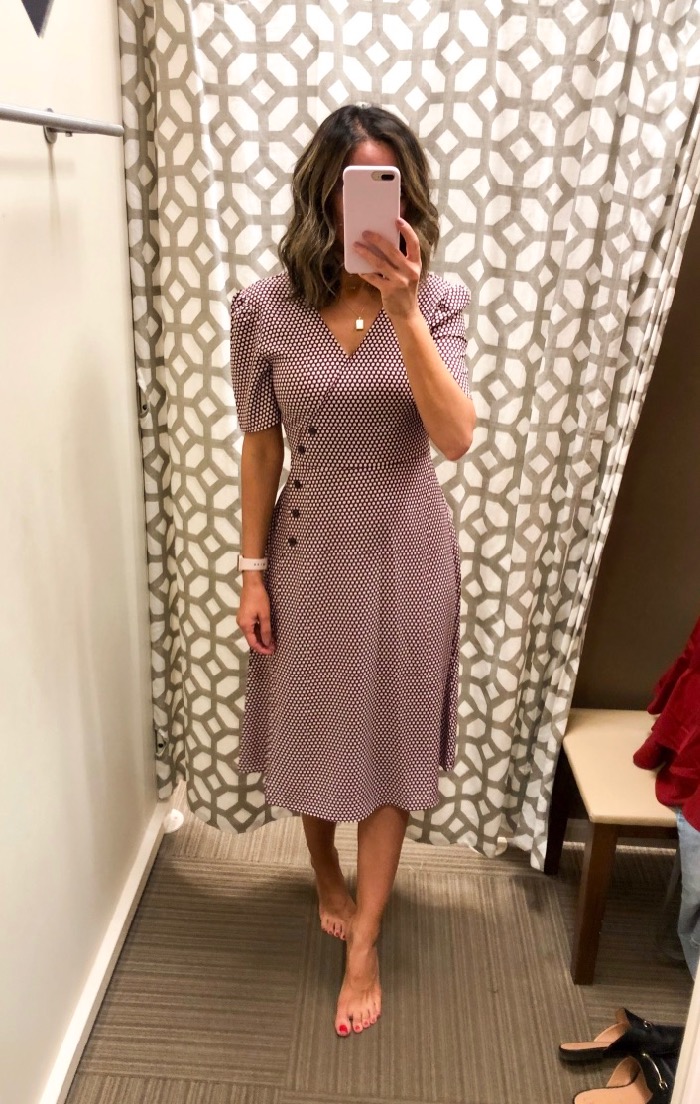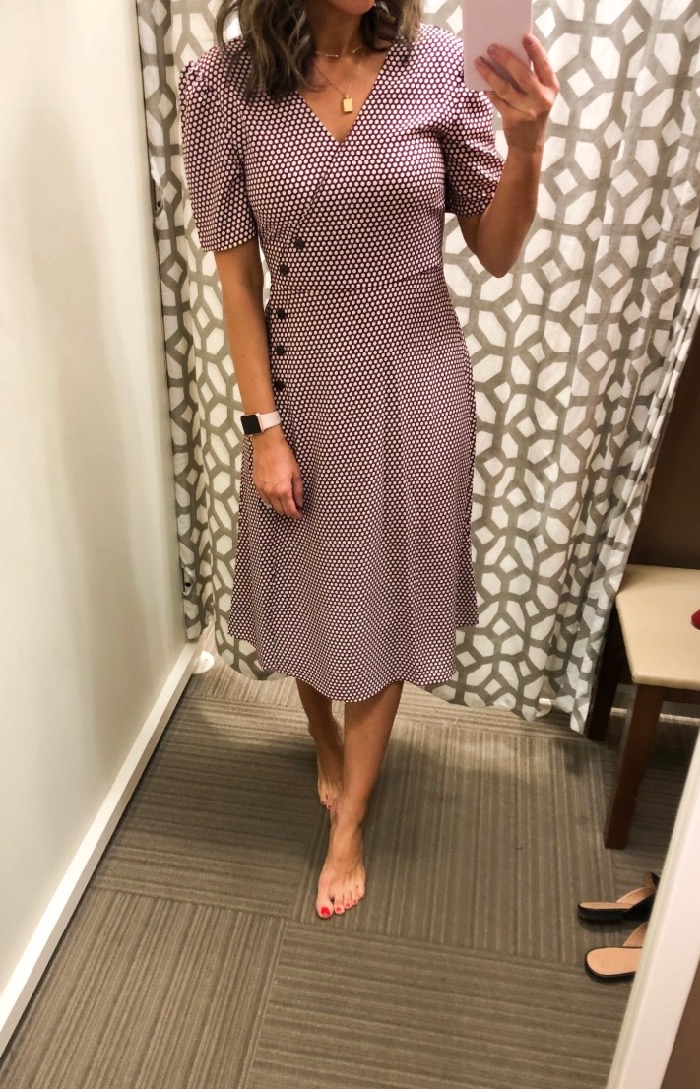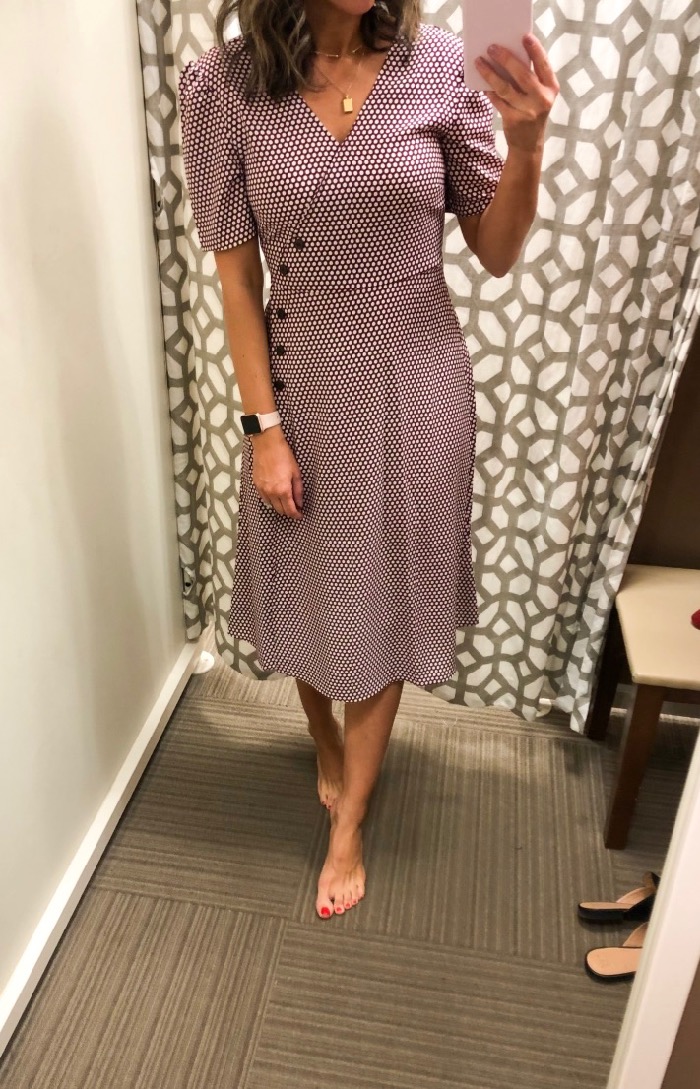 Absolutely loved this skirt! I tried size 2 below and it fits tts (I'm usually between size 2 and 4 in pencil skirts) Stripe Tie Waist Pencil Skirt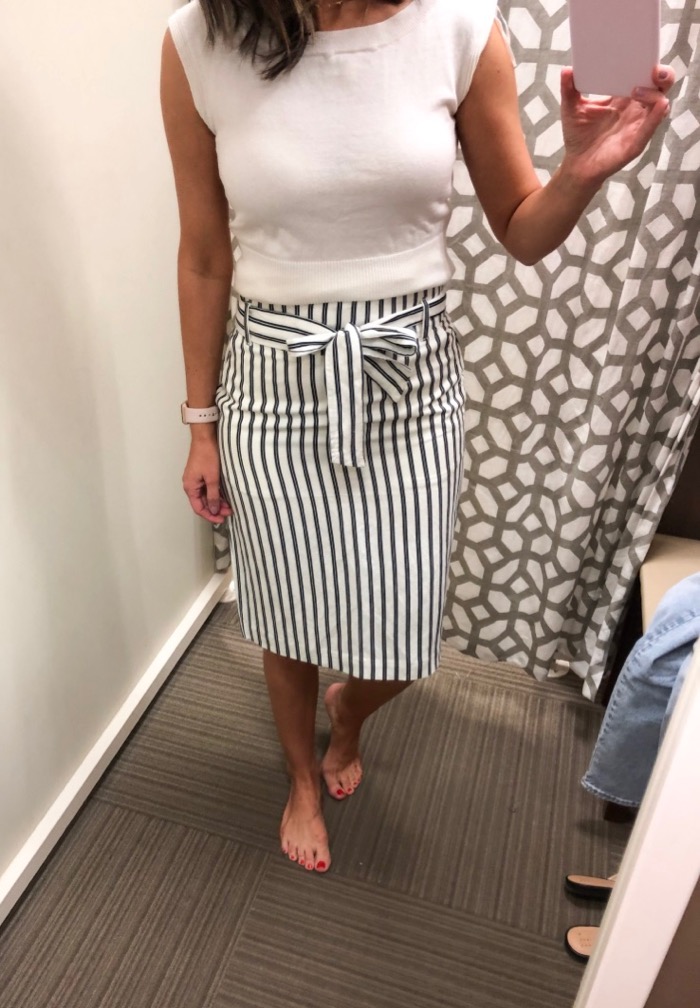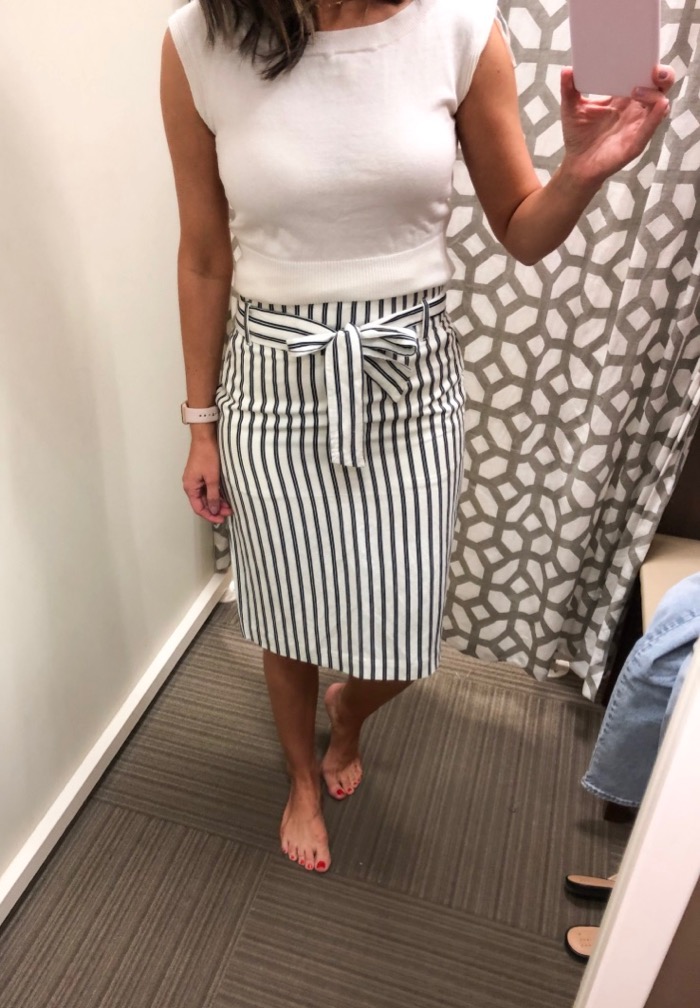 The sleeveless sweater is very light. Wearing xs, fits tts.
Another very cute pencil skirt! Also in size 2 below, fits tts.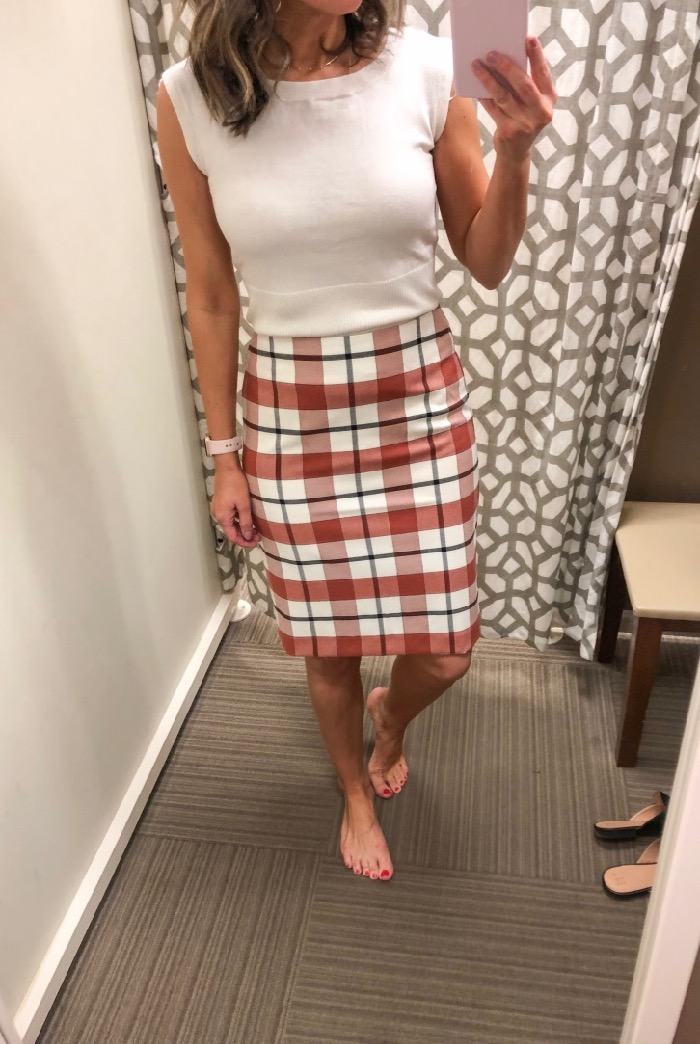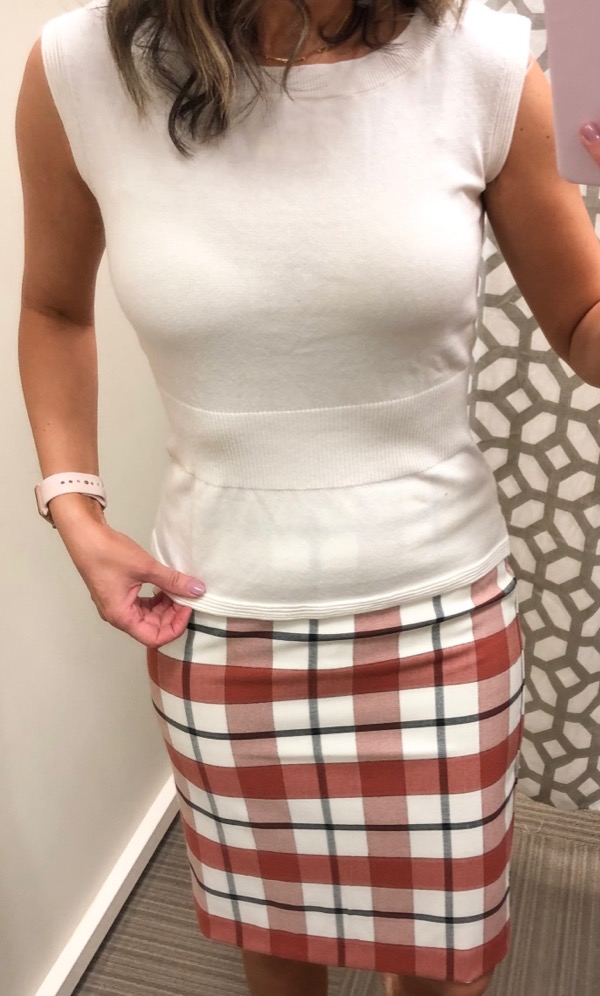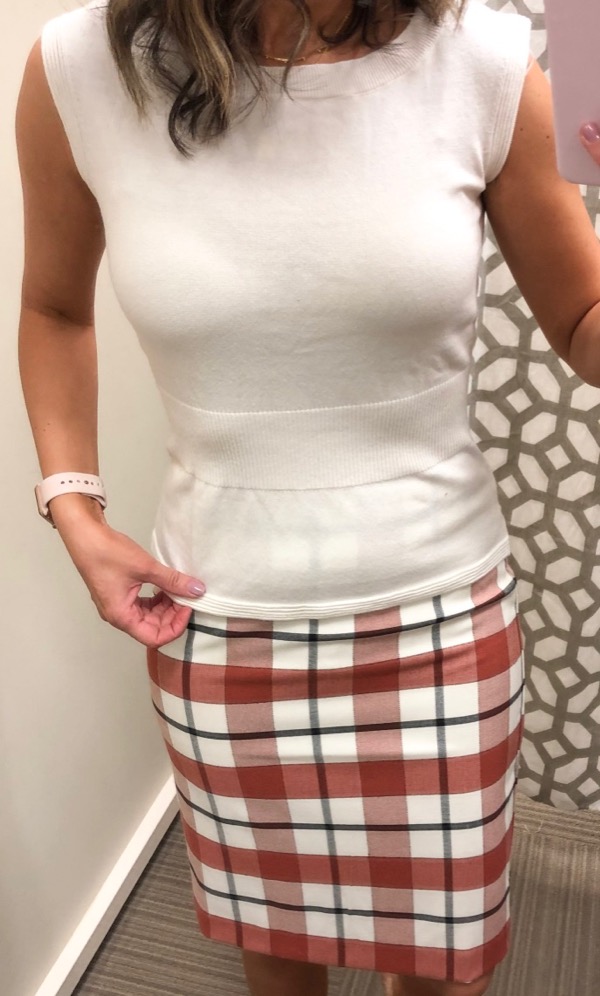 ---
J.Crew Factory – up to 60% off
J.Crew Factory dresses almost never fit me. I find the sizing to be very off and I think that was the case in pretty much each dresses I tried on. I'm sure they fit someones body, but they did not fit mine. Sadly, as they have so many cute ones right now! Size 0 usually have to much fabric on top and size 00 is way too tight on top. Go figure.
This was such pretty dress. I tried size 0 below and it was a tad roomy on top. V-neck Gingham Dress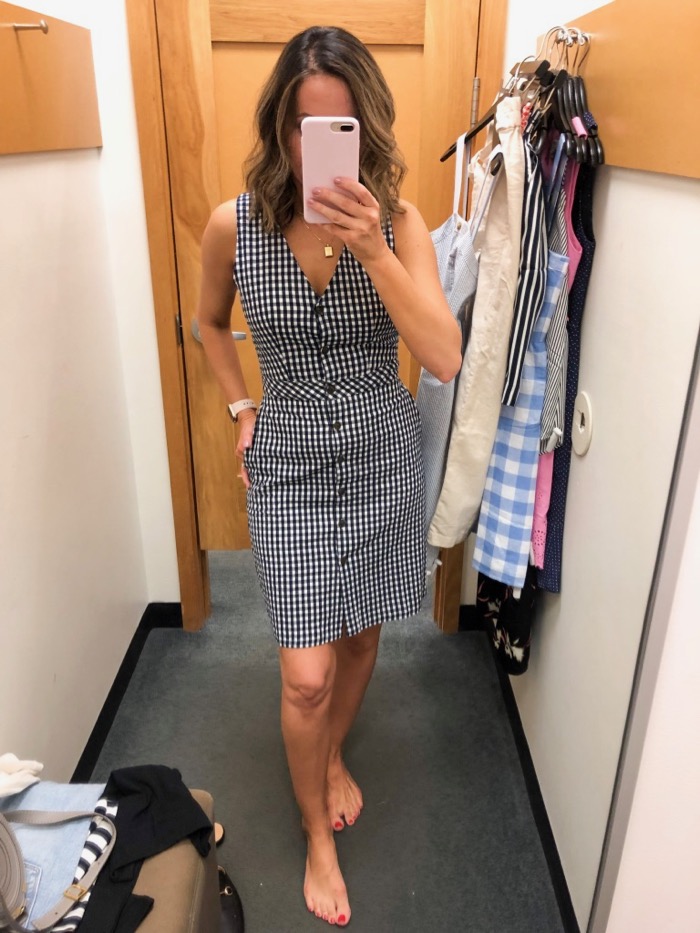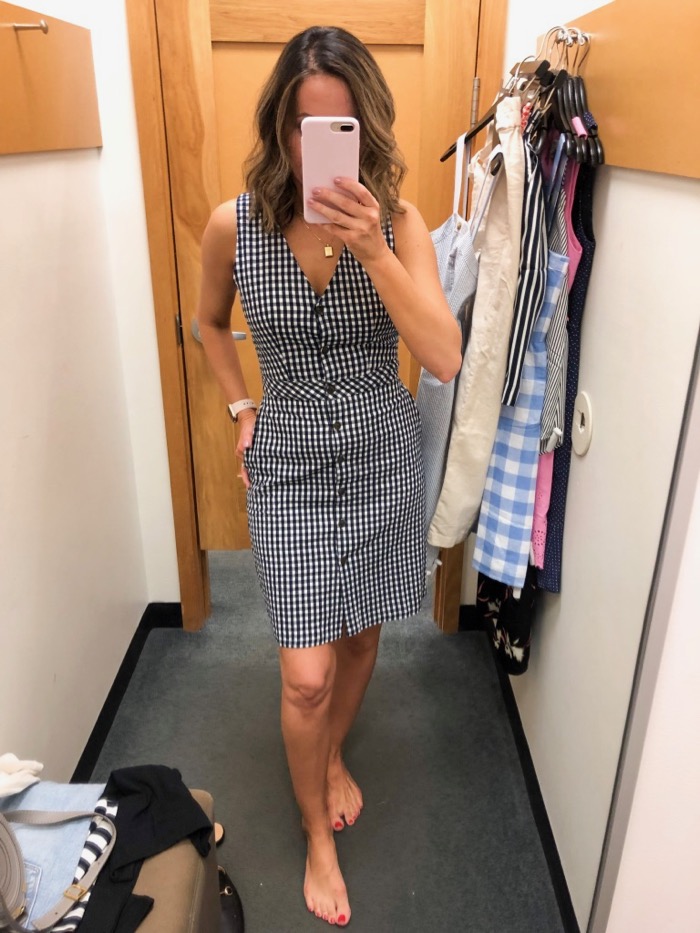 I don't even remember adding this dress to my fitting room as I would have not picked 00 in this style (guessing the SA put it there). It's a beautiful dress but obviously it's way way too tight, I could barely move (and I didn't zip it up all the way in the back). I was sucking in my stomach so hard lol If it was longer I would have tried size 0 or 2. Flounce Hem Dress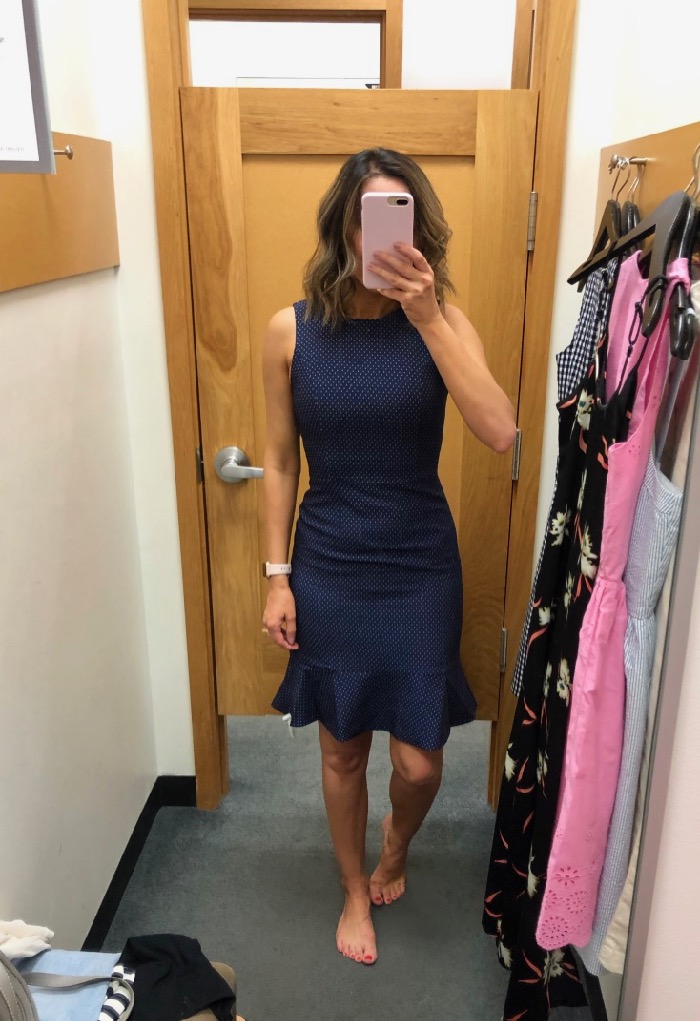 Another pretty cute dress but it was tight on top and waist. I should have tried the next size up which perhaps would have fit ok. Eyelet Dress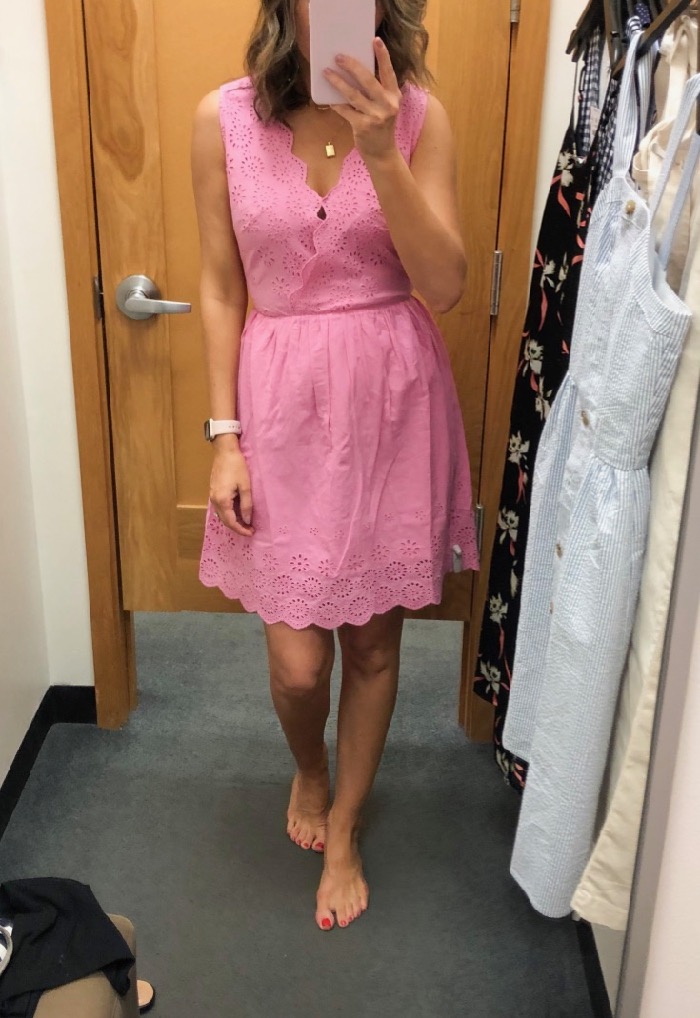 Same thing with this seersucker dress – tight on top (buttons pull), fine on bottom. But sizing up would have made it too loose on top for me.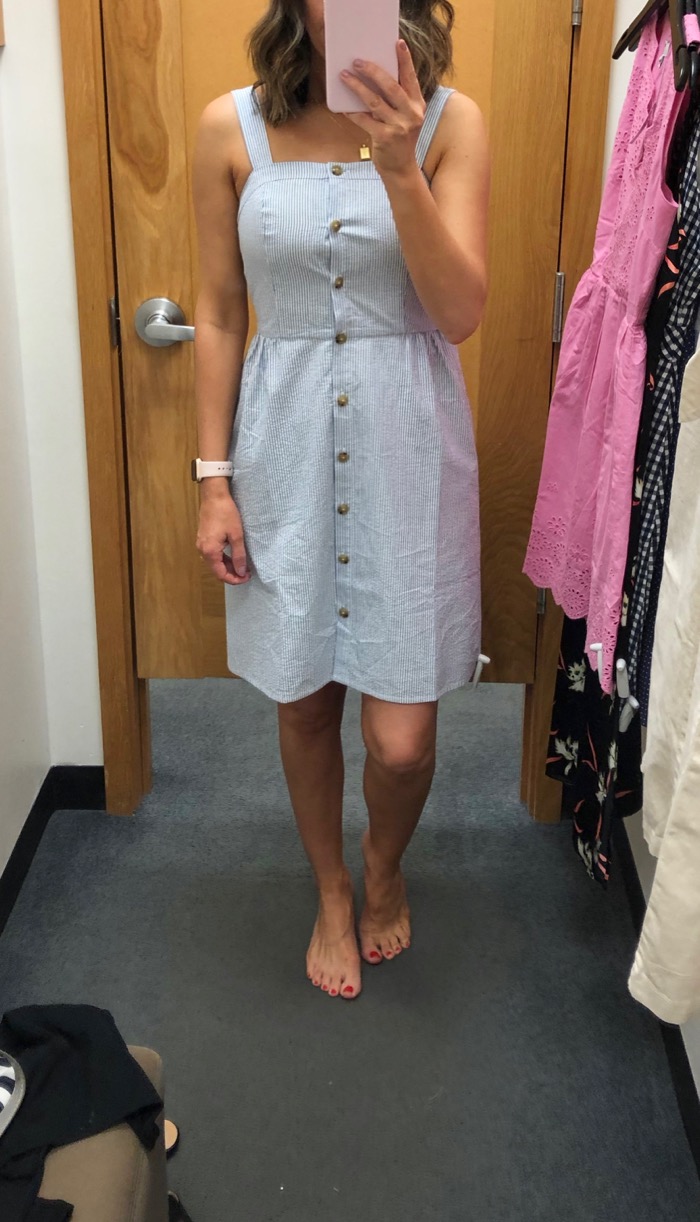 Same style as above but in different fabric. The fit is the same. Off for me. Button cotton linen dress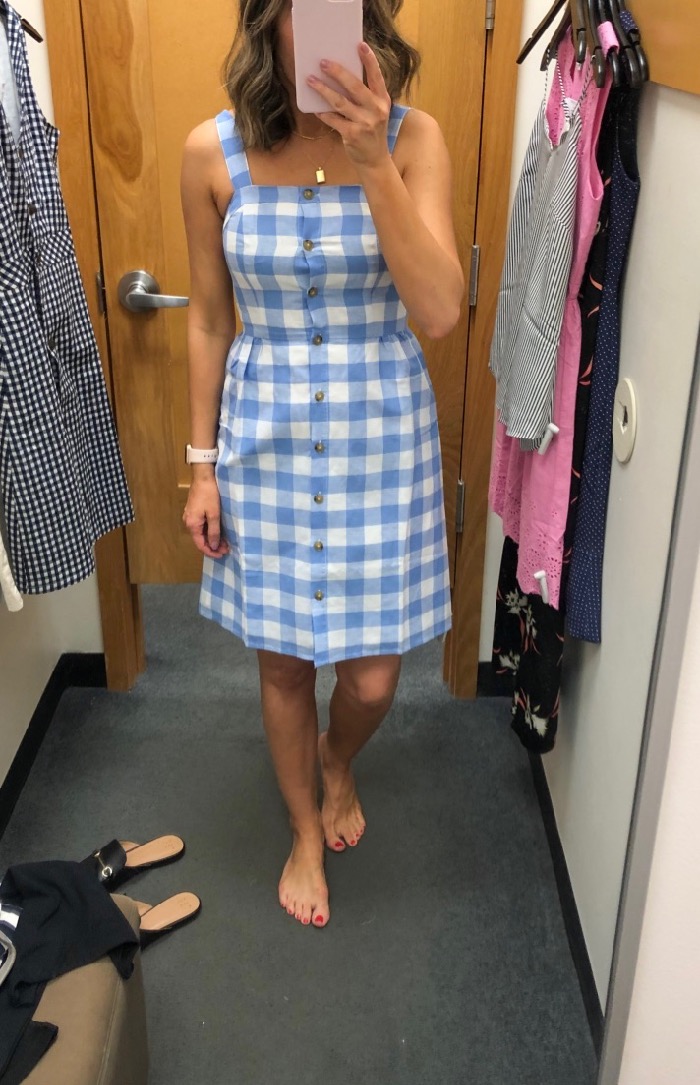 One dress that actually fit fine – Slip Dress
Really liked this cute ribbed tee (on major sale) and the ivory color (it does come in more colors). Kinda wish I had bought it. Wearing xs below. Pleated Midi Skirt – super cute for Spring/Summer. Wearing size 0 below, fit tts.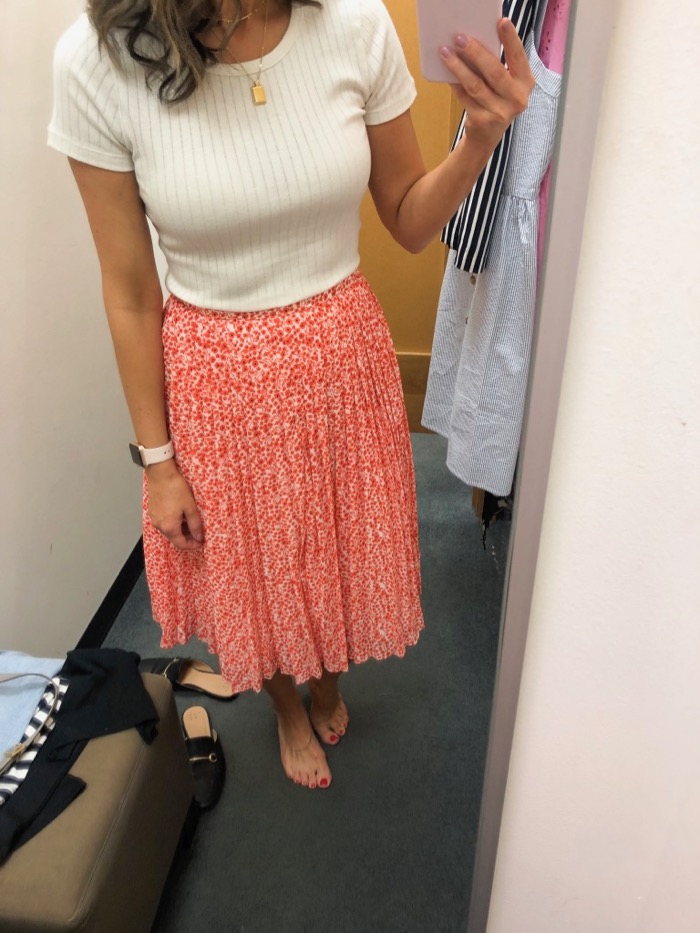 Such a cute stripe skirt and it has pockets. Unlike the dresses, the skirts fit much better. I'm size 0 in the a-line styles. Also, this this skirt (as seen in this post) is still available and super comfy!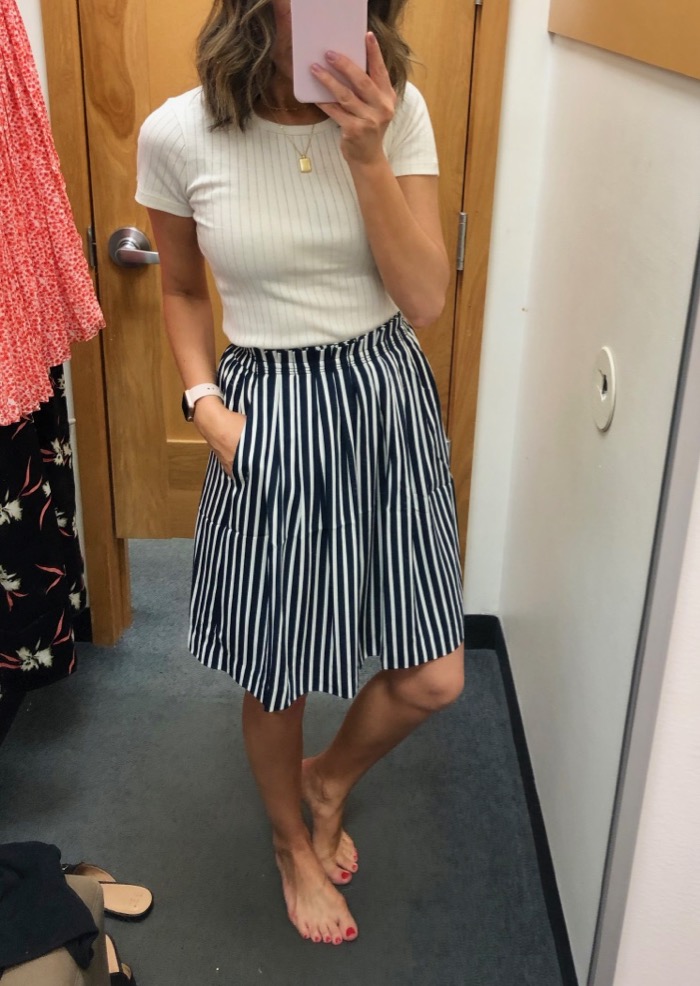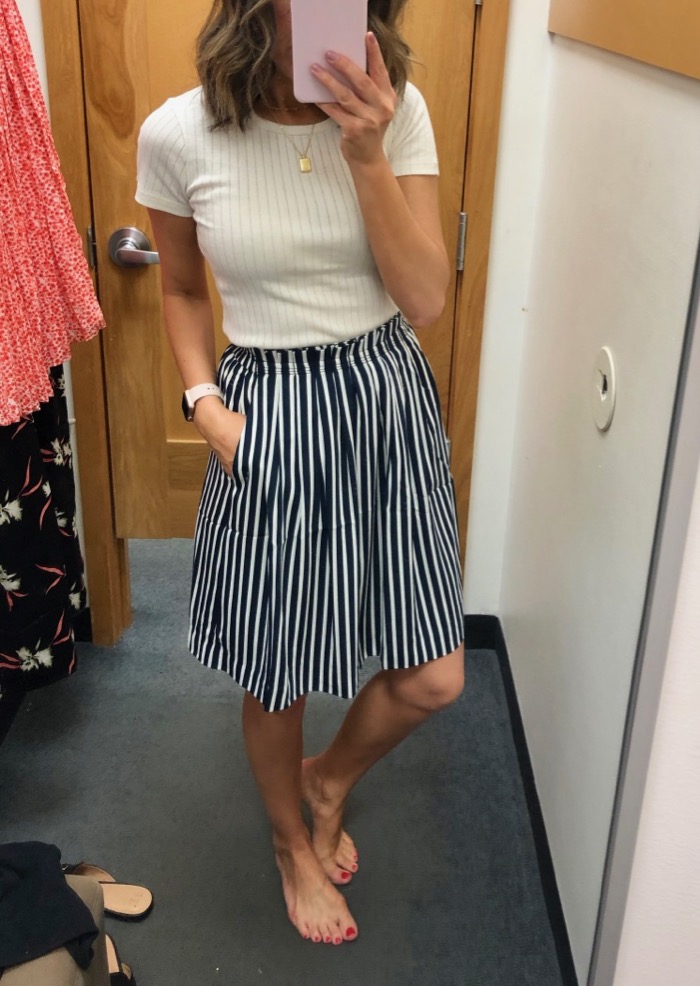 If you're on the hunt for a pair of linen pants (these are cotton/linen blend), these are quite nice. TTS for me.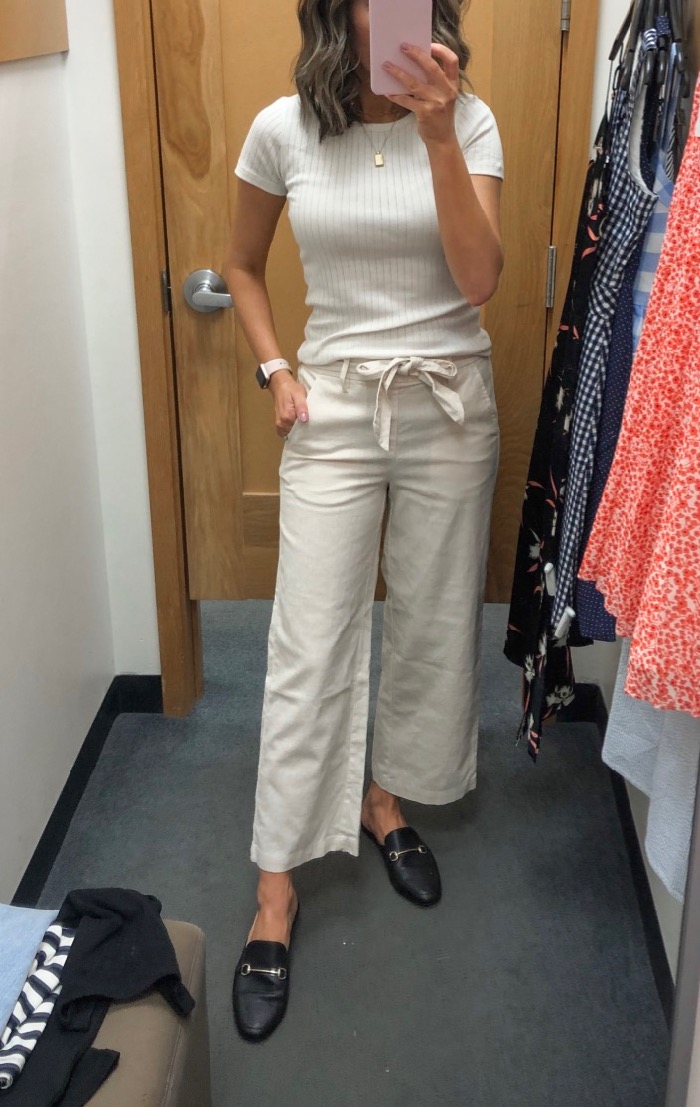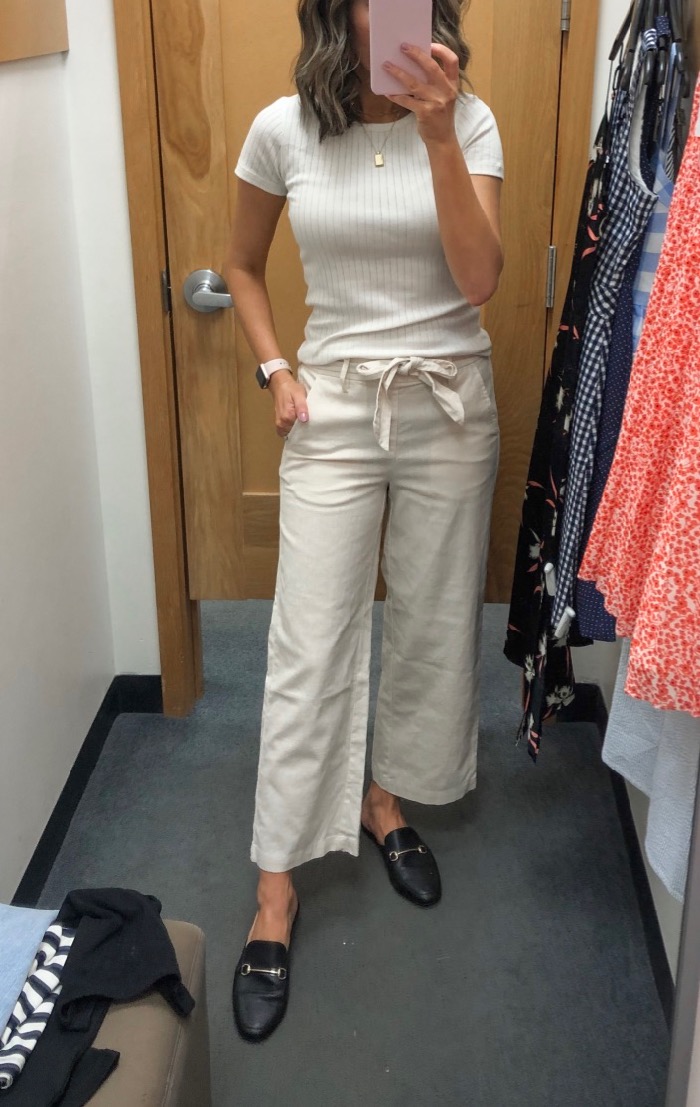 Loved this sleeveless tee. The cut is perfect. Runs tts.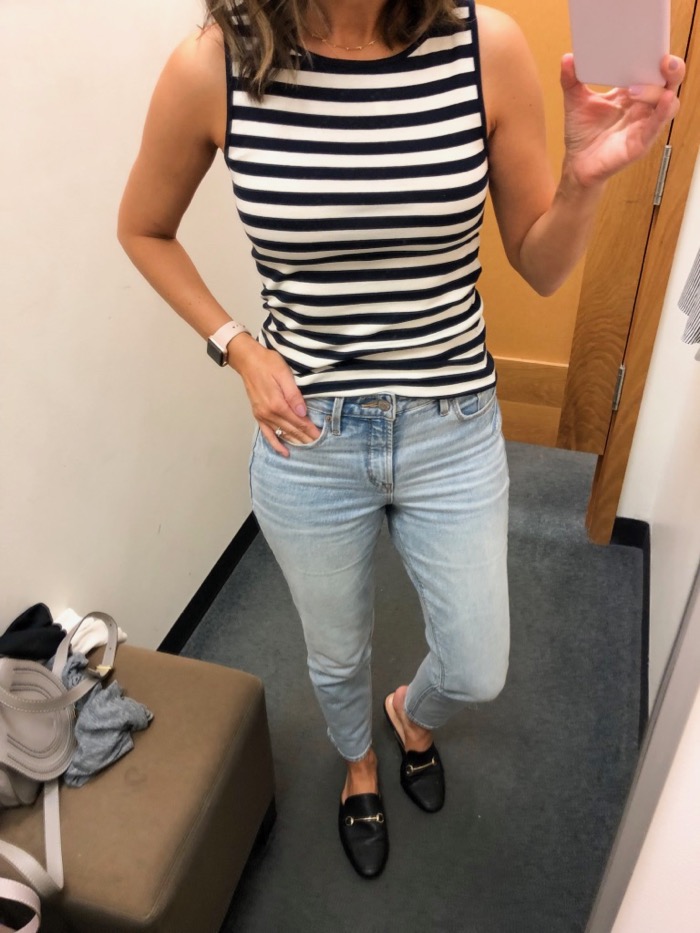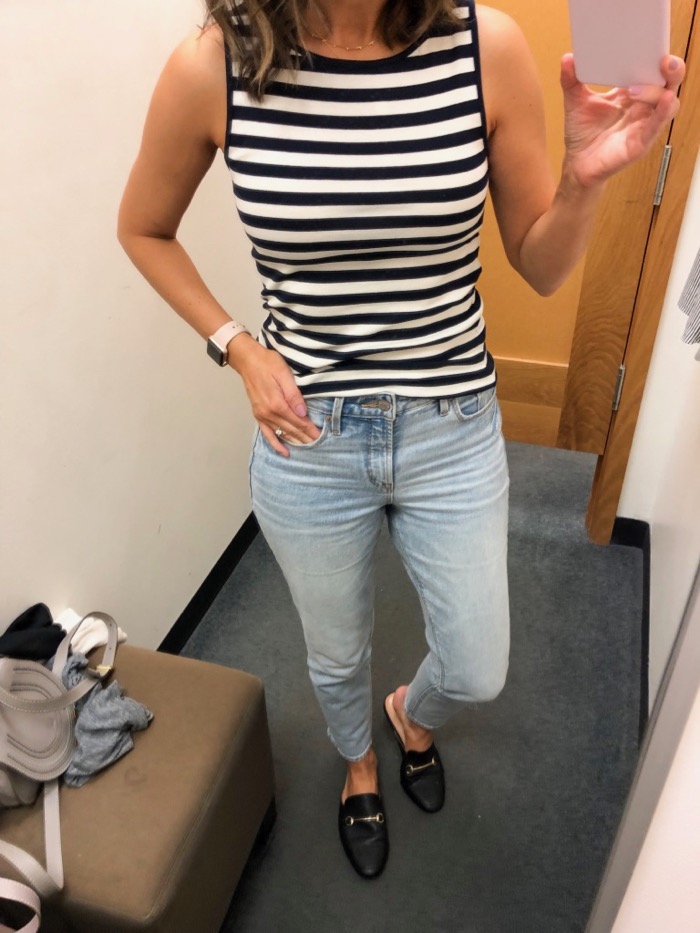 Same top as above. I got this black on in xs (comes in more colors)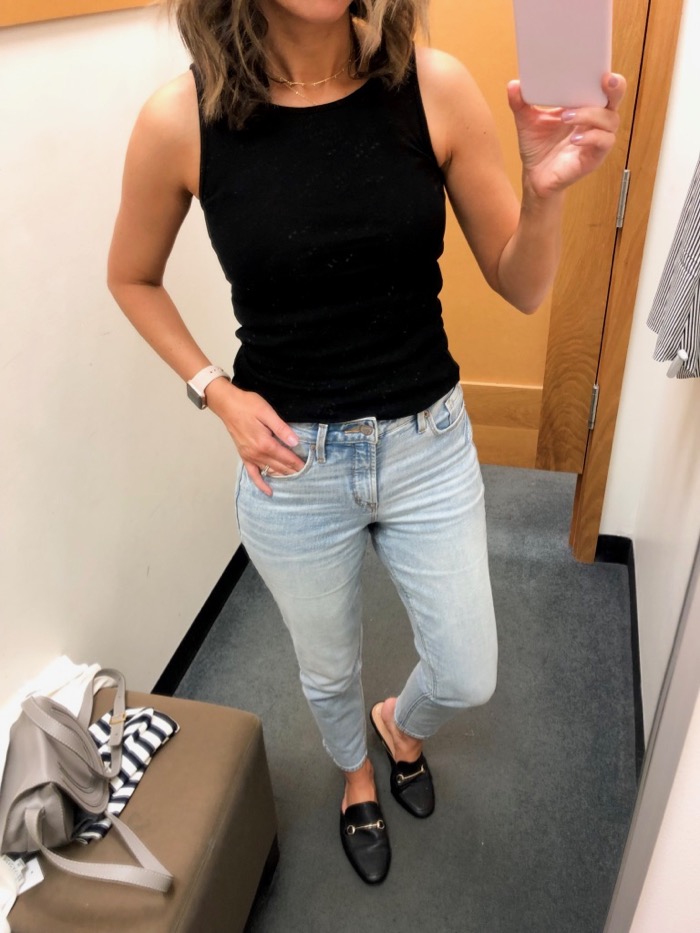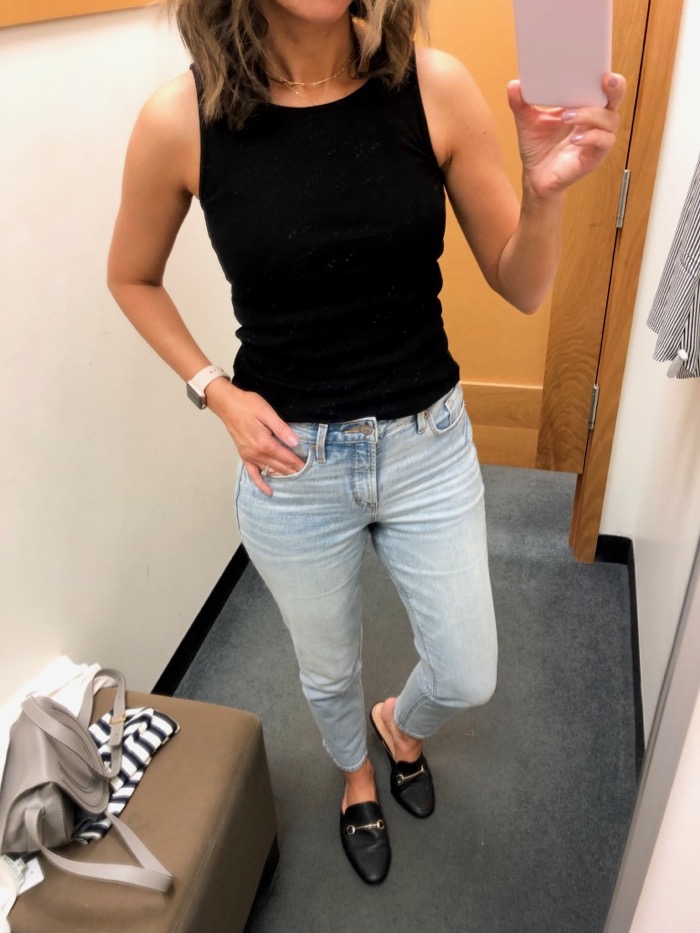 Love this stripe cami. Great for layering or alone during hot months (straps are adjustable). Comes in a lot of solid colors. I actually wore it yesterday under this sweater blazer in gray (now only $39).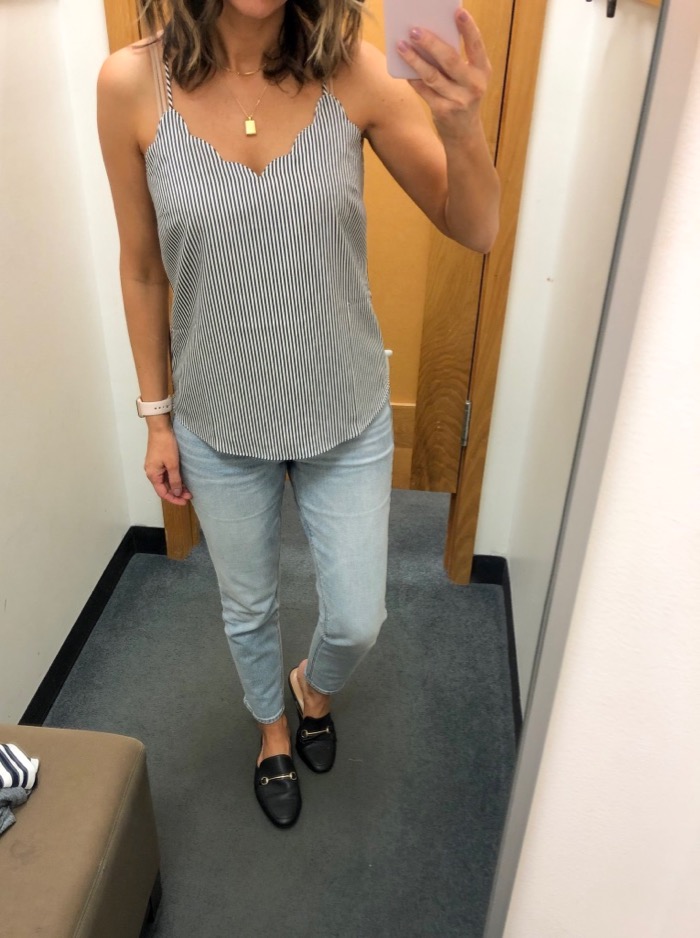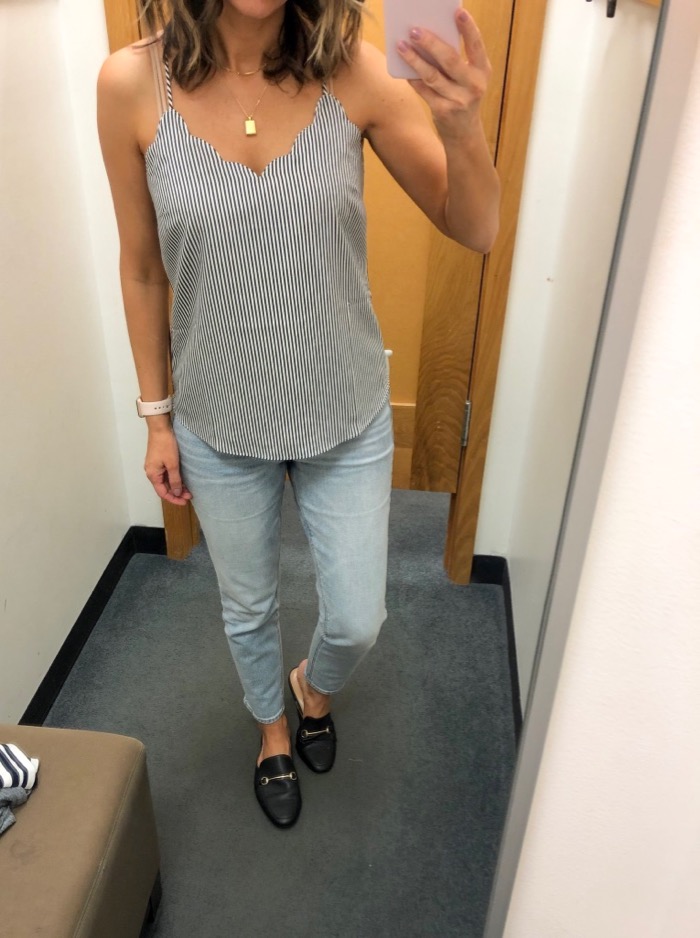 A few favorite sales"
J.Crew – 40% off your purchase w/code SHOP40 (exclusions apply). Extra 50% off sale styles
J.Crew Factory – between 50% – 60% off everything
Madewell – 20% off Dresses and Sandals
Banana Republic – 40% off w/code BRSHIP (extra 10% off for card members with code BRCARD)
Ann Taylor – 50% off your purchase with code THANKS1. My last fitting room snapshots. (current promo on their site is 40% off + extra 15% off)
Ann Taylor Factory – 40% – 60% off + extra 15% off w/code HELLOFACTORY Sandals starting at $20 (plus the extra 15%)
LOFT – 40% off with code FINALLY
HOME
Serena and Lilly – 20% off
Wayfair – up to 70% off