Happy Thursday!
Rounding up some outfits from last couple of weeks.
There are a lot of great Memorial Sales going on right now.
Nordstrom – Half yearly sale – up to 50% off. There are a ton of amazing pieces on sale but here are just a few of my favorites, including my black Tory Burch Miller Sandals….also Zella leggings, linen cami, classic nude sandals, these chic slides, classic pumps, small crossbody bag – it fits just the necessities.
Abercrombie – 50% off select styles – love this lace cami, classic linen button down, light cardigan.
I'll share more sales tomorrow…
This was one of my favorite outfits last week. These pieces might look familiar…I shared them in this post of chic pieces.
Let me start with this top, which is in xxs/xs. It's very roomy (that's the style) and can be compared to a poncho with sleeves. It drapes nicely when untucked. You can easily side down in this top, which comes in two more colors.
I was so happy when I tried these jeans on and they fit perfectly. I've been on the hunt for a straight leg, ankle length, pair of jeans and I love these (I'm 5'6″ for ref). If you're shorter and still want ankle length, I think cutting these and having a raw them would be amazing (I kinda wish they had raw hem already). I'm wearing size 4 and I'm usually size 26 in jeans.
Slides…I'm in love! They're so chic. Totally recommend these beauties (and they come in brown too). I wear size 8.5 and I got size 39.
Jeans | Top | Slides | Bag (old) – similar here and here $$ | Necklaces here and here (I mix and match)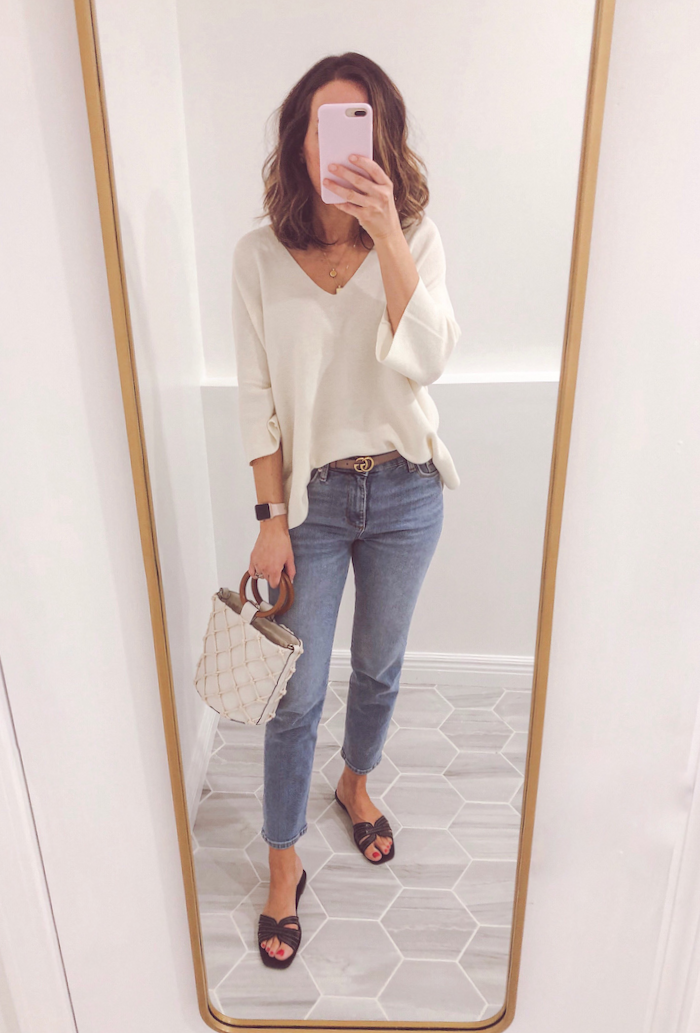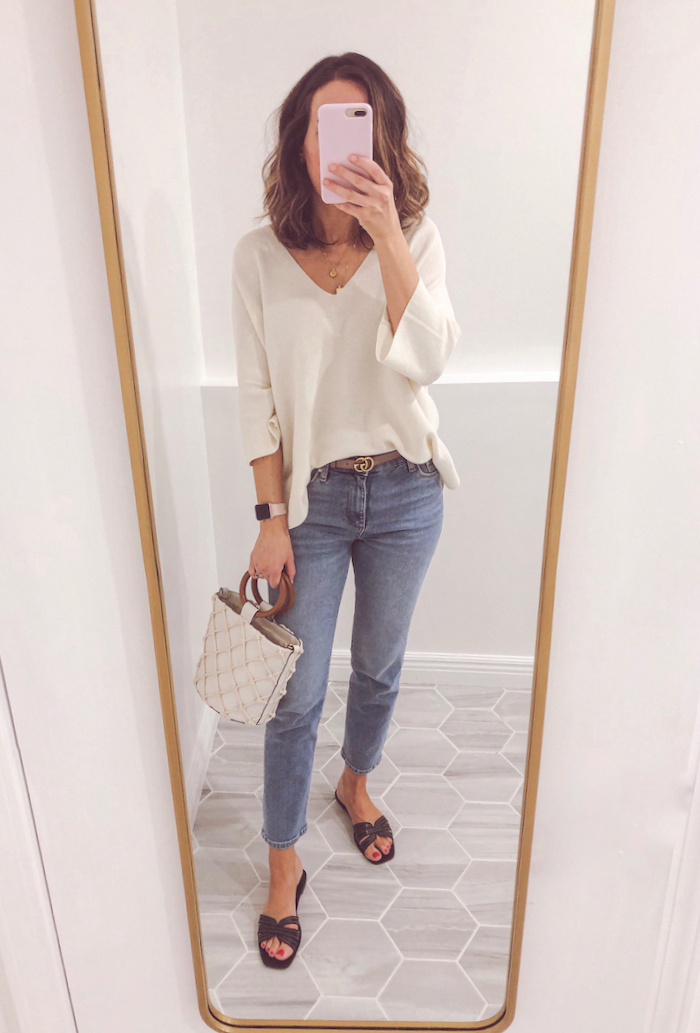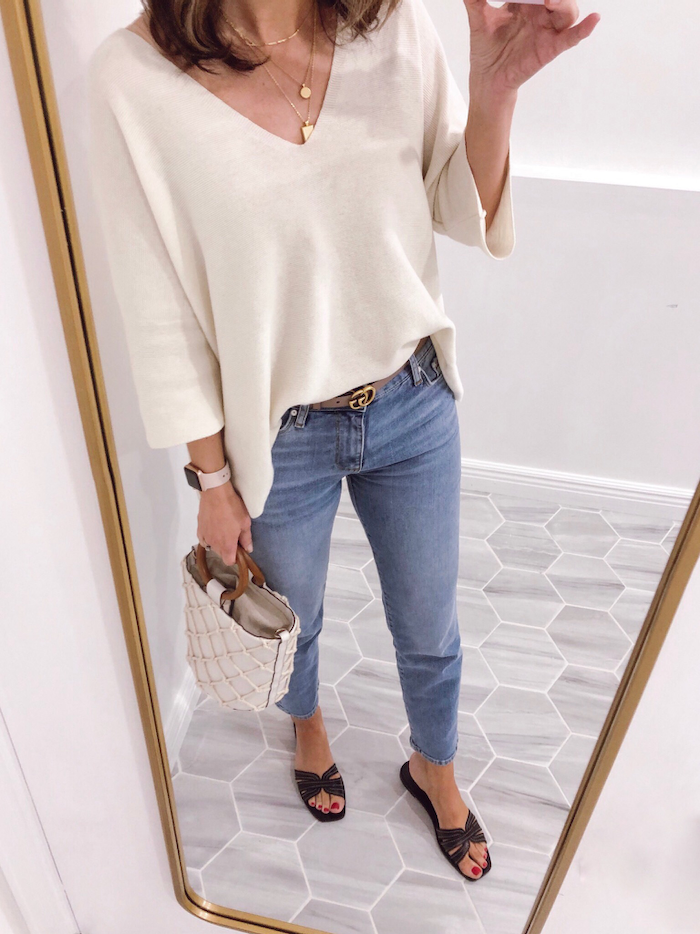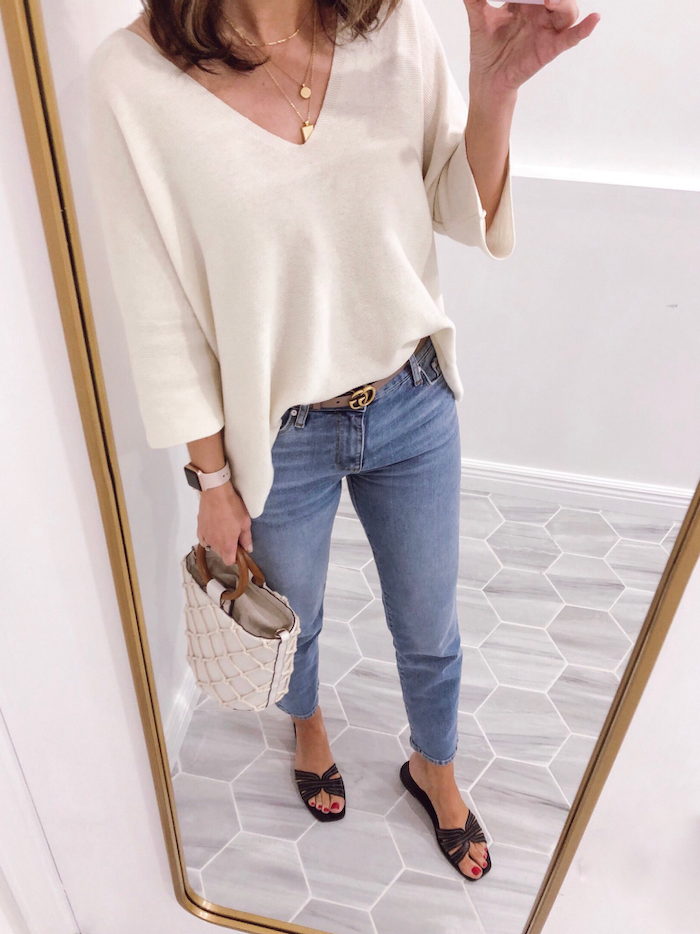 You'll see the same necklaces pretty much in all of my outfits here. There are from two different sets and I mix and match them (usually same trio) and they're my daily go-to's.
I got this sweater blazer in gray and then ended up getting this color too, which might be sold out (the original version is available and 40% off right now). My sis is still trying to "borrow" this blazer…which means I'll never see it again lol. So I'm still holding on to it (hiding it from her lol).
Blazer in xs – the original is still avail. in the blush pink | Tee in xs | Jeans (? can't remember) but these are similar and are very comfortable | Sandals tts – the leather is nice and soft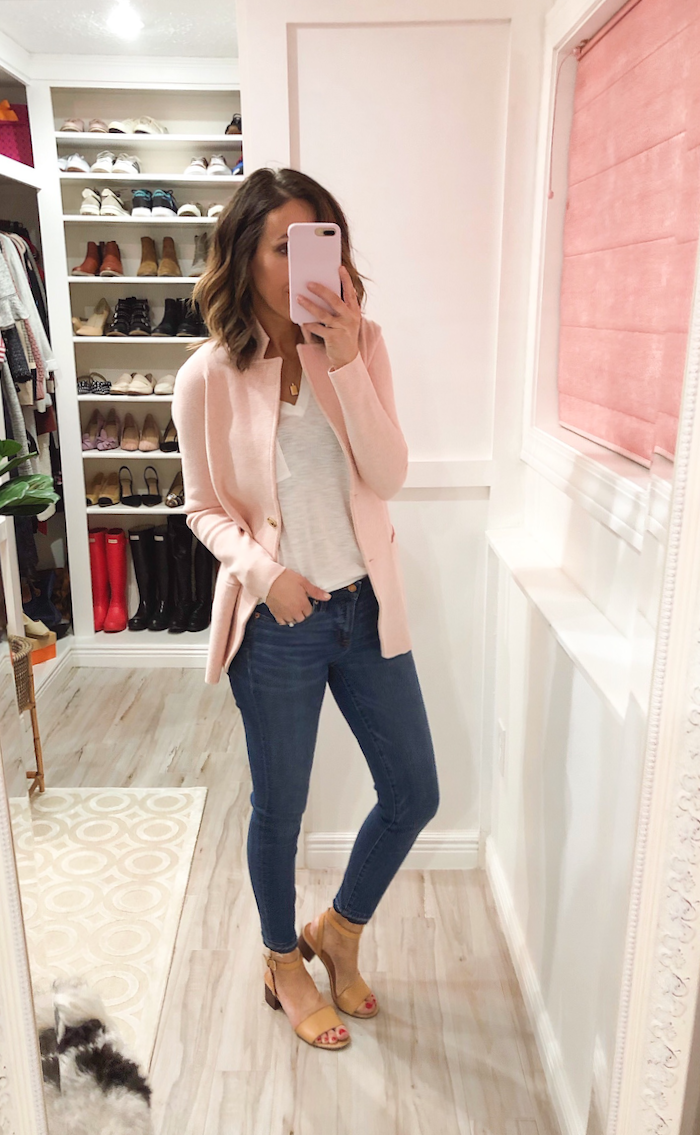 Same outfit, different shoes. And different jeans. I'm really loving this light sleeveless tee, and when I say light…they're really light but I don't think they're sheer once you have them on and wear with an appropriate colored bra. Ended up getting one of these in black too.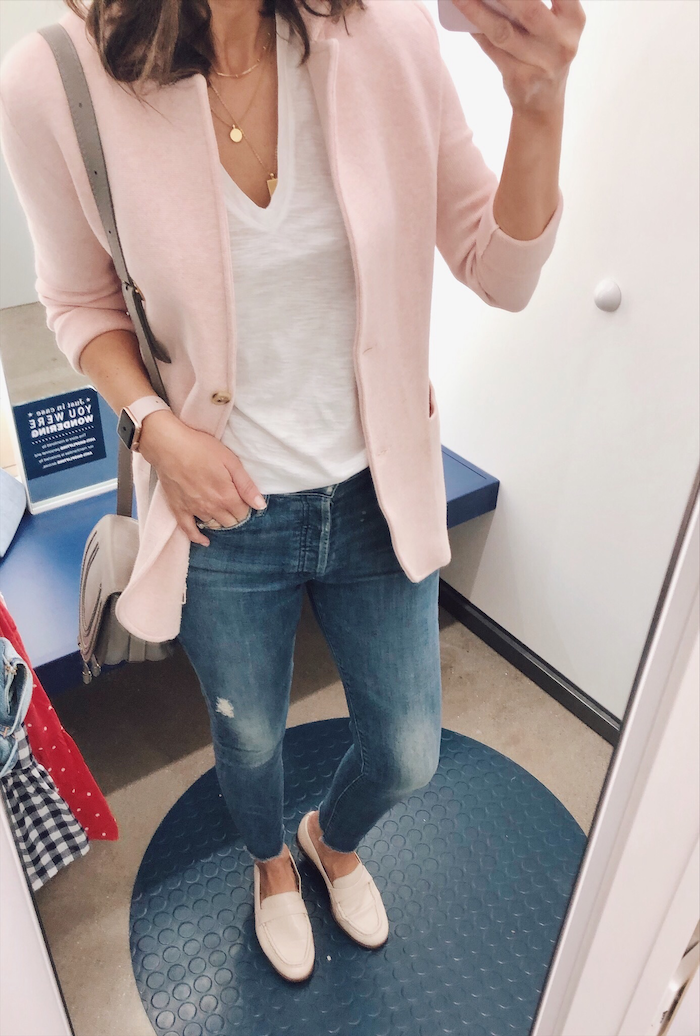 Jeans tts | Loafers (old 2017) – similar here, here and here
The wide leg pants I love so much (as seen in this post). This sweater is sold out by now (it's from Nordstrom). But you can pair these pants with pretty much any top. I love this short cardigan with maybe a lace cami underneath. It would looks so cute paired with these pants.
Jeans and tee when everything else fails. Or when you're not in the mood for anything else (which was the case for me that day). I'm truly surprised by how nice these Old Navy jeans are (their jeans usually don't fit me well). These are 99% cotton but they are not the stiff cotton (like the Levi's mom jeans)…they feel like your old, worn-in pair. I wore them like….four days in a row (I think I did give them a break in-between one of the days lol don't judge)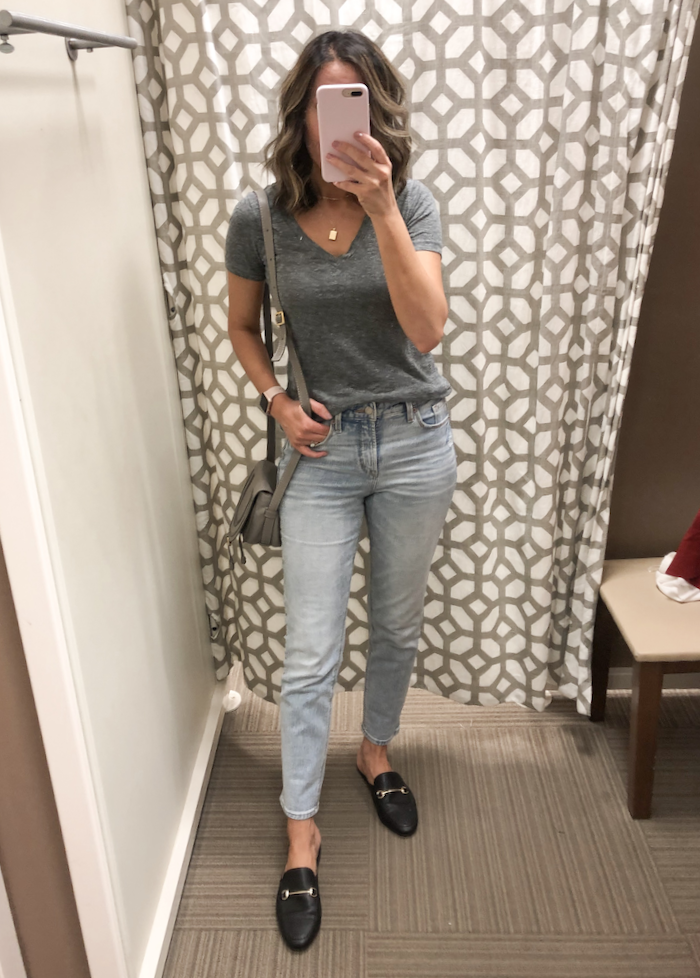 Jeans in sies 4 | *Tee (super old) – similar here and here | These mules are SOOOO comfortable. This year they just changed the metal bar on top.
You know when you find something amazingly good and then they (whoever or whoever it might be) stop making it?? That's the case with the gray tee above, which is a few years old (as seen in this post. And also, I want that hair length and color back now lol). I wish they would have brought this exact style, vintage tee, back. I wear it all.the.time and wash and dry it normally and it has held up SO good. I'm kinda surprised.
I'll share some of my favorite Memorial Day Sales, most likely, tomorrow.