I'm so excited to share this amazing finds with you.
I wish I could blink and have every single piece pictured below in my closet haha. Sometimes it's way too easy to find some really really really nice pieces. One place that I can always find something really good is at Mango. It's been a few months since I had ordered from them (I blame the bi-polar weather), so I finally placed an order (ordered a few pieces you see below).
I'm having moment for slides (it is that time of the year after all !) and I've mentioned before how much I love Kaanas slides. I ended up returning #17 because I thought I wanted them in white and also because I thought they were too similar to these slides I have. Yeah…kinda regretting it now, even though I think I still might want them in white. They are just SO fab and chic and it's such type of slides I end up wearing most of the summer (like I did these last year. They are my most worn slides in 2018).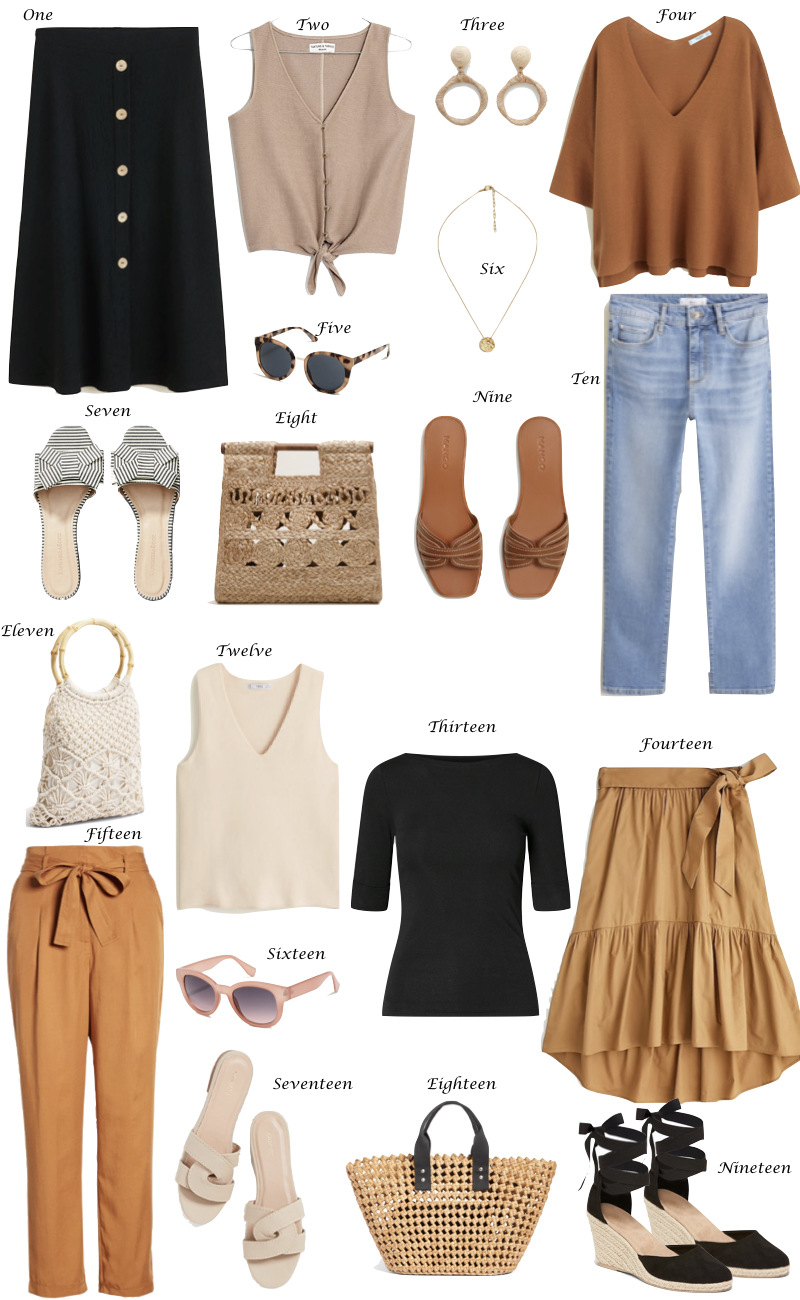 One | Two | Three | Four – got xss/xs and while it is very roomy it drapes beautifully. | Five | Six | Seven | Eight | Nine | Ten – I got these in size 4 and they fit perfectly (I'm 26 in jeans) | Eleven | Twelve got xs – love it! | Thirteen | Fourteen | Fifteen | Sixteen | Seventeen | Eighteen | Nineteen
If you can get yourself just one piece here, I'd highly recommend these slides (#9. Update: I received mine and I'm in love!). They're expensive looking and are such a great dupe of these Veronica Beard slides that cost $300 (also the Saint Laurent Lu Pieds). I ordered them in black as I already have a pair that's way too similar in brown…the famous Zara ones, which are beautiful but not comfortable for all day wear. Still might order these (update: I did order the brown ones as well, they're so gorgeous, but they so similar to my Zara ones from last year that I don't know I should keep them).
I have some pieces above, like #13, timeless pieces. Great versatile, classic boatneck top. Also sunglasses in #5 are such a steal…I have them and love them (same as #16). And a few other pieces are on their way. Also, #19 get amazing reviews and the price is so good!
Also, if you haven't ordered from Mango before, their "Discover your size" is really helpful and has been accurate for me so far. Shipping is free for orders over $49 and returns are free (oh, and this is NOT a sponsored post, I just really love Mango. My first piece from there was from circa 1998). Their stuff is just major chic!