Hope all of you had a great weekend! Last time I was at Madewell I tried on a few things but never shared them, so this time I thought I better share. Especially since I loved everything I tried on. So many great pieces!
But first, I wanted to quickly tell you about my slides. Not Hermes but probably the best dupes I've seen. They were on the pricier side (way cheaper than the real thing) but they're leather and timeless. Per reviews, I sized up 1/2 size and I'm glad I did. They do run 1/2 size small. They're a tad narrow but I've been wearing them for about ten days (on and off) and they've already stretched out. No issues of any kind so far. They sold out fast but got restocked and are almost sold out again. (Try code TNUCKNEW for 10% off)
Madewell – 15% off for Insiders (basially you just sign up for emails).
This was my favorite combo! You all might remember this top was one of my top picks in this post (in different color. Liked this color better in person). I grabbed these pants last minute as they were right by the fitting rooms… and oh my…I love them! The color is amazing and it works for all season (all cute booties for cooler months), the fabric feels great (not thin). I tried my usual size and they fit. I actually couldn't remember if I tried this top in xs or xxs as a lot of Madewell tops run big for me. But I ended up ordering xxs in this top (update I tried xs below in the top and xxs arrived and fits just a tiny bit smaller, but still fits. As seen on my IG. ALSO, I realized I ordered the wrong pants, I think. I ordered these in Sweet Dahlia which are "slim fit" but to me they fit the same. Basically, they're almost the same but the ones below are in Warm Coffee, so slightly darker. You can't go wrong either away as they're truly fab).
Wide Leg Pants tts | Top comes in more colors – on sale + extra 20% off w/code ENJOY20
I mentioned this shirt below in one of my recent posts (the Old Navy one in the post linked is a great, cheaper alternative). I wanted this Madewell one for a while, but since I don't have a Madewell store where I live I didn't order it at that time. I'm glad I finally got the chance to try it on…. and it didn't disappoint! It's SO good you guys, way better than I expected. It's oversized so it's quite roomy so I'd suggest sizing down. I'm wearing xxs below. Love, love, love! It's timeless and can be styled with everything. It's a wardrobe must-have in my option. It's not sheer and the quality seems great. And it's chic! Highly recommend this one! White Button down
It's funny that I actually put this tee in my cart about a month ago but never checked out. Glad I got to try it on. Wearing xxs below. This one is great for high waisted pants and skirt and it's not super long. Loving this color! Vintage tee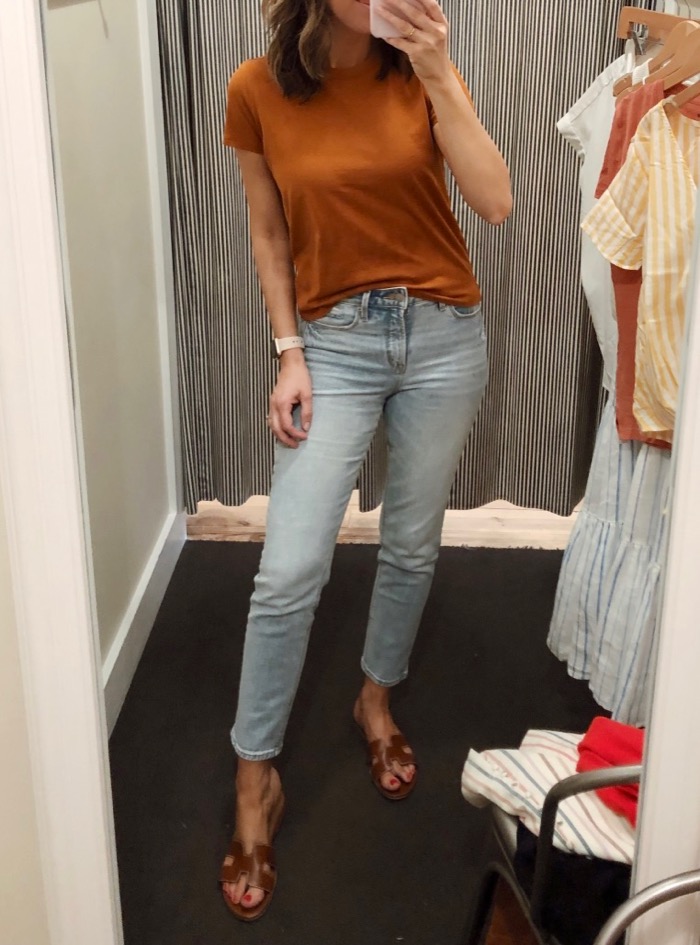 I have multiple madewell tees and I loved this one in color Sweet Dahlia. All my other V-neck Madewell tees are size xs but this one below is xxs. There are multiple colors on sale, only $10 + extra 20% off.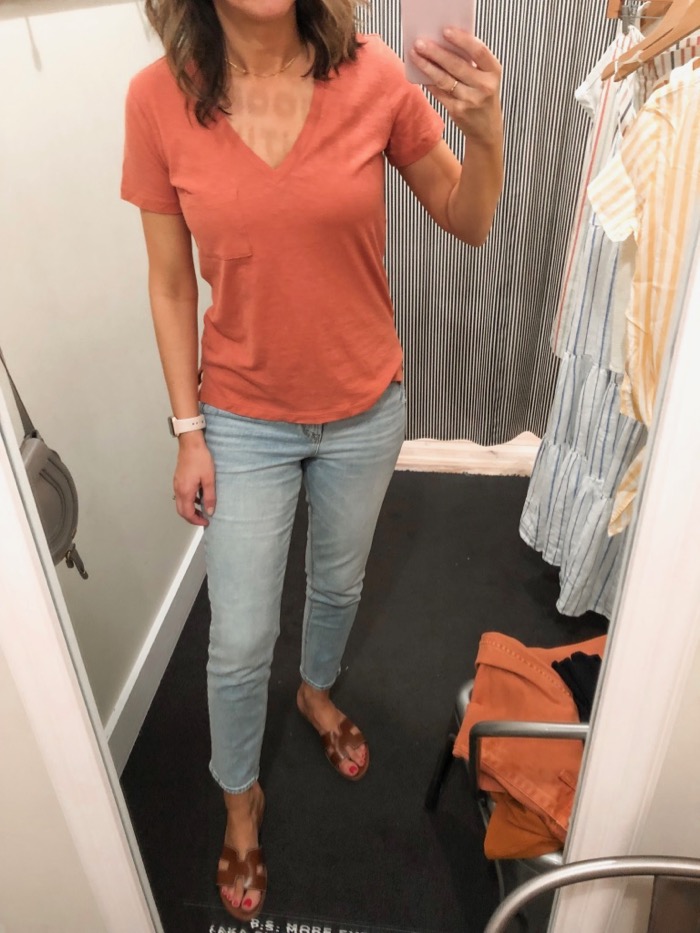 It's been a while since I tried or even purchased something this bright, like this top. I thought it's perfect for high-waisted skirts and pants. I tried xxs below and it fits like xs. I ended up getting this one. Button Front Top – now even a better deal, on sale + extra 20% off
Here is the same top with my high-waisted jeans (which I can't stop wearing you guys. They're SO SO good. I sized up).
Love the stripes and buttons on this top. Tried xxs in this one as well. Tie-Front Button Top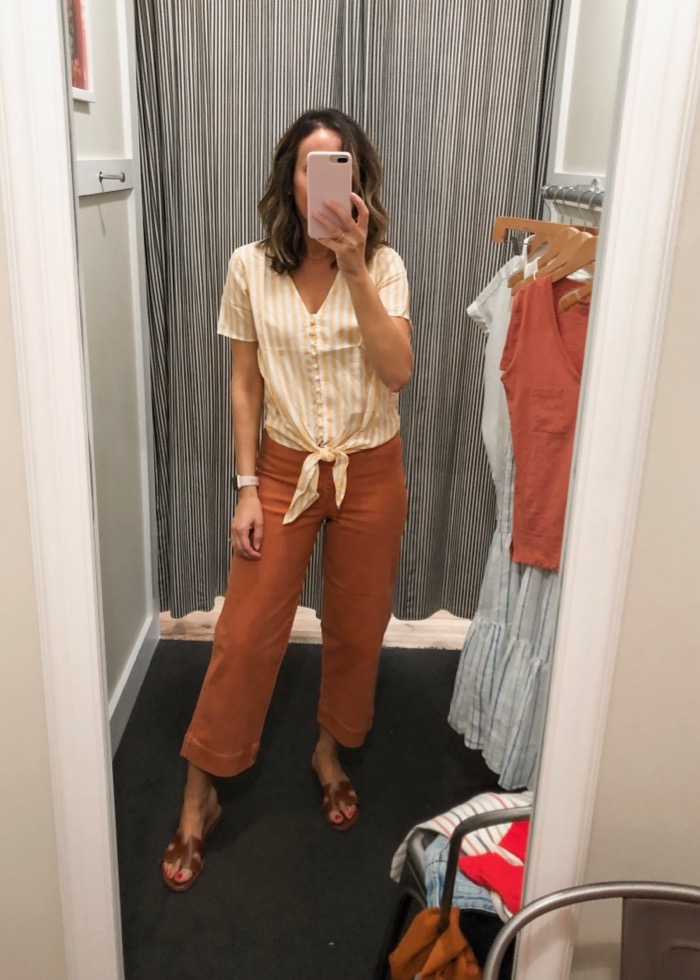 Loved this striped skirt (loved pretty much everything). Wearing size 0 below. Quality seemed great. Easily dressed up or down. Button Slit Midi Skirt

Which piece is your favorite?