Hope your weekend is going great!
I ordered a few pieces from LOFT, mainly dresses, and wanted to share those along a few Ann Taylor fitting room try-on pieces.
LOFT –50% off summer faves.
You might remember this pretty dress from my LOFT fitting room snapshots. When I tried it on at the store the smallest size available was size 4 but I still had to try in on as it is SO pretty! I ended up ordering my usual sizes in LOFT dresses, size 0, and it fits tts on me. Love it so much. The skirt part is perfect, it flows beautifully.
Pleated Dot Dress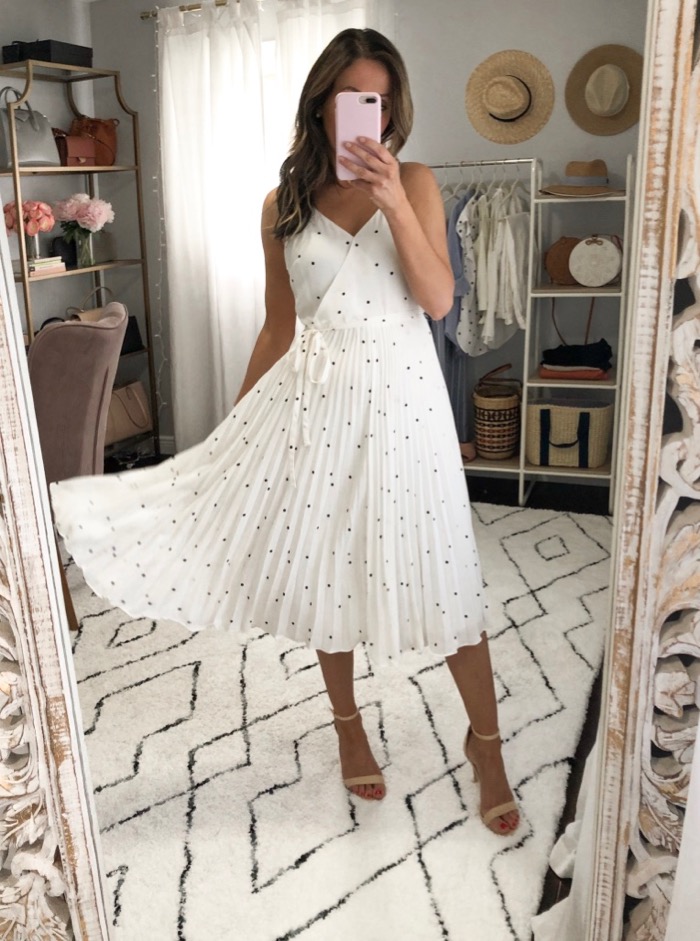 Sandals tts
The dress looks great dressed down a tad with a denim jacket, of course! Love denim jackets over dresses!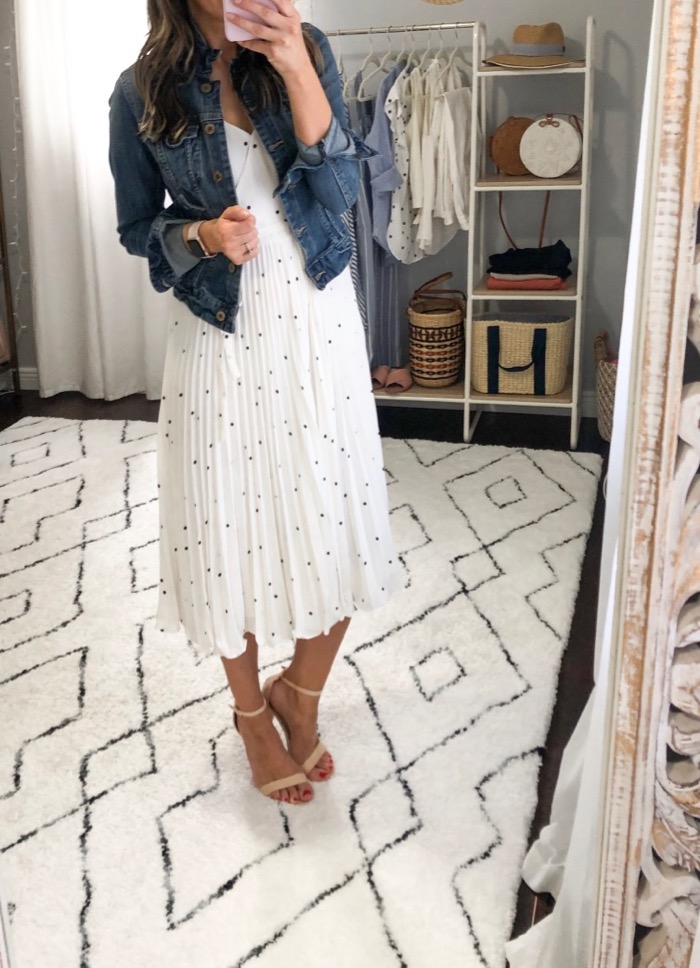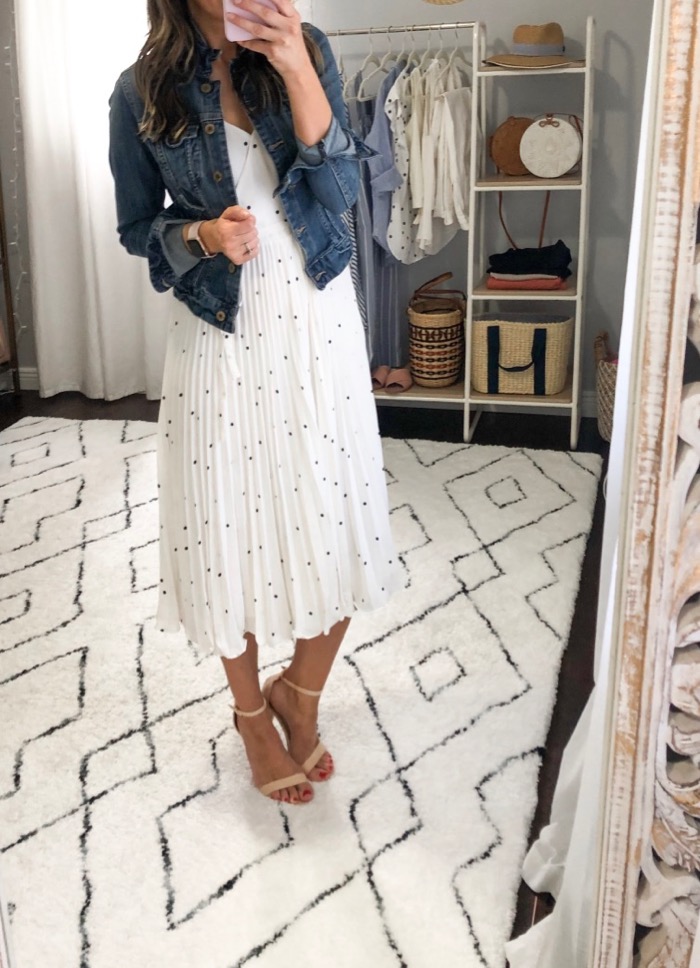 And slightly off subject for a minute…some of you might be wondering why I suddenly have long hair?! It's these vitamins I'm taking…they work wonders hehe (I actually did start taking specific hair vitamins that have amazing reviews, thought I'd give them a try, and my stylist said I had a bunch of new growth…so that has been encouraging to hear. I know I won't suddenly have thick hair again but I'll take all the new hair strands I can get haha). But I have extensions is, obviously. But I realized I still prefer shorter hair. So I'll be going to back my 'shorter hair' but won't go any shorter than it is currently until some of the parts that have breakage from hot tools mainly grow out (pretty much just top part of my hair and sides) I know, I know…hot tool are bad but there is no way I can do without them. My hair is naturally curly/wavy but not the pretty kind I'd like (IMO)…so that's why I can't leave it be. So that's the latest on my hair 😀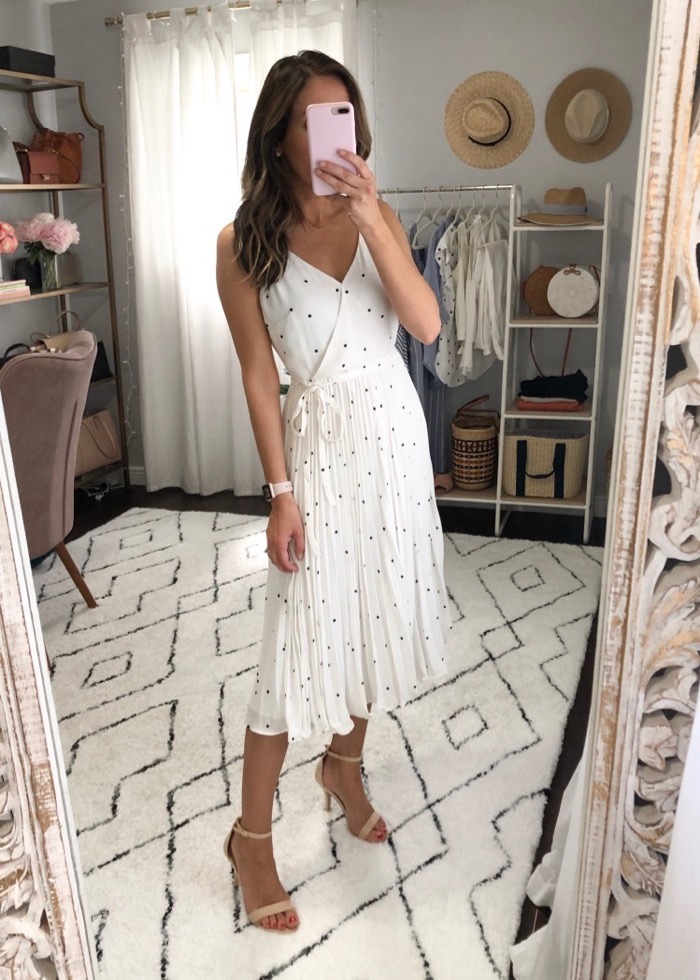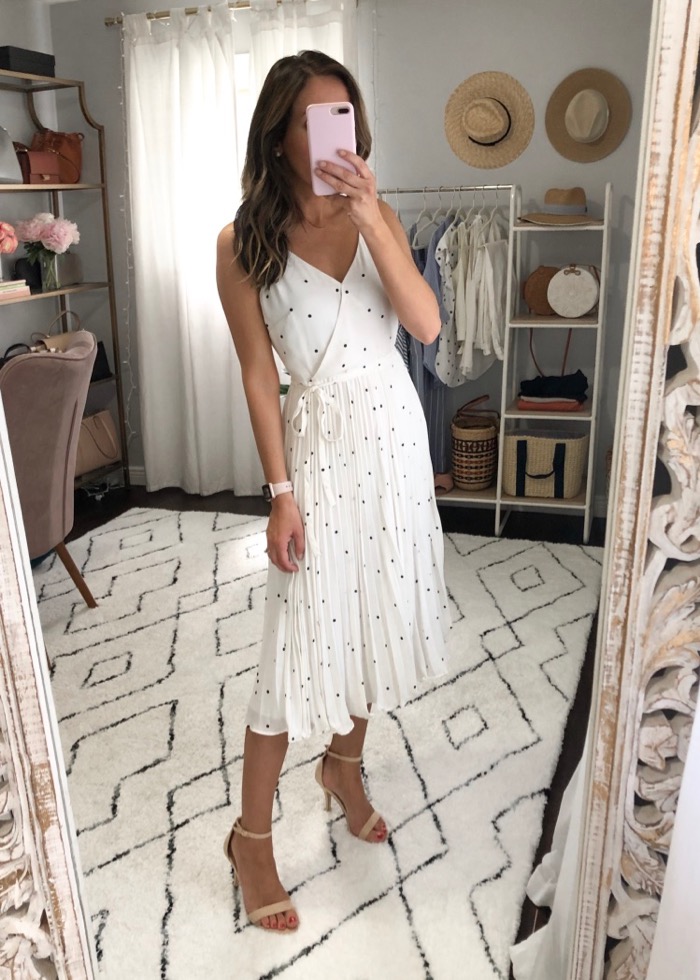 I ordered this dress in 0 Tall. I was a little disappointed that it wasn't longer – it's above knees on me (I'm 5'6″). It is such a pretty dress though. It fits well and it's one of those dresses that you can wear for years to come. I was hoping it would be mid knee or just below knee length. So it really just depends which length you want. But I'd recommend this dress.
Stripe Flare Wrap Dress (faux wrap)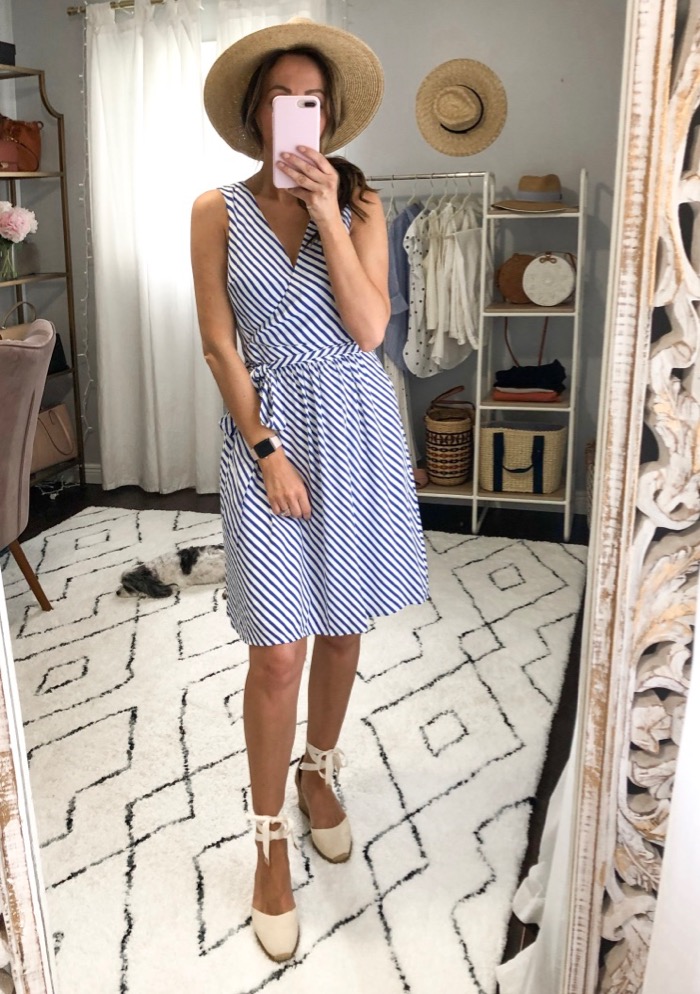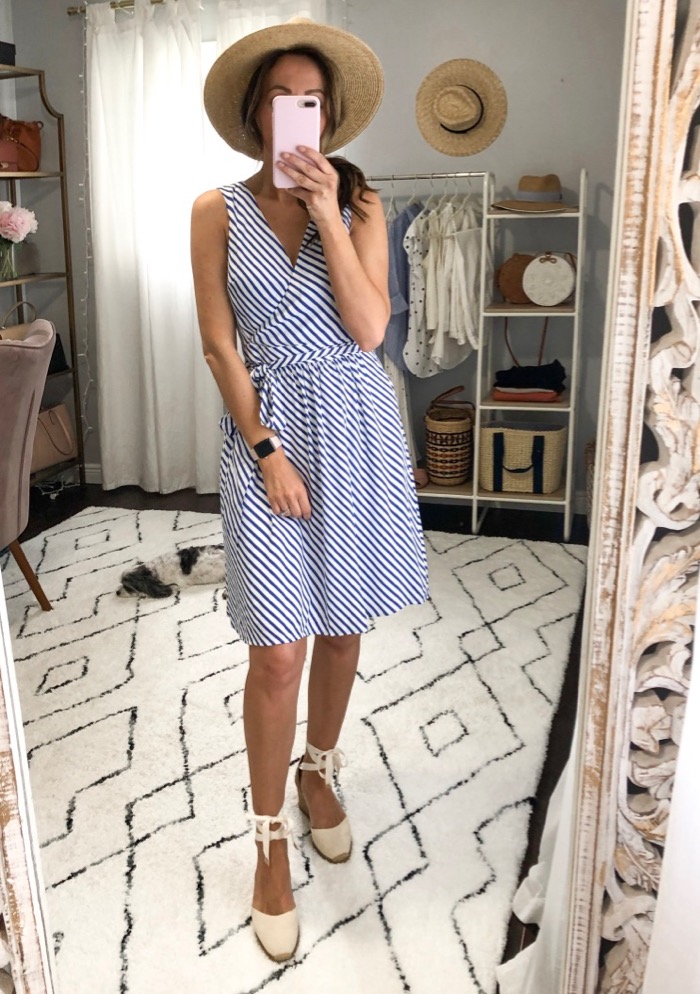 You might also remember this dress from my recent LOFT fitting room snapshots. I tried xs at the store which was a tad roomier on top than I personally prefer. I ordered xxs, wearing it below, and white it looks better fitted I'm sad to report that it's digging into my skin around armpits. So xxs is definitely a no-go. Might just go with xs. So the conclusion is that it does run tts after all. Tiered Mosaic Dress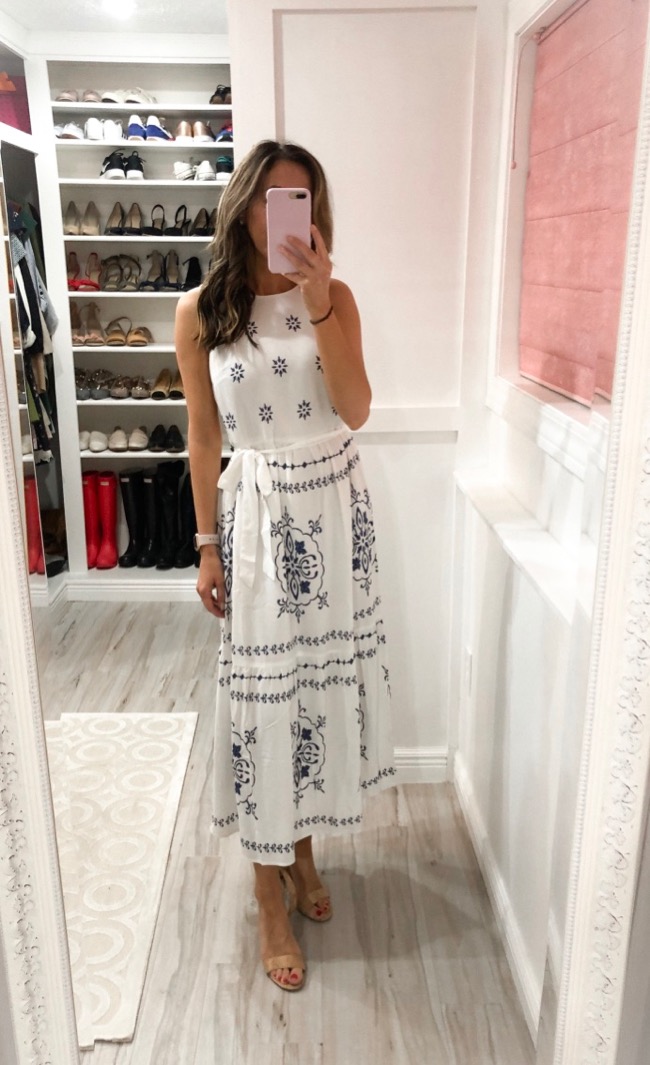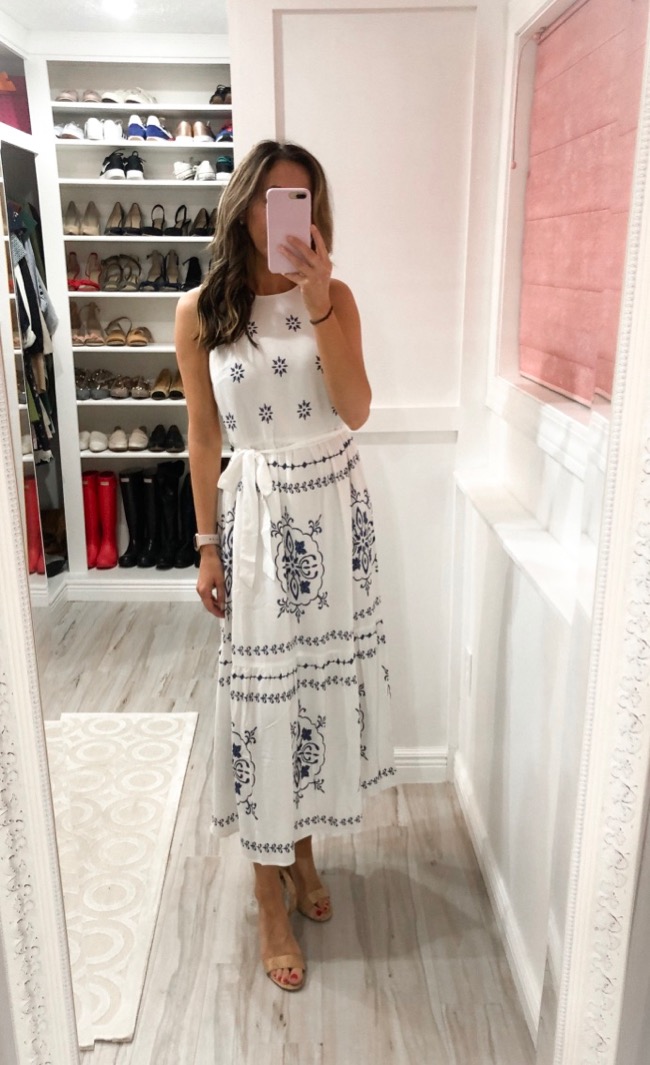 Love the gold button details on this short sleeve sweater (didn't take a more detailed pic of the buttons but you can see it on the model). It pairs nicely with skirts and pants/jeans. Wearing xs below, fits tts.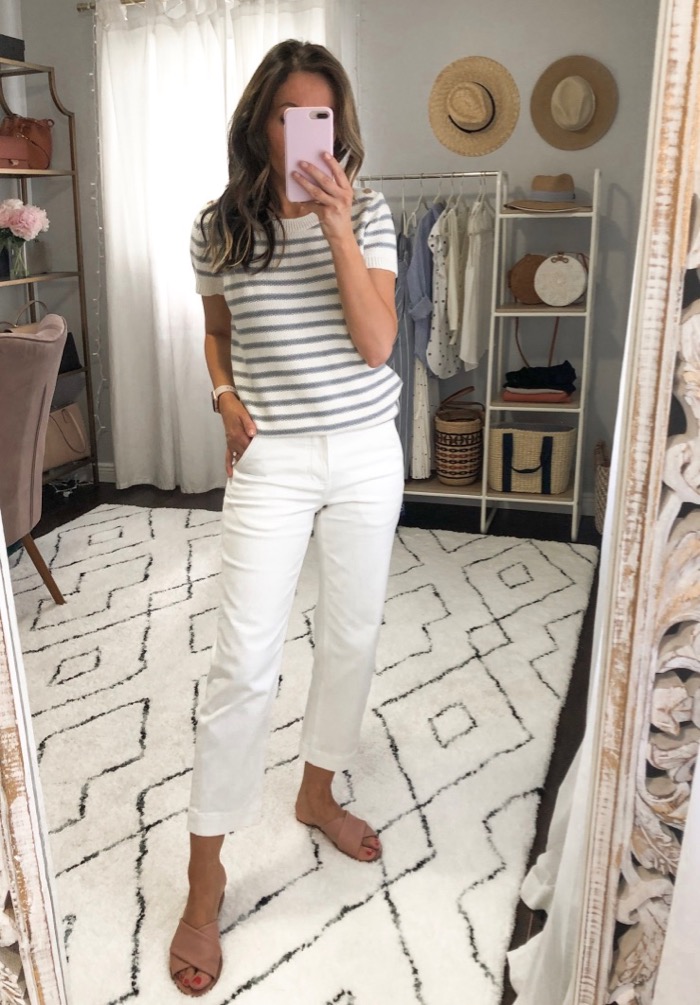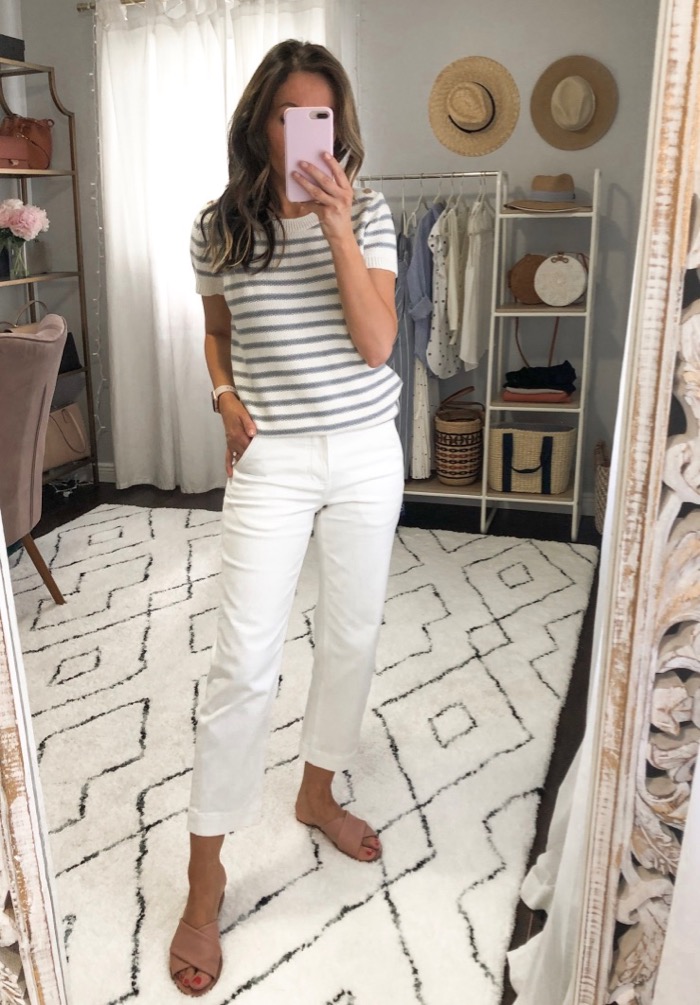 Love these straight leg crop pants (they come in more colors). They're 97% cotton and 3% elastane. They're so chic (there are almost 2K reviews on these). I'm wearing size 0 below and they fit tts. I could have probably sized up to 2 but the size 0 sucks in everything nicely haha. I wore them part of the day on Friday and found them to be quite comfortable. The leather on these slides is super soft which means no rubbing on top of the foot (they come in more colors). I'm wearing my usual size but I think going up 1/2 might have been better as the heel is right on the edge. There are a ton of reviews so check those out too.
---
Ann Taylor – Use code SUMMER for 50% off + Free Shipping.
I didn't try on much at Ann Taylor as a lot of the new arrivals were already sold out in my size. You can check out my previous Ann Taylor fitting room snapshots here.
This top below one one of my favorite pieces I tried on. Simple and classic with pretty details! Wearing xs below, fits tts. Flutter Sleeve Top in xs (my skirt is super old from BR and shoes from J.Crew).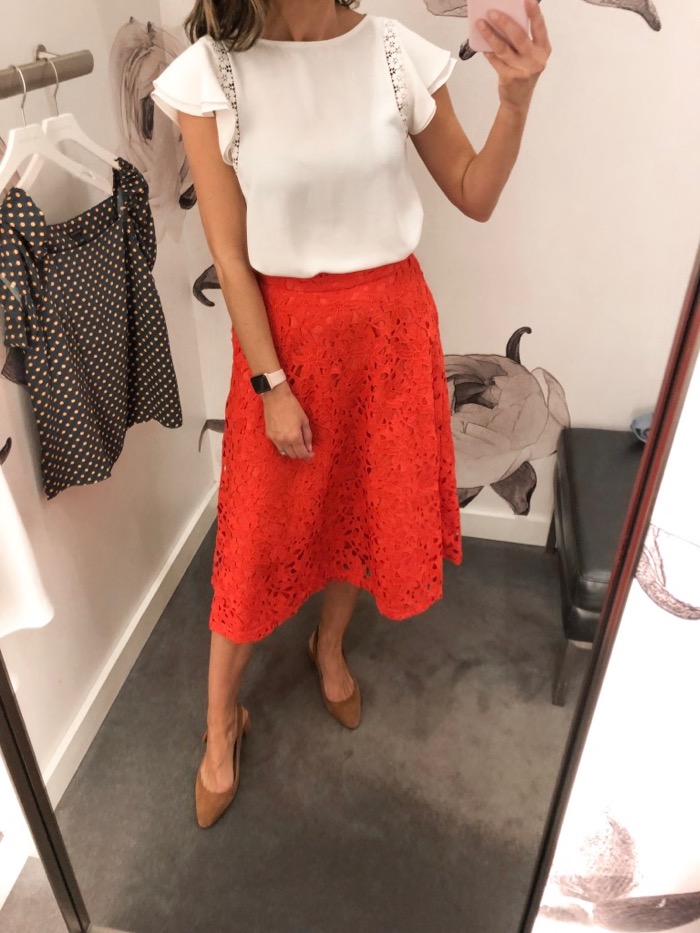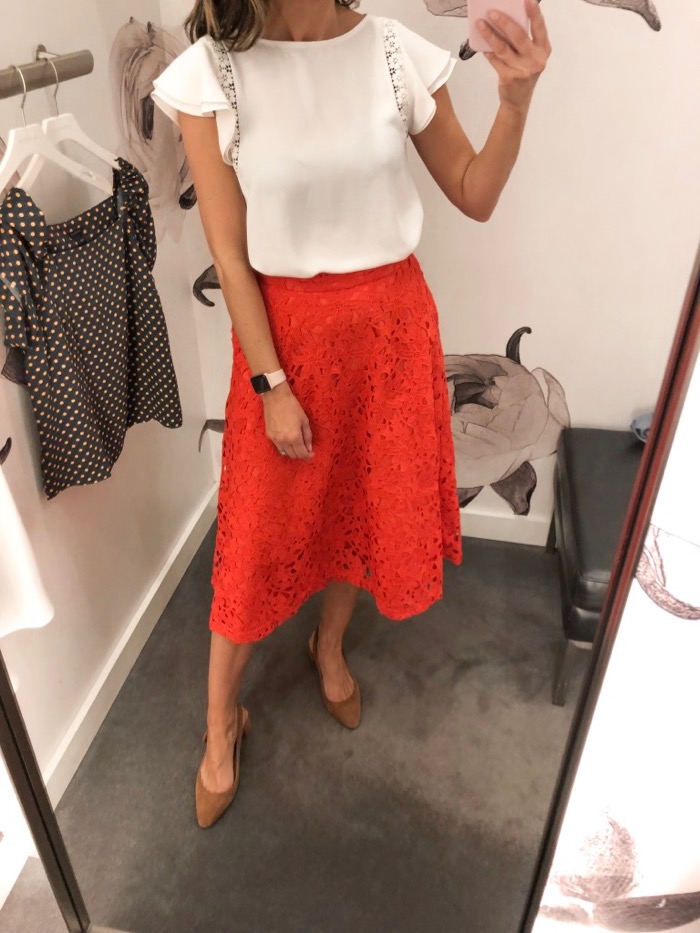 Second fave piece – this adorable tiered polka dot dress. Wearing xs below and it fits tts.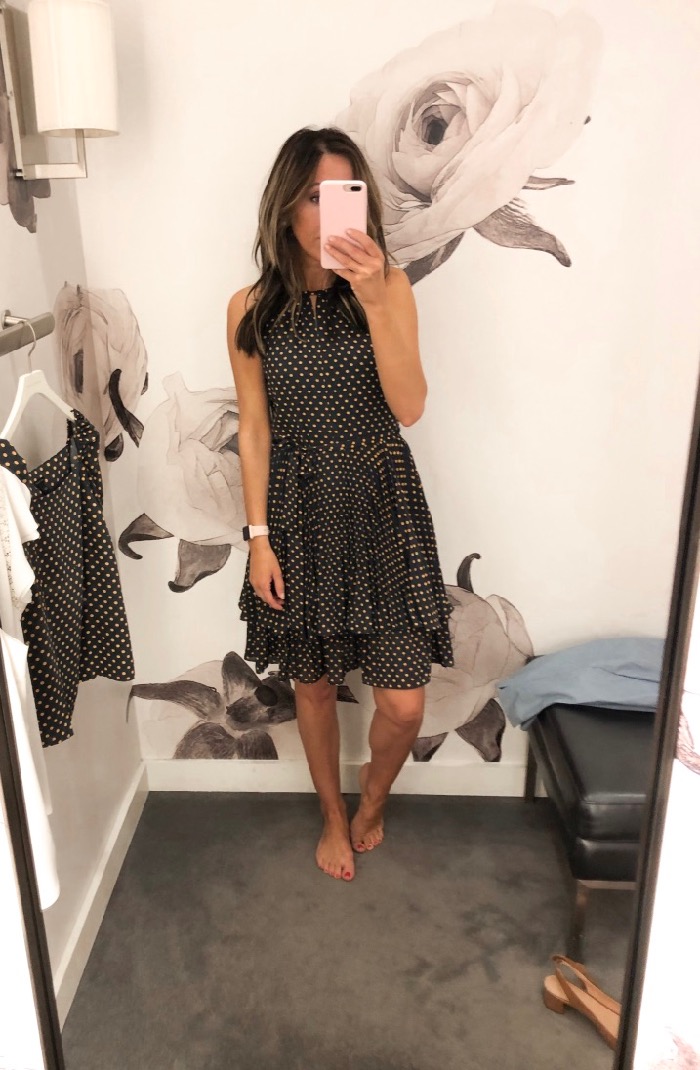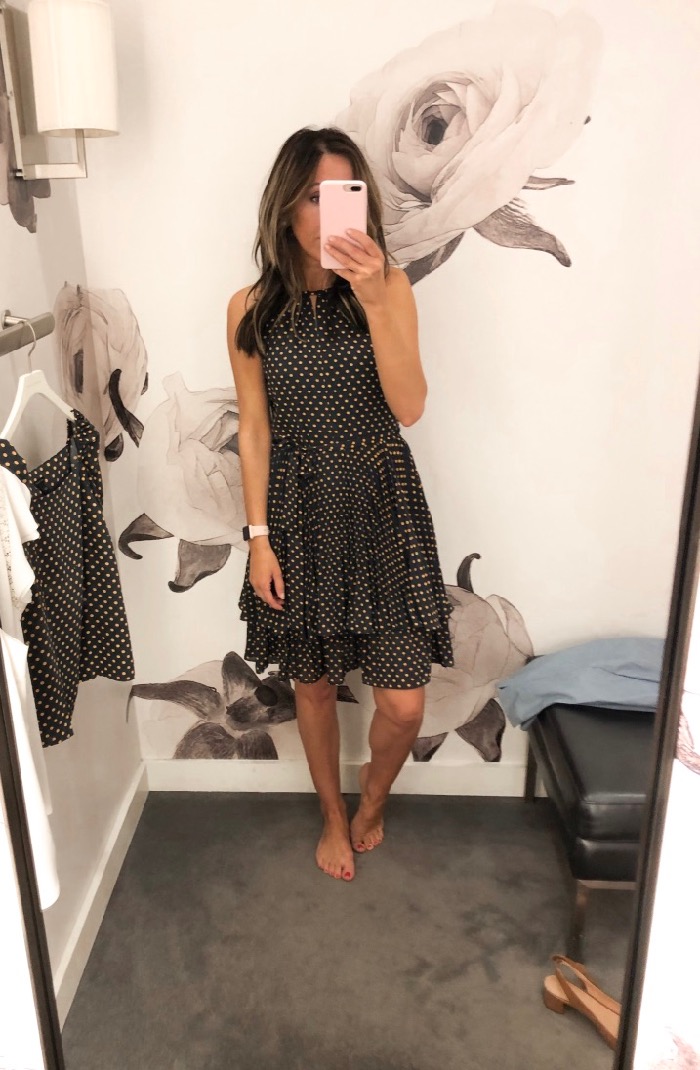 This skirt was not available in size 2 so I tried size 4. It did fit ok on the hip area (pretty good actually) but was too big around the waist if I wanted to wear it high-waisted. Halter top in xs. Great little number that can be easily dressed up or down. There is also a similar style but in sweater fabric.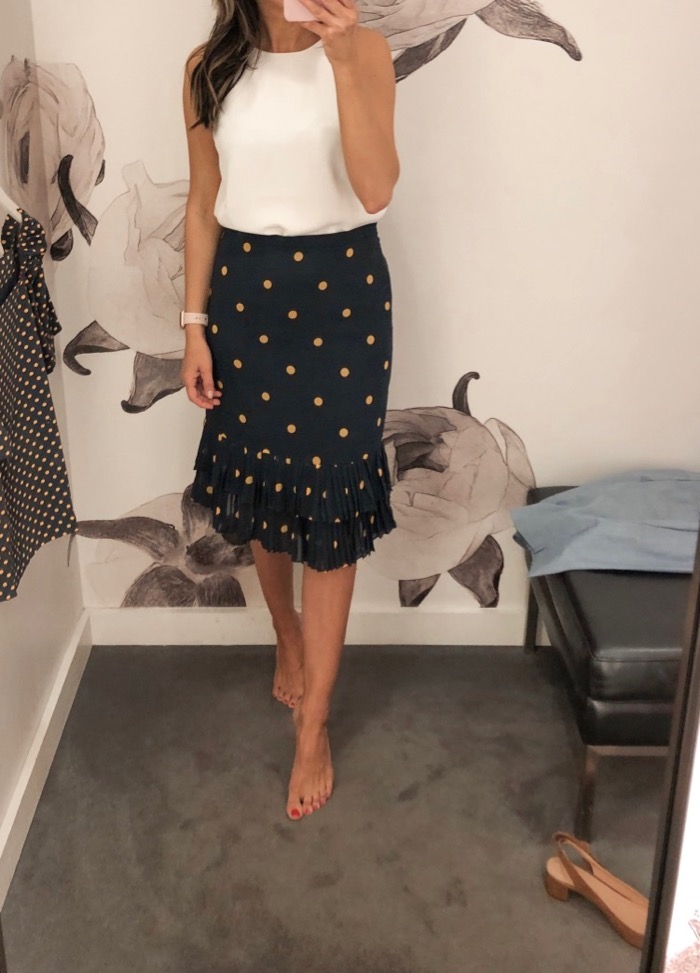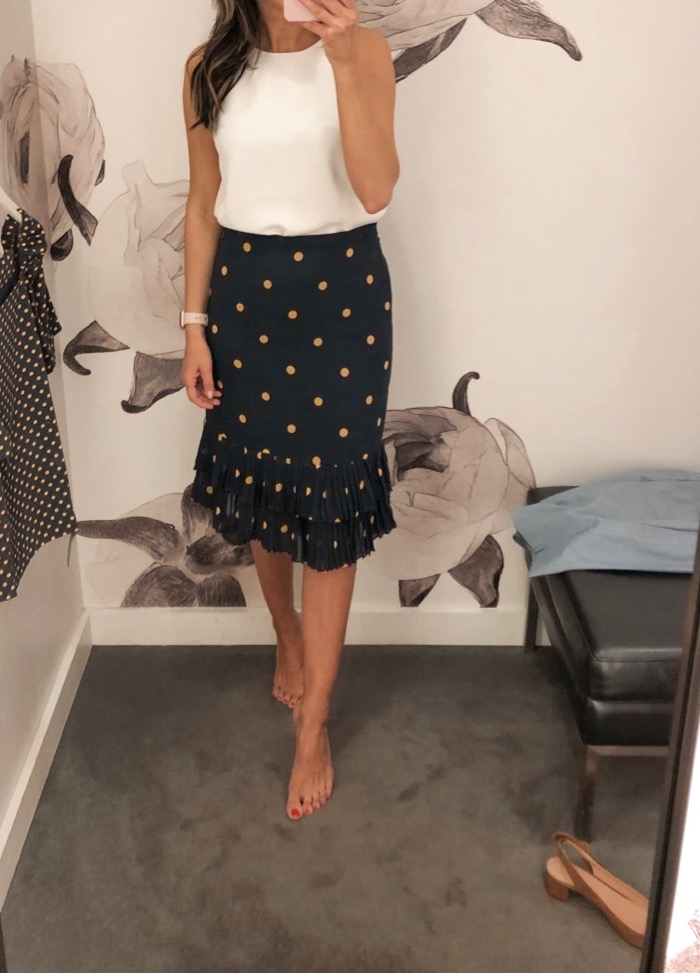 Love the length of these shorts. Tried size 2 below and they fit great. Halter top in xs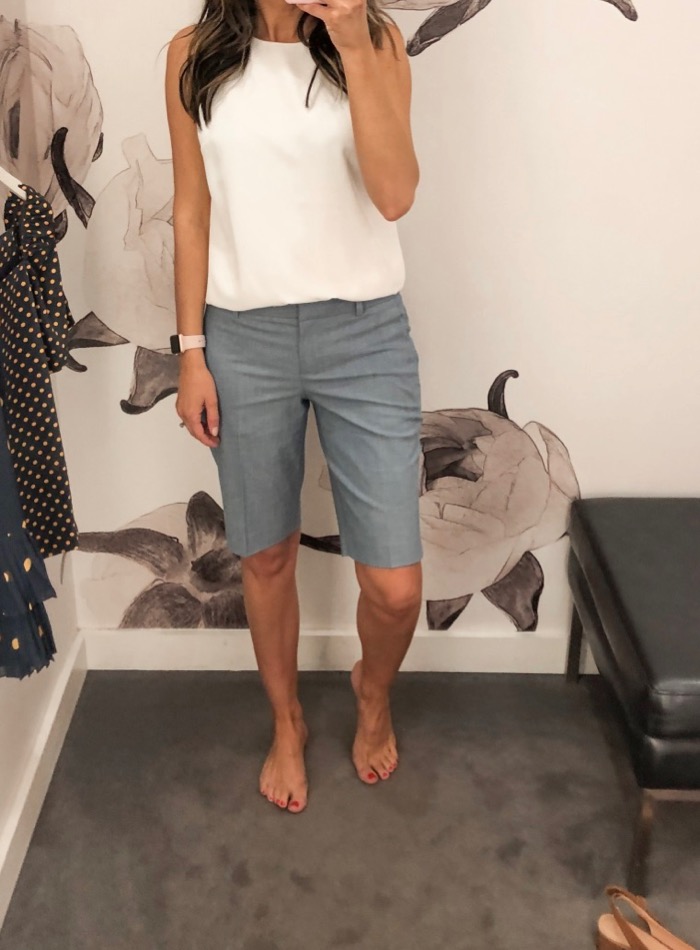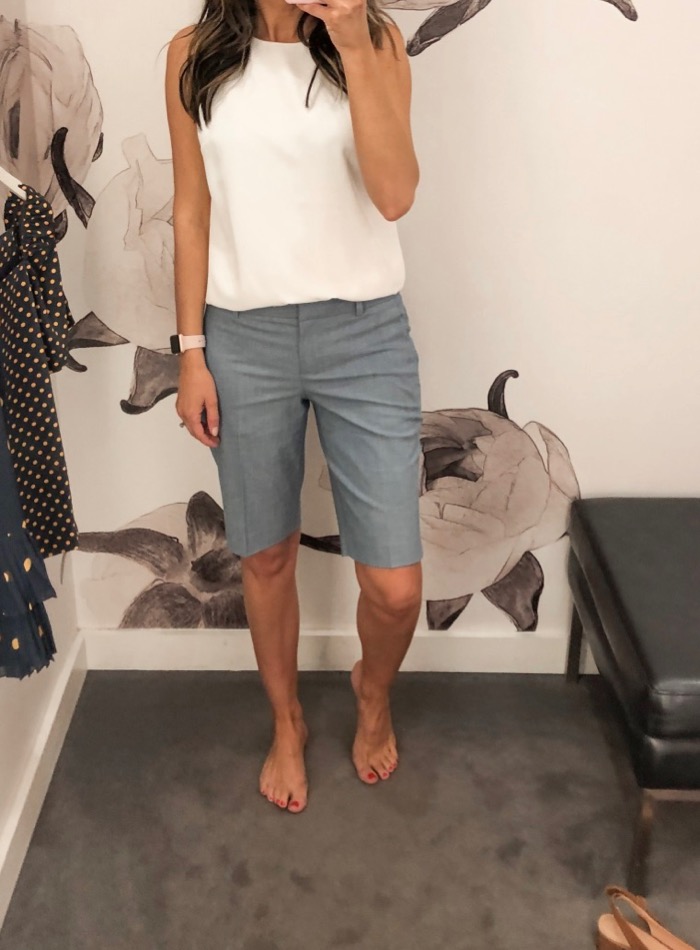 I should have grabbed a pair of jeans to try on with other tops below, including this blazer. So ignore the shorts, focus on tops lol
This blazer was so pretty that I hard to try in on even though it wasn't in my size (tried on 2 below, too big). It's sold out in most sizes online right now and I can totally see why. It's amazing!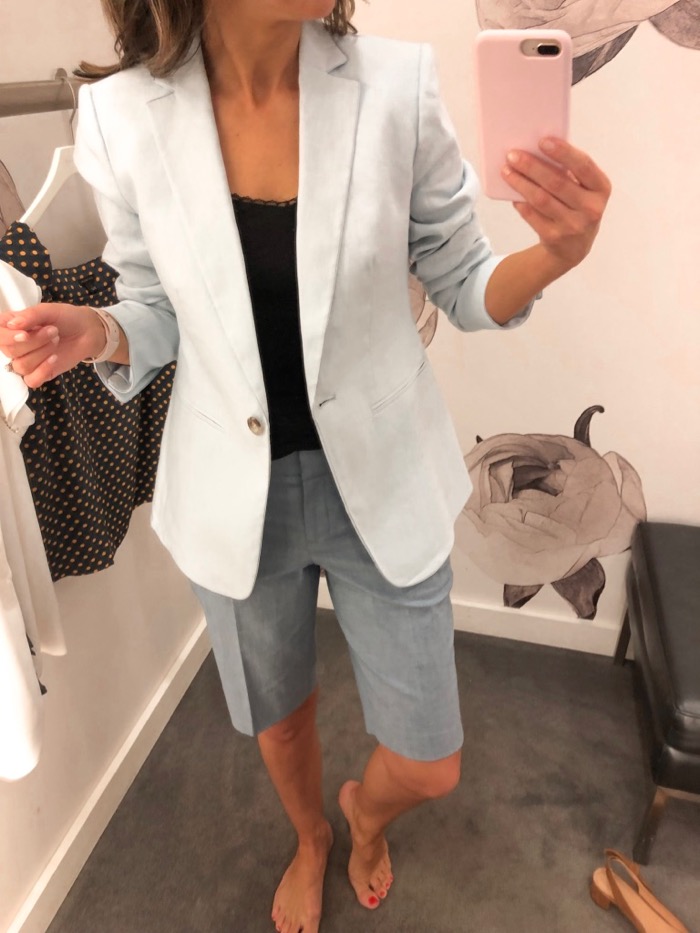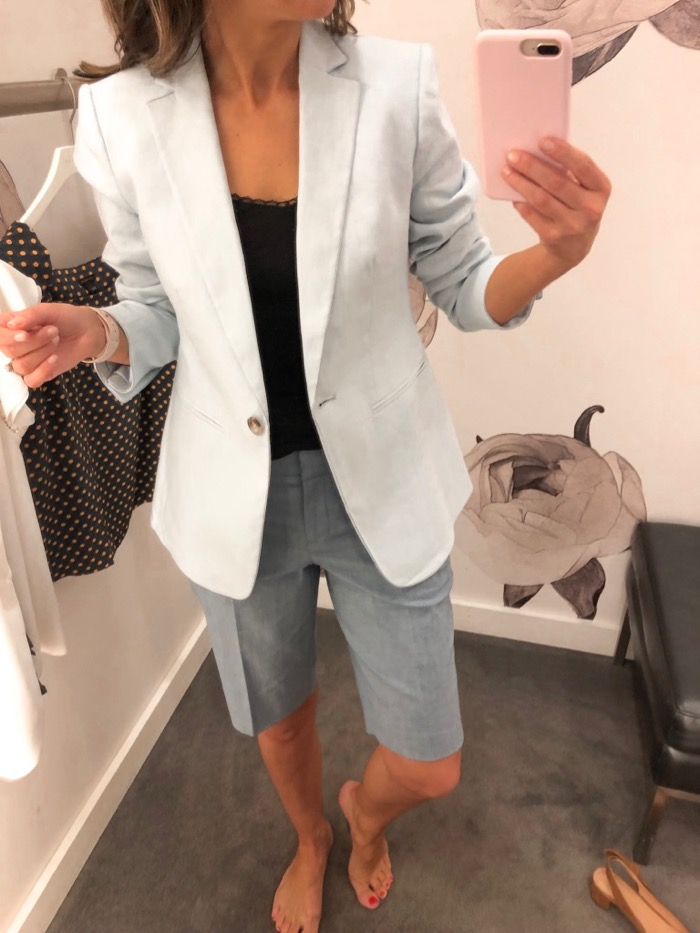 I tried xs in this Textured Stripe Tie Waist Top. This one fit tts for me. It also comes in off white.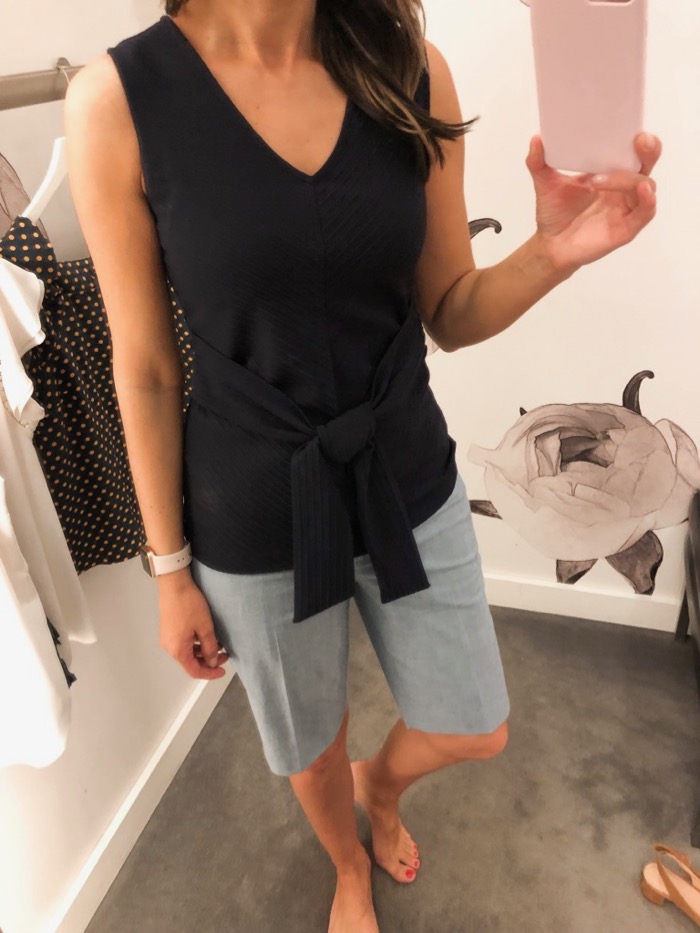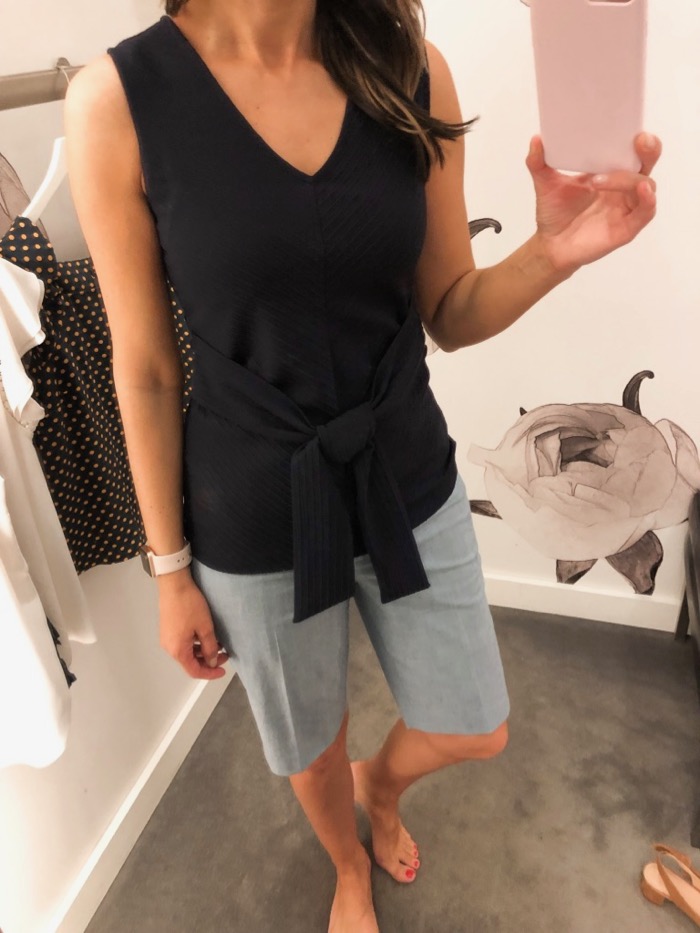 This square neck dot top was not available in xs, tried small below which was big, so I'd say this one runs tts.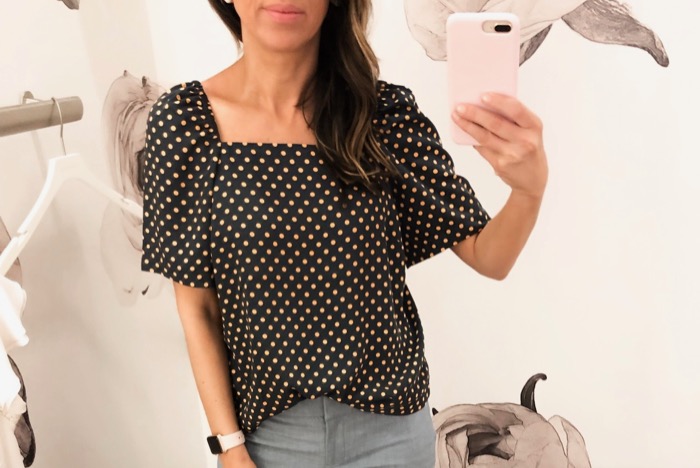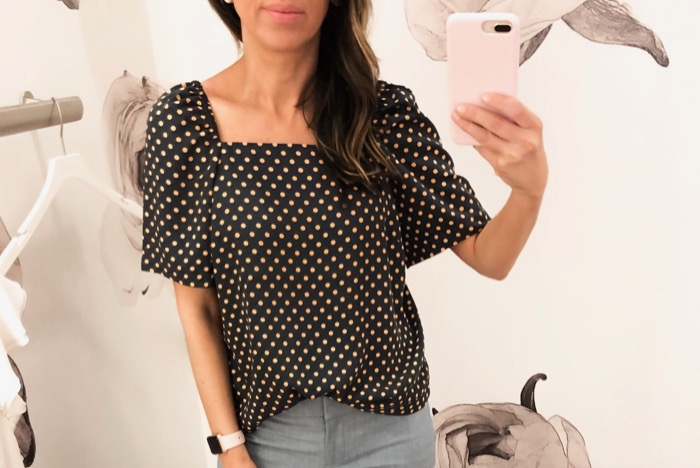 A few more picks…


Hope you find some goodies!
Enjoy your weekend! xo