Went to LOFT last week to see if they had two pieces I saw online, but ended up trying a few more I really liked.
Current promo: 40% off full priced styles with code FUNFUNFUN
This cardigan is super light and when I say light, it's very light. Great when you need just a tad warmth (not something I'd wear in Fall). Tried xs, fits tts.
Duster Sweater | Cami in xs | Jeans tts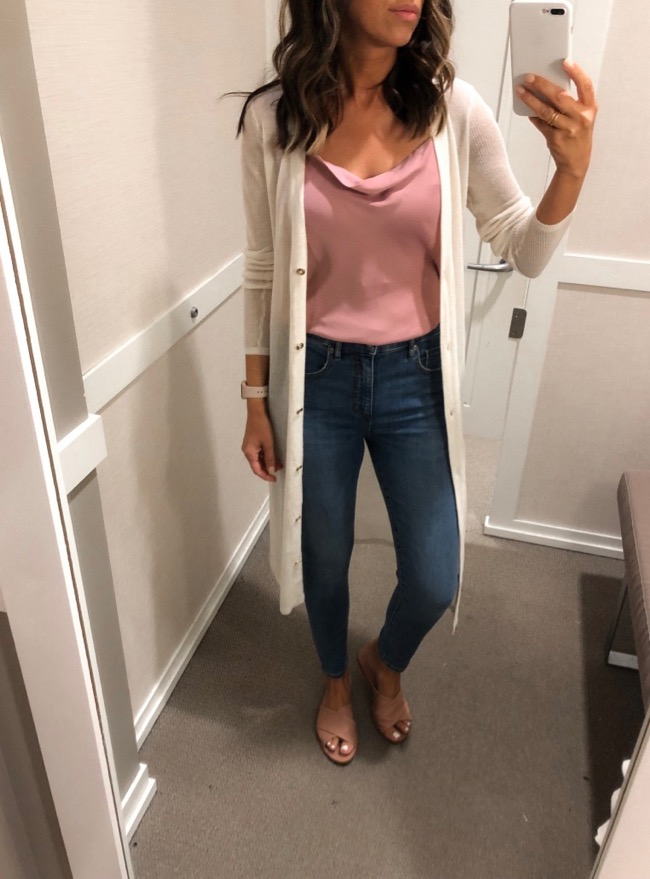 This cami reminds me of a 90's slip dress. Different but cute! Really liked the fit of these jeans (and the high waist). Also glad to see they're "sustainable" (made from 7% certified recycled polyester)…at least LOFT is on the right track. I was hoping to see these jeans in store but my size was sold out.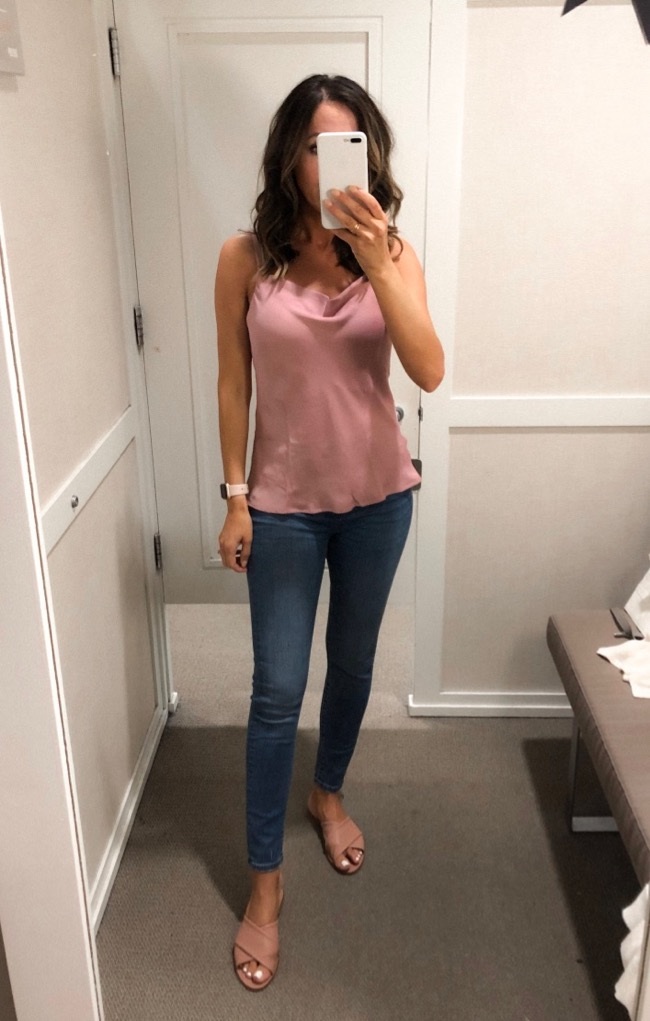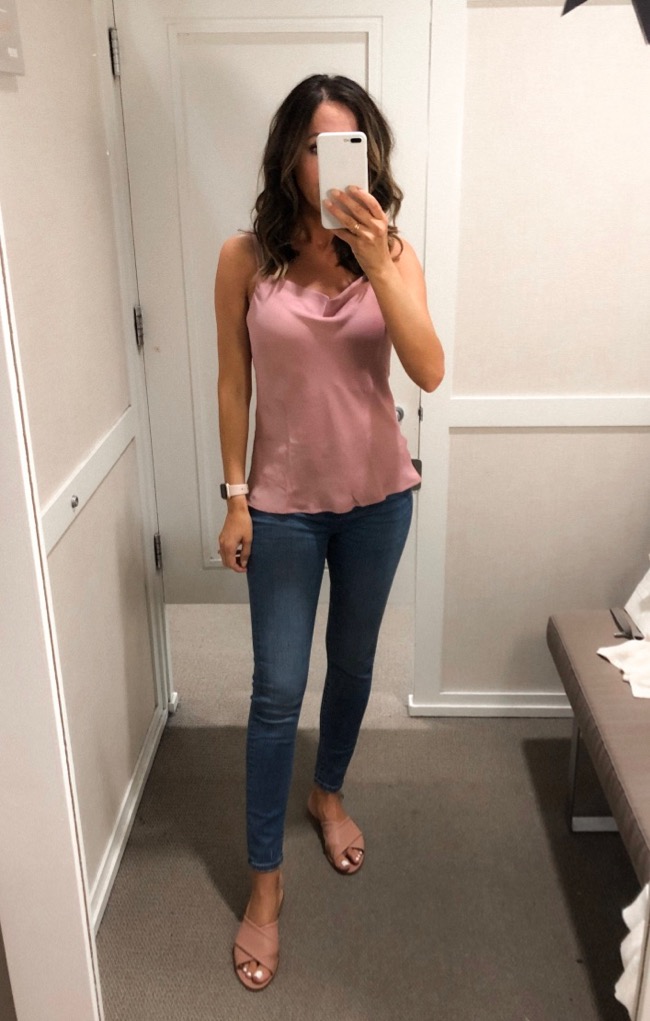 Totally digging this outfit with the boyfriend cardigan, which returned this year again in multiple colors (gets great reviews). I'm wearing xs below, fits tts. More about the top below… Jeans are same as above.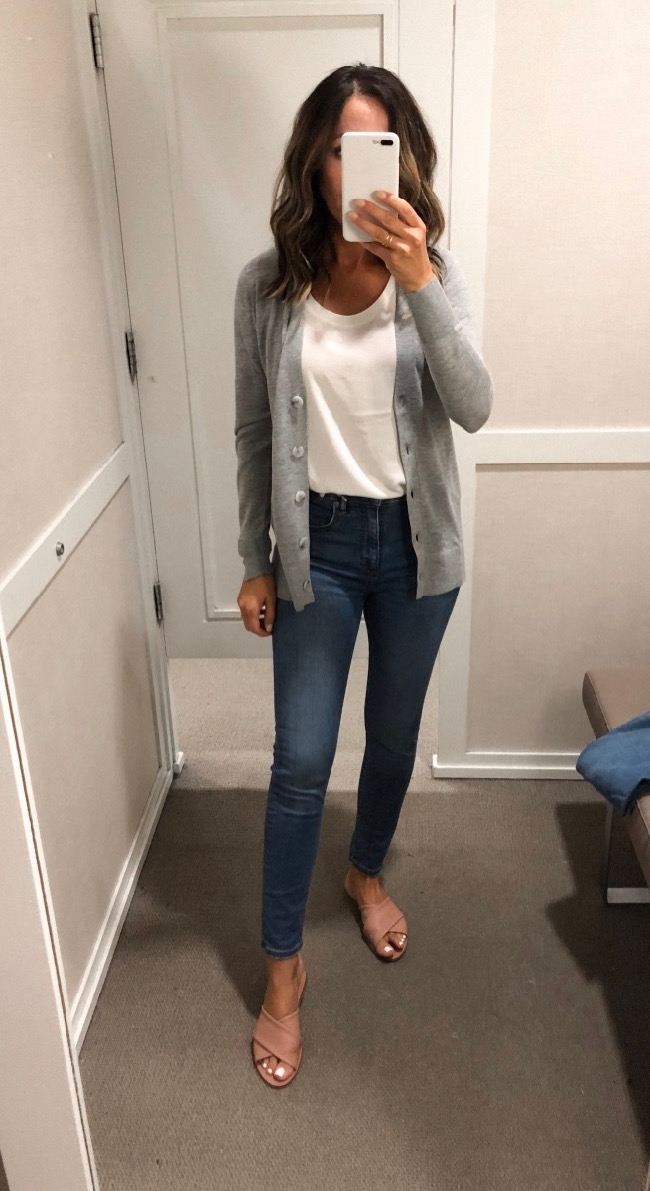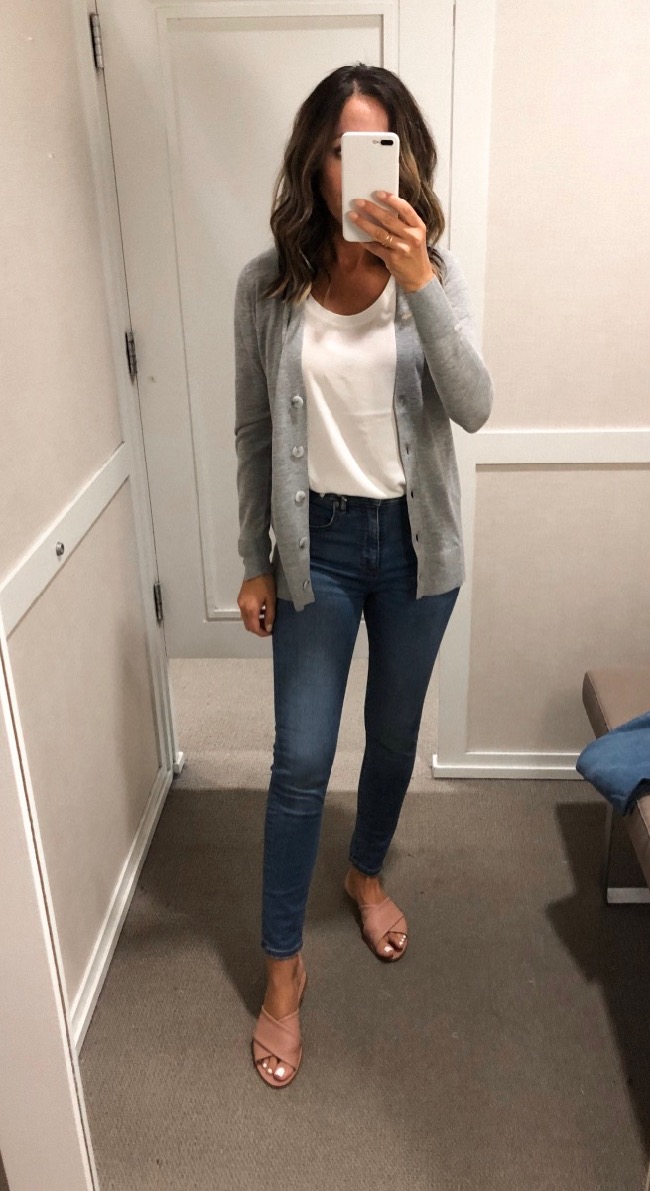 I loved this top as it reminds me of one of my fave must-have tops but the quality of the one below one is not good. It's way too sheer. Unless you plan on wearing a tank top underneath I'd pass on this one and get the Ann Taylor one instead, it's way better.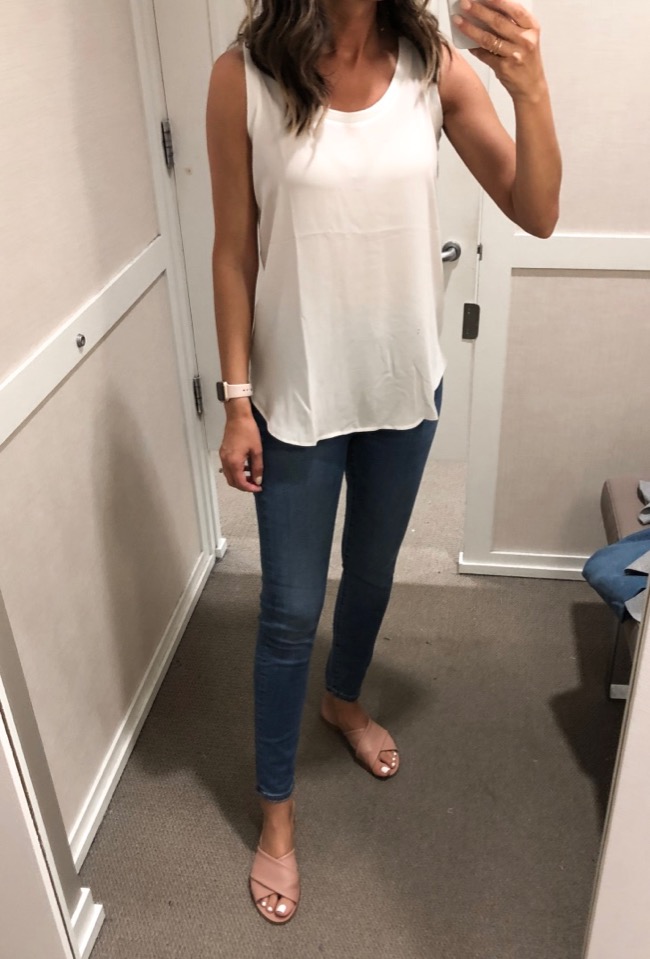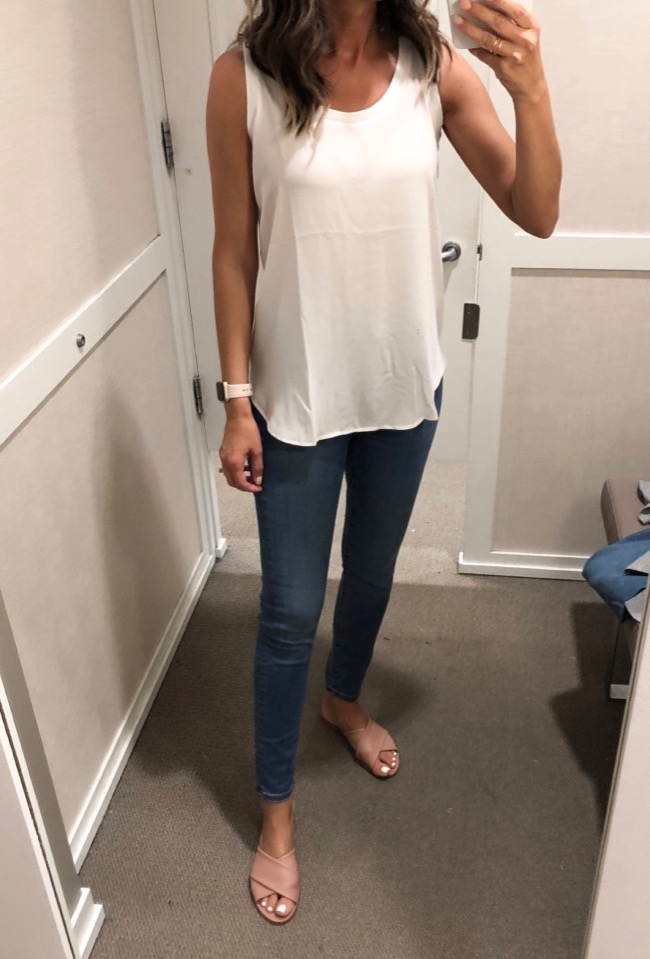 This sweater tee is the reason I went to the store…I just adore these timeless and classic short sleeve sweaters (they're light but too thin). Such a versatile piece that can be styled with any bottoms. Wearing xs below. This one came home with me.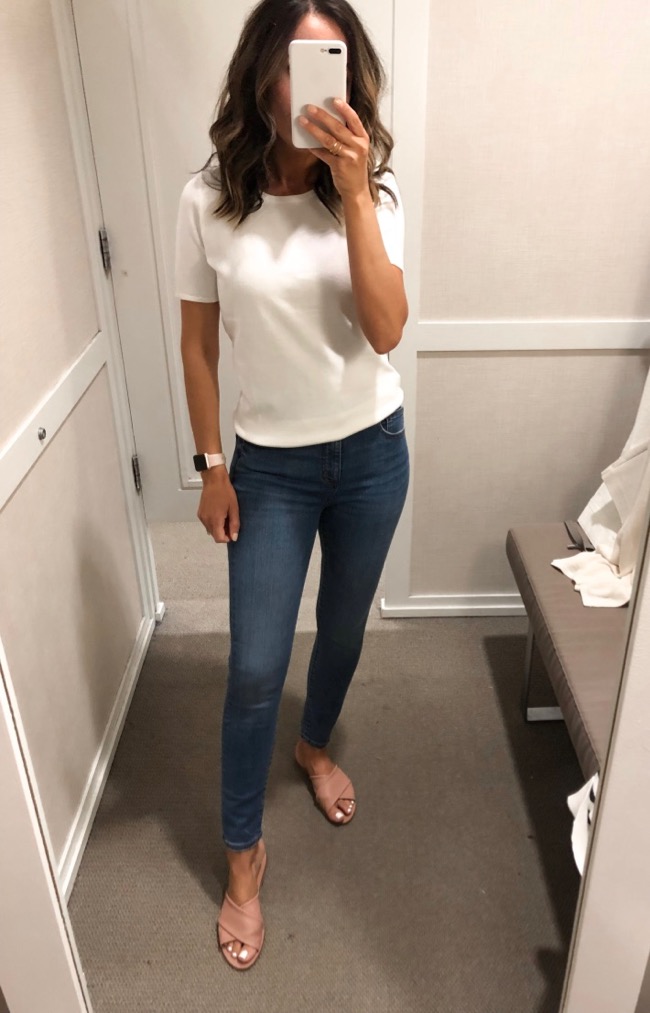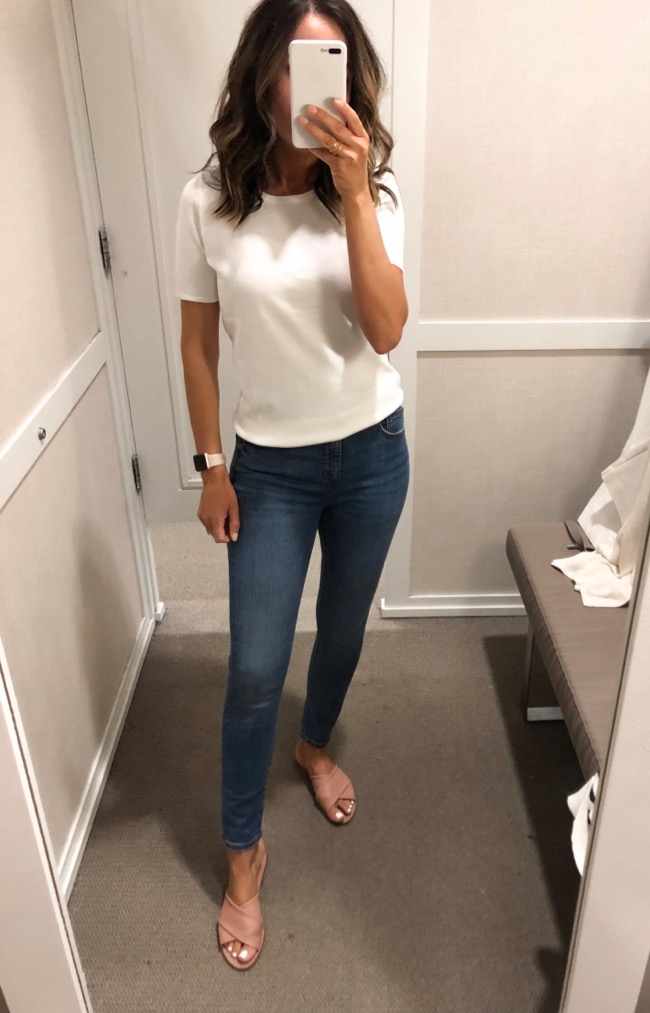 Same short sleeve sweater tee as above but in stripes. Absolutely loved this one as well but it didn't come home with me as my striped top collection is out of control. Sweater tee in xs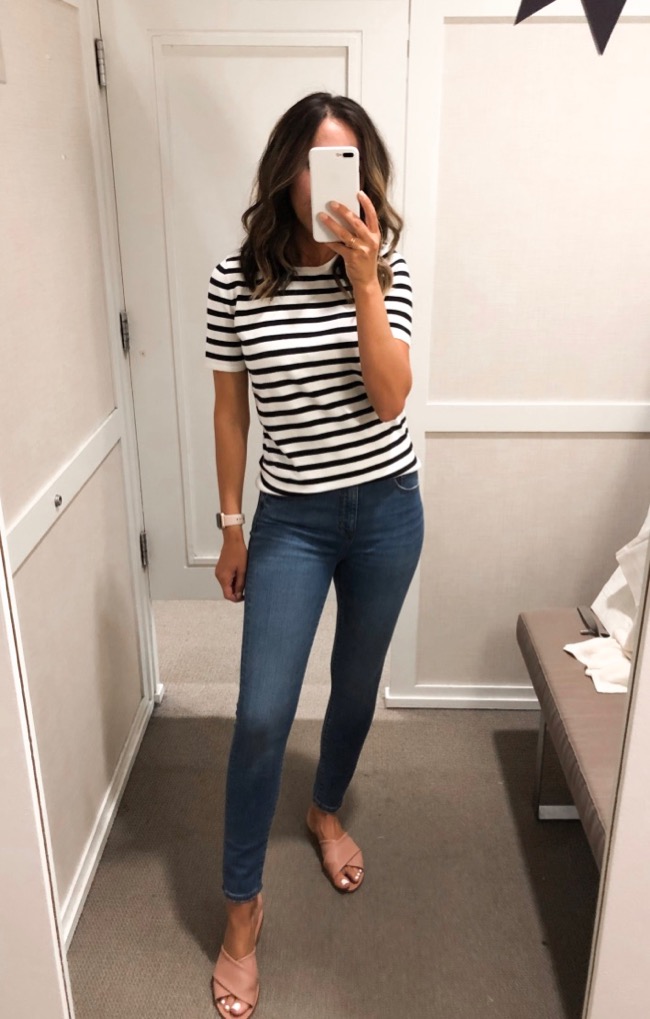 I saw this dress online and was happy when I noticed it in store (the SA said this one will sell out fast). It's a true wrap dress and I love it! Definitely prettier in person. It's not lined and I don't think it's see-through in sun but I didn't pay good attention as usual. I'm wearing size 0 below and it fits tts. Great as an everyday dress with slides (even with cute sneakers) but can also be dressed up with heels. Great with boots during colder months (just throw a blazer or denim jacket over it). I think I'll get a lot of wear out of this one. Update: wore it and you have to be careful if it's windy as with most true wrap dresses. Dress in size 0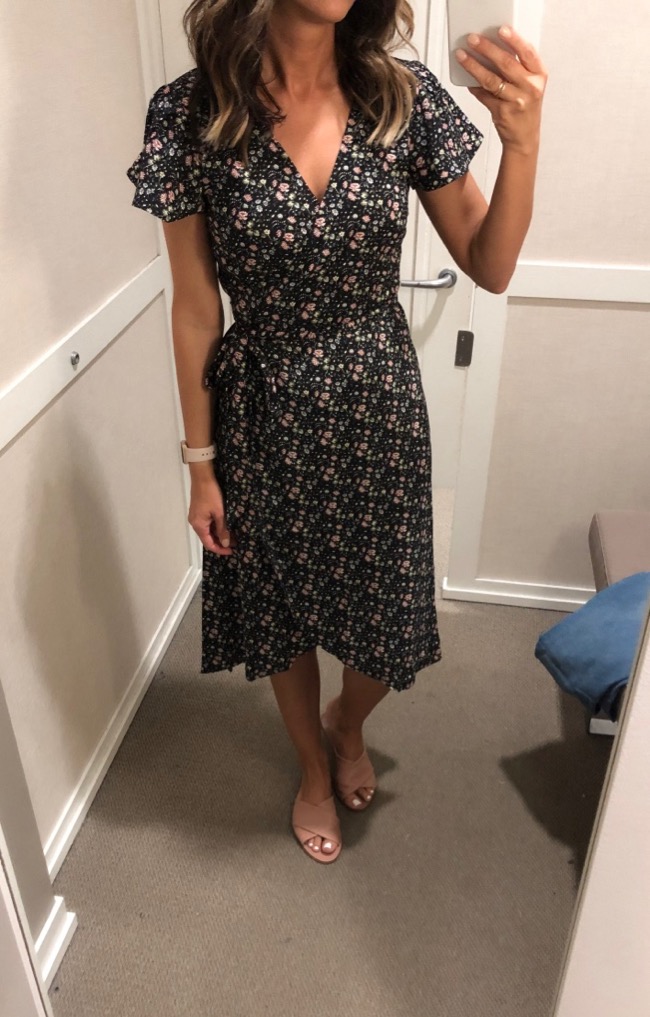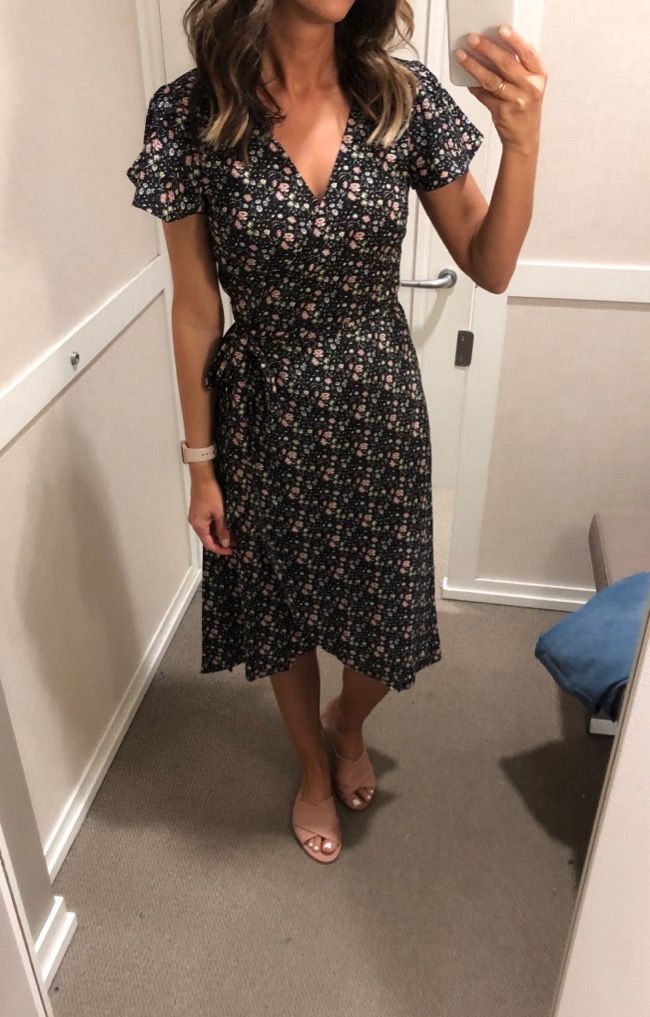 I was pleasantly surprised that this dress was not over $100. It's fully lined and seemed more luxe that most Loft dresses. I tried size 0 below and it was roomy (not big though) but when belted it was great. Loved this one and if I keep thinking about it I'll "have to" get it. Timeless! Snake Print dress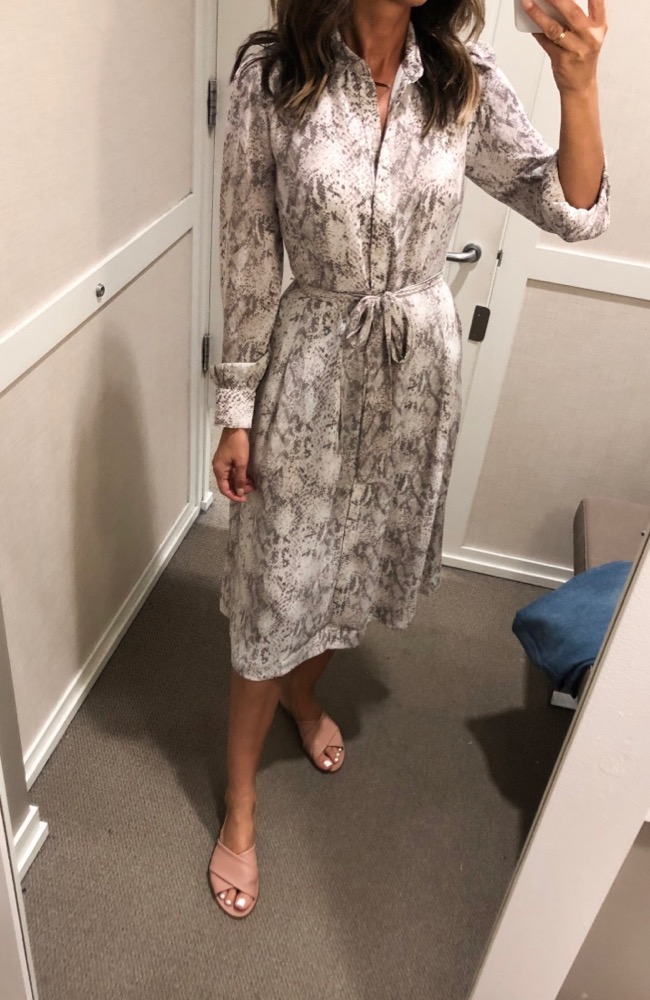 I absolutely loved this dress but it's too short (shorter in person than on the picture, plus these are always way shorter in the back. I would wear this on a beach vacation though, but as an everyday dress . It's too short for me and I don't know how to bend down gracefully without showing the world my rear end! I really wish LOFT would start making their dresses longer (I feel like a broken record as I say this each time I try a cute dress that's too short. This dress comes in Petites but not in Tall. Go figure). It runs tts Floral Dress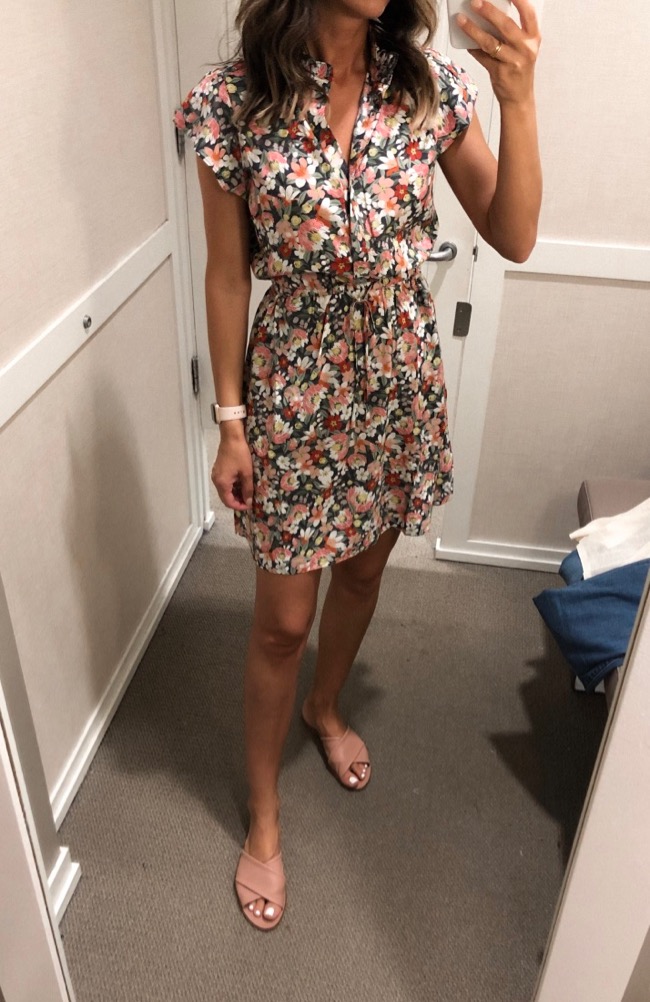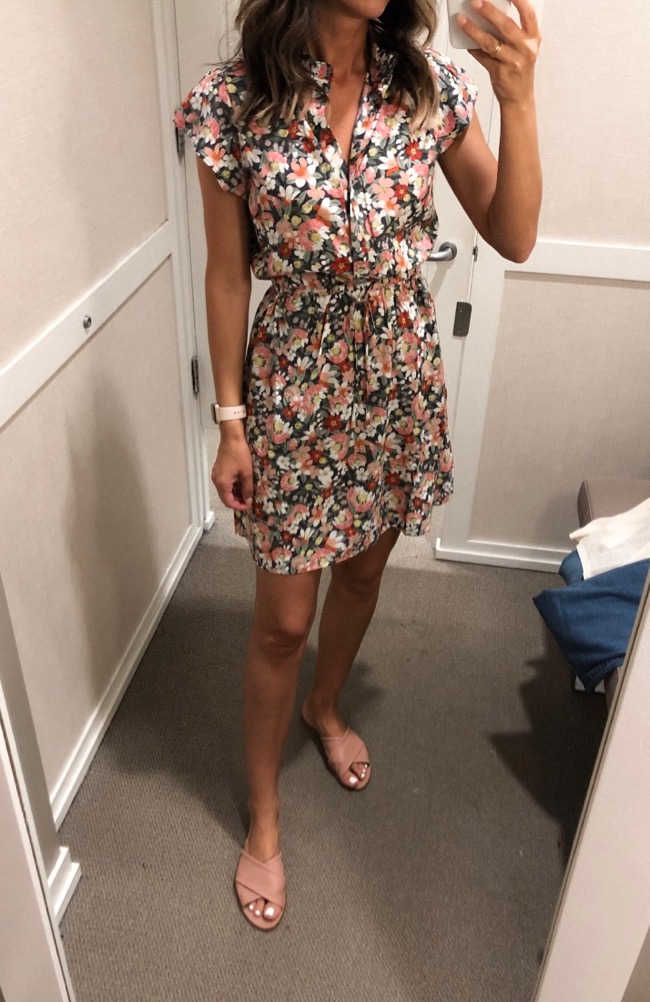 I didn't think I was going to like this top but the them was such a cute touch to an otherwise plain tee. It coms in two more colors. Wearing xs below, fits tts. Eyelet hem tee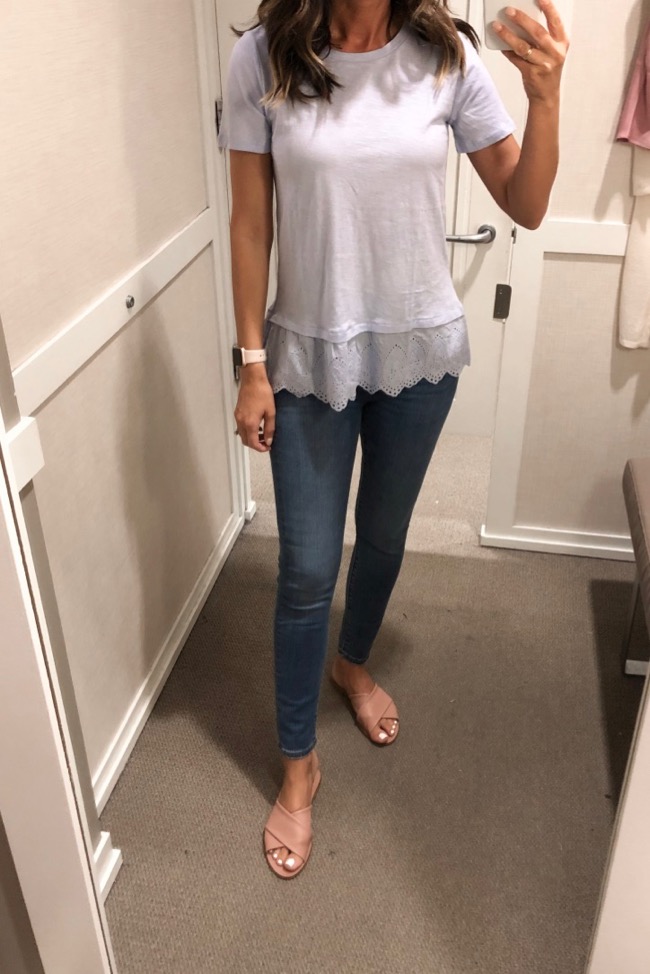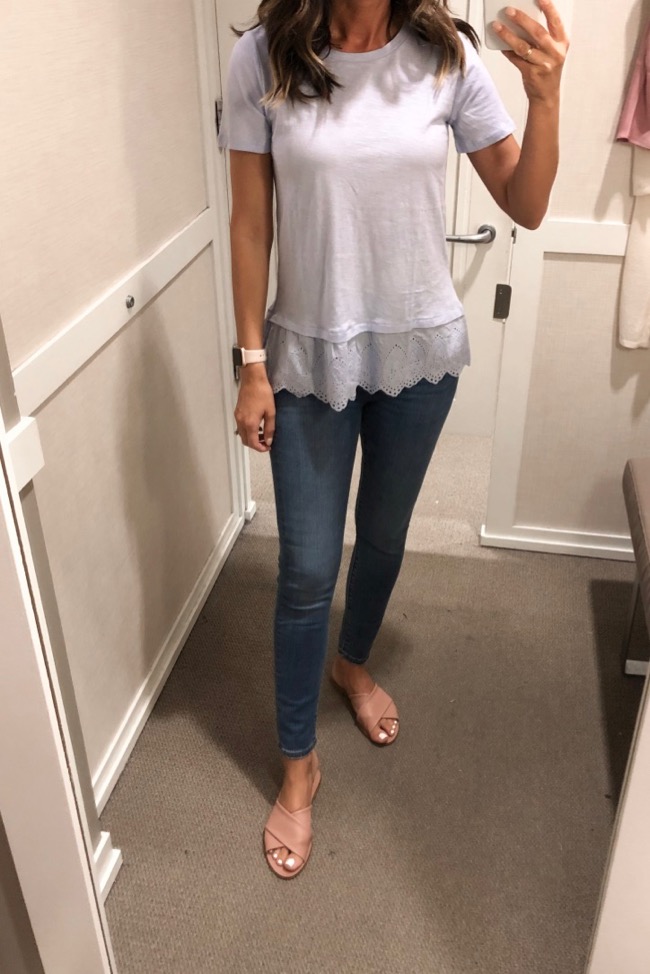 Really liked this top and ended up getting it! Great with jeans, trousers and skirts too. Wearing xs below. I tried the jeans below in my usual size. I love that they're high-waisted but what I didn't like 1) they had too much fabric in the front for my liking, you can't really see in in pics and 2) I didn't like the length on me. I find them too long (I liked the length of the ones above though). I think they're just a tad big and long for me. Dolman cap sleeve shirt | Jeans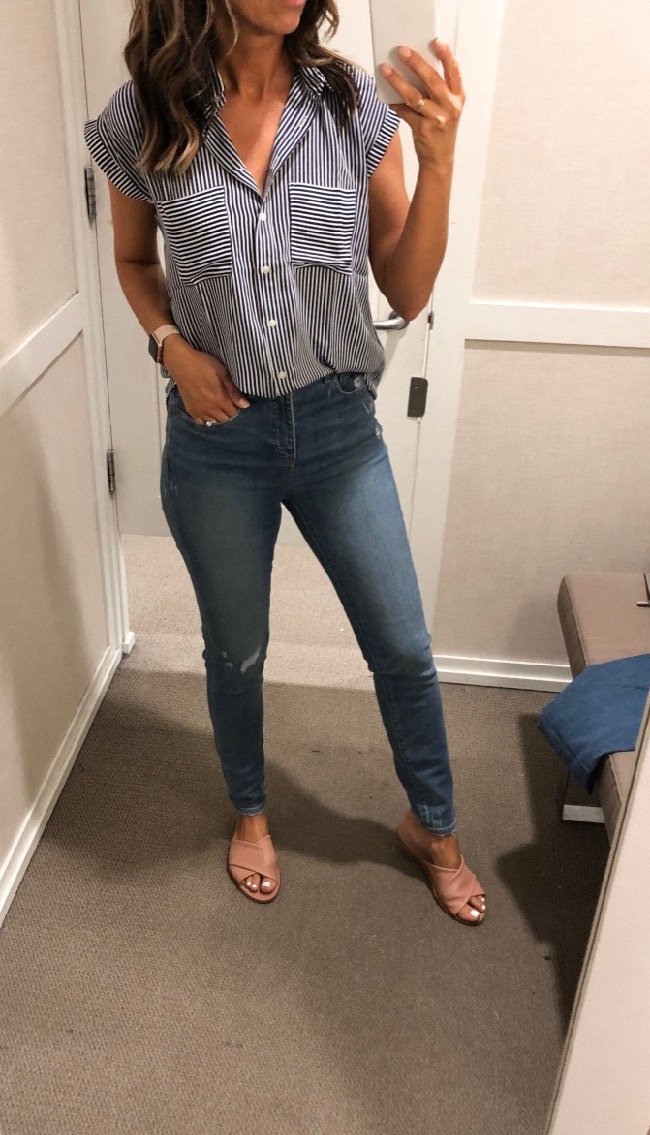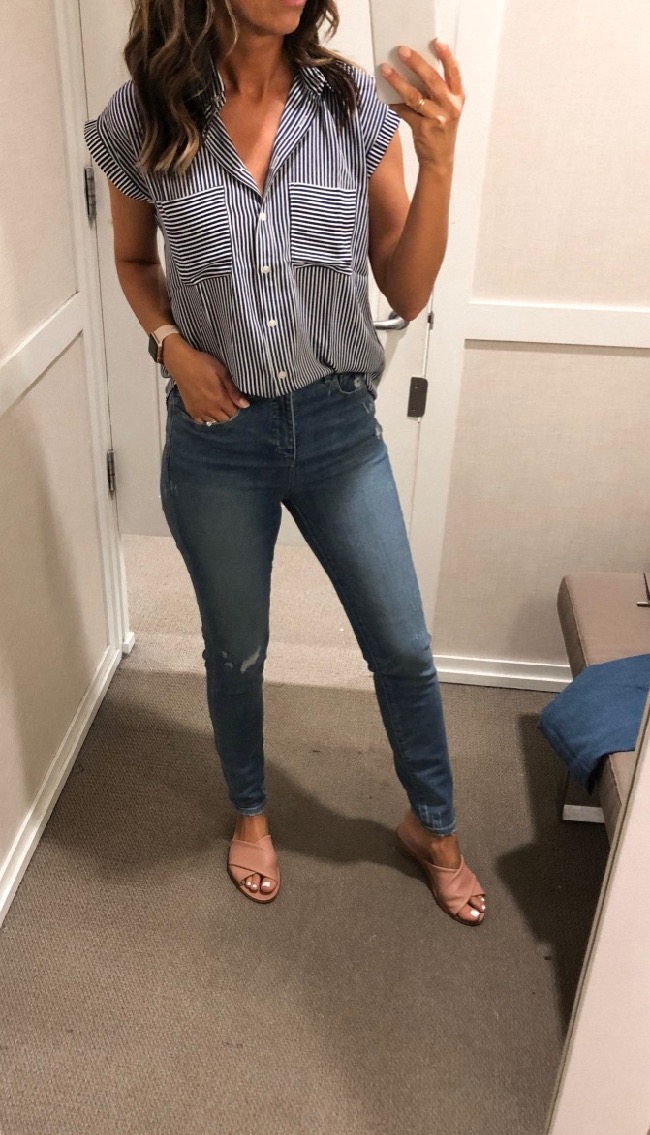 This was such a nice sweater that I almost got it, but I have one that's almost identical. I'm wearing xs below, fits tts. You might know that I'm a fan of wide leg pants and these pretties come in more colors. They're longer so they would look great with heels too. Wearing size 2 below. Sweater | Pants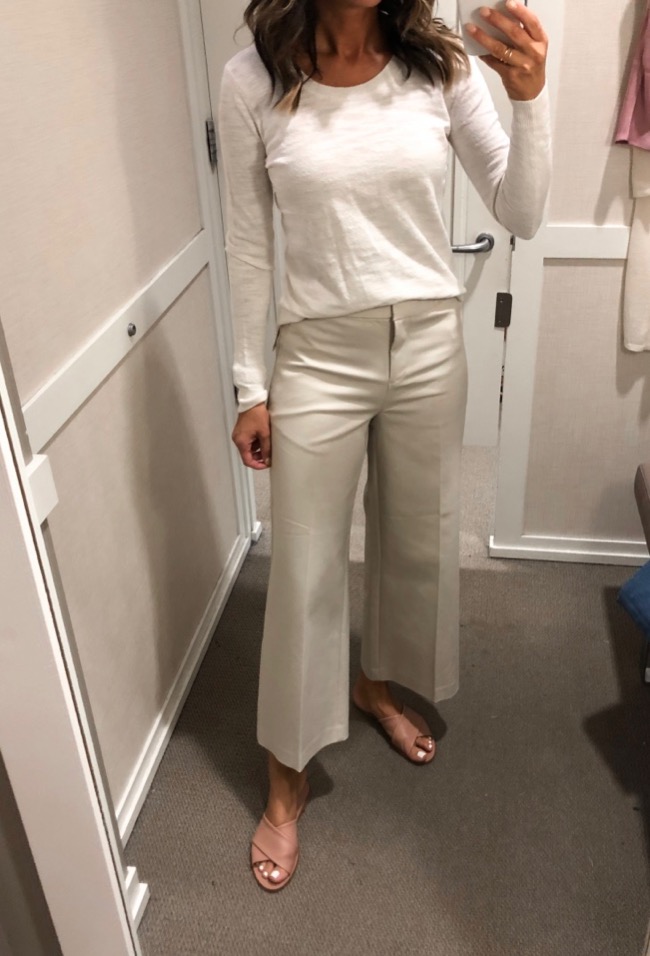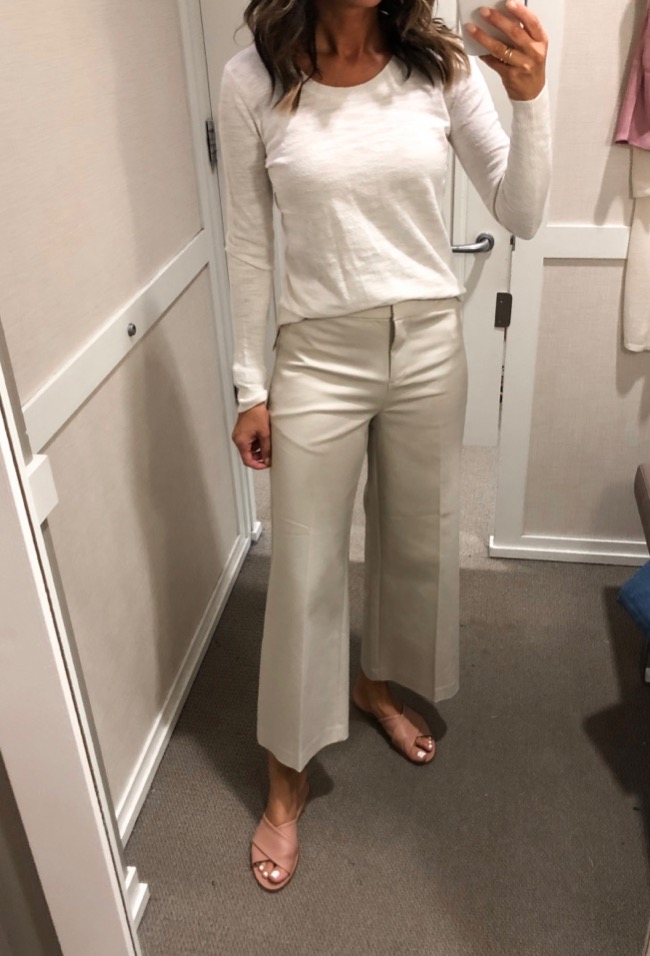 A few more chic pieces that I didn't see in store that are really pretty…