I ended up ordering a few pieces during the recent sale at Ann Taylor. UPDATE: 50% off + free shipping (exclusions apply) ends 10/11.
I'm sharing everything I got, including pieces I'll planning on returning just because I don't love them on me.
You might have already seen this sweater in my latest Ann Taylor fitting room snapshots. I really liked the color and the neckline, so I ordered it. I got size Small because I wanted a more relaxed fit on this one. Already wore it the other day…and I must say – I love it! The color is even more pretty in person. Perfect for Fall.
Flare jeans seem to be making more of a comeback this year. After I saw these in person I remembered that I still have almost an identical pair (which I've had for about 7 years). So these will be going back, but they're really nice. Sweater in Small | Jeans | Pumps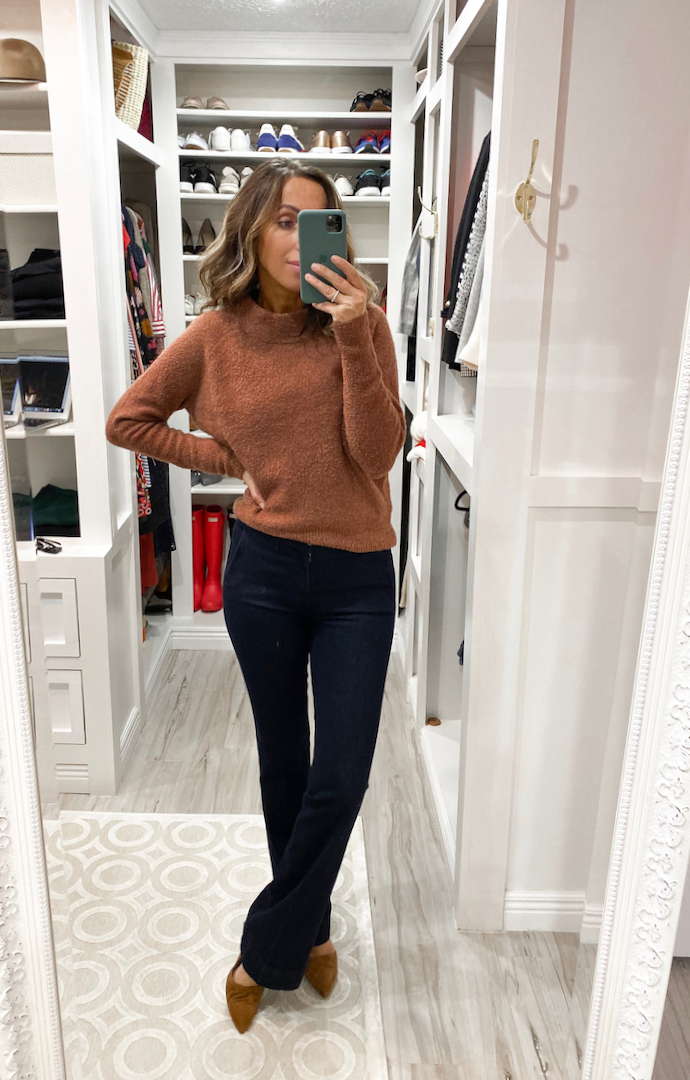 I tried this sweater in store in white but noticed this color online and ordered it. I love this color in general…so I thought it would be nice to have a sweater in this color. Love the sleeve button details. Wearing xs below, tts. V-neck Sweater | Jeans | Pumps
This is the sweater I got in store. I liked it with jeans but it's perfect to wear with skirts too. Wearing xs below. Balloon sleeve Sweater | Jeans | Heels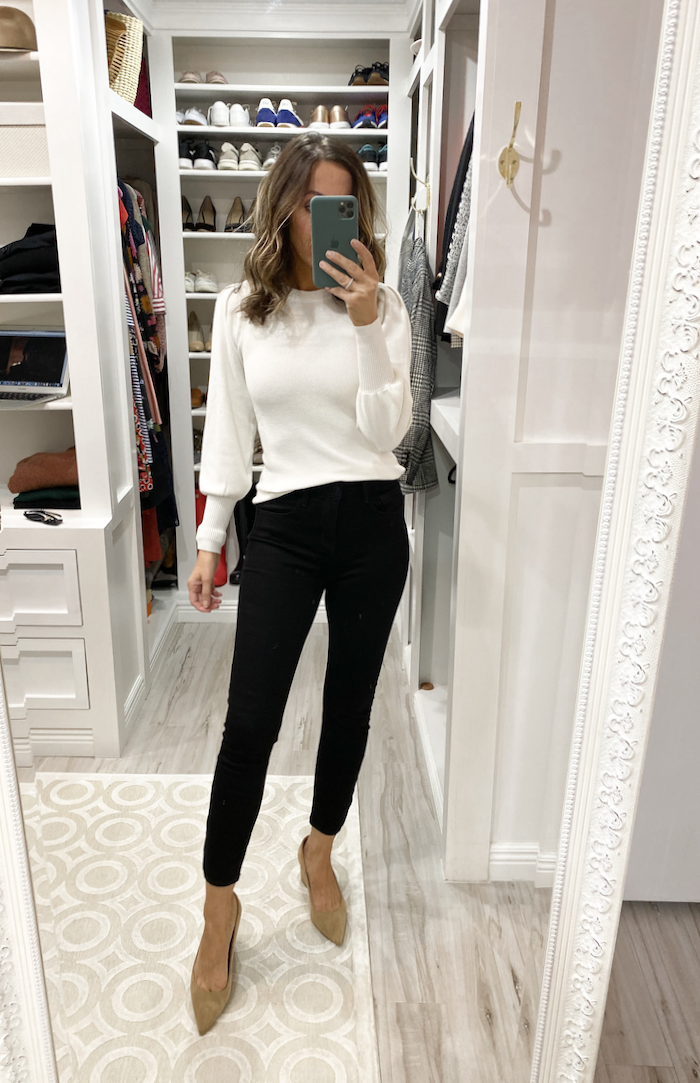 This is a black ribbed style sweater with dainty ruffle details on sleeves. Elegant and timeless (love this outfit, so chic and effortless). Again, I wear these type of sweaters a lot with skirts too. Besides looking great on their own too, they pair nicely under blazers as well (as you'll see with the blazer below). Great sweater for layering without adding bulk. The neckline looks like a semi-scoop neckline on the model online…which is strange as it is a crew neck. Great either way. Love it in this lighter color too. Light sweater | Heels
This cardigan is actually for my sister but I thought I'd share it with you all so you can see what it looks like as it is a pretty nice cardigan (it comes in 3 more colors). Wearing size Small below, I'd say it runs tts (I'm size xs and my sis is size small). Camel Cardigan | Cami (similar, mine is old) | Jeans | Heels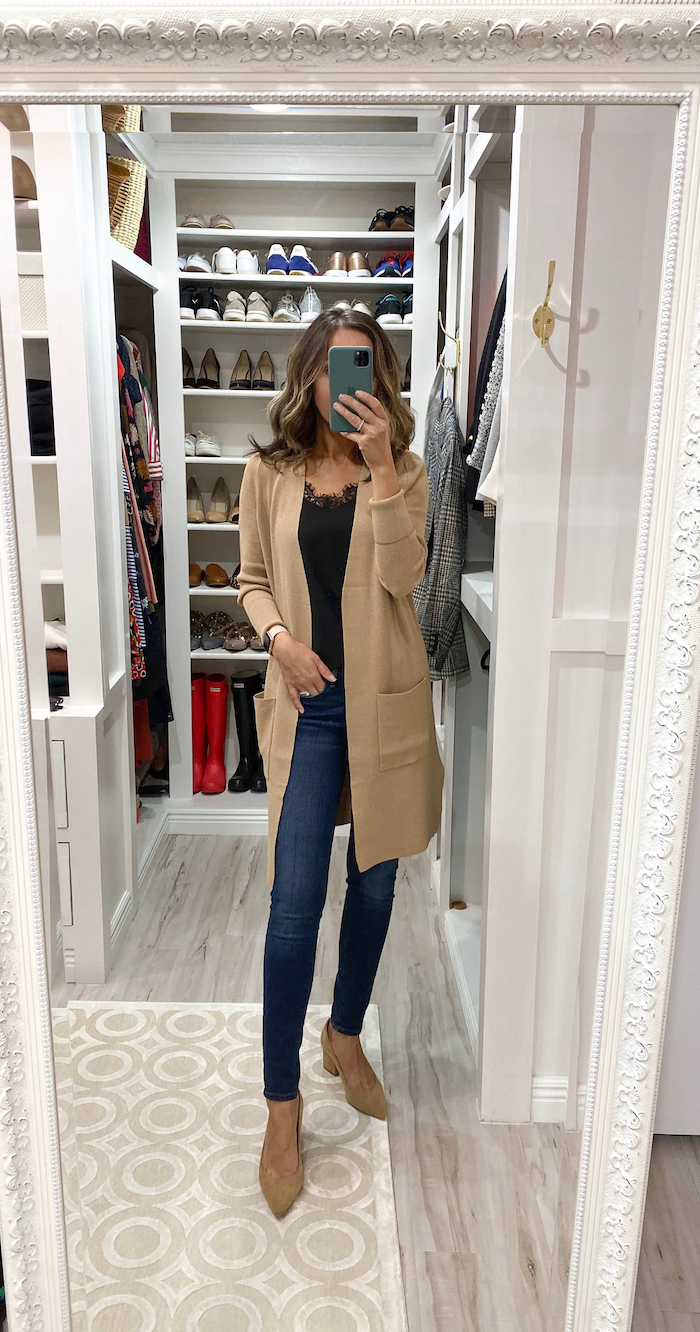 I really didn't need this short coatigan but decided to check it out anyway. While it is nice, I'm not keeping it…I have enough at this point that I really like. The color is not as "bright" as online…and as you can see even the 3rd picture of this coatigan on the model is different than the first 2. It's still a nice color in my opinion. Comes also in black. Wearing xs below, fits tts. Coatigan
This dress has some great reviews online (and it's supposed machine washable. Amazing). I loved the silhouette and ordered in in Tall 0 (tts). I actually thought it would be a tad longer. It's quite a nice nice dress but I would have loved it midi style for Fall/Winter so I can wear it with tall boots (I LOVE wearing midi skirts/dresses with tall heel boots). Faux Suede Dress tts | Heels
Another nice and classy dress, which drapes nicely without being tight in any way (wearing size 0). Also love the color. But didn't love the dress on my so this one is going back as well. Dress | Heels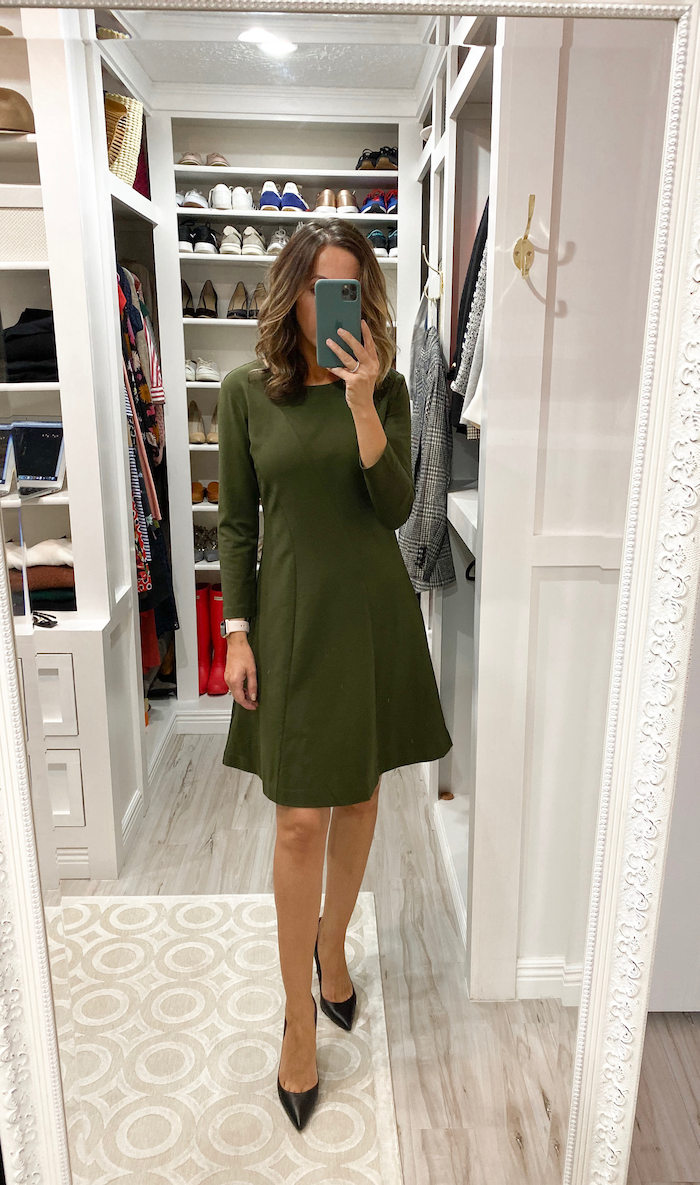 If you need a blazer that you can comfortably button then this one is for you (obviously it looks fine unbuttoned too). It's a pretty nice blazer (on sale) and I love the colors…it's navy with a thin thread of pink (wouldn't say it overly noticeable). I ordered size 0 and like the fit. Haven't decided if I'm keeping it or not. Plaid Blazer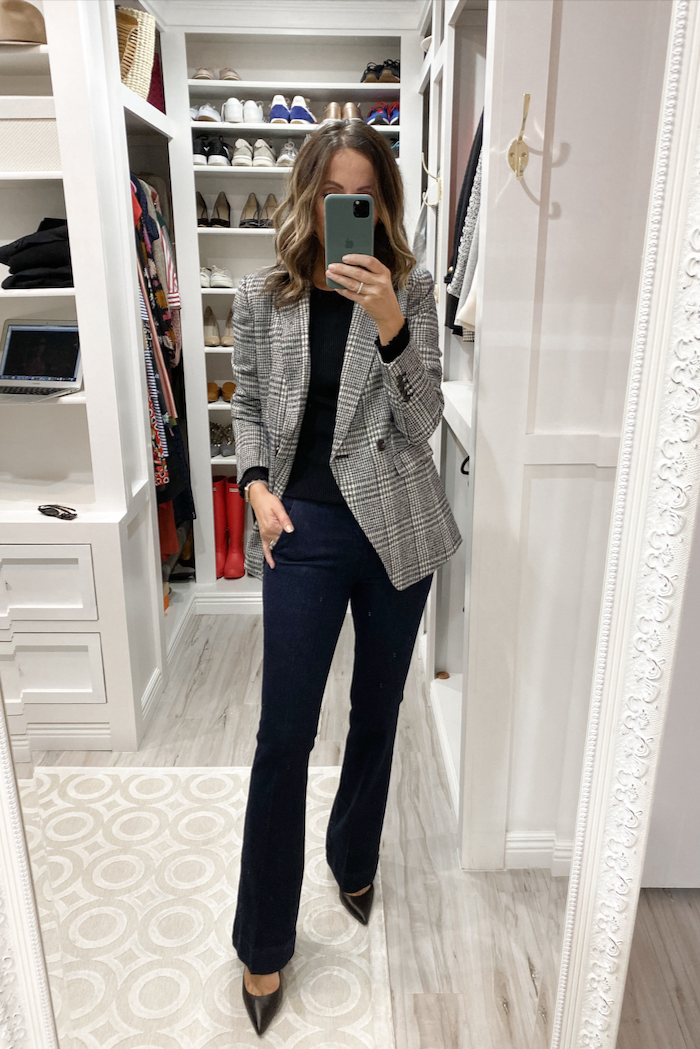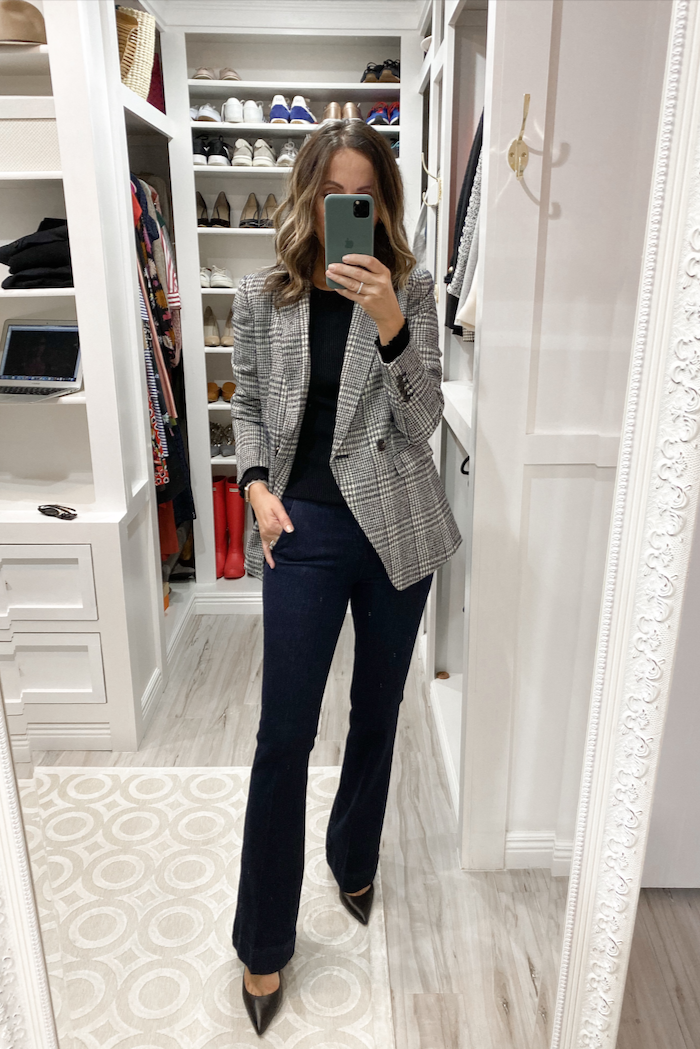 As always, thank for you reading!